Wondering how big is the healthcare ERP market?
The projected market size of the global healthcare ERP was USD 6.6 billion in 2021. It is anticipated to develop at a CAGR (compound annual growth rate) of almost 6% between 2022 and 2030.
The medical and pharma industry strives to develop novel healthcare delivery methods owing to a rise in the demand for better healthcare facilities. Factors such as rising healthcare costs, inefficient hospital service administration, and a fast expanding patient population at healthcare facilities have contributed to introducing advanced ERP solutions.
As a result, Enterprise Resource Planning (ERP) solutions is set to rise as the existing medical fraternity has become more aware of the advantages linked to these cutting-edge technological solutions. These include providing high-quality patient care, cutting operational costs, and eradicating issues with the back-end operations.
When we speak of providing excellent healthcare to patients, we are also looking at the medical devices that the hospitals and medical practitioners demand. This puts the onus on the medical devices companies that need to compile the numerous aspects of business such as manufacturing, delivering, inventory, stocks, accounting, shipping, sales, ordering, returns, reordering, and so much more.
Companies can only have reliable financial data when all of these components are in harmony with one another. It would be challenging to assess the company's growth without precise financial records. When businesses are attempting to integrate so many facets of their operations, they require a system that will enable them to complete all tasks quickly and affordably.
Precisely, they need an ERP system.
Here is what we shall learn in this ERP guide for the medical supplies sector:
Get Deskera for Comprehensive ERP Solutions for Your Business
Sign Up for a Free Trial Now!
What is ERP?
A system that lets a company have all its units or components work in sync with each other to streamline every aspect of the business is the Enterprise Resource Planning system or software.
To understand this, let us consider a company that has all its departments – Sales, Finance, HR – looking for some data. The sales team needs to post updates about the sales figures and targets that they have recently met. The finance team is looking for this data that comes from the sales team, and the HR team wants the names of the employees that have performed well and must be awarded as a part of the company's employee recognition program.
If the company has a system or software that allows the sales team to post the data online and let all the other teams access it, then the entire process will become a lot simpler. This system that allows them to access all the relevant information in one place, in real-time is called the ERP software.
It facilitates all the units or modules of the organization to come on one single page or a centralized database and make their processes simpler. There are multiple ways in which the ERP boosts the performance and productivity of employees, and increases the overall profits for the company.
What is the Medical Supplies Industry?
Medical supplies are the devices that are made for the purpose or use in the medical world. These include surgical items that are used for the treatment of patients. It could also be an implant, machine, tool, instrument, in vitro reagent, or any other item meant to diagnose, prevent or cure a disease or ailment.
The medical supplies industry also includes technological aspects and is often referred to as the medical technology industry or the Medtech industry. The sector is associated with the operations such as the development, manufacturing, and distributing the medical supplies or equipment.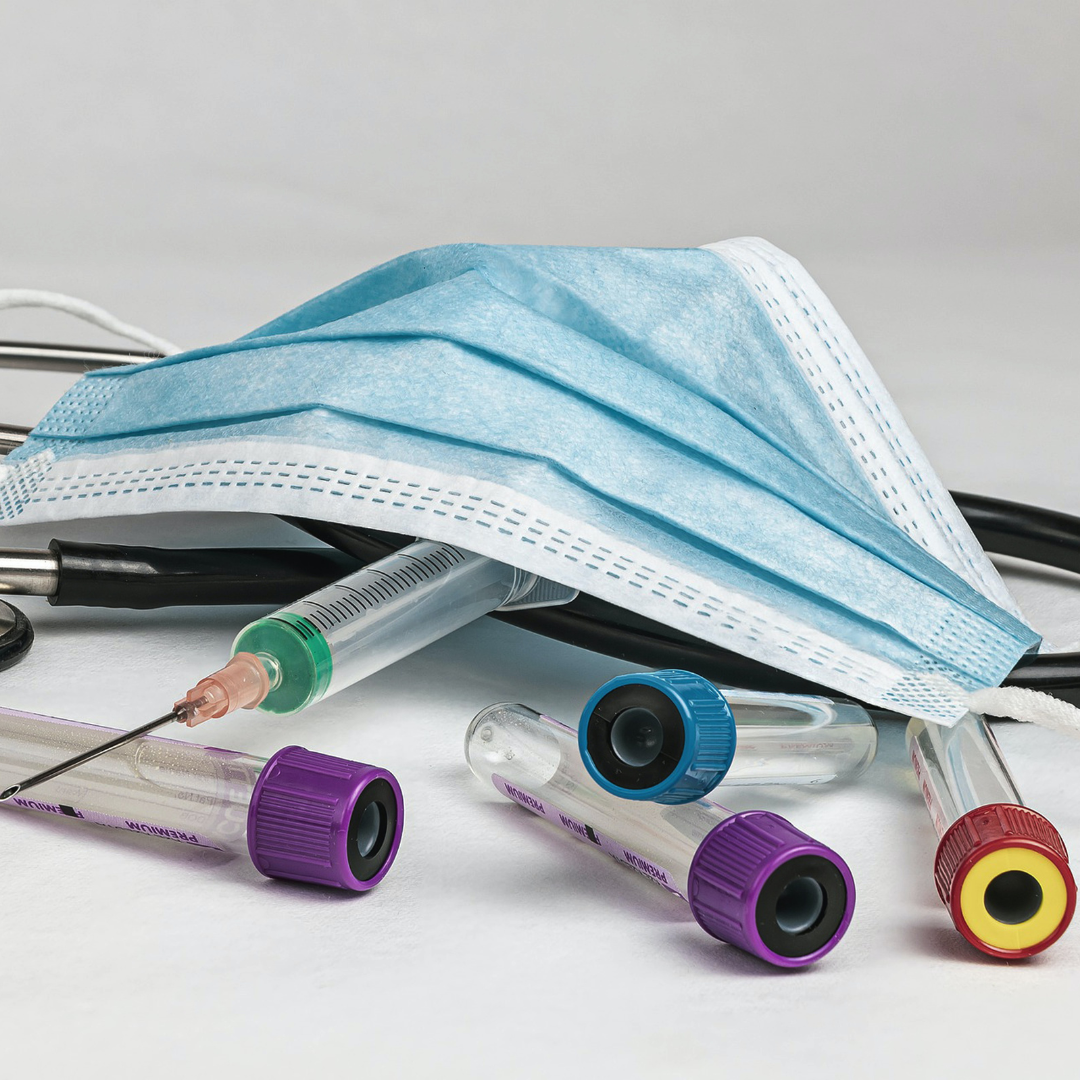 The technological advancement in the area has led to numerous benefits which include the following:
early detection of illnesses
less-invasive procedures
speedy recoveries, and so much more.
The industry has been viewed as a pioneer of promoting healthier living across the globe.
The economic growth exhibited by the sector has been unprecedented; especially, in the COVID times. With almost 600,000 jobs, the US medical supplies sector accounts for a huge share of the economic upswing.
Why do you need ERP for Medical Supplies Industry?
The goal of medical supplies producers is to develop cutting-edge technologies that promote human health. But what does it take to keep their own internal systems and financial results sound?
ERP software can be an incredible tool to fight the inefficiencies and excessive expenses in this sector. Here are some of the top reasons why the medical device companies need ERP: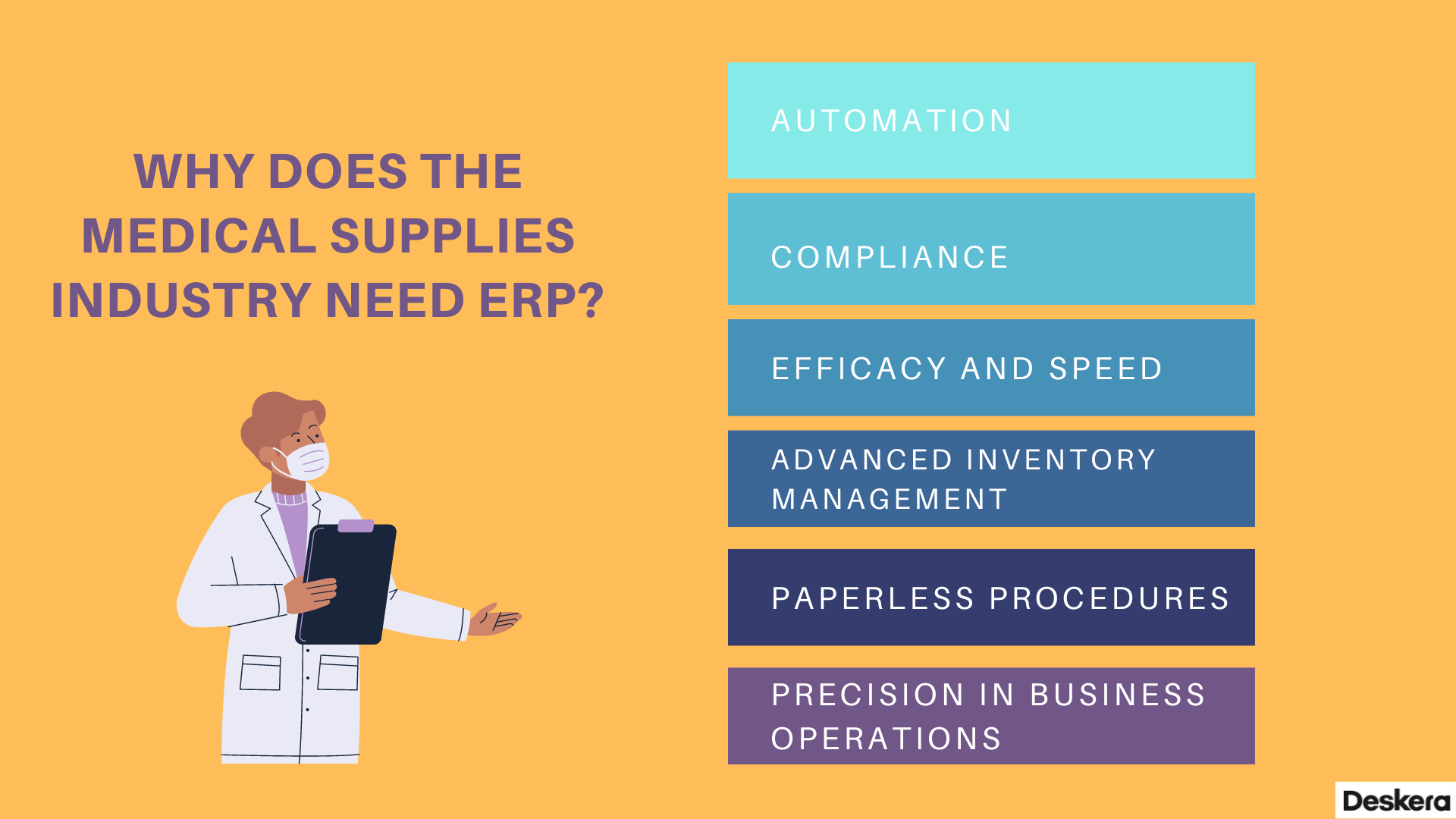 Automation
The level of automation that current ERP systems enable the businesses to have is one of its main advantages. In contrast to the labor-intensive manual procedures, ERP systems can prove to be more advantageous when it comes to reducing the number of hours, effort, and errors while entering data into the system.
The teams can now focus on more fruitful activities with complete efficiency and control. This can be attributed to the intuitive interfaces and automated controls.
Some of the commonly known advantages of having an automated system are:
Increased productivity across departments
Almost paperless procedures
Enhanced accuracy
Instrumental in saving considerable amount of dollars
Real-time visibility of progress
Compliance
Medical equipment ERP software assists businesses in adhering to all FDA software and operational regulations. Manufacturers must ensure they have supply chain management, quality control, and compliance monitoring functions in their ERP.
The FDA (Food and Drug Administration) encourages the manufacture of high-quality medical devices in order to fulfill the mandate of safety and efficacy. The government body is in charge of enforcing these attributes in the United States for the duration of the whole product lifecycle.
The FDA also underlines the importance of performing routine medical device maintenance, repair, and services in order to preserve the devices' reliable, safe, and efficient operation.
The FDA has established Quality System Regulations (QSR) that cover acceptable manufacturing practices as well as device design and validation. Investigations into complaints and other methods of monitoring device performance are covered by FDA regulations. The FDA assists manufacturers in achieving regulatory compliance.
Therefore, the ERP requirements of medical device manufacturers must be met with systems that monitor the production, purchasing, documentation, and traceability of products.
Consequently, an adequate ERP becomes a crucial component of a medical device quality management system.
Efficacy and Speed
In the pharmaceutical device industry, speed is crucial. Furthermore, the antiquated systems expose the companies to the risks of inefficiencies that could cause demand to exceed supply. ERP systems help to support a quick-moving supply infrastructure by accelerating speed and efficiency throughout the whole supply chain. All this can be attributed to the centralized database and uniform workflows.
In the constant effort and attempt to deliver the finest quality of medical devices that reach the medical institutions and hospitals in time, it is extremely critical to mind the time. In the past couple of years, the pandemic has spared little time to the healthcare sector to ponder before implementation. There has been a constant and sudden surge in demand for medical supplies and the manufacturing sector has been working relentlessly to meet the demand.
In a scenario that allows only fleeting moments to a sector, the businesses need to have in place an ERP that allows them to approach all the information needed to carry out the important business operations, in one place. This will help curb the wastage of time by a huge margin.
Advanced Inventory Management
It is really surprising how quickly pharmaceutical and medical supply companies have continued to provide front-line healthcare professionals with necessary supplies and equipment throughout the pandemic.
This achievement is largely due to the role that ERP and business management software has played in enabling smooth inventory management, which supports effective order fulfillment, purchasing, and logistics. ERP systems provide sophisticated forecasting and stock management capabilities, as well as assistance for managing supply lead times optimally, supporting strong order processing and effective, timely delivery.
Get rid of Paper-based, Time-consuming Tracking Techniques
Gone are the days when people used to work on sheets of paper or when excel sheets were the standard method for keeping track of financial health, inventory, sales, and other business elements.
Excel is incredibly laborious, and at that pace, the business will either stall or cease to exist. Thanks to the automation that ERP software systems offer. Its simple user interface is not only easy to use but lowers the possibility of errors. While Excel focuses on manual entry, ERP uses automation and integration to stop redundant operations from being carried out repeatedly.
In the absence of an ERP system, gathering data from numerous sources stored in several places can be a daunting task; especially, when you need it. An ERP helps not only where the numbers are concerned, it is also helpful in entering many different types of data including the study of client behavior and trends to determine what is most profitable for your company.
Companies can enter, evaluate, compare, and arrive at conclusive and informed decisions on the basis of the data collected and entered.
Precision of Operational Functionalities
A sector that is associated with the health of the people needs to have precision as the frontrunner in its scheme of things. Pharmaceutical supply firms need the guarantee of complete accuracy and traceability across all business processes, from quality control to research and development.
Medical device suppliers have no room for error when it comes to offering the best medical tools, machines, and products. After all, the healthcare sector is expected to be synonymous with safety and dependability.
ERP software can effectively help bring accuracy and precision, guaranteeing complete traceability and quality assurance at every stage of the supply chain.
It does this by providing functionality like batch tracking, enhanced stock management, extensive audit trails, and real-time order processing updates.
What are the Challenges the Medical Supplies Industry faces?
The international healthcare industry's medical device market is quickly rising to prominence. Over the past 15 years, demand for medical devices has increased significantly, notably in the United States.
However, despite how prosperous things may seem, the market for medical devices still confronts difficulties.
Here are some of the major issues that medical device manufacturers are currently dealing with and how they might continue to exist as the market grows more competitive.
Fundamentally, we are looking at the challenges that the medical supplies manufacturing businesses face today. Let's hover over the prime challenges the businesses need to overcome:
Supply Chain Disruptions and Rising Costs of Manufacturing
With medical advancements every year, there has always been a demand for the best treatments accompanied by remarkable medical equipment. In other words, the medical supplies manufacturers have never faced a dearth in demand. Yet, it was a reasonably well-managed sector.
However, the Covid-19 outbreak broke down global supply networks. It resulted in the disruption of the supply chain and brought in slowed product deliveries and higher material costs. With the pandemic sustaining for over two years, the gap in the quality and the supply of medical device manufacturing was clearly visible.
The medical device market is likely to take time to stabilize and show consequential outcomes. Unless the manufacturers receive the materials they require, the supply chain will continue to remain impacted. Furthermore, it is possible that the cost of manufacturing equipment will rise until raw material costs return to their pre-pandemic levels.
Time Spent Reconciling Data across Multiple Systems
When you have data spread across multiple systems, it can be difficult to gather it and work or analyze it. Plus, there are multiple units operating such as finance, sales, HR, etc., which need to work in tandem.
The time lost in reconciling it in one place for use can be a challenge. In the absence of an ERP, medical device manufacturing companies can experience difficulties and a lot of wasted time.
No Real-time View of Data
Analyzing client behavior and data (alongside many other significant aspects) can be difficult without ERP software. The ERP software system is updated in real-time so that everyone who needs to can see the modifications that have been made.
Having no real-time insights will not only result in chaos due to wasted efforts and time, missed orders, and loss in sales.
Multi-channel Sales Ops
Corporate wellness and financial success often go hand-in-hand. Maintaining consistent branding and messaging across several channels is one of the main marketing issues most business owners encounter when it comes to multi-channel marketing.
This also applies to medical device companies that collaborate with multiple branding and marketing agencies. This necessitates the use of uniform and common product details across all platforms.
It is a lot simpler to manage and keep track of branding and product descriptions when you are selling your products through one channel. (In most cases, it is the company's own web portal or online store). However, it becomes crucial if you begin investing in multi-channel. That would require you to manage messaging and branding that is consistent across a variety of platforms.
When you venture into multi-channel sales, you must make sure that your consumers get the same perception and the same idea of your products from all the channels on which they view your products.
Uniformity is the key. You must ensure uniformity across all aspects related to your products; be it the images, the photos, the description, branding, messaging, and so on.
When customers view the different descriptions of the same product, they may get confused and you may risk missing out on sales due to confusion.
POS - Point of Sale
It is almost impossible to imagine a modern-day business without a point of sale system. Medical supplies companies must engage a POS system for faster and more accurate transactions.
There are numerous ways in which a POS system can be helpful.
While reducing the possibility of human error, it will also speed up the process of checking in received shipments and checking out sold goods.
Companies can also seek to implement a barcode scanner. This way, the barcode scanner can connect directly to POS software and help speed up the checkout process.
By giving your sales personnel the resources and training they need to deliver excellent customer service, you can engage customers and boost profitability.
Multi-channel POS
Often, medical manufacturers and suppliers find it challenging to keep the company network seamless and coherent. Therefore, they need a system that lets them manage their business with multiple locations and communicate essential information across branches in real-time.
With an organized system, the companies will be able to accomplish the following:
Addressing multi-store challenges
Keep your company network streamlined and coherent.
Manage all of your activities from one place and share information that is essential to the operation between branches.
Knowing your Fulfillment Options
It is crucial for companies to be aware of their fulfillment alternatives as they seek to scale their business. The three primary options that medical device companies have are:
Self-fulfillment
Third-party logistics
With the ever-increasing demand in the medical supplies sector in the recent couple of years, timely fulfillment has been one of the chief challenges that the sector has been going through. In such a situation, the companies must weigh their fulfillment options to be able to maintain a strong customer engagement.
Returns processing
Returns are a part of any business and processing the returns should not affect the overall business operations. The companies must ensure that their prospects and clients are aware of their return policy. To ensure that the process works efficiently, they must include a return policy or links to the policy pages.
They must further make sure their customers understand the policies and what they must know in order to buy from them. The information about the returns should be made in clear terms without leaving gaps for confusion at a later stage.
An efficient returns management can help the companies save time and hassle in case of returns.
Inventory Stock Management
The management of medical device inventories must take into account the interaction of evolving technologies, rising costs, sluggish supply chains, and industry restrictions. According to studies, medical device producers typically keep inventory on hand that shall suffice for 150 days.
However, there is a grave problem that lies when you hold your medical device inventory for too long.
The likelihood that the medical devices you have on hand will become outdated as technology develops rises along with it.
This would, in turn, impact your storage facilities; not to mention the complications for the suppliers. Eventually, this could be dispersed throughout your customer base and supply chain.
Better customer service and quick order fulfillment will result from more closely integrating your planning with your customers' demand forecasts. But in order to make quicker judgments based on reliable, timely data, you need real-time technologies, you need ERP.
The medical supplies companies must evaluate their operations and aim to achieve the following:
To maximize the distribution of scarce medical supplies, continual monitoring of inventory
A common platform to update and share information for all other modules of the business.
Tracking Cost of Goods Sold
Speaking of the most important metrics the medical device industry needs to care about, COGS or the Cost of Goods Sold is reasonably an important one to track. By definition, it is the cost incurred by the company to manufacture the medical device from scratch; which includes the following:
Labor costs
Material costs
Utility
Rental costs
Why do we say it is an important metric? The company can analyze the profits it makes from the number presented by the COGS calculation. The lower the cost of sold goods (or the manufacturing cost), the higher the profit.
But the challenge is how do you collect data to calculate your COGS?
You need a trusted source of information from which your income statement will take shape. Your profit and loss statement will provide information on the manufacturing cost of goods.
Yet, there are several companies that do not have a reliable source of information for both COGS calculations. You cannot have validated inventory quantity information without a cloud inventory system. Without this data, your finances will never be accurate.
This further underlines the need for ERP in the medical supplies business.
Cybersecurity
Due to erratic demand, the medical device companies are the ones that have been the worst hit in the past couple of years. It has become more difficult to maintain greater stockpiles of medical equipment to withstand supply chain interruptions.
To have more and faster sources of inventory, manufacturers end up adding more vendors for their hardware and software requirements. Relying just on one or two reliable providers may not suffice and therefore, multiple vendors are enrolled.
As a result of this, the manufacturers become more vulnerable to cyber threats as they increase the number of vendors with whom they partner.
The FDA regulations mandate that U.S. companies check suppliers for software vulnerabilities. However, practically this might be more difficult to implement because accessing and checking the source code can be an issue. In the absence of programming experts, the errors in the code can remain undetected and hidden; furthering the risk of cyber threats.
UOM – Unit of Measurement
Companies that manufacture, repackage, relabel, and import medical devices sold in the United States are subject to regulation by the FDA's Center for Devices and Radiological Health or CDRH.
Additionally, CDRH oversees the regulation of both medical and non-medical radiation-emitting electronic products, including lasers, x-ray machines, ultrasound devices, and color televisions.
There are three classes of medical devices: I, II, and III.
From Class I to Class III, regulatory oversight is more stringent.
The regulatory specifications for a generic device type are specified in the device categorization regulation.
Premarket Notification 510(k) is not required for the majority of Class I devices, but is required for the majority of Class II devices, the majority of Class III devices, and the majority of Class IV devices.
The following are the fundamental regulations that producers of medical devices sold in the US must follow:
The ISO 11240 conforming standard is known as the Unified Code for Units of Measure (UCUM).
The guidelines for the usage and codified representation of units of measurement for sharing data on quantitative medicinal product properties are set forth in ISO 11240 Units of Measurement.
The IDMP Standards that the companies must adhere to are as follows:
Personalize the Purchase Process
In today's date, there are multiple stakeholders that hold the purchasing power rather than just one individual. Medical professionals, surgeons, and their support personnel, and supply managers, to mention a few, may be on the purchasing committee you are selling to.
As a medical supplies company, you need to put your finest effort to investigate the key players and their roles for an effective and customized presentation.
Companies can also evaluate what operations the doctors specialize in, and anything else that could be useful.
Modify the sales pitch to meet their needs as you learn more about your customers.
Stress on gaining more knowledge about the customers or clients beforehand and attempt to establish a lasting connection and better customer engagement.
Finance and Sales Integration
How well is the finance department connected with other departments, especially sales, can spur positive changes for the business. This is because the finance emerges as a primary repository for data. Even today, many accountants use a variety of record-keeping and data-entry systems to carry out financial tasks within a firm.
The majority of finance functions in organizations, however, rely on spreadsheets and other such methods for information reporting and interchange. However, manual data interchange and transaction methods such as spreadsheets quickly become time-consuming and prone to human error.
These spreadsheets will need to be thoroughly examined and analyzed whenever any other department like Sales needs the data that the finance department has provided. Using automated integration solutions can eliminate the tedious and time-consuming operation of entering data into spreadsheets.
The extraction of information and its analysis from it will also become simpler if they use automation. Integrating finance will help firms to automate many redundant procedures and increase efficiency and productivity.
While the integration of finance with sales can be done in many different ways, it still poses a problem for many companies. The fragmented data that resides in various systems is one of the main problems keeping sales and finance apart.
If there is not much pertinent data in the ERP system, sales colleagues may experience a similar problem while finance management may feel they lack insight into sales creation and forecasts. Both teams can collaborate more efficiently when the CRM and ERP systems are integrated.
Communication between Accounts, Sales, and Inventory - is a Problem
Just like we learned about disjointed sales and accounts departments can be a problem for many businesses, this section informs us about the communication gap between the accounts, sales, and inventory.
The accounts department is responsible for tracking and maintaining the entire financial information with them. This includes the sales figures, the income from sales, business expenses, the manufacturing expense, labor costs, expenditure on marketing and branding, and so on.
This information must be provided to them by the sales department that keeps track of leads, deals, campaigns, and the overall performance. Similarly, the inventory or the supply chain department monitors the goods packing, shipping, delivery, backorder management, and also the information of the suppliers.
We know that all these teams use the information to further drive the individual processes. Now, without an ERP system or a central system that collects, holds, and presents data fed by all these teams, it would be extremely difficult for all these teams to access data.
Employee Management – Hiring, Incentives, Leaves, Attendance
Employee management has multiple aspects submerged under it, and therefore, could be tedious for businesses to manage without a comprehensive system in place. An employee management software that takes of payroll, attendance, and leaves, to name a few can bring in a lot of coherence.
Recruitment: All companies, big or small, need to keep a record of their hiring process and the hired employees. The human resource team can function much better with a system that lets them enter, view, and analyze the employee data for various business processes.
Incentives: When trying to recruit the top talents in the field, employers should be prepared to offer incentives, benefits, and other perks that accompany the role in general. A record or policies pertaining to this must be stored for easy access by the people concerned.
GPS Tracking: Intelligent attendance management is now possible with contemporary software that allows employers to track through the GPS.
Besides these factors, the human resource team needs to align and take care of the attendance and leaves. A leave management system that lets them access employee information easily can untangle a lot of knots and expedite procedures pertaining to employee management.
Batch Tracking and Product Recall Management
Storage is one of the key elements of any manufacturing company. For the firm to be successful, inventory management, item quality, picking, and shipping procedures all need to be handled efficiently. When management is done manually, the outcome is frequently time-consuming, and prone to human error. This further results in delays, inaccuracies, and manufacturing overhead.
Additionally, the costs may drastically rise as a result. Another factors is the recalls or the returns. More frequently than manufacturers would like, recalls do occur. Compliance is a very critical term here.
If they want to remain in compliance, medical device manufacturers must be able to trace every component back to its original location.  
Utilizing an integrated system or a cloud-based ERP solution makes it possible to manage laboratory approval requirements, and comply with FDA standards. Moreover, documenting all the transactions and complying with international regulations becomes simpler. The technology guarantees traceability along the whole supply chain and also keeps the accuracy of the data intact.
Miscellaneous Wastage
The medical device industry is prone to encounter miscellaneous wastage which results from the goods damaged or lost in the process of manufacturing.
Damaged Goods: When accounting for damaged goods, tracking and posting returns of damaged or lost goods is important for drafting accurate financial reports. Knowing your inventory changes is essential for making precise financial statements.
Waste in manufacturing process: Another aspect is monitoring waste in manufacturing. This can be calculated by keeping track of raw resources independently from completed goods. It must be written off for driving correct financial reports.
Monitoring these aspects can be difficult and is a challenge for many companies.
As-is Process Vs. Desired Process (Medical supplies ERP)
An as-in process analysis is an apt way to understand the comparisons between the current conditions and the ideal or desired conditions in the medical supplies sector.
With the pandemic stressing the healthcare systems, acute shortages of medical supplies and consumables have highlighted the relevance of a comprehensive ERP. The healthcare industry's supply chain is under a lot of strain.
This is especially true for the medical device industry's supply chain is becoming increasingly complex as businesses expand aggressively to match their product lineups with the fast and constantly changing landscape.
Here are some stages that the medical supplies sector might need to overhaul:
Inaccurate Inventory Data
The process is made more difficult by their reliance on outdated software for handling inventories, purchases, transportation, and other processes.
When COVID-19 peaked, instances of software systems having major technical performance problems and bottlenecks were commonly observed.
Lack of knowledge about the inventory at hand, how much would be required, and what supplies are out of stock have created major issues.
Desired Process
A system that lets the companies view the real-time and the latest updates of their inventory can solve the problem.
All the software requirements must be fulfilled to be able to store data comprehensively.
Broken Supply Chains
With a heavy reliance on the distributors and third-party logistics, quick procurement becomes difficult owing to huge demand or situations of crisis. This calls for prioritizing procurement and supply chain management.
Desired Process
The greatest strategy should be to stop all manual processes that are unnecessary to streamline the data flow from beginning to end.
Concentrate on integrating the inventory and procurement solutions.
Hoarding/ Poor Inventory Planning
Hoarding occasionally occurs as a result of insufficient logistics or a lack of prioritizing for the delivery of essential commodities.
This often tends to prove cost-inefficient and also affects the efficient distribution.
In some cases, when the inventory has been sitting idle for too long, it may even result in a loss of inventory (due to obsolete or expired inventory).
Desired Process
Innovate your supply chain to get rid of problems like poor inventory management and hoarding. This will not only aid in efficient supply distribution but also in setting the proper price and preventing inventory loss.
Cargo and Carrier Service Management with Precision
The COVID-19 incident has shown us that proper data modeling is crucial for a quick reaction to the ever-changing dynamics of the viral spread. Any cargo or shipping service must be aligned well with meeting the demand in time.
We are aware that one requirement for a carefully planned distribution of medical supplies is reliable inventory data.
The second is handling the intricate logistics of moving goods between several sites.
Desired Process
Companies must ensure they are able to provide medical facilities and allocate supplies more intelligently
This is possible only with real-time information about supply migration by utilizing contemporary vehicle fleet management software and cargo tracking tools.
As-is and Desired Process Analysis
The analysis of the two states provides insights into how the processes could be improved to achieve the desired outcomes. The chief problems the medical supplies companies face is the insufficient or inaccurate inventory data, broken supply chains, and meeting the fast-paced requirements/demands with help of efficient shipping services.
Once these are met, the operations can be better streamlined, and meeting the requirements would be simpler.
Which ERP Features Are Ideal for Medical Supplies Companies?
Not all ERP systems are the same. It is essential you spot the right combinations that apply to your sector and your business. With a wide variety of capabilities and functionalities within the ERP can lead to confusion for medical supply organizations who want to invest in the software.
It is, therefore, important to know what works the best for you.
In order to help you choose the best ERP system for your company's needs, we have developed a list of the features that bring the most value to the pharmaceutical and medical supply sectors.
The primary advantages of utilizing ERP for successful medical device manufacturing are as follows.
Compliance
CRM Integration
Quality control
Real-time data analytics
Integrating older and latest systems
Predictive stock management
Compliance
Since the medical supply industry requires strict compliance, ERP software supports this with extra features that make regulatory fulfillment simpler, such as reliable data-keeping and easy access to specific standards.
Here are top 3 reasons why medical device compliance is significant:
For ensuring medical device safety for patients
Acquiring approvals from the regulatory bodies
Enabling smoother medical device audits
The question is what enables companies to be compliant.
Storing data on an excel sheet for tracing device manufacturing, as we know, is an outdated technique.
There are two ways in which companies can do it:
Conduct medical device testing in the early stages.
Alternatively, they can work with a tool or application that can help them assess and manage the traceability of the newly manufactured devices, or of the products that are undergoing manufacturing.
CRM Integration
When we speak about a comprehensive ERP architecture, an integrated CRM system can potentially be instrumental in ensuring complete alignment between client management and inventory controls.
Enhancing sales and marketing is one of the key benefits of an integrated CRM. Along with presenting customer data insights, the ERP system also makes available order alignment and processing.
Quality Control
Quality control is crucial in the pharmaceutical supplies sector. So an ERP system with complete batch tracking capabilities is essential. With such technology, the QC and order fulfillment processes are made simpler and the supply chain is completely transparent.
Real-time Data Analytics
This is enabled by ERP to assist in boosting productivity and making informed decisions easier. It also helps in the allocation of resources. Enhanced data insights may help all corporate operations operate more profitably, reliably, and efficiently.
Integrating the Older and the Latest systems
Integrating new and old systems and applications could be an uphill task for most healthcare or pharma companies. The need to bring them together has led to a higher demand for ERP software. With ERP software, the amalgamation of data in the older and the new systems is easily possible.
Predictive Stock Management
In the quickly changing medical supply market, having the right stock at the right moment is crucial. In multi-site warehousing operations, predictive stock management streamlines replenishment and procurement. Moreover, it also helps with distribution and fulfillment. Companies can, thus, maintain quality and accuracy.
Bonded inventory or stocking is a procedure used by suppliers as part of their safety stock plans whereby they purchase and store necessary products for a predetermined amount of time.
Controlling bonded and general stock is made considerably simpler by multi-site warehousing features. An ERP system with bonded stocking capabilities can improve accuracy and boost productivity across the whole supply chain.
COVID-19 Impact on Medical Device ERP market
The coronavirus pandemic is straining the global pharmaceutical supply chain to its breaking point. It has placed an unprecedented level of stress on this sector of the economy. These factors have contributed to the pharmaceutical and medical supply businesses experiencing incredible upheaval and expansion during the last couple of years.
While the sector has been keeping busier than in pre-COVID times, it is also reeling under the stress of sourcing markets. The sector is expected to surpass $104.3 million by 2026 as a result of the rising global demand for life expectancy. Consequently, this has led to burgeoning demand for technological advancements.
We know that despite the number of COVID-19 instances continuously declining, there are still things that future supply chains for medical devices may do to improve their safety. There is a lot of medical equipment that has been consistently in demand and still is due to the sustaining pandemic. Some of the equipment includes the following:
PPE kits
Syringes and vaccines
Ventilators
Testing devices, and so much more!
These are just a few of the many medical products that are constantly in demand.
Conclusion: The demand for ERP from the medical supplies sector will only grow in the future.
How can Deskera Help You?
As a part of the medical supply industry, you must be seeking a comprehensive system that empowers you to align all your business modules including accounting, inventory, employee management, to name a few.
Let Deskera Books take over all your accounting hassles and automate all the major tasks including invoicing, expenses, billing, and much more.
Deskera People makes for a specialized tool that looks into all the aspects associated with employees' payroll, deductions, attendance and leave management, to name a few.
Deskera provides an ERP solution that focuses on distribution and is future-ready for a variety of enterprises, and the best part is, that it can be customized to your specific needs. With a futuristic view in mind, our ERP makes for an ideal tool for developing and advancing your company.
Try Deskera to Streamline Your Business Operations
Sign up for a Free Trial Today!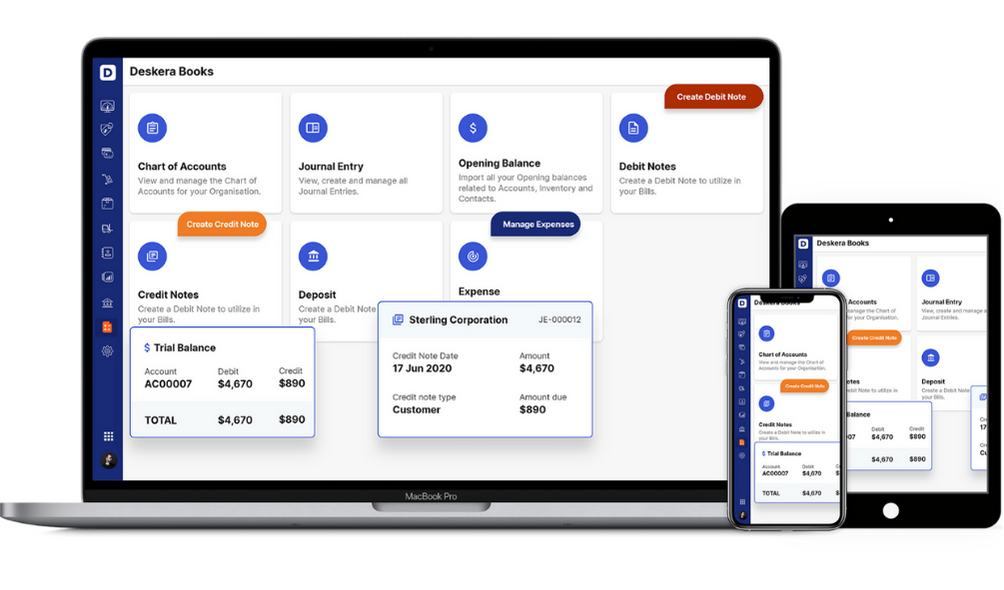 Key Takeaways
Automation, compliance, advanced inventory management, precision, and getting rid of the paper-based time consuming tracking techniques are some of the reasons why the medical supply industry needs ERP.
The key challenges faced by the medical supply sector include the following:
Supply chain disruptions
Time spend reconciling data
No real-time view of data
Multi-channel sales ops
Knowing fulfillment options
Returns processing
Inventory stock management
Tracking COGS
Cybersecurity
Related Articles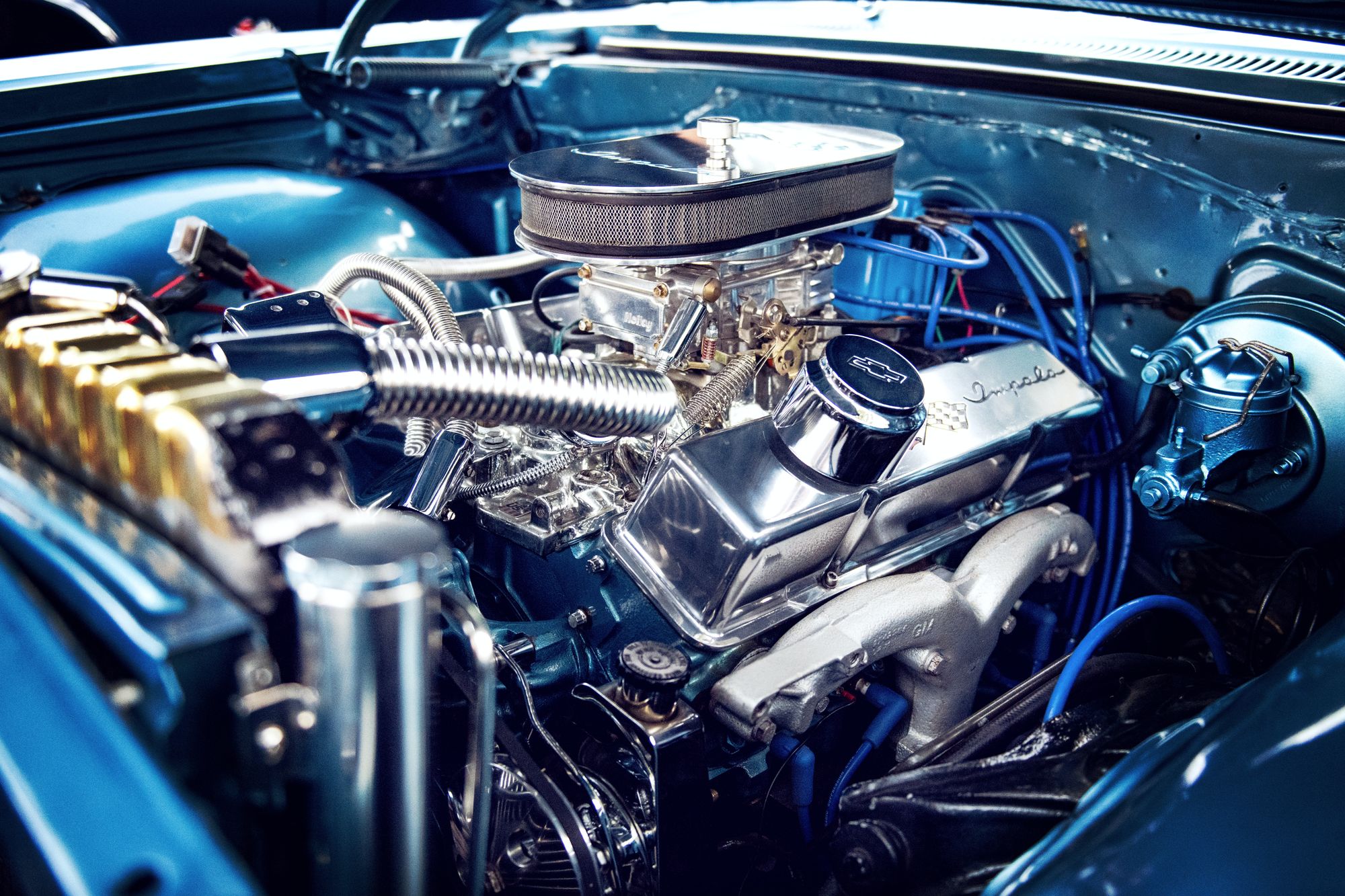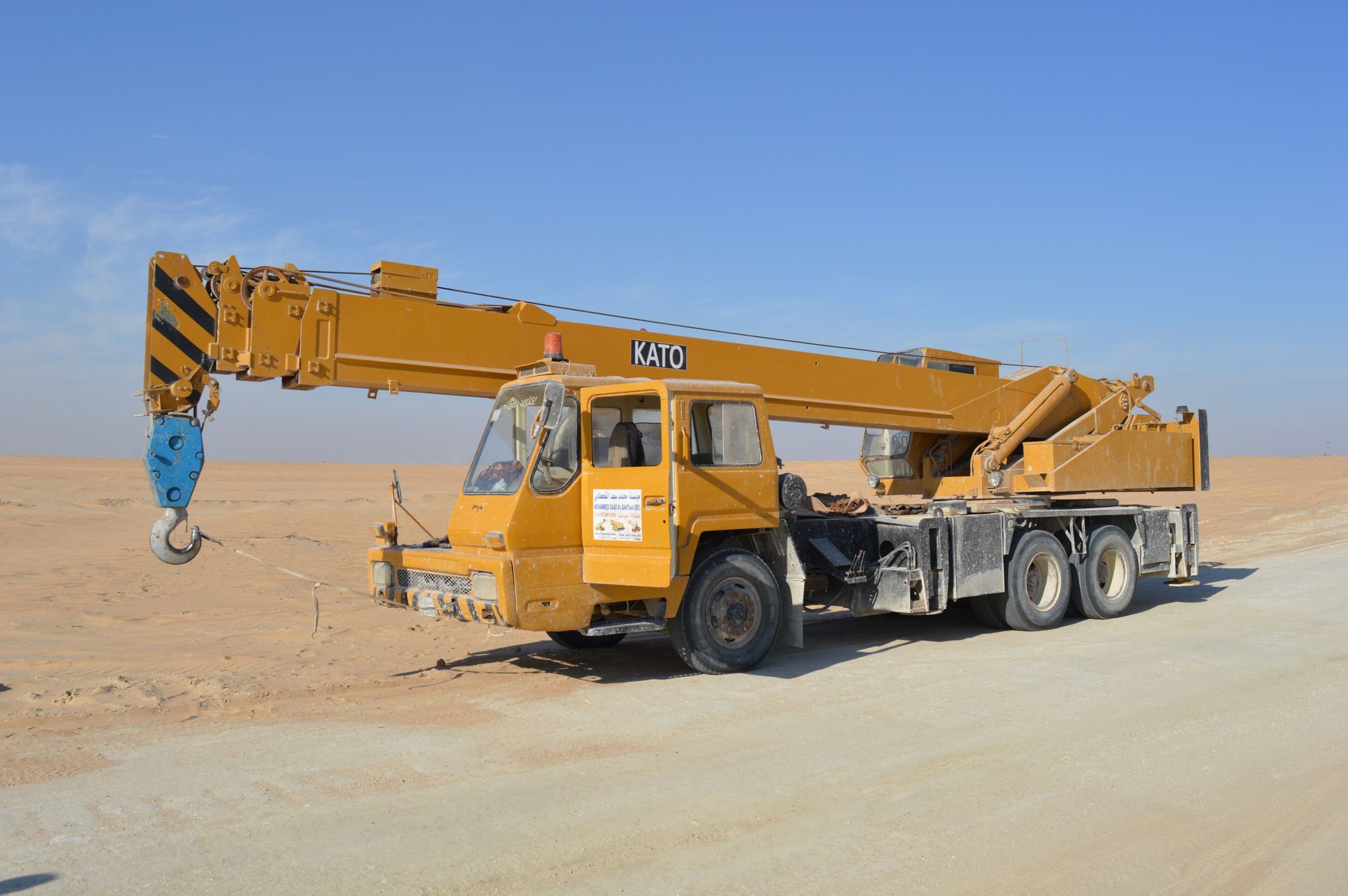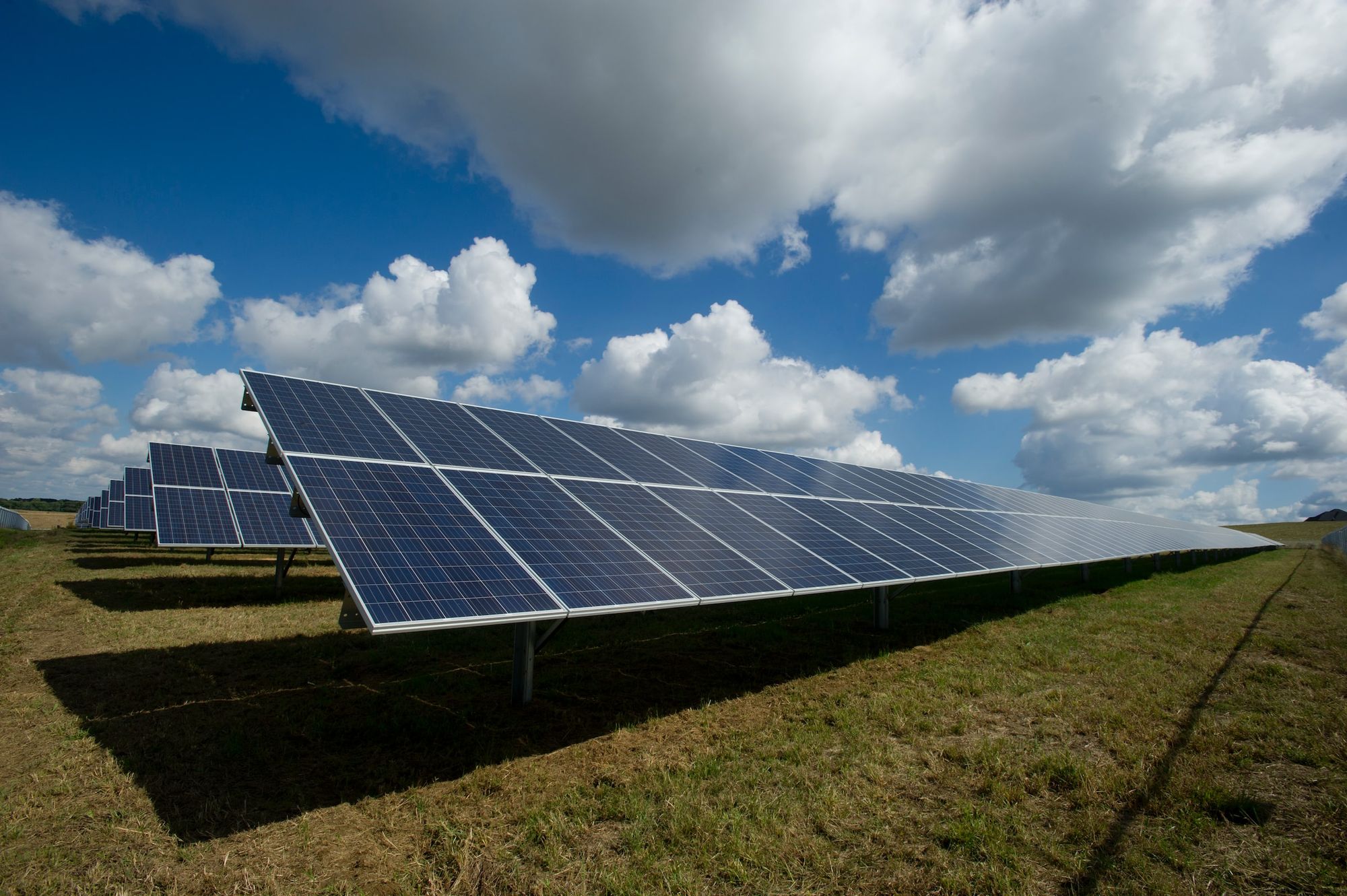 ---
---