You are doing everything right as a business owner, you have a company website, an active social media page, stellar messaging to the customers, and all the great offerings for your customers. Then why are your conversion rates not seeing a rise.
Perhaps, it's time you work on your landing page and make it more focused on lead generation. Wondering what is a lead generation landing page? Worry not, we got you on this.
In this article we will help you understand what a lead generation landing page is with examples.
By the end of this article you will have insights into:
What is a lead generation landing page?
Why do you need a lead generation landing page?
Benefits of lead generation landing page
Examples of lead generation landing page
What is a Lead Generation Landing Page?
Lead generation landing page is a place where your customers land on after they tap on your social media, website post, ad etc. It's a page that takes your customers to a page that welcomes them to buy in, purchase, or sign up.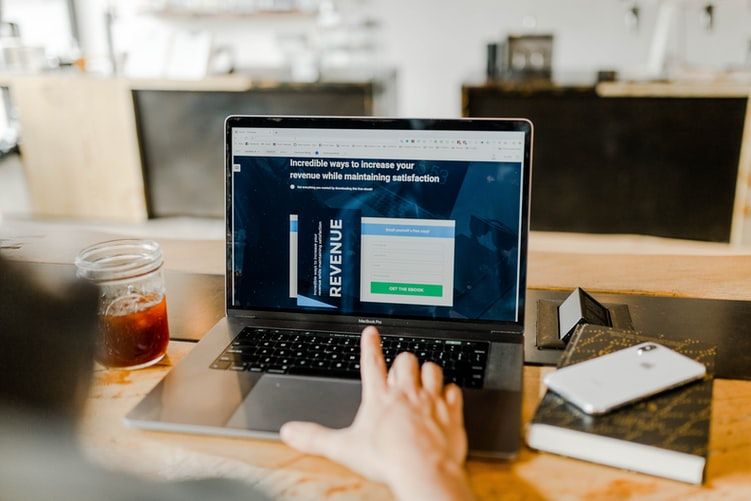 A lead-generation or lead-capture landing page is primarily intended to collect leads by means of a data capture form. These pages are very versatile but are most often used in the middle of the sales funnel, at the point where customers are evaluating your offerings and are on the cusp of moving towards the intent to either convert or walk away. It presents both a request and a reward simultaneously.
What's essential to comprehend about lead generation pages is, there's a significant distinction between a buy or checkout page and one that is worked to gather prospect data.
A lead generation landing page addresses the absolute starting point of the transformation channel where customers enter their data in return for an asset. This data normally incorporates things like their name, email, industry, telephone number, or organization size.
While the data you gather differs by industry and objective, what you gather is utilized first to sort out whether that lead is qualified, and afterward used to sustain that prospect nearer to bringing a deal to close.
For every business the period from getting a visitor, getting in touch with them, transforming them into a lead, and closing the deal with them is a crucial period. With the help of a landing page you can start a connection with the prospects from the beginning.
Let us understand at length why you need a lead generation landing page.
Why do you Need a Lead Generation Landing Page?
Approximately 68% of B2B businesses use landing pages to generate leads for future conversion.
For all that you offer to your customers as sellers you showcase it to them via the help of your website, or social media pages. But how do your customers go to the next stage closer to buying your product?
A landing page makes that possible. All the promises that you make to your customers in your blogs, websites, advertisements, a landing page helps your customers to make sense out of it.  
As we have mentioned before, most importantly a lead generation landing page enables your customers to connect with you and vice versa. You can get in touch with them once you have their contact number, email, and so on. You can reconnect with your visitor or later turned customer in future.
According to MarketingSherpa's Landing Page Handbook, 44% of clicks for B2B companies are directed to the business' homepage, not a special landing page . Furthermore, of the B2B companies that are using landing pages, 62% have six or fewer total landing pages. This is one of the major reasons why you may be seeing less conversion rates. Hence, it is important you have a clear directed landing page in place that helps you convert.
We have enlisted a few reasons why it is important to have a lead generation landing page.
Next stage to your offerings
On your social media page, your website you have several offers that you may have made open to your customers. However, not necessarily you will have customers actually signing up to you or making a purchase. In that case you still expect one action which helps you close a deal.
When you offer something to your customers, they can then hit the link to your landing page and fill up information you need to persuade/convince them to make a purchase. For the effort that you have put in, in return you get the contact of your potential customer.
Market research
While this might not be a famous or favourite reason as to why you need a lead generation landing page, it certainly makes all the difference in the longer run. Once you have high conversion rates or just conversion rates in general generated by your landing page it will help you understand the customer base that you attract.
This will help you design the future of your company. It will also help you understand what needs to be changed in your brand as your company or the products/services you offer.
Spine of your content
For a successful marketing and business story you need strong content, it's your spine. Landing pages are an incredible expansion to any business's weapons especially in this age of technology and social/online recognition as a business. To find out why landing page plays such an important, here is a blog, how landing pages can improve your sales.
It can be partaken in online media, utilized as the focal point of committed email sends and in lead supporting efforts, be connected to in PPC, and get found in natural hunt.

Your performance report
Once you have created your landing page, it is up and running, what you need to see is how well it's working. After all, customer service is a great selling point. You can gather a great deal of understanding into your promoting execution, for example, how your different showcasing offers analyze, how customers and leads are changing over on your landing pages over the long haul, and the sky's the limit from there . This gives you amazing understanding that can assist you with streamlining and working on your business.
Now that you have understood a few reasons why you should have a lead generation landing page, look at the advantages of a lead generation landing page.

Benefits of Lead Generation Landing Page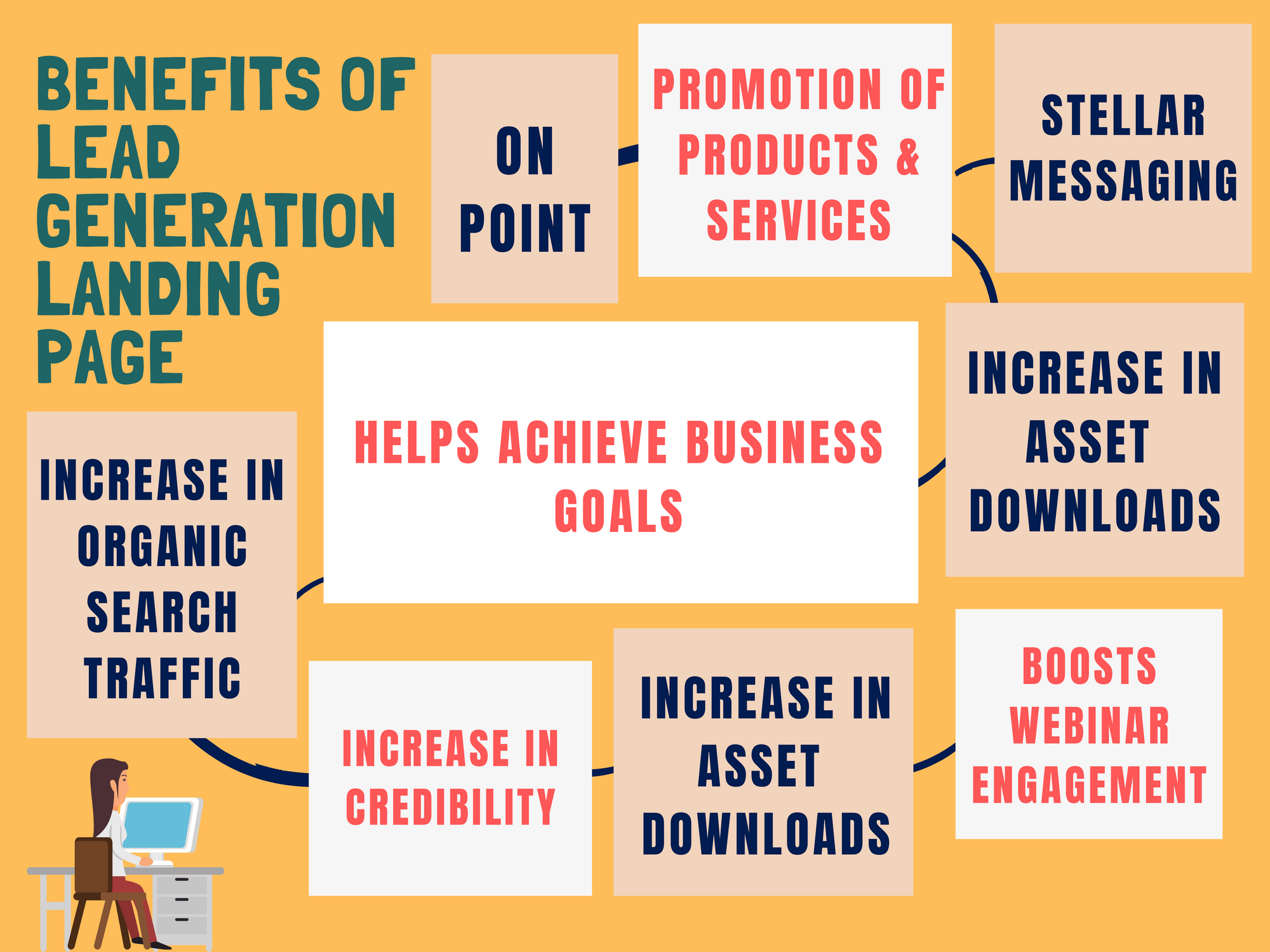 As you may have understood by now that any landing page is one the first main interactions that your prospects, customers have with you. Before the landing page stage they probably just know you exist or little about what you offer as a company.
Apart from the benefit that it bridges the gap between you and your customer, we have enlisted several benefits of a lead generation landing page that you must know about.
Promotion of Products & Services
One thing you must keep in mind is that a fair 89 percent of B2B customers say that winning vendors reflect clear ROI and client work. So your chance to shine goes up by hundreds.
Suppose your organization has quite recently put the final details on an intriguing new piece of programming that will be consolidated into your item stage. It's the front line, and it thoroughly changes the manner in which your item capacities and how clients cooperate with it.
How would you spread the news that you've quite recently pushed the envelope on advancement in your space? Clearly, hitting up the public statement appropriation channels and interpersonal organizations will be fundamental.
However, making a devoted landing pages for that element, instrument or innovation truly focuses a light on the worth it adds to both your item and your clients.
With a landing page it's easier to bring all the real-world benefits to light with a landing page devoted to a specific service in the market.
On point
This is especially relevant with all the landing pages that are compact and, particularly on account of item or administration pages, unmistakably spread out the worth your image can offer site customers.
That unequivocal quality can be extremely invigorating for a B2B crowd that simply needs to discover an answer for whatever issue they're confronting or is currently reviewing various merchants and needs an obvious show of the ROI everyone brings to the table.
Landing pages are ideal vessels for imparting your center image information and worth including the most effective and stripped-down design conceivable. It delivers what exactly your customers are looking for.
Helps achieve business goals
What are your business goals? Expanding marketing projections, developing your client base, growing your impression into new business sectors or dispatching another item or administration, among others.
With landing pages you are always one step closer to your destination. That is somewhat the magnificence of landing pages content. It's prominently adjustable and adaptable. You can twist landing pages for any circumstance and support any mission, procedure or drive you have underway.
Landing pages are so convenient,  they are meant to assist you with handling any issue and accomplish any objective. Thus, on the off chance that you haven't as of now, consider your landing pages to distinguish where you could utilize more and refine your current substance to make it easy to find. Anywhere and anytime.
Increase in asset downloads with lead generation landing pages
Landing pages assists you with guiding more traffic to your gated content. It's a little discouraging how normal brands' significant white papers, eBooks and other downloadable resources are so all around covered up that they are basically difficult to track down without an immediate connection.
Utilizing CTA catches, inside joins and different suggestions to take action to direct web page customers to resource points of arrival will expand the quantity of downloads for this substance just as assist you with expanding changes.
Landing pages likewise give a simple method to advance resources remotely through pamphlet messages. Remember a connection to gated content for every one of your week after week bulletins, pause for a minute or two and watch your downloads soar.

Increase in organic search traffic
In any web page, what's important is to drive traffic and when it starts off organically, you will be happy to know that you are doing nothing but your landing page game right.  
Driving up organic search traffic is extraordinary, however on the off chance that a sound level of those site customers don't move forward in the business channel, it will not imply that much to your organization's main concern.
That is the reason a strong inward connecting system is so imperative to content showcasing, giving your crowd a way toward additional commitment and crawling them along the client venture.
All around put CTAs and inner connections shepherding site customers to important landing pages assist you with isolating the goods worth keeping from the debris by giving those individuals who are keen on your administrations or simply need to peruse a greater amount of your substance an approach to keep your customers engaged.

Increase in credibility
As you may have gathered by now, a lead generation landing page is meant to solve your customers problems and for you to have a larger customers base. You as a company can give alleviation to whatever problem your customers are facing. You can truly pound the point home by showing client tributes or displaying a portion of your previous and current fulfilled customers in your landing page.
By this you prove the point, action speaks louder than just words on your website and win their credibility. Reviews and client experience help in selling a product because when we see others are content with a product or service. With B2B landing pages, that implies demonstrating to customers that your image and your answers have a long history of progress.
Indeed, even moving the logos of your client companies featuring previous customers can assist develop your validity with deals possibilities. The greater names, the better, clearly.
A gleaming draw quote from one of your cheerful clients customizes the brand insight and shows potential leads to the substantial advantages of working with your image.

Increase in search traffic
When you have a landing page which is fully optimized, as a well wisher we can promise you a high traffic on your page. However, don't get too comfortable with it.
As they say, change is the only constant.  It's only a smart thought to regularly evaluate your pages' presentation, distinguish potential execution and update your landing page and the content as needed.
Possibly your informing needs to represent new advancements in your industry or a new Google calculation change shifts search positioning standards starting with one point of convergence then onto the next. Achievement in the advanced advertising space is a ceaseless pursuit.

Boost webinar engagement
These days as you know many companies are also doing webinars. While that is obviously the best way to educate your customers on your product related topics and more, webinars can also harness customer engagement on a larger scale.
Connect those pages to online journals that talk about related subjects and advance them on your web-based media channels, and you're ensured to see an uptick in online course participation. Make certain to assemble explicit greeting pages for each online course you have or take an interest in to acquire however many qualified leads as could be allowed.

Stellar Messaging
We know that you probably put out the best blogs which are SEO friendly, and definitely engaging. But your customers may still not get to the end of the article to learn everything that you are talking about.
However, when it comes to a landing page, it is one short blog of kind which is interactive in nature perhaps. The landing pages don't beat around the bush, they are to the point and make sure to convey all that your customer needs to know.
Bonus: You can test your landing page
Out of the 100 trials at least one goes right. This is why you shall do a test run for any news designs, developments, products, and so on. In this way you know what is working for you and probably what's not working for you.
When you create a landing page it is very easy to A/B test to know better about it. You can then make changes and developments as time passes. While this is an option, you may want to put in your best so that your landing page does not have to go through a lot of tests. And also that your customers always have the best experience. Here is a list of great landing pages with their A/B testing results.
We hope you have understood what a lead generation landing page is, why you must have it and what are its compelling benefits. To give you a better idea of what it must look like we have enlisted a few examples of lead generation landing pages that you can take inspiration from.

Examples of Lead Generation Landing Page
Lead generation landing pages are not easy to create, every word on the landing page, every design, image, illustration, functional must add value. It needs to be convenient and must do everything that will take your customers closer to buying your product or service.
So, here we have a few examples of landing pages to help you understand what perhaps are the must haves of a landing page and what you can maybe avoid.

Trello
Trello's landing pages have all it needs to be a successful landing page. They've utilized a green tone to join Trello for free. All components cooperate to make a convincing CTA that feels more like a well disposed landing than the high-pressure "register now" catches we see constantly. It likewise shows customers that there's nothing to lose by joining it's free, why not allow it an opportunity?
The illustrations, in blue and white shading plan and how they've decided to feature various components by exchanging copy and designs such that they ground these components without causing it to feel swarmed.

Campaign Monitor
Campaign Monitor's lead generation page helps clients what they can expect out of this email course. From this straightforward portrayal, clients can rapidly examine for what they're searching for the course covers feature and copy composing tips, just as a contextual investigation and a Google Analytics format they can use for their own revealing cycle.
They've likewise two or three tributes from past endorsers, a protection strategy, and a short clarification regarding how Campaign Monitor will manage your information after you hit the submit button.
These components come way in encouraging a feeling of trust which obviously is the initial move toward supporting clients down the pipe.

Airbnb
A landing page that has minimal text but still doing all the landing page business right. Airbnb can convey precisely what hosts could procure with their straightforward device. What's more, they follow it up with a landing page copy that acquires their crowd's trust.
Airbnb's landing page is heavier on content than the first model, yet a shrewd utilization of room holds the substance back from overpowering the client. Key discoveries are broken into appealing element boxes, and the structure stays the focal point of convergence of the page. The saving utilization of orange on the page helps the CTA stick out, and the advantages to the client are clear.

Falcon.io
Falcon.io makes for a very convenient landing page that pleases all the customers. It gives all the clients an overview of the provisions, benefits, and the vibe of the stage. The feature, Social Media Management Made Simple, gets straight to the point and tells customers  what's in store.
While this is a more drawn out presentation page, clients keen on becoming familiar with what this instrument really jars assemble a great deal of data by looking over.
While short landing pages are frequently suggested, Falcon.io works effectively furnishing clients with an "out" by setting "demand demo" catches all through the page.

Trulia
The headline "How much is your home worth?" This straightforward inquiry talks straightforwardly to the objective persona–somebody who needs to sell their home and is simply starting off the examination cycle. Far better, the individual arrival on this page is compelled to settle on a choice. Would they like to get familiar with selling their home or do it some other time?
The page is super-engaged, with no data on the page there to divert from the CTA. Furthermore, the picture works really hard supporting the accommodation factor. You have a lady on her lounge chair, which infers that she doesn't have to print off a lot of papers to begin her excursion.

Create Lead Generation Landing Pages with Deskera
Lead generation landing page is certainly an essential if you are an existing brand or even just starting out. It will be the driving force for your company. If you are looking for a way to create one for your company, Deskera CRM+ will make the best pick for you.
Deskera CRM+ is a software that has a special section dedicated to landing pages. This section is designed such that it will help you throughout the process of designing, launching, tracking, and optimizing your landing pages.
Deskera CRM+ comes with some pre-installed landing page templates that you can use or you can even choose to design your landing page from the start. Both of these options are supported in the Deskera CRM+'s landing page module. This will ensure that you can create beautiful and professional-looking landing pages that generate leads without the help of any designers or IT professionals.
With Deskera CRM, you can enhance your business productivity by facilitating the automation of your email marketing strategies. Deskera is based on a cloud system model that can help to fulfill all your business needs. Be it data integration, or real-time analytics, Deskera can help you in every aspect.
Deskera CRM is the best platform that can help you with contact and deal administration, sales pipeline management, email marketing campaigns, to name a few. Not only this, but you can also generate leads for your business by creating email campaigns and view performance with detailed analytics on open rates and click-through rates (CTR).
Deskera CRM Plus can help your business by providing you with landing page building templates for your business. Deskera CRM helps small businesses get more from each landing page you create. It lets you build and optimize landing pages that prompt you to improve conversions for your business and increase your sales and revenue. The lead magnets will help generate better responsive landing pages.
Deskera CRM Plus provides you with the tools and templates to build customized landing pages as per your business. It provides you the option to modify images, text, customer sign-up form, embeds custom, HTML, and lets you monitor your website visitors' behavior. Using the website and landing page analytics, you can understand your customer's psychology and improve your sales.
Having a focused sign-up landing page, your business will be able to increase its customer database and will help you retarget your existing customers and also manage customer deals and sales funnel better. Managing your customers using a good CRM system, will save your business a lot of time and money in the long run.
We hope this helped you take inspiration, ideas on lead generation landing pages, and how Deskera makes one-shop-stop to get your landing pages up and running.
Related Articles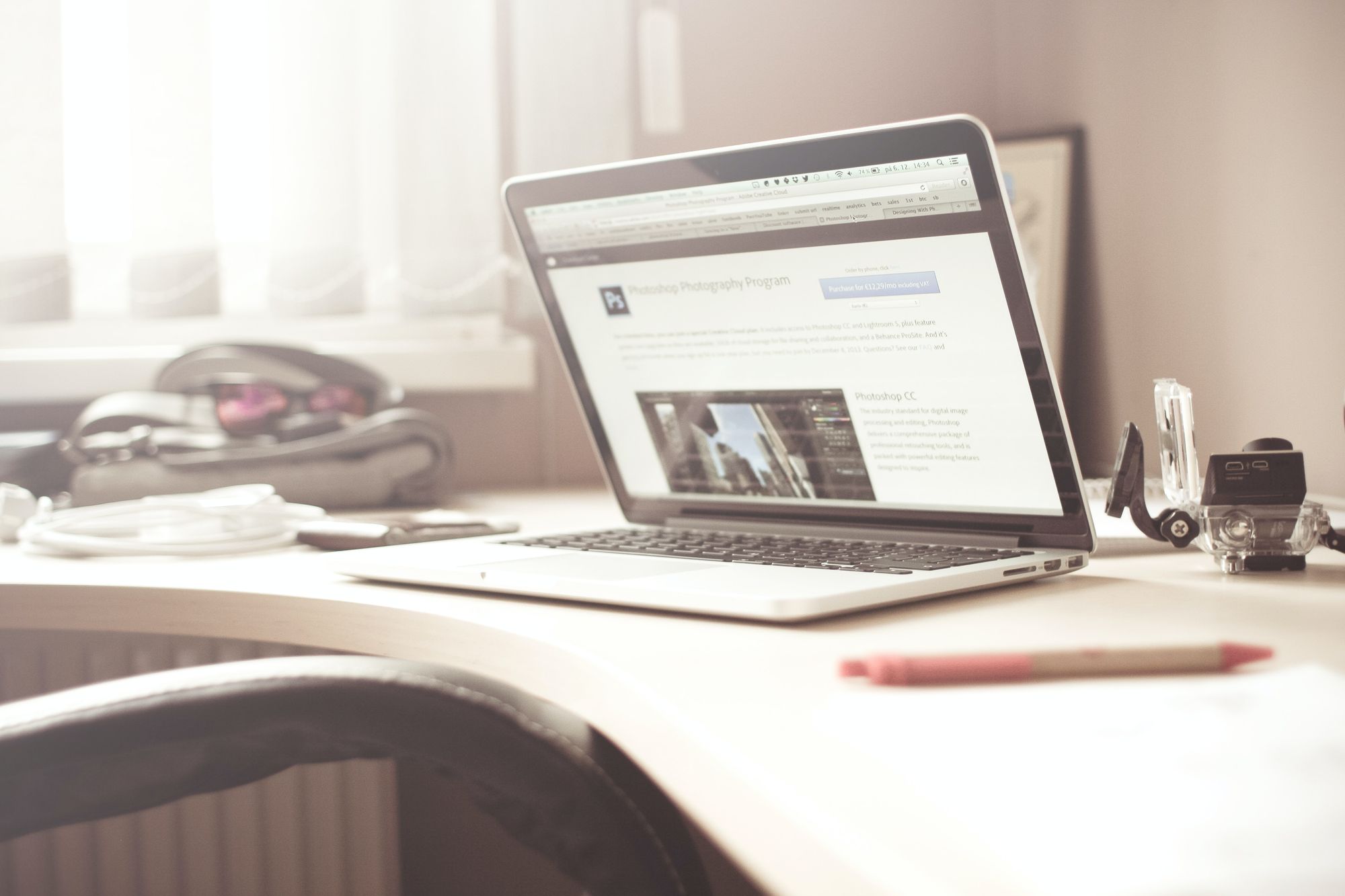 ---
---