In this modern era, it has become quite essential to have an online presence if you want to succeed and gain an edge in this competitive world. This is where a landing page comes to your rescue! It is the page where users first arrive after clicking on an ad. While the landing page is created with the purpose to improve user engagement, their ultimate aim is to increase sales.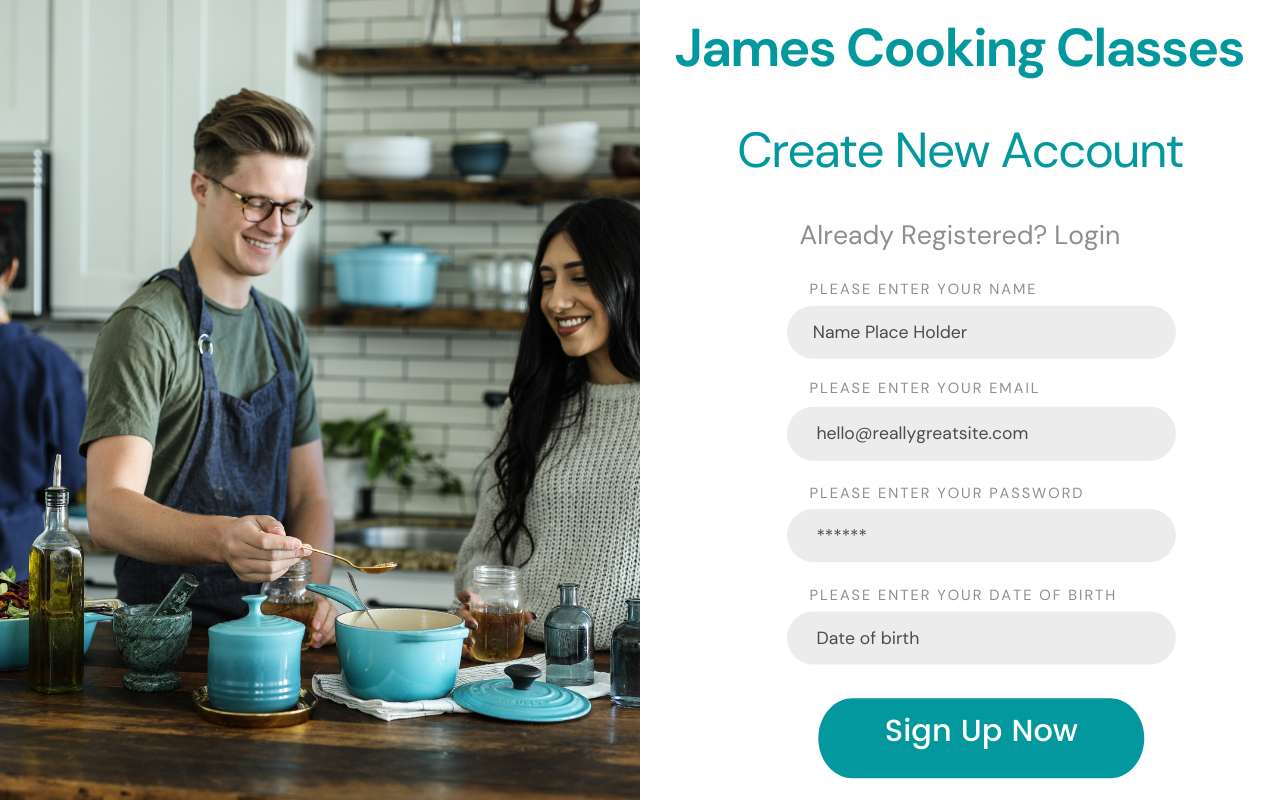 Just imagine that you have a company website that acts as the central hub for all your online business activities. It is the place where you provide all the essential information that people need to become paying customers. It can be detailed information on a product or service or buying options–all factors that push visitors to conversion.
Landing pages are like messengers that raise awareness for what you have to offer. The more intricate your business operations are, the more diverse your landing pages should be. This is the reason why nearly 70% of B2B companies use landing pages to generate new leads. Read this article to know more about it.
What is a Landing Page?
The word landing page appeared on the Internet to express the place where visitors arrive, to perform a certain action. Landing pages are considered separate from the main page of the website. Their whole purpose is to encourage the visitors to accomplish a specific goal. However, the goals vary according to the type of business.
For example, if you have an eCommerce landing page, the purpose will be to add the product to the cart or buy now. While for B2B companies, the purpose can be to sign up for a free trial or to view a product demonstration.
What are the Different Types of Landing Pages?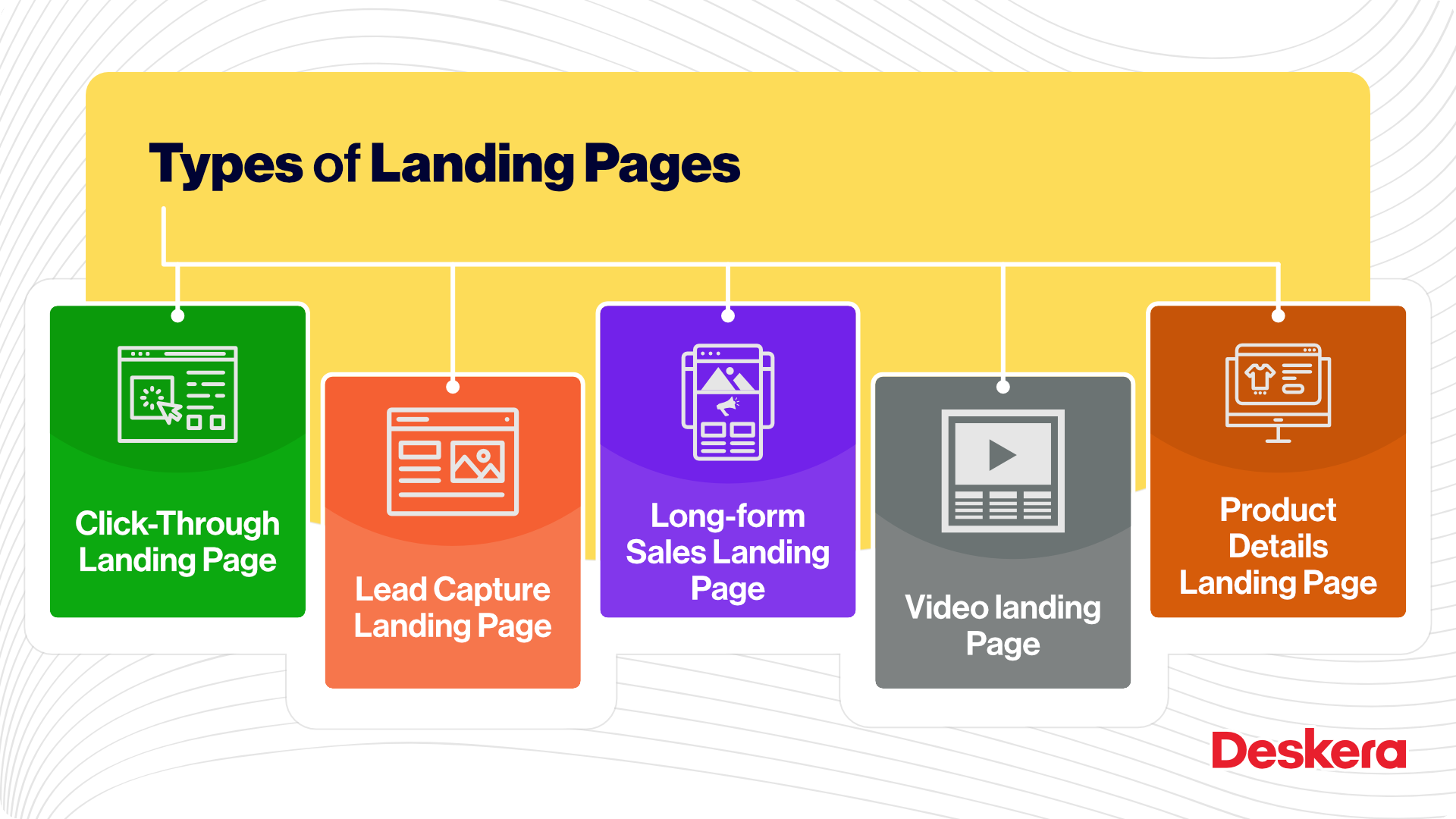 Click-Through Landing Pages
This type of landing page is designed to persuade people to visit a transaction page. The click-through landing pages encourage the leads to convert to a sale.  The page contains details about the offer, focusing on the benefits the product offers, and general details about the product or service.
This page consists of a button that leads the visitor to a page where they can make a purchase. Click-through page shouldn't be excessive in length, but it should let the visitor know why they should make the purchase.
A click-through page contains a headline, a list of benefits, some form of a visual, and a call-to-action button. You can also include videos, testimonials, and contact information for your business on the click-through landing page.
When to Use a Click-Through Landing Page?
Click-through landing pages are perfect for e-commerce businesses that are trying to sell a product. The benefit of a click-through page is that the visitor can read all the details of the product without being compelled to buy it. Make sure you make the copy compelling and informational, and the call-to-action button should be user-friendly.
Lead Capture Page
Also called a lead generation landing page, the lead capture page focuses on attracting targeted visitors to the landing page. Then the data shared will be used to follow up with this visitor with many emails that help in converting him from just a visitor to a customer.
This page has a simple form and contains only the marketing message, which tends to be a form of "Are you interested in this?' Register and then get the answer to what you were looking for!
Long-form Sales Landing Page
Since the early days of the internet, the long-form sales landing page has been the staple of marketing. They act as infomercials of the digital marketing world. They aim at providing the benefits of the products so that the user gets convinced that they have to purchase what the business is offering. This type of landing page explains every part of the offer to the visitor.
The longer a person spends on this type of landing page, the higher the chance they will convert. If you have a great copy, the visitor will get attracted and will get assurance that they are making the right decision.
This type of landing page requires very well-written and purposeful content. It should include an element of storytelling, which guides the reader through the copy and keeps them interested. Testimonials can also be added to this landing page in order to enhance the credibility of the page.
Video Landing Page
As the name suggests, the main focus of this type of landing page is video, so it is usually located above the fold. A video landing page can have a video, or a video and some complementary text.
The video should be created in such a manner that it explains the value of the product or service. Make sure the video is apt, not too long not too short, the viewer should not lose interest in it. You can include a headline and a video Some other types of visuals can also be helpful.
Videos and visuals help to connect with the audience in a better manner as compared to the text. Videos are engaging as they keep viewers' attention for longer than a typical web page does. In addition to this, many people remember videos more than text.

No matter what kind of business you have, you can use a video landing page. It is the best option for selling products or services that are photogenic, or for businesses that are offering a course. Videos are similar to long-form sales letters as they talk about the concerns of the customers.
Product Details Landing Page
As the name suggests, a product details page provides complete information about the product or service. Visitors can gain complete knowledge about the product and complete a purchase. He/she can even contact the sales representative to learn more about the offer.
Most of the landing pages don't have any navigation out of the page, but a product details page is different. It can have outside navigation, including a website menu. It usually includes important details about the offer.
When to use a Product Details landing page?
This type of page is easy to create as it is located within the structure of the main website. Whether you have organic or paid visitors, you can use this type of page to describe your products or services.
Businesses that are selling a certain product or service seasonally should create an intriguing product details page. With the right details, visuals, and copy, a product details page can drastically improve conversion rates.
How can Landing Pages Improve Sales?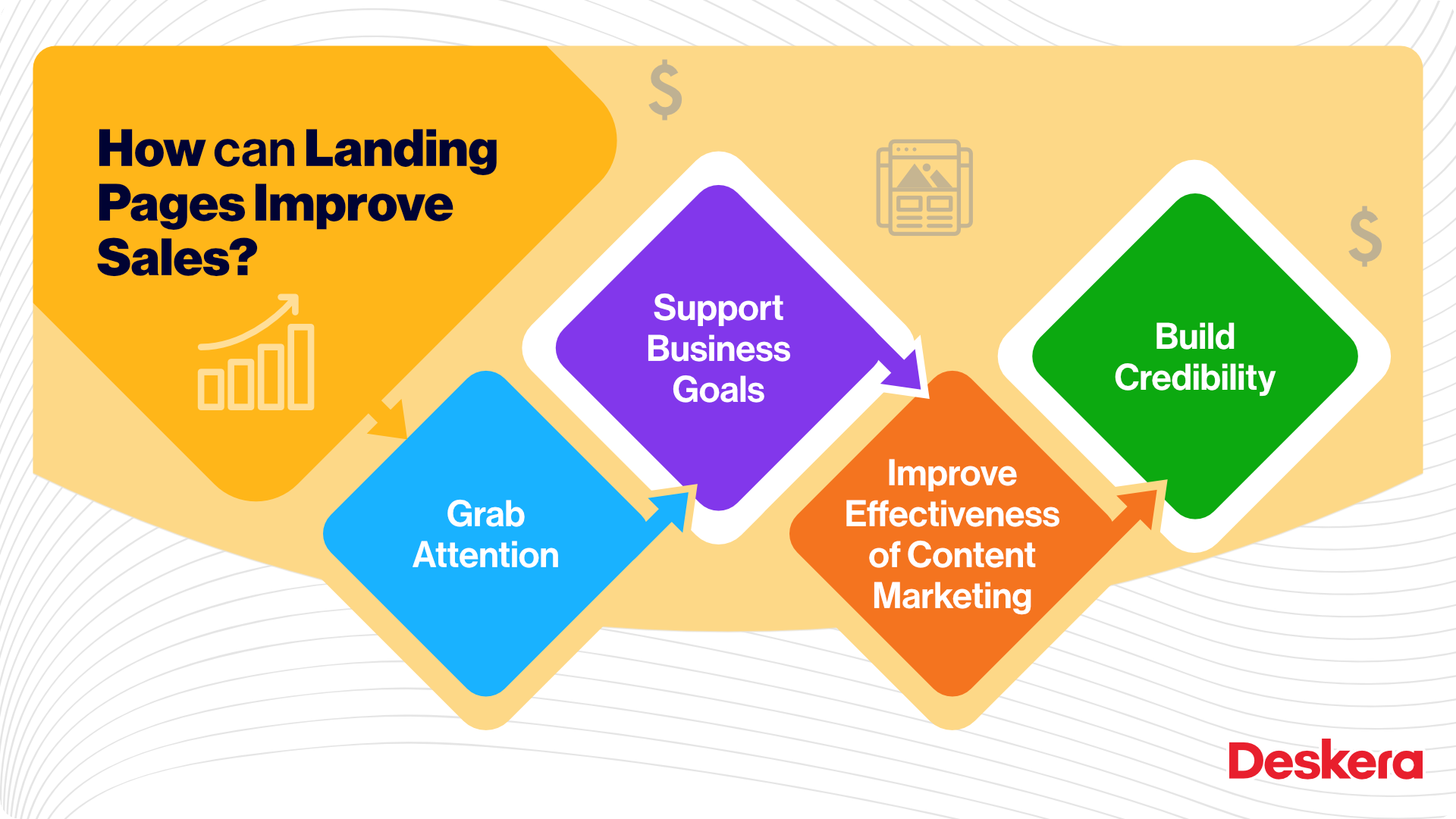 Grab Attention
You might have the best product or service but unless anybody knows about it, it won't be helpful. This is where landing pages step in! Landing pages are beneficial in introducing people to the top of the sales funnel, or the awareness stage. They also help the users in identifying your brand's style.
Not only this but also landing pages help to create first impressions to what your business is all about. Therefore, you can add intriguing elements to your landing page so that the viewers can take immediate action. You can add videos, images, graphics, and compelling CTAs. According to a recent study, it has been found that people respond better to visual information as compared to text.
Support Business Goals
One of the biggest advantages of the landing pages is that they give ample opportunities to meet different types of objectives. Whether you want to promote a product, reach a new market or close the sale, you can design these pages to serve your target audience.
Based on your research, you can use targeting tactics and add certain pages that can help to drive more sales for your business.
For example, you want to promote your messaging in a certain location. With the help of regionalized landing pages, you can increase engagement in specific areas.
No matter what your business goal is, you can reach your prospective customers with the help of landing pages.
Improve Effectiveness of Content Marketing
Content marketing is becoming quite popular these days, owing to the benefits it offers. Most businesses are increasing their investment in this area as it is helping them gain higher returns of the investment.
Landing pages can be quite beneficial in spreading your message around the web.
For example, you regularly post content on your website and distribute it through social media profiles, email, PPC, and more. Landing pages can be quite helpful in bringing attention to your marketing channels by asking visitors to follow, sign up, and check out the messaging you promote with your content.
For example, Shopify is an ecommerce platform that has a landing page for retail point of sale (POS) systems that allow retailers integrate their online and offline sales. Shopify forms a content strategy that helps sellers build customer profiles, manage inventory, and improve business using POS data.
Build Credibility
If you talk about the online business world, credibility is a currency that is said to be more valuable than money. Without it, opportunities are very few.
That is why it is important for your landing pages to demonstrate credibility firstly. There are a plethora of ways to achieve this.
Even if you are a beginner, you must be aware of how important third-party validations are, such as online reviews and testimonials, when it comes to influencing decisions. Keeping this factor in mind, you can build your landing pages in such a manner that it features a quote or positive word of reinforcement. This can help to build credibility. Social proof helps to make your landing pages convincing.
Make sure you design the page correctly so that it can easily accommodate multiple testimonials. In addition to this, you can even add a positive photo.
Another way to build credibility with your landing pages is through personalization. When a user looks at your page, he/she should be able to feel an immediate connection with it. Not only this but it should also understand their pain points and concerns. This can be done with help of thorough research.
For example, there were a ton of businesses whose search engine rankings took a hit following the latest Google algorithm updates. For an SEO agency looking for prospective clients, designing landing pages to address these concerns and present unique solutions would be a phenomenal way to draw in the viewers who are searching for answers.
Competition in the age of the internet is fiercer than ever. Credibility is an important factor that sets brands apart from their competitors.
What is Landing Page Conversion Rate and How to Calculate It?
The landing page conversion rate determines the proportion of visitors who convert into qualified leads by completing your landing page goal. It may not be necessary that every visitor who hits a landing page will take the action you want. Many people will bounce immediately, while others might read your content and then choose to leave or go to another page.
Calculating your landing page conversion rate is not as difficult as it seems. You will need to note three metrics:
A time frame, i.e. 15-day or 30-day duration
Total number of landing page visitors during the set time
Total number of conversions during that time
To calculate landing page conversion rate:
You need to divide the total number of conversions in a defined time by the total number of visitors on your landing page. Then, multiply the answer by 100 to get a percentage.
Tips to Improve Landing Page Conversion Rate
Let's take a look at some of the tips that can help you to improve landing page conversion rate:
Analyze what's not working on your landing page
Understand user behaviour
Value Above Fold
Write compelling headlines
Include relevant videos and visuals
Craft a strong and compelling CTA
Run A/B tests regularly
Make sure the page load is optimal
Make your landing page mobile-friendly
How can Deskera Help you in your Business?
Looking to design a landing page to improve sales? Deskera can help you. Deskera can help you facilitate the process of designing and managing landing pages through your CRM software. Thinking how? Deskera CRM+ has the solution.
Deskera CRM+ is a software that has a special section dedicated to landing pages. This section is designed in such a manner that it will provide you complete assistance throughout the process of designing, launching, tracking, and optimizing your landing pages.
Deskera CRM+ comes equipped with some pre -installed landing page templates that you can use. You can even create the landing page from the beginning according to your special requirements. Both of these options are supported in the Deskera CRM+'s landing page module. This will help you in creating professional landing pages that will help in generating leads without any professional help.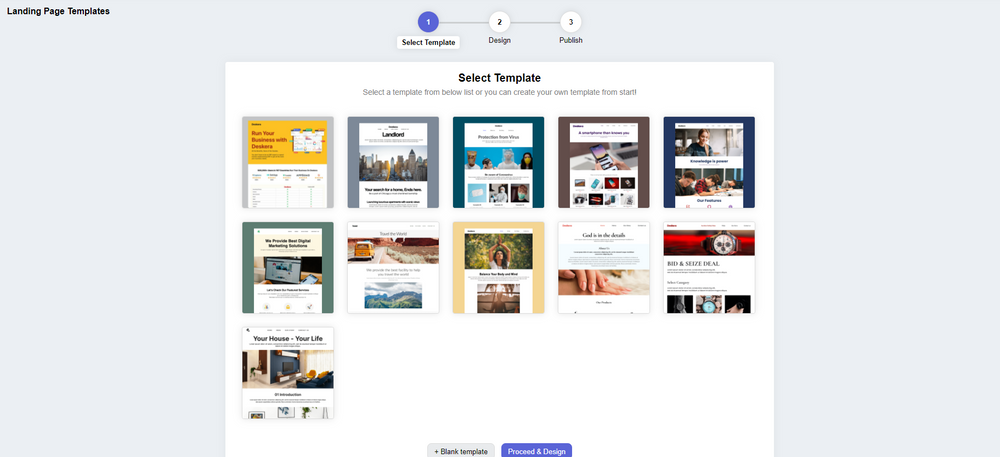 What's more? With Deskera CRM, you can augment your business productivity by facilitating the automation of your email marketing strategies. Deskera is based on a cloud system model that can help to fulfill all your business needs. Be it data integration, or real-time analytics, Deskera can help you in every aspect.
Deskera CRM is the best platform that can help you with contact and deal administration, sales pipeline management, email marketing campaigns, to name a few. Apart from this, it can help you generate leads for your business by creating email campaigns and view performance with detailed analytics on open rates and click-through rates (CTR).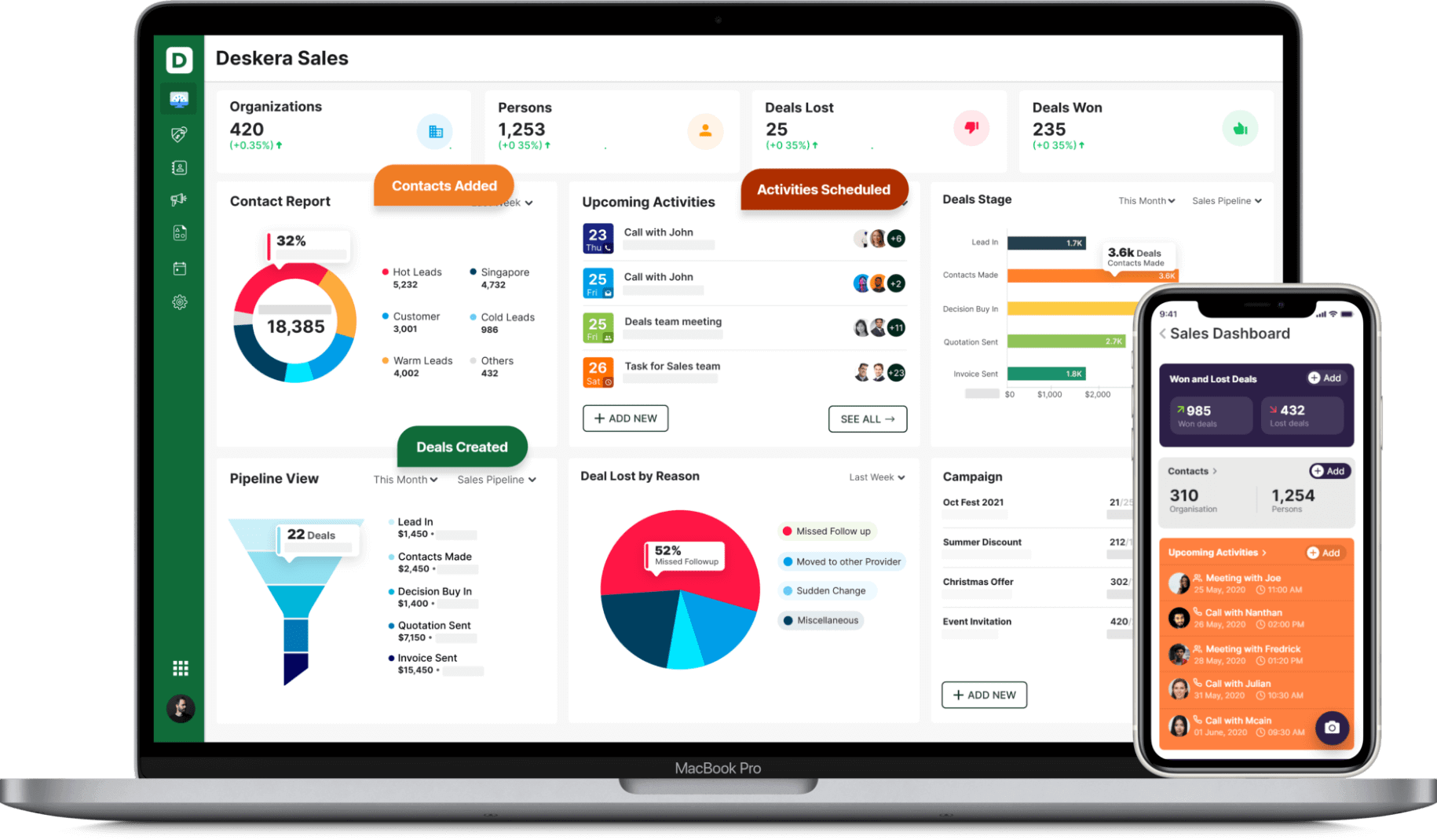 You can even customize your landing page as per your requirements with the help of Deskera CRM Plus. It provides you the option to modify images, text, customer sign-up form, embed custom html, and lets you monitor your website visitors' behaviour. Not only this but you can also use the website and landing page analytics to understand your customer's psychology and improve your sales.
If you have a focused sign-up landing page, your business will be able to increase its customer database which will further help you to retarget your existing customers and also manage customer deals and sales funnel better. If you have a good CRM, managing your customers becomes easier. It will save a lot of time and money in the long run.
Try Deskera CRM Today
Sign Up For Free Trial
So, why the wait? Get in touch with Deskera and take your business to the next level!
Key Takeaways
A landing page is a page where a visitor lands after clicking on an ad.
There are various types of landing pages such as click-through landing pages, lead generation pages, long-form landing pages, product details landing pages, and video landing pages.
Landing pages can help to improve sales in various ways that have been discussed in the article.
The article talks about landing page conversion rate and how to calculate it.
Tips to improve conversion rate have been discussed in the article.
Deskera can help you in creating effective landing pages that can help to improve the conversion rate
Related Articles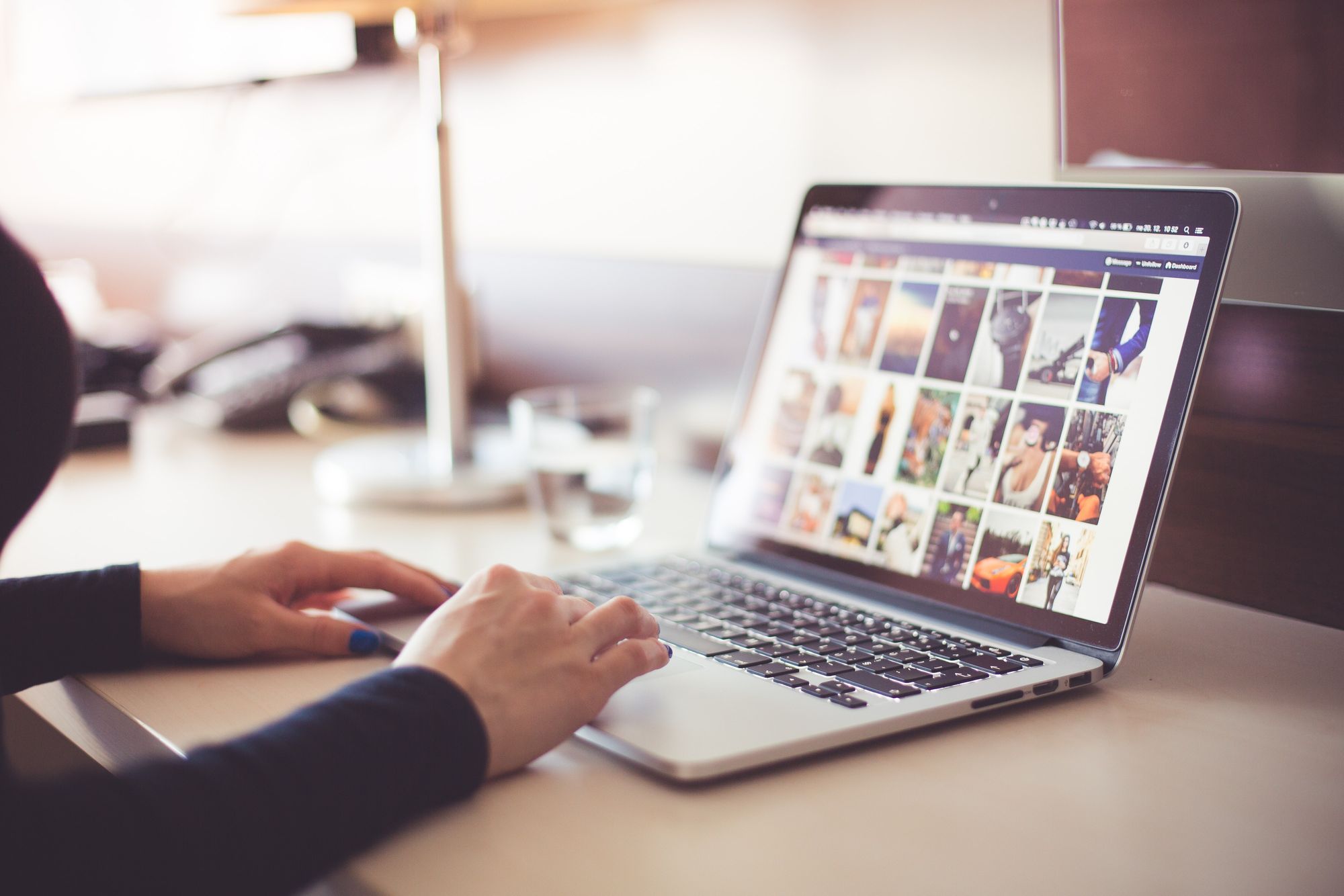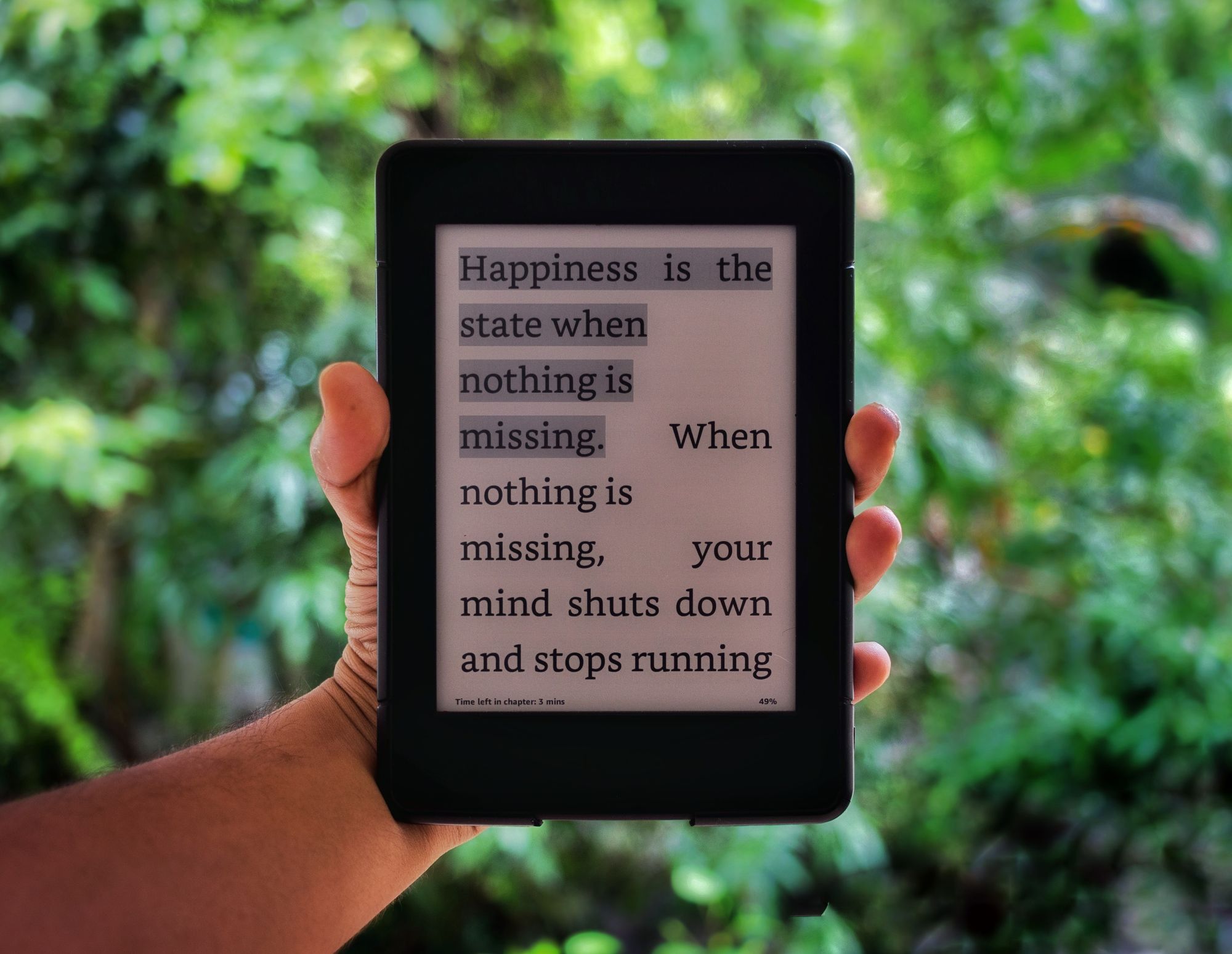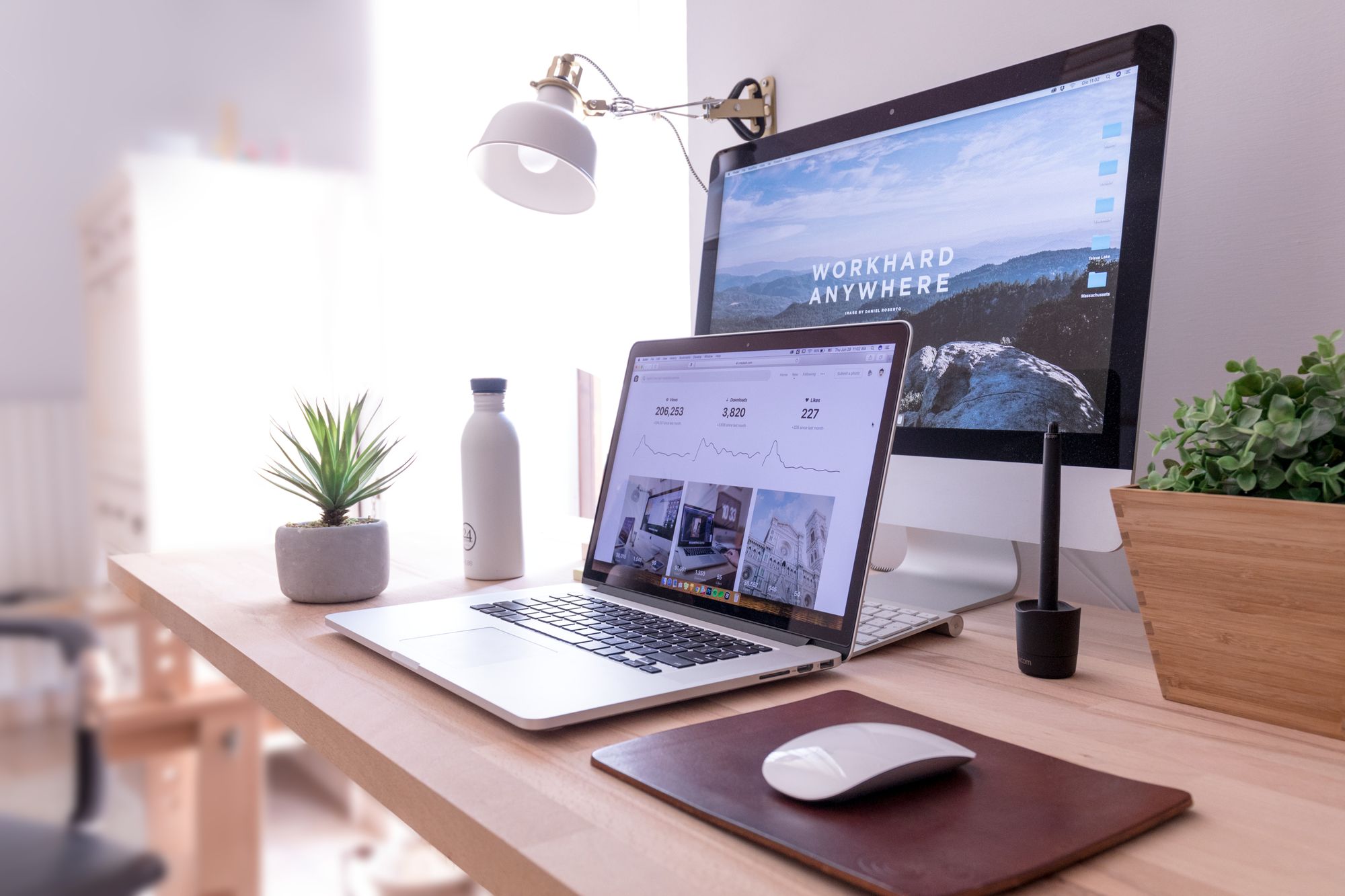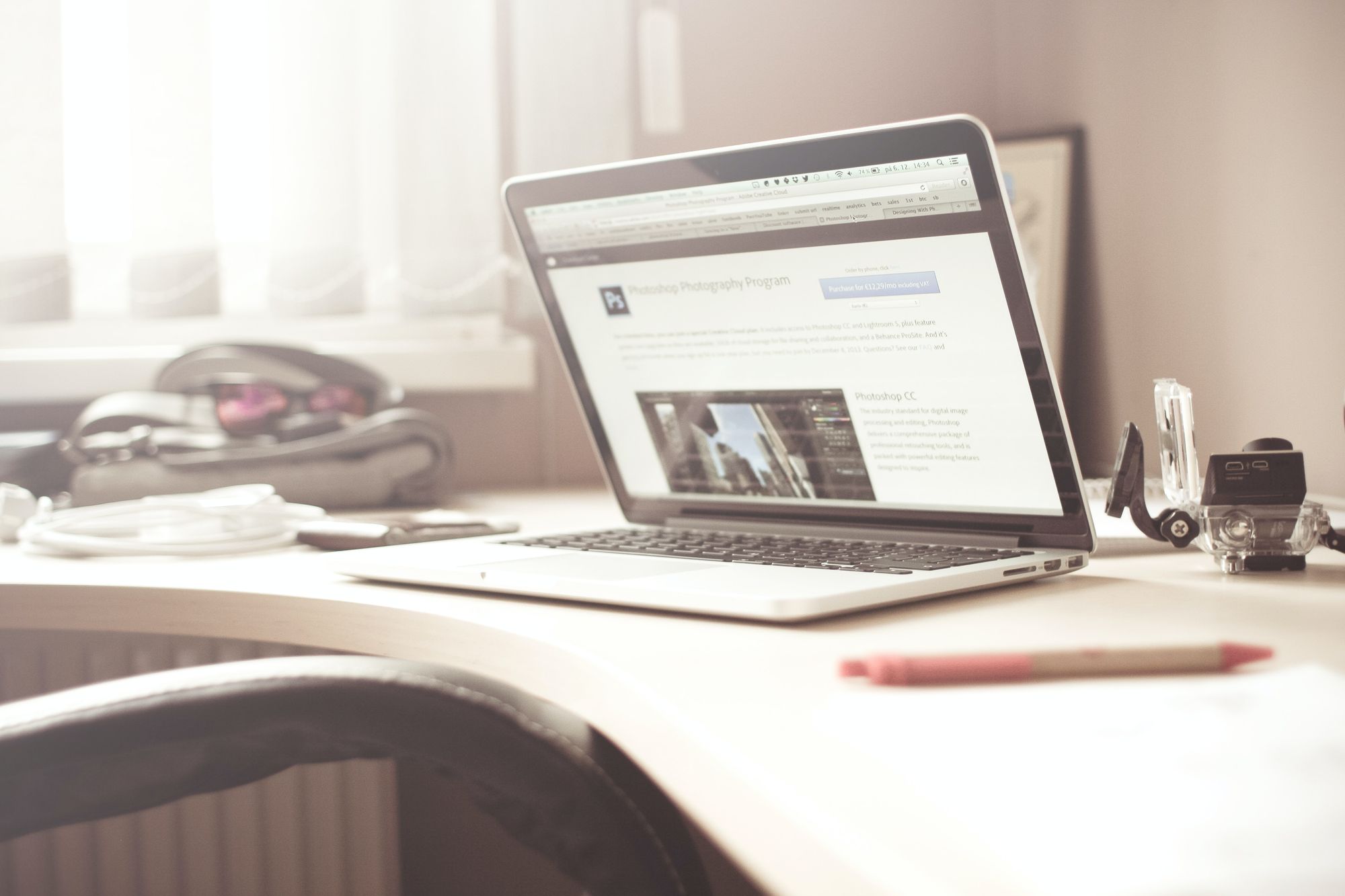 ---
---