When Facebook was introduced at first, the platform was only limited to establishing a mutual connection and conversation between two people.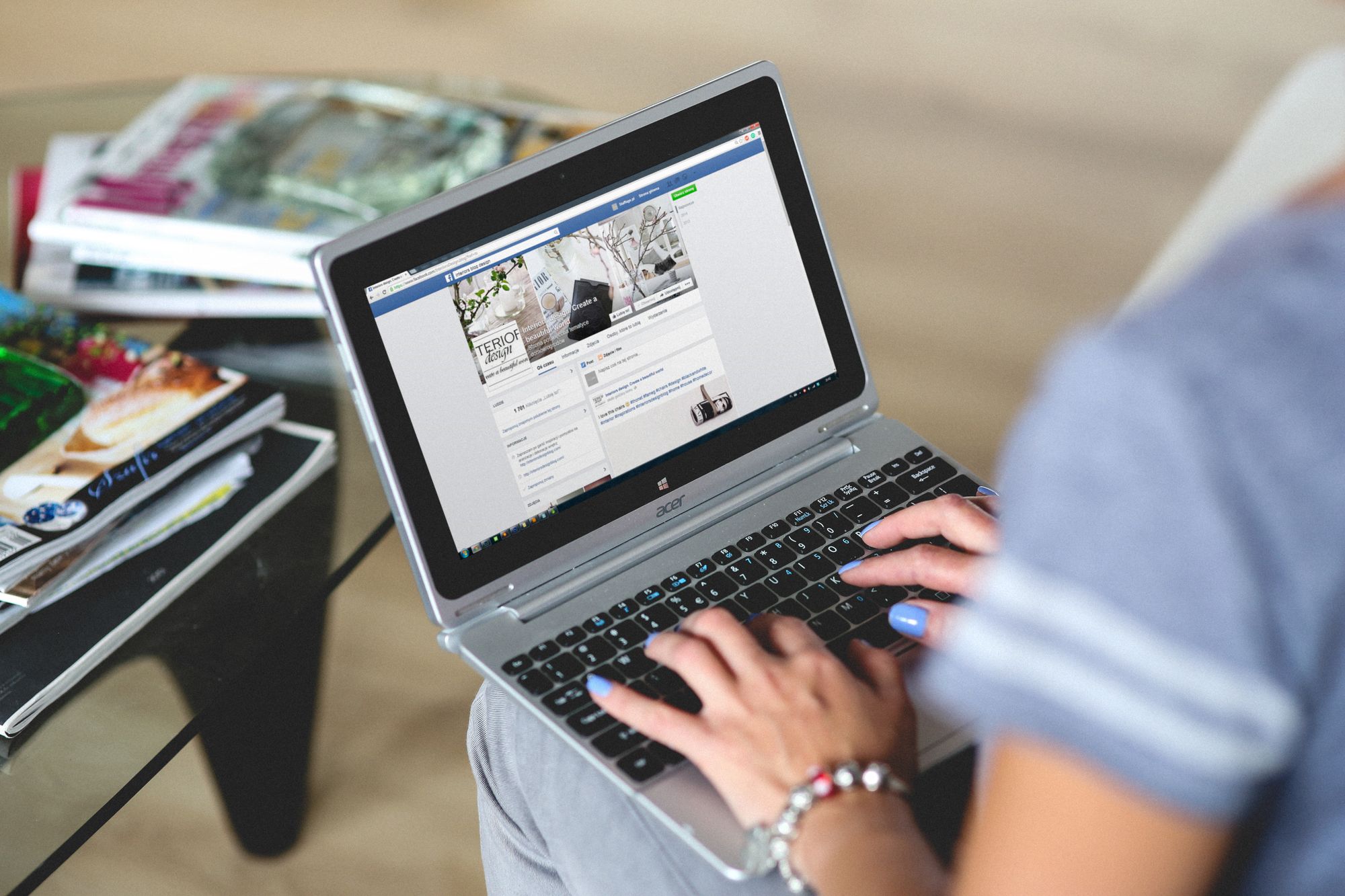 But now, after ten years from then, Facebook has become the world's largest social network, connecting not only the individuals but covering the entire business picture under its presence.
Facebook as a platform has extended itself in hosting videos, selling products and services, and being the over-the-top source of information for over 1.56 billion users.
In today's world of social media, it has become a prerequisite for a business to have a Facebook presence. With the help of the platform, companies are able to achieve their social influence in terms of business, customer relationships, brand awareness, reputation, and much more.
This is why many of the businesses and brands are willing to invest in marketing by making Facebook a gateway for their business.
This is how Facebook Marketing comes into the picture. Here, the business is able to raise brand awareness and collect audience insights, chat with the users, and track their advertising spendings.
In this article, we will talk about everything related to Facebook Marketing in detail such that it can help you get started in growing your business.
Here's what your comprehensive guide on Facebook Marketing includes:
• What is Facebook Marketing?
• Why is Facebook Marketing important?
• What are the benefits of Facebook Marketing?
• What are the types of formats under Facebook Marketing?
• 7 Step guide to get started with Facebook Marketing
• Facebook Marketing examples to look over
What is Facebook Marketing?
Facebook marketing is a platform that allows a brand to put their products and services in front of the audience and promote with the help of organic and paid means.
In simple words, Facebook marketing is a practice of promoting a brand and maintaining its presence on the Facebook platform.
Facebook marketing involves promoting products and services by offering highly targeted paid advertisements and organic reach to the targeted audience.
In general, brands and companies use Facebook marketing to create commercial posts, and videos that can show up in user feeds to get visibility, exposure, and overall engagement rates.
To stand out in Facebook marketing, companies and brands lookout for creative ways to blend the information and make the experience user-friendly and enjoyable at the same time.
Through Facebook marketing, the brands have a significant advantage in generating attention towards brand, interacting with customers and leaving a more substantial impact on their marketing.
Why is Facebook Marketing important?
Facebook marketing pays off on a much larger scale in results, brand presence, and promotion. This reason is enough for a brand to take Facebook marketing into the picture and strategically move forward to boost their posts and expand in the marketplace.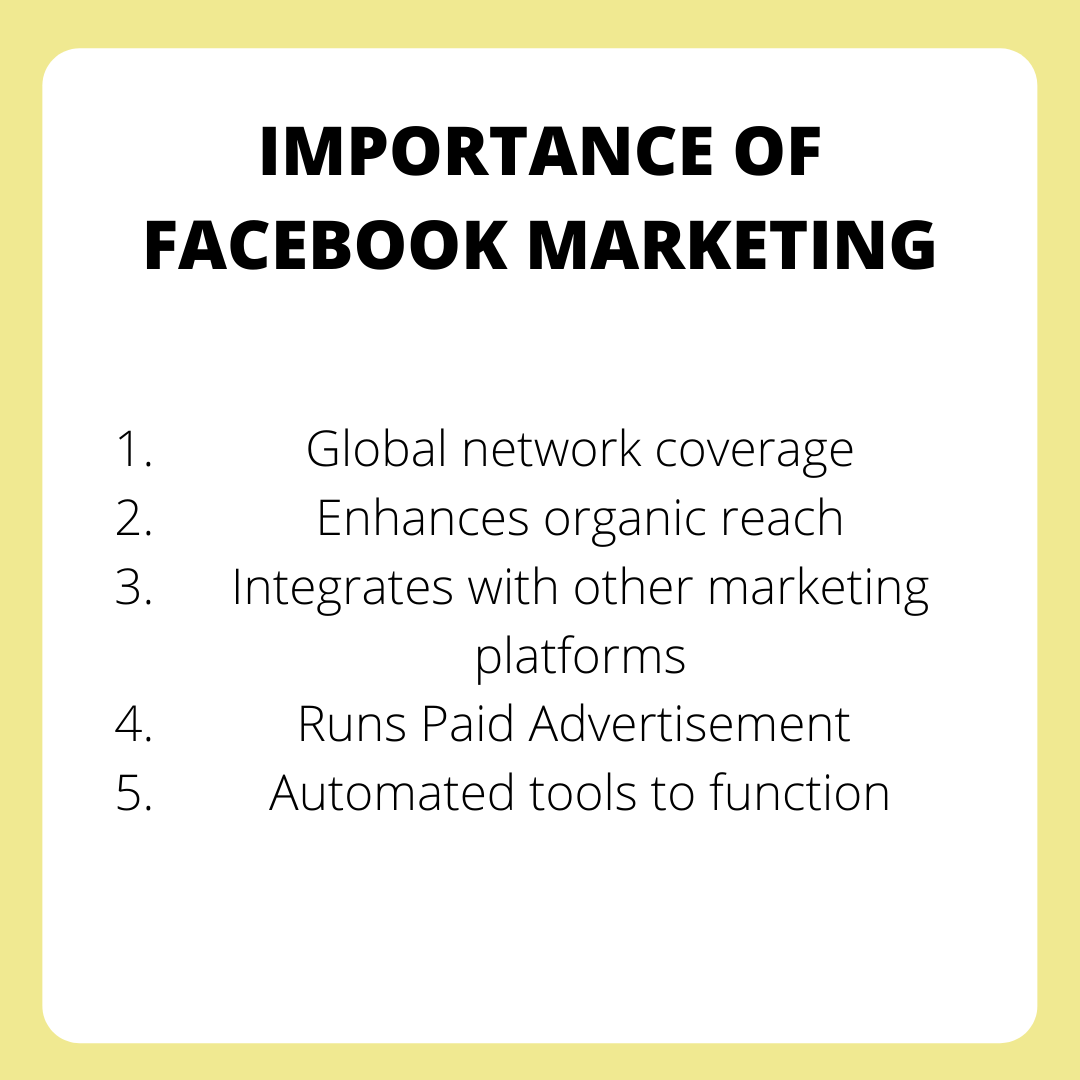 Let's take a closer look at the five reasons influencing the importance of Facebook Marketing in growing your business:
Global network coverage
Enhances organic reach
Integrates with other marketing platforms
Runs Paid Advertisement
Automated tools to function
1. Global network coverage
Facebook has over 1.5 billion users on its platform. Out of which, more than 7 million active brands and companies are leveraging Facebook marketing to create ads and marketing campaigns to reach out to their audience.
With the help of Facebook, the brand can connect with any customers or users across the globe.
2. Enhances organic reach
With the help of Facebook marketing, the brands can build relationships with their customers by sharing content that can bring value to their users. It will help your post show up on news feeds, and by regular engagements, you can witness your audience connecting with you on a larger scale organically.
3. Integrates with other marketing platforms
Facebook marketing helps you combine with the other marketing channels like mobile marketing, email marketing, Search engine marketing by creating a promotion tab. With this, the brands are able to increase their brand outreach by connecting multiple marketing platforms through Facebook and leveraging it to the best advantage.
4. Runs Paid Advertisement
Apart from growing your audience organically, Facebook marketing allows the running of highly targeted paid ads to drive traffic and reach for your brand. You also get an opportunity to tailor the promotions based on age, gender, location, interest for demographic data to reach a targeted audience based on your preference.
5. Automated tools to function
Various tools complement Facebook marketing and allow brands to make the most of their efforts. By automating processes like posting, managing content, running ads, appointment scheduling, and analyzing,
brands can look up to reach their goals effectively.
Thus, Facebook marketing is a must for every business today.
What are the benefits of Facebook Marketing?
As already mentioned, Facebook marketing has become an essential part of a business's marketing strategy.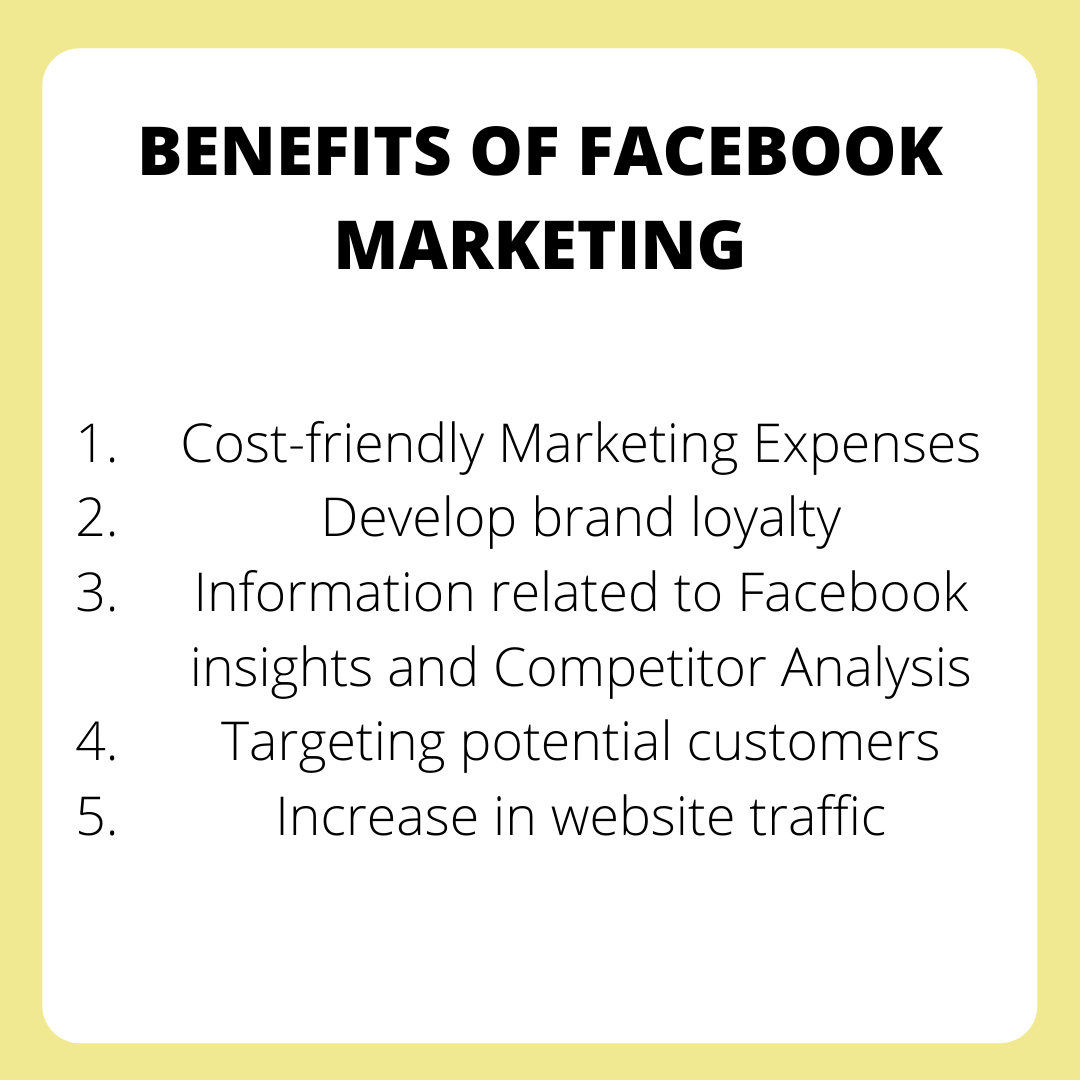 Let's take a look at five of the benefits that make Facebook marketing stand out around the world:
Cost-friendly Marketing Expenses
Develop brand loyalty
Information related to Facebook insights and Competitor Analysis
Targeting potential customers
Increase in website traffic
1. Cost-friendly Marketing Expenses
Brands do not need to shell out a lot of money to get started with Facebook Marketing because a Facebook page can be created free of cost. Here, you can display all the information and products or services virtually and target your potential customers.
Also, with the help of Facebook ads, you can manage your spendings within a budget and generate revenue from the sales campaigns.
2. Develop brand loyalty
Facebook allows you to connect and interact with your customers easily with the help of messenger chats and customer support systems. By instantly responding to customer queries, asking for feedback can encourage interaction and build customer engagement.
All of these activities build a seed towards brand loyalty.
3. Information related to Facebook insights and Competitor Analysis
Whether you opt for organic marketing or Facebook ads, brands can get a lot of helpful information from Facebook insights. The data covers the page likes and includes the total reach of the post, people engaged, and comparative results.
With the help of Facebook ads, you can track down the post's performance, metrics, impressions, and frequency.
By counting Google analytics tools, brands can enhance valuable data related to visits, percentage of new visitors, locations, etc. In this way, you can count on the competition in your area and develop strategies to maintain the same.
4. Targeting potential customers
One of the most significant advantages of Facebook marketing is that it allows the brands to target specific potential customers based on their demographics and interest.
It also helps to re-target the visitors who earlier visited the site and narrow down the target audience.
Brands can encourage engagement and interaction over their page by creating content, holding contests, and marketing campaigns.
5. Increase in website traffic
Through linking suitable links on Facebook, the users can easily be guided to your website by clicking on the desired link.
Once they click over, the users will intend to like the page and show interest in receiving updates from your page.
This will overall increase the website traffic of your brand by pushing towards a direct form of marketing.
Hence, the presence of your business on Facebook is vital in the present times. It has a lot of benefits to offer that can boost your marketing and make your brand enjoy a worldwide reach.
What are the types of formats under Facebook Marketing?
Facebook not only acts as a social media leader but also acts as a medium for Facebook marketing. The Facebook developers develop different kinds of formats of advertisements to meet the modern requirements and optimize the profile.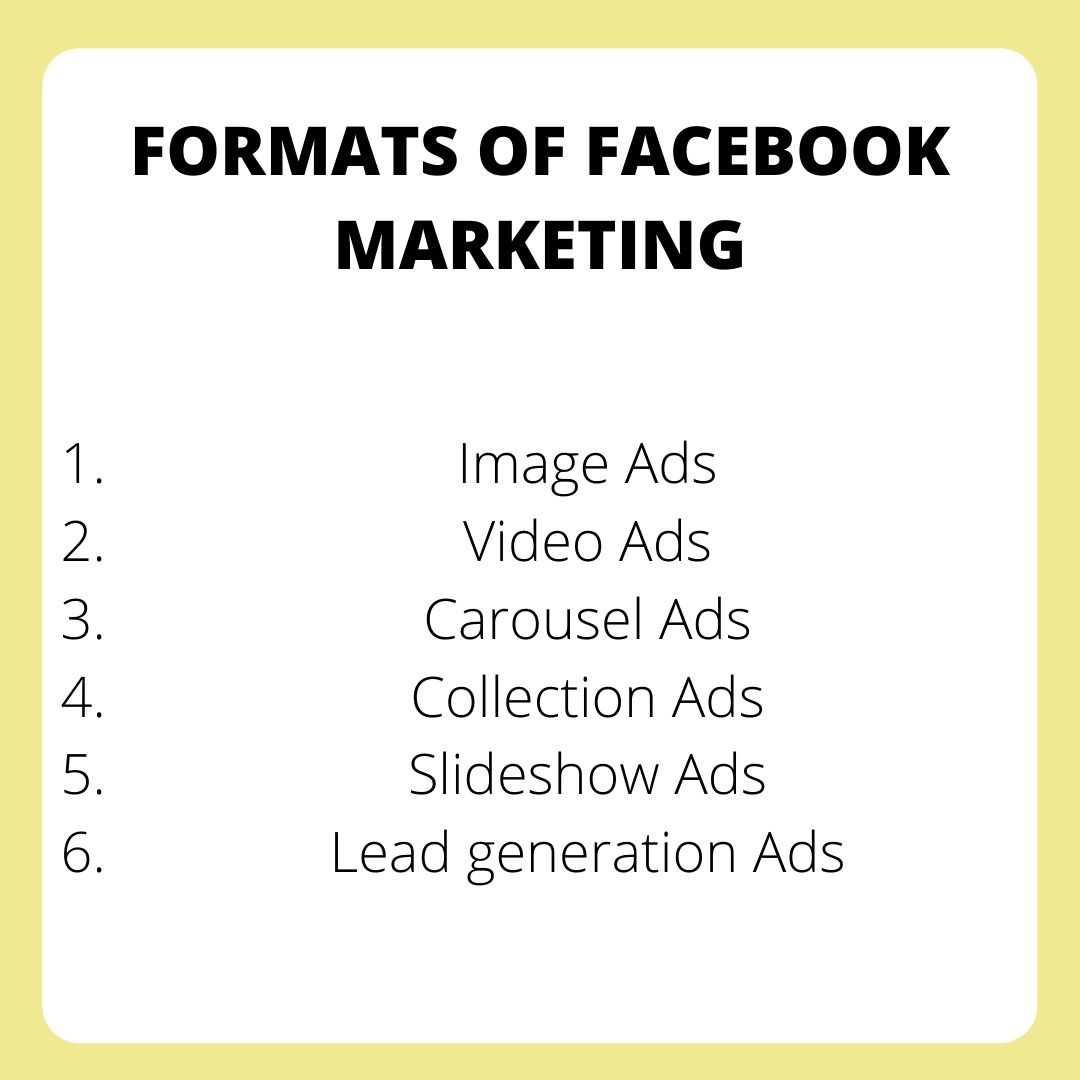 Following is a list of six Facebook marketing formats to choose from:
Image Ads
Video Ads
Carousel Ads
Collection Ads
Slideshow Ads
Lead generation Ads
1. Image Ads
In this format of Facebook marketing, static ads are considered ideal for driving traffic to the website. This format is known to help you raise brand awareness and drive people to your website.
The recommended format of the image should be in JPG or PNG format, and the headline should not exceed 40 characters.
Adding an excellent call to action (CTA) is a cherry on top.
2. Video Ads
In this format of Facebook marketing, video ads can demonstrate a product, service customer testimonials, and boost your brand.
The videos can be in the form of short videos, long-form videos, in-stream videos, or longer TV-like watching videos.
3. Carousel Ads
In this format of Facebook marketing, people can look through a host of images to see the brand from different angles. It helps you showcase ten pictures or videos inside a single advertisement and provides a vast field of creativity and interactivity.
With carousels, you can promote one product, different products, tell a story or share about a campaign.
4. Collection Ads
In this format of Facebook marketing, a collection of images is showcased in the form of a small catalogue of your products in the post on the Facebook feed. It is more like a virtual catalogue that consists of one original video or image, and then they are fabricated into four smaller pictures in the form of a grid.
5. Slideshow Ads
In this format of Facebook marketing, a video-like format is displayed at an average speed for the users to glimpse the product and brand. These ads can be created by using stock images and tools used for video editing and works well in terms of performance.
6. Lead generation Ads
In this format of Facebook marketing, the ads are specifically developed to assist in generating leads. For example, when a user taps on the image displayed on the advertisement, a subscription form or signup form can pop out, such that the users can directly opt-in to your newsletters.
The brands are in a position to leverage as many formats as possible depending upon their campaign goals. Choosing the right ad type and target audience can help the business convey much information to the users.
7 Step guide to get started with Facebook Marketing
To get started with Facebook marketing, getting hands-on Facebook Ads is primary. It gives you the path towards having the best marketing experience with the platform.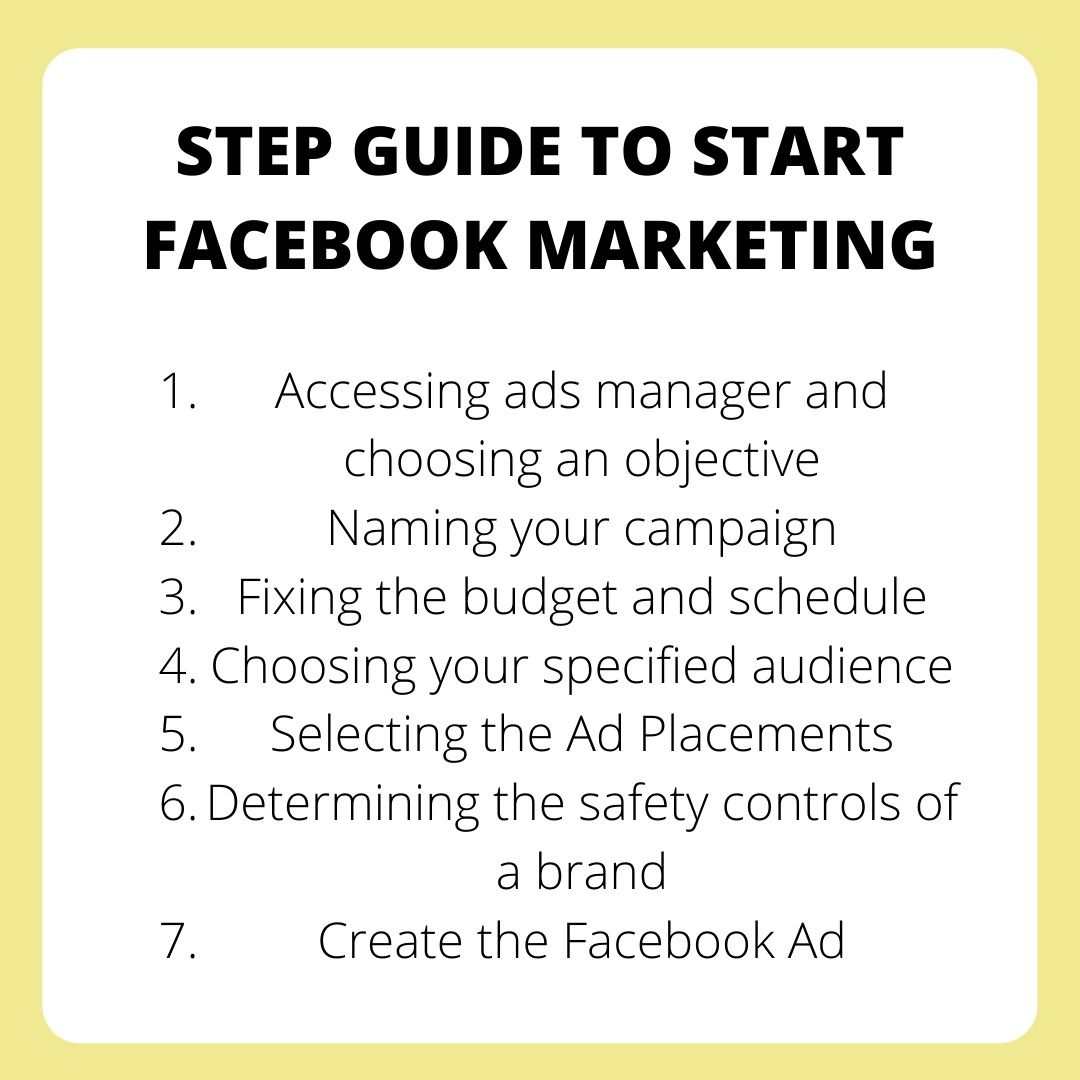 Let's take a look at the seven steps to start with Facebook marketing down below:
Accessing ads manager and choosing an objective
Naming your campaign
Fixing the budget and schedule
Choosing your specified audience
Selecting the Ad Placements
Determining the safety controls of a brand
Create the Facebook Ad
1. Accessing ads manager and choosing an objective
Getting access to the Ads manager is the first step towards Facebook marketing. By gaining access to Ads manager, you can create, manage and track the Facebook ad campaigns.
After you are done with getting the access, the next step is choosing the objective and expectations you have with the campaign.
The objective can be listed into three categories:
Awareness goals in terms of brand awareness and reach
Consideration goals in terms of traffic, engagement, video views, lead generation, and messages
Conversion goals in terms of conversion, store traffic, and catalogue sales.
After setting up all, you can create the campaign.
2. Naming your campaign
The next step is to name the campaign that can help you keep track of the insights and status of the campaign.
It is recommended to test the different versions of the advertisement to check the authenticity of the campaign. You can go forward with A/B testing to figure out well.
3. Fixing the budget and schedule
The next step of Facebook marketing is to set a monthly or a budget for your ad campaign and determine the date to start the campaign.
If the brand wants to schedule the ad based on specific locations and timings, they should focus on the target audience and fix it accordingly.
4. Choosing your specified audience
After you are done with the budget and schedule fixing, choosing and building your specified target audience based on gender, location, age, or language is the next step.
The significant advantage of choosing your target audience is that it can enhance your reach based on the user's behavior and improve the chances of reaching the right people.
5. Selecting the Ad Placements
Ad Placement is one of the most crucial steps of Facebook marketing because it focuses on the area where the ad is likely to appear. The brands can use mobile laptops for placements or customized for a specific device type, social media platform, or operating system.
6. Determining the safety controls of a brand
In Facebook marketing, the brands have the option to specify the content and advertisement that they don't want to appear alongside. You can get a chance to customize your strategy and showcase the content wherever relevant.

7. Create the Facebook Ad
This is the final step of Facebook marketing, where you are done with the ad format, copy, and visuals.
Once you are satisfied, hit the publish button and get your marketing started. This is how you can start with your Facebook marketing and leverage it to the best advantage.
Facebook Marketing examples to look over
Since the evolution of Facebook, various brands and companies have been putting forward and outlining the action for Facebook marketing. Many small and large brands have incorporated their tactics to level up their Facebook marketing plan in recent years.
Let's take a look at the three best successful Facebook marketing examples:
Dove Video campaign
Oreo Hashtag campaign
Humans of New York story Campaign
1. Dove Video campaign
In one of the campaigns organized by Dove, the company crossed over half a million views and thousands of likes and shares by reflecting a true story. The brand didn't mention the name in the video; instead, they encouraged their fans and audience to talk about their side of the story and tag someone special to them.
By using timeline contests, the brand was able to engage fans with their campaign and inspire them to share their counterparts via the medium.
2. Oreo Hashtag campaign
Oreo is one of the brands that have dominated Facebook by showcasing their delicious cookies and beautiful images to spark creativity. They also keep on sharing recipes and creating hashtags to push people forward for their campaigns.
One of the campaigns was #ootd, and the brand is giving significant goals through its hashtag strategy.
3. Humans of New York Story Campaign
Humans of New York is a bit different brand that is keeping their Facebook marketing strong. The brand can push stories of individuals and connect on a deeper level who lives in New York.
Almost every day, the company is sharing posts to tell inspiring stories along with relevant images.
In this way, the brand engages fans through stories by posting on Facebook every day and garnering many views and shares over the page.
All of these three successful Facebook marketing campaigns are a great way to connect with the audience and showcase the brand's personality.
It might feel challenging to get organic engagement on the Facebook page, but it isn't that difficult.
By applying the right tactics, any brand can excel with Facebook marketing.
Overall, Facebook is the world's most popular social media platform. When it comes to a marketing perspective, the platform has a lot to offer to the brands and companies looking forward to building their presence over Facebook.
With the help of Facebook marketing, the brands are leveraging the opportunities to engage with new audiences, connect with them and expand their reach.
With the help of tools and processes, Facebook marketing offers the best experience and solution to the brand.
Key Takeaways
In this article, we deeply understood the importance of a business's digital presence on Facebook and using Facebook marketing to enjoy a worldwide reach, interact with the customers, and specify the target audience.
Facebook marketing overall makes perfect sense for every size and type of business.
As per the prediction, Facebook will dominate as a leading digital marketing platform and will continue to benefit brands for the years to come.
Let's take a look at the key takeaways of the article:
Facebook marketing is a platform that allows a brand to put their products and services in front of the audience and promote with the help of organic and paid means.
Through Facebook marketing, brands have the advantage of generating brand awareness and interacting with customers.
Five reasons influence the importance of Facebook marketing in growing the business.
The reasons include global network coverage, organic reach, integration with other Marketing platforms, paid advertisements, and automated tools.
Facebook marketing has become an important part of business marketing strategy that becomes evident by taking count of its benefits.
The significant five benefits include cost-friendly marketing expense, brand loyalty, information related to insights and analysis, targeting potential customers, and increased traffic.
Facebook as a platform acts as a social media leader and as a medium for Facebook marketing as well.
Six types of ads format meet the modern requirements of the brand.
The six different types of ads include image ads, video ads, carousel ads, collection ads, slideshow ads, and lead generation ads.
There is a detailed seven-step guide to make the brand's marketing experience best with the platform to get started with Facebook marketing.
The steps cover the following:
Accessing ads manager and choosing an objective
Naming your campaign
Fixing the budget and schedule
Choosing your specified audience
Selecting the Ad Placements
Determining the safety controls of a brand
Create the Facebook Ad
Since the evolution of Facebook, various brands and companies have been putting forward and outlining the plan of action for Facebook marketing
The best examples of successful Facebook marketing include brands like Dove, Oreo, and Humans of New York
With the application of the right tactics and strategies, a brand can excel with Facebook marketing successfully
Related Articles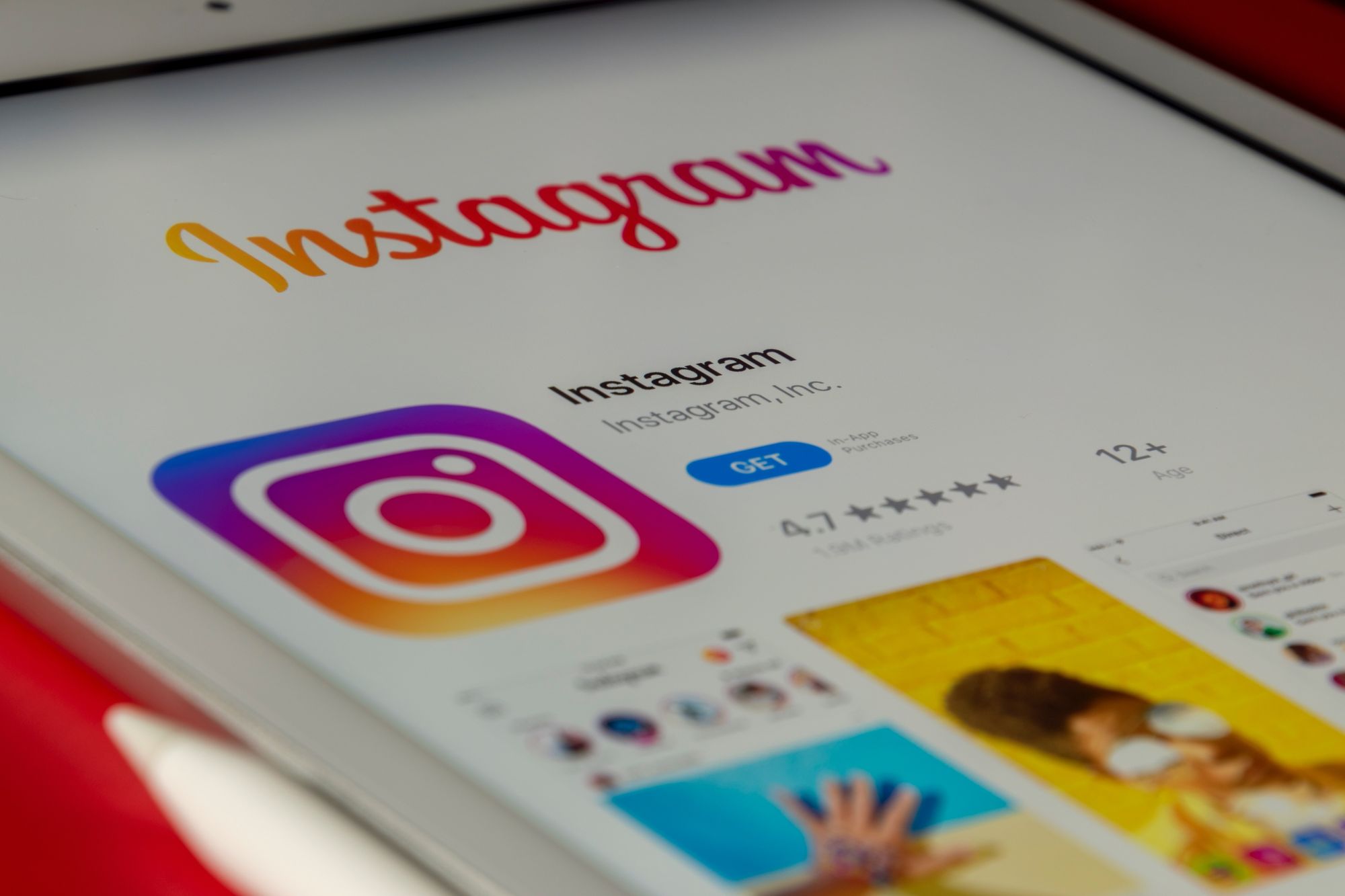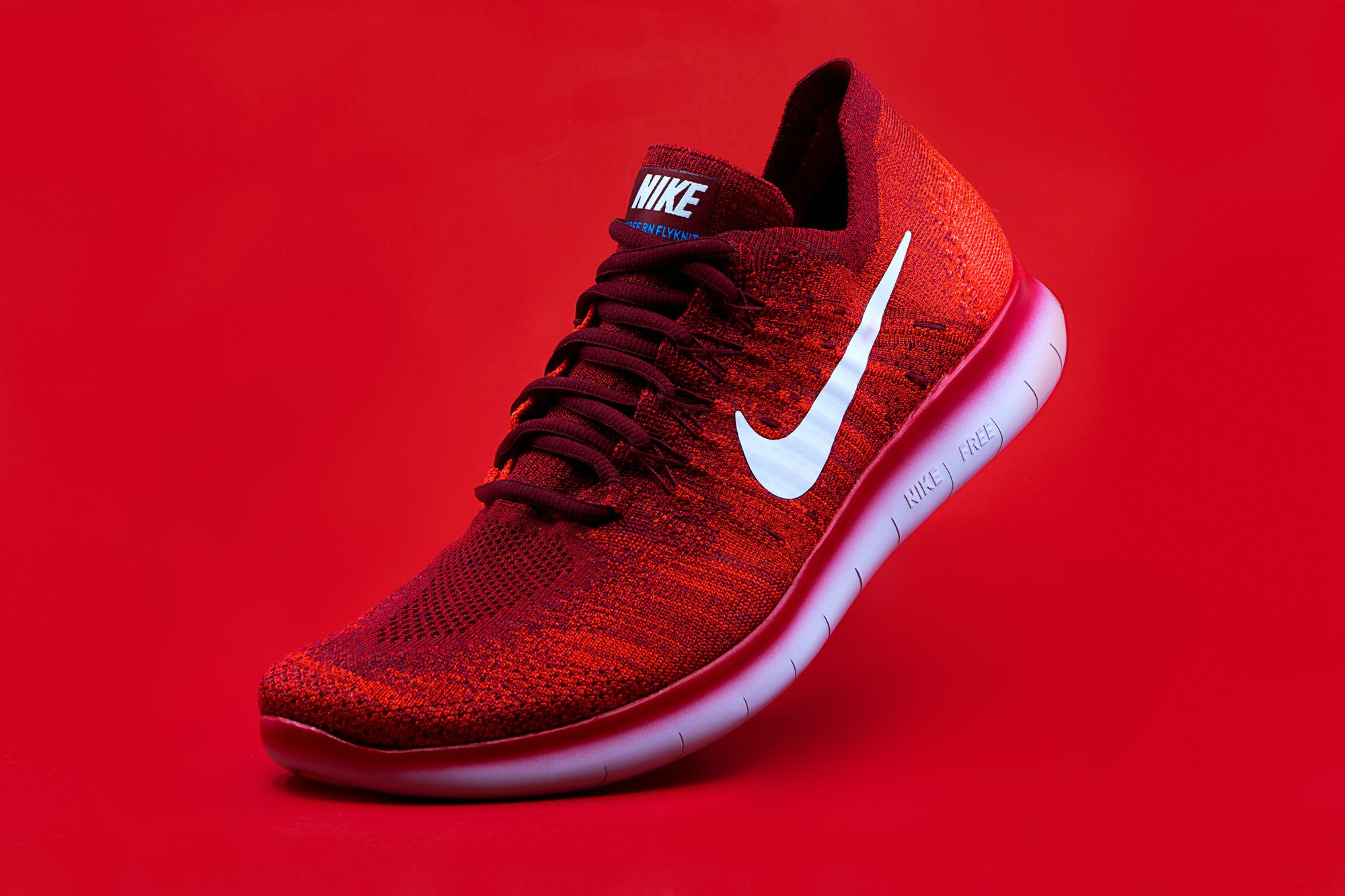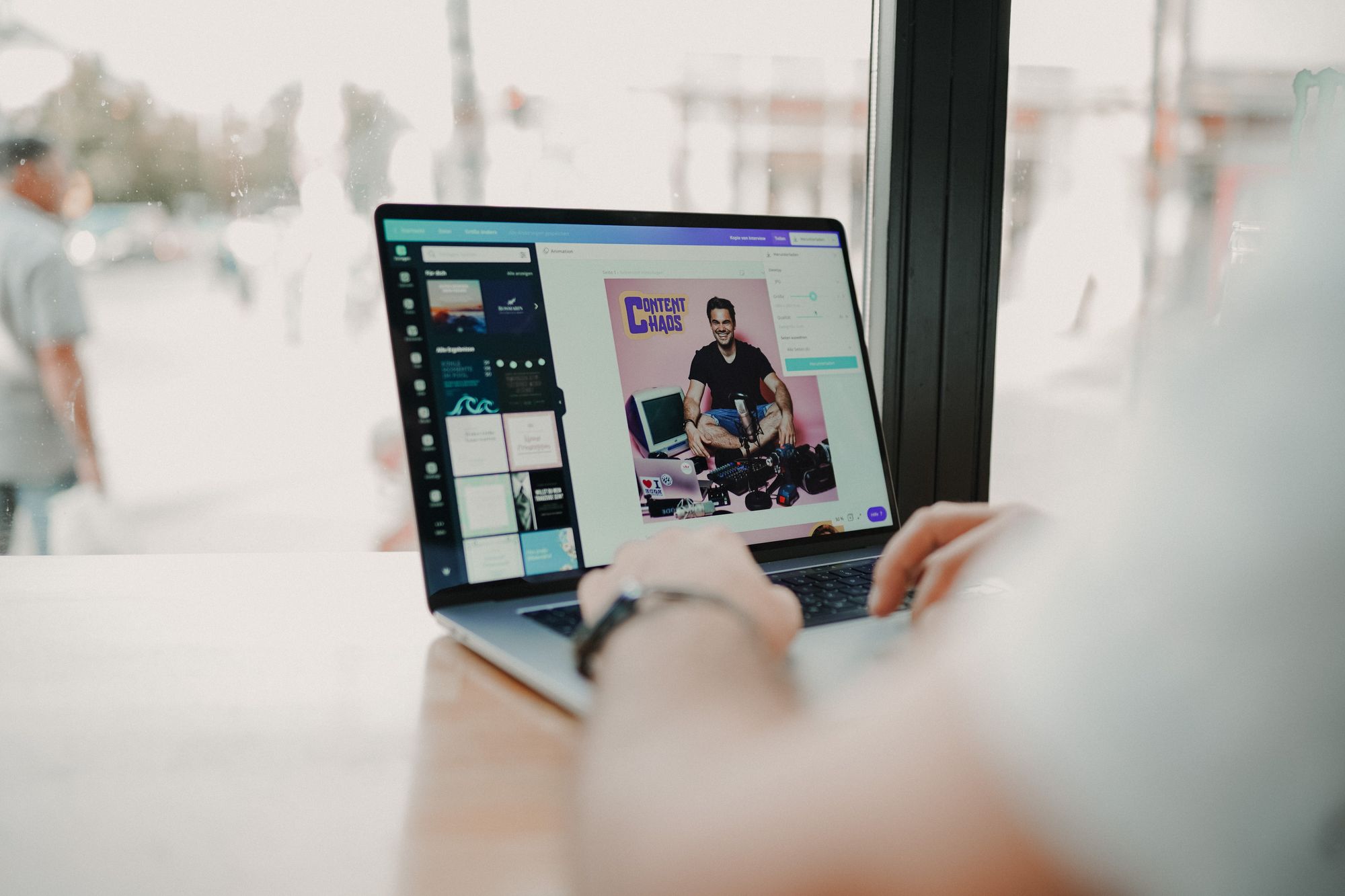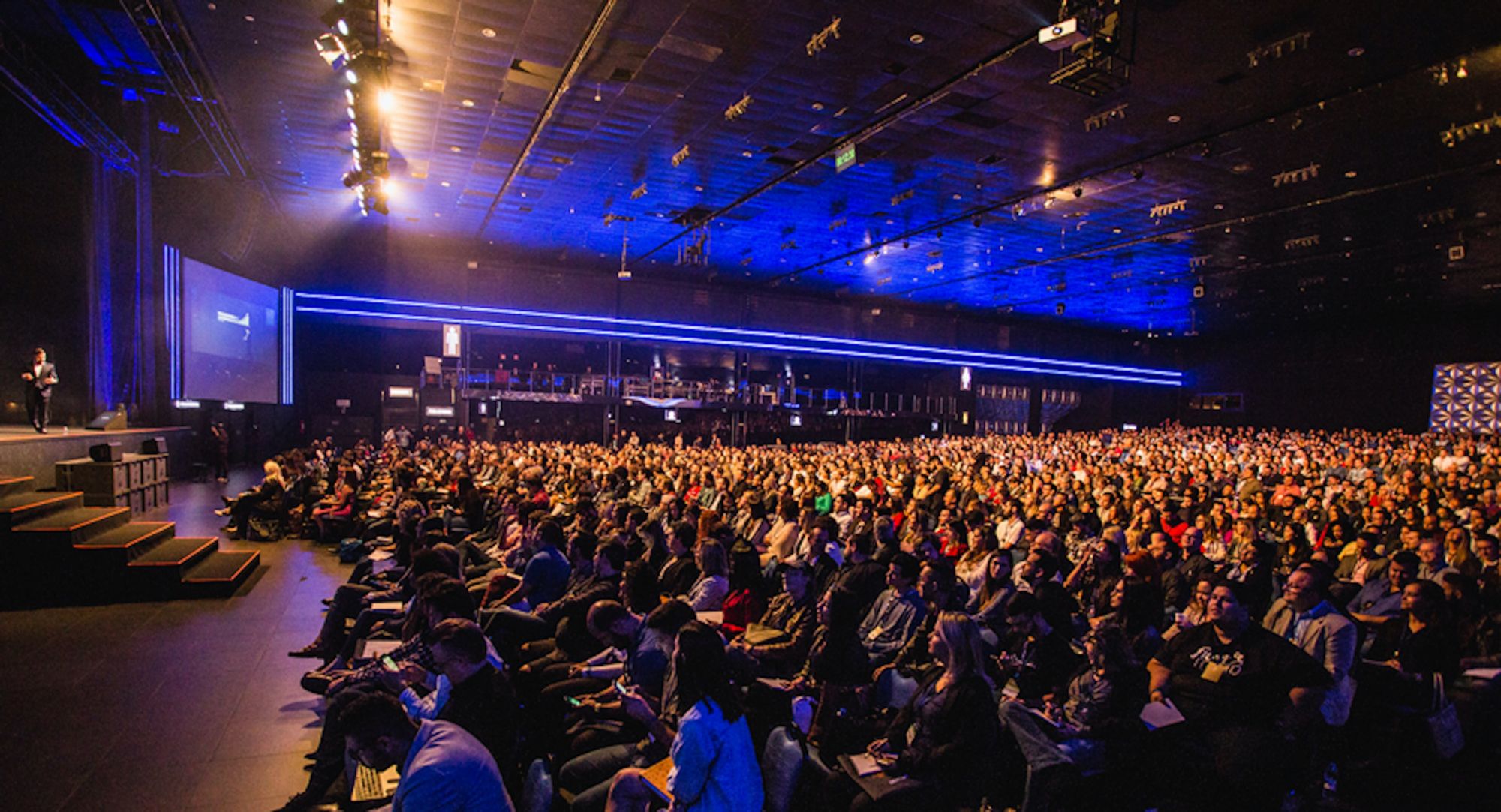 ---
---