Almost 80% of Americans reported having access to an automobile as of 2022. An additional 17% said they had access to a car for an easy commute. With these stats, it would not be incorrect to conclude that the US has a strong automotive industry which is supported by the high demand for cars across the country.
Speaking of retail sales, the industry generates more than US$1.5 trillion annually. However, certain hiccups have been haunting the auto dealership sector, which will also be one of the topics of discussion in this post.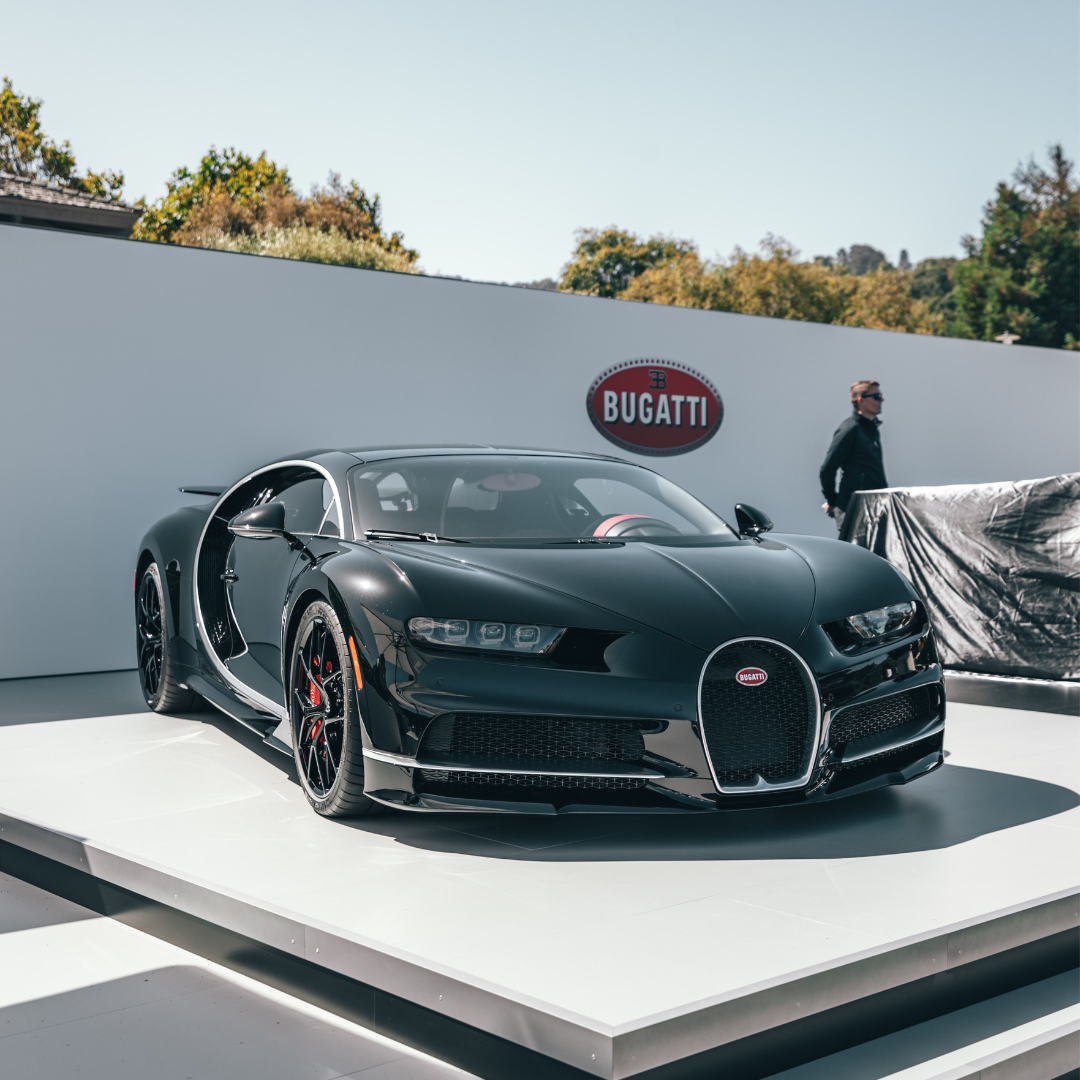 The industry is confronted by worldwide automotive chip scarcity, and since April 2020, the monthly inventory-to-sales ratio has been declining. These and more challenges are ahead for the sector, which is attempting to resolve them by utilizing technological tools to align the business for overall development.
If you are seeking to know more about the auto dealership business, the happenings in the sector, the challenges it faces, and other related aspects, then you are on the right page.
Here is all that the article comprises:
Try Deskera ERP to Align Your Dealership Operations
Sign up for a Free Trial Now!
What is Auto Dealership?
An auto dealership is a business that sells new or used cars and light trucks, and offers maintenance and repair services for vehicles. It may also provide financing options for its customers.
An automotive dealership is a business that owns the authority to sell products of a specific company, most often a particular make of car. While this sounds simple, there are a lot of intricacies and details involved in the process of selling cars and their products.
Based on the dealership agreement with an automaker or its sales subsidiary, a car dealership, often known as a car dealer, is a company that sells new or used cars at the retail level.
The auto dealers may operate under one of the following types of businesses:
New Car Dealership
Typically, this kind of car shop sells both new and old passenger cars. This kind of dealership typically sells parts in addition to having a service department.
Used Car Dealership
A used car dealership is a business that sells pre-owned vehicles. These dealerships typically offer consumers a wide selection of cars, trucks, and SUVs to choose from, often at a lower price than what is available from a new car dealership. Used car dealerships may also offer financing and other services, such as warranties and repairs.
Online Car Dealership
These dealerships sell vehicles to individuals and companies through the internet and offer services to facilitate transactions. Some participants provide trade-in, auto financing, and car-selling services to their clients.
The process of buying and selling cars has remained mostly intact, despite the old dealership model being affected by changes in technology, culture, and society. Further, in this section, we shall be observing a bit about the history of car dealerships and how the business has evolved through the times.
History of Auto Dealerships
The Motorwagen, a gas-powered vehicle designed by Karl Benz, is credited with creating the first car sale in the 1880s. After selling these Motorwagen or cars in the late 1800s, the demand saw a surge that led to the manufacturing of over 50,000 automobiles.
In those times, the responsibility for the sale of the cars lay with the manufacturer and this turned out to be a challenge. It was so as the buyers had to either reside in close proximity to the manufacturing unit or had to arrange for delivery of the car on their own. These were some serious disadvantages of this model of sales.
However, it changed in 1889 when the cars manufactured in Cleveland, Ohio, were sold in Pennsylvania. This was the first breakthrough in the field of a car dealership as it was completely dedicated to the sale of cars (earlier, it was horse-drawn carriages).
Then another important occurrence was the oil crisis of the 1970s when the demand for automobiles dropped. This led to the car manufacturers reducing the number of models in their production units.
People simply wanted a cost-effective means to own an automobile; it was not because they did not want to acquire them. Customers started shopping for alternatives that promised greater gas mileage as a result. Due to their smaller size and lower operating costs when compared to larger American models, European and Japanese cars became more and more popular.
Also, as a result of the increasing prices, leasing became more common as the cost of buying an automobile rose, especially in the mid-1990s. This allowed people to drive brand-new cars without having to shell out a sizable sum of money.
Auto Dealership Business Model: What has Changed?
While the major part of selling and buying an automobile remains the same, technological advancements have resulted in certain changes. Online research or studying the features of a car on the internet is one of those changes.
Even though the majority of Americans do their research on independent websites before visiting a dealership, most car purchasers still go to their local dealership to take a test drive and look into their financing choices. Few people would have thought about buying a car online in those years. With so much vehicle buying happening online today, things have certainly changed for the good.
This transition to online car sales has been expedited and supported by the COVID-19 pandemic. In the years after the pandemic, over 30% of new automobile purchases in the United States were conducted online. Many dealerships are going through a change as a result of changing client expectations for online shopping and changes expedited by the pandemic. A huge number of buyers look forward to or complete their purchase online.
How has the Customer Experience Changed?
The pandemic has changed the way one works across the world, and so has the customer experience while buying automobiles. The customer experience has changed especially when it comes to purchases. People find it more comfortable to find out about a car online, make a purchase, and make payments online as well.
Recent surveys and research have revealed that new-age buyers had different preferences when it came to buying a car. The demographics have changed since the previous era, and therefore, it also becomes an important factor that affects and determines sales and, ultimately, the fate of the sector.
This puts a huge responsibility on the OEMs or Original Equipment Manufacturers to gauge the trends and learn about the preferences of modern-day buyers. Some questions the OEMs can consider pondering upon can be given as follows:
Are the buyers facing any kind of apprehensions while buying?
Is there a gap in understanding the customer's preferences?
What are the ways by which the OEMs can get to learn about the voice of customers?
All these questions will help the dealers to provide better customer service and enhance the customer experience of doing business with them.
How does Auto Dealership Business Model Work?
This section throws light on aspects like the business model of an auto dealership and how the business generates revenue. Dealers and distributors work together to create a supply chain; the distributor is a wholesaler who sells directly to dealers.
There are several mechanical parts and machinery parts that the dealers may choose to sell. These may include vehicles, trucks, agricultural and building equipment, green goods like yard and garden items, machineries like white goods, electronics, and industrial equipment. However, there are countless alterations possible in this area.
Fundamentally, distributors and dealers both purchase the goods they sell. The difference lies in the fact that a dealer is someone who buys and sells the goods by himself whereas a distributor sells the products and services to other dealers and companies. Also, dealership is extremely competitive business as compared to the distributorship.
Dealers and distributors can participate in manufacturer-sponsored incentive programs, such as subsidized advertising campaigns and exclusive discounts. This paves the way for creating small profit margins from their sale.
Although the brands or the manufacturers' names are considered as primary market players, the distributors and dealers, too, have always contributed something to the discussion and enhanced the prospects of the market.
There are many ways in which distributors and dealers make a profit. In addition to selling automobiles, auto dealers also market the accessories and support services that go along with them. Selling the extras that come with autos is where a dealer makes the lion's share of their revenue. Distributors and dealers can profit in a variety of additional ways.
Car dealers do not make a lot of money on each and every deal. Sales, Service, Finance, and Insurance, are the four primary business segments from which car dealers derive revenue.
Let's look at the details of some ways in which auto dealers make income:
Income from Lease
Customers can lease from dealers and must pay the depreciation cost over the lease's duration. The discrepancy between net capitalized cost and residual value will serve as the basis for calculating depreciation.
Initially, an agreed-upon value will be negotiated by the dealer and the customer. The capitalized cost is the agreed-upon value. The greater the capitalized cost, the more money the dealer makes. The residual value will be the second key area to maximize profit. Since the consumer pays the difference or the amount of depreciation, the bigger the residual value, the higher the profit.
This makes the Capitalized Cost and Residual Value two key components of making a profit by the dealers while leasing a vehicle.
Income from Insurance
For auto dealerships, the importance of the finance and insurance department is growing. Although not their main source of income, these methods aid in their continued financial stability. Dealers in automobiles and bikes make money by partnering with banks and other financial institutions, offering third-party motor vehicle insurance policies, and so on.
Income from offering Loans
In general, auto dealers have access to loans with low interest rates that are out of reach for regular people. When the customers choose to be financed by the dealers, there is a considerable amount of profit the dealers make from this transaction.
Once the customer opts to get a loan from the dealer, the loans are then marked by dealers and sold to customers. While the dealers may or may not provide this facility to the customers, there are many people who seek to get a loan facility from them.
Income from Warranties
Dealers make money by selling a variety of insurance packages and warranties, such as extended warranties, tire protection, wheel protection, and so on. This is in addition to the profit generated by financing or renting a car. With each extra item sold, the retailer earns a small profit.
The latest trends in the automotive industry have shown that an increasing number of dealers are leveraging advancements in technology and a skilled and talented team of finance managers for increasing business profitability. This is reflected in the preparedness of the dealers to spend money and invest in software and other technologies that help them get a better insight into research and development.
What is an ERP?
Enterprise Resource Planning refers to the system that is implemented by companies to combine all their modules and manage their daily operations. These operations include accounting, supply chain operations, sales, CRM, inventory, HRM and payroll, procurement, compliance, risk management, and so on.
There can be many more modules based on the type and size of the company and the type of sector. For example, an ERP for medical supplies or the healthcare industry will need to align patient management, supply chain operation, and human resource management (for doctors and staff appointments); likewise, an ERP for pharmaceutical manufacturing will need to have stringent compliance aligned with its business operations.
The entire range of business processes can be handled by an ERP system. A single repository of data, accurate, real-time data reporting, and a free chain of interactions between business domains are some of the benefits of an ERP solution. An important point to note is that it is essential for an organization to deploy ERP adequately to make the most out of the capabilities of the software.
What are the Typical Features of an ERP System that can Benefit Auto Dealerships?
Businesses often work on different models, and therefore, their requirements will be different, too. This leads to varying levels of sophistication and improvements in the ERP that the company deploys. However, there are some typical characteristics of an ERP system that almost all businesses can benefit from.
In this section, we shall look at some of these commonly-offered features that the auto dealership businesses can look forward to, to enhance their business operations.
An ERP can bring together all the business functionalities by having a centralized system or a single dashboard to present all the business information in real-time. Yet, as discussed in the previous section, with the varying requirements, the companies can choose the modules it wants to merge and combine in their resource planning system.
Some of the common features of ERP systems can be summed up through the following image: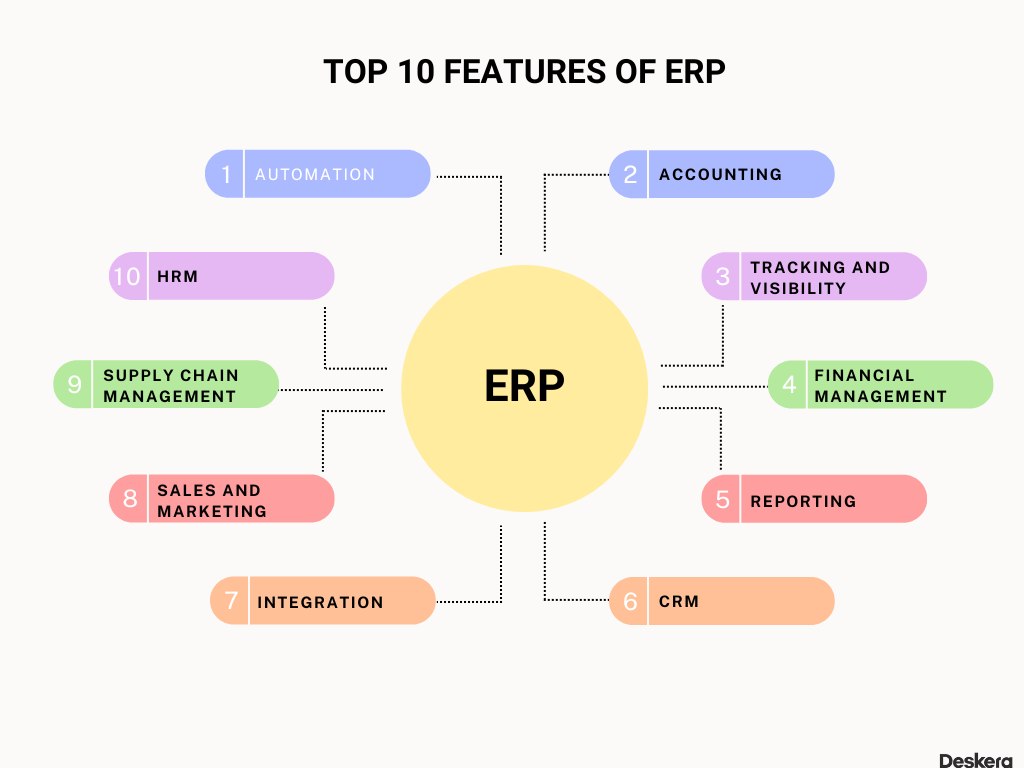 Automation
The very essence of ERP is that it automates and integrates information. Due to the nature of ERP systems, information entered by one user is accessible to all users within the company. So, for instance, when the HR department enters information about employee benefits, the accounts team can know the amount of budget to set aside for providing employee benefits. Or when a specific SKU becomes available, an inventory tracking module may instantly initiate a shipment and invoice. This results in increased income and improved customer satisfaction.
Also, the management may immediately receive the most recent statistics on cash flow and other metrics.
Payroll, order processing, invoicing, reporting, and other repetitive business operations can all be automated with the help of an ERP system. Automation speeds up data entry, lowers errors, and frees up staff time for tasks that bring more value.
Accounting
The time taken to reconcile and close off monthly financial statements is reduced by the accounting functionality. Accounting functions for ERPs enable the tracking, storing, and analysis of financial data, including budgets, forecasts, general ledger, accounts payable, and accounts receivable. Advanced duties, including tax administration, fixed asset management, revenue recognition, and multi-currency reconciliation, may be carried out by systems.
Tracking and Visibility
Having complete and clear visibility along with tracking possibilities are some of the most important elements in a business. ERP platforms offer this important capability of enabling businesses to track, surface and comprehend business metrics.
By enabling company-wide access to almost all real-time data, ERP can turn the way businesses operate and instill immense competence. It also drives the dismantling of information silos and provides reporting and analysis for every facet of corporate operations.
Financial Management
Accounting and financial management modules in the ERP systems gather, analyze, and report vital business data to help finance teams with management. ERP systems are essential instruments for sound financial management in big, complicated enterprises.
Planning and choosing how to use the money most effectively for a firm are all part of the difficult work of financial management. To make concrete decisions about things like funding sources, cash management, and financial controls, it is essential that financial leaders can access, monitor, and use financial data from all departments.
Reporting
Accurate and faster reporting is as important for most crucial functions as it helps identify risks or hazards to a company. ERP reporting modules collect data about company operations into reports that give stakeholders the ability to make better decisions.
They can improve business procedures and spot issues before the problems actually surface. There are several sorts of reports which may have visual elements like charts, graphs, and dashboards. The different kinds of reports help to get a better understanding of the trends and to drive improvement across the business procedures.
CRM
With CRM integrated into the ERP, companies may automate tasks like completing POs, creating accounts receivable reminders, and sending notifications to an account executive to follow up when a prospect reaches a specific stage in the sales pipeline thanks to CRM systems.
With CRM elements, the management can attain a broadened perspective of the business in relation to its customers. A shared, easily available database contains all client data, including contacts, order history, purchase orders, and prospect status.
Integration
The main, and possibly most important, the advantage of ERP is a central view of crucial financial, operational, and business data that can be disseminated in real-time throughout the firm. By transforming this data into reports and insights that a corporation can utilize to, among other things, reallocate resources or seize new market possibilities, ERP systems offer the means to produce business intelligence.
Data silos and bottlenecks can result in inefficiency and missed opportunities. It may also result in a conflict between two departments or units of a company. ERP can guide the teams to drive these away and work in sync with each other, without any conflicts.
Sales and Marketing
To deliver a great client experience throughout the whole sales pipeline, sales and marketing teams work closely with their counterparts in finance and operations to utilize ERP services.
The ability to sell, upsell, create bids and purchase orders, and create forecasts are some of the essential and significant capabilities of the ERP.
It can also help businesses to keep track of crucial information like profit margins and ratios. Another advantage is that ERP systems can be integrated with CRM providing marketing and sales teams with valuable insights.
The ability to generate more leads, swiftly develop and implement marketing campaigns, and monitor client activity throughout the sales cycle may be advantageous to marketing teams.
Supply Chain Management
SCM systems can facilitate distribution resource planning and assist in setting inventory goals. Real-time data about a company's supply chain can be used to spot inefficient zones and improve inventory management and control.
ERP systems also monitor demand, inventory, manufacturing procedures, logistics, and distribution to provide information about a company's supply chain management effectiveness. Operations are improved by suggested purchase orders, work orders, and transfer orders across many sites in a completely automated and connected supply chain.
Human Resource Management
An ERP system's HR component serves as an all-inclusive platform for employee administration. It can capably take care of timekeeping, leave management, payroll, hiring, and onboarding. Additionally, with ERP integration, complex HR tasks like benefits and deductions can be automated, saving time, effort, and money (due to man-made errors).
Why do Auto Dealers need an ERP?
The auto dealership is a spread-out business that requires monitoring across various business functionalities. The owners need to be on their toes when it comes to managing the nuances of the business and getting all the units to work in sync. In addition, the business could be operating from multiple locations which again needs real-time and updated information that is shared evenly across all branches.
This would not be possible without adept software that allows business owners to keep a bird's eye view of all their branch operations. A strategy carved out of business intelligence can be difficult to achieve in the absence of an ERP.
Therefore, at such a stage, it is not surprising to have the ERP deployed to accomplish the key KPIs of the business. This section will take us through some of the most common areas where ERP can rescue auto dealerships and aid in strategizing.
Business Intelligence
With a clear and concise presentation of information, an ERP can relieve your company of having to tackle the huge amounts of data pouring in from each unit of your business. It boosts business intelligence by facilitating the analysis of data and converting it to information, thereby making it available for adequate business utilization.
This module can be further divided into two sub-modules:
CRM or Customer Relationship Management
Customers are rightly called the king of the commercial world, and this fact pushes the need to have outstanding customer service. Needless to say, brands and businesses need to be at their best when it comes to customer service. The ERP can remarkably enable managers to service an unmatched customer service plan and also helps track essential customer service metrics.
It enhances recurring revenue while enhancing the value of your product or service. It produces favorable feedback and a positive brand image, enhances employee morale, and lowers turnover costs.
Outstanding customer service can not only drive more customers but also result in a better customer retention rate and earning an increasing number of loyal customers.
Building trust with your audience through good customer relations adds value to your brand. Additionally, it makes doing business with you simple for customers and distinguishes you from your competitors.
Harnessing good customer relations can efficiently promote word-of-mouth advertising, which eventually helps captivate a higher number of customers.
Sales
This module of ERP ensures the implementation of functions related to order placement, order fulfillment, scheduling, shipping, and invoicing. You can witness a considerable boost to your sales as the implementation of the ERP software helps you achieve the following:
Enterprise Asset Management
This module assists in the sustainable management of the entire asset lifecycle. Auto dealerships can invent an EAM or enterprise asset management that combines software, systems, and services to maintain and manage equipment and assets. As part of the optimization process, it is critical to maximizing productive uptime, lower operating costs, and optimize asset quality and usage.
A company's enterprise asset management efforts include work management, asset maintenance, scheduling, supply chain management, and environmental, health, and safety efforts. Providing products on time is a major concern for automobile manufacturers. In order to achieve maximum efficiency, the automobile industry and manufacturing firms need to work hard.
There is no way that they can afford their assets to breakdown since the market is competitive and no mistake is acceptable. Because of this, enterprise asset management is needed in the automobile industry because it provides real-time information that is helpful to managers as well as offers several benefits.
Here is how an EAM can assist the auto dealership businesses:
Tracking Asset and Equipment
There are various kinds and sizes of machinery that auto dealerships need to take care of, which are both expensive and complex. They must be properly tracked in order to prevent theft and loss, which would be bad for business. Not only would it cause operations to be delayed, but each asset is also valuable.
With the help of this module, you can track every asset in real-time and use real-time data to make result-oriented decisions. A manufacturing company has numerous assets and inventories that are not just necessary. They must therefore be adequately tracked and monitored, and this program does so.
Inventory Tracking
It is challenging to manage the inventory of an auto dealership. There are countless types and models of vehicles available, which can make it seem as if there is no end to the choices. Dealerships can increase profitability by using an inventory management system and reduce the risk of losing long-term customers due to a lack of choice.
Maintenance Scheduling
An essential component of the automotive dealership business is maintenance. When assets are maintained well, everyday business operations go off without a hitch. However, operations can get interrupted if there are issues with the assets. It will be worse if a breakdown happens suddenly because everyday operations will stop and the work will not be completed on schedule. This will eventually hamper the scheduled deliveries.
This makes it critical for an auto dealership business to implement an ERP for maintenance and complete the tasks as scheduled. It plans maintenance for both critical and non-critical assets based on the manager's specified periodicity. Furthermore, equipment maintenance lowers the likelihood of unexpected equipment failure.
Preventive Management
There are many different sorts of maintenance that are adopted by different sectors. However, when it comes to the automotive dealership, preventive maintenance or management proves to be the most advantageous.
Preventive management is a way to take care of the assets well in advance and also create a maintenance schedule that will assist extend asset life and boost return on investment. This can be done with the help of the real-time asset information available through the system.
You may keep track of each asset's expenses and due maintenance dates by maintaining records for each item. When deciding whether to maintain or trade an asset, this function turns out to be helpful.
Compliances
A large company has many resources spread across several areas. Some of them are misplaced or lost when assets that are listed in the accounts but not actually present cause compliance issues.
For most businesses, compliance can be extremely crucial and involve things like asset verification, asset depreciation, work environment and safety, asset documentation, and other things. Many organizations are forced to pay a hefty fine because they are unable to follow the laws and regulations of the government.
With the help of a system, you may locate an asset precisely or remove it from your account in an appropriate manner. The compliance module of the ERP can store and present information at the right time, enabling the managers to be aware of the regulatory regulations and take the right steps accordingly.
E-Commerce
The significance of ERP and E-Commerce capability has been continuously increasing as online businesses take off and brick-and-mortar merchants lose ground. Your firm may benefit from integrating its E-Commerce platform with an ERP program to improve productivity, keep clients, and grow sales. Integration capabilities are offered as prebuilt ERP software components, as modules, or even as add-ons.
There are various kinds of E-Commerce retail businesses: business-to-business (B2B), business-to-consumer (B2C), or direct-to-consumer (D2C). Irrespective of the category you fall in, you are consistently striving to achieve the expansion and growth of your company. But as your company expands, so increases the intricacy of your business's processes.
The primary reason why your auto dealership company will need an E-commerce module is due to the speed and volume of operations. Your business can greatly benefit from a specialized solution with automation features and connections to financial data. Here are a few distinct advantages that online sellers should watch out for when integrating their platform with an ERP system.
Consolidation of Sales
Keeping sales data structure can be challenging, especially when it comes from numerous different platforms. Because of this, ERPs combine the data to speed up the production and presentation of insights. The inclusion of all pertinent data points increases the accuracy of an automated system.
The concentration of sales data from various regions is one of the key advantages of ERP integration for businesses that operate online. When searching for a solution, an omnichannel capability is an important factor to take into account. This would be especially applicable if your business conducts sales through multiple branches in various locations.
Revenue Generation
Every company is always looking for fresh ways to make money. ERP solutions can help E-Commerce organizations make more money in a variety of ways, including explicit and implicit revenue advantages due to higher efficiency, automation, and other features offered by the system.
For instance, time spent by employees on particular business processes can be used for other duties. A good ERP E-Commerce connection might, therefore, result in revenue gains that greatly outweigh the original setup costs.
Higher Productivity
The capacity of ERP software to boost operational productivity by integrating diverse procedures and automating the interchange of data is well established. Some ERP software can also automate processes like bank reconciliation and shipment notification sending. Businesses can perform more tasks in the same amount of time and produce more work by increasing productivity. Additionally, procedures can be made more efficient using automation tools, saving time on document spot checks and human error correction.
Improved Customer Service and Relationships
CRM functionality is a common feature of ERP systems. These capabilities allow E-Commerce businesses to make use of a consolidated database of client data, allowing their salespeople to get better insights. With such insights, there is an increased efficiency in tailoring sales leads based on historical sales, demographics, and so on.
With a surge in the number of shoppers online, online sales and business expect positivity and enormous potential.
An ERP software automates the process of monitoring shipments and notifying users when a cargo is scheduled to arrive or if it has already arrived at its destination. These crucial updates provide your business a chance to make a better first impression. With a near-perfect optimization of these operations, you can witness an increase in your percentage of client retention.
Finance Management and Accounting
When your software solutions are unable to gather any real-time information, it is almost impossible to access accurate financial data. In order to centralize operations, create effective forecasting models, and plan for material reorders and delivery lead times, financial data is essential. Financial data can also be used to choose which vendors or suppliers to collaborate with.
The importance of financial management in ERP solutions for auto dealers cannot be underestimated, and the tighter your profit margins are, the more you stand to gain from it.
Besides these aspects, the ERP can also be an effective tool to incorporate excellent accounting practices. Dealers and mechanics for automobiles must deal with a diverse range of clients and goods from various brands. As a result, the entire accounting process must be automated.
Automotive workshops and dealers require an ERP for Automotive Dealers with integrated barcode scanning. The system uses barcodes to handle sales and purchases. Any thriving firm depends the most on its accounting to assess its financial position. To increase their earnings, auto dealers and workshops must keep precise financial records in the accounting module.
Today's customers use a variety of methods, including cash, checks, and credit cards, to make payments. You must keep accurate accounting records if you want to accept payments made in various ways. However, a lot of shops and dealers employ manual accounting techniques, which are not very efficient. An ERP can, therefore, come to the rescue and adeptly replace the manual methods.
What are the Primary Challenges faced by Auto Dealers?
The dealership experience has the potential to be greatly disrupted and changed by factors like ride-sharing and altering consumer expectations. Customer demands and preferences can be unpredictable and this affects the dealership market tremendously. By comparing prices online, the customers often demand the best automobile at competitive prices. Providing service at competitive prices can be difficult for the dealers. Even more challenging may be developing ways to gain a competitive advantage in advance.
Owners of auto dealerships and general managers must start thinking about how the traditional car-buying process needs to change to satisfy consumer expectations as more individuals choose to purchase vehicles online.
Customer Relationship and Meeting Customer Expectations
Today, we observe that there is a drastic change in the way cars are sold from the way they were sold earlier. Moreover, the market size has grown and keeps growing each year. The increasing number of customers has made dealership owners realize that they will need to pull up when it comes to customer service, as this factor has a huge impact on sales.
Irrespective of the easy online access, even today, there are numerous people who feel that buying a car from an auto dealership will let them have all the necessary information. Some of them also reach out to the dealership to enjoy the experience of seeing the cars right in front of them. This brings more and more people to the dealership outlets and creates pressure on the dealership staff to enhance their customer service.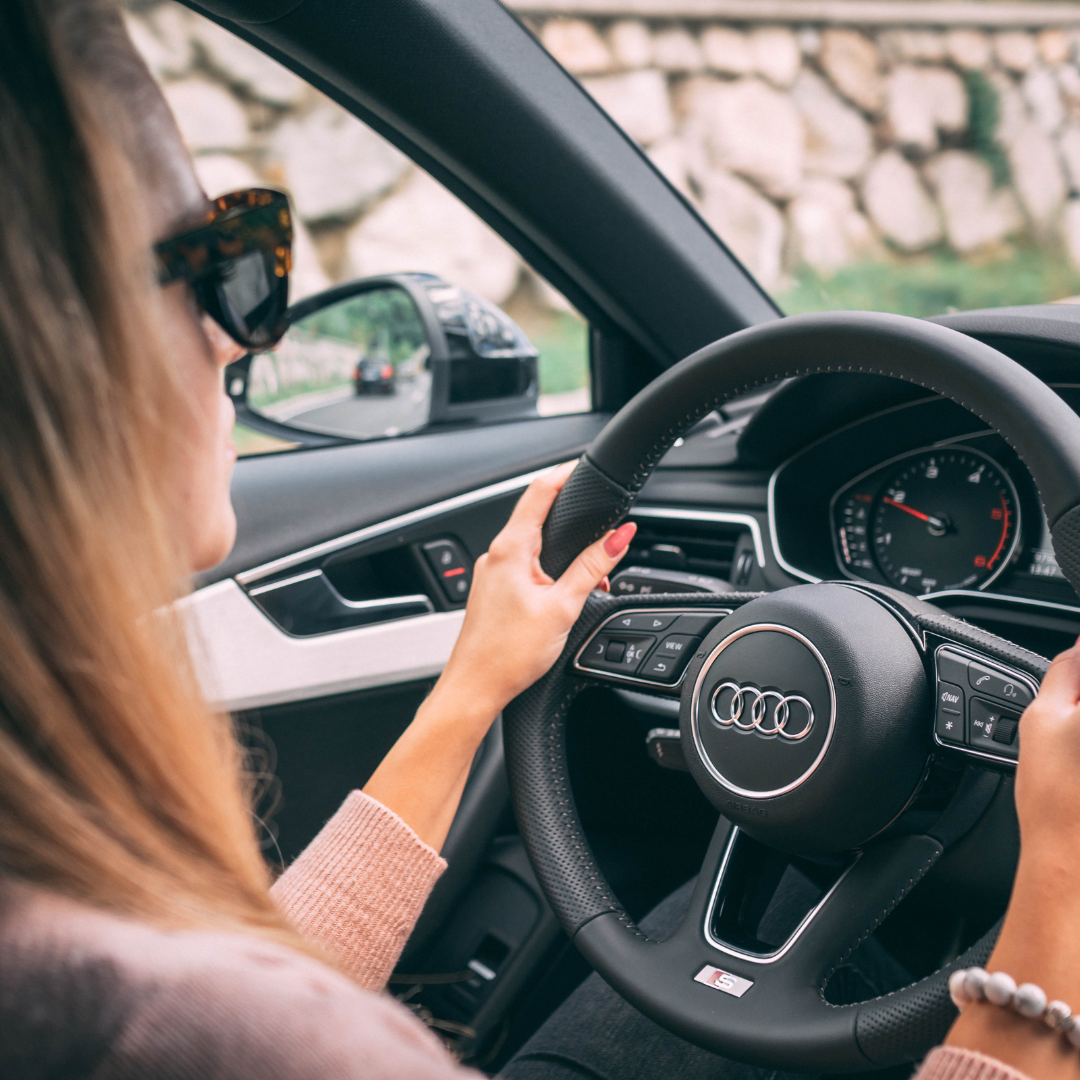 There are several things for which the customers come to the car dealership outlets. They want to test-drive the vehicle, have a closer look at the car, and learn more about its features and technical specifications of the vehicle. To provide all this information, the salespeople must be well-trained, and this puts the onus on the dealership owners, which is often a big challenge for them.
Relying on Manual Methods
If your dealership business relies too much on the age-old techniques of handling data and relevant information, there are good chances that you may lose sight and agility in the long run. Although the spreadsheet and the manual techniques have proved their effectiveness back in the earlier days, you must assess their efficacy in today's age.
Your dealership business has a website, and a lot of information about your company and the various vehicles it deals in are covered. The customer thought process has changed over the years, and so should the methods of doing business with them. Here are some reasons you may be lagging behind:
You use manual techniques for several important jobs
You are utilizing various incompatible systems
Only when anything goes wrong is data evaluated to determine the cause
Running data reports takes too much time and effort
Relying on older methods is not only tedious but is also error-prone. Man-made errors can create havoc, and the damage could greatly tarnish the financial status and the relationship with the customer.
Unpreparedness for Electric Vehicles
We know that electric vehicles are soon to become a rage, as they are soon gaining a strong foothold in the automobile market. Electric vehicles or EVs have an electric motor in place of an internal combustion engine and a battery in place of a gas tank. Plug-in hybrid electric vehicles (PHEVs), which combine gasoline and electricity, have an internal combustion engine, a battery, an electric motor, and a gas tank. The PHEVs can use both gasoline and electricity as fuels.
When it comes to auto dealerships exhibiting EVs, there are quite a number of limitations. These could be enumerated as follows:
Absence of in-store experience: US dealers do not have any parked EVs in the showroom, they have them only parked on-site instead. So, the overall in-store EV experience is not up to the mark.
EV Sales process: The salespeople usually fail to provide enough information about the environmental benefits of EVs. They keep subsidies as the primary point of their sales pitch.
Battery, Charging know-how: The salespeople were observed to clearly lack knowledge about the technical specifications of the vehicle. These included battery know-how and charging know-how among other aspects.
The other challenges pertaining to electric vehicles included providing adequate information about lifetime value, maintenance schedules, and depreciation for EVs versus ICE vehicles. The dealerships are also expected to impart knowledge about articulating cost and benefit differences that go beyond government or OEM subsidies. All of these have been crucial challenges for US sales representatives. A strong sales experience is essential because over 90% of customers still visit the dealership in person to complete test drives and new car purchases.
Manufacturers pulling back the Incentives
US markets have witnessed an incredible price rise in recent times. The cost-conscious shoppers have, therefore, shifted their focus to buying used cars. There is an increased demand for used cars, however, the used car prices have also increased.
These humongous prices are a result of the manufacturers pulling back from providing any incentives for the purchase of the cars. This step has been taken owing to the decreased profit margins.
With a small lull for about three months starting January 2022, the used car costs are back to being at historically high levels. These high prices ring warning bells for the automotive market as buyers are concerned about cost savings and rising credit card debt. These concerns are a growing challenge for auto dealers in 2022.
Managing Supply Chains and Inventory
The challenges facing automotive dealers today are becoming more complex: a fiercely competitive market, an expansion of products and options, and pressure from OEMs. Customers' expectations and tastes are changing for a variety of reasons. The reasons could range from economic to technological, and more, which does not make matters any simpler for the auto dealers as they have to face incessant challenges of resolving new queries each day.
With a few clicks, there is a hoard of information available for the buyers before they come to the dealership for a purchase. They can negotiate rates, terms, and preferences because of their access to an infinite supply of information that helps them pinpoint exactly what they want.
The only way for dealers to make money with their existing low margins on auto sales and lengthy delivery times is to manage their inventory and supply chains more efficiently.
Furthermore, without a tool that lets them have comprehensive knowledge about their inventory, the warehouse, and the sold cars, there is little clarity on these aspects.
How can ERP help Subside the Auto Dealership Challenges?
We have had a close look at the various useful features of the ERP and the ways in which it can benefit an organization. Speaking of the resolution of the auto dealership challenges, the ERP can offer several efficiencies through which it can be accomplished.
This section aims to explain the importance of ERP in resolving these challenges and catalyze the process of profitability for the auto dealers.
Let's study them here.
Inventory Management Module
Used cars account for more than half of all car purchases as they are less expensive and risky. The intense competition while advertising secondhand cars can be a potential challenge. We must understand that people nowadays spend a good amount of time before making a purchase. They will enquire about all the specifications and would want to tally it with what they had researched.
Therefore, your website for a used-car dealership needs to be updated with all the information regarding automobiles you have in your inventory. This will present updated details about the used vehicles. However, you will have to devise a strategy to convince clients that your dealership is unique in the market.
Software for inventory management can help with that. You can arrange your automobiles, quickly access crucial information about your used cars, and merchandise your lot online with inventory management for car dealerships.
Customers no longer need to travel to showrooms to look at cars because most of the procedure is now done online. For your used vehicle business website, inventory management software has many advantages. Here are three reasons why inventory control is crucial for selling used cars.
Display your vehicles and respective information
On your website, establish a virtual showroom for your cars. It is simple to automatically gather details about your used automobile and add them to a vehicle display page using inventory management software.
Target particular users
You may target clients more strategically owing to inventory management. Used car dealerships can also target customers who are looking for certain vehicle characteristics, price ranges, or mileage ranges, in contrast to OEM new car dealerships that concentrate on their overall identity. Your customers are more likely to find your targeted customers and retain them on your website if you highlight each of your autos and all the crucial information comprehensively.
Save time by arranging your inventory
Organize and keep track of your vehicles using criteria such as make, model, year, price, and more. When you deploy a software to store and access your vehicle information, you can have all the crucial details about it displayed on your vehicle display page with a few clicks. It is simple to create multiple categories so that your consumers can easily find the kind of automobile they require because all the information you need about your used car and its characteristics is easily accessible and quick to find.
When you arrange your inventory based on certain specifications and criteria, it becomes easy for the potential buyer or customer to search about the vehicle, and possibly move ahead with the purchase.
Lasting Impressions
When most of the formalities have been completed online, the customers will have to come over to the dealership for final work or documentation. From getting glimpses of the preferred vehicle on the website to sharing all the vital specifications, making the information available online helps the customers to experience the ease of purchase.
This makes for a happy experience and the customer leaves the showroom satisfied. This helps your business create a lasting good impression and almost guarantees a free word-of-mouth marketing, which is essential for furthering your business prospects in the future.
Enhance Customer Communication and Customer Service
Auto dealers have had to fight the constant battle of dealing with non-returning or unsatisfied customers. Dealing in the business of cars and used vehicles requires auto dealers to share a lot of updated information about the particular vehicle. Sometimes, the right information is not passed on to the salespeople which eventually leads the business to suffer.
ERP enhances customer service owing to its following attributes:
Coordinating Supply and Demand
By connecting your sales order management and fulfillment management, a contemporary ERP system aids in and catalyzes the fulfillment of orders. Users can assign inventories to client sales orders and it becomes easy to determine service levels.
Through the system, your managers will find it simple to assign priority rankings to the customers. They may also consider the locations of the supply in order to prioritize the supply and meet the demand on a timely manner.
These are some of the initial effort that your managers or staff will need to undertake; once this information has been entered and preferences have been allocated to specific customers or groups of customers, the system can automate fulfillment depending on those choices.
Simplification of Backend Business Procedures
Companies may establish inventory control, increase efficiency, and deliver items to clients more quickly with the use of an ERP system. Through accurate lead, opportunity, and quote tracking, the ERP system also promotes better customer communication. Additional commercial advantages of ERP include:
Making Information Easily and Comprehensively Accessible
Information may be distributed more effectively within the company's internal teams owing to ERP. Your auto dealership can benefit from an ERP by letting all your the different departments and staff to access the common set of information database so that everyone is updated about the latest developments pertaining to the vehicles.
The sales manager, the customer representative, stock manager, HR professionals, and even your service technicians can gain the real-time insights at any time.
Here are some more points that can be covered by your ERP:
Providing real-time information that is accessible to non-IT users and is updated in real-time
View vendor scorecard which is one of the vendor performance criteria and is important for communicating your expectations to your vendors. It also helps you gauge the capacity of vendors to continuously offer value.
Integration between the front office and the warehouse
Ultimately, it all boils down to offering an outstanding customer service. Dealership profitability and client retention go hand-in-hand and are both influenced by higher customer satisfaction.
Complete Visibility
There are a hundred different activities happening in your auto dealership business at any given time, all of which are essential to your success. Completing and fulfilling orders, payments, sales, placing orders, counting, and delivering stuff; there are countless things and tasks to take care of. It can seem impossible to manage every aspect of your business. Despite all this, you must ensure your team chooses the right course of action in business.
The secret to remaining one step ahead of the competition, making wise business decisions, and expanding your firm is data and the knowledge it provides. However, it is cumbersome for most dealership businesses to make the best use of data.
Poor visibility into the important aspects of your business can make you lose grip on the performance and profitability of your business. You may become unaware of what your employees do and how your inventory looks. All these are indicative of the fact that you lack the data insights necessary to fully understand what is happening in your company and why.
Here are some benefits of having complete visibility of your business operations:
Judicious Resource Allocation
Visibility of your inventory guarantees that your money is being put to use in your business operations. It enables you to ensure that the inventory is moving and not just sitting on shelves in a warehouse. All businesses must understand that inventory costs money and therefore, needs to be kept as low as feasible. Clear visibility will help you to loosen up the capital tied to your inventory.
Increased Forecasting Accuracy
When stock is managed properly and in-transit movements are scrupulously documented, you can achieve timely completion of routine inventory audits. This way, distribution is better organized and forecasting is more accurate.
Better Demand Fulfillment and Supply Chain Transparency
Inventory may be kept in a variety of places, such as warehouses, retail shelves, distribution facilities, and so on. Knowing how much is accessible at each place is crucial for reducing the carrying costs of the inventory. This makes inventory awareness one of the most important management tools in manufacturing as it contributes to increased profitability.
To keep up with timeline commitments, inventory visibility continuously updates the supply chain and checks orders. Reconciling inventory to supply will finally lead to higher profitability and achieving customer satisfaction.
Demand Planning
This is a supply chain management procedure that enables a business to successfully tailor its production in accordance with those forecasts. However, in this section, we shall study how demand planning for auto dealerships works and what benefits it has for them.
Demand forecasting is a constant struggle for supply chain management worldwide. To manage it, your ERP needs to have all the records of the previous orders stored. Every piece of information, including the customer's name, the SKU, the date of their order, the requested and actual delivery dates, and more is present in the system. The sophisticated ERP also allows you to deploy a mathematical model for demand forecasting for better accuracy.
We must note that demand planning is a stage that follows demand forecasts. Based on the forecasts, the company needs to undertake steps to meet the assessed demands. Forecasts have become increasingly difficult due to difficulty in comprehending the precise needs of consumers in the automotive sector. Increasingly diverse offers, changing consumer trends, and governmental laws are the root drivers of this change in behavior.
The goal of optimized demand planning is to create the ideal product mix. The important question here is: How can the auto dealership achieve that?
These days, social media and market trends are huge influencers. Market trends are followed by consumers, who are frequently impacted by social media and by what they hear from word-of-mouth. This drives frequent and fluctuating customer demands.
The usual and age-old systems and procedures will not be able to manage all those criteria. It will be advantageous to use new technologies made possible by artificial intelligence that combine a large number of parameters quickly and thoroughly for any dealer. Digital capabilities will encourage the purchase potential by offering straightforward tools that are as simple to use.
There are some methods that your auto dealership business can shoulder to have an efficient demand planning process in place. Here are the methods:
Sales forecast: It uses past performance for forecasting.
Moving average demand: It considers the numbers from the past data set; for example, consider past fiscal year's revenue for forecasting upcoming year's sales.
Linear regression: This takes into consideration a variety of factors such as GDP, past sales, consumer spending behavior, and so on.
Seasonal trends: It considers the sales made during the specific time (festive time) of the year.
All you need to do is build a team, organize your data, develop a plan based on the forecast put together, and measure your outcomes.
However, with an ERP in place, you can have half of the work automated for you as it gathers and analyzes data on your behalf. Demand planning forecasts become integral when you run a huge dealership business. Also, it is an easy-to-have dashboard that is designed to keep track of every aspect of your operations and planning, including shifts in demand.
Electronic Document Management
The automobile industry can store a significant volume of digital documents using the electronic document management capabilities of ERP. With the use of this single storage system, documents can be retrieved quickly and efficiently for updates, deletions, or any other edits.
Implementing ERP software in the automotive sector aids in managing, storing, and organizing business data and records. You can build or generate any digital documents relevant to company processes and functions in the electronic document database, which is available for use by anyone in the company who is authorized to access it.
Financial Management
Managing finances can be an uphill task for dealerships and may lead to compromised financial data. Financial management requires impeccable financial forecasting, which is a significant process that enables the management to review your financial status based on the comparison between the projected and actual figures.
Financial planning collects data on the actual facts for the current fiscal year and examines potential outcomes and forecasts. A financial projection is just as accurate as the data gathered; thus, using ERP assures that the data you collect is accurate.
Gathering accurate data and examining deviations has typically been a time-consuming job that takes attention away from forecasting and other fruitful tasks that helps in financial planning. Your business can streamline these procedures by utilizing an ERP system, which will ultimately free up your financial team's time. With the software, you can efficiently create forecasts and record data, and set up the actuals into financial planning models.
Other reasons you should implement ERP for financial planning include the following:
Accuracy
The ability of a company to adequately and accurately handle its financial data is one of the most crucial aspects of a successful corporation. Your processes can be made more efficient, more accurate, and less expensive with the use of ERP financial management software.
ERP systems focus on all relevant business and financial data, giving users a complete picture of their operations and revealing insights that might not have been otherwise visible. ERP systems are also used to monitor business operations and stop accounting irregularities. Analytics provides valuable insight when financial processes are automated, and management decisions are effectively made.
Real-time View of Information Database
Financial teams now have total financial visibility over a company's receivables and payables thanks to improved capabilities. They can also get a thorough review of financial procedures, inventory levels, and sales projections to help assure profitability.
With real-time dashboards, ERP systems provide the immediate review of transactional data.
Regulatory Compliance
The critical back-end data of a business, such as sales units, order management, shipping, receiving, and production, is fully connected with qualitative ERP systems. ERPs may make sure that numerous financial and safety laws are followed. Companies can customize alerts regarding vendor recalls and unexpected economic spending patterns. One advantage of a cloud connection is that it enables financial professionals to assure efficiency from anywhere in the world by enabling real-time data monitoring.
CRM Integration
Integration with a customer relationship management system (CRM) enables your managers to keep relevant customer data, such as credit information and important financial documentation, in a single cloud-based location.
Budgeting and Forecasting Modules
Financial modules can be used in budgeting, forecasting, dynamic assumptions, and formulas to enable precise future prediction and budget planning. All businesses, including automobile dealerships, need and adopt it to arrive at accurate economic status.
Utilization of Fixed Asset Management
Auto dealerships can utilize the fixed asset management module for easy control and tracking of non-depreciating and depreciating assets of their company. Summing up, the modules make it easy for your accounting staff to calculate depreciation for all the assets of your business.
Onboarding of New Staff
New hiring and onboarding come under human resource management and the HRM module of your ERP can help conduct HR processes in a much better way. ERP in the automotive sector enables an effective human resource management system that aids in decreasing the amount of time the firm spends on administrative chores.
Thus, an ERP aids your auto dealership business in classifying employees according to their credentials and the role they are in the company.
The ERP handles everything from finding the best candidates, scheduling training programs, performance reviews, management of attendance, employee evaluations, compliance with HR standards, and monitoring payroll benefits, other allowances, and employee benefits. As a result, an automotive ERP can refocus its efforts on achieving strategic aims and goals rather than handling administrative duties.
In other words, it guides in undertaking methods that can be used to enhance employee engagement and improve employee retention.
How to Select the Best ERP for Auto Dealers?
The first consideration while developing automobile ERP software is workflow management for dealerships and workshops. It is recommended to pick software that can manage and automate existing workflow operations. A streamlined workflow and seamless integration are what many clients are more interested in.
Know the newest upgrades and new technologies, then base your software selection on them. The software should also work with other management programs and office equipment.
You must decide on your primary priorities before choosing automotive software. Although customers place a high value on speed of service, you should also invest money achieving that correctly. This is to say that for your investment to be profitable, you must make a sensible choice in software.
There are numerous providers in the industry, which can be attributed to the rising need for automotive ERP software. To find the greatest software package among the many available options, you must conduct an in-depth study.
The following tips will help you select the right ERP for your auto dealership:
Consider Your Business Requirements
The first step requires you to create a detailed list of all the requirements you have for your ERP. You must include your top managers and officials to learn about their perspectives on the software. Speak with your buying manager and production staff. Use all the tools at your disposal to make this a top-notch list.
Do not forget to include your clients and suppliers; they are also an integral part of your business. Gather all these pointers and start a detailed assessment of the ones your business needs urgently or cannot do without.
Establish a clear understanding of the needs that are essential and critical to the productivity of your business. Prioritize the factors on the basis of their benefits and the urgency of application.
Integration with Existing Systems
Every organization has some or the other systems deployed to take care of their business processes. When they include a new ERP system, they want to ensure that the functions of the existing systems do not get hampered due to the newly-introduced ERP.
Another important aspect is that the new ERP must ably access, read, and handle the data already present in the other system. The question is how will the managers permit the same data or redundant data to exist? Also, how will they maintain compatibility between those independently updated data elements? In this case, you may need to alter the existing system for the efficient functioning of the ERP.
Electronic data interfaces, or EDIs, are widely used by customers and suppliers to exchange data between businesses. Auto dealership business would frequently require this facility; therefore, it would be wise to ensure your ERP can accommodate this if it is necessary.
Budget Calculation
If you set out on the journey to purchase an ERP system with a tight budget, then you may have to make do with only a handful of options. This is to say that your options get decreased when you are trying to purchase ERP on a lower budget.
However, you must remember that the system you purchase will be a long-term service and will provide you with a 360-degree benefit as far as your business operations and integration of different business units are concerned. This is the first concern.
The second is that when you want to set a budget to buy an ERP, you must have a dedicated team of knowledgeable personnel who could chalk out an impressive budget for an all-around benefit.
Include your dealership size which is again an important criterion to set the budget before you select an ERP. Also, how many people will be using the ERP and what would be your 'per user cost', are other things you must include while charting out the budget.
Scalability in the Future
The ability of an organization to adapt to changing workloads or market demands is referred to as scalability. A company that is scalable can increase production in an expedited way to satisfy demand while also taking advantage of economies of scale. When you have developed an ERP for your business, you would anticipate continued advancements and innovations.
You must also be prepared to embrace the new-age technologies that may be implemented along with your ERP.
At the same time, you must focus on purchasing an ERP system from a company that has been known for an excellent track record of keeping up with technological advancements. Also, you may want to check their previously fulfilled commitments to uphold that strategy for future scalability.
ROI Forecasts and Ownership Costs
Return on investment (ROI) measures the effectiveness and profitability of an investment. It can also be used for comparing the effectiveness of multiple investments. Using ROI, we can estimate the amount of return on a particular investment based on its cost.
As a business owner, you must set up reporting that gathers and presents insights on the ROI forecasts.
What you need to do is total up all the additional expenses the ERP implementation will lead to. You will be paying the initial purchase price and some initial consulting costs. Additionally, make arrangements for updating your servers and networks which may be required at this stage. While this goes on at one end, you will also need to pay for training and temporary staff. Do not forget to count in the maintenance charges that you shall incur every year for as long as you utilize the ERP.
Now, let's speak about the advantages that you shall receive; for example, the decrease in the cost of performing work. You will be enabled to offer your consumers services and goods that were previously not workable. Ultimately, you will be able to see an increase in income.
Calculate your return on investment after distributing the associated costs and benefits over time. Before making an investment, the majority of firms want a minimum return. Make sure the ROI for this ERP meets your company's requirements.
At this point, you must also ensure that there is a change management plan put in place before implementing any organization-wide changes. So, in other words, you should be looking for an ERP that comprises features that let you have ROI forecasts.
Customizations
Not all businesses are the same and therefore, the ERP requirements will also be different. While it is difficult to lay your hands on that perfect ERP software, you must also be mindful that the ERP you select does not require too many customizations. It is highly unlikely that your business would require anything unique from an ERP.
Know the intended level of customization and whether it is actually necessary within your workforce. The ERP systems of today draw on data gathered from tens of thousands of clients. If an existing ERP can be used to work around your desired customization simply, then that customization is not a selection criterion. What you may still consider here is if the customizations can be done at a later stage. This point could well be a criterion to select or unselect the ERP.
Another aspect worth evaluating is that in case you decide to go for customization, then how would you ensure that it does not impact the other components of the system? So, it would be wise to make a choice only when you have assessed these points.
System Specifications
When selecting an ERP, you will have to consider both hardware and software specifications as well. This will require you to work on the information regarding the number of personnel that will use the system. Also, consider the type of hosting you find suitable. You can also set up the language.
System requirements will also include the type of operating system and the minimum and recommended speed of internet connection. Under this category, you can again choose to go wireless or for the cabled connection. The wireless connections are slower than the wired ones, so make your choice accordingly. The hardware will need you to configure printers and scanners if necessary for the business.
Conclusion
Irrespective of your primary area of sale – new vehicles, used vehicles, or automotive parts – you shall be dealing with a lot of minor and major stuff related to your business. You will have to take care of your accounts to understand how your business has been shaping up. You will also need to take care of your staff, their salaries, attendance, and so on.
Aside from these, you will also need to keep track of the inventory, the vehicles, and the E-commerce aspect of your business. This brings us to speak about the customers and their relationship with your company. As a business owner, you will have to constantly assess the ways in which you can boost your customer relations. With so many things on your plate, you are bound to miss out on a few vital aspects, which may prove disadvantageous in the long run.
Therefore, having software that let's you keep track of all the business operations to help you cut down the operating costs becomes crucial. An enterprise resource planning system is what you need at this stage to merge everything cohesively under one roof.
You shall not only receive immense clarity of your operations but also empower to look ahead to a bright financial future.
How can Deskera Help You?
Deskera offers an ERP software solution that is completely integrated, fully compliant, and easy to deploy. It is a web-based business management tool that offers a complete, real-time picture of your operation in the automotive sector.
Deskera Books, an accounting expert that is included with Deskera ERP, enables you to automate all of your accounting tasks, including invoicing, billing, expenses, payments, taxes, reporting, approval flows, multiple currency payments, payment getaways, generation of financial statements and KPIs, and many more.
Deskera CRM allows you to easily build up your customer base through email marketing, CTAs, landing pages, help desk choices, and other methods. Additionally, automating sales is now easy along with closing transactions, moving them through the sales pipeline at the appropriate stages, and gaining real-time dashboard analytics.
Try Deskera ERP to Streamline Your Business
Sign Up for a Free Trial Now!
Key Takeaways
An automotive dealership is a business that owns the authority to sell products of a specific company, most often a particular make of car.
The auto dealers may operate under one of the following types of businesses: New car dealership, used car dealership, and online car dealership.
There are many ways in which distributors and dealers make a profit. In addition to selling automobiles, auto dealers also market the accessories and support services that go along with them. Selling the extras that come with autos is where a dealer makes the lion's share of their revenues.
Income from leases, insurance, offering loans, and warranties are some of the ways in which auto dealers earn profits.
Enterprise Resource Planning refers to the system that is implemented by companies to combine all their modules and manage their daily operations. These operations include accounting, supply chain operations, sales, CRM, inventory, HRM and payroll, procurement, compliance, risk management, and so on.
Automation, accounting, tracking, visibility, reporting, CRM, HRM, sales, SCM, and Integration are some of the key features an ERP system offers.
Auto dealers need ERP to aid business intelligence, E-Commerce, and financial management. They can also reap the benefits from the Enterprise Asset Management module of the ERP.
There are many challenges that auto dealers face today. These include meeting customer expectations, relying on manual methods, unpreparedness for electric vehicles, managing supply chains, and so on.
By integrating certain modules in the ERP system, auto dealers can rid themselves of many of these challenges. ERP's inventory management module, financial management module, and other aspects can relieve auto dealerships of several hassles.
ERP also helps achieve complete visibility, electronic document management, onboarding of new staff, demand planning, and enhanced customer service.
A certain amount of research can guide auto dealers to get the best ERP system for their business. They can consider business requirements, ease of integration with existing systems, scalability, budget, ROI forecasts, and necessary customizations before selecting an ERP.
Related Articles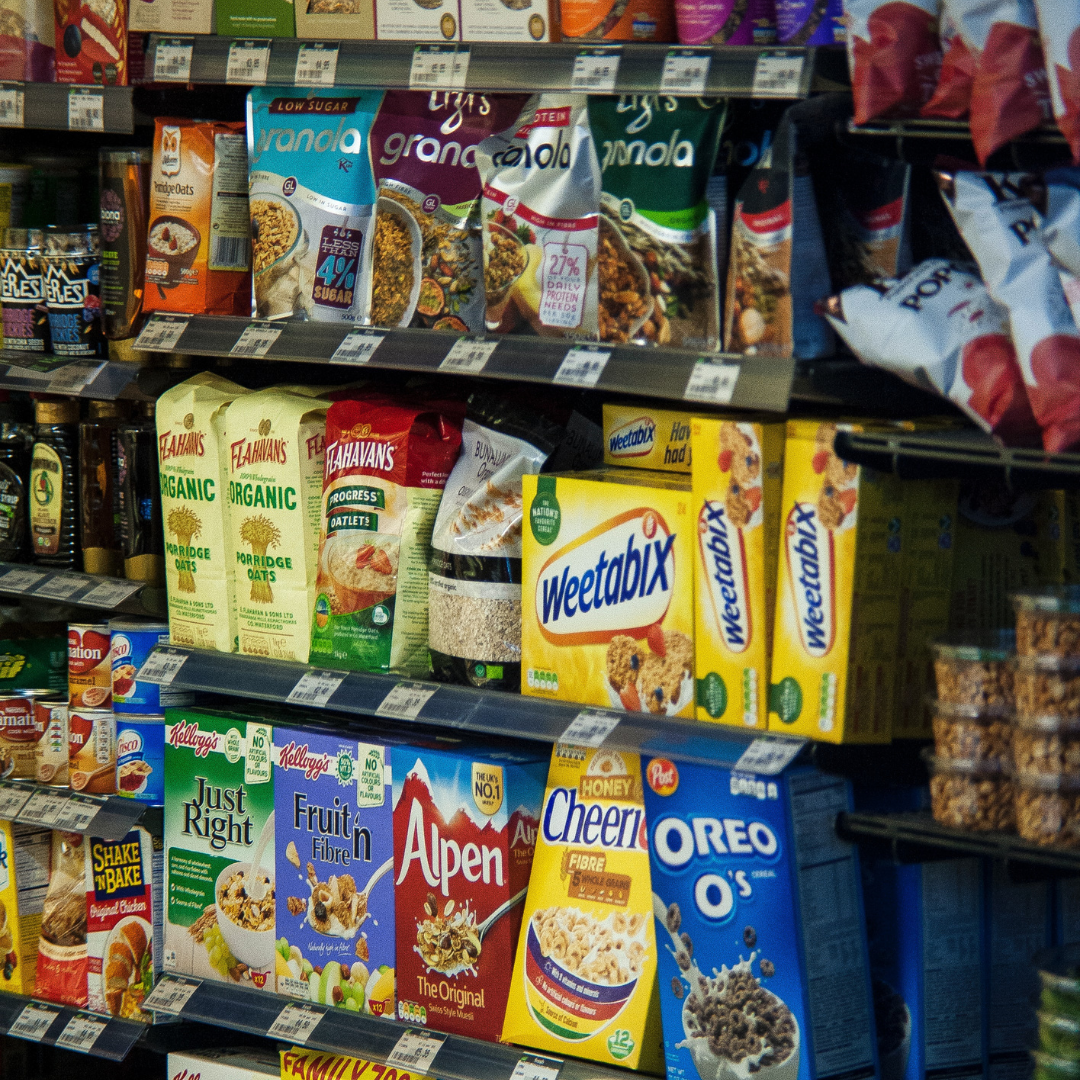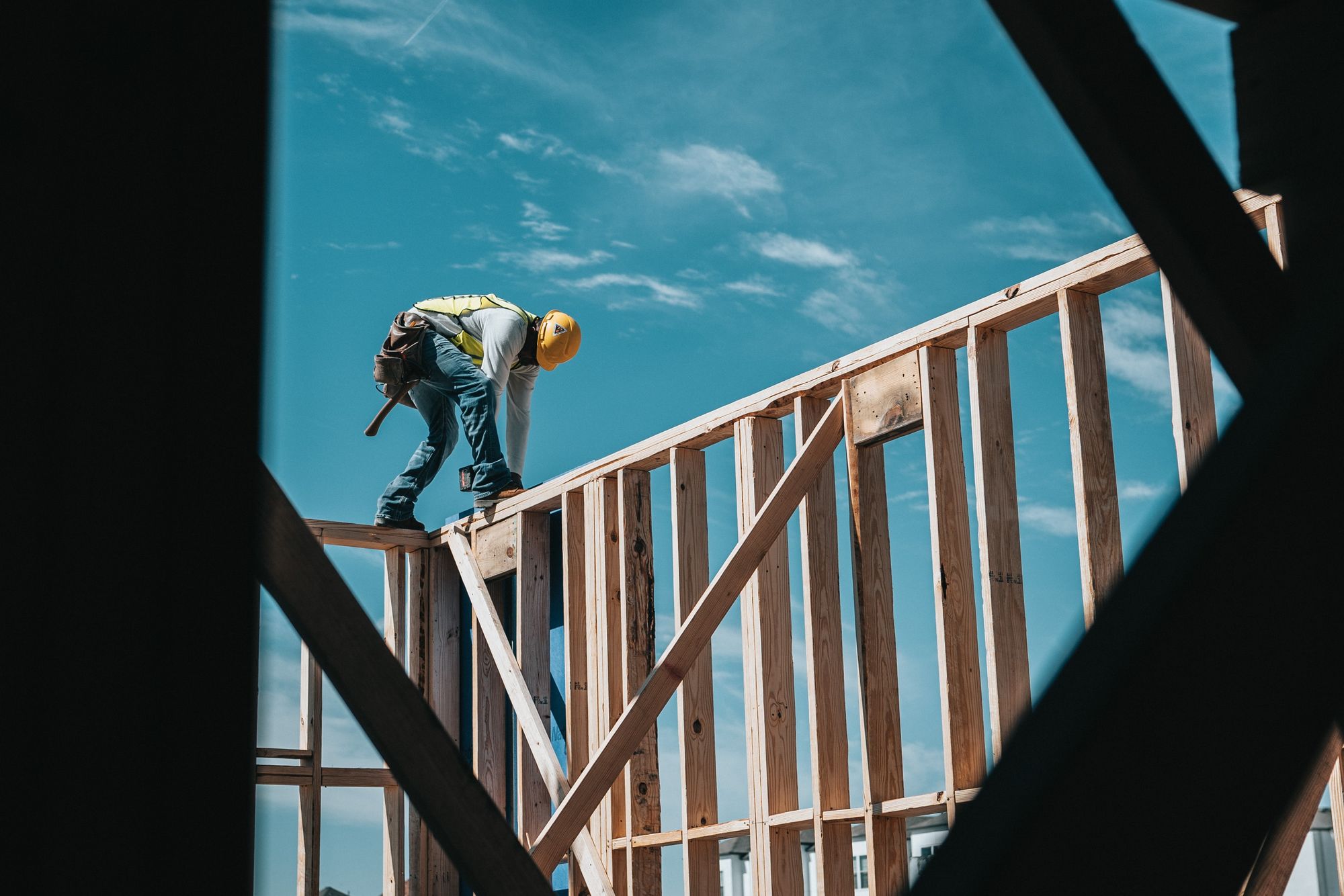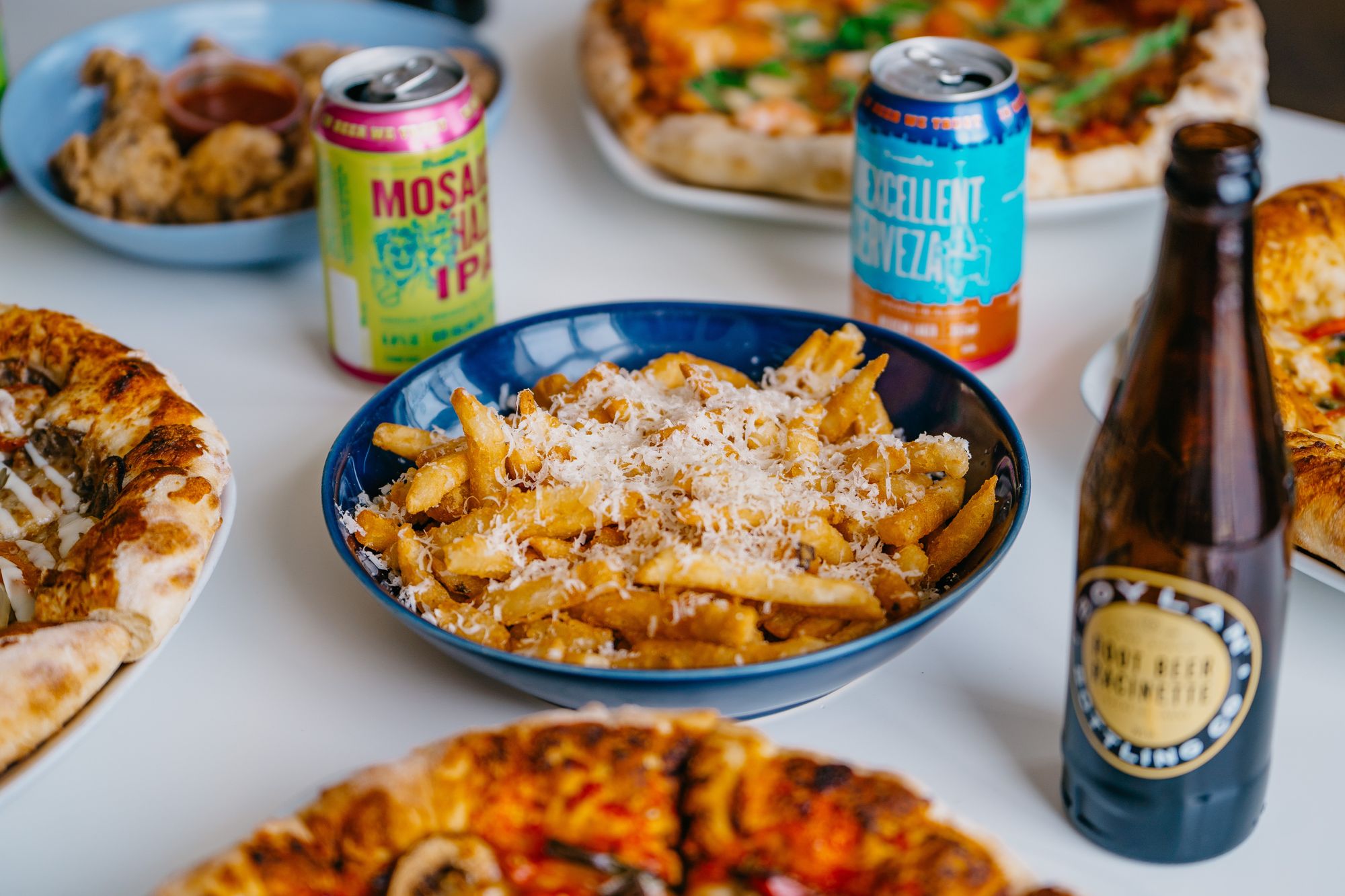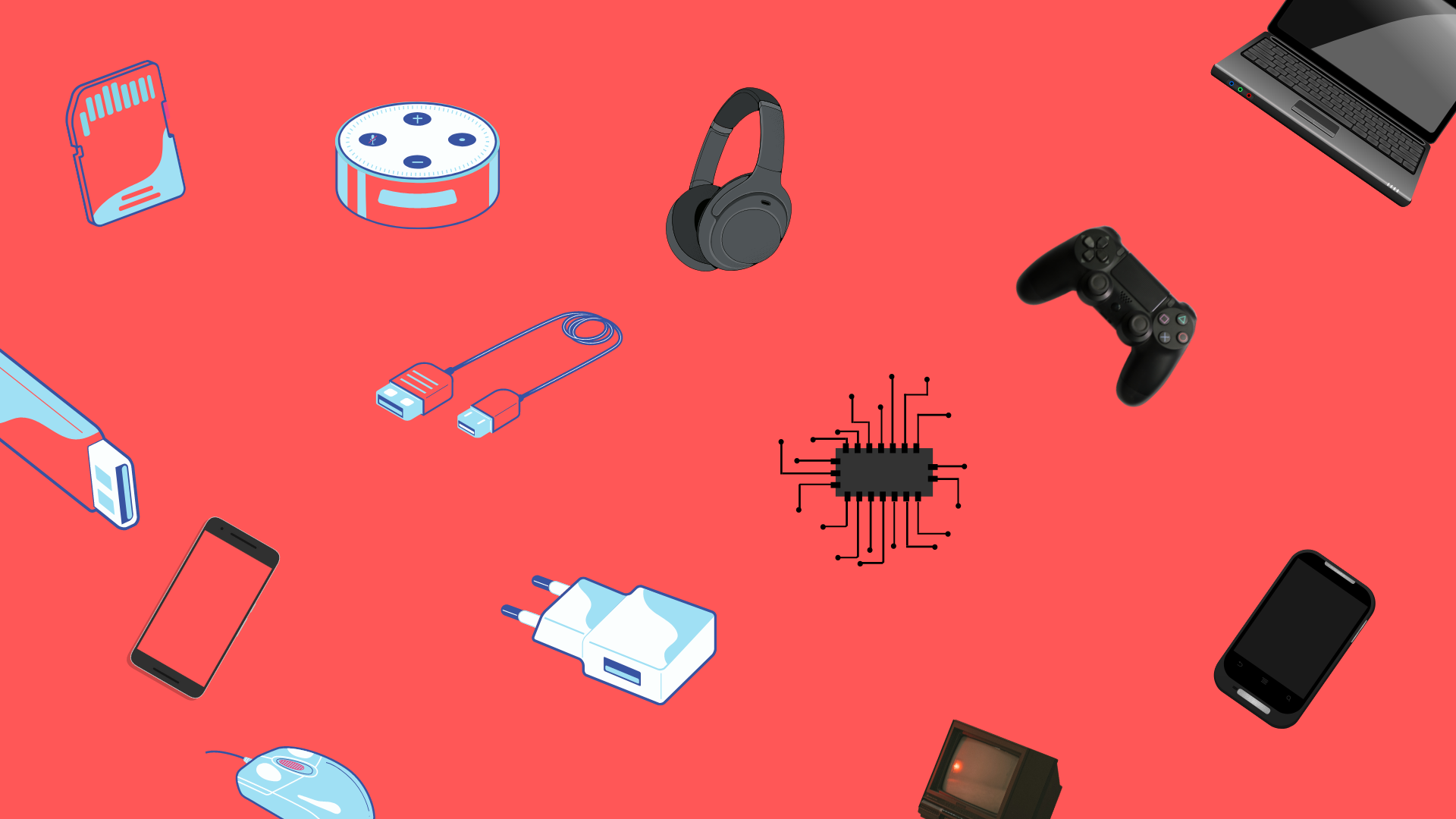 ---
---