Despite the Covid-19 shutdown, market growth is anticipated to reach $205.0 billion by 2025. Other studies predict an AGR of 4.3% for 2020–2027, with the Asian Pacific region expected to continue to have the fastest growth.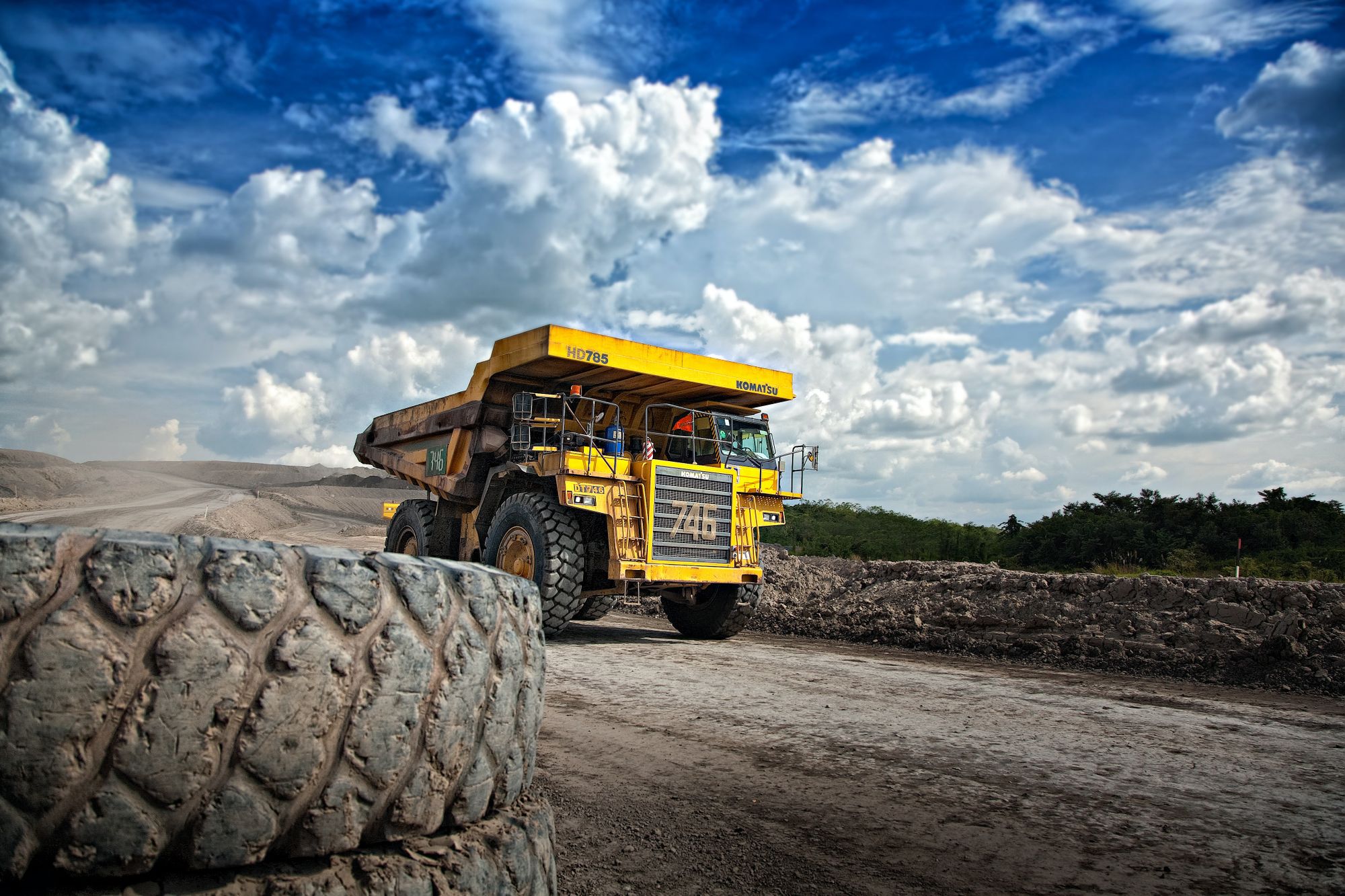 Traditional construction equipment marketing techniques have seen a decline in sales as a result of the pandemic, making a contemporary, digitally oriented marketing plan maybe even more crucial for long-term growth.
Do you wish to increase the marketing efforts for your business that manufactures heavy equipment? Implementing the appropriate marketing strategies could offer your firm the boost it needs to grow. By the end of this article you will have insights into:
Get Deskera ERP to Streamline Your Business Modules
Sign up for Free Trial Today!
Reasons Heavy Equipment Industry Needs Marketing
It's not necessary to hire an industrial equipment marketing firm to market in this industry. It is feasible to expand a marketing campaign internally, but many organizations believe that having a fully functional online presence is too crucial to do it halfway. The heavy equipment industry needs marketing for the following reasons:
Outperform Your Competitors
It might be challenging to persuade clients and customers to select your heavy equipment manufacturing company over a rival. However, you might outrank your rivals on the search engine results page by using superior marketing strategies.
Here are some pointers for beating out your competitors:
In order to boost your chances of ranking, optimize your pages for industry-related keywords.
Boost your social media presence to raise awareness of your brand
Examine the content of your competitors and take note of the writing elements that work for them.
Create an improved version of their content, find out where they are getting links from, and see if you can do the same.
Speed up your website to compete with theirs.
Communication to Customers
Any marketing strategy must include steps to ensure that you and your customers are on the same page. Tell them what you can do for them and about your services.
Ways to do this include:
Writing social media posts to highlight important areas of your business
Creating a blog to cover company news and industry subjects
Optimizing your services pages to make it obvious what you can offer
Your target market must understand why they should pick you over a competing manufacturer of equipment. Use your content marketing to inform them of your advantages over the competition.
Simple to Adapt
You can handle content optimization and alterations very swiftly.  Examine the effectiveness of your landing pages to see what is working and what isn't. When you have the pages that need updating, give them a boost by updating the written material, photographs, and videos.
Many websites, like Google Analytics and Google Search Console, automatically update. You can notice changes quickly as new content is online, and you can watch your marketing succeed.
Flexible Marketing for Machine Manufacturers
The intriguing thing about marketing is that it can be tailored to match the needs of your target market and your objectives. You can pick from a wide variety of tactics to determine which one is best for your company.
Search engine optimization (SEO), pay-per-click marketing (PPC), website design and development, social media marketing, paid social media, and email marketing are some of the several marketing tactics to take into account.
There are numerous strategies and methods you may use, regardless of the marketing plan you use for your business selling construction equipment, to make sure you give it the boost it need.
Contractor's Altering purchasing patterns
A 2019 consumer poll by the American Rental Association found that 34% of contractors already anticipate doing all of their rental business online. The leading rental businesses concentrate on serving these clients.
According to United Rentals' 2018 annual report, self-service e-commerce income has increased by more than 50% year over year, despite the fact that only 2.5% of their revenue is generated through digital channels.
A rental transaction cannot even be made online for 80% of rental companies. It is difficult to live up to this expectation. The rental transaction is a complicated one that is exceedingly challenging to complete without human assistance.
Due to the rental company's knowledge with the work its clients perform, the majority of contractors already have ties with a few of them and tend to remain loyal to them.
As a result, a sizable portion of the income generated by these rental enterprises comes from returning clients. Therefore, rather than just bringing in new business, rental businesses should adopt e-commerce to preserve and strengthen their existing customer connections.
Major Industrial Suppliers concentrating on Online Sales
Parts purchases are already primarily made online. By 2023, Grainger anticipates that e-commerce will account for 80% of their total revenue. They keep making investments in their online store and the in-person services it complements.
E-commerce income at Fastenal has increased 27% year over year and now accounts for 35% of all sales. They estimate that between 60% and 80% of their business is done online.
E-commerce sales have increased by 11% year over year across 300 B2B distributor enterprises, bringing the total revenue to just shy of $700 billion.
It's obvious that some of the biggest distributors and manufacturers are focusing on expanding their e-commerce channels, particularly in response to this pandemic.
Measurable Outcomes
You may see tangible benefits for your efforts through SEO and digital marketing. Some metrics to consider are:
Click-through rate
Clicks to your website
Cost per lead
Website visitors
Conversions
Overall traffic
You may evaluate the effectiveness of your marketing strategy and identify areas that require improvement by using important metrics.
Attract a Large Audience
Online marketing has no geographic restrictions. You can market to both audiences inside and outside of your specific geographic area. You can decide which places have the finest demographics for your business after conducting an industry study.
Here are some pointers for construction industry manufacturers using geo-location marketing:
Leave out a place where your viewers won't be.
Modify your ad bids to give better placements priority.
For those places, use precise keyword phrases.
Examine consumer behavior based on previous visits.
Create landing pages and content for the appropriate areas.
Buyers Research Online First
The digital representation of your company is increasingly more significant than the physical appearance of your store. Everything about your company, including your website, customer reviews, and social media presence, should accurately reflect the one you are most proud of.
Peer ratings are equally essential to B2B buyers as pricing, according to Demand Gen's B2B Buyer's Survey (67% to 75%).
Additionally, it makes sense, particularly for heavy machinery and parts. The money saved on inferior equipment, poor customer service, or slowly delivered components is much larger than the cost of downed equipment.
Peer reviews play a crucial role in establishing the reputation and confidence of suppliers, which is necessary for contractors to feel confident that the parts they are purchasing are of a good calibre and from a trustworthy source.
92.4% of B2B buyers, according to a G2 Crowd study, are more likely to acquire a good or service if they have read reliable evaluations about it. Positive reviews can boost sales by 380% and expenditure by 31%, and 85% of consumers place more trust in online evaluations than they do in personal recommendations.
It is crucial for contractors to have faith in their provider to keep things running smoothly. One of the most important factors in creating and keeping that trust is your online reputation.
Improve brand awareness and reputation
You are aware that there are many different equipment manufacturing companies from which individuals and enterprises can select. One strategy to get those contracts is to establish your brand so that you can gain awareness and repute. You may increase that awareness through online marketing so that people will know you and your company.
Regular content development, guest blogging, social media posting, industry interviews, directory listings, and many other methods can be used to accomplish this.
Strategies to enhance Marketing in Heavy Equipment Industry
The production and sale of heavy machinery and equipment entails significant financial investment. Although the need for heavy machinery is taken into account when it is created, you are aware that it is not always simple to sell quickly and for the price you desire. You must consider marketing equipment at that point if you want to generate sales.
Effective website
The first place prospective buyers look to learn more about your products while researching your equipment is often your website. Your website should be strong, responsive, and comprehensive in order to give them everything they are looking for and increase the likelihood that they will take the step to contact you or make a purchase.
In order to make it as simple as possible for potential buyers to find, it should be optimized for search engines. Your website should have various components, including:
Mobile-friendliness: A mobile-responsive website is a requirement, not an option. In 2017, mobile accounted for 56% of all queries relating to the industry; this percentage has since risen. Google has made it obvious that sites that are not mobile-friendly stand little to no chance of ranking with mobile-first indexing.
Instead of a mobile site solution, you should ideally use a responsive design with mobile breakpoints. It's time for a new website if you don't already have one or can't make your current one more mobile-friendly.
Complete product listings: It's crucial that a company be aware of the specifications of the heavy equipment you sell if it plans to purchase it. It follows that even while it could be simpler to simply list broad product categories and hope that customers will contact you for more information, you must mention every product you sell on your website.
Make careful to include any extra components that can be bought to adapt the equipment for the required uses.
Photos: They may add a lot of visual clarity to text and speak a lot louder than words. Spend some money on professional, high-quality images to post on your website. In case the images can't be displayed, make sure to provide informative alt tags to allow site visitors know what the images are.
Effective inventory management: Smart inventory management on your website is crucial for your staff but absolutely necessary for site visitors. A search engine-readable, integrated, inventory feed should be present on your website. Your website should also provide sorting, filtering, and searches for particular kinds of inventory or inventory items for your consumers. These components make browsing your website simple.
Information on purchasing: Make sure your sales process is completely understood. Do you accept online orders? Do you rent out equipment? Do you directly collaborate with companies? Visitors are more likely to make the effort to complete the next step if your purchasing information is clear and concise.
Push-and-pull marketing
Push marketing and pull marketing are the two main categories that define digital marketing in general. Push marketing is to introduce buyers to your brand or items. to actively promote your brand through bold measures.
Pull marketing, on the other hand, relies on organic traffic growth driven by interest. The idea behind this is to provide high-value content that is appropriate for your target consumers and invite them to interact with it.
Pushy tactics like pay-per-click (PPC) search ads, display-network pay-per-click ads, social media marketing, email marketing, traditional advertising, YouTube ads, TV commercials, and more are frequently used in "push" marketing.
Using "pull" marketing techniques, such as search engine optimization (SEO), shareable content, viral videos, social media interaction, reputation management, etc., you may optimise your company to become more visible to customers organically.
Push techniques based on sponsored advertisements are one choice for organizations aiming to build a quick and rapid income flow. "Pull" offers strategies for organic long-term growth for companies aiming to build a loyal client base.
Making a heavy machinery marketing plan for construction and commercial brands entails selecting your own marketing key performance indicators (KPIs), setting targets, and deciding if push, pull, or both strategies are the most effective.
Smart marketing strategy
Everything on your website, including the content, blogs, graphics, and downloads, is referred to as "content." A content marketing strategy should always be a part of branding and marketing plans for the heavy equipment sector. Every piece of content you use should have a strategic goal in mind, whether that goal is to educate customers, raise brand awareness or build brand trust.
Content should force readers to care about and respect your brand, which will increase sales and improve client retention.
What type of branded content will benefit the heavy equipment sector the most?
Blogs: they improve SEO, share business and industry news, respond to frequently asked issues, and provide after-sales assistance with useful user hints.
Downloads, such as specification sheets, user guides, condition reports for prospective clients, or case studies.
Pictures of your equipment and clips of them in use (even simple ones shot on a smartphone will do)
E-books - a free E-book can cover more in-depth subjects, classify offerings, and offer price.
Channel on YouTube
Make a YouTube channel if you want to add any videos to your website, which you should do. A channel can be considerably more engaging than photographs and is the ideal medium for you to fully demonstrate the capabilities of your equipment.
You can submit virtually any type of content in video format, including footage of your equipment in use, video testimonials from satisfied customers, and demonstration videos. YouTube is a handy platform for posting the films you want to share on your site and social media accounts, and doing so will not only let you address crucial areas of your equipment and educate users.
Paid-per-click advertising (PPC)
You might also think about launching PPC advertisements to drive targeted traffic to your website. If you're a producer or distributor of heavy machinery, you probably already know how difficult it may be to find new clients.
Your most qualified prospects might be found through PPC advertising because they are currently browsing online.
You don't have to wait for results, which is another key advantage of PPC. PPC is a fantastic alternative if you want to fast increase traffic to your website and money.
Online advertising for products like construction materials, earthmoving equipment, material handling, and heavy machinery is primarily dependent on paid advertisements. One of the most effective forms of advertising is the pay-per-click approach. And it's one of the most well-liked due to its amazing ROI.
The primary benefit of PPC is that it may practically immediately increase lead generation and sales.
PPC advertisements on Google and Bing include "search" ads (those that appear at the top of search results in the SERP) as well as "display" ads (which appear like banners or image ads on third-party partner sites). In order for their advertising to appear in search results, marketers frequently bid on popular search phrases. They also frequently pay for their ads to appear in user feeds, videos, site pages, and other places.
What does PPC mean specifically for promoting heavy equipment then? More than $30 billion is spent on construction machinery and equipment each year in the United States. The whole construction and industrial equipment sector is moving quickly online and toward eCommerce.
Sales funnel & Lead generation
Focusing on lead generation that seeks out marketing-qualified leads (MQLs) is crucial for construction equipment marketing and advertising that delivers good cost-per-conversion value.
This includes concentrating on digital marketing tactics that assist online enterprises in locating potential customers for B2B/industrial equipment along the entire ToFu MoFu BoFu marketing funnel. This illustrates the steps clients take from their initial browsing to their final "purchase now" button click.
There isn't just one way for consumers to enter the sales funnel; it might be through any channel, such as email, social media, search marketing, and more. Each of them offers a different way to pique interest and produce leads.
In order to increase ROI and conversion rate (CR), expert marketers can actually employ data to exploit these techniques and concentrate on the most likely customers.
When it comes to digital marketing, this means taking care of your customers' needs at every stage along the way, from the moment they engage with you until they make a purchase. To facilitate conversion, make their journey as simple as you can, offer excellent customer service, and use honest and accurate professional digital marketing.
Your targeting will be razor-sharp and you'll receive more return on your advertising investment if you know who your clients are and where they're coming from. Create personalized geo-targeting maps using your sales information and OEM region limits.
Your digital advertising plans will be informed by these maps, and they'll even help you optimize your website. Proper geo-targeting aids in better locating your clients and enables Google know where you are and where you sell, especially if you have many locations and sell across state lines. To increase your organic and Google map results, use geographic information in your website copy and technical features like title tags and meta descriptions.
Search engine optimization (SEO)
Search engines like Google and Bing are known to use a variety of tactics and ranking variables, which make up search engine optimization.
These comprise significant "off page" tactics that are uncontrollable (such as backlinks) as well as significant on-page SEO components. Additionally, because business owners and marketers have influence over these on-page techniques, SEO greatly benefits from them. On-page SEO is crucial because organic traffic is one of the most significant ROI-generating channels for the marketing of construction equipment.
Search engines account for up to 50% of all website traffic and around 40% of all online sales. Here's another item to consider: More than 32% of keyword traffic on Google goes to the top result, and up to 91.5% goes to the first page of results.
Here are some of the most crucial on-page SEO best practices and considerations for search engine optimization that is focused on the best industrial/construction equipment marketing strategy:
Content/Keyword Optimization: Search engine optimization (SEO) relies heavily on keyword research and keyword optimization for content. The key to increasing ROI with SEO is probably understanding how this affects search engine optimization.
Being able to provide content that unmistakably focuses on particular themes is essential for industrial equipment manufacturers, dealers, and construction equipment retailers to both improve user experience (UX) and rank higher in search results.
Stay away from ambiguous content and concentrate instead on content marketing methods that are optimized and clearly define the topic and products of the page.
Concentrate on SEO keywords that reflect the MQLs' intended purpose for visiting your site.
Important Content: The greatest strategy for modern SEO starts with quality content. Building your brand and increasing your chances of ranking will both benefit from crafting your content with the demands of the user in mind.
The demands of the users should be the primary focus of high-quality and helpful material, however Google advises providing thorough information and targeted SEO keywords to help with search rankings.
Internal links with anchor text: Even within a website, common search algorithms employ internal connections as a relevancy indication. Through intricate algorithms, these links transfer "authority" from one website to another as well as from one page to another. They aid indexing bots and search ranking algorithms in comprehending the site's structure, layout, and key pages.
Additionally, the "anchor text" in ATLs helps search engines understand the content of that page, which enables them to rank the page higher.
Page Title Tags: Page meta title-tags have long been a significant component of search engine optimization and are among the most significant ranking variables. Google and Bing use them to show your page in the SERP.
Both humans and the target keywords should be taken into consideration when writing high-quality optimized title-tags.
The click-through rate (CTR) will increase and URLs will rank higher for target keywords when they contain relevant and precise keywords.
Unique and as accurate/descriptive as possible title tags are recommended. Avoiding title-tags that are longer than 60 characters is recommended because they may be shortened.
Meta descriptions: Search engines do not use meta descriptions to determine their rankings. However, they do provide a supplementary advantage for search engine optimization by aiding in the enhancement of CTR, so they can still be quite important in the marketing of construction equipment.
They serve as an advertisement or sales pitch to encourage readers to click on your link and to increase clicks. Good descriptions will contain keywords and be precise, descriptive, and direct. Similar to meta title tags, if your meta description is too big (approximately 155 characters), it may be shortened.
B2B Keyword Research & Search Intent: Developing a digital marketing plan for business-to-business marketing requires an awareness of SEO for your target audience, like in the sale of heavy-duty construction equipment. The realm of B2B keyword research is a distinct one. B2B customers don't search or go through the funnel in the same way that other customers do.
Wholesale, bulk, commercial, OEM, and "used" are just a few examples of popular modifiers used frequently in B2B eCommerce and online buying. The ideal approach is to understand the kinds of details that important to searchers and to incorporate them into your content and brand language:
Selling points and benefits. Free shipping, bulk discounts, assistance/troubleshooting services, product setup, liaison services, product modification, employee training, etc.
Information about the manufacturer, region, target industry, component number, materials, product/service kinds, industrial tolerances, ISO IDs, certifications for regulations, etc.
QR codes
A Quick Response Code, often known as a QR code, is essentially a barcode that holds additional data about an object. Perhaps you've used one to scan something into your smart phone in the past. QR codes, which are frequently used to open videos, pictures, or PDF files, can be used by clients of heavy equipment to provide warranty information, contact details, machine demos, and information about repairs.
Because it demonstrates excellent attention to consumer demands even after the sale, it's a terrific addition to any internet marketing strategy. Both customers and our clients adore it.
Lead generation via email
Email prospecting is a popular and effective strategy for increasing website traffic, especially for B2B businesses like heavy machinery and construction equipment.
Email marketing is second only to SEO in terms of outcomes, according to 1 in 3 marketers.
Professional email marketing is especially well suited for the client connection building and professional networking required for large commercial machinery sales.
This approach is built on emailing potential clients and enhancing brand recognition through email copy. It's one of the most important and effective tactics out there. Email outreach offers internet businesses the following ROI:
Email newsletters are the best technique to generate leads, according to 31% of B2B businesses. Since email is the third most important source of information for commercial audiences (after word of mouth and industry luminaries), it is incredibly effective for B2B construction and heavy equipment advertising.
Over 50% of business executives say email is their most effective route for business communication, and over 90% prefer email.
As part of your heavy equipment and construction marketing strategy, email lead generation entails:
Incorporating feedback into your CRM.
List building, or gathering email addresses of potential customers and buyers.
Recognizing the audience funnel behavior of your intended customers.
Creating email content that is optimized for the highest open and click-through rates.
Automated email distribution to audiences with a particular industry utilizing specialized software.
Reviewing the responses.
Navigating the legal framework for foreign or global business marketing.
Social media marketing
Industrial B2B organizations don't frequently believe that social media marketing is valuable, but it is.
With one of the largest audiences on the planet, social media advertisements now account for about 40% of all digital display ad revenue annually. Furthermore, B2B sites like LinkedIn provide excellent construction equipment marketing techniques with the chance to speak with potential clients and decision-makers directly.
Social media is a crucial component of the conversion funnel for a complete construction/heavy equipment marketing strategy, especially for brand recognition and top-of-funnel leads. Brands may reach customers they otherwise couldn't reach, increase the exposure of their current content, and engage with them through social media.
Industrial equipment marketers can get quality leads from social media that are up to 2X as valuable. Social media sites also provide both paid and organic conversions.
Twitter
Twitter is an asset to your digital marketing plan as well.
You may quickly and easily advertise the content of your website on Twitter. Additionally, it enables other Twitter users to comment on, like, or retweet it.
No matter the type of material you offer, it's always a good idea to give your potential consumers engaging or practical stuff. This enables you to start a discussion about your company, your services, and how you can assist someone.
Facebook
You may connect with about 2 billion individuals using Facebook. That implies that, wherever you are, Facebook can help people in your area locate you and become clients.
By interacting with these potential clients on Facebook, you may share information from your website, answer their inquiries, and develop lasting relationships with them.
This enables you to attract and engage your main client demographic to your website. When they arrive, you can convert them into fresh leads.
LinkedIn
The largest professional social network in the world is LinkedIn. Because of its size, the majority of its customers actually make decisions in their homes or enterprises. This implies that you can directly appeal to customers of businesses.
Because of this, LinkedIn is quite beneficial to your heavy equipment shop. You can share information on LinkedIn that is specifically relevant to their interests, encourages interaction, and finally directs them to your website.
They eventually become a lead as a result of that procedure, and you now have another client from your digital marketing plan. But after you convert those followers on social media into leads, your work is far from over.
This implies that you ought to update your social media profiles frequently. You can accomplish this by including links to your products, testimonials, information about your company's history, or simply by posting articles from other websites that you think your target audience will find interesting. If you don't have the time to update your social media profiles personally, assign the task to a trusted employee.
Content marketing & Content optimization
The process of creating blogs, articles, downloads, films, images, graphics, and other educational materials for your website is known as content marketing.
To generate as many new leads as you can each day, the material you produce should be based on the keywords you found during your study.
Everyone agrees that content is king, and the reason for this is because content serves as the foundation for all other digital marketing channels.
The foundation of a brand's concept, public image, and style is pre-existing content. This is true for SEO, paid advertisements, social media content, etc. Without the fundamental website/brand "content" to establish these marketing channels with, you can't even begin. Similar to how without content-rich landing pages that your target audience can actually land on, traffic growth cannot occur.
Since the conversion barrier is so much greater for industrial construction equipment marketing, content is much more crucial.
Additionally, content is a well-known ranking criteria for Google and Bing, with the foundational pillars of content including modern ideas like "EAT" and "needs satisfied."
Expertise, Authority, and Trustworthiness, or EAT, stands for three key characteristics that readers should be able to locate in your work. Whatever the case, The most well-liked method for producing fresh content is to launch a blog. You can use your blog to cover frequently asked topics, business news, market trends, and any other information that is pertinent to your sector.
To offer comparable answers, use articles. Answers to queries that call for extensive, in-depth explanation are frequently better found in articles. They can be used to complete your site as pricing pages, category pages, equipment pages, and more.
For potential clients looking at specific equipment, you can offer user manuals, specification sheets, usage records, and condition reports as downloads.
A printable guide on how to choose equipment for novice contractors or clients might also be written in addition to the aforementioned options.
Videos are excellent content sources that allow you to demonstrate your product in use. If you have the opportunity to video large machinery, even just with your phone, you should. For such a cutthroat sector as digital marketing, it is a big aid.
The greatest way to display your equipment in its best condition is through images. Take a few pictures of it from all sides to showcase it once it has been cleaned, inspected, and is ready to sell. To make sure buyers can see anything they want, you can even jump in the cockpit or under the hood.
Finally, images make it possible to communicate facts, theories, and other ideas in an interesting way. Info graphics are a popular tool and are excellent for grabbing viewers' attention. However, there is another reason why content is important for heavy equipment digital marketing. It benefits SEO.
Best Practices for Marketing Heavy Equipment
Utilizing social media to recruit
Nearly all contractors struggle to fill positions with qualified workers. Many contractors rely on word of mouth, asking their staff to spread the word, but your social media presence has the biggest and best word-of-mouth network.
Today, recruiting is a continuation of your marketing. You want to publicly display on social media how happy your present employees are working for your firm. Link to the employee reviews discussing the corporate culture after posting, say, five reasons why you would want to work for XYZ Company.
Educating the audience
Customers' education is crucial to marketing. For a paving company, this education might come in the form of blog entries that explain to consumers how to prepare pavements for the winter, how to make a budget for paving, or what to expect when the crew shows up.
That's what will set you apart from the individuals who are only ever making hard sells. More often than not, once readers start reading your blog posts, they'll dig in and read several of them.
In order to make the client feel comfortable, you should give them a variety of information. Be the knowledge repository that people turn to for information. Once that occurs, they will explore your website, check out all the goods and services you provide, and eventually become a client.
Significance of images
A significant portion of how Google will find your information is through images and videos. The Google bots read the meta-data in the background of your photographs in addition to your text and improve your search engine rankings as a result. Y you should also keep in mind that YouTube is the second-most used search engine worldwide.
According to research, your calls will increase by 500% and your website visitors will climb by over 1,000% if your Google My Business listing has more than 100 photographs. Therefore, taking images and making videos is important and should not be skipped.
Low-cost advertising
Facebook and Google AdWords are two excellent platforms for spreading your message to a targeted audience. A pay-per-click online advertising platform called Google AdWords enables advertisers to place their ads on Google's search engine results page.
Facebook retargeting displays your adverts to users who are already acquainted with your business via Facebook or Instagram.
It's wonderful to identify clients on Google and then retarget them on social media since people will remember your name if they see it five or ten times rather than just once. Everyone enjoys using a one-two punch like that. And for clients, it produces some fantastic results.
Both platforms are reasonably priced. In fact, $5 per day may be plenty to keep your company's message in front of potential customers.
Facebook is a paid service. Without a budget, your chances of connecting with your audience are probably only one percent. However, a tiny budget can still produce significant impact because the advertising are focused on a limited, local audience rather than being broadcast globally.
Don't leave it unattended
Even if most website functionality is automated, it still takes a lot of work to make your digital outreach effective.
You require a writer that can produce original content every day and discuss employment once each week. It takes many hours to complete. Having a writer on staff full-time to take the necessary steps to rank highly in Google would be a full-time job.
Additionally, you need to gather information and evaluate outcomes once your website and advertising outreach efforts are operational.
Keep track of things like incoming calls, instructions sought, form submissions made, information requests made, the number of times a blog or article is read, and the amount of time spent on the website.
All of these indicators will be provided by a decent website, and you can use them to determine what is and is not working.
How does Deskera help with ERP for Heavy Equipment Industry?
Deskera is proud to offer ERP software to enterprises operating in heavy machinery. Deskera's all-in-one platform combines accounting, CRM, and HR software for the expansion of your organization. It is the finest option in ERP for SMEs as it is a reliable software solution.
Deskera Books can help you automate and mitigate your business risks. Creating invoices becomes easier with Deskera, which automates a lot of other procedures, reducing your team's administrative workload.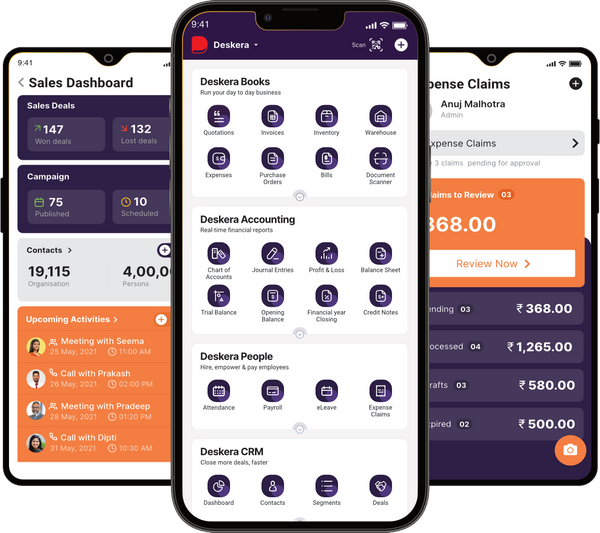 Deskera supports advanced inventory management through serial, batch, bill of materials, various warehouses, stock transfers and adjustments, among other features.
Deskera helps automate marketing, lead generation, sales, and after-sales operations of Heavy Equipment.
Deskera CRM Dashboard allows you to access deals reports, contact reports, and newly created activities in real-time.
Get Deskera ERP to Streamline Your Business Modules
Sign up for Free Trial Today!
Key Takeaways
Heavy machinery firms frequently have a lengthy and patient sales procedure. To engage with clients and prospects more efficiently and effectively, use email marketing campaigns. Inform them of any future sales, brand-new items, or any general announcements they might find interesting.
You might need to get in touch with marketing and communication experts who specialize in your business and have in-depth understanding of it in order to make sure you are getting decent returns on your investment. They could be able to create a thorough marketing report that outlines the best ways to advertise your equipment.
These days, the Internet is an essential part of every organization. It is also among the best methods of marketing. Industrial Machinery Manufacturers can place free advertisements for used industrial equipment on the numerous company listing websites that are accessible to people all over the world.
Goods like construction machinery are expensive and large.  It is possible to plan promotional activities for a lot less money than the cost of a single product. Press coverage and media can be utilized to publicize events and increase participation. That is a fantastic strategy to draw customers and company organizations while advancing your brand name.
Related Articles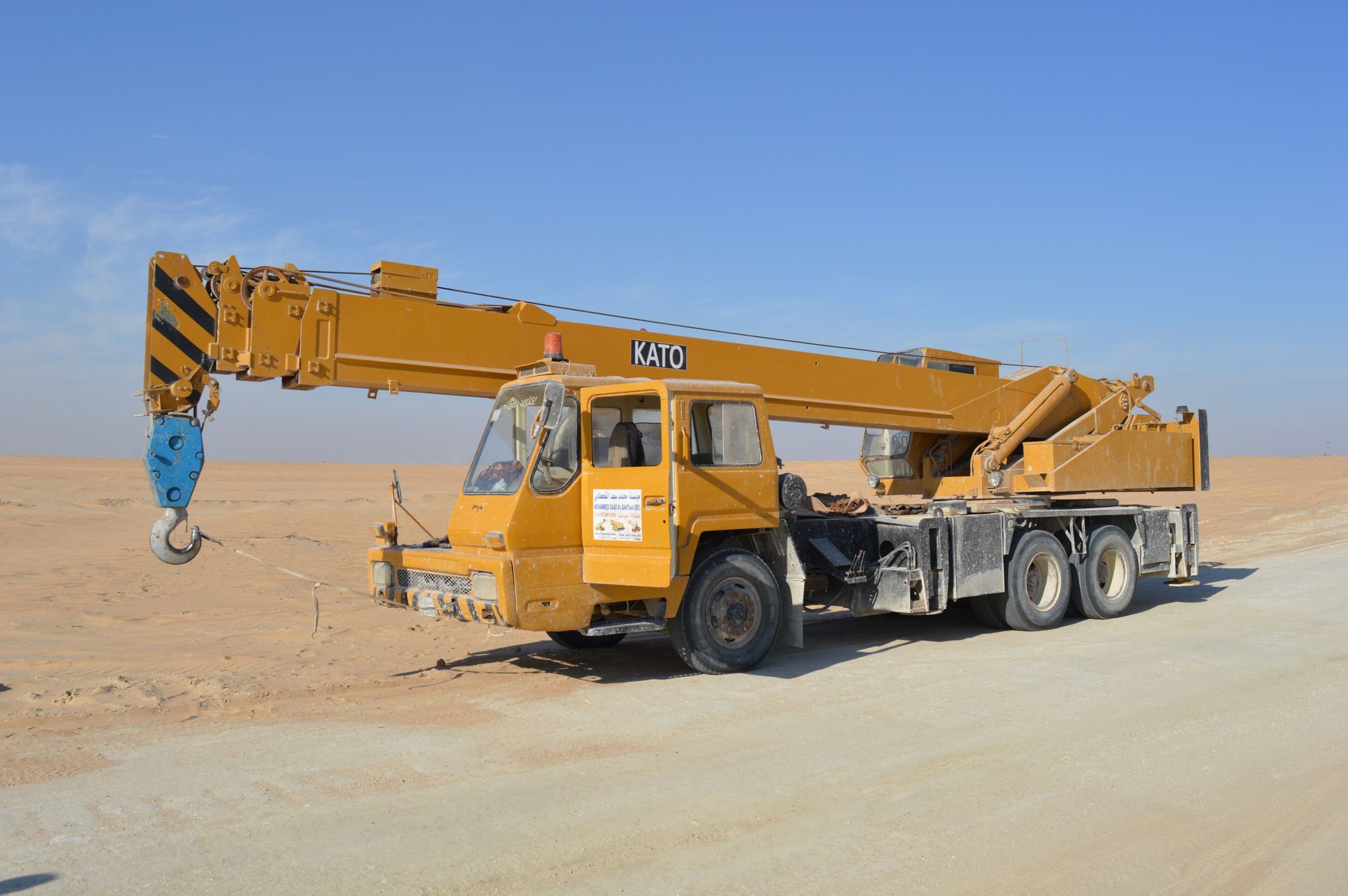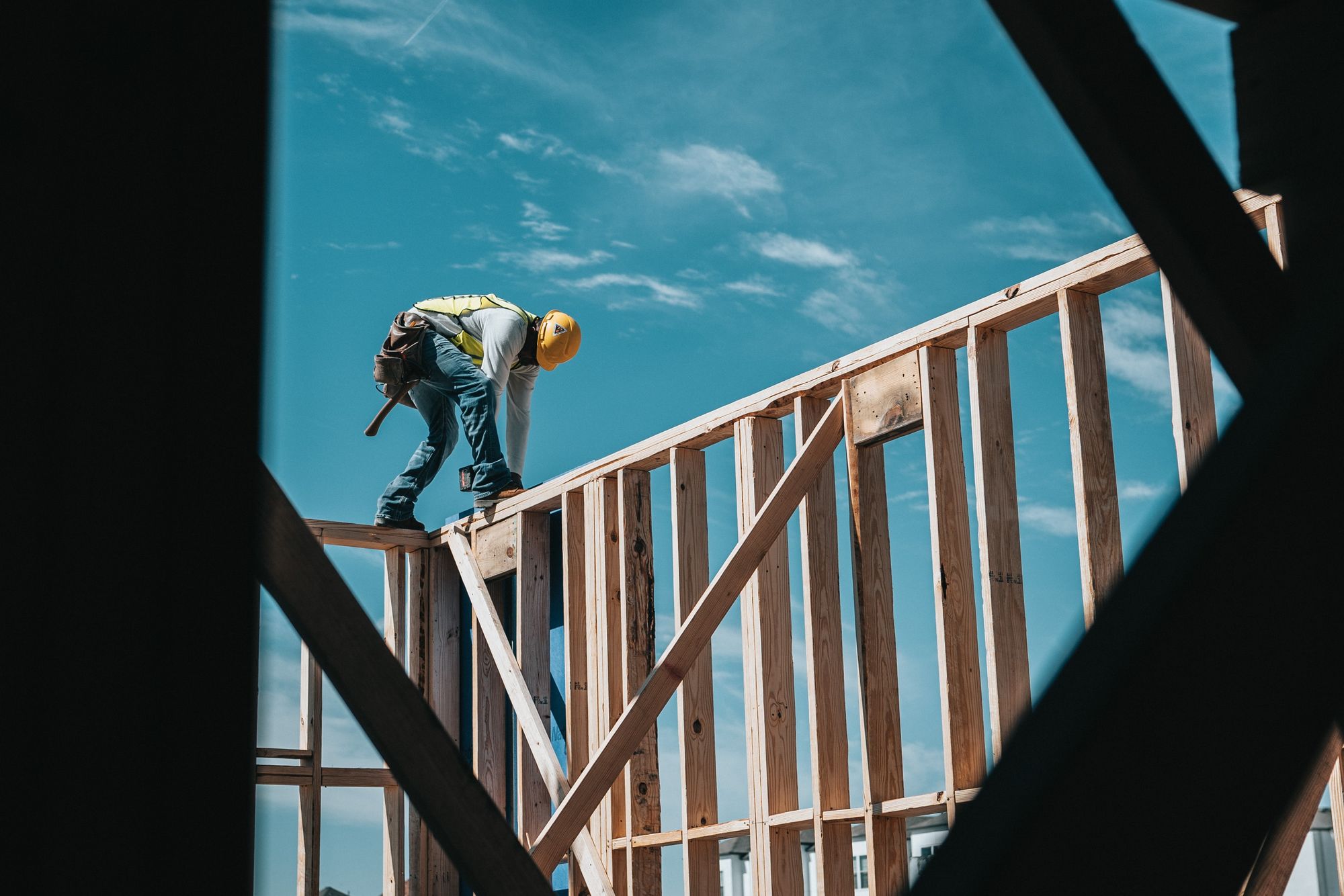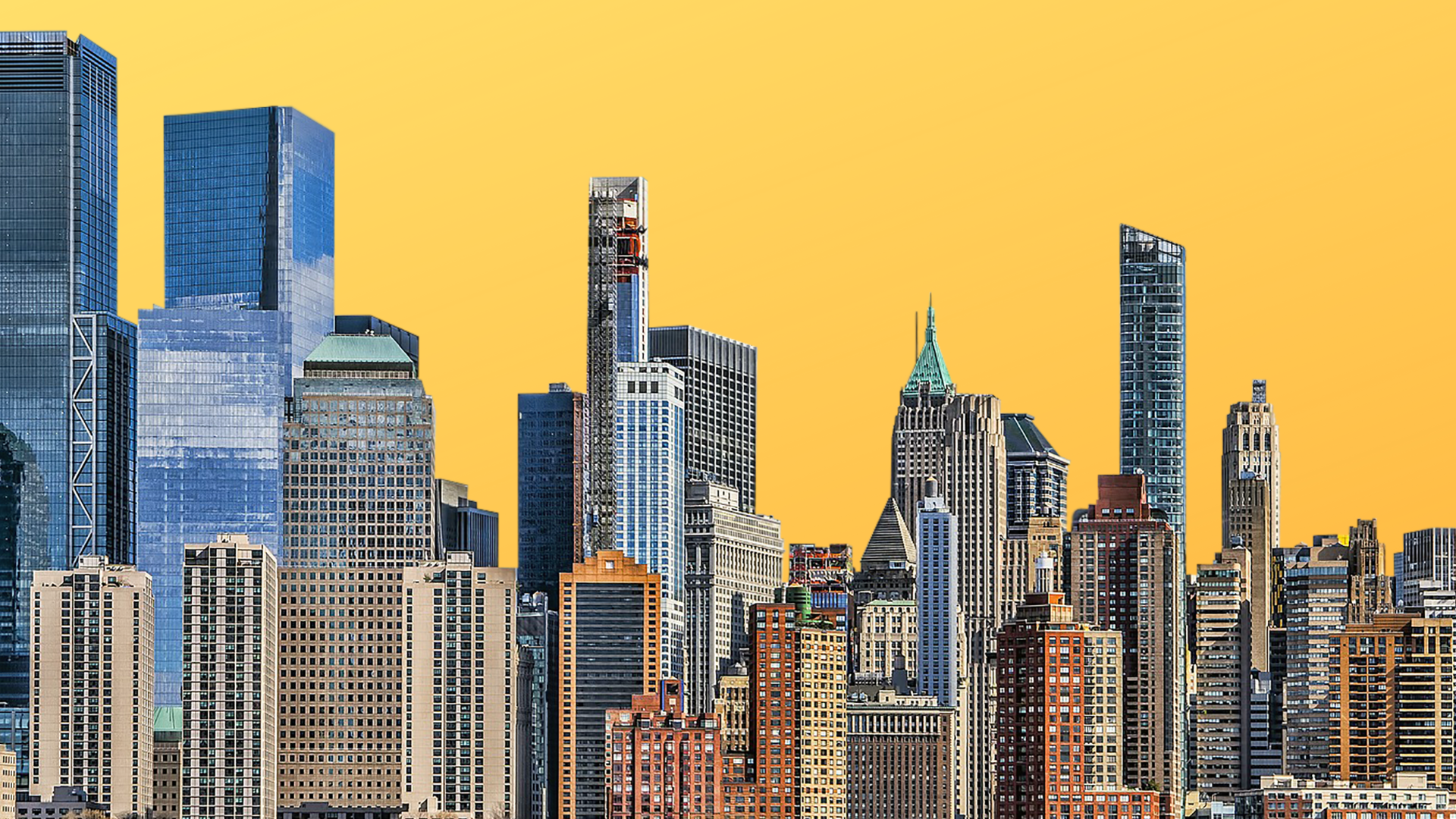 ---
---