Effective inventory management is necessary for running a retail business successfully, not merely a choice. Setting retail inventory management as a top priority will enable you to save time and money while ensuring that you always have the correct products available in the right quantities at the appropriate times.
Rapid trends in the retail industry have resulted in an omnichannel paradigm that is consolidated and supported by cloud-based ERP solutions. For shops and businesses of all types and specialties, ERP software for retail in particular provided a feature- and capability-rich range.
The main selling point for ERP among retail brands is the seamless omnichannel buying experience. The assurance of being able to buy products at anytime, anywhere, and through any sales channel was made possible by the ERP software system for retail businesses when shopping experiences have made overcoming the device, location, and medium constraints essential to the success of retail businesses.
In today's article, we will learn and understand ERP for retail inventory management and associated concepts. Let's take a look at the table of content that we'll cover ahead:
Let's start!
Try Deskera ERP to Streamline Your Business
Sign Up for a Free Trial Now!
What is ERP in Retail?
Retail ERP is a real-time software solution that was specifically created to connect and integrate the many business processes necessary to successfully manage retail operations.
Furthermore, retailers may more successfully track, evaluate, and streamline all of those important operations with the help of such a solution. This is the best treatment option there is for improving productivity, efficiency, and the bottom line.
Additionally, retailers can manage front- and back-office business operations significantly more efficiently with retail ERP. Finally, with the help of our specialized Enterprise Resource Planning (ERP) software, retailers can improve their business.
Note that sales made via traditional brick-and-mortar stores, eCommerce, and other online channels that may need warehouses and inventory management for order fulfillment and product returns are referred to as omnichannel sales.
Retail ERP software generally comes with the below-mentioned software tools.
Company principal operation
Accounting software or ledger system
Human Resource (HR) management
Point of Sale (POS) management
Store management
Warehouse and Supply Chain Management
Inventory Management
Business Intelligence (BI)
Fortunately, the retail ERP system not only provides all of these functions but also allows for an extraordinary amount of system-wide customization. Retail managers and store administrators claim that ERP software reduces all the difficulties and manual labor required to manage various functional aspects across several shop locations.
All in all, a Retail ERP (Enterprise Resource Planning) system can assist with inventory control, even though it might feel like an ongoing balancing act. The thorough data management software might give retailers real-time data to help them optimize their inventory processes, letting them manage costs and grow strategically.
What is Retail Inventory Management?
In simple words, retail inventory management is a process of maintaining products that customers want in store, pricing and marketing them profitably, and maintaining stock levels that meet the demand.
Additionally, it includes keeping track of when your suppliers will deliver goods, how much of each product you have on hand in-store when stock is running short, how to decide when and what to order in a reorder, and accurately track products—all while keeping in mind your pricing plan.
Effective retail inventory management lowers costs and increases practical understanding of sales patterns. Retailers can manage their businesses more effectively by using tools and strategies for retail inventory management, which include:
Quantities of each type of goods.
How seasonal changes impact sales
By location and sales channel, which stocks sell well, and which don't.
Product locations
Profit margin by product line, model, and/or style
The ideal level of goods to keep in storage and backstock
How many items to order and how frequently
When to stop selling a product
Today's retailers understand how important it is to have a flexible and dynamic strategy that covers all aspects of customer interaction and sales. With the necessary features and capabilities, a cloud-based ERP solution like Deskera may meet each of these points of view, from the selected software to the practical solutions provided to clients and prospects.
Retailers can avoid expensive product shortages and surpluses by properly managing their retail inventory. In only one-year, poor inventory management decisions lost U.S. retailers $300 billion in revenue.

Types of Retail Inventory
There are various inventory types. You may have a range of the following inventory kinds, which you'll need to take into account, depending on whether you sell items mostly for resale, create your own products, or offer clients a blend of both.
Raw Materials
Any components utilized in producing completed goods. These supplies could be produced by a company or obtained from a provider.
You most likely already have some of this if you had even a slight hand in creating your inventory. Nevertheless, only some businesspeople will work with raw materials.
Keep raw materials separate from the hierarchy of finished goods if you have them in your inventory. Although they may theoretically be regarded as raw materials, such as lumber, finished goods are items you keep on hand because you intend to sell them to customers.
Read about raw material inventory management guide here.
Work in Progress (WIP) Inventory
As the name suggests: work-in-progress (WIP) inventory consists of unfinished goods and production-stage products that aren't yet marketable.
Work in progress inventory, which functions similarly to raw materials if you are involved in the manufacture of the products you sell. It is something you can keep on hand.
Although, your goal while managing work-in-progress inventory should be to make sure that things don't stay there for an extended period of time.
Also, you should store these items separately from the finished goods inventory hierarchy. Consumers are not given the option to purchase them. Your store's inventory that you are upgrading, mending, or tuning up for customers should be separated from goods that are still being generated.
Finished Goods
The completed product has been fully completed and is ready for sale. These items could be self-produced by a corporation, or they could be purchased as finished goods.
Any item you have available for purchase, whether it is in your physical store or online, is a finished good. These can be goods that you purchased from a vendor or ones that you assisted in producing.
You will put a lot of emphasis on this stock in your retail inventory management strategy.
Maintenance, Repair, & Operations (MRO) Goods
Maintenance, Repair, & Operations (MRO) goods are utilized in the manufacturing of items, although none of them are made using them.
Say you are a bike retailer. In addition to selling bikes and riding accessories, you also upgrade and fix bikes for your customers.
Although the bikes themselves are not part of this inventory, you must have a documented procedure for handling and storing them in order to safeguard your clients' possessions. It consists of the labor and supplies required to repair the bikes that your clients send you.
Packaging Materials
When products are stored or delivered to clients, packaging materials are used to protect them.
Challenges Faced in Retail Inventory Management Without ERP Implementation
Following we have discussed several challenges faced in retail inventory management without ERP implementation. Let's discuss:
Difficult to locate Supply Inventory
In the US, 43% of small businesses either don't maintain inventories at all or do so manually.
Imagine what would happen if you find it difficult to locate supply inventory. — Of course, it will delay the deliveries to customers, which further degrades the brand value and poor ratings.
So, it clearly signifies how important it is to locate supply inventories of items.
When customers are unable to track the exact location of the product stock and receive no update on whether the product has been delivered or not, they are unable to order new products with a corresponding inefficiency.
The major reasons for this update gap are the desire for real-time inventory information and the involvement of fast processes like multiple order tracking.
So, if you are planning to keep track of your stock with manual inventory techniques, then it may lead to confusion and frustration. Adopting manually locating the supply inventory is definitely not the right tactic for retail inventory management. However, these concerns could be easily tackled with ERP implementation.
Outdated Products
Products will unavoidably undergo changes over time in order to stay current, relevant to trends, and in line with customer expectations.
To create a way for new things, it is imperative to immediately sweep out all of the outdated stock that hasn't sold.
Maintaining out-of-date inventory can be expensive and take up valuable warehouse storage space. Therefore, you would find it challenging to keep track of out-of-date products without an ERP system.
Supply Chain Concerns
The continuing changes in the world supply chain have a detrimental influence on planning for inventory management.
The main cause of this is that manufacturers and wholesalers are deciding on your inventory journey throughout and need supply flexibility with long lead times.
The time required to deliver packages to your customers will simply rise if you manually track all of your inventory.
Market Demand Evaluation
It is critical to track how the product is doing in the market because demand raises production and boosts inventory levels.
No analysis of the regions with the largest demand or sales will lead to product shortages in the market, lowering customer satisfaction and eroding brand value.
Moreover, without end-to-end ERP software, you will find it challenging to analyze market demand.
Absence of Necessary Software
An inventory management solution won't initially be necessary for a small business with a few deliveries to handle.
It won't be possible to track the inventory, provide reports, or manage delivery staff without the required software in place.
Paperwork and Billing Manually
Managing all the inventory management data, purchase orders, and invoices manually will be difficult.
As a result, making bills and invoices will take a significant amount of time and possibly leave out some important information.
Storage Facility Management
Managing inventory spaces to make place for more inventory goods can be challenging.
Developing a plan, selecting locations for inventory, and using a manual process will all cost a lot of time and money.
The strategy must consider when the inventory will arrive in the warehouse. This makes it a challenging role to master in the absence of an automated inventory system.
Lack of a Central Inventory Base
Consider switching between numerous tabs to check customer order details and keep an eye on current data. As a result, inventory managers lose patience, which causes results to come in slowly.
Without a unified dashboard, all discussions, order details, and delivery agent tracking won't be able to go into a single email.
It is difficult for inventory managers to manage requests and maintain a record of the items in stock as a result.
Ineffective Order Management
Controlling customer orders to avoid overselling and stock shortages is one of the most difficult tasks.
Timely order delivery and how a brand handles customer complaints when there are issues will have a big impact on reviews and ratings.
Additionally, it's crucial to concentrate on streamlining the order processes, keeping an eye on deliveries, and keeping customers informed.
Overstocking
The money spent on inventory is locked in even if the things are not used. Overstocking could have an effect on a business's profitability. This is because the stock is bought more often than it is sold.
Keeping the proper amount of inventory on hand is essential for a business's financial stability. Overstocking also leads to the accumulation of obsolete stock. The product in question was overbought or overstocked and is currently out of stock.
In a manual system, this stock can be forgotten about or neglected. When demand increases again, the company can decide to buy more of it rather than using what is already being supplied.
Maintain Sufficient Stock Levels
Tracking customer orders and modifying inventory levels to match demand are both parts of inventory management.
Easy-to-perish and breakable stock goods require special storage support. On the flip hand, using the best inventory management techniques for high-value inventory supplies will increase customer satisfaction.
Inability to Manage Inventory Defects and Waste
Poor management of industrial waste is one of the key oversights that harms the warehouse inventory stocks.
It is essential to effectively track defective products in order to maintain the stock supply cycle and on-time deliveries.
On the other side, inventory wastes and flaws come with increased costs and, if they go unnoticed, lead to large industrial losses.
Process Management Errors
Using basic technology or manually keeping stocks won't seem like a significant endeavor if the business is small and only caters to a few clients.
But as the company grows, all of the initially straightforward tasks will become burdensome and call for assistance in order to be finished while maintaining customer orders.
Inaccurate Data
When managing your warehouse manually, the amount of data needed for tracking and reporting inventory statuses is overwhelming.
Today, monitoring your order information should be available with a swipe of the finger instead of calling a number from a long list.
Expanding the Product Line
As a product line grows and more warehouses are built, efficient inventory management of supplies is necessary.
Manually maintaining the stock list and tracking orders without real-time data will lead to poor management.
All inventory managers must assess orders, shipping data, and inventory stock levels in order to distribute supplies to the locations with the greatest demand.
Low Process Visibility
Customers would be upset and move to a brand that offers order tracking if an order they ordered didn't come.
Order deliveries are delayed as a result of difficult-to-find or-track inventory inside the warehouse.
For businesses to be successful and make a good impression, determining the proper inventory levels and upholding customer delivery timetables are essential.
Inadequate Production Plan
When inventory goods do not reach the warehouse in time to coincide with the demand-supply cycle, it can be very frustrating.
Numerous factors, such as sluggish production, poor transportation, or postponed delivery dates, might contribute to a shortfall of inventory supplies.
As a result, consumer orders are delayed, and dissatisfied customers post unfavorable comments on social media channels.
Growing Competition
Small businesses have been obliged to enlarge their warehouse space due to increased competition in order to meet the demand.
Businesses now provide managers with an inventory management system that keeps them informed of every aspect of the orders' highest priority.
Maintaining product supplies, staying ahead of the competition, and responding to customer complaints and requests are all priorities.
ERP Solution for Retail Inventory Management
ERP systems leverages a variety of data sources to provide organizations with a wide range of insights, including a better understanding of the performance trends of various SKUs.
Businesses can use this data to make better-educated orders and develop more accurate forecasts to meet future demand without keeping excessive inventories.
ERP-powered inventory management boosts the effectiveness of the supply chain. As a centralized system, it may automate regular tasks like reordering and eliminate the need for commodities to be processed twice.
Following we have discussed ERP solutions for retail inventory management. Let's discuss:
More Accurate Counts
ERP systems keep track of and publish data on the average turnover rate, obsolete inventory, excess inventory, COGS, shortages, planned replenishment, and other indications. The system keeps track of and compiles information on product transfers made at the warehouse via shipping and receiving.
Transparency in the Supply Chain
The capacity of a corporation to effectively integrate back-end systems and interact with its partners reduces the possibility of unpleasant surprises, such as a crucial component not arriving when anticipated or being priced more expensively than is reasonable for the product.
Another advantage of linked ERP systems is the synchronization of order and shipment data.
Effective Order Management Process
Retail ERP software provides a fully integrated, centralized software system that embraces all sales channels and focuses on order processing, regardless of the origin or destination of the transaction.
Users can find and the inventory in warehouses is changed and registered in real-time thanks to swift information sharing about orders. The quick and faultless synchronization of orders with inventory ensures the most effective handling of orders on time.
Customers in the retail industry nowadays expect a simple and speedy shopping process. In this scenario, the capabilities of ERP software can be leveraged to coordinate multiple departments for an automated business process.
Cycle Counting
A well-planned and thorough cycle count procedure can be carried out with the help of an ERP system. Regular cycle counting improves inventory records and acts as an essential check and balance for your warehouse operations.
Planning for Inventory
The ERP records the status of each product's inventory, enabling staff, partners, and customers to confirm the availability and amount of both things that are in stock and those that are on order. Having access to your inventory history and KPIs simplifies planning and improves customer satisfaction.
Quality Checks
In most ERP systems, inventory quality checks may be defined using logic. For example, you can specify that products must abide by environmental or safety requirements, and the system will then check the safety information for the products.
If the system suspects an item may not be compliant, it will notify staff so they may make the necessary changes.
Improved Reporting
With the aid of precise inventory data, decision-makers can more effectively use data-driven insights by comprehending top-performing SKUs, the landing cost of goods sold (COGS), and sales by location and channel. ERPs provide customized reporting, which produces precise and practical data quickly.
End-to-end inventory analysis
ERPs provide analytics, such as the cost of goods sold, turnover rates, and shrinkage, for each phase of the inventory cycle. One of the main strengths of ERPs is end-to-end inventory analysis. By examining crucial inventory data, businesses can improve inventory efficiency.
Integration of Point-of-Sale Systems at various Retail Locations
Retailers with several locations are unable to track the full inventory without ERP and POS connections until an end-of-day audit or, worse yet, the following planned inventory review.
The only method to confirm inventory in real-time without ERP and POS integration is to call the other sites, which is both time-consuming and challenging for both customers and employees.
On the other side, a combined ERP/POS system improves retail inventory management by allowing you to be more educated and productive, which raises client satisfaction.
An integrated ERP/POS system also reduces the risk of data entry errors that would otherwise be done manually.
Consider the following hypothetical situation: Your business sells products on Amazon using three different software platforms.
While Software A manages the e-commerce website and Software B manages the POS system, Software C is in charge of the organization's ERP function, which requires human entry to complete the customer's order.
Additionally, the company must notify the customer of the order status and anticipated delivery date, which frequently requires manual entry into the e-commerce platform.
If the customer is not informed or receives the incorrect item as a result of a human entry error, they may post a negative review on social media, which might be disastrous.
The bottom line is that a system that incorporates retail inventory management aids in ensuring order correctness and significantly raises consumer satisfaction.
Prevent Inventory Shortages and Overstocking
Another benefit of an integrated ERP/POS system for retail inventory management is real-time inventory tracking. Don't you want to be notified when an item is approaching "out-of-stock" status? Can you, instead, revoke an automated reorder when you have sufficient stock?
When the inventory data has been uploaded, the software of your ERP system may keep track of stock levels and make decisions for how much to order. It may calculate how long current inventory will last by analyzing sales trends from historical sales data and even vendor lead times.
Your ERP system can be enhanced with a 'just-in-time' inventory policy, which could save your company a lot of money.
For instance, the ERP system can spot patterns that could lead to cost savings by combining orders to receive quantity discounts and/or lower shipping costs, with the primary objective of keeping enough stock based on anticipated demand.
Gather Historical Information to Enhance Seasonal and Annual Orders
By maintaining a historical record of purchases and sales, an ERP system can efficiently forecast the inventory needed for promotional and seasonal events as well as when placing annual orders.
The following entries are evaluated: past sales information dating back two to five years; supplier projections; seasonal and promotional factors; and company constraints such as warehouse capacity limitations.
Integrated Financial Tools
A fully integrated financial management solution that includes pre-in-retail ERP continuously pushes businesses to increase organizational effectiveness and output and achieve continuous growth through exposure to in-depth business insights, systematic and streamlined operations, and the ability to adhere to risk management and compliance measures.
Any financial data, accounting data, and information relevant to business operations for a specific retail organization can be accessed in real-time by a retail business that employs ERP software. ERP software offers integrated financial capabilities that are highly exact and generate the most accurate accounting data.
The integrated financial tools provide the advantages of automated transaction flow and less need for human data entry. This inevitably encourages increased resource utilization and revenue generation while significantly lowering any accounting errors.
This automated financial and accounting management may also help you, as a well-established retail company, adhere to the essential industry accounting standards and take complete control of the financial and accounting operations through detailed audit trails.
How to Launch ERP Retail Inventory Management?
To effectively adopt an ERP inventory management system and reap the rewards, follow an implementation path. Three basic steps make up such a route map:
Establish a Record:
Create a single ERP system by integrating all pertinent functions and data or connect data from legacy systems that are still in use to your ERP for real-time integration and updates.
Improve the Record:
The record can be made better by including additional payroll, purchasing, and sophisticated analytics layers. All of these tasks should be stored in a single system of records for optimal performance.
Increase with Advanced ERP Features:
Planning, analytics, and quality management components in an advanced ERP system can help your organization grow and react to changing market conditions.
ERP systems are able to manage a variety of jobs and industries, and as a result, many facets of a business.
Important Features of an ERP Inventory Management System
Start by considering its long-term potential. Any new system that impacts so many facets of your company and takes time and energy to establish must be able to satisfy your needs both today and in the near future.
Given that, follow these five steps to choose the best option for your business:
Step 1: Decide what Results you want to Achieve
Consider the goals of your stakeholders as you develop a business case. A component of the strategic planning process involves analyzing market trends, external opportunities, internal resources, and core strengths.
Next, find out how the advised purchase ties into recently revised long-term objectives. What relevant details would it add to the picture that we don't already have to inform our stocking plan?
Step 2: Establish the Project's Scope
What data sources need to be combined in order to supply the ERP inventory management solution with essential KPIs? Which associates, such as suppliers, will want access? Make a list of all the unique skills and attributes required to achieve the desired result.
Step 3: Create an ROI Analysis
Consider how the investment can increase your company's profitability, productivity, and capacity to serve consumers better than just cutting costs. Show, in particular, how the technology will facilitate successful business expansion through enhanced inventory management.
Step 4: Construct a Vendor List
To identify which solutions will be most effective for you, examine case studies of firms that are comparable to yours.
Ask the following questions to narrow down the list of potential providers:
Is the system straightforward to integrate, scalable, and flexible?
Will companies in our industry provide references?
What kind of training is necessary?
Can the company assist with training?
Does the company offer test versions or free downloads?
How much does the program cost initially, or on a monthly basis in the case of cloud computing? What about maintenance?
How soon will operations begin?
Step 5: Look Forward
Assess whether the roadmap of your potential system provider meets the needs of your business by looking at its product objectives.
Benefits of ERP for Retail Inventory Management
Following we have discussed several benefits of ERP for retail inventory management.
Track and Manage Stocks
Automatically gathers information and generates reports on inventory turnover, dead stock, shortages, and excess stock.
Managing Sales and Order Processing
Generates, monitors, and links sales and purchase orders.
Multiple features for stock transfer and warehouse management
By monitoring information down to the warehouse level and across different warehouses, it is possible for organizations to see the whereabouts of all items.
Payment gateways
Allows companies to take a variety of payments, including ACH and credit and debit cards.
Integration with e-commerce, shipping, and/or accounting software or built-in components
Comes with modules or can be integrated natively with for required features.
Operational tools including production, shipping, and internet retailing
Several tools might be accessible depending on the business use case, but they might all be integrated or cover all necessary functions.
Digital data collection
Reduce or eliminate the need for manual data entry.
Intelligence analyzes and reports
Deliver customized, often updated reports to key decision-makers.
Accounting package
Integrate inventory control with all accounting tools.
Wholesale distribution
Supply chain management and distribution process management should be integrated.
Picking and packing
Displays how the selection and packaging process is going and can be used to identify where and when problems occur.
Point-of-sale (PoS) support
Integrating to offer sales and performance statistics and monitor sales in real-time.
Customer relationship management (CRM)
Integrate data from the back end and the front end (client-facing).
Track locations, transaction history, and costing
Report each inventory transaction in detail.
Make accurate weight and material calculations.
The staff can pick what items they need based on this information.
Shipping/delivery process
By monitoring the shipping and delivery process, staff can generate shipment receipts and anticipate production timetables.
Multi-channel order fulfillment
Can control orders and monitor fulfillment data for businesses that sell through various channels.
Drop-shipping
When they don't have the item in stock, e-commerce companies can shift consumer orders to another seller. Moreover, it serves as a dashboard and payment monitor.
Cross-docking
Track the process of loading goods from delivery vans into departing vehicles before driving them to the market.
Cloud-based
A third-party vendor hosts and manages the software. Perfect for companies with a big geographic reach or little internal IT staff.
Utilize this list to rank features according to how well they will currently and going forward serve your specific business. Do not combine company requirements with those imposed by your current system constraints.
Using an ERP System for Inventory Management
Coordination of stock acquisition, sorting, and transfer is achieved by automating key procedures inside an ERP system designed for inventory management.
To help maintain the proper stock levels, the system takes into account the inventory requirements of the workforce, clients, and suppliers.
A connection between an ERP and multiple organizations, each of its unique software platforms, and your main database is demonstrated in the image below. The ERP serves as a centralized "brain" for inventory operations.
ERP Inventory Diagram
Each group in the diagram is in charge of a different set of duties and processes, necessitating the application of distinct systems. For instance, suppliers use inventory, forecasting, and finance software.
However, all of those systems must function in concert. The ERP system, which acts as a central hub and interface, enables communication across all systems. Every specialized software program eventually connects with an ERP.
Let's say a corporation employs a product lifecycle management (PLM) system to manage inventories from concept to production release in order to better understand how an ERP connects with existing systems. ERP and PLM integrate effectively.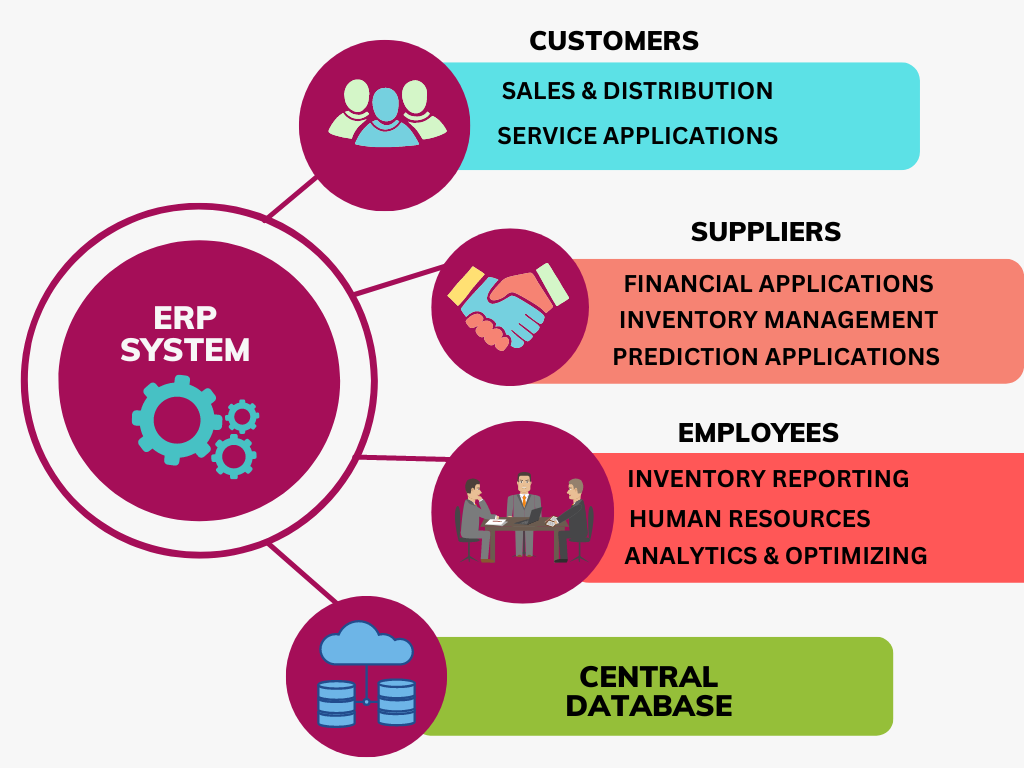 The production resource planning in this situation is under the supervision of ERP, among other things. The systems would then converse in order. The PLM is where the original product data is obtained. The ERP combines the production process with the rest of the business once a product has been sufficiently developed to require resources.
You require a network of individuals and technological systems to carry out precise inventory control. A centralized strategy for inventory control is crucial, especially as your business grows.
Get a team of internal experts together early so they can help you implement an inventory control system.
Keep a log of your inventory management techniques.
Plan your finances wisely.
Set milestone objectives.
assistance with training, user acceptance testing, and other implementation checkpoints
In brief, businesses that rely on fragmented, disjointed systems are missing out on critical inventory information that may improve operations management.
A solid ERP system with top-notch inventory management features can turn inventory management from an everyday task into a competitive differentiator.
To assist managers in making smarter decisions, keep an eye out for built-in business intelligence that blends data with visual analytics. An adaptable design will grow along with your business, enabling you to add resources and features as you need them.
Best Practices for Managing Retail Inventory
In order to ensure that your efforts position your business for success, keep an eye out for these retail inventory management best practices.
Following we have discussed best practices for managing retail inventory. Let's discuss:
Identify KPIs
Key performance indicators (KPIs) are used to monitor performance across predetermined time periods in order to achieve specific goals.
By setting inventory KPIs, you can choose the objectives you wish to achieve on a weekly, monthly, quarterly, or annual basis.
Additionally, KPIs will provide you with the data you need to make wise business decisions.
For things like inventory carrying costs, inventory turnover rates, order status, tracking, and fill rates, among others, you might want to construct KPIs.
Employ ABC Analysis
You can arrange your inventory using the ABC analysis method by starting with the products that are most important and working your way down to the ones that are least important.
The A goods are the top priority stock and require frequent replenishment, whereas the B items are valuable but only needed once a month. The C products are typically carried in large quantities, low-stock priority items that don't necessitate frequent reordering.
You can deliver goods more swiftly by making the most of your storage space. ABC analysis can be used to arrange your product.
Make a plan to keep track of stock receipts
Actually, providers do make mistakes. If you don't have a tried-and-true procedure for evaluating and registering arriving products to detect faults and damage, you'll run into issues like unrecorded stock, unexpected stock outages, and payments for items you never purchased.
You may verify the correctness of your stock receipts by comparing product counts to purchase orders, shortages, or broken goods, asking suppliers about any mistakes, completely unpacking whole shipments, and updating stock counts in your inventory management system.
Invest in an inventory management system
Manually controlling your inventory is time-consuming, exhausting, and risky even though it is doable.
If you use a single, excellent point-of-sale (POS) system or inventory management software, you can easily automate many of your processes, monitor the movement of your goods, and grow to more physical locations through the internet. This could lead to fewer errors, more efficacy, and increased productivity.
Create long-lasting supplier relationships
Your supplier base is one of your most significant assets. And besides, without them, you couldn't produce or sell items and earn money. It's a good idea to explain to kids what happens to their items after they leave their hands.
By forging close relationships with them, you might be able to obtain discounts, reduce the likelihood of delays and quality issues, and simplify your inventory management. Replace problematic or underperforming vendors without hesitation.
Calculate the minimum stock threshold constraints
The 'minimum stock threshold' is the amount of inventory that must always be kept on hand at your warehouse.
If you can determine this quantity and maintain the adequate product on hand, you'll be ready to handle an unexpected rise in sales. By satisfying demand, you'll reduce the likelihood of protracted fulfillment delays, which could damage your brand.
Use the following calculation to determine your minimum stock threshold limits:
(Average daily product sales ÷ number of working days in the month) x average product delivery time)
Maintain Residual Stock
Residual inventory is that which is still in stock at the end of a season. If you sell clothing, you might still have excess shorts when summer is over. Season codes and style numbers can be created when the items are entered into your inventory management system to help you manage and get rid of this kind of inventory. This can make it simpler to keep an eye on sales and seasonal inventory so that you can more effectively plan for upcoming seasons.
Frequently Asked Questions (FAQs) on Retail Inventory Management
Several issues related to retail inventory management come up frequently. Following we have discussed some crucial frequently asked questions. Let's learn:
Que 1: What differentiates warehouse management from inventory management?
Ans: In a warehouse context, managing inventory and other associated duties is known as warehouse management. Inventory management, on the other hand, solely focuses on the products and the inventories.
Que 2: Which retail inventory management software is the best?
Ans: Your specific needs will determine which software is ideal for managing store inventories. When sales and refunds are completed, the best retail point-of-sale (POS) systems have integrated features that lower inventory. But if you merely need a platform for stock, check out ERP Deskera.
Que 3: How often do stores take inventory?
Ans: Retailers need to monitor their inventory carefully. This could be a problem if the system is both manual and paper-based. When inventory is not consistently and adequately inspected, problems like erroneous inventory and product waste or loss may arise.
Implementing a digital retail inventory management system that can track real-time data about the quantity and quality of the inventory is one of the greatest ways for a company to avoid this.
With digital technology, phones like smartphones and tablets are simpler to carry and are less likely to be misplaced or broken during an in-store inventory check. PCs are widely used to control digital inventory management systems.
The flexibility to upload media assets and have data easily accessible on the retailer's inventory management system works as another benefit of having a digital inventory solution.
How Deskera Can Assist You?
Deskera offers an ERP software solution for energy industries that is completely integrated, fully compliant, and easy to deploy. It is a web-based business management tool that offers a complete, real-time picture of your operation in the automotive sector.
Deskera Books, an accounting expert that is included with Deskera ERP, enables you to automate all of your accounting tasks, including invoicing, billing, expenses, payments, taxes, reporting, approval flows, multiple currency payments, payment getaways, generation of financial statements and KPIs, and many more.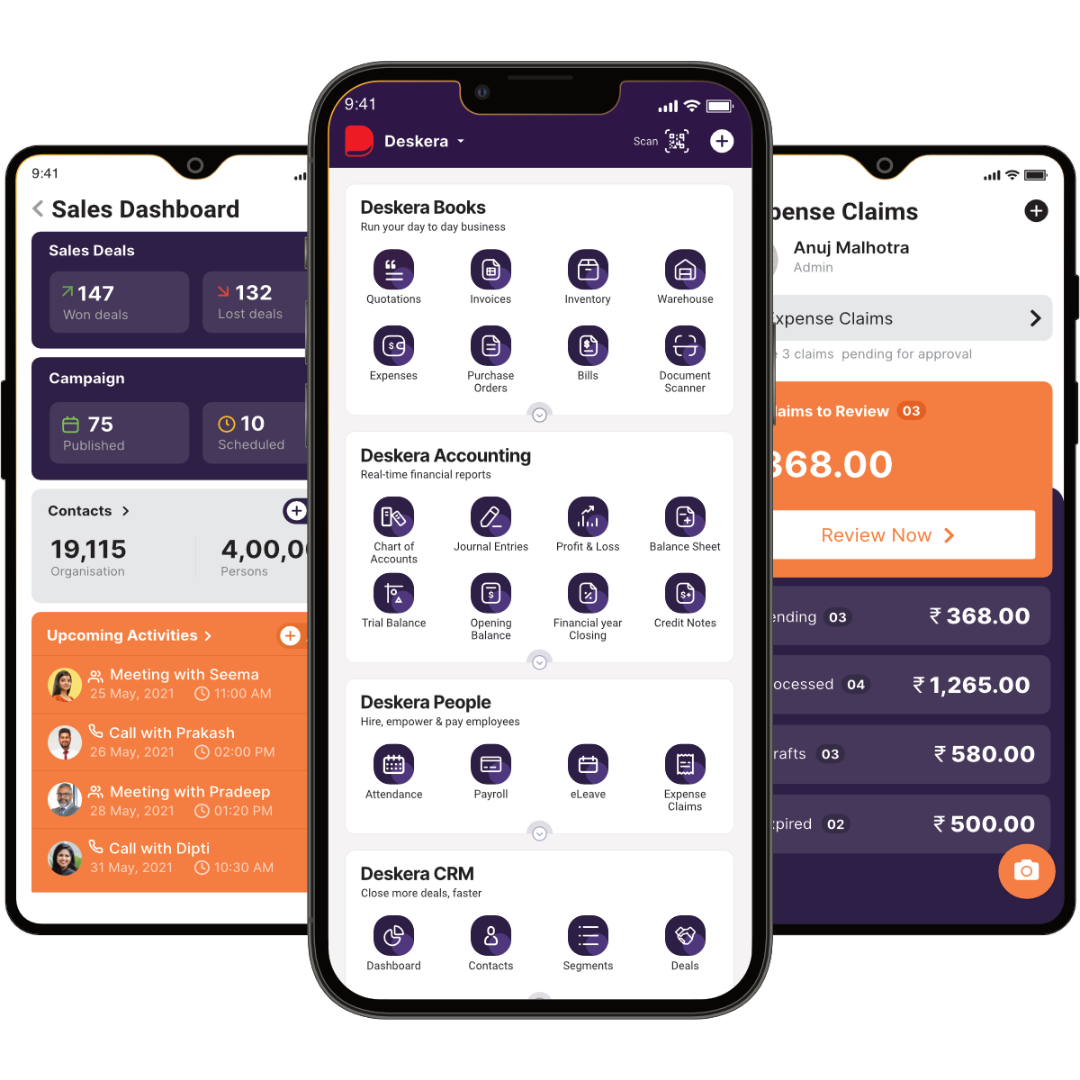 Deskera CRM allows you to easily build up your customer base through email marketing, CTAs, landing pages, help desk choices, and other methods. Additionally, automating sales is now easy along with closing transactions, moving them through the sales pipeline at the appropriate stages, and gaining real-time dashboard analytics.
Try Deskera ERP to Streamline Your Business
Sign Up for a Free Trial Now!
Final Takeaways
We've arrived at the last section of this guide. Let's have a look at some of the most important points to remember:
Retail ERP is a real-time software solution that was specifically created to connect and integrate the many business processes necessary to successfully manage retail operations.
ERP systems leverages a variety of data sources to provide organizations with a wide range of insights, including a better understanding of the performance trends of various SKUs.
Retail ERP software provides a fully integrated, centralized software system that embraces all sales channels and focuses on order processing, regardless of the origin or destination of the transaction.
ERPs provide analytics, such as the cost of goods sold, turnover rates, and shrinkage, for each phase of the inventory cycle.
One of the main strengths of ERPs is end-to-end inventory analysis. By examining crucial inventory data, businesses can improve inventory efficiency.
When the inventory data has been uploaded, the software of your ERP system may keep track of stock levels and make decisions for how much to order. It may calculate how long current inventory will last by analyzing sales trends from historical sales data and even vendor lead times.
Any financial data, accounting data, and information relevant to business operations for a specific retail organization can be accessed in real-time by a retail business that employs ERP software.
ERP software offers integrated financial capabilities that are highly exact and generate the most accurate accounting data.
Related Articles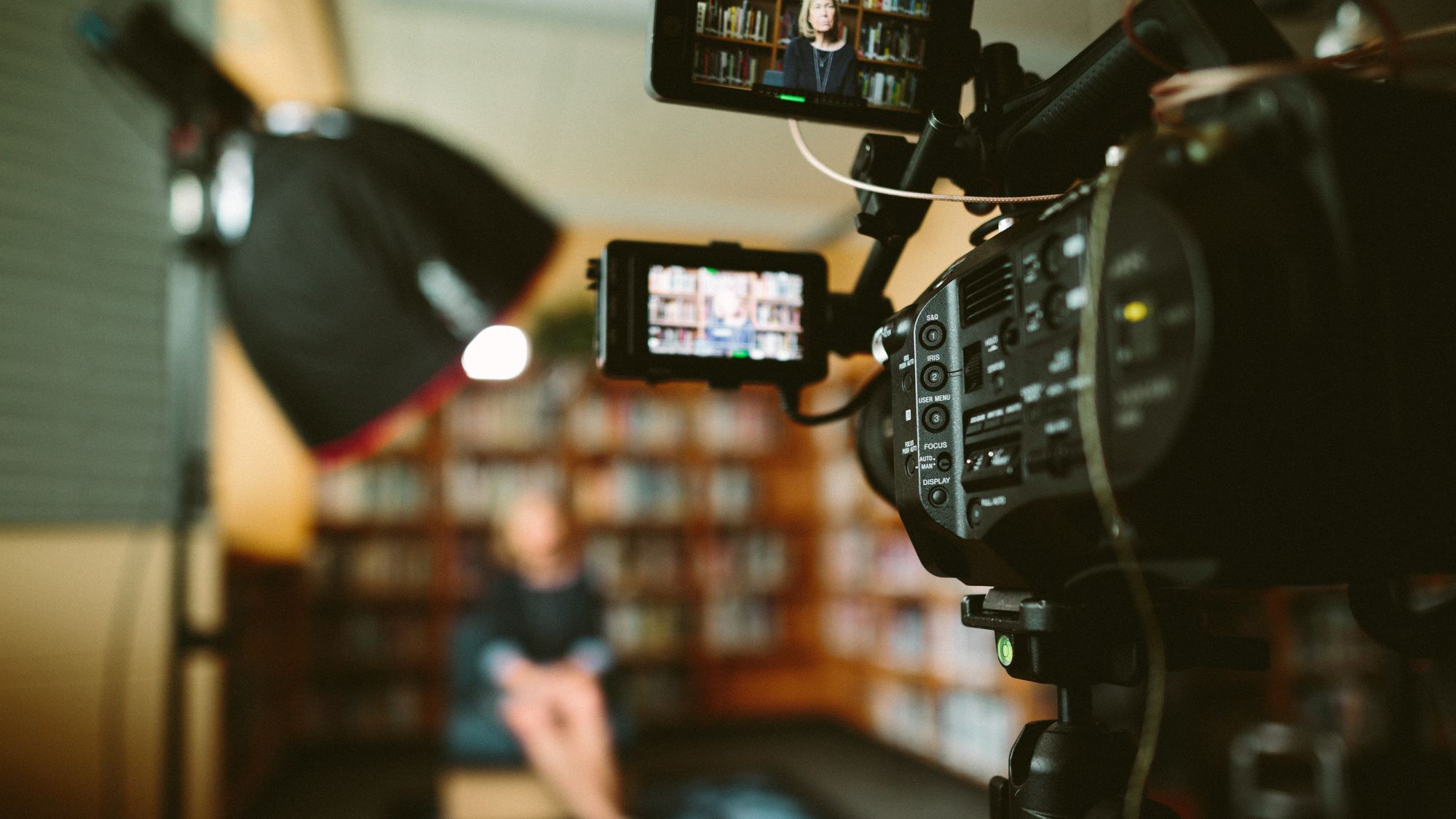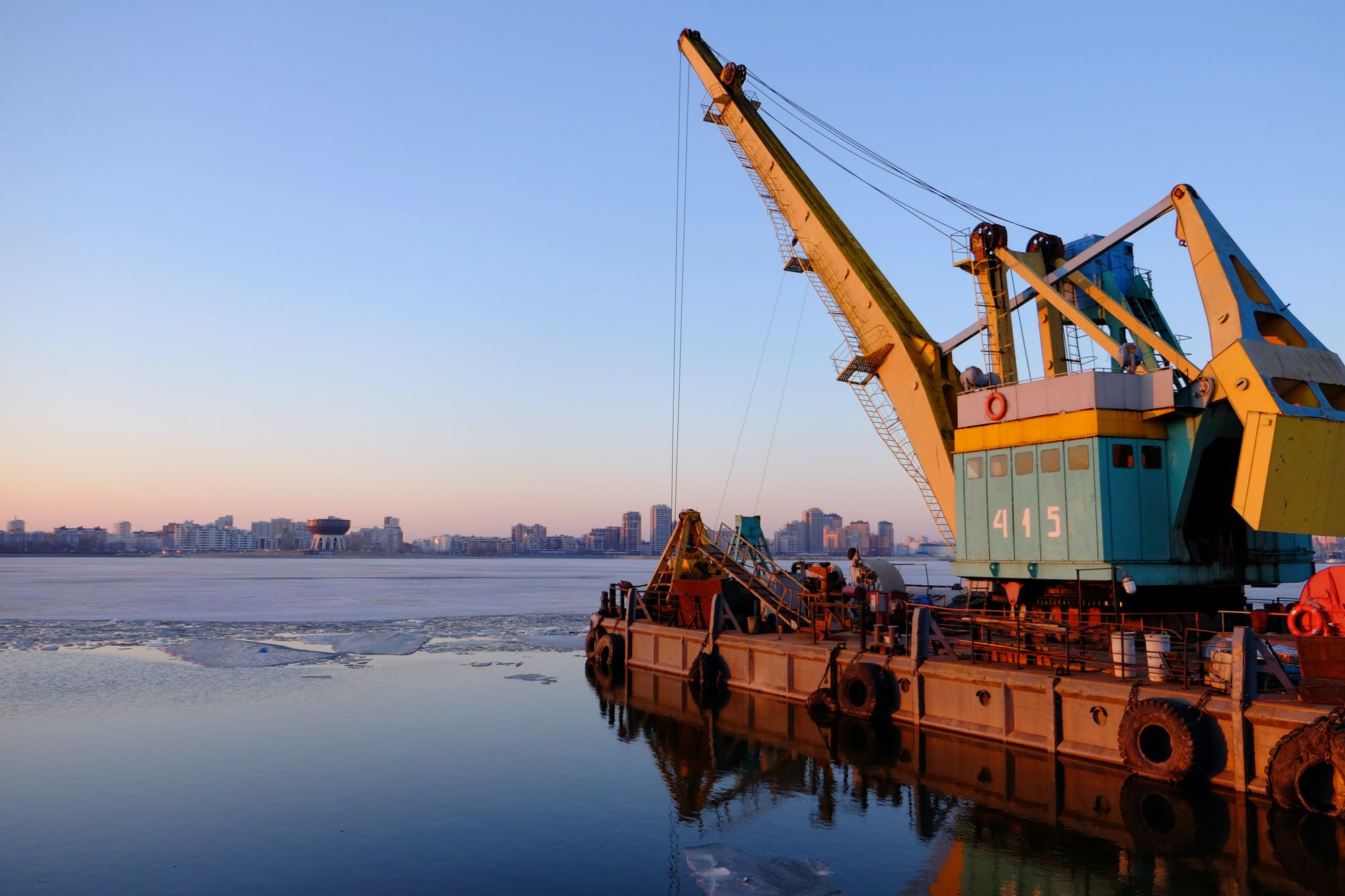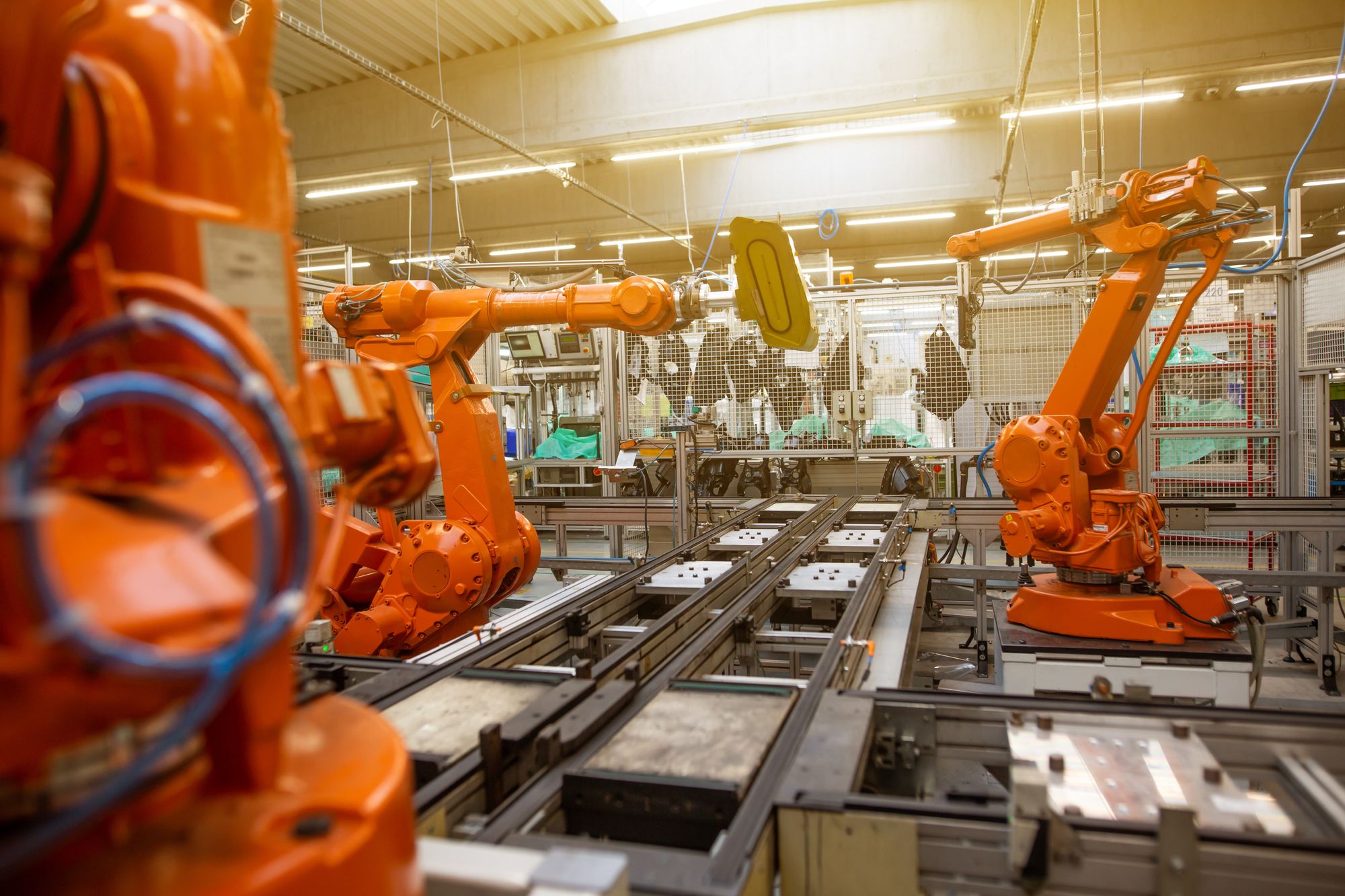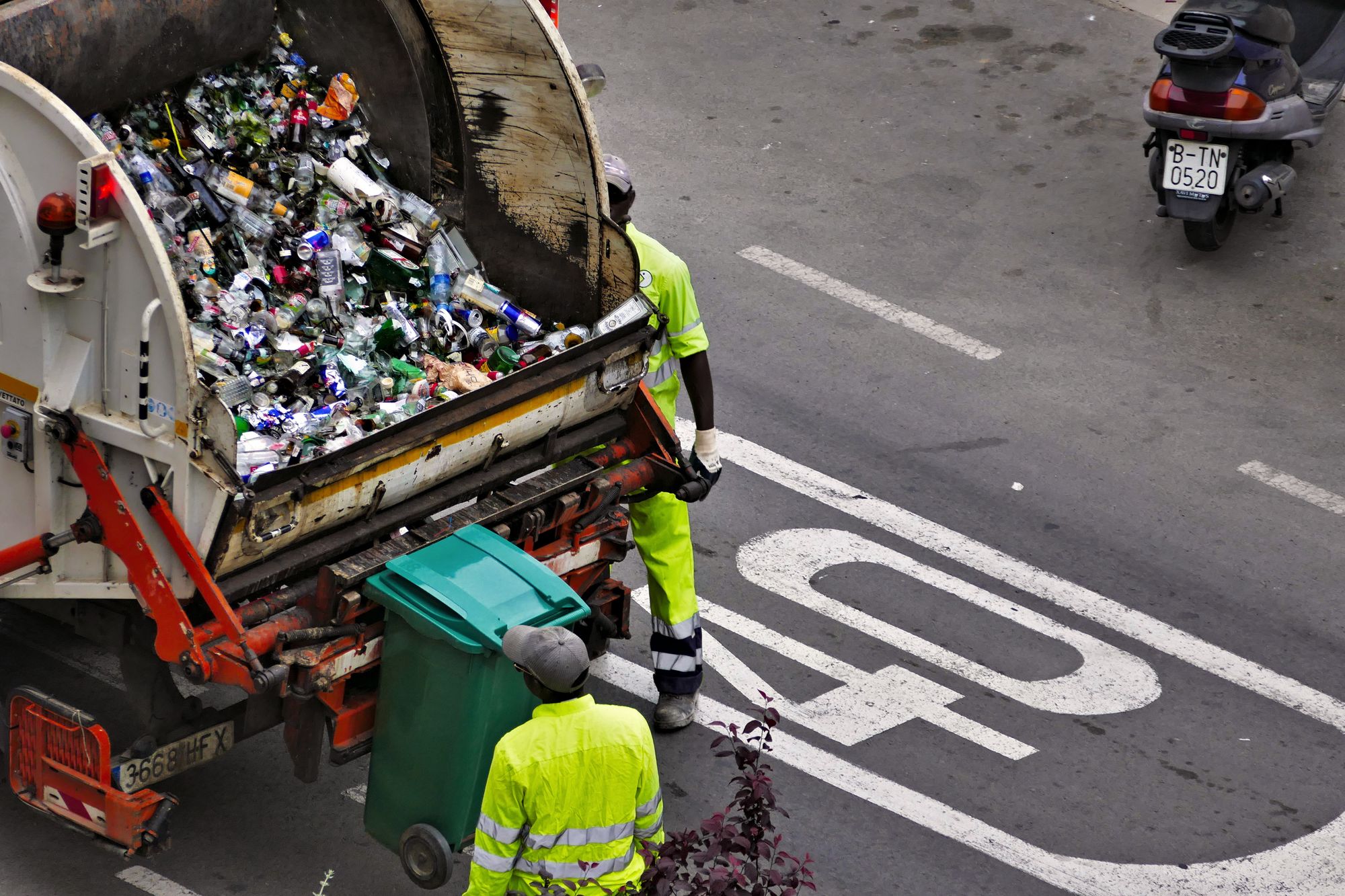 ---
---
---