Email is the preferred method of communication and relationship building for 85 percent of recruiters.   Simply put, email marketing is the most productive and profitable marketing strategy. Surveys and studies have repeatedly proved that email marketing outperforms all other mediums in terms of ROI and positive outcomes.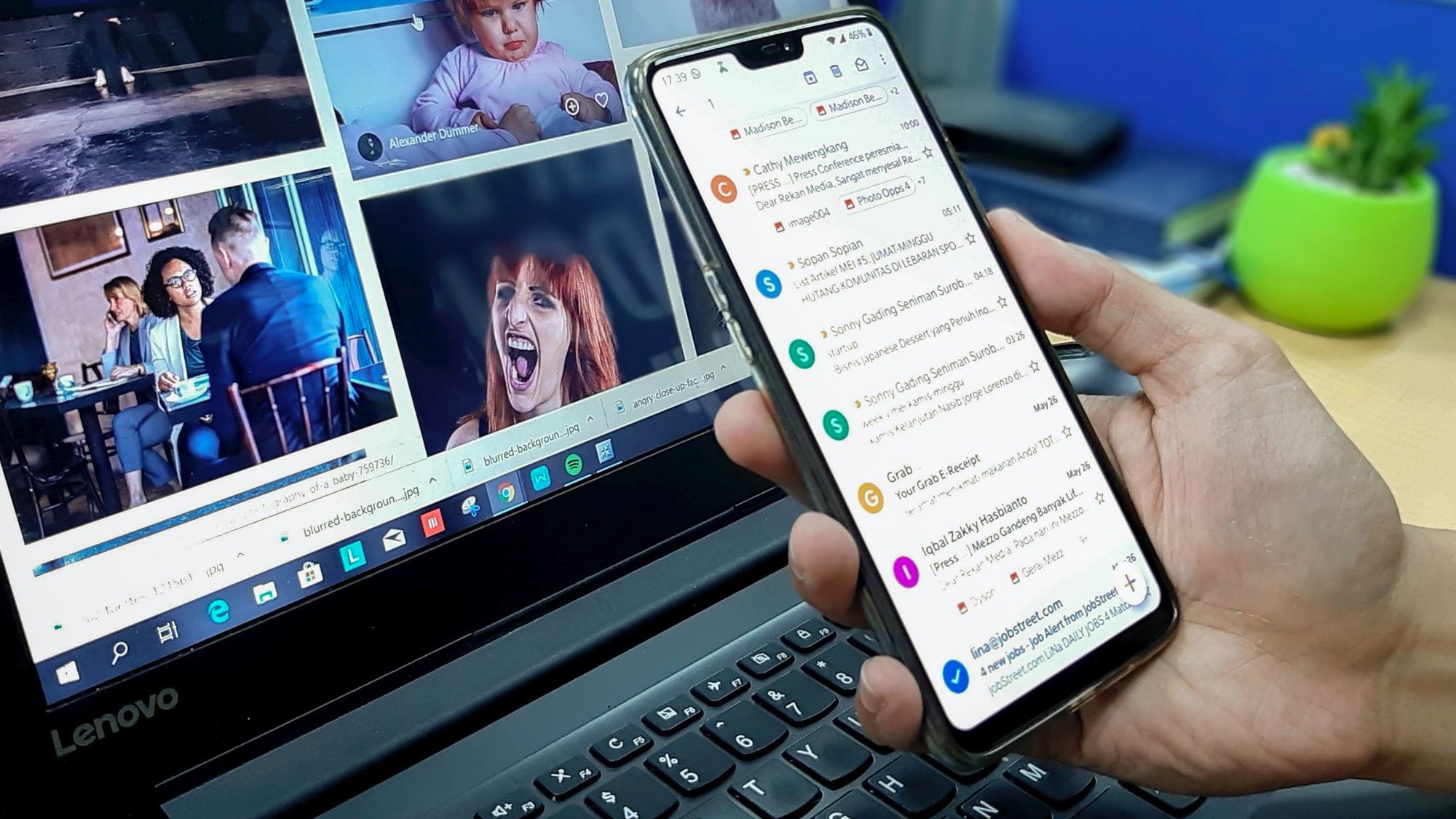 Despite this, talent acquisition teams and recruiting firms rarely use recruitment email marketing to boost candidate engagement. Here's an article that will assist you in creating the most effective E-mail templates to help you stand out in the job seeker's inbox. The following are the subjects that have been discussed:
Try Deskera for your Business
Sign up for Free Trial Today!
Types of Email
Every time a recruiter connects with a candidate via email for essential communication, an email is sent. However, from a marketing standpoint, email marketing for recruiting typically entails the following:
1. Job-specific emails — A recruiter identifies a group of candidates on a job board or (ideally) in their applicant tracking system (ATS) and sends a bulk mailing to them all, merging their names. Some recruiters lack this skill, so they just send the same email template over and over again, but each time to a different person.
2. Pipeline - Recruiters maintain a pipeline of their best candidates and make an effort to keep in touch with them on a regular basis. Of course, phone conversations can be used, but email is the most common mode of contact.
3. Job Alerts or talent networks – which notify candidate's fresh job vacancies that match their preferences immediately.
4. Semi-regular newsletters – this is a rather uncommon practice, while many companies have tried it for a limited time but were unable to commit the time or resources required to do it on a regular basis. Only about 5% of recruiting companies do this.
Each of the tactics listed above is an example of email marketing, but this isn't what marketers mean when they say email is a high-return, high-quality marketing tool.
6 Ideal Email templates
With these recruiting email templates, you can keep candidates interested and increase recruitment performance. We've got you covered with a series of email templates that you can quickly customize for each stage of the hiring process, from scheduling interviews to sending out offer letters.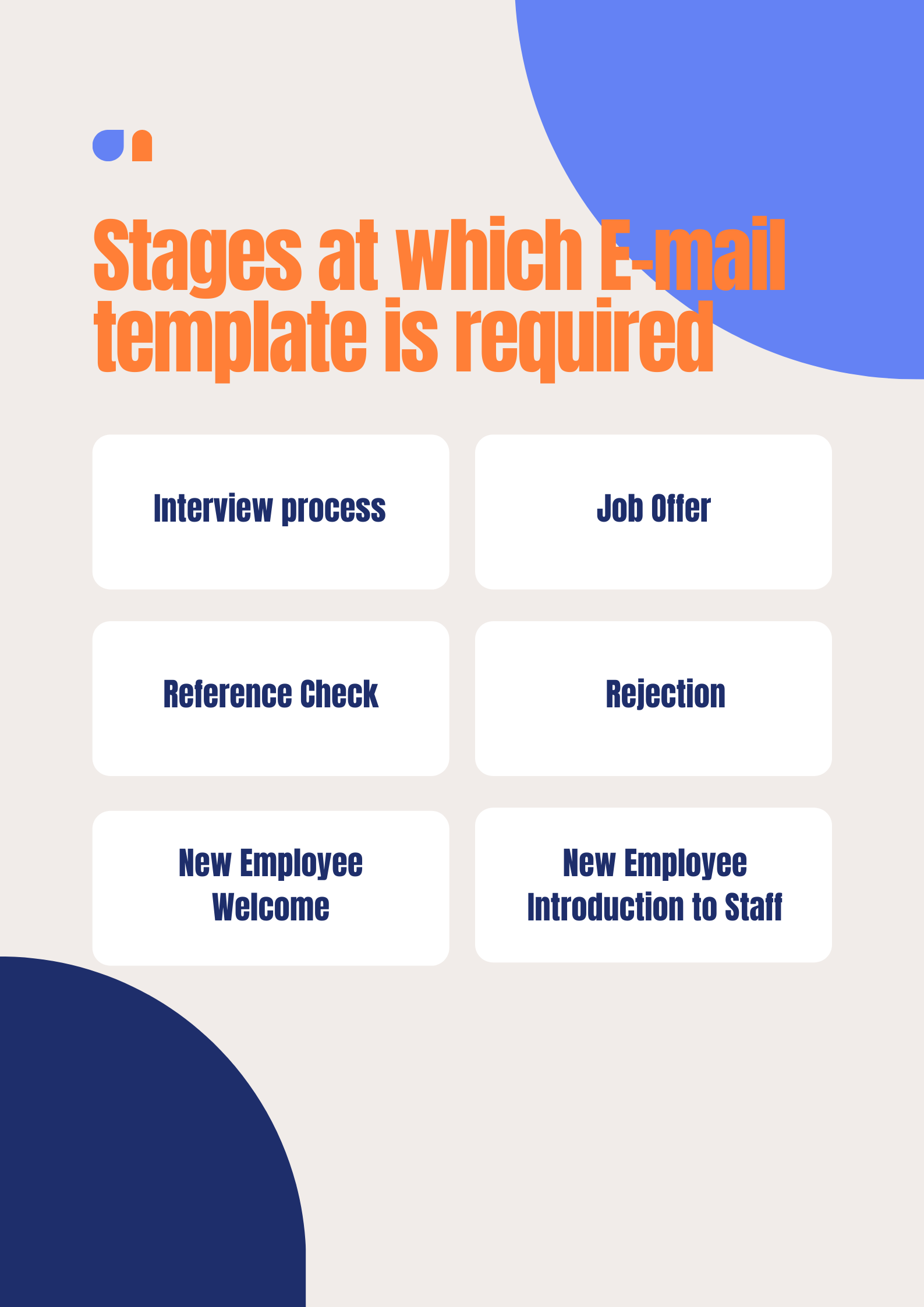 Interview Process Email
Interview Invitation Email
The interview process is divided into many stages, and candidates should be aware of their status at all times. To ensure quality, consistent contact with prospects, use the templates below.
The interview invitation email is a vital step in keeping the candidate interested about the possibility, in addition to organizing the details of the interview.
Send an email invitation to interview to applicants who pique your interest or who you simply need to learn more about. Depending on whether the interview will be conducted over the phone or in person, you should offer the candidate at least a few days' notice. However, speak with elite individuals in highly sought-after roles as soon as possible.
INCLUDE THE FOLLOWING IN YOUR INTERVIEW INVITATION EMAIL:
• The purpose of the interview: Job seekers may apply to a company's open vacancies several times. Make it clear to the candidate what role he or she is being interviewed for.
• Explain why you're interested in them: Let the candidate know you're enthusiastic about them and want to learn more about them.
• The format of the interview: Mention whether the interview will be conducted over the phone, through video, or in person.
• Who is the interviewer? Tell the candidate who they'll be speaking with and what function they'll play in the interview and/or at the company.
• The duration of the interview: Give a rough estimate of how long the interview will last. They will be able to plan their schedule correctly as a result of this.
• When will the interview take place? Provide a range of dates from which the candidate can choose, or state the day and time of the interview, including time zone information.
Email Invitation Template for Interviews
In a blank email, copy and paste the following recruiting email template. Customize the copy in the fields provided and wherever else you see fit.
Email Subject Line: [Company Name] Interview Availability
Hi [First Name],
Thank you for your interest in [Job Title] at [Company Name].
We are excited to continue forward with the interview process after analyzing your application.
We'd like to book a [Interview Format] at [Company Name] with [Interviewer], [Interviewer Job Title]. The interview will last roughly [Interview Length] minutes.
Are you available at [Time, Time Zone] on [Day, Date]?
Please respond to my email immediately and let me know if you are available at that time.
Best,
[Your Name]
[Your Email Signature]

Interview Confirmation Emails
Send a confirmation email to the candidate once you've arranged the interview to remind them of the time, location, and other details, such as how to use your video platform for the interview.
A confirmation email verifies that the booked date and time were correct. This is especially crucial for those who are currently employed and have work obligations that may interfere with their interview. Furthermore, because this is a stressful time for job seekers, an interview confirmation email is a terrific method to reassure and console them.
As a result of the Covid-19 outbreak, video interviews have become the rule rather than the exception. As a result, it's critical to include information about the video platform that will be utilized in the interview so that the candidate can download and practice using it prior to the interview.
Once you've confirmed the day and time internally, as well as reserved any necessary supplies like a conference room or phone line, send a confirmation email to the candidate. To avoid any confusion, wait to confirm with the candidate until you're all on the same page internally.
INCLUDE THE FOLLOWING IN YOUR INTERVIEW CONFIRMATION EMAIL:
Information about the interview: Restate the interview's date and time. Keep things simple and straightforward.
Include a link to the video conferencing meeting, the conference phone number and access code, or the office address.
Interview agenda: Let the candidate know ahead of time if there are any specific topics you'd like to address that they should prepare for, such as an exercise or assessment.
Talking points: As a recruiter, you can provide the candidate ideas for what to talk about during the interview so that it is constructive and instructive.
Dress code: Let the candidate know whether your office is casual or formal, with most individuals wearing suits.
An event invitation that the candidate can add to their calendar: Send the applicant an event invitation that they can add to their calendar.
Template: Interview Confirmation Email
In a blank email, copy and paste the following recruiting email template. Customize the copy in the fields provided and wherever else you see fit.
Subject Line for Email: [Company Name]: [Company Name] [Company Name] [Company Name] [Format for an Interview] Confirmation of the Interview
Hi [First Name],
We have confirmed your [Interview Format] interview with [Interviewer] on [Day, Date] at [Start Time - End Time, Time Zone].
To give you a sense of what to expect, here is a brief agenda for the interview:
[Interview Schedule]
During the interview you should plan to discuss your experience in [Talking points].
We hope to have the opportunity to meet you soon! These interview specifics can be found in the calendar event invitation. In the meantime, please don't hesitate to contact us if you have any questions.
Here is the [phone number / video platform that will be used and meeting link] for phone/video interviews. Use the following code to gain access to the meeting room: [Enter the access code].
For Face-to-Face Interviews:
Our office address is [Address].  Check in at the main desk when you arrive. A temporary elevator pass will be given to you by the security guard. Our office dress policy is [Dress Code], however feel free to wear whatever makes you feel most at ease.
Best,
[Your Name]
[Your Email Signature]
Template: Interview Reminder Email
In a blank email, copy and paste the following recruiting email template. Customize the copy in the fields provided and wherever else you see fit.
Email Subject Line: Reminder: [Company Name] [Interview Format] Interview [Date/Time]
Hi [First Name],
This is to remind you of your upcoming job interview at [Company Name] for the position of [Job Title].
When: Your interview will take place at [Start Time - End Time] on [Day, date].
Where: [Phone Number/Link to Meeting/Address]
Who: [Interviewer, Job Title] will be your contact.
Agenda:
[Include Agenda]
Be prepared to discuss:
[Talking Points]
For Face-to-Face Interviews:
Check in at the main desk when you arrive. A temporary elevator pass will be given to you by the security guard.
Office dress code:
Our office dress policy is [Dress Code], however please wear whatever makes you feel most comfortable.
We are excited to see you!
Best,
[Your Name]
[Your Email Signature]
Job Offer Email
It has to be perfect when you're ready to extend an offer to a great applicant. By having a job offer email template on hand, you can ensure that nothing is forgotten.
As a tech recruiter, you're well aware that exceptional prospects don't stay on the job market for long. Your employment offer must not only be fair and compelling, but it must also be the final selling point to close the transaction.
Send an offer letter as soon as you've found the ideal person for the job in today's candidate-driven market. If you made a verbal offer over the phone, follow up with a formal offer letter via email.
INCLUDE THE FOLLOWING IN THE JOB OFFER EMAIL:
Your enthusiasm: Express your delight in having the candidate join the team.
Job specifics: Restate the job title, department, and hours of operation.
Salary: Specify the amount of money you're willing to pay the candidate.
Advantages: Mention the job's healthcare, insurance, financial, and vacation benefits.
Benefits for employees: Inform them of some of the great benefits available to employees.
Offer expiration date: Inform the candidate of the deadline by which you expect to hear back from them.
Your offer letter should concisely outline all of the key aspects of the employment, including income and perks.
Template: Job Offer Email
In a blank email, copy and paste the following recruiting email template. Customize the copy in the fields provided and wherever else you see fit.
Subject Line for Email: [Company Name]: [Company Name]: [Company Name]: Enclosed Is your [Job Title] [Job Title] [Job Title] [Job Letter of Acceptance]
Hi [First Name],
It gives me great pleasure to present you with the position of [Job Title] at [Company Name]!
During the interview process, you left a lasting impression on our team, and we are thrilled to welcome you to the firm. We believe your qualifications and expertise will be a valuable asset to the [Department] team.
Please read the contents of the following offer carefully.
Position
[Job Title] at [Company Name] is a [Full-time/Part-Time/Temporary] position. You will report to [Direct Manager] in [Department] in this role.
The position requires [Hours/Week] as a [Full-Time/Part-Time/Temporary] employee. Your working hours will be [Start Time — End Time] with a lunch break of [30-Minute/Hour].
[Month, Day, Year] will be your first day.
For the stated position, [Company Name] will pay you [Dollars] each [Hour/Week/Year/Etc.].
Benefits
You will receive the following benefits as part of the position and as an employee of [Company Name]
[Add or Remove Benefits] Medical Insurance; Stock Options; 401K Matching; 15 Days of PTO; Dental and Vision Insurance
In addition to these perks, [Company Name] is happy to provide [List of Perks] to its employees.
Your full offer letter is attached. Please sign it and email it back to me by [Date] to confirm your agreement and acceptance of this offer.
We are excited to have you join the [Company Name] team. Please contact me immediately at [Phone Number] if you have any queries about the accompanying offer.
Best,
[Your Name]
[Your Email Signature]
Rejection Email
When it comes to job interviews, no news is not good news. Notifying candidates that they are no longer being considered for your vacant position is kind and improves the candidate experience.
If you sent an interview follow-up email, stick to your schedule and send a candidate rejection email by the deadline you established for yourself.
INCLUDE THE FOLLOWING IN A REJECTION EMAIL:
Express gratitude for their job application email: Reiterate your gratitude for their time, care, and interest in your business.
Make a choice: Make it clear that you are no longer considering them for the position.
Constructive input: Job searchers who receive constructive feedback during the first application process are four times more likely to apply for an open position in the future. Explain briefly why you've decided to choose a different path.
You'll keep the door open: Tell them you'll keep their resume on file and contact them if a better opportunity arises.
Encourage them to remain in touch and apply again: Encourage them to join your talent network and subscribe to your career page to stay up to date on new chances.
Another thank you: Express your gratitude for the candidate's time and effort in this process.
Make your decision plain, but do so in a gentle manner. Because this is such a crucial stage in the hiring process, you can use a more official tone, even if it's not typical of your brand.
Email Rejection Template
In a blank email, copy and paste the following recruiting email template. Customize the copy in the fields provided and wherever else you see fit.
Subject Line for Email: Your application for the position of [Job Title] at [Company Name] has been received.
Hi [First Name],
Thank you for applying for our [Job Title] position and for sharing your experience with our team. Your interest in [Your Company] is much appreciated.
We had a solid pool of applicants, and we hate to inform you that we have opted to pursue a more experienced candidate for this position. [Feedback that is constructive].
We'll keep your resume on file and contact you if we think you'd be a good fit for any future openings.
We hope you'll follow us on [Link to Social Profiles] and keep an eye on our career page [Link to Career Page] for future opportunities that might be a better fit.
We appreciate you taking the time to evaluate [Company Name].
Best wishes,
The [Company Name] Team
[Company Logo]
Reference check email template
Hiring managers can use the following template to check references through email:
Greetings, [former employer's name],
I'm sending this email to do a reference check for [candidate's name], who is now interviewing with our company for [job name]. [Candidate name] included you as a relevant reference and stated that you might be able to provide some useful insight into their job experience at your company.
I'd want to inquire specifically about [candidate's name talents]'s and experience while working for your company. Do you think they'll be able to fulfill [critical work duty]? Furthermore, I'd like to learn more about [candidate's name] attitude while working for your company, as this role necessitates persons to retain a cheerful attitude even under pressure.
Please let me know if you have any other potential insight into whether [candidate's name] will be a good addition to our company.
Thank you and I appreciate you taking the time to complete this reference check.
Best,
[Your name]
It is short and to-the-point. It's unlikely that your applicant has asked their references to vouch for them, therefore there's no point in drafting an essay when reaching out.
Prepare your questions in advance. They're doing you a favor, so don't waste their time by going off on a tangent. Are you unsure what questions to ask during the reference check? Take this script and run with it.
When offering time slots, don't forget to include time zones and call length. As you go over your candidate's list of references, this will assist you avoid scheduling conflicts.
Welcome email to new employee template
This employee email template for new hires was created to assist you in welcoming a new employee to your company. This on boarding email can be sent to a new employee by a member of the HR team or the hiring manager prior to their arrival to prepare them for their first few days on the job.
After your new hire has accepted your employment offer, you may send them this email. Your goal is to make your new hire feel at ease and prepared for their first day on the job. Make sure to provide practical information such as the start date and arrival time. To give them a heads-up, you can attach employment documents, benefits plans, and/or corporate policies.
You should also request that they provide you (or bring you) anything you need to finish their hiring process (e.g. their bank account details, passport or other official paperwork.) This new hire welcome email demonstrates that you're well-organized and concerned about making your new hire feel at ease.
Email template for welcoming a new employee
Subject line of email: [Company name] would like to extend a warm welcome to you.
Dear [Name of Employee],
We are all delighted to have you join our team! Your start date is [date], as agreed. Our dress code is [casual/business casual], and we anticipate you to be in our offices by [time].
[Remind your employee, if necessary, that they must bring their ID/paperwork.]
We at [Company name] are committed to providing our staff with everything they require to perform at their best. We have equipped your workstation with all required equipment, as you will notice shortly. On your first day, our team will assist you in setting up your computer, software, and internet accounts. [Include any additional items you've prepared for your new hire, such as a parking spot, a coffee mug with their name on it, or a business t-shirt, if applicable.]
Your initial days have been carefully designed to assist you in settling in. More information can be found in the attached agenda. As you can see, you'll have plenty of time to read and fill out your employment papers (HR will be on hand to assist you!).
You'll also have a meeting with your hiring manager to go over your next steps. We've scheduled a few training sessions for you during your first week to help you learn more about our organization and operations.
Our team is looking forward to seeing you and will introduce themselves during [scheduled event/ lunchtime].
Please feel free to email or phone me with any questions you may have before to your arrival, and I would be pleased to assist you.
We're excited to collaborate with you and see you accomplish great things!
Best regards,
[Your name]
[Your signature]
It reiterates your enthusiasm for them to begin and addresses the majority of their questions before their first day.
Make sure that your new coworker is excited—and aware of what to expect. To set their minds at ease, include facts about how the first day will proceed, as well as what they need bring. Take them out to lunch on their first day if you have the funds—a it's terrific way for them to get to know the folks they'll be working with.
Before they begin, make sure you have everything ready on your end. If employees go through a rigorous on boarding process, they are 69% more likely to stay with a company for three years.
Introduction email to staff template
Introduction emails are a fantastic place to start, but they're far from the only process where HR could use some assistance. That's why we have put together a host of HR templates, to help you ensure that every process is as streamlined and consistent as possible.
Dear Team,
Our new colleague, [Name of Employee], started as a [job title] with the [Team] today.
[photo]
As a [Position Title] within our organization, John brings a wealth of knowledge to us and will assist us in taking some major leaps toward accomplishing our corporate goals.
We are ecstatic to have him on board. Please join me in wishing him a successful start!
I'd like to extend a warm welcome to [Name of Employee]!
A new job, new responsibilities, and new coworkers: The first day of a new job can be a veritable whirlwind of changes. That's why your HR department needs a variety of systems in place to welcome any new employee.
By sending a new employee introduction email on their first day, you might give them the impression that they are valued. Then, as new team members come, current employees are kept informed, speeding up the on boarding process and assisting them in integrating more quickly and effectively.
Tips to remember before sending these Emails
Make an impression from the very first interaction.
The importance of first impressions cannot be overstated. Certain strategies will help you be more impactful and engaging when making your initial reach out.
These are some of them:
-Describe yourself, your position, and where you work.
-Describe your organization and the position you're trying to fill in a few sentences.
-Mention what jumped out to you about the candidate's profile and why you're interested in them for the position.
Long-term relationships should be nurtured and strengthened.
You may obtain applicants who say "no" repeatedly throughout your sequence. Some prospects, on the other hand, may express an interest in connecting at a later period. This is a fantastic opportunity to network and develop future talent.
Here are some pointers to keep in mind as you continue to develop candidates:
Take advantage of this opportunity to discover more about their career aims and goals. To increase brand recognition, admiration, and interest, provide selling aspects about your organization. To put it another way, what your firm or client is up to, what they've accomplished, and any pertinent updates or projects.
Follow up with prospects who have expressed an interest in the future on a regular basis. (For example, 3 months, 6 months, and 9 months).
Email Templates Are a Fantastic Resource
The most important takeaway from all of these email templates is that they are a useful tool that can be used for a variety of purposes. These email outreach templates give you a framework for writing emails that will benefit your prospects, customers, and people you've designated as industry experts.
Keep in mind, however, that these templates simply provide a framework for how to write an email with a certain aim. Each email should still be tailored to the receiver, with enough customized phrases to make it feel less like a form letter and more like a conversation with someone you'd like to learn more about.
Remember, whether you're trying to get a brand mention on an authoritative site, a guest post on an influencer's blog identified through social media analytics tools, or permission to post a testimonial that can strengthen your social proof, you should never use language that makes the recipient feel desperate or that you're trying to force them to say 'yes.'
Emails may be a strong marketing tool if you utilize them effectively, retain professionalism, and avoid coming across as a pushy salesperson.
We all know that practically everyone is only a @ or DM away on social media. However, if you truly want to create an impression on your candidates, it all comes down to the email that makes them say, "You know what? "Let me give it a try." The actual question is: what email marketing best practices and recruiting email templates should you and your team use?
Creating a solid recruiting email template and outreach strategy is never easy.
Remember that your applicants would most likely examine their inbox for only a few seconds before picking which emails to open and which to delete. You must immediately hook them with brief, snappy material that they can digest and respond to. However, the shorter the word count, the less time you have to make an impression, and the more difficult it is to write email content that will capture your candidate's attention.
This is where these email templates and advice for recruiting come in handy.
We've seen some really creative outreach from our customers, and while we can't reveal all of their secrets, we wanted to give a framework to help you get creative with your emails without losing the narrative.
Sending follow-ups is always a good idea
Did you know that sending follow-up emails can significantly improve your response rate?
What's even more intriguing is this.
Recruiters who had previously received low response rates from single emails were able to treble their response rates by using a follow-up sequence the next time they contacted a prospect.
Give your subject line plenty of attention.
While it's true that we shouldn't judge a book by its cover, we do assess emails by their subject lines. The first thing we see in our inbox is the subject line, and it has a big influence on whether or not we open an email from someone.
In most circumstances, keeping your subject line short and using job titles or your firm name will help raise your email's open rate. So, while you create your email templates, here are some possible subject lines to think about:
[Job Title] – [Company Name/Industry] – [Location]
[Opportunity for [Job Title] at [Company Name]
Hello from [Company Name]
[Job Title] opportunity at [Company]
[First Name], Opportunity for [Job Title] at [Company Name]
[First Name], We Need You On Our Team
Make contact with previous candidates.
It can be difficult to engage with prior candidates. If they haven't been hired before, they may be unwilling to take on another job. It's still worth contacting them in case they're still interested.
How Deskera Can help You?
Deskera People provides all the employee's essential information at a glance with the employee grid. With sorting options embedded in each column of the grid, it is easier to get the information you want.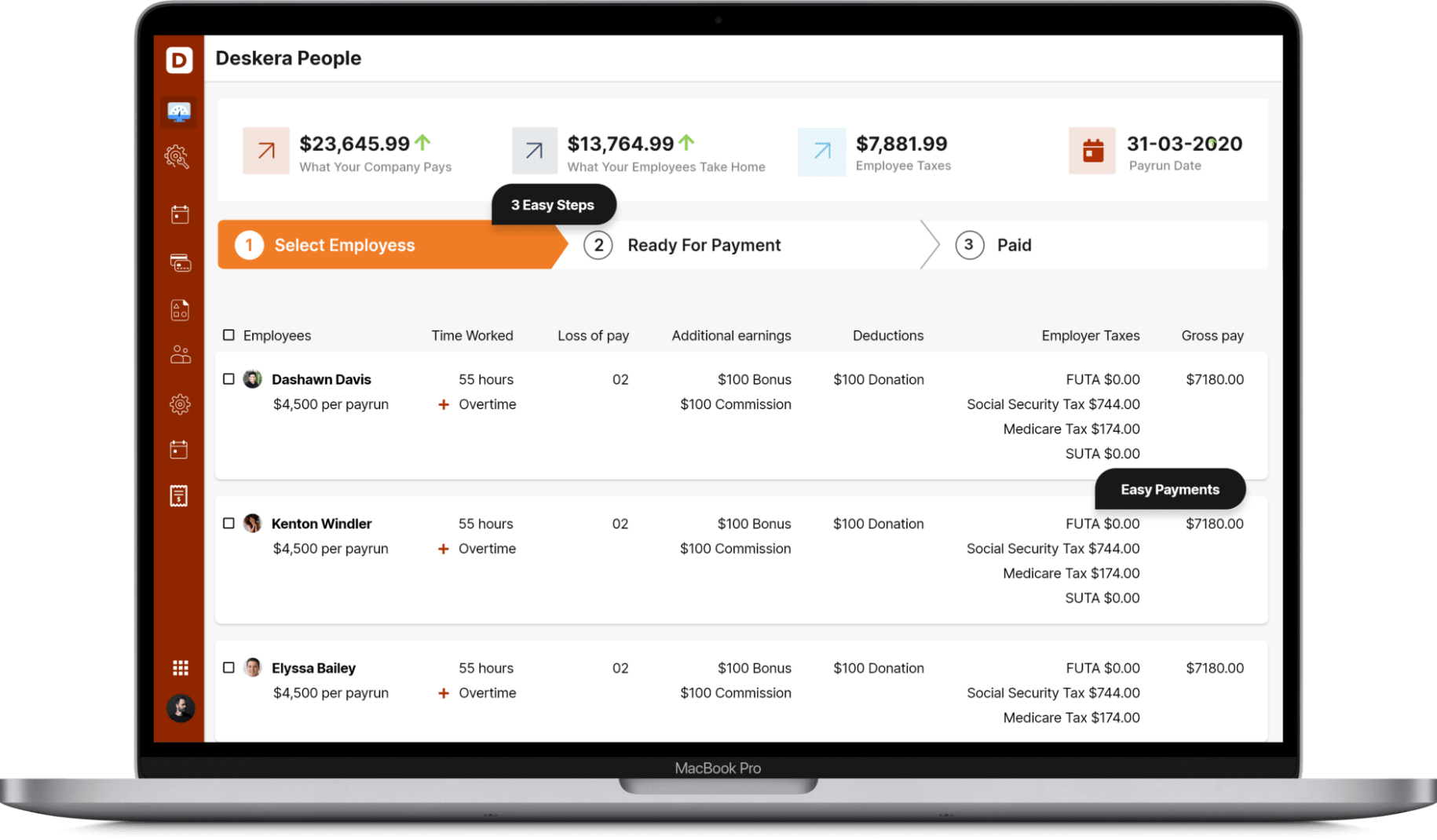 Try Deskera for your Business
Sign up for Free Trial Today!
Key takeaways
Make an effort to customize your email. Even if your applicant applied for the job, they may not be completely sold on it (or your organization) just yet. Tell them why you're thrilled about them, and they'll be more likely to investigate whether or not it's a good fit.
Take it a step farther than the offer email and letter. Before sending the email, it's a good idea to have someone on your staff give the news over the phone. Over the phone or in person, ask your staff to explain why they're so excited about the recruit.
Ask your new employee to answer a few questions before sending the announcement email so you can include those facts in the communication. These icebreakers will assist your team in finding more ways to engage with your new hire.

Related articles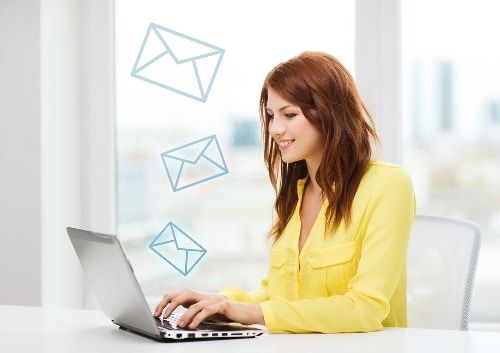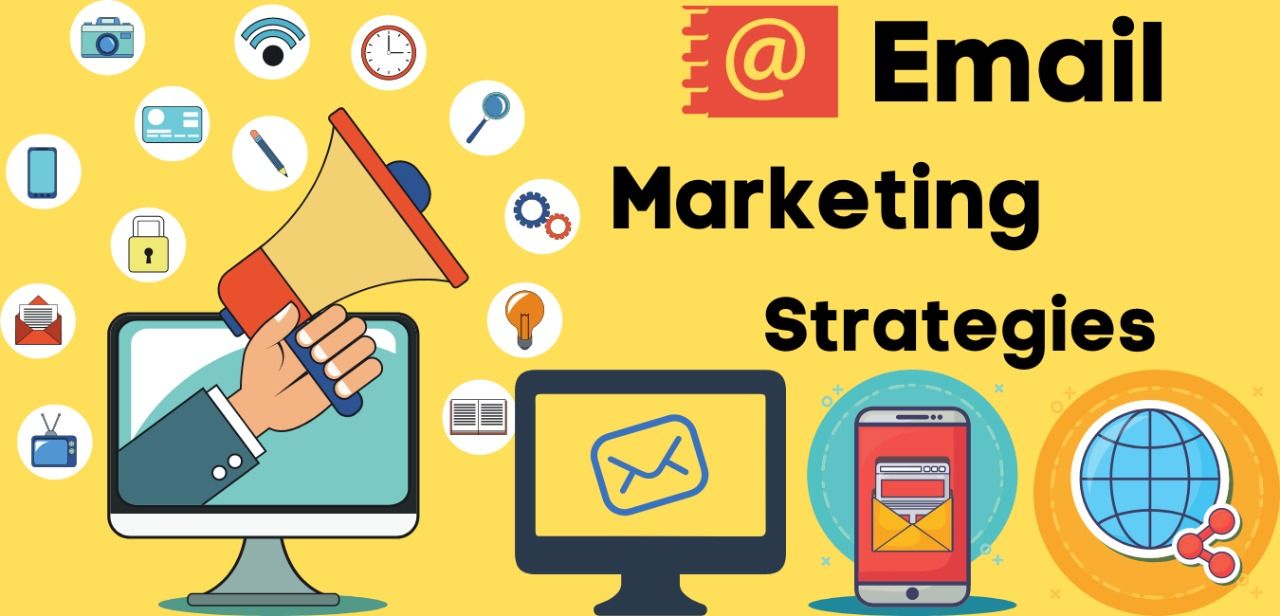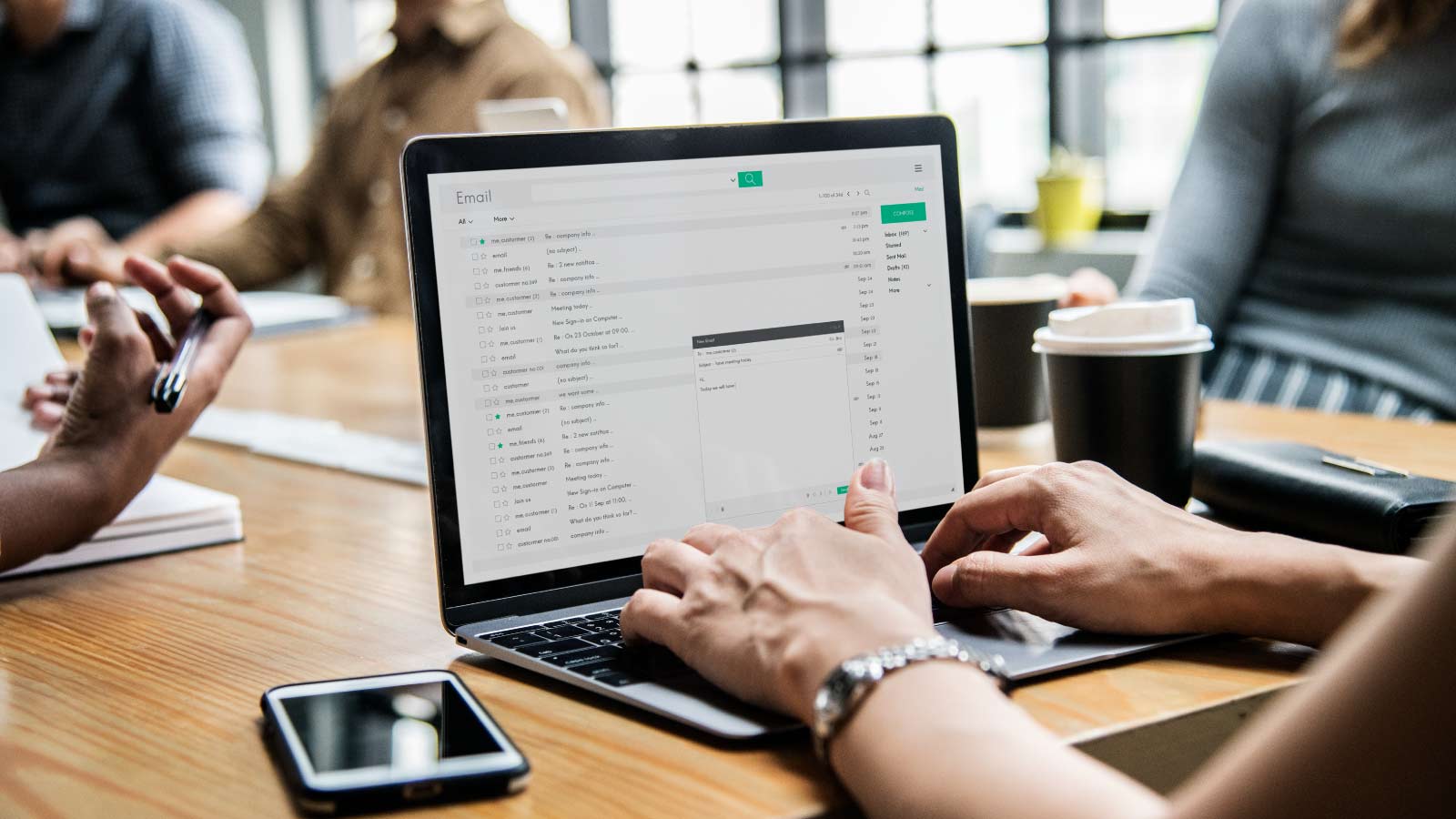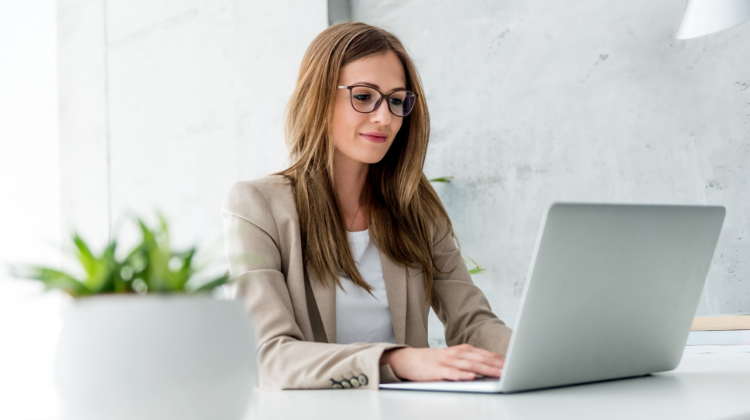 ---
---