Doing accounting for your small business can turn into a complex and time-consuming process really fast. As your business grows, your accounting also becomes more difficult.
You need to create more invoices, make new journal entries, create financial statements, and the list goes on.
That's why, in this day and age, most businesses use accounting software to manage their accounting. Accounting software can help you automate most steps of the accounting cycle, allowing you to spend time on what really matters, like growing your business.
In today's digital world, software development has become a crucial aspect of modern businesses. And businesses are consistently looking for new ways to access custom software development solutions. For many businesses, the answer lies in software development house.
Want to learn the main advantages and benefits of using online accounting software for your business?
Read on to learn:
What Is Online Accounting Software?
Online, or cloud accounting software (also known as computerized accounting software), is a tool that helps accountants, bookkeepers, or business owners to manage and automate accounting transactions and accounts for a business.
In simple words, accounting software helps you automate tasks within the accounting process.
For example, you can automate the process of creating a journal entry, every time a payment is made via your business bank account. Or you can even generate a financial statement, with a single click of the mouse. Which is something that could take hours if you were to use a spreadsheet.
While there are many advantages and benefits that come with using accounting software, here are the top ones.
10 Advantages of Using Accounting Software
#1. Access Accounting Data Any Time, Anywhere
The most obvious advantage that cloud accounting software has over any traditional accounting system is that computerized accounting software lets you access your data whenever you want, and from whichever device you want.
You can use online accounting software from your PC, laptop, tablet, and mobile phone. All you need is a device that's connected to the internet and a browser (or mobile app).
For businesses of any size, this has a ton of upsides. For example, you can create and send invoices on the go directly from your mobile.
Or you can generate, view, and download financial statements and reports with just a few clicks.
No need to ask your accountant to prepare it three days ahead. Just log on the platform, navigate to your Financial Reports section, and download the financial statement you need.
#2. Easier Collaboration
Cloud accounting software makes collaboration as easy as 1-2-3.
Remember the times when you had to make changes to a spreadsheet, save it on a USB drive and then give it to your colleagues so that they could also have the most up-to-date version of the financial statements?
Well, those times are long gone.
With cloud accounting software, one of the main advantages is that everyone gets access to real-time accounting and financial data. So all your employees have to do is log-in to the platform, and do what they need to do.
No bottlenecks, no time wasted.
Multiple users can work on the same accounting data in real-time, without ever getting in each-other's way.
Additionally, online accounting software allows you to give different access levels to different users. This way you can tailor permissions based on the set of accounting or bookkeeping functions that a user needs to carry out.
#3. Save Time With Automation
A big chunk of the work an accountant or bookkeeper has to do on a daily basis is very manual and repetitive. For example:
Creating an invoice for each sale? Repetitive.
Tracking transactions and creating respective journal entries? Repetitive.
Sending late payment reminders to your clients? Repetitive.
You get the point. Most steps of the accounting cycle can be automated. And that's exactly what online accounting software does best.
For starters, you can automate journal entry creation. All you need to do is integrate your bank directly with your accounting software. This way, everytime you make or receive a payment, a journal entry is automatically created and mapped to the right accounts.
You can also automate things like financial reporting (e.g: create a report every X day of the month). Or you could even set up automated vendor payments.
Keep in mind though, that not all cloud accounting software offer the same degree of accounting automation. If you are looking for accounting software that excels at automation, you should give Deskera a try. With this link, you get a free trial with no credit card required!
#4. Improved Accounting Security
One of the biggest advantages of cloud-based accounting software, is that all of your accounting data is safely secured on the cloud.
This means that your data is covered under layers of high-end encryption algorithms, making it a lot safer than keeping it on the office shelf.
And the best part is that all of your data is synced at all times. So not only is it more secure, but it's also fresh.
Just to give you a better idea, when businesses were using desktop-based accounting software, accounting data had to continuously be backed up. After all, the data was stored on a hard drive. And as you probably already know, hard drives are quite delicate. They can get destroyed, wiped, or simply get corrupted and become unusable.
As a result, businesses had to dedicate quite a bit of time to integrating accounting and accounting data into their disaster recovery plans. This in turn meant higher costs, and more time wasted.
With online accounting software, you'll never have to worry about backing up your data - the system will do it for you.
#5. Improved Accounting & Bookkeeping Accuracy
With online accounting software, you can say goodbye to most of the typical accounting errors.
Online accounting software will make sure that your accounting records are organized in a proper and accurate manner, every single time.
Remember the times when you'd waste 5 hours trying to find why the balance sheet did not balance?
Well, you can kiss those times goodbye.
When using cloud accounting software, if newly created journal entries don't balance, the system will notify you immediately and highlight the potential error. This way, you'll be alerted of the error before even committing to it (i.e: clicking submit).
And this is just a very simple example of how accounting software can help you maintain more accurate accounting and financial data for your business.
Another common accounting error you can avoid by using accounting software is any error related to the freshness of the data. Imagine you are editing a spreadsheet or a table that has already been changed before, but you never received the updated version?
Figuring out how to merge changes from two different files can be really time consuming. But with online accounting software, you won't ever have to deal with such problems, because all the data is synced in the cloud.
All in all, using online accounting software will ensure that your accounting records are properly and accurately organized. As such, your financial reports will be more accurate, and your team will be able to make decisions faster and prioritize better.
#6. Real-time Reporting
Real-time tracking and reporting is likely one of the top advantages of accounting software.
To track your accounting data in real-time, all you have to do is integrate your online accounting software with your business bank accounts and you'll be able to track things like expenses, sales, and inventory in real-time.
Accounting software provides you with a dedicated dashboard (like the one in the screenshot below) that allows you to track all the accounts and metrics that you want to keep track of.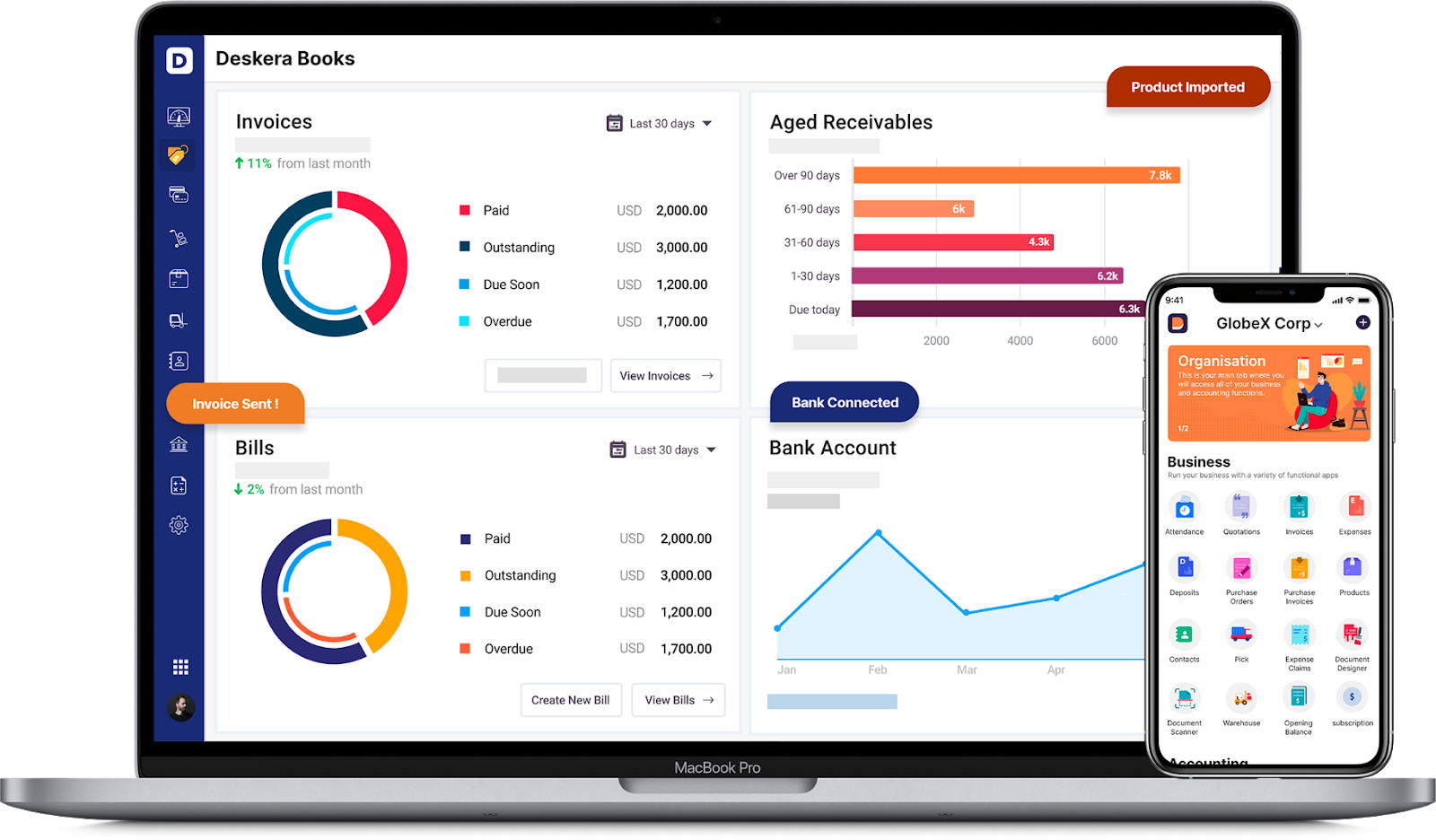 No more wasting time waiting for something as simple as bank reconciliation. With online accounting software you can do a bank reconciliation in just a few simple steps.
#7. Reduce Costs & Save Money
You might be asking yourself, how does paid software help my business save money?
The answer is simple.
Using online accounting software will save your business on average, around 300 hours a year. This takes into consideration time wasted on things like doing repetitive tasks, fixing accounting errors, creating financial reports, and so on.
And since online accounting software typically costs only between $9 and $50 a month per user, it basically pays for itself, tenfold.
When compared to ERP software, which can cost over $10,000 a month, using online accounting software is undoubtedly the best and most affordable way to do accounting for a small business.
#8. Reduce Paperwork And Improve Sustainability
In 2021, no one likes to deal with paperwork.
Dealing with paperwork is extremely time-consuming and expensive. Why make a photocopy, when you can simply create a copy with a click?
The advantage of using accounting software is that all the financial data including journal entries, financial statements, and reports is online. Whatever invoice, record, or entry is created, it is all stored under layers of encryption in the cloud. Easily accessible by anyone that has the right permission.
Additionally, you can also create and send invoices directly from the software to your clients, reducing the time and money wasted on printing and posting the invoices, while also speeding up the process of getting paid.
#9. Improved Invoicing
Creating an invoice is one of those accounting tasks that every business has to do, regardless of its size or industry. And while it's true that the invoice type will differ based on the type of sale, the process of making an invoice is more or less the same.
Before, people used to make invoices using Excel, Word, or even by hand. The result was usually a badly formatted invoice, which would probably take several minutes to create.
Now, if you are a business that only creates 5 invoices a month, this isn't a big issue. However, if you are creating 100+ invoices every month, some of which are recurring, doing it by hand would be a disaster.
With cloud-based accounting software, you can make a professional business invoice using one of the premade templates in a matter of seconds.

You can also build your own invoice template, customize it, and apply it to all of your invoices.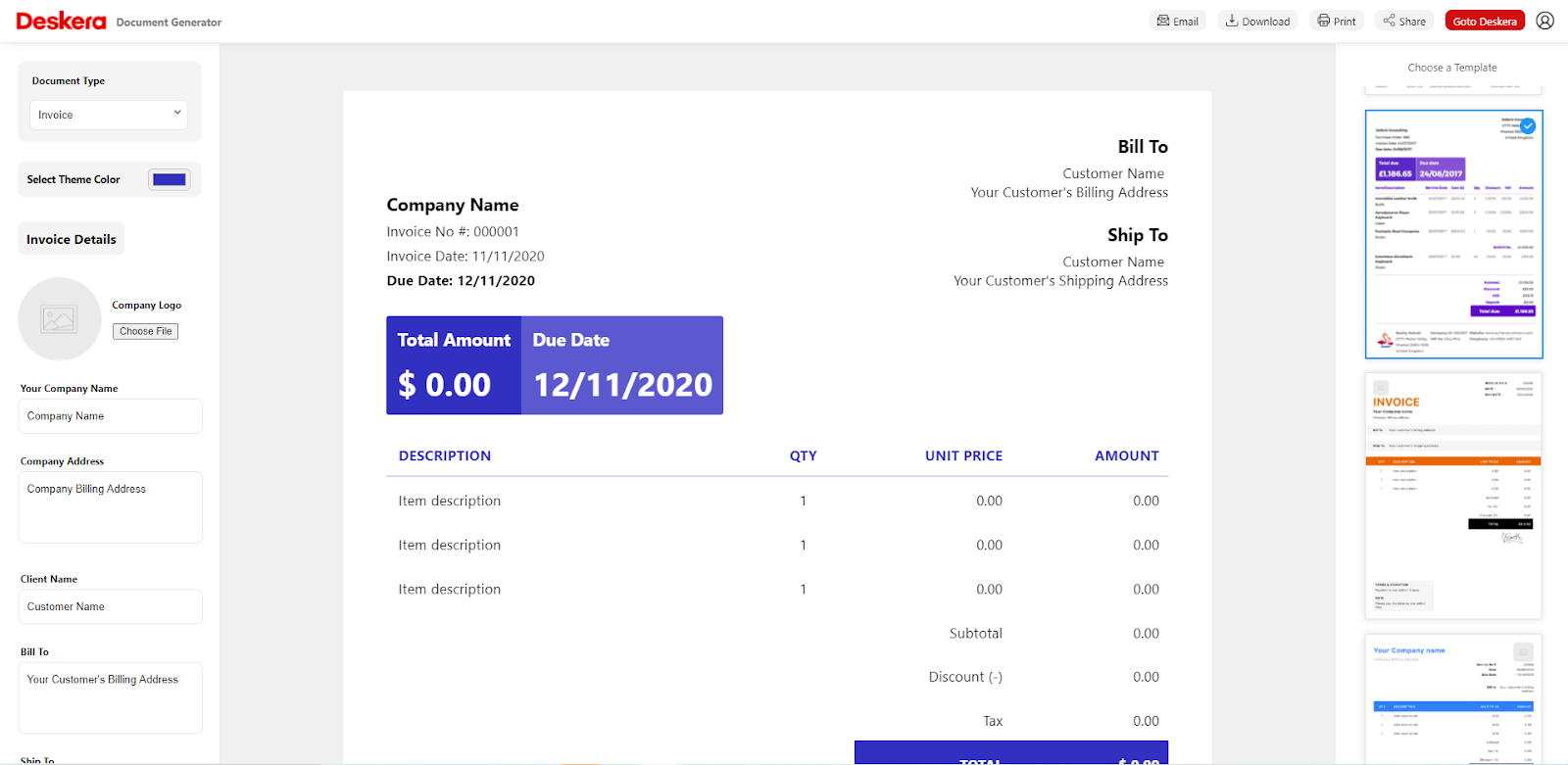 And creating a recurring monthly invoice? You guessed it. It just takes a click to turn a one-time invoice into a recurring invoice. It's that simple!
Once you have created your invoice, you can send it directly using the accounting software. All you have to do is insert your client's email and click send.
And if your customers or clients are delaying your invoice payments, you can send them a late payment reminder with just a couple of clicks.
#10. Simplified Tax Compliance
One of the main benefits of using accounting software is that it helps with tax compliance.
Let's face it, no business owner likes to deal with taxes. That's where accounting software comes in.
By having accurate accounting records, up-to-date financial statements and reports, gathering the documents and information required for filing taxes is super simple.
Additionally, advanced online accounting software like Deskera, has inbuilt tax rules, allowing you to focus on growing your business, instead of worrying about dealing with the IRS.
All you have to do is select your country, enter your business information, and Deskera will automatically apply taxes to invoices and other documents, based on your local tax rules.
Deskera provides full inbuilt tax compliance for the following countries: USA, Singapore, India, Malaysia, Philippines, and Indonesia (Australia, Canada, and Japan - coming soon).
If your business is located in a country other than the ones listed above, Deskera allows you to create and add custom tax rates based on your country.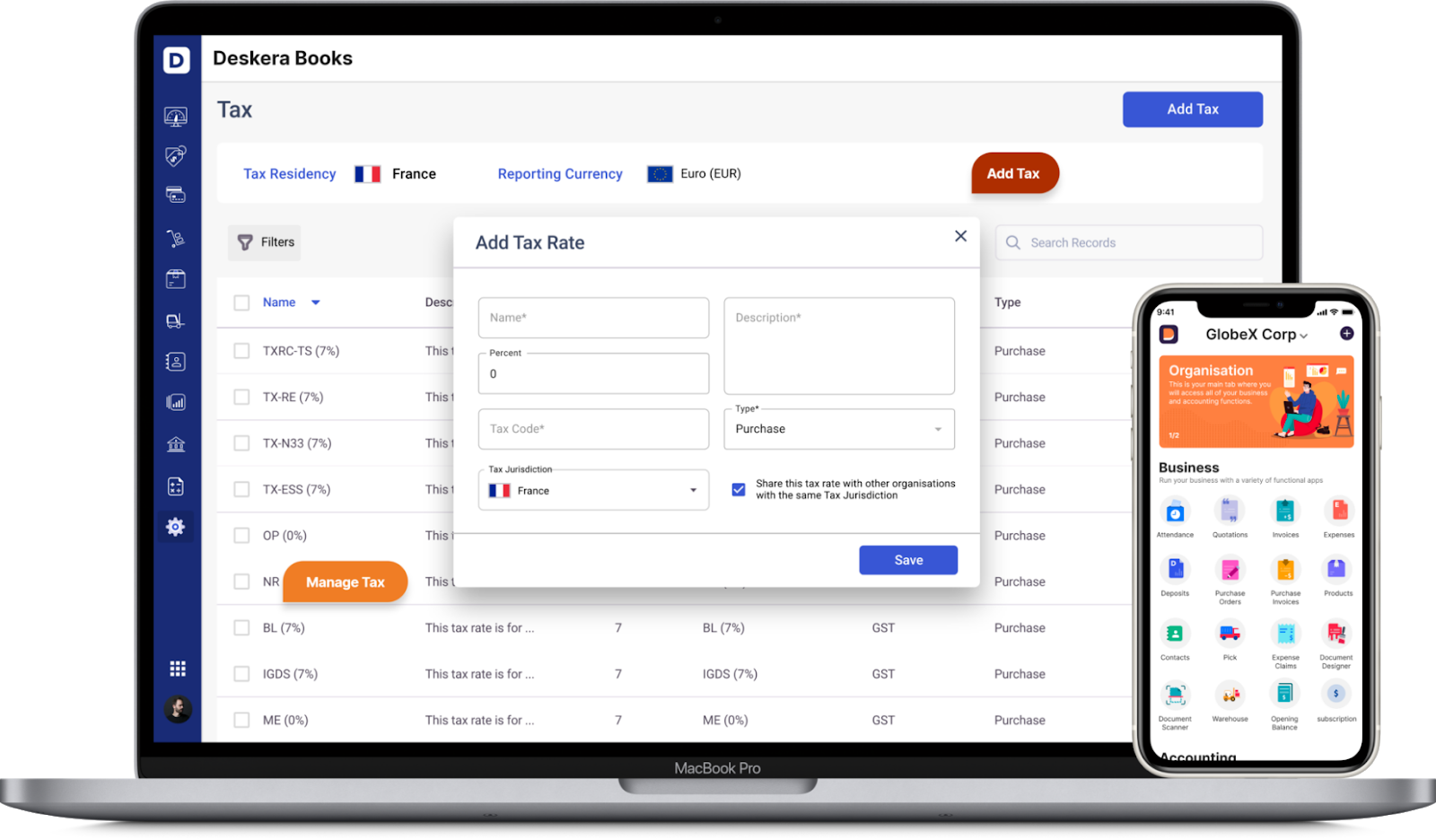 Find out how Deskera can help your business become tax compliant in a few easy steps.
Best Online Accounting Software Features (You Should Look For)
A top online accounting software should provide you with at least the following essential features:
Ability to access your data from any device, at any time.
Simple and intuitive user interface.
Manage accounts receivable. Create and send invoices directly from your accounting software, without needing to print it.
Invoice templates to make invoicing as easy as possible.
Automatic invoicing.
Manage accounts payable. Deal with things like purchase orders, vendor credit memos, or even scheduling automatic vendor payments.
Integration with your business bank accounts to automate things like expense tracking, journal entry creation, and so on.
Easy bank account reconciliation.
Inventory management and tracking.
Ability to easily create financial reports at any point of time.
Dashboard that visually summarizes accounting data.
Multi-currency support.
Automatic tax calculation and compliance.
Track dropship orders.
And more!
Want to try an accounting software that offers all of the features listed above, and more?
Then, just give Deskera a try! Asides from all the accounting features, Deskera also provides you with payroll software and CRM software, all in one tool.
Key Takeaways
And that's a wrap. By now, you should know what the advantages of accounting software are. Before we let you go though, here's a recap of the main advantages and benefits:
Ability to access accounting data from any device, at any time.
Easier collaboration between team members with cloud sync.
Improved accounting security since all data is stored on the cloud under layers of encryption.
Improved bookkeeping accuracy due to inbuilt rules.
Real-time reporting through a user friendly interface.
Cost reduction by saving time on repetitive tasks with automation.
Reduced paperwork and time wasted dealing with paperwork.
Improved and faster invoicing and payments.
Simplified tax compliance through inbuilt tax rules.
Related Articles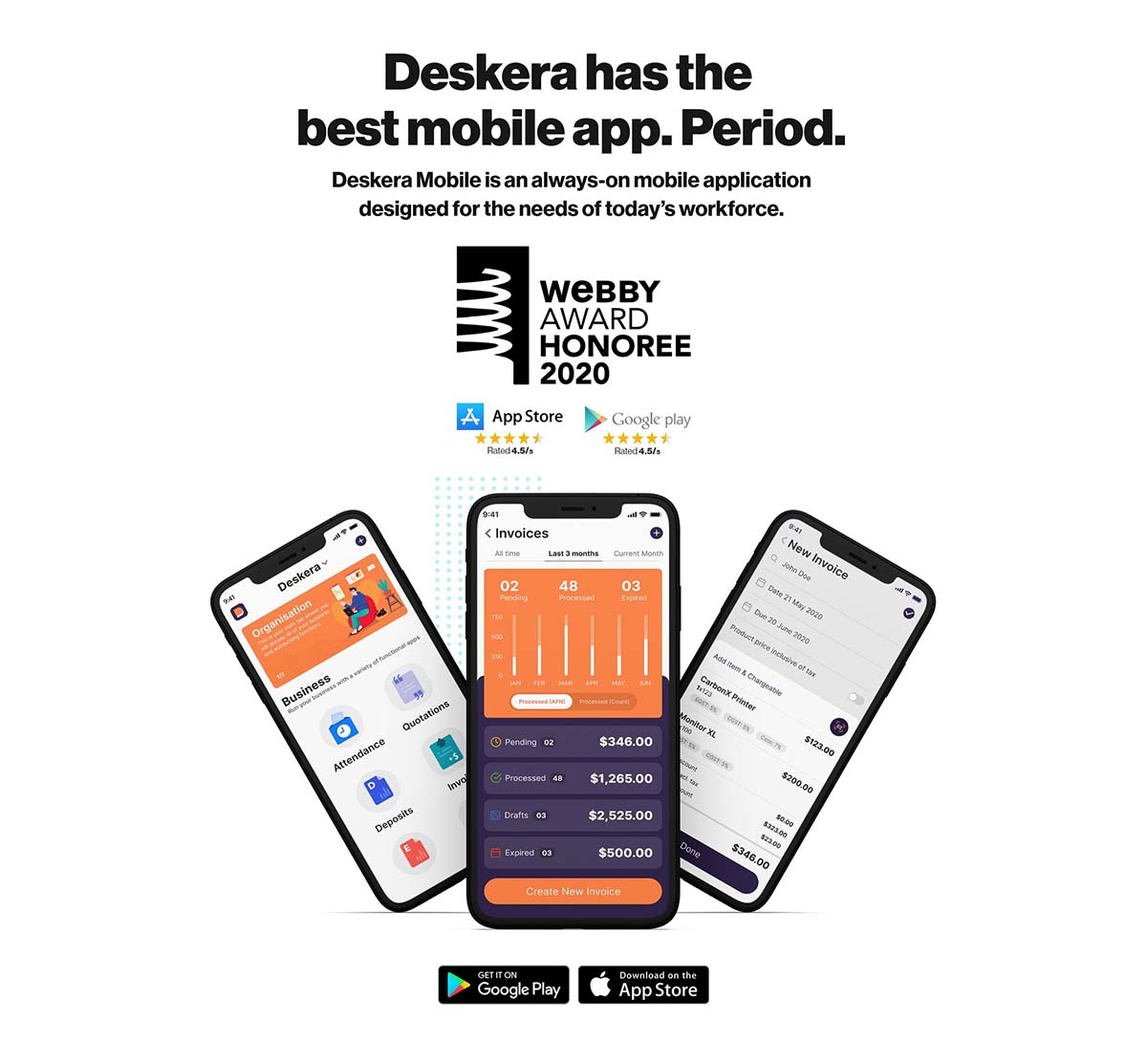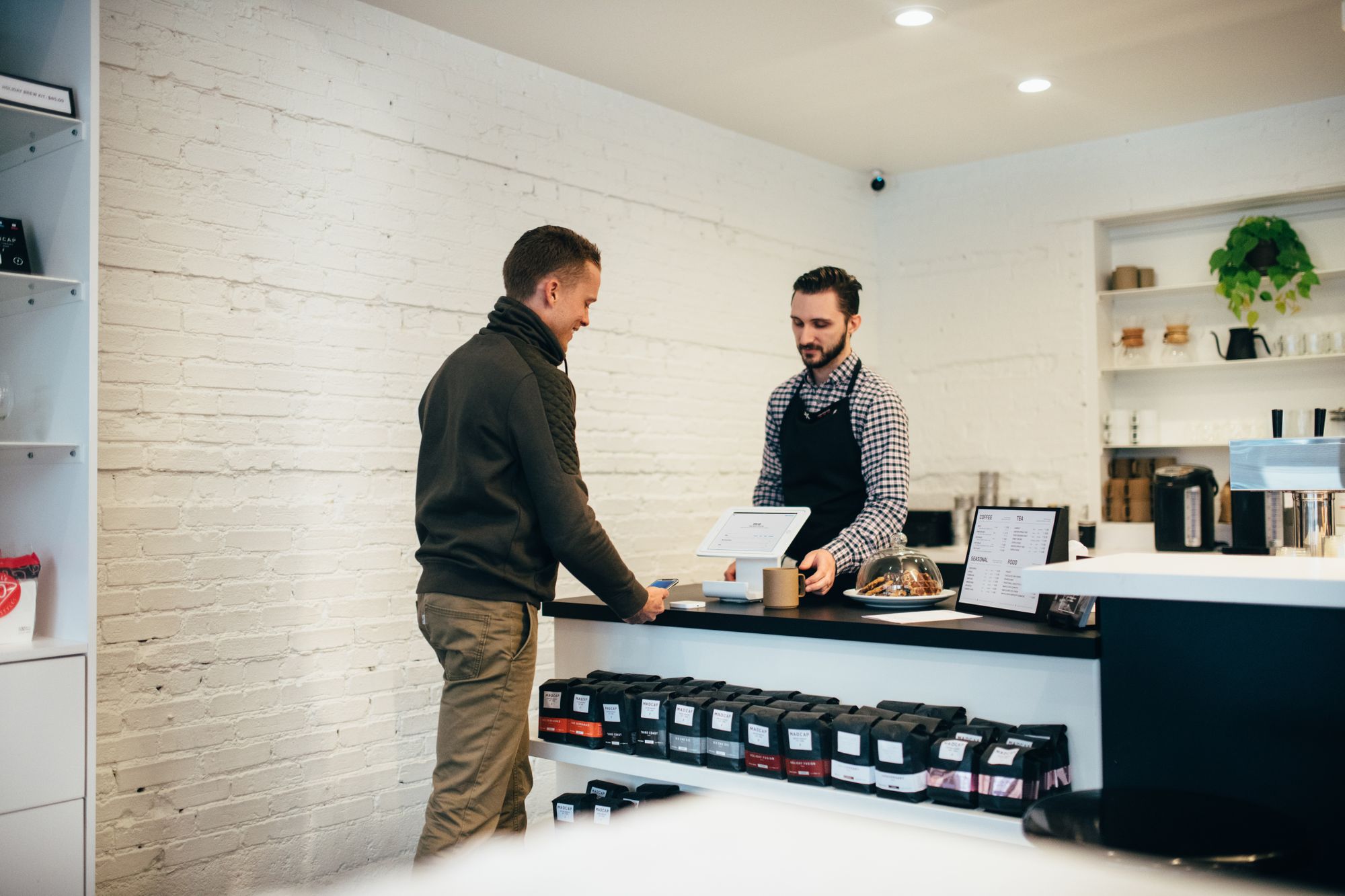 ---
---