As a small business owner, you probably have to create, send, and pay hundreds of invoices every month.
Now, depending on your industry, clients, and products or services, these invoices will differ from one another.
If you're shipping products internationally, for example, a regular sales invoice won't do the job. You will need to learn how to issue a commercial invoice, which includes extra details such as shipping costs and transport fees.
Don't worry, though!
By the end of this guide, you will know everything about the different types of invoices, along with the ones that best fit your small business accounting.
Read along to learn about:
9 Main Types of Invoices [with Examples]
To better understand the different types of invoices you can use, here are the nine main types of invoices small business owners deal with during their day-to-day business life:
1.  Pro-forma Invoice
Invoices are typically issued after the delivery of products and services. However, there are situations where buyers want to know what to expect from a purchase before doing it.
That's when the proforma invoice comes to play.
A proforma invoice is a preparatory bill sent before work is finished. It details the payment just like the standard invoice would, but it's not the official demand for cash. It only serves as an estimate of a sale, so the client can get an idea of how much the products and services will total.
And because it's just an estimate and may be subject to change, a proforma invoice is not recorded as accounts receivable in the company books.
Usually, though, it still represents a more or less accurate total the customer has to pay in the end.
Here's an example of what a proforma invoice looks like: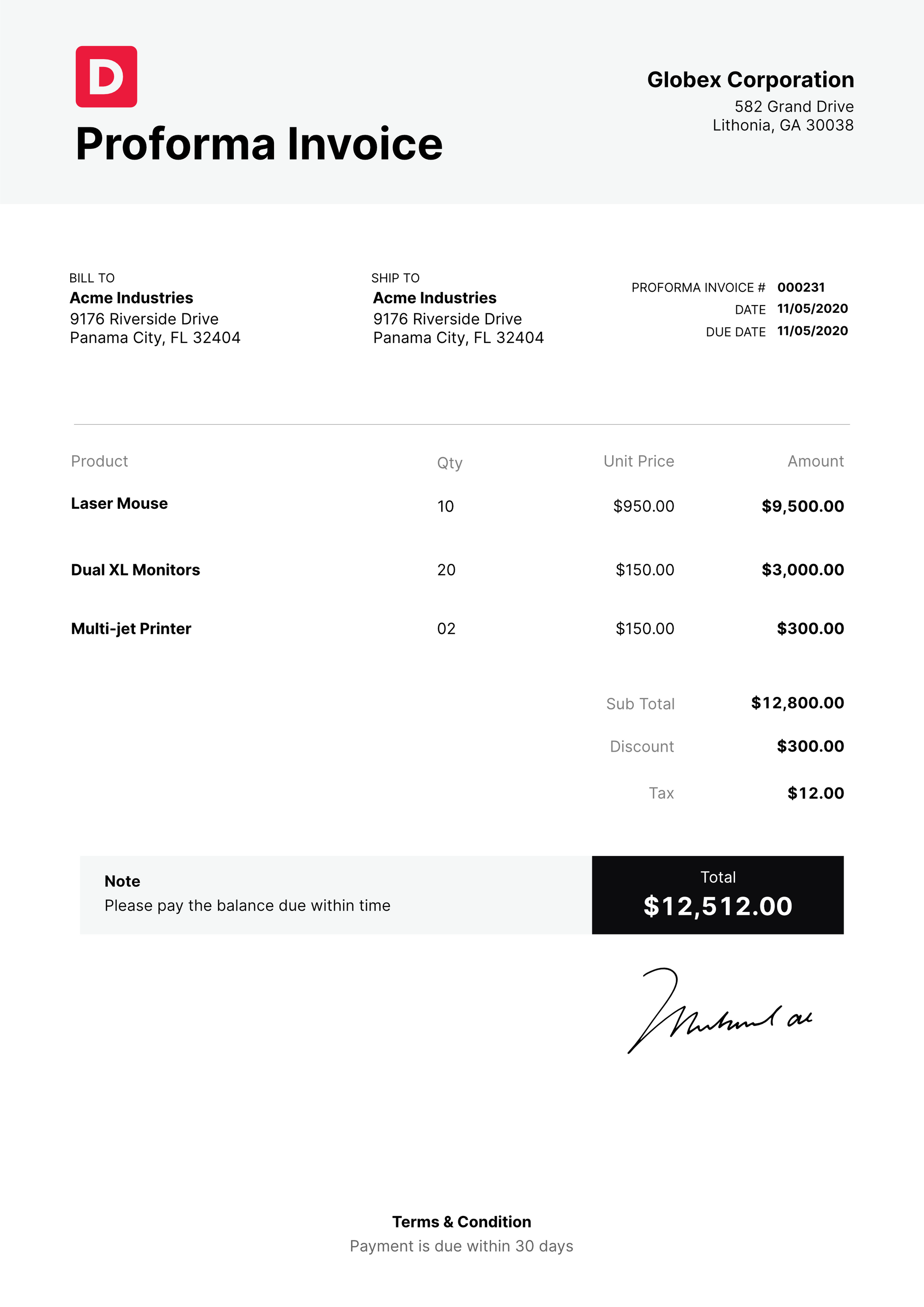 2.  Interim Invoice
The larger a project is, the more you have to spend on supplies, labor, and other operating expenses. To help with cash flow when dealing with these big and time-consuming projects, businesses use interim invoices.
An interim invoice, also known as a progress invoice, divides the total amount of a project into multiple smaller payments.
For example, let's assume you take on a project that will last around 8 months. To cover some of the costs you could invoice your client 8 times in total, on a specific date, for every month of work.
This way, you also reduce the risk of not getting paid back and having to throw months of work down the drain.
3.  Final Invoice (Standard Invoice)
Just as the name suggests, the final invoice is the invoice you send after a project is done. This is what's also known as a standard invoice.
In simple terms, it lets the customer know work is finished and includes the total amount owed, due date, payment methods, and an itemized list of all services.
Here's an example of a final invoice: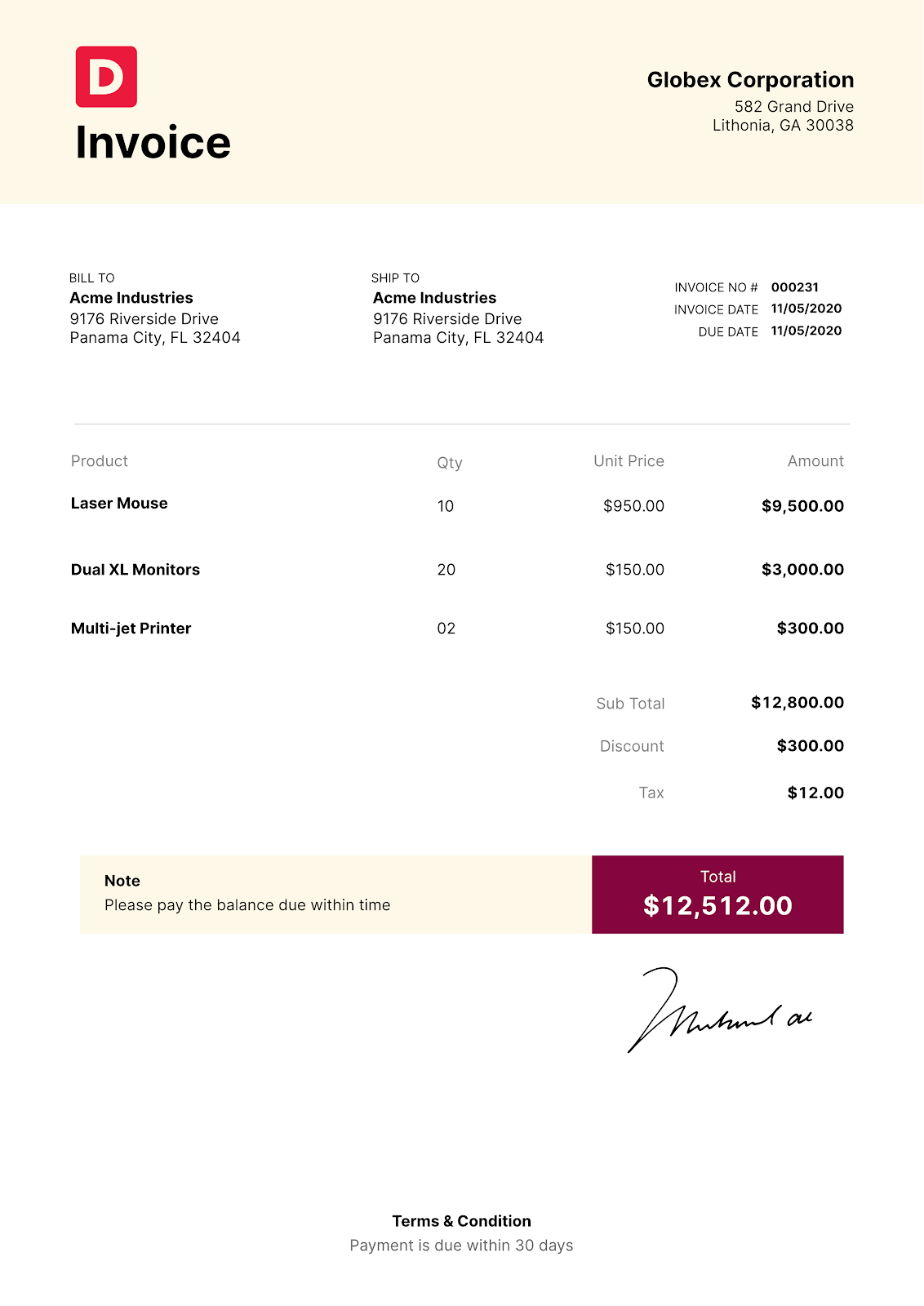 4.  Recurring Invoice
Are you a subscription-based business? Or maybe you offer specific services for a monthly fee?
If the answer is yes to any of those questions, recurring invoices are the best billing option for your business.
Recurring invoices charge clients the same amount regularly, for repeated services. With cloud-based accounting software, you can set up recurring invoices so they get sent automatically at a fixed interval of time (e.g: once a month).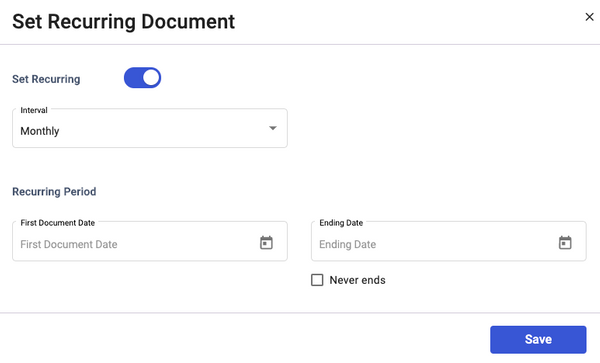 A recurring invoice looks the same as a standard invoice. The only difference is that it's repeated every month.
5.  Commercial Invoice
A commercial invoice is issued by a business to request payment for products sold internationally. It includes extra details needed for shipment across the border such as:
Country of origin
Country of destination
Shipper and consignee
Weight and volume of product
Packaging format
Shipment terms
Authorized signature
Invoicing software like Deskera offers multi-currency support, which automatically calculates exchange rates to help you work seamlessly with international clients, and not worry about exchange rates or losses.
Here's an example of a commercial invoice: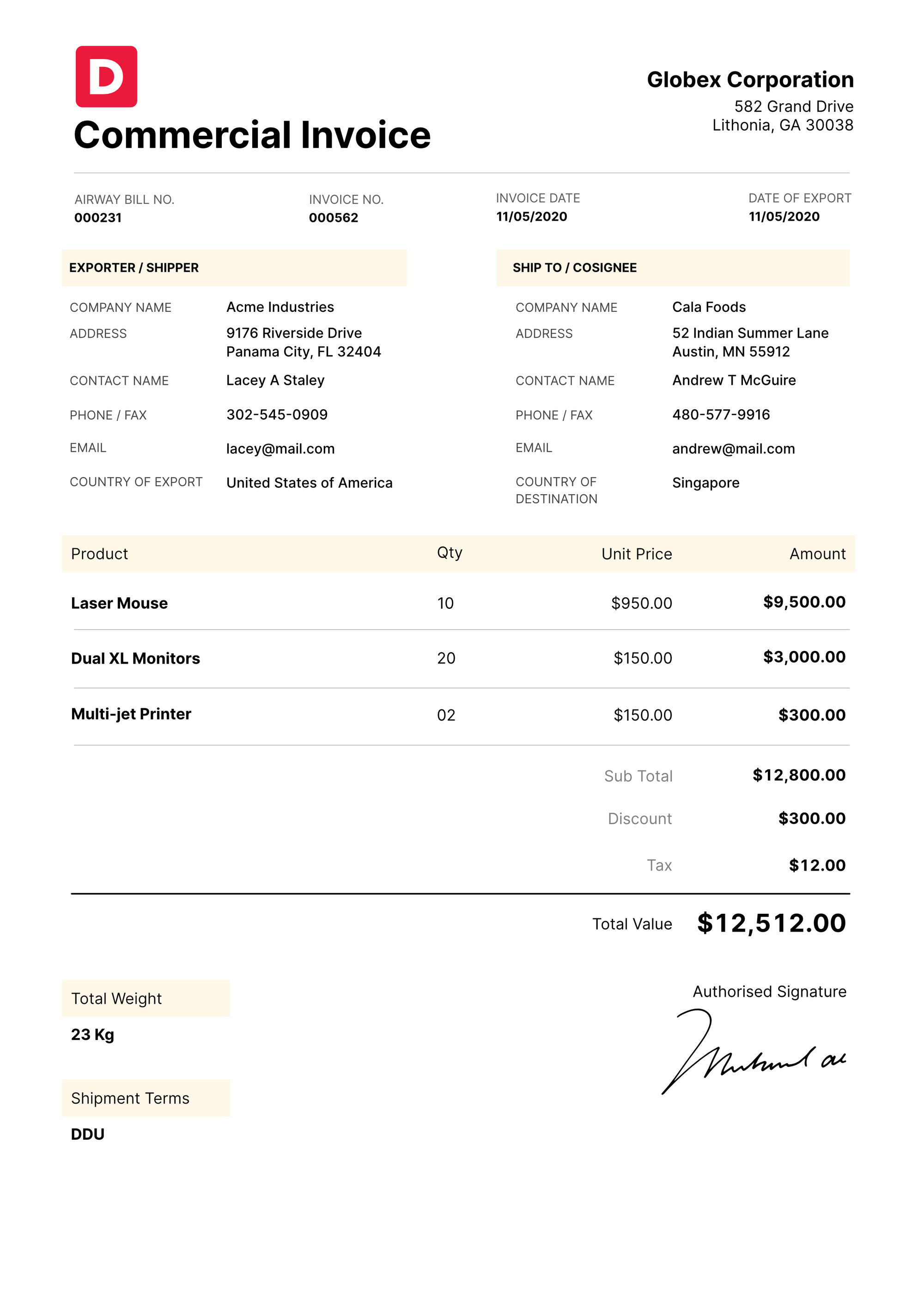 6.  Timesheet Invoice
Businesses or employees who charge by the hour use timesheet invoices to ask for payment.
Some of the most common jobs that use hourly billing include freelance programmers or designers, attorneys, counselors, psychologists, accountants, and business consultants.
As far as formatting goes, a timesheet invoice will usually have these distinctive elements:
Hourly rate
Total hours worked
Days and date of the days worked
Administrative fees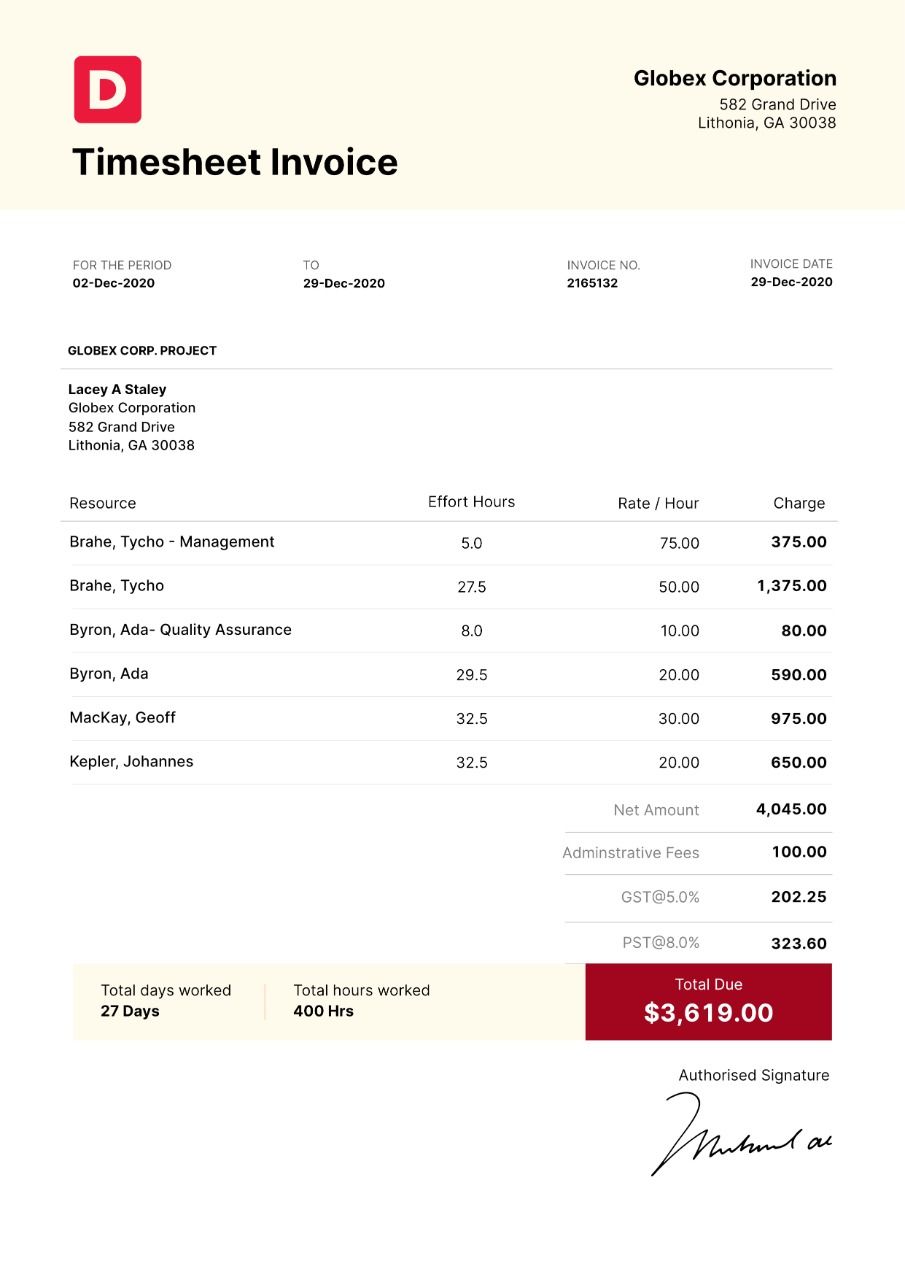 7.  Past Due Invoice
No one appreciates late payments, but there will be times your clients miss the payment date.
In those cases, the immediate answer is to issue a past due invoice.
A past due invoice serves as a reminder to the client to pay up an invoice that has passed the due date. It includes all of the prior invoice information, along with any appropriate late fees or interest charges.
If you want to learn more about sending invoices and handling overdue payments, head over to our guide on how to send an invoice and get paid on time.
8.  Credit Invoice
A credit invoice, also known as a credit memo, is an amendment to a previously issued invoice. It is used to recognize that your business owes the buyer money.
This is necessary for situations when:
Your business doesn't follow through with delivering goods and services issued on an invoice
Products sent are damaged
The wrong products get delivered
There is a pricing error
The client wants to return the product
For any of the above reasons, a credit memo gets made with a negative total number, to reverse the previous incorrect invoice.
So, if you owe a client a $100 refund, the total of the credit invoice would be - $100.
9.  Debit Invoice
On the other hand, the debit invoice (or debit memo) is used to increase the charge against a client. There could be scenarios where you underbill them which you can correct by issuing a debit invoice.
For instance, if you end up spending more hours on a project than recorded on an invoice, you can send a debit invoice for these extra hours.
Both of these two types of invoices are used to make adjustments for accounting and bookkeeping purposes.
10.  E-invoice
An e-invoice refers to all invoices that get issued and delivered electronically, no matter the specific type or purpose of the invoice. This digitized method of invoicing is growing more and more popular by the day since it's a faster and easier alternative to standard paper invoices.
An e-invoice allows you to get paid faster.

No need to print and mail the invoice. All you have to do is save it as a PDF, and send it via email.

Alternatively, you could also use invoice management software to send e-invoices with a single click directly from the software (or via sharing link).
The Essential Elements Every Invoice Should Include
While there are many distinctions between these invoices, there are some standard elements consistently displayed in every type.
The essential details every invoice should include are:
A header with the word "Invoice"
A unique invoice number
The billing date and due date of payment
Business and client contact information (name, email, phone number, and billing address)
A list and description of products sold or services rendered
Cost per unit, and the total amount owed
Other expenses such as taxes or fees
A clear description of the payment terms
Want to learn more about creating an invoice for your small business? Check out our comprehensive guide on how to make an invoice [with 10+ invoice templates].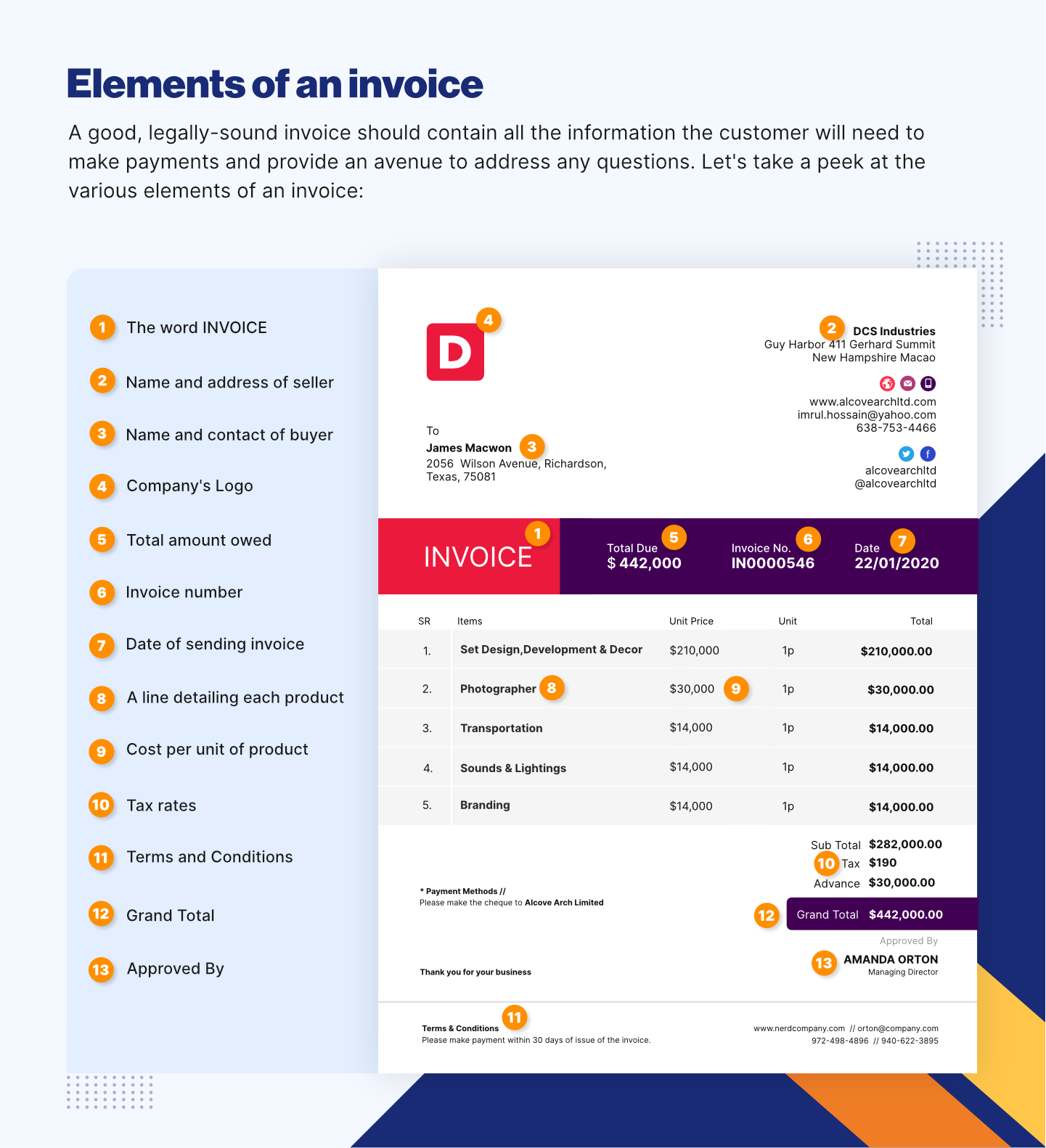 Invoicing with Deskera
The best way to create and send out an invoice is through accounting software like Deskera.
Deskera offers over 100+ free templates you can customize with your business logo and brand colors, in a matter of seconds!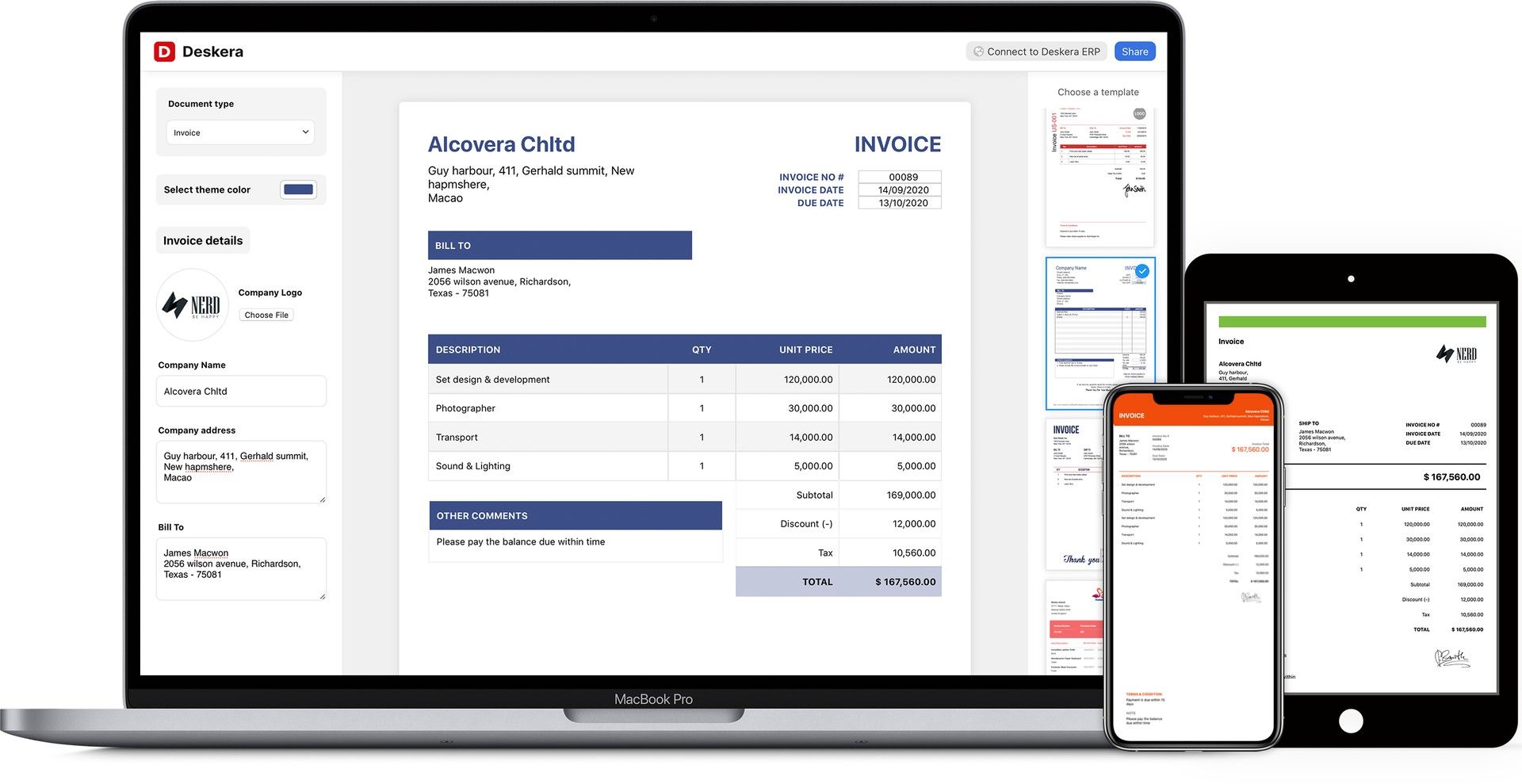 Then, all you have to do is fill in the invoice details and press Share, to download, export, or email the invoice to your clients.
And ta-da! The invoice is delivered and ready to get paid.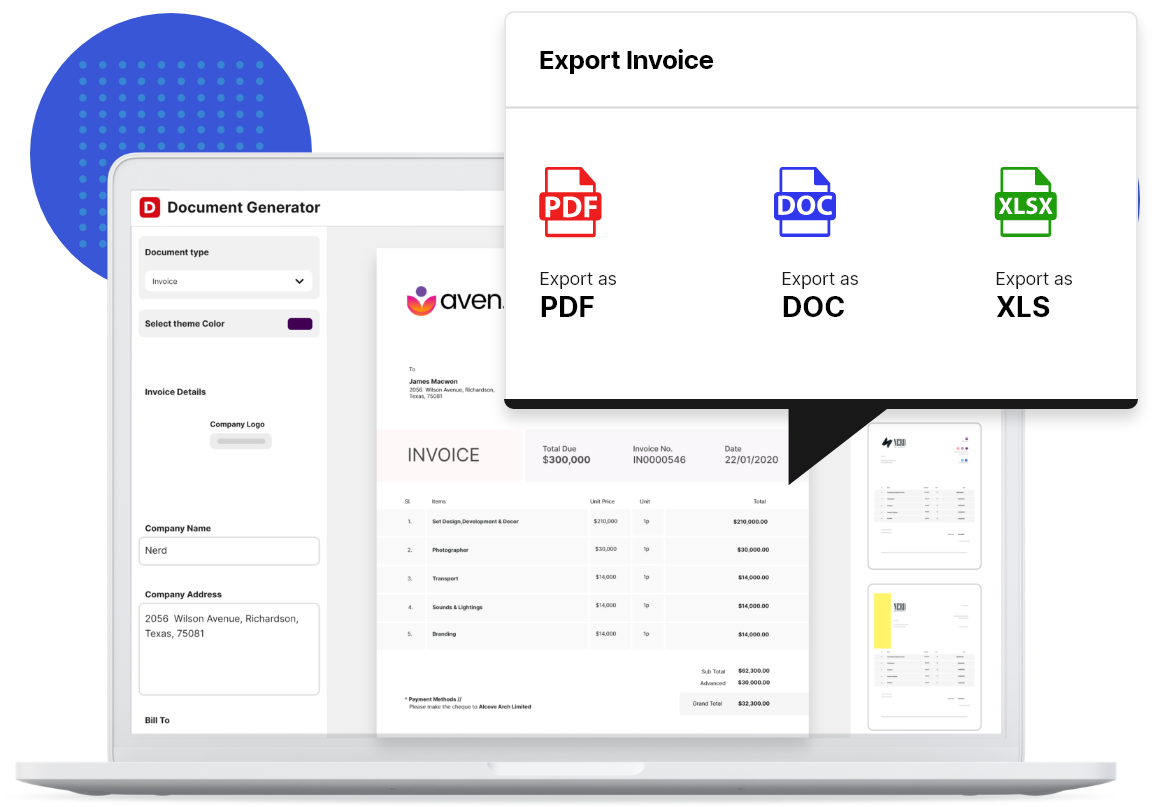 With Deskera, you can also automate recurring invoices, request advance payments to improve cash flow, and include any additional charges to make sure billing is complete and accurate.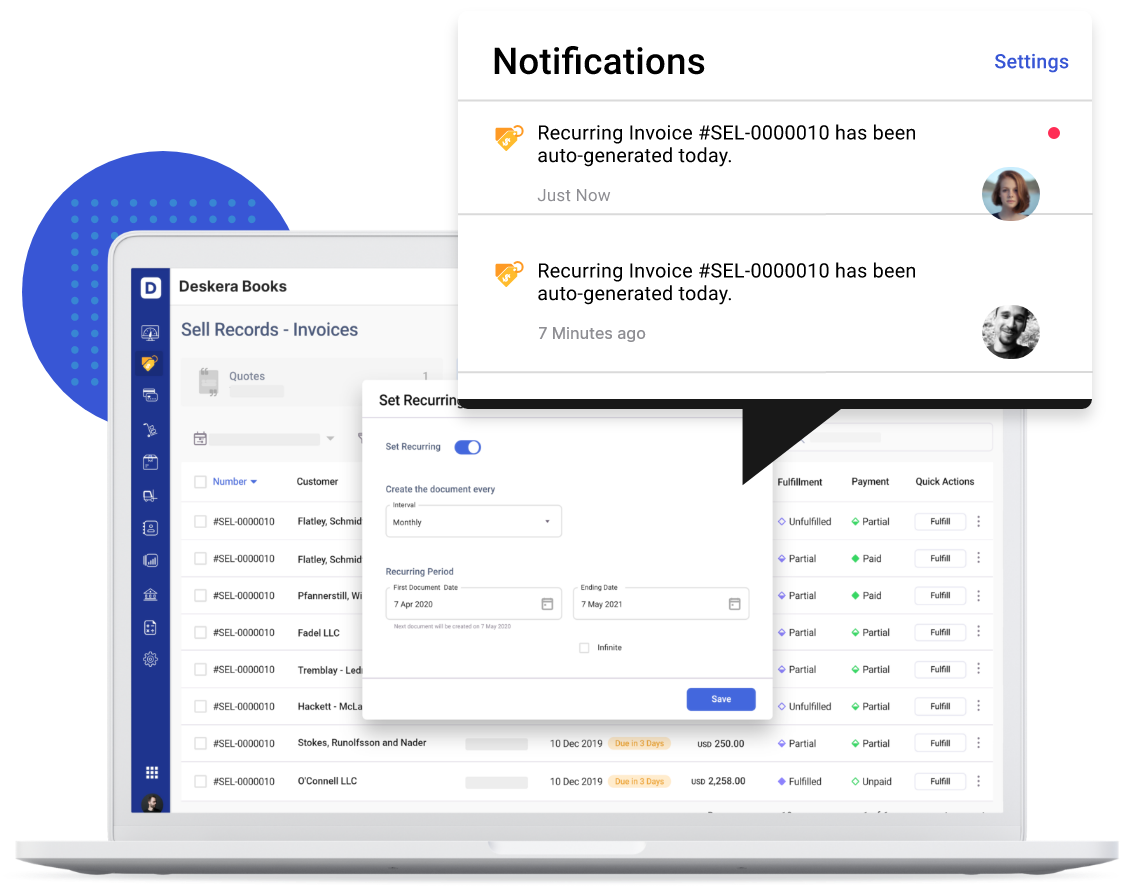 As far as payment goes, Deskera allows you to directly integrate with your bank accounts and credit cards, so clients can make immediate online cash transfers.
And this applies to your international clients as well, since the software comes with comprehensive multi-currency support for over 100 different countries.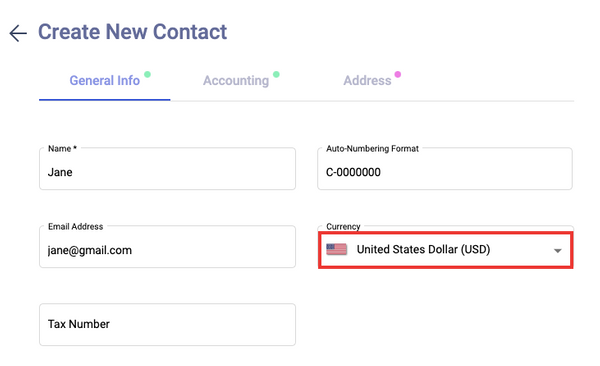 The best part? You can access the software anytime, anywhere, on your phone, tablet, or desktop by downloading the Deskera mobile app.
So, what are you waiting for?
Start invoicing with Deskera right away, with our completely free trial. No credit details required!
Types of Invoices FAQ
What Is Mobile Invoicing?
Mobile invoicing allows you to create, send, manage, and overview your invoices anytime, anywhere through a mobile app.
These types of programs usually come with a complimentary online platform on desktop and laptops.
Can Payment Get Made on a Pro-forma Invoice?
No, you can't make or receive a payment from a proforma invoice, because the document is not recorded in the accounting books. Also, the charge could change by the time the project is finished.
To learn more about how to make invoice payments and pay back your vendors, check out our ultimate guide on invoice payments.
Is an Invoice a Receipt?
No, an invoice is not a receipt.
An invoice is issued to request payment for a product or service. While a receipt is created after cash gets paid, as proof of payment.
What is the Difference Between an Invoice, Bill, and Receipt?
The invoice gets issued first by the business, as a demand for payment. Then, the customers receive the invoice as a bill they have to pay. After cash gets paid, the business creates a receipt as proof of payment.
What Is the Difference Between a Purchase Order and Sales Invoice?
A purchase order comes first, and it's sent from the buyer to the seller as a request for a product or service. While a sales invoice is created by the seller after the order gets delivered, to request payment.
Key Takeaways
And that's a wrap! We hope you found our guide to invoice types helpful.
Before you go, let's go through the main points we've covered:
There are 9 main types of invoices for small business:

Pro-forma invoice
Interim invoice
Final invoice
Recurring invoice
Commercial invoice
Timesheet invoice
Past due invoice
Credit invoice
Debit invoice

The essential details of every invoice, regardless of type, are:

Business and client contact information
The word invoice
Billing date and the due date
Invoice number
List of products and services
Cost per unit and the total amount owed
Extra fees and taxes
Payment terms

Use an invoicing software like Deskera to streamline your entire invoicing process within seconds.
Related Articles
---
---