A sales invoice is a document that records the cash your customers owe you for the products and services they purchased. It specifies important payment details such as due date, invoice number, billing address, and more.
Invoicing has to be done correctly, because without it as a record of sale, your business can't get paid and generate profit.
What's the best way to create a sales invoice and get paid twice as fast?
That's what we will be covering in this guide, as well as everything else you need to know about a sales invoice. Read on to learn about:
What Is a Sales Invoice?
A sales invoice is an essential part of every business' accounting cycle.
By definition, a sales invoice is an accounting document that serves as a record of sale and informs the client about the amount of money they owe your business for the products or services that you have provided them. It serves as proof of debt and establishes an obligation on the customer to pay your business back.
Sales invoices are issued every time you want to request payment, right when the service or product gets delivered.
You shouldn't wait more than 48 hours to ask for payment. After all, the sooner you send the invoice, the sooner you'll get paid!
Want to learn more about sending an invoice and getting paid twice as fast? Check out our ultimate guide on how to send an invoice, with invoice email examples provided.
What Is the Importance of a Sales Invoice?
The main use of a sales invoice is to request payment, however, it serves other important functions in your small business accounting, such as:
Accurate bookkeeping. A sales invoice is recorded as a journal entry on the company books, so the business can monitor cash flow, and create financial statements at the end of the year.
Legal proof of an agreement. To avoid any legal issues or petty lawsuits, a sales invoice proves the legitimacy of your business transactions with clients.
Filing for taxes. If you record your sale invoices in an accurate and timely manner, your business will go through tax season easily and completely trouble-free.
Inventory tracking. If your business sells physical products, sales invoices help you keep track of how much inventory you have, and whether it is enough to fulfill client orders. You can also use this information to forecast the amount of inventory the business will need in the future.
Business analytics. Interpreting sales invoices can help your business figure out best-selling products, customer purchasing patterns, make budgeting forecasting, and plan for the future.
Sales Invoice vs Purchase Orders
People often confuse a sales invoice with a purchase order.
A purchase order shows the request of a customer for a product or service, as such, it is issued by the buyer.
Whereas, a sales invoice is a bill issued by the seller and is proof the selling process has already happened. It addresses how much the buyer owes to the seller.
For example, if a baker receives a request for a birthday cake due in two weeks, that is recorded as a purchase order. Then once the cake gets delivered, the baker expects payment so he sends out a sales invoice.
Sales Invoice vs Bill
It's common to hear the words sales invoice and bill interchangeably as synonyms. That's because they carry the same information, regarding the amount of cash a client owes.
An invoice however, is a medium of collecting cash for the products or service the business has provided. While the term bill is used by the buyer to express how much money they owe a vendor or business for a purchase.
What Does A Sales Invoice Include?
In order for a sales invoice to qualify as a legal document, and appear professional to the client, you need to include several elements in it:
The word "Invoice" and business contact details. These two elements are part of the header. Business details include the business name, phone number, email, and billing address. You can also add the business logo here if you want to personalize the invoice more.
Customer contact details such as customer name, email address, phone number, and billing address.
Due date and billing date. The billing date is the date when you issue the invoice, while the due date represents when you want the payment deadline.
The invoice number is a unique, sequential code used to differentiate invoices from one another.
An itemized list of products and services, with a brief line describing each one.
Unit price per product
Total amount owed
Tax rates
Payment terms outline the time span you're allowing the buyer to pay you, any late payment fees, as well as the methods of payment you accept.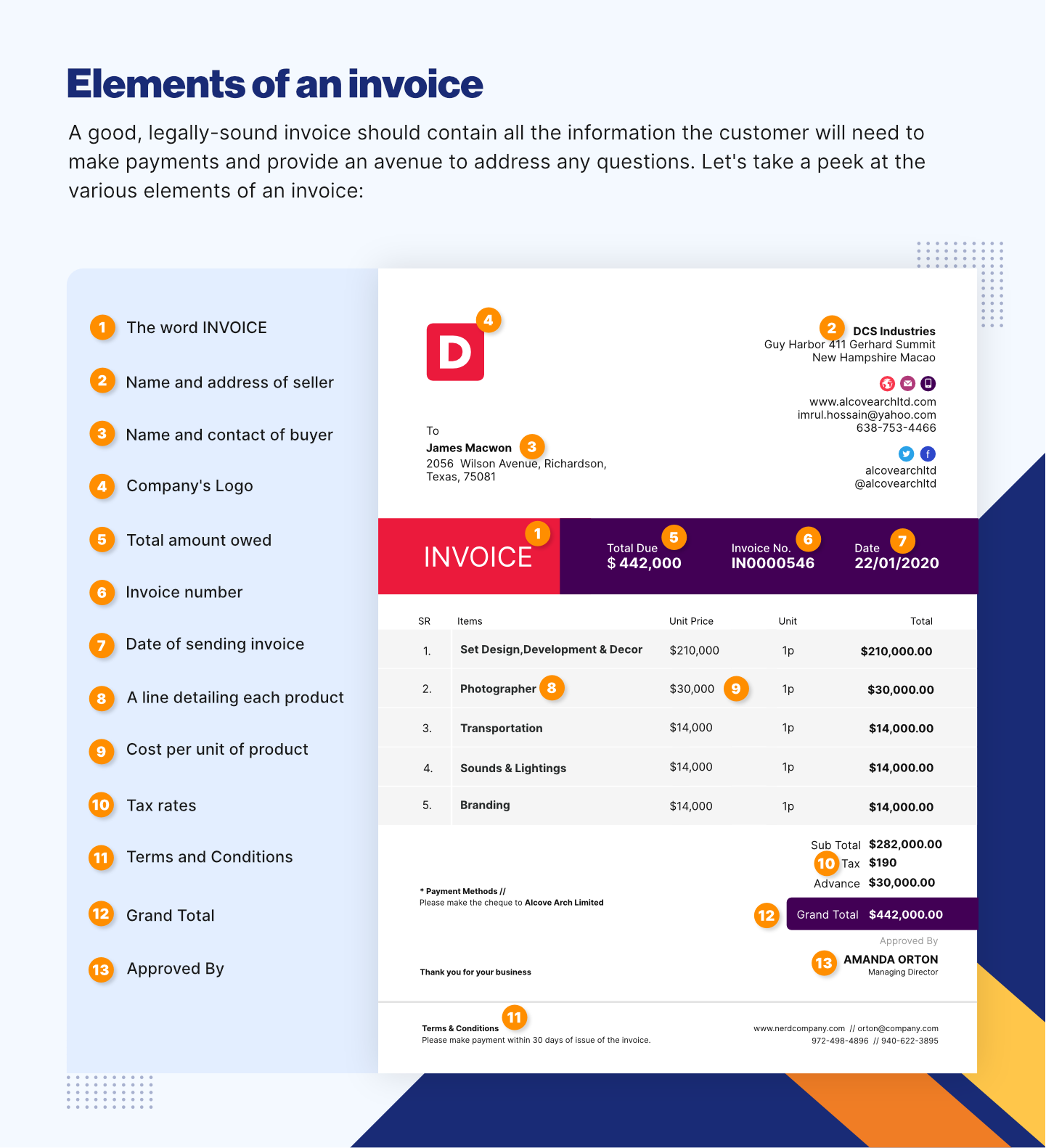 How Do You Send Out a Sales Invoice?
After putting together all of the previously mentioned sales invoice elements, it's time to send out your invoice and get paid!
This can be done through three main methods.
The first one, and also the most outdated way of sending a sales invoice is via snail mail.
Now, this method can be really time-consuming. You have to print out the invoice, put in an envelope, stamp it and drop it at the nearest postal office. Repeating this process for every sales invoice will require you to spend most of your time as a mailman, rather than a business owner.
That's why businesses usually choose to send their sales invoices through email, instead. Even with email invoicing though, there are still a few steps to undertake. You have to attach the document in an uneditable format, along with an email body and subject line. And if the customer doesn't pay back on time, you also have to send a follow-up email politely requesting payment.
And when you have to do this for 100+ clients, the process becomes tedious and time-consuming.
With invoicing software, you can automate the entire process of creating and sending a sales invoice. After creating the invoice on the software, you can immediately share the document via email with just a simple click on the Send button.
Types of Sales Invoices
Depending on the purpose, we divide sales invoices into four main types:
   1. Standard Invoice. This invoice is the simplest type of sales invoice, business use for any purchase. It includes all of the elements of an invoice we previously mentioned.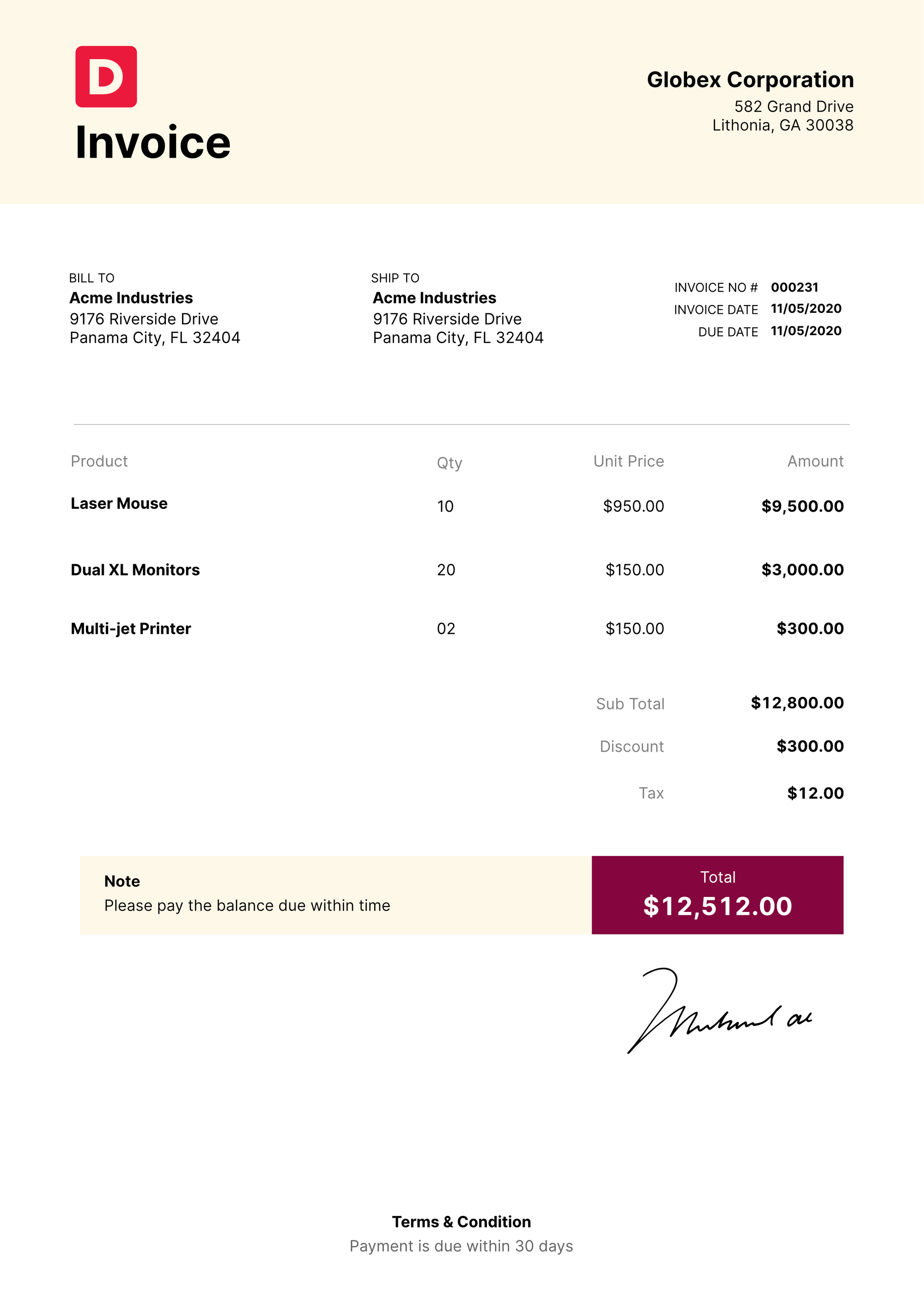 2. Proforma Invoice. The proforma sales invoice is issued before goods and services have been delivered or finished. The goal of this invoice isn't to request payment, but rather let the customer know how much they will have to pay once everything is done.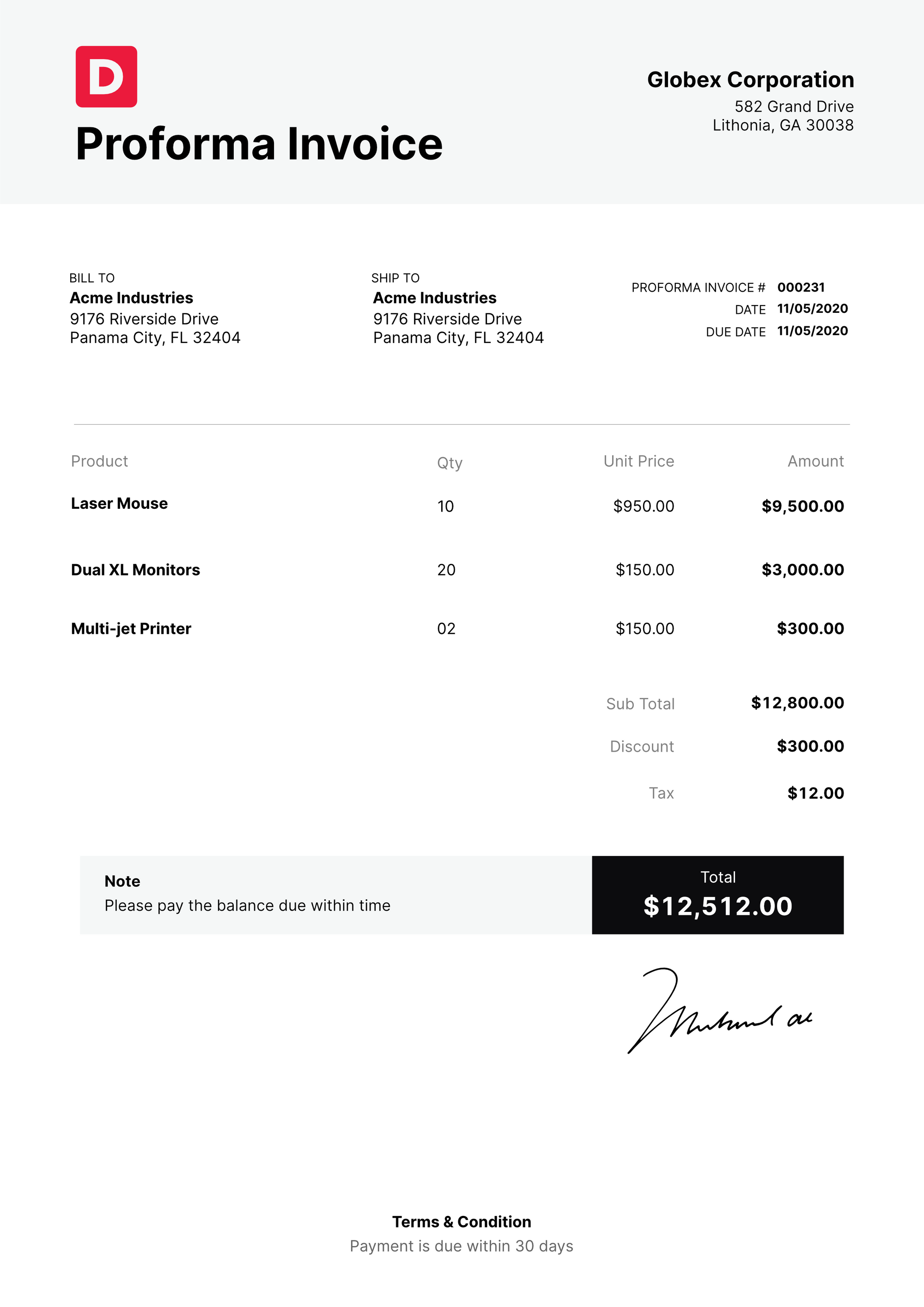 3. Recurring Invoice. Sales invoices with the same details that are repeated at regular periods of time are known as recurring invoices. These include transactions such as memberships or subscriptions. Accounting software can help you automate recurring payments, making the process completely effortless.
   4. Commercial Invoice. Sales invoices sent to international clients are called commercial invoices. In order to cross the border, these documents include extra details such as country of manufacture, freight cost, product weight, and more.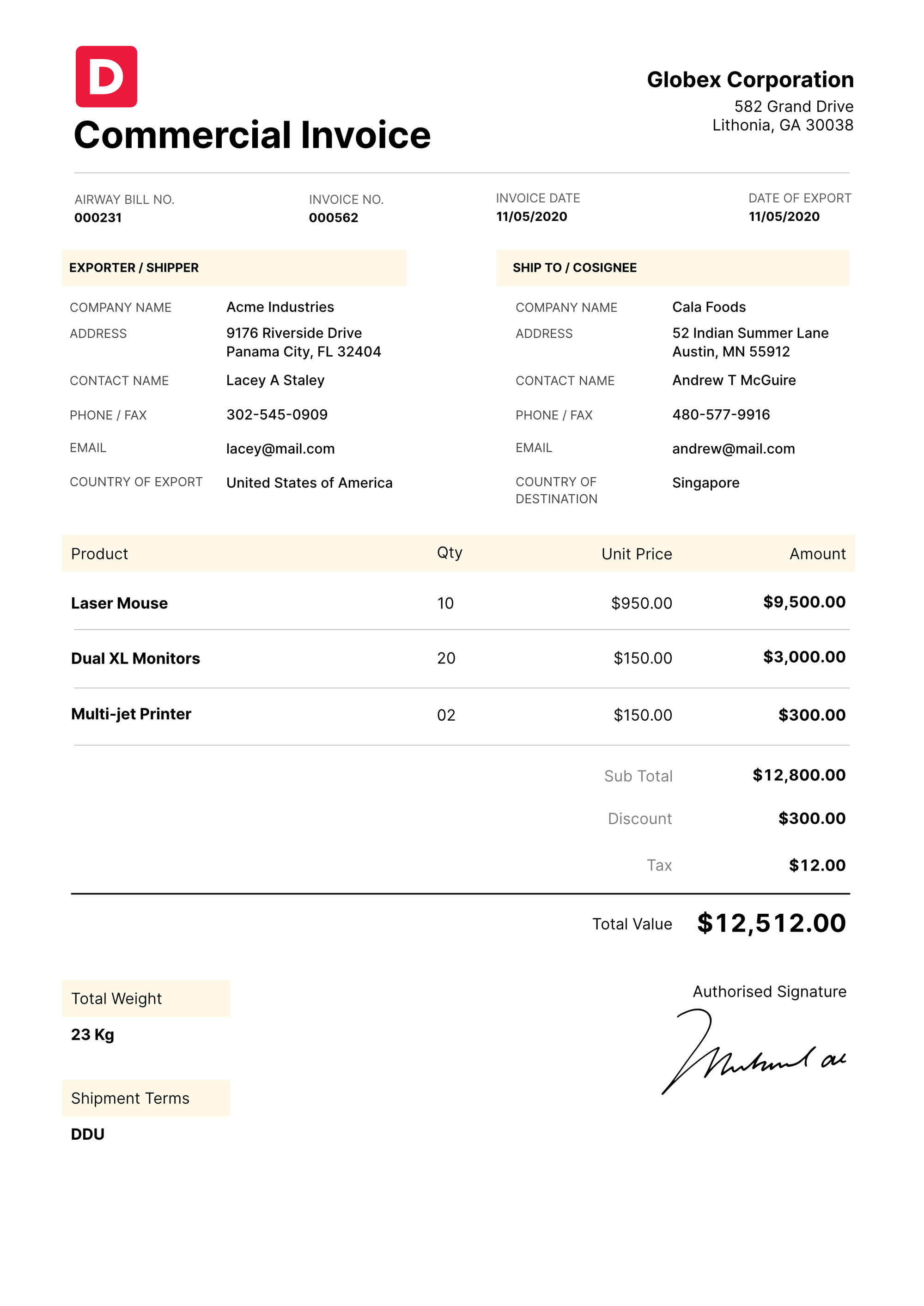 Create A Sales Invoice Instantly with Deskera
Making an invoice from scratch every time you have to request payment, can be a long and time-consuming process. That's why most businesses ditch Excel spreadsheets and paper, for accounting software that automates their invoicing from start to finish.
The best cloud-based accounting software for small businesses today is Deskera.
At Deskera, creating a professional sales invoice and streamlining your invoice management process is as easy as 1-2-3.
The first step is to choose your preferred sales invoice template, from the Deskera Invoice Generator.
On the right sidebar of the page, you'll find over 100+ templates you can customize with your preferred brand colors, font, images, and business logo.
Once you've finished customizing the template, use the left sidebar to fill in the appropriate invoice information, such as customer details, list of products, and amount owed.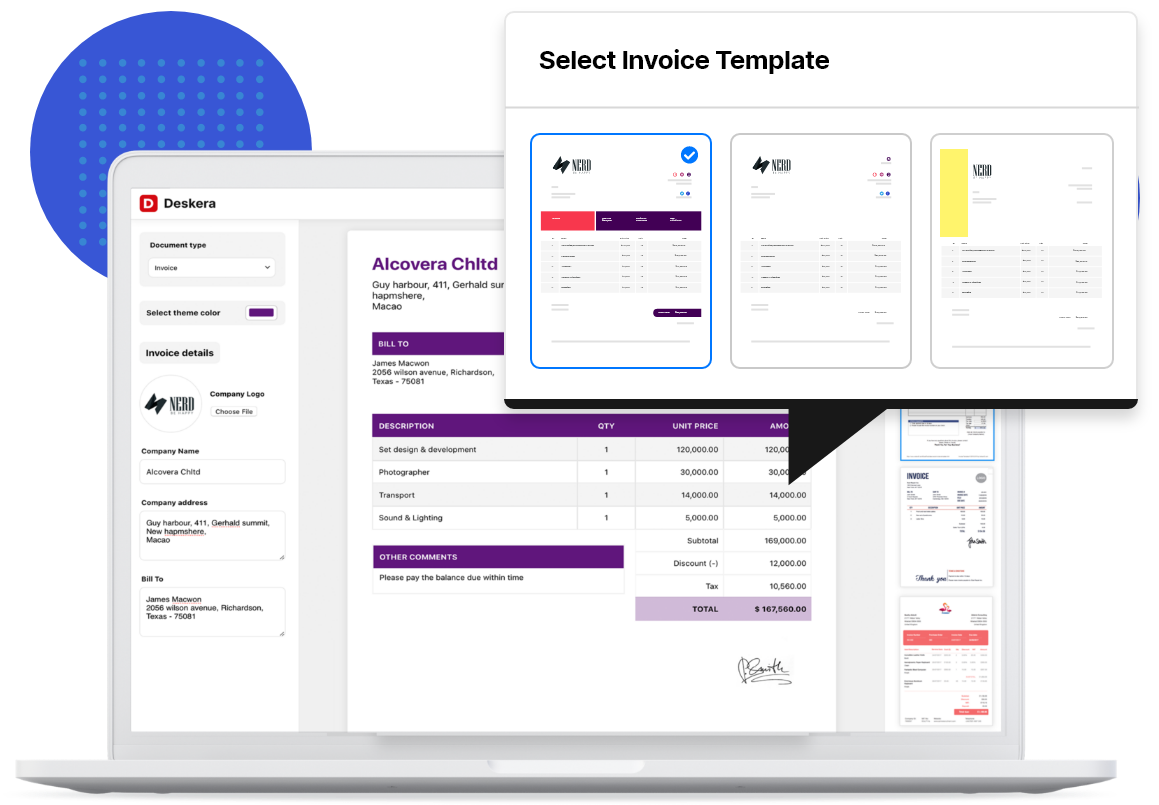 It's finally time to send out your invoice and get paid! Do this by pressing the Share button, on the top right of the page.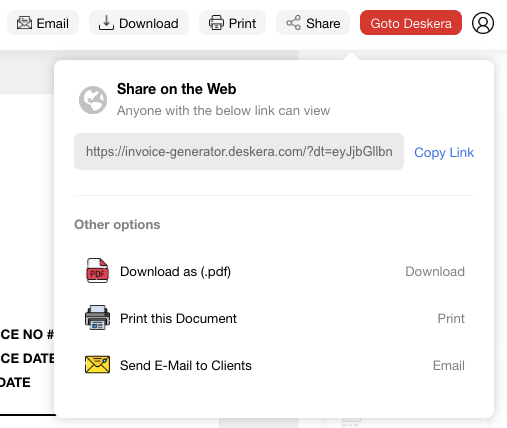 After creating your sales invoice, you can go to Deskera Books to request for advance payment, set overdue payment reminders, or automate any recurring invoices.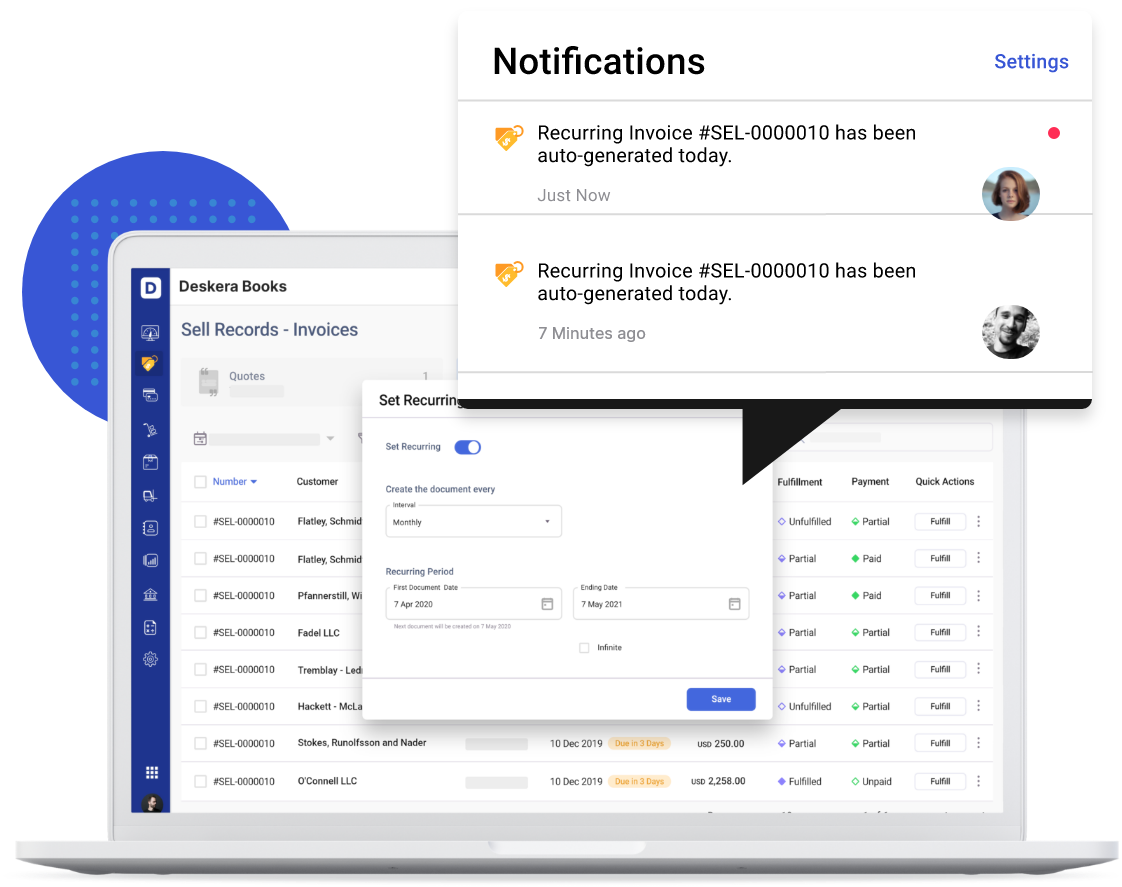 The software also generates monthly and yearly sales invoice reports where you can overview which purchases are overdue or unpaid.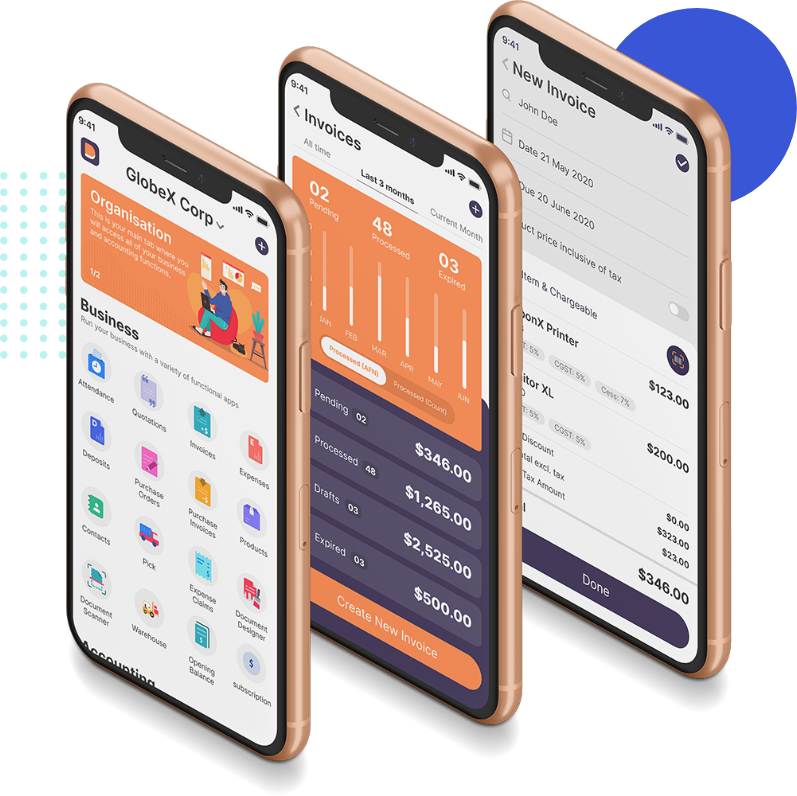 Access Deskera anywhere, phone, tablet, or desktop just by downloading the Deskera app.
So, what are you waiting for? Sign up, and try the software out yourself with our completely free trial! No credit card details needed.
Want to learn more about creating an invoice for your small business accounting?
Head over to our step-by-step guide on how to make an invoice.
Sales Invoice FAQ
What Should I Do If a Sales Invoice Payment Is Late?
Send a late invoice payment reminder as soon as the sales invoice becomes overdue, either via email or via phone call. Remember to keep your language polite and friendly.
To avoid late payments altogether, consider early payment discounts or late payment fees, so customers are more motivated to pay you back on time.
You can also use accounting software to automate the process of sending late payment reminders.
How Do I Assign an Invoice Number to A Sales Invoice?
There are four main invoice numbering systems: sequential, chronological, and by customer or project number. You're free to choose whichever one fits your business best, as long as every number is unique and displayed at the top of the invoice.
Is a Sales Invoice a Receipt?
No, a sales invoice and a receipt aren't the same things.
A sales invoice tracks a sale and is a business' way of requesting payment for a product or service. A receipt, on the other hand, is issued after the sales invoice, as proof that payment has been made.
Key Takeaways
And that's a wrap! We hope our guide to sales invoices was helpful and answered all your questions.
To wrap things up, let's go through the main points we've covered:
A sales invoice is a bill issued from seller to buyer, as a payment request for purchases. It serves as a record of sale, legal proof of an agreement, and also helps your small business do bookkeeping, inventory tracking, tax filings, and business analytics.

Main elements of a sales invoice include:

The word "Invoice"
Business and client contact information
Billing date and the due date
Invoice number
List and description of goods and services
Unit price
Total amount
Taxes and payment terms

The three main ways to send out a sales invoice are via snail mail, email, or accounting software.

Sales invoices are divided into four types:

Standard
Pro-forma
Recurring
Commercial

Use cloud-based accounting software like Deskera to automate your invoicing process and prepare sales invoices within seconds.
Related Articles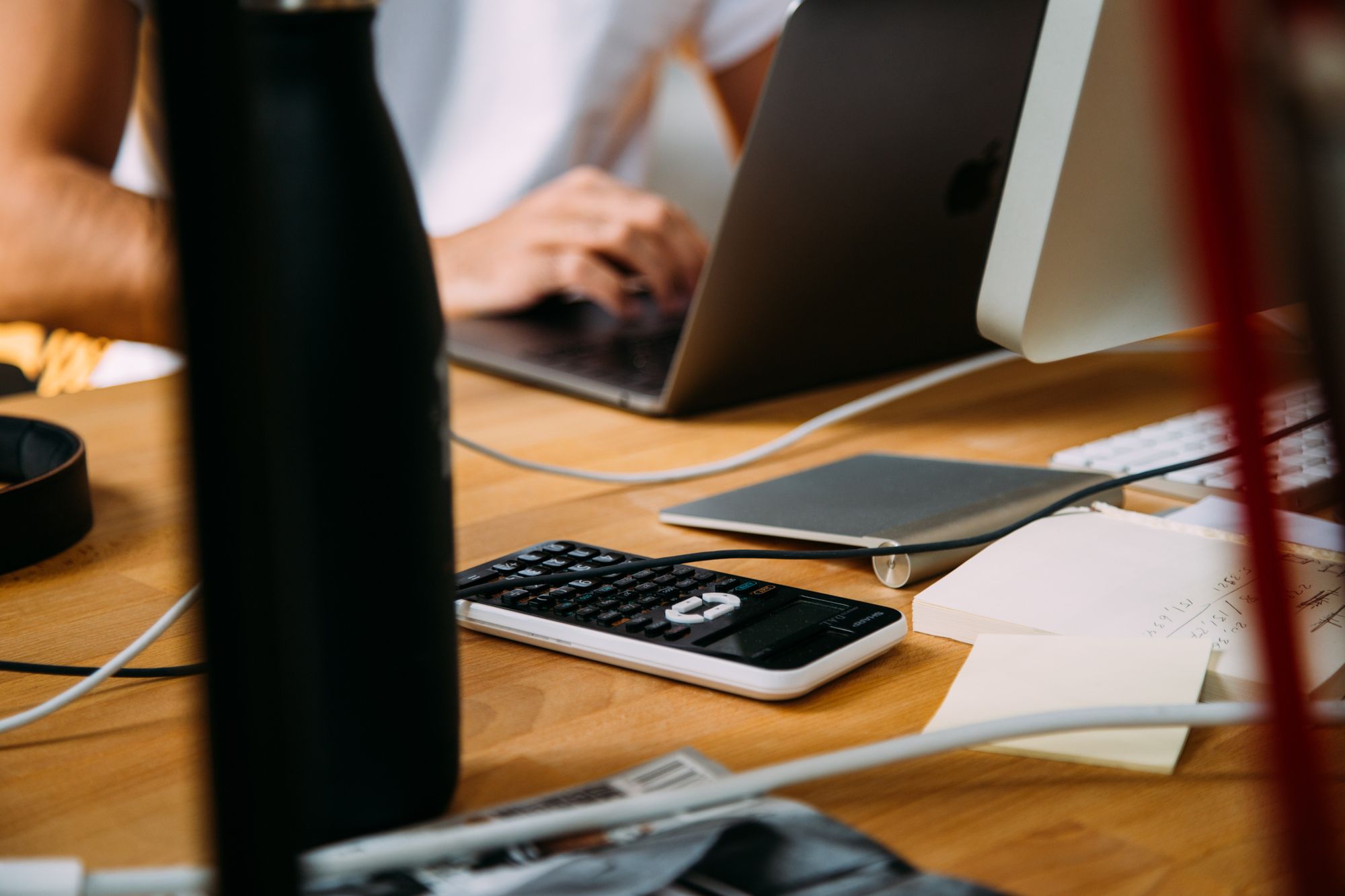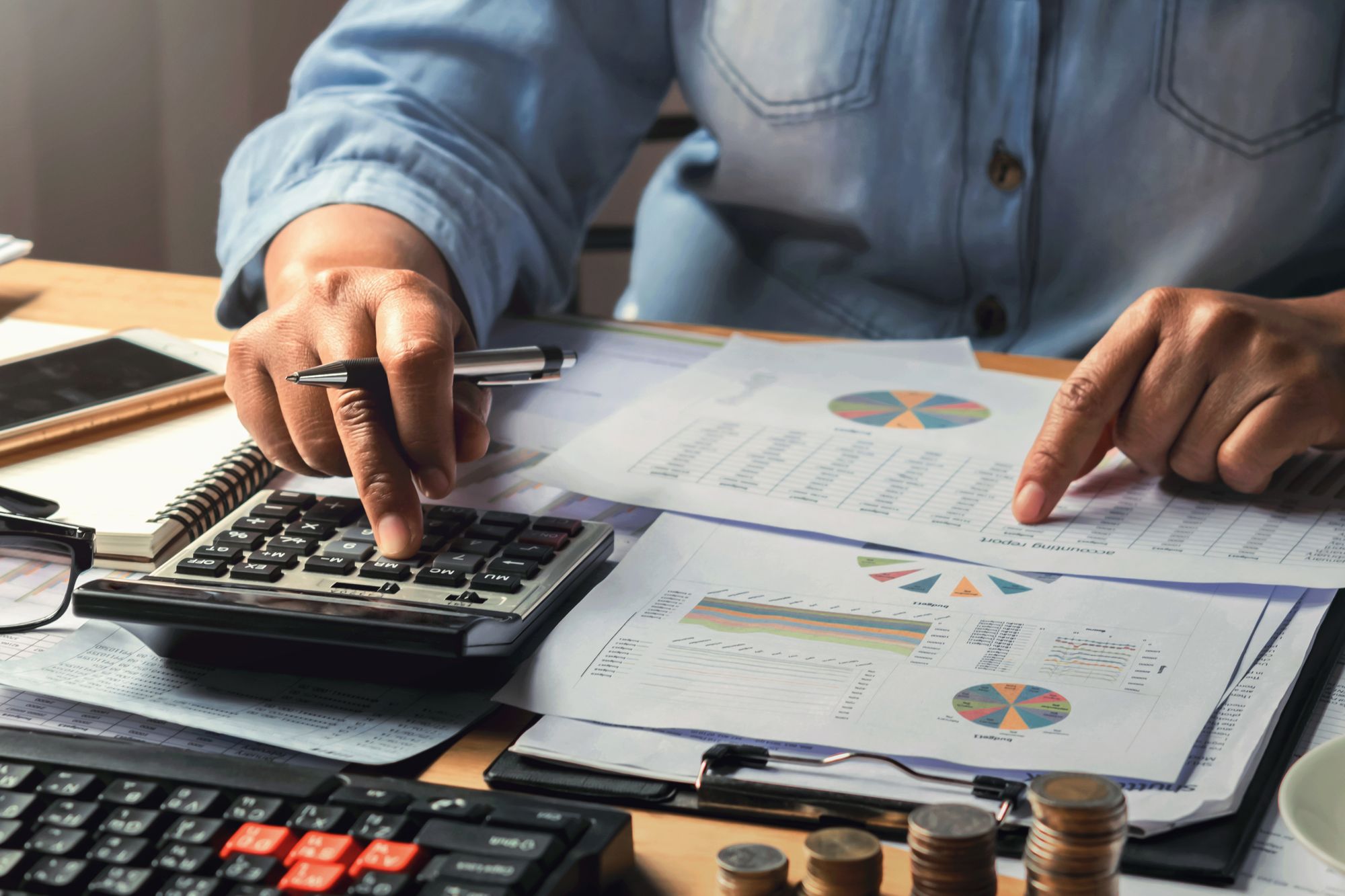 ---
---