Cloud accounting has completely revolutionized the way small and big businesses deal with their accounting.
It's simply faster, more efficient, and more secure than traditional accounting systems.
It's no surprise that most small businesses have already moved their entire accounting processes to the cloud.
If you are here looking for answers on what the cloud is, or how to pick the right cloud accounting software for your business, then read on.
We'll cover in-depth all of the following topics:
What Is the Cloud?
Before jumping into cloud accounting, it's important to understand what the cloud is.
By definition, the cloud is a term used to describe servers, databases, applications, and other computing resources that are accessible via the internet.
Sometimes you'll also hear the term cloud computing being used, but it means essentially the same thing.
If the above definition did not make any sense, then here's a simple example to help you better understand what the cloud is.
Think about when you try to access your Gmail inbox. All you have to do is log in to a browser, navigate to https://gmail.com, and ta-daaa, you can access all your emails, read them, and even send a new email.
Well, the Gmail application, as well as all of your emails and other data, has to be stored somewhere. And since it's not stored on your computer, where else could it be stored?

You guessed it!
All that data is stored in the cloud.
What Is Cloud Accounting?
Cloud accounting refers to the process of using online cloud-based accounting software to do accounting for your business.
With cloud accounting, instead of using big physical notebooks, papers, or spreadsheets, all of your accounting data is stored on the cloud, in a digital format, under several layers of encryption algorithms.
Cloud accounting software can store all sorts of accounting documents, including invoices, bills, receipts, contracts, tax forms, and much more. And since all the data is stored on the cloud, you can access it from anywhere, at any time.
It goes without saying, these are just a few of the benefits and advantages that cloud accounting software offers to businesses. Below, we'll get into the nits and grits of how cloud accounting can benefit you and your business.
What Are the Benefits of Cloud Accounting?
#1. Simplified Collaboration
Cloud accounting makes collaboration extremely easy and straightforward.
Back in the day when cloud wasn't common, you'd have to:
Make changes on a spreadsheet and send it over to a coworker.
The coworker would make another change and send it back over to you.
And this kept on going back-and-forth until you're done.
If you've ever experienced this yourself, we probably don't have to tell you how inefficient this can be.
By using cloud accounting, though, this problem is a thing of the past.
Just about anyone in your organization can log on the software and make changes in real-time, no communication or back-and-forth file transfer required.
#2. Access Your Accounting Data From Anywhere (On Any Device)
With cloud accounting software, you can access your data anywhere from any device - PC, tablet, laptop, mobile, you name it.
As long as you're connected to the internet, you can simply hop online and access your accounting data.
And as you can guess, the benefits of this are countless:
You and your employees can travel to other countries without having to worry about VPNs and remote connectivity.
You can complete urgent tasks with your mobile if you're far from your laptop or home computer.
Give access to your accounting data to remote hires.
#3. Automate Basic Accounting Tasks (And Focus on Work That Matters)
A large chunk of accounting tasks involve menial, time-consuming work:
Creating invoices for every single sale.
Keeping track of all transactions.
Creating journal entries.
Pinging clients about late invoice payments.
Cloud accounting software, however, allows you to automate a big chunk of such tasks, allowing you to focus on work that matters.
Some of the best accounting tools also let you automate reporting. For example, let's say you need to create a typical report on a monthly basis and send it to your CFO.
Instead of having to do it manually each time, the software can do it for you on a monthly basis - it's easy as that.
Not all accounting software allows for this degree of automation, though. If you're looking for a tried-and-tested accounting solution that does, check out Deskera.
#4. Industry-Grade Security
With offline accounting tools, you're personally in charge of your own security.
And unless you're an enterprise company that can easily afford to use Cloud VPN services from GoodAccess, chances are, your security practices are far from cutting-edge.
This opens you up to several types of risks:
Your data might get wiped out by a virus or a cyberattack (unless you're backing it up on the cloud on a daily basis).
Your harddrive might get corrupted, leading to all your data becoming inaccessible.
A cybercriminal might compromise your network and steal your financial data.
To prevent all this, you either have to spend a significant amount on disaster recovery or security best practices.
Or alternatively, you can just use cloud accounting software.
Accounting tools like Deskera use high-end encryption algorithms to ensure that your data is as safe as it possibly can be. Your data is backed up automatically on-the-go, giving you some peace of mind.
#5. Improve Your Accounting & Bookkeeping Accuracy
Even the most meticulous accountant is prone to make mistakes here and there.
And when that happens, you might end up spending hours and hours trying to figure out why the balance sheet isn't balanced.
With cloud accounting software, though, this problem becomes a thing of the past.
Whenever journal entries don't balance, the software notices this on-the-spot and notify you of the potential accounting error.
And that's not all, too. Cloud accounting software can help improve your accuracy in other ways.
For example, a common problem with doing accounting on a spreadsheet is unknowingly working on an outdated file. You spend hours working on the data, but it turns out that the file you were working on wasn't even the right one.
So, you end up either trying to carry over the changes from the old file to the new, or having to completely start working on the new file from scratch.
Accounting software can prevent this from happening altogether, as all your data is synced on the cloud in real-time.
#6. Cut Costs & Save Money
But not using cloud accounting software, you're actually wasting a lot of money. Here's how:
On average, an accounting solution can save your business up to 300 man-hours annually. Since the median hourly salary for an accountant is $27, you end up saving around $8,100 per year, in addition to getting access to all the other awesome benefits we just discussed.
Cloud accounting software is pretty cheap, too, ranging from 9 to 50 USD per user per month, much cheaper than typical ERP solutions (which start at $10,000 per month).
#7. Track & Report All Your Data in Real-Time
Another awesome benefit for cloud accounting is real-time reporting.
If you integrate your cloud accounting software with your online bank accounts, you'll be able to track things like sales, expenses and inventory online in real-time.
Tools like Deskera give you a dedicated dashboard where you can track all of these metrics: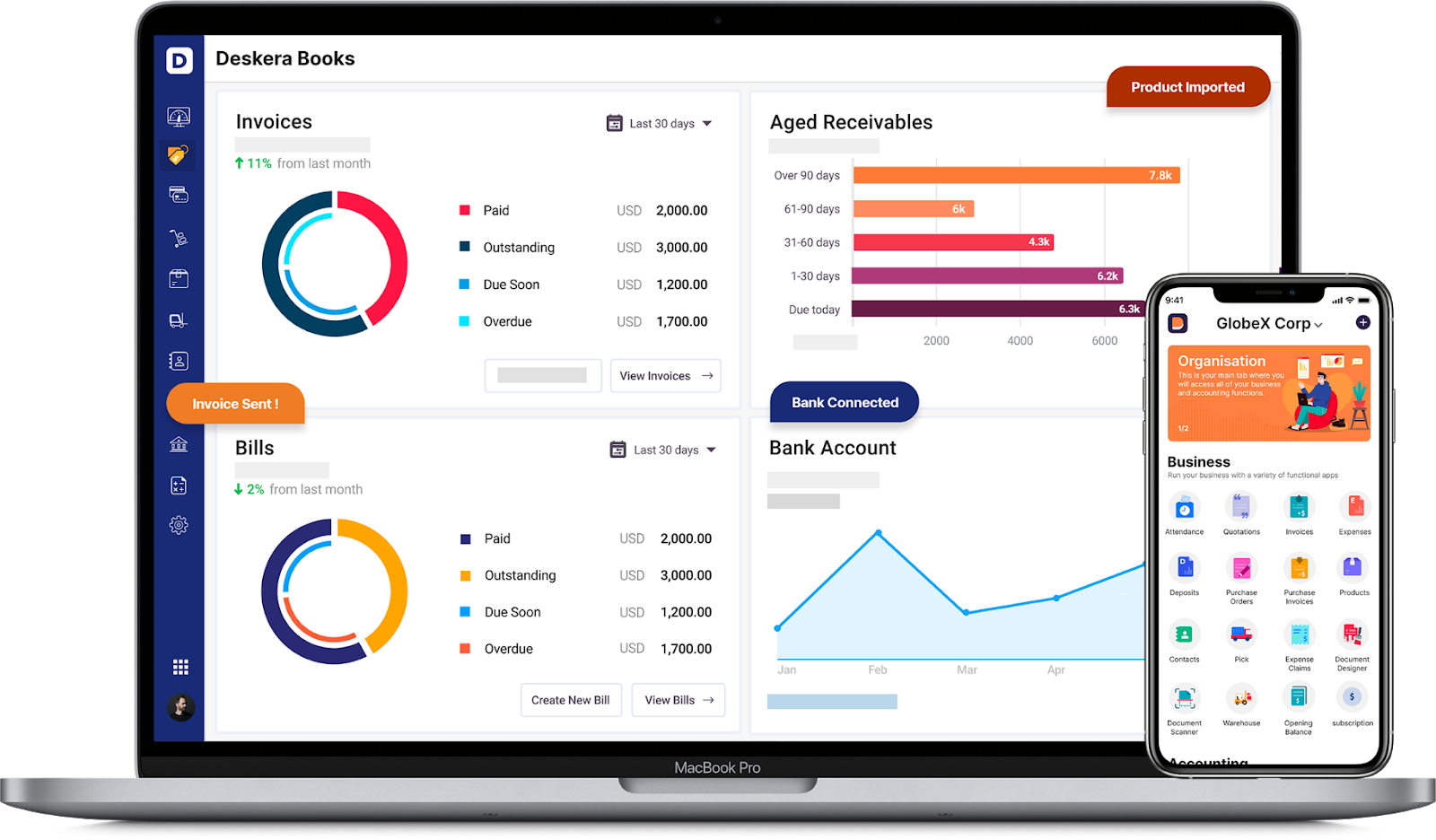 #8. Cut Back On Paperwork (And Improve Sustainability)
Doing accounting manually involves a LOT of paperwork. Print out this document, sign that document, scan it, send it, print it again…
Not a fun process for anyone.
Cloud accounting allows you to go (almost) completely paperless.
Need to make a photocopy? Copy+paste instead.
Sign a document? Do it online.
Print & fill in a form? Skip the printing part and do it online.
The benefits of this are pretty obvious - your accounting processes are simpler, faster, and simply better.
In addition, you also end up saving up on a lot of paper, improving your sustainability.
#9. Simpler & Faster Invoicing
Creating invoices is a very time-consuming accounting process.
If you're doing accounting for a small business with a handful of invoices per month, this is not much of a problem.
Once you scale up, though, you end up creating hundreds of different types of invoices per month (or even per day), a lot of which are recurring.
Doing this manually can be very time-consuming, prone to human error, and simply inefficient.
The process can also be a bit annoying if you are creating your invoice in Word, and the end-result won't be too good-looking, either. The same goes for making an invoice in Excel.
With cloud computing software like Deskera, though, this process is much simpler and better. You can pick and customize over 100+ invoice templates:

And even build your own personal template: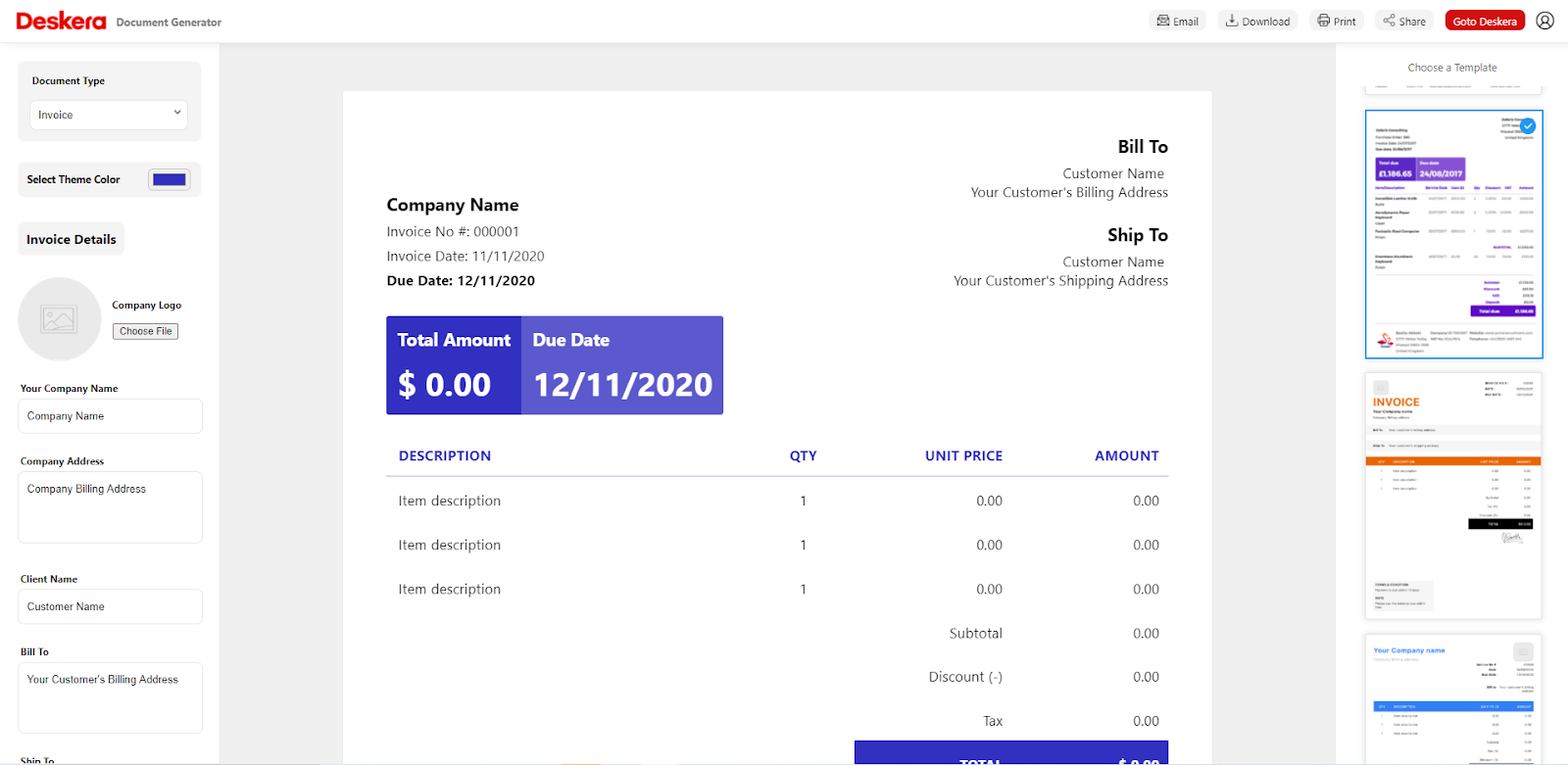 And on top of that, you can set up recurring invoices to be created and sent out automatically with a single click - yep, it's that easy!
#10. Tax Compliance Made Simple
"I enjoy doing my taxes!"
Said no business owner ever.
Luckily, another great benefit of cloud accounting software is that it makes handling taxes much easier.
As it collects all your accounting data in one place, you can easily generate financial statements and reports.
In addition, some of the best cloud accounting tools like Deskera have built-in tax rules. All you need to do is pick the country you operate from, input your business information, and the software will automatically apply taxes to all relevant documents based on your local tax rules.
Deskera comes with in-built tax rules for the following countries:
USA
Singapore
India, Malaysia
Philippines
Indonesia
Australia, Canada, and Japan are also coming soon!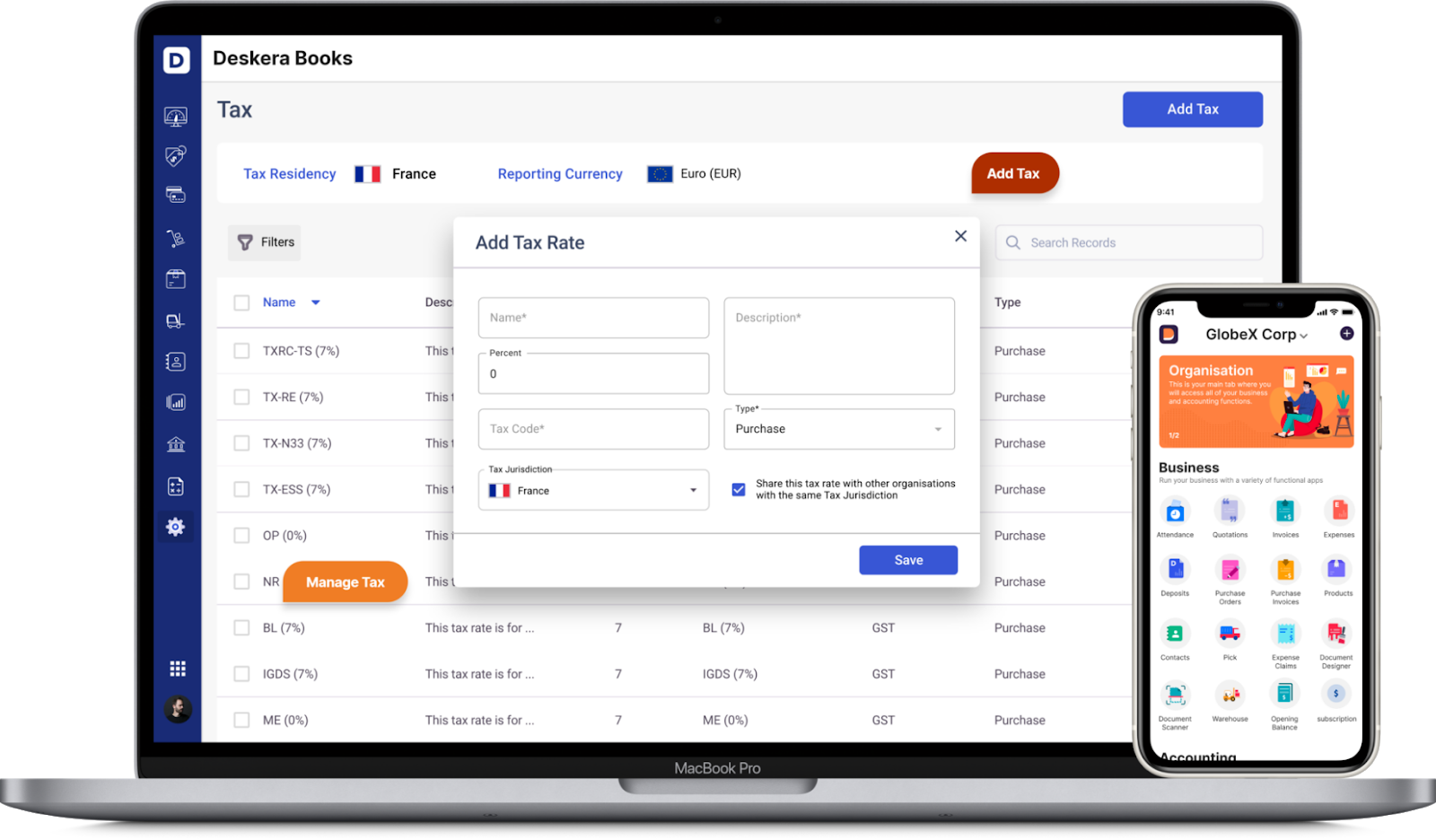 Find out how Deskera can help your business become tax compliant in a few easy steps.
How to Pick the Right Cloud Accounting Software for Your Business
A top online accounting software should provide you with at least the following essential features:
A simple and intuitive user interface.
Ability to access your data from any device, at any time.
Multi-currency support for international commerce.
Invoice templates to make invoicing as easy as possible.
Automated invoicing.
Accounts receivable. Create and send invoices directly from your accounting software, without needing to print it.
Accounts payable. Deal with things like purchase orders, vendor credit memos, or even scheduling automatic vendor payments.
Chart of accounts.
Integration with your business bank accounts to automate things like expense tracking, journal entry creation, and so on.
Easy bank account reconciliation.
Inventory management and tracking.
Ability to easily create financial reports at any point of time.
Visual dashboard for easier accounting reporting.
Automated tax compliance and tax calculation.
Ability to track dropship orders.
Pick, pack, and ship.
And more!
Want to try an accounting software that offers all of the features listed above, and more?
Then, just give Deskera a try! Asides from all the accounting features, Deskera also provides you with payroll software and CRM software, all in one tool.
Cloud Accounting FAQ
Is Cloud Accounting Safe?
In short, yes, cloud accounting is extremely safe. In fact, businesses and accountants nowadays believe cloud accounting to be a lot safer than its counterpart, traditional, manual accounting.
Manual accounting can make your business prone to a lot of accounting errors, compliance liabilities, and tax implications.
Cloud accounting on the other hand focuses on reliability, and stability. Since everything is stored on the cloud under several layers of high-end encryption, your accounting data will be safe regardless of any potential disasters.
How is Cloud Accounting Used?
Cloud accounting can be used at any point in time, from any device that has internet connection. This means you and your users can access your accounting data using a mobile device, PC, tablet, or laptop, depending on your preferences.
This completely eliminates the need to work from a fixed location (office based), making remote work easier for everyone.
Why is Cloud Accounting Good for Business?
Cloud accounting is good for business because it eliminates most redundant and repetitive work that is usually tied to accounting and bookkeeping. Asides from saving your business a ton of time, it also helps you make faster decisions by providing you with real-time accounting data and reporting.
Key Takeaways
And that's a wrap!
By now, you should understand what cloud accounting is, and how it can help streamline all accounting activities for your business.
Here's a quick recap of all the main points we covered:
Cloud accounting refers to the process of using cloud-based accounting software to do accounting for your business.
Cloud accounting is the most modern and secure way of doing accounting for businesses of all sizes.
One of the main benefits of cloud accounting is the fact that all your accounting data is accessible from any device that has an internet connection, making remote work extremely easy.
Additionally, with accounting software, all your accounting data is stored on the cloud, under layers of high-end encryption, making it a lot safer than traditional, manual accounting.
All in all, cloud accounting can save your business over 300 man hours a year, which is roughly equivalent to saving $9000 a year.
Still not sure whether accounting software is the right choice for your business? Just give Deskera a try. It's completely free!
Related Articles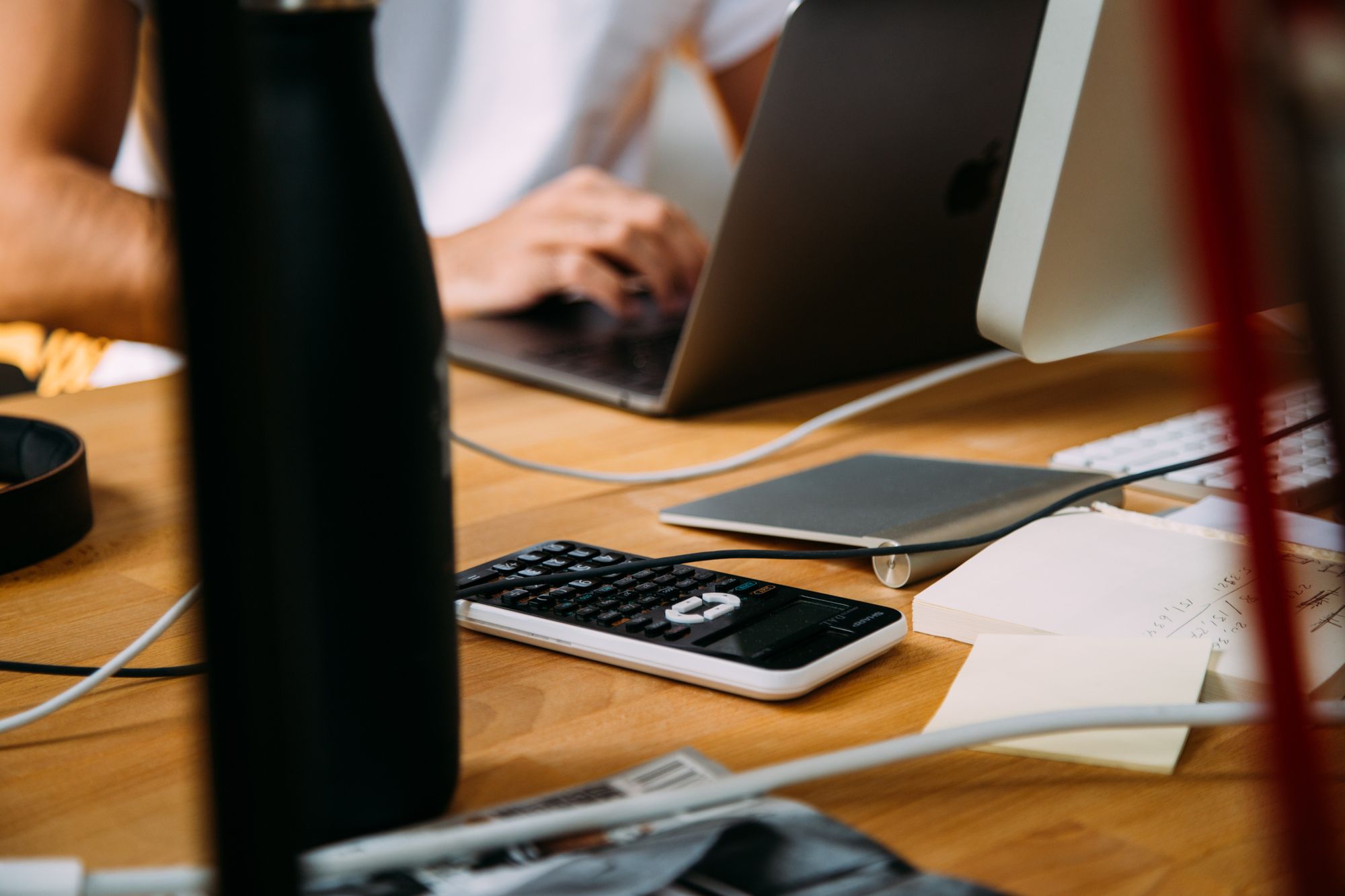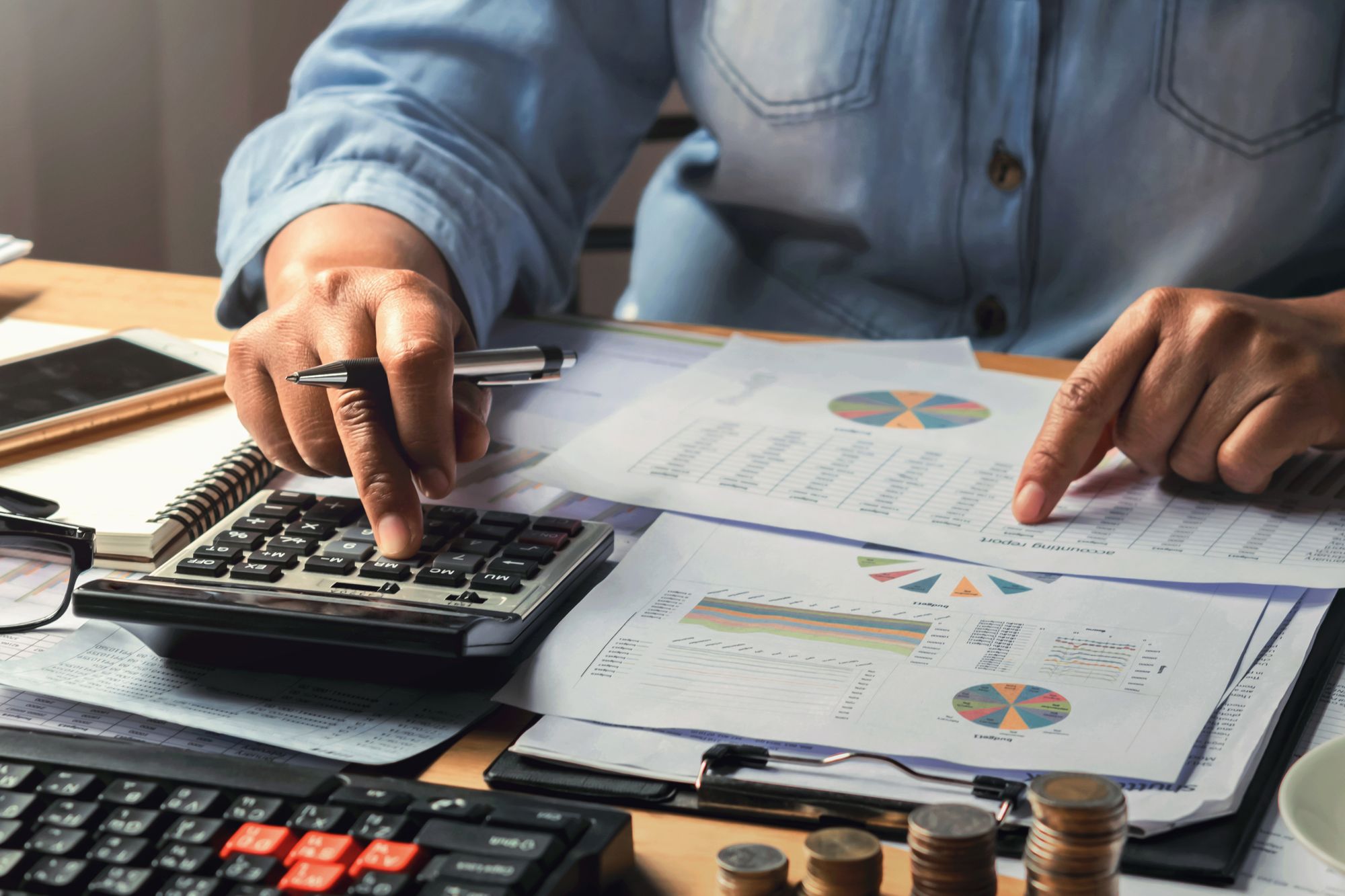 ---
---