A credit note, or a credit memo, is a financial document that companies issue to indicate a reduction in the amount that needs to be paid whenever there is an invoice mistake, problems with damaged goods, or a purchase cancellation.
When issuing a credit memo, the seller, has to return some amount of money to the buyer. This can either be in full or partial, depending on the terms of agreement.
The two main reasons for issuing a credit note are to make appropriate adjustments to the books, and to notify/promise to the buyer that an amount of money will be either returned or will be adjusted in a subsequent transaction (if you collaborate on a monthly basis).
If you want to learn more about what a credit note and how to issue one step-by-step, then just follow the guide below.
Otherwise, if you are in a rush, and want to issue a credit note in less than 5 minutes, you can use online accounting software.
Here's what this guide will cover:
What is a credit note?
When to issue a credit note
How do you issue credit memos?
What information should a credit memo include?
Including the credit in your books
Knowing more about the credit memos from banks
What is a debit note?
Let's get started!
What Is a Credit Note?
A credit note, also known as a credit memo, is a commercial document issued by the seller and sent to the buyer when there is a reduction in the amount payable to the seller.
By issuing a credit note, the seller promises to pay back the reduced amount or adjust it in a subsequent transaction. When the seller issues a credit memo, the buyer will also issue an instrument called a debit note.
PRO TIP
You can easily create a debit memo or a credit memo using online accounting software.
When To Issue a Credit Note
There may be different reasons for issuing a credit note, depending on the type of your business and industry. Here are some common ones:
A credit note is furnished by the supplier when the goods supplied are damaged or when a wrong item is delivered to the buyer.
When a seller charges more than the actual price of the goods or services being rendered, he/she issues a memo to reverse the extra sum, which is known as a credit note.
A credit note is also issued when the available discount has not been applied at the time of preparation of the invoice.
Credit notes are sent to the buyers when the seller wants to cancel a payment pending from the buyer.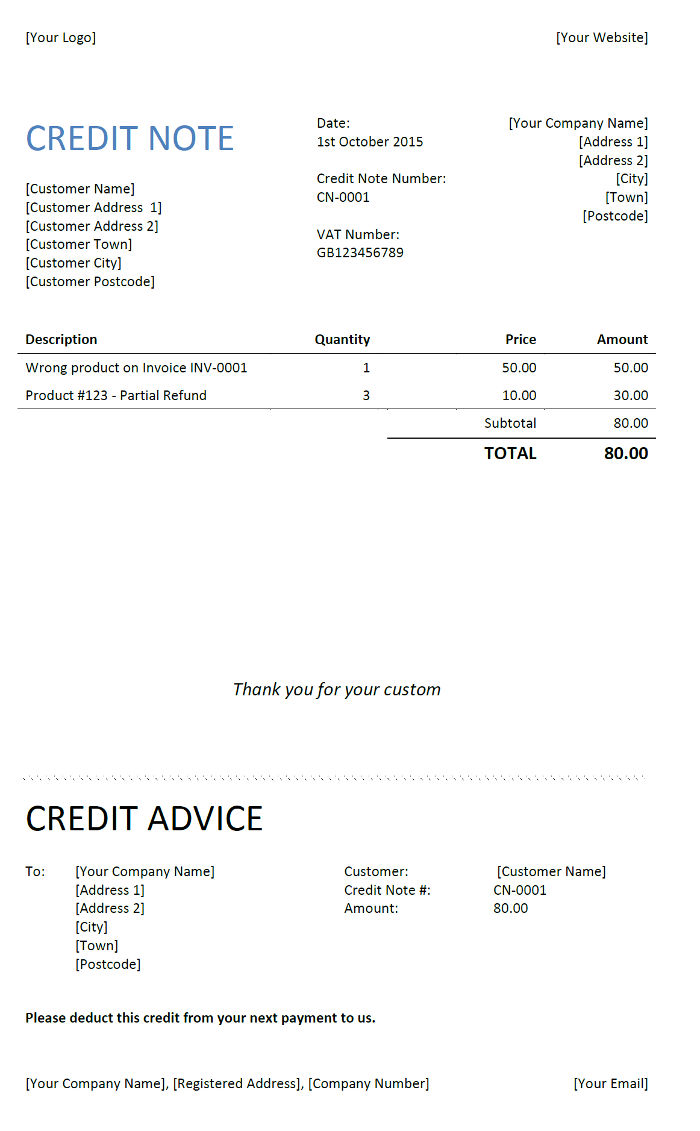 How Do You Issue Credit Memos?
Now that you know what a credit note is, it is essential to understand how a credit note is prepared.
Let's take a small business accounting example.
One of your customers wants to cancel their purchase. You have already issued an invoice for that purchase, and now you need to cancel it.
In this case, you must issue a credit note for the transaction's total value.
For instance, if you have issued an invoice for $100 and you want to issue a credit note for the full amount, then the note will reflect an amount of $100.
Let's take this one step further and consider a case in which you are only adjusting for 50% of the value of the product (or service) due to damage or other reasons. In this case,  your credit note will show an amount of $50.
A credit note can be prepared using various formats and templates, some of which you can get from Deskera. Here is a credit note template sample from Deskera: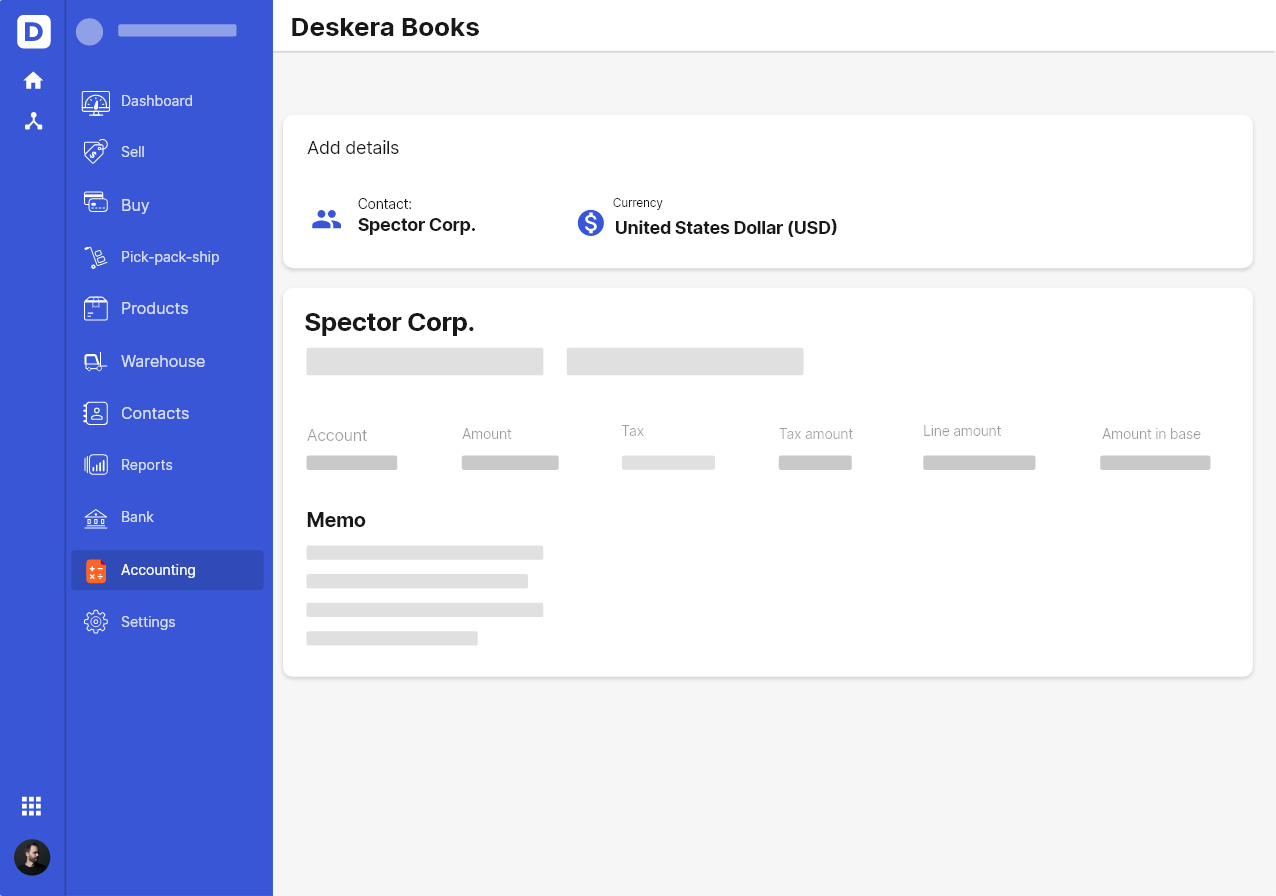 If you use accounting software, then it is easy to prepare credit memos. There are various accounting software packages available online. The key is to figure out which one is most suitable for your business.
What Information Should A Credit Memo Include?
Now that we have covered the credit note definition and how it should be issued, let's focus on what information should be included in a credit memo.
As with other financial documents, you must include your business' contact details on the credit note. It must also contain the full information of the customer to whom you issue it. The original invoice number, date, and the products or services that have been or were supposed to be delivered.
A new credit memo must also include the reason for giving credit to the customer. It should have a unique serial number, date, and the credit amount you are offering. If there are any new payment terms, you can specify that too within the document.
Credit Memo in Accounting (Bookkeeping Notes)
Having obtained a fair idea about what is a credit memo, the next aim should be to know how you can incorporate this in your bookkeeping.
If your company relies on traditional accounting practices, then you'd probably include any credit under the sales for each respective customer.
If however, your company is doing double-entry bookkeeping, then you should record the credit note as debit under the revenues, and credit under accounts receivable.
Knowing More About the Credit Memos From Banks
It is not that a company can only issue credit memos. It can also receive credit memos from banks when there is an increase in the former's balance. The same will reflect in the company's bank account statement. There can be many reasons for the bank to give credit to the company.
Companies maintain a current deposit account with the bank that accrues interest over the years. When this interest is credited to your business checking account, you receive a credit memo from the bank.
In some cases, the bank collects money on behalf of the company. This happens when documents (cheques or demand drafts) in your business name are routed through the bank, and the money is sent directly to the bank account. In such a case, you receive credit memos from the bank.
The banks collect charges for the services that they provide. Sometimes these charges are reversed. The reason can be because of excess charging or because the bank has decided to waive off some charges. In such scenarios, the bank will issue a credit memo to the company.
What Is A Debit Note?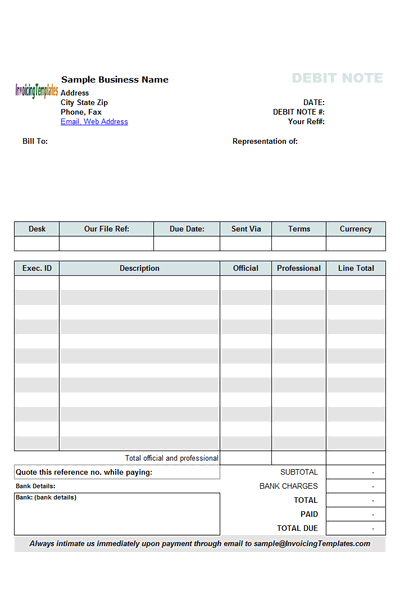 Now that you know what a credit memo is, let's get you acquainted with what a debit memo is. Simply put, it is the opposite of the credit note, and the entries will be precisely contrary.
When a debit note is issued to a customer, the company is sending a notice to the buyer to pay an additional amount. In accounting, the debit note is as important as the credit note. This instrument may be issued by a customer to a company if there is any amount owed by way of deficiency in service or failure to supply a product.
If you want to learn more about the differences between debit and credit, read our guide on debit vs credit.
Use Accounting Software to Automate Credit Note Creation
Creating credit notes and then adjusting books by hand can become quite complicated if you don't have a dedicated accounting team.
And even if you do, you probably wouldn't want to waste their time with creating credit memos. After all, doing these by hand, can lead to an increase in accounting errors, which can in turn burn your business more time and money.
That's why most businesses nowadays online accounting software to automate most steps of their accounting cycle.  Accounting software can reduce the time it takes to create credit notes, and to record them in the appropriate books by 5x.
This way, your employees can focus on the work that matters, instead of worrying about the more tedious, repeatable tasks.

Credit Note FAQ
Is a credit note a refund?
A credit note is not exactly a refund. A credit note acts as a replacement for a refund in that it allows the buyer to purchase your products or services at a later date without paying for it.
When you issue a refund, you need to take out cash and give it back to the customer. When you issue a credit note however, no cash is moved.
Can a buyer issue a credit note?
No, a buyer can not issue a credit note. However, a buyer can issue a debit note, which is the complete opposite of a credit note.
---
---