Photography is an art. Whether your genre is about capturing memories for a lifetime, or product photography for winning over customers or wildlife photography for capturing the wildlife in its habitat, it is a treasure trove.
What is commonly believed is that with the ever-increasing quality of mobile phone cameras, the traditional photography requiring a DSLR, lighting equipment and as such accessories will diminish.
This however is untrue. Photography is not only about the equipment, accessories and cameras that you use. It is more so about the angles, lighting, subject, perspective and value.
Blending these two sets of elements in a manner that can lead to productivity and profit is what will lead to successful photography business and set you apart from the amateur photographers' flock.
So how to start a photography business? This article will cover the important basics that will need to be taken care of to start your photography business.
10 Steps to Start a Photography Business
The shift from a hobbyist photographer to a professional photographer, from which you earn for yourself is a big shift. It brings you to a whole new world of photography that previously you might not be as well acquainted with.
Starting your photography business can be a big leap of faith and to make it reach your goals, it is important to do it right.
Businesses are sensitive and vulnerable, and creative businesses like photography businesses which are surrounded by competition, are especially vulnerable.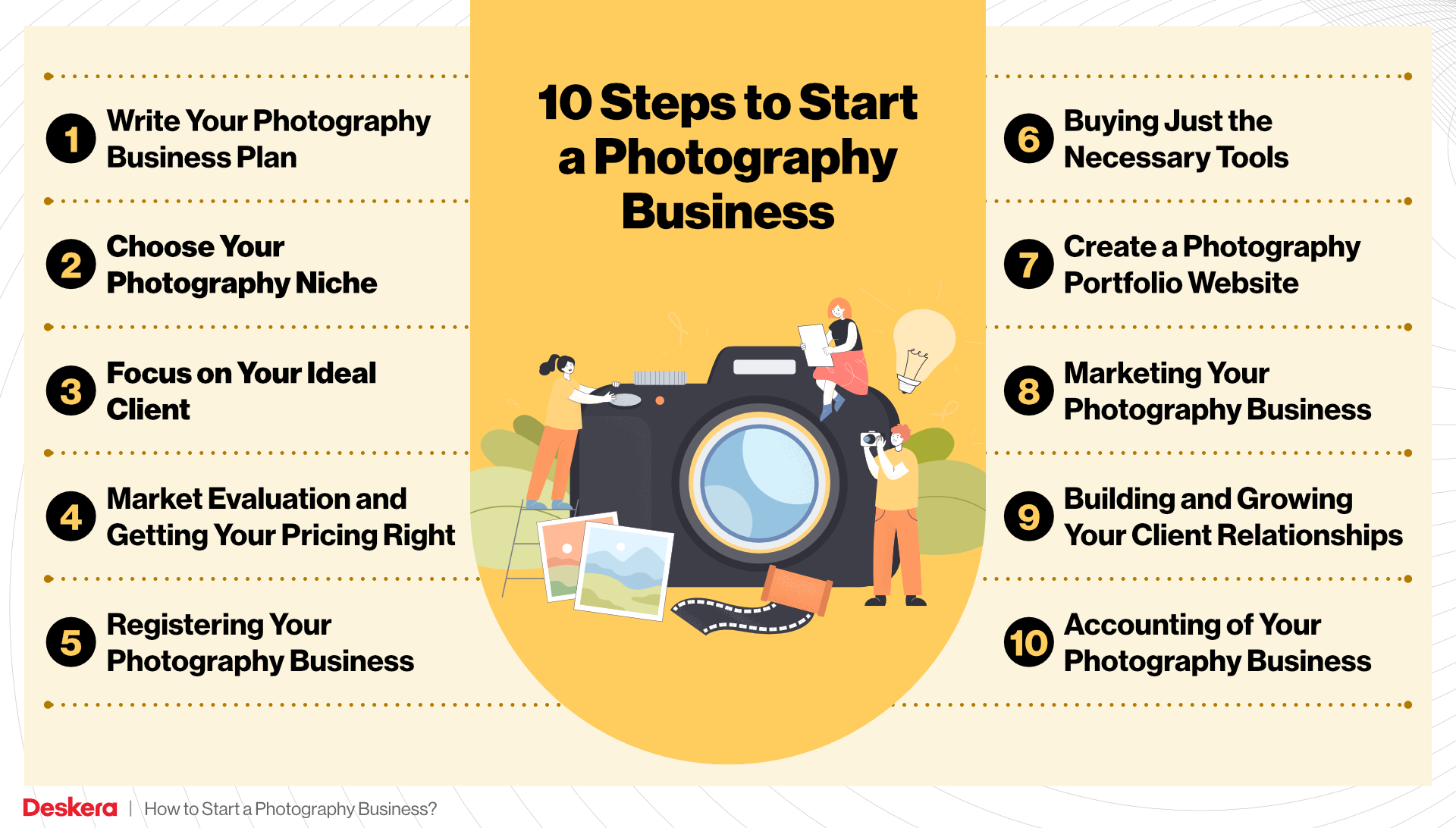 To succeed in such a business line, have a business that is not only constantly growing, but also have returning customers, high net revenues, increasing gross profits, well-maintained cash flow and healthy profit and loss statements and a balance sheet.
It should also resort to the voice of customers and customer's feedback to improve its products and services. One of the other vital habits that it needs to get into is that you should constantly monitor its key performance indicators (i.e. KPIs). These KPIs will give analysis and insights into your business and how well it is faring or not faring.
Lastly, digitizing customer service and integrating your photography business with cloud systems like Deskera which offers various services like bookkeeping, CRM, customized sales pipeline management, email marketing campaigns, invoices and many more such services.
Integrating with Deskera will ensure that your business is efficient and not facing losses and penalties due to certain errors in the functioning or calculation.
In addition to these, now I will also be discussing the detailed steps of starting your photography business.
Try Deskera Today
Sign Up For Free Trial
Write Your Photography Business Plan
In order to succeed, it is important to have long term goals that will not only serve in showing you the path to undertake but also help you in assessing your performance along the way.
This is what your photography business's plan will do for you. It will each detail about your business written down. These details will include but are not limited to what your business will be about, your competitors, your niche, your operating expenses, cash flow, revenue and ownership.
It will also highlight your target market and how you aim to win them over. The roles that would be needed to be filled in your business would also be noted here. This can include investors, stakeholders, sales personnel, customer success manager and many more.
Hence, your photography business plan should mainly include:
Business Description
Legal Structure of Your Business
Investments
Cost of Running a Business
Pricing
Marketing and Advertising
Setting a photography business model by outlining all these details would be the first step towards having clarity and purpose for the next 9 steps.
Choose Your Photography Niche
This is interconnected with figuring out your photography business goals. When you want to start photographing professionally, one of the prime requisites is to specialize in one genre of photography.
At the start, it would be pragmatic to take photography assignments across genres, but keep on moving towards the genre that you want to specialize in. By understanding what your competitors are offering and whatnot, and at what rate, you should focus on how you can take advantage of the information.
One of the other ways to have such advantageous information is by undertaking market research to understand your target market and their demands. For instance, if you want to specialize in wedding photography and there is a gap in budget-friendly photographers for intimate wedding functions, that becomes your advantage over your competitors.
The many genres of photography are sports photography, product photography, wedding photography, portrait photography, commercial photography and many more. To make your photography business successful, it is important that you have expertise in one genre and over time you can specialize in multiple genres.
Focus on Your Ideal Client
After selecting your niche in photography, the next step is to choose your ideal client. Choosing an ideal client is based on these factors:
Your Location- Do you want your clients closer to where you live, so that you can take advantage of local area based references and networks? Or are you up for travelling regularly for your photography assignments? This is important to be figured out as in the case of genres like wedding and portrait photography, it is roped in with the location.
Demographics- This is dependent on the kind of people that you would be comfortable working with the most. If you do not want to work with families and people in general, your genre would be product photography and commercial shoots. However, if you love families- your genre could be weddings or pre-weddings, or baby shoots and so on. Based on this, you get to decide your genre as well as the age group of the people you would be comfortable working with.
How Much Money Are Your Customers Willing to Pay- Based on this, you can decide what kind of photography assignments you will be willing to undertake. For instance, if you choose the higher income group of the clients and their wedding photography, you would be accepting only luxury wedding photography assignments.
Based on Your Interest and Style- Some clients would be drawn to your personal, signature style and thereby give you complete photography freedom. Other clients however would be more specific about how they want their shoot to turn out to be. As a photography business, you will have to find a balance between your freedom and the client's brief and give your best output. However, if a client does not seem to match your style, you should choose to avoid accepting that assignment in order to prevent client dissatisfaction.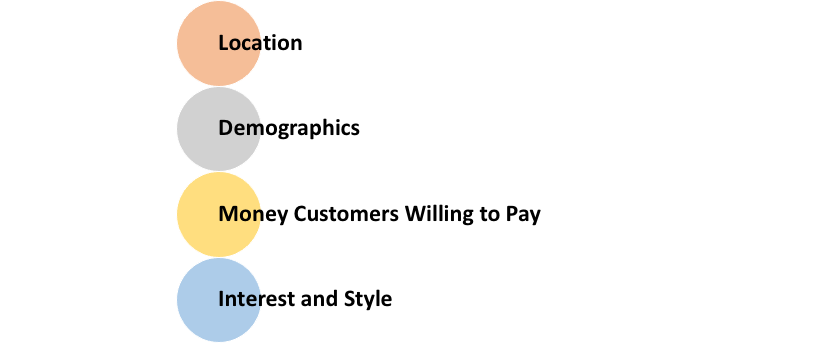 Before starting your photography business, this step should be given due consideration for your will to be investing a lot of time, energy and money in pursuing your client base.
It is important to not let your decisions be influenced by trends and more money, but by what it is that you want. Photography is a creative process, and your being honest with yourself is absolutely essential.

Market Evaluation and Getting Your Pricing Right
Before starting your photography business, you should be backed by knowledge from thorough market research and analysis. Such research will help you to understand the requirements of your potential clients.
It will also help you to understand the specific requirements which are not being met by the competitors in your demographic. Looking into the customer's website will tell you about their work as well as prices.
At the end of this research, it should help you to answer the following questions:
Are people in your area hiring photographers outside of the locality?
How can you penetrate the market?
How can you beat your competitors through the services you offer or through the price point you offer?
How will your potential customers get to know about you?
Ideally, you can start to penetrate your target market by offering your services at prices lower than your competitors. However, these prices should not be so low that it makes your business unprofitable and unsustainable for you.
Registering Your Photography Business
Once your photography business plan is ready, it is time to make it a legal entity by registering it. The steps for doing the same are:
Finalize Your Photography Business Name- This would become your brand name and hence should be memorable, unique and descriptive, all at the same time. Most importantly, the name should be available for you to use, without anyone else already using it in the same context.
Register as a Legal Entity- You need to register your business as a legal entity with the local and federal government for taxation and compliance purposes. Make sure that you have set up a different business account and that you have also got a photography business license which is typically required of professional photographers. Also, make sure that you have taken up photography business insurance which will protect you against every unforeseen circumstance. Make sure your photography business makes photography assignments' contracts and agreements with your clients. This will help in instilling confidence in your clients and about what they are going to receive.
Have a Lawyer You Can Bank Upon- Having a lawyer who can provide legal aid and advice as and when you need it is also an essential part of registering your business and in fact for starting your photography business.

Buying Just the Necessary Tools
Once you have planned to start your photography business, it is important to make sure that you have all the right equipment to handle the photography assignments that will come your way.
When you are starting, only buy the equipment which is required rather than investing in all the latest gadgets. If some expensive equipment is needed for your certain photoshoot, you can always rent them.
Your photography gear on a day-to-day basis should include a good camera, backup batteries, backup camera, lenses, charger and SD cards. These should be well-maintained and in proper working condition.
On starting a photography business, you would also need to invest in post-production and editing tools such as software, computer, calibration device, storage devices and necessary computer programs to mention a few of the basic and important ones.
Lastly, if you are providing services of prints, albums and other deliverables that will require a photo lab, you will have to choose a photo lab carefully and get the samples from them. This will ensure that you can deliver optimal quality to your clients.
Create a Photography Portfolio Website
Your photography portfolio website will be the most important tool that will grow your business. It will become the door to your world and will be on your behalf to your potential clients.
Because your photography portfolio website would be the first thing that your clients will see of your photography business, it will become important to make a good first impression.
Some of the tips for making a good photography portfolio website are:
Always show your best work only. Do not put up all your work on the website. The work that you put up should be curated and categorized properly.
Your photography portfolio should be aesthetically pleasing, professional and modern. Do not use very bold colours, gradients and music on your website as this will prevent your work from standing out.
Your photography portfolio website should be mobile-friendly, as most clients will see your website on their mobile devices.
Your website should be able to load fast and be secure at the same time.
Your contact details should be present on your website so that your clients can contact you easily.
The right domain name will help in bringing in more search volume and creating a brand name.
Make sure your photography portfolio website brings brand awareness to your photography business. It should make your potential clients trust you and be interested in getting assignments done from you. Your portfolio should represent your signature styles and therefore your beliefs.

Marketing Your Photography Business
Like most creative businesses, photographers can also use the internet to their advantage to grow their business, earn recognition and reach out to potential clients.
The several ways of promoting your photography business are:
Get Yourself Registered on Local Listings- These are the websites like Foursquare, Craigslist, etc which allows you to list your business for free with them. How this works is that you respond to reviews and queries against your listing. These sites offer ways like analytic capabilities and paid advertisements to improve the visibility of your photography business listing.
Seek Referrals from Clients- Long before social media came into existence, photographers relied heavily on getting referrals from their clients for their friends and family. Today, this is still one of the important ways of improving the visibility of your photography business. One of the ways of ensuring this is by calling and emailing your clients for referrals at their convenience. The benefit of this method of promotion is that the trust that your client has in you becomes an assurance about you for the referrals.
List Your Business on Google and Bing- Google and Bing are the world's most popular search engines. By registering your business with them, you will be able to get local traffic to your website.
Promote Your Photography on Social Media- Social media like Facebook and Instagram which are primarily photo-sharing social networks have more than 2 billion monthly active users. Using these media to reach potential customers and gaining admiration and recognition for your work will help in creating a buzz about your business. Your friends and family can become your initial customers. You can introduce the people to your photos and stories and thereby build connections. Lastly, you can even accelerate the growth of your business by using paid advertising on these social media.
Joining Stock Photography Communities- By joining communities like Pexels, Pixabay and Unsplash, you would be offering your photography for free usage with the benefit being that with more usage of your photos, you will get more recognition. Further on, you can also share your images on paid basis on sites like Shutterstock, Getty Images, iStock. By selling your images on such sites, not only would you get a source of revenue, but most importantly, a platform that will bring you and your photography business recognition and appreciation. In the long run, this will be beneficial to your photography business.
Share Your Photography and Expertise with Blogging- Social media makes it convenient for you to track your quantitative growth through likes, shares and saves. The insights you get through this can be used for coming up with ideas for your blog. Your blog could be about photographing techniques or about one of the latest assignments that you did and your experience therein. It could also have tips, works that you admire, your favourites and so on. Your blog posts should be linked to your website so that with more views on your blog, you would get more traction on your website too. Your blog should be SEO enhanced to reach more audience and therefore your potential customers.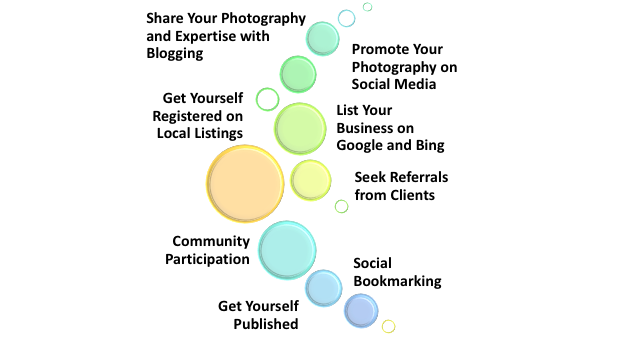 Community Participation- One of the other ways of promoting your photography business is by participating in communities. For instance, Facebook has groups (communities) dedicated to different genres of photography. Instagram has pages that repost the posts or seek your permission and then post your photo on their page with due credit. Such communities are often visited by those who are seeking those services. Keeping yourself active in these communities can help you get valuable clients for your photography business.
Social Bookmarking- This is an integral part of link building that aids in increasing your website's ranking on search engines like google. Social bookmarking websites like Scoop it and Delicious allow you to submit your website URL which eventually increases the rank of your website on SERPs (i.e. Search Engine Results Page). The results are visible over a period of time and require consistent link submissions.
Get Yourself Published- There are numerous magazines for different genres of photography. For instance, Vogue and Elle for fashion photography and Elle Decor for an interior design photography. If you can get published in such magazines, they have a massive readership which will immediately transform into a large number of clients for your photography business. If you get published on their online portals, make sure you get a backlink to your portfolio website which will help considerably with your SEO efforts.
Attend Photography Events- Photography events present an opportunity of interacting with like-minded photographers. These events have conferences and seminars from the industry's leading experts from whom you can learn. You can also find an opportunity to work with other photographers through them and therefore, always make sure to carry your business card with you. Additionally, participating in online photography contests is also a great way to get recognition and exposure.
Promotion of your photography business should be done through several different channels. It is on understanding the responses on these channels and staying updated with the business trends, that you can make most of the opportunities.
Building and Growing Your Client Relationships
Initially, finding clients for your business is always a challenge. However, these initial clients become the determinants of your foothold in the industry. You will be able to use the work done for them, to get more work for your photography business. To do so, you will have to continuously build and engage with your network.
Treating each client with respect and care, making them feel at ease with your business and building a rapport with them is what will bring more referrals for your photography business.
To take up an assignment and ensure that you satisfy the clients with your work, meet them informally over a coffee or tea and get to know them and their expectations. These meetings can be short and crisp but with enough personal touch as you feel was needed.
After finishing their assignment, continue staying in touch with your clients by updating them with your newsletter, latest work, offers, the addition of new services and so on.
Make a point of wishing them on their birthdays and anniversaries and offer freebies or gifts or promotions on those days. Also, make a point of taking your client's testimonials as this will help your future clients to know about you and be able to trust you.
You should also resort to email marketing campaigns to build a loyal follower base. These will be your potential customers, who can be converted into your customers if you have good relations with them, and you offer them what they need.
Email marketing campaigns is a more personalized form of marketing, that has multiple benefits. Not only does it help in conversion of leads into sales, but it also helps in getting customer loyalty.
Lastly, enabling your site visitors to subscribe to your newsletter will help to build a potential customer base.
Accounting of Your Photography Business
For any business to succeed, it is absolutely essential to have an efficient and quick accounting in place. For your photography business, you should have an accounting system in place that maintains real-time data, can send out invoices and their reminders automatically, has an alert system in place if an expenditure surpasses a certain limit, manages your account receivables and payable and ensures you have healthy financial statements.
Such an accounting system should also be able to provide with analysis and insights about your business and its finances. It should also be able to fill out the tax forms for you, and calculate your tax payables as well.
How can Deskera Assist You in Starting Your Photography Business?
Deskera is a cloud system that will help in integrating your business on one platform that will be accessible from everywhere. Doing so will help you to save the time taken in transferring data between the different systems.
It will assist you with real-time updates about your business like cash flow status, inventory management, sales, purchases, purchase orders, customer tickets, customer satisfaction, revenues, profit and loss statements and balance sheet.
It will also help you to sync between your orders, payments, taxes, refunds, product variants, sending out invoices and reminders, and even undertaking follow-ups and advertisement campaigns.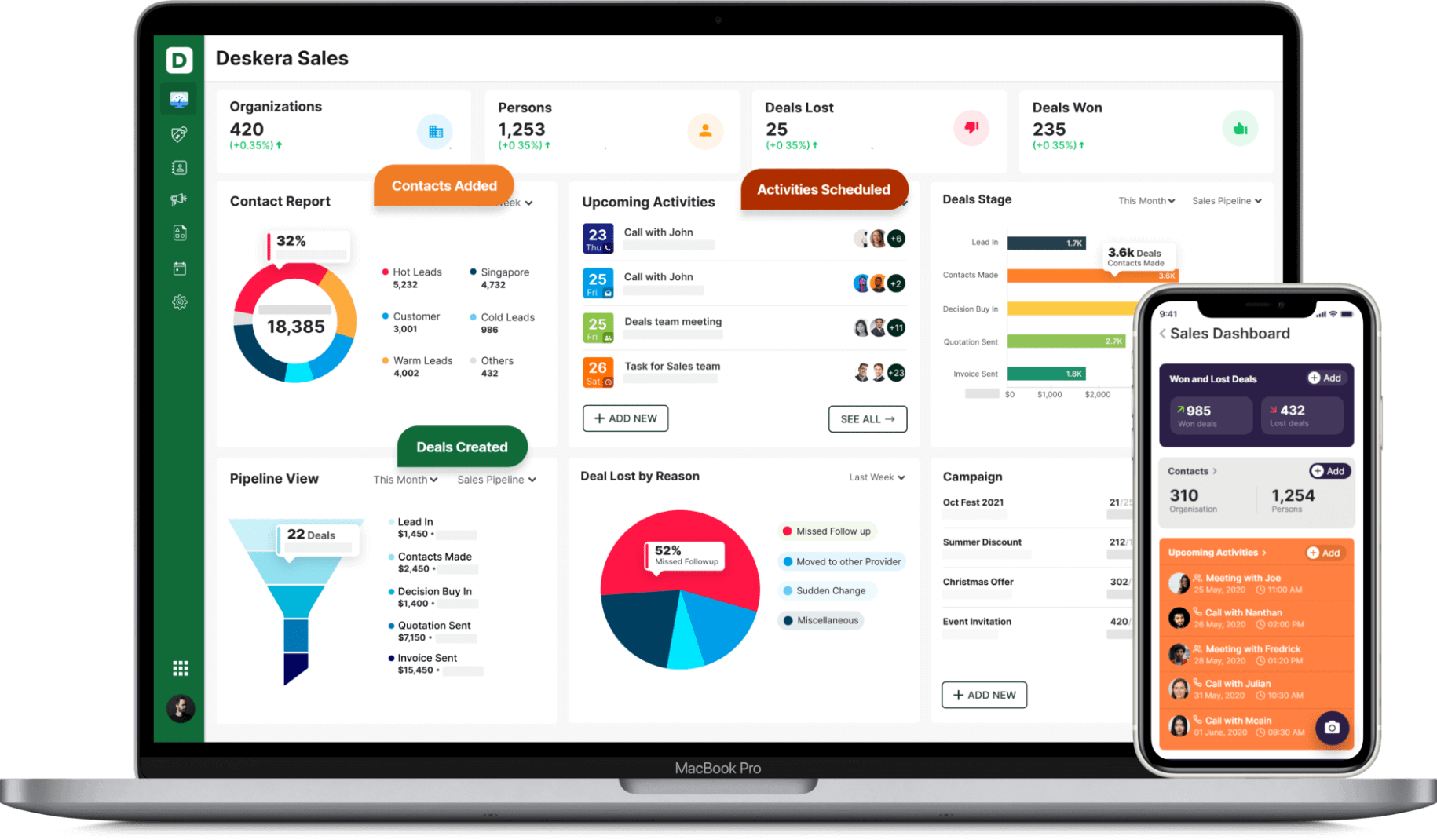 Deskera CRM is a cloud platform that stores and manages your leads and contacts. It hence is an ideal platform for managing your proposals too.
Your business proposal can be incorporated in the Deskera sales pipeline stages. This will make it more convenient to track the proposal activities. The stages of the sales pipeline can be customized as per your needs.
It will also facilitate the movement of prospective clients through the different stages of the sales pipeline.
What will further help you would be the real-time insights that the Deskera CRM platform provides. Using these insights, you can know your business's strengths, weaknesses as well as forecast the opportunities and threats. Further business activities could be planned accordingly.
Try Deskera Today
Sign Up For Free Trial
The insights would also show the areas that are faring nicely and badly. Working upon these areas accordingly will ensure larger profits, customer retention and a happier work environment for your business.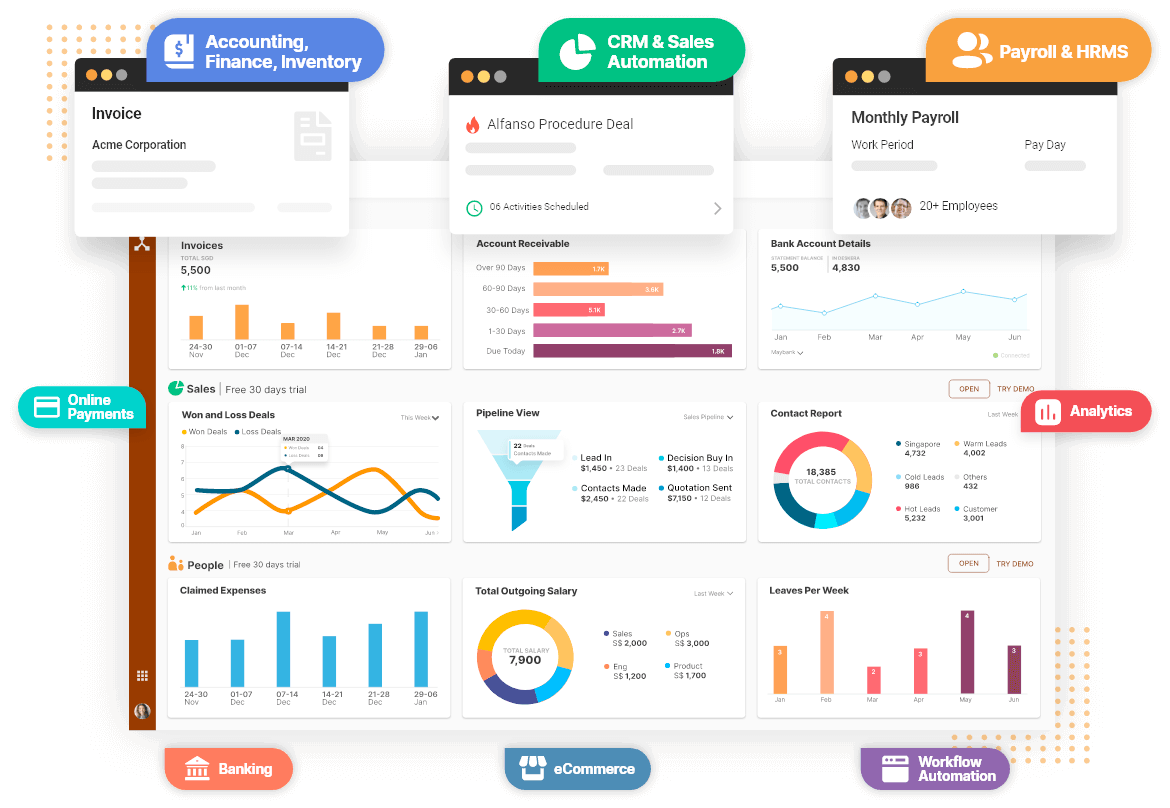 Such a consolidated platform will help you to make faster and well-informed decisions. It will help you in strengthening your opportunities and being braced for the threats. Undue expenses and penalties arising out of mistakes in invoicing, taxations, late deliveries, etc will be prevented as well.
Deskera Books and Deskera CRM and Deskera Helpdesk will also be able to ensure the highest customer satisfaction and thereby an increase in net revenues and profits.
Key Takeaways
As discussed above, there are several aspects that you will need to consider and execute while starting your photography business. These are:
Write Your Photography Business Plan
Choose Your Photography Niche
Focus on Your Ideal Client
Market Evaluation and Getting Your Pricing Right
Registering Your Photography Business
Buying Just the Necessary Tools
Create a Photography Portfolio Website
Marketing Your Photography Business
Building and Growing Your Client Relationships
Accounting of Your Photography Business
Your business would not always run smoothly, but the rewards of pursuing your passion and your dream through a successful business would be worth it. This article is here to help you ensure you get it all.
Related Articles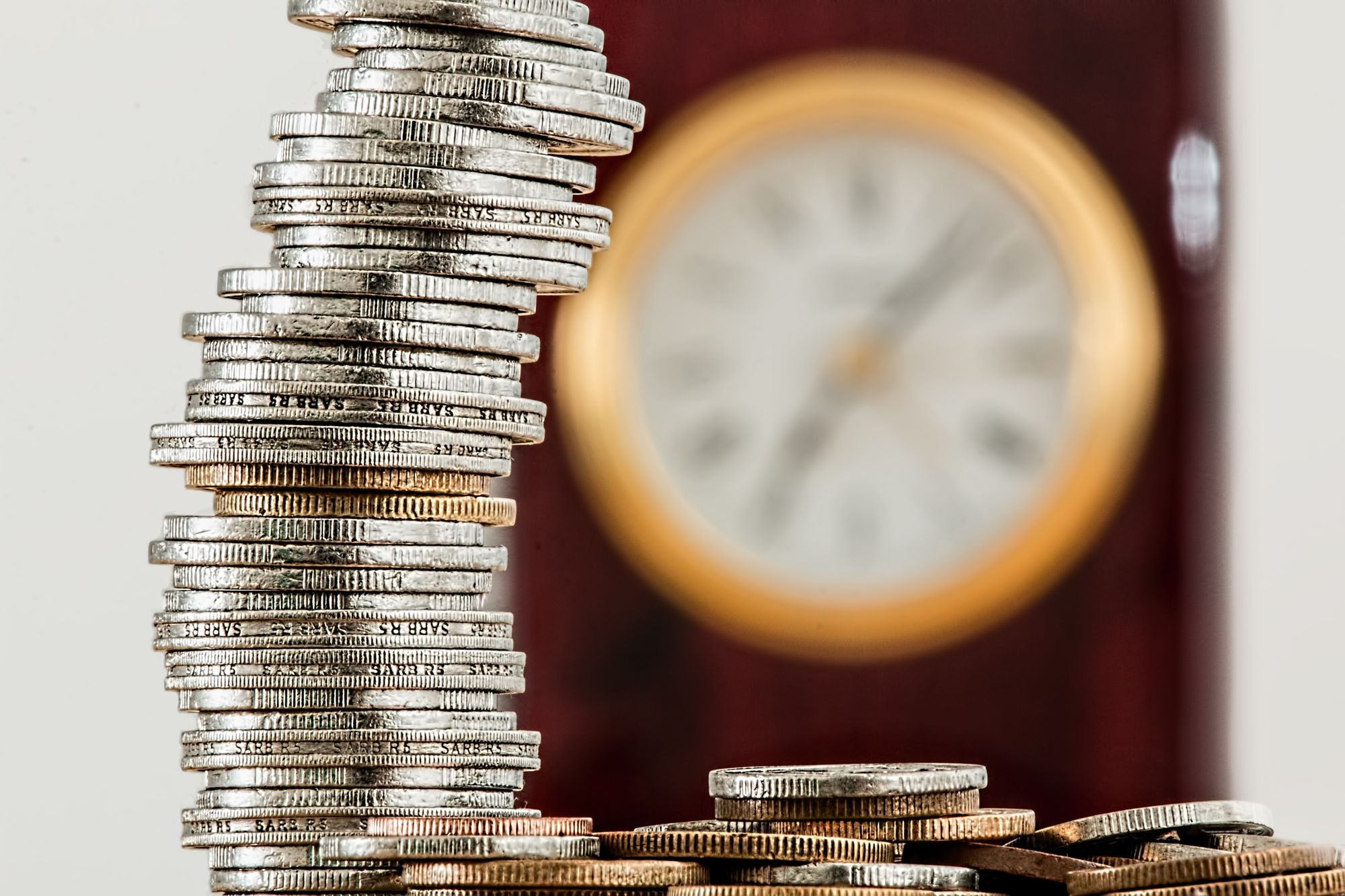 ---
---