Whether you are a business owner or work for a large enterprise, business continuity planning will help you respond faster when disruption strikes and minimize the negative impact on your business. Most businesses who are surviving the Covid-19 have had a good Business Continuity Plan in place, though many have improvised and learnt along the way.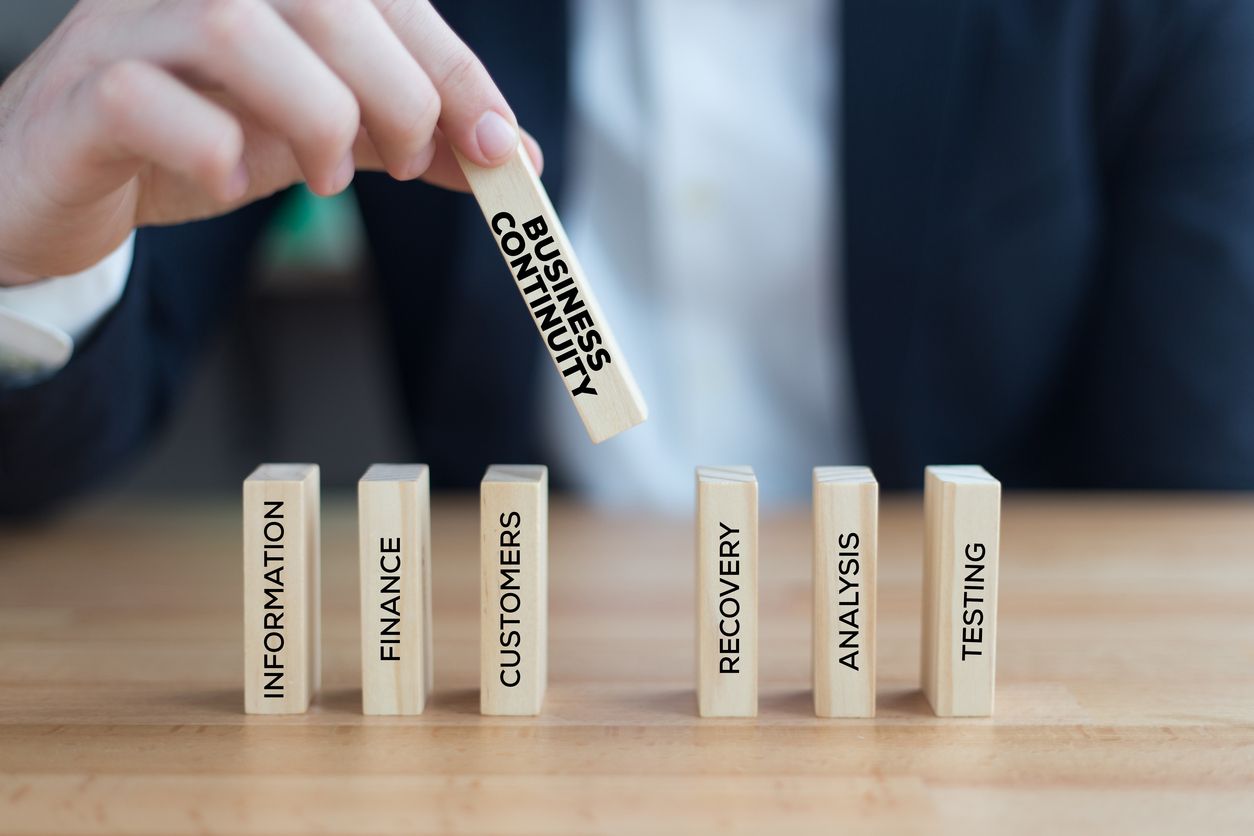 Not having a BCP puts you at the risk of either being unable to continue selling or in some cases unable to ship products during unplanned disruptions or pandemics. Your businesses ability to recover from these unplanned disruptions will be much slower and less effective if a BCP is not in place, eventually impacting both your revenue and your brand reputation.
What is a Business Continuity Plan?
A business continuity plan (BCP) is a process that documents and outlines how a business will continue operating during an unplanned service disruption. Business continuity planning or BCP is the process involved in creating a system of prevention and recovery from possible threats to your business. It contains contingencies for business processes, human resources, assets and business partners, and every other aspect of the company that might be affected. The BCP ensures that the personnel and the assets are protected and can function quickly in the event of a disaster.
The BCP plans typically contain a checklist that includes equipment and supplies, data backups, and backup site locations. Plans can also identify plan administrators and have contact information for emergency responders, key personnel, and backup site providers. In addition, the BCP may provide detailed strategies on how business operations can be managed for both long-term and short-term outages.
The critical component of a business continuity plan (BCP) is its disaster recovery plan containing the strategies for handling IT disruptions to networks, personal computers, servers, and mobile devices. The BCP should cover how to re-establish office productivity and enterprise software to meet the essential business needs. Manual workarounds should be outlined in the BCP to continue until computer systems can be restored.
There are a few primary aspects to a business continuity plan for the key applications and processes as mentioned below:
High availability: It provides for the capability and processes to have access to applications regardless of local failures. These failures might be in the physical facilities, business processes, or IT software or hardware.
Continuous operations: It safeguards the ability to keep things running during a major disruption, as well as during planned outages such as planned maintenance or scheduled backups
Disaster recovery: Establishes ensures a way to recover the data center at a different site if disaster destroys the primary site or otherwise renders it inoperable.

Why Is Business Continuity Planning (BCP) Important and Needed?
Most businesses are open to a host of disasters that vary in various degrees, from minor issues to catastrophic issues, and BCPs are crucial. BCP is usually meant to help a company to continue operating in the event of disruptions or threats. This could result in a loss of profit, and higher costs, leading to a drop in profitability. Businesses can not rely on insurance alone because it does not cover all the costs and the customers who move to the competition.
Developing a comprehensive BCP is difficult because systems are distributed and integrated across a hybrid IT environment, creating potential vulnerabilities. Linking critical systems together can help you manage higher expectations. However, it complicates business continuity planning – along with resiliency, disaster recovery, security and regulatory compliance.
If one of the links in the chain breaks or is under attack, the impact can ripple throughout the entire business. An business can face revenue loss and erode customer trust if it fails to maintain the business resiliency, even while rapidly adapting and responding to opportunities and risks.
Business Continuity is an on-going cyclical process of risk assessment, management, and review to ensure that the business can continue if risks materialize. The effective implementation of business continuity has 6 stages:
Policy and Program Management
Embedding business continuity
Analysis
Design
Implementation
Validation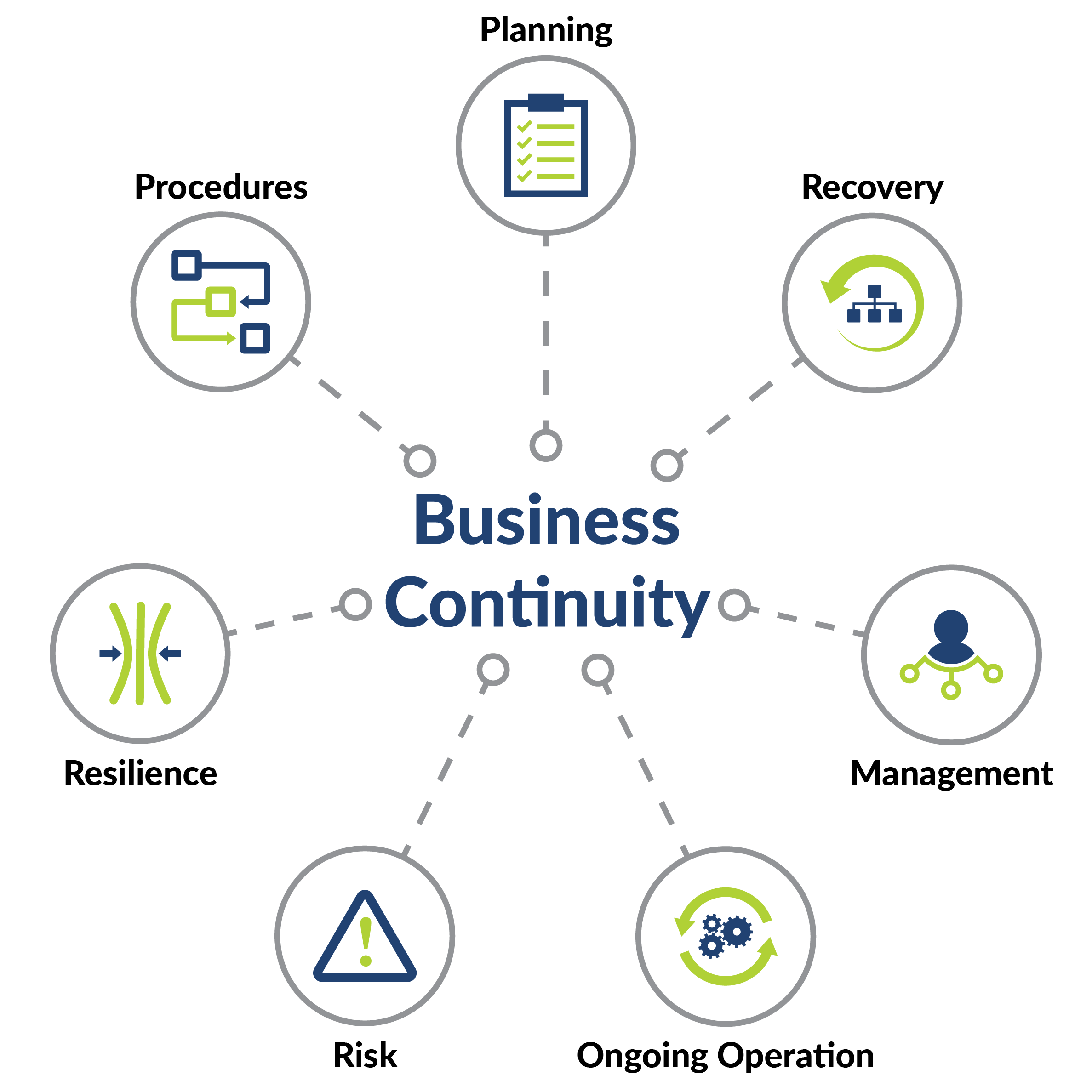 What is the difference between Business Continuity Plan (BCP) and Business Continuity Management (BCM)?
BCP should be developed and implemented well in advance for a business to ensure its effectiveness. Business Continuity Management (BCM) is a structure for maintenance and management of the BCP. Most companies already may have countermeasures to avoid accidents and disasters. The application team's BCP should focus on what the people on that team need to do in order to continue supporting the application and bringing it back online.
What are the Types of Continuity Plans?
1. Business Continuity Plan (BC Plan) - A Business Continuity Plan or BC Plan comprises clearly defined and documented procedures and information for use when a disaster occurs.
2. Occupant Emergency Planning (OEP) - Occupant Emergency Planning or OEP is a process that provides the response procedures for the occupants of a facility in a situation posing a potential threat to personnel's health and safety environment or property.
3. Incident Response Plan (IR Plan) - Incident Response Plan is the documentation of the pre-determined set of instructions or procedures or to detect, respond to, and limit consequences of a cyber attack against an organization's IT systems.
4. Continuity of Operations Plan (COOP) - A Continuity of Operations Plan or COOP is a determined set of procedures or instructions that describe how an organization's essential functions will be sustained for up to 30 days as a result of a disaster event before returning to normal operations.
5. Disaster Recovery Plan (DR Plan) - A disaster recovery plan (DR Plan) is a clearly defined and documented plan describing how an organization deals with potential IT disasters.
6. Continuity of Support Plan (CS Plan) - Continuity of Support Plan or CS Plan is the documentation of a determined set of procedures or instructions that describe how to sustain major applications and general support systems in the event of significant disruption.
7. Business Resumption Plan (BRP) - Business Resumption Plan or BR plan is the documentation of the determined set of instructions or procedures that describe how business processes will be recovered, resume, and restored after a significant disruption has occurred.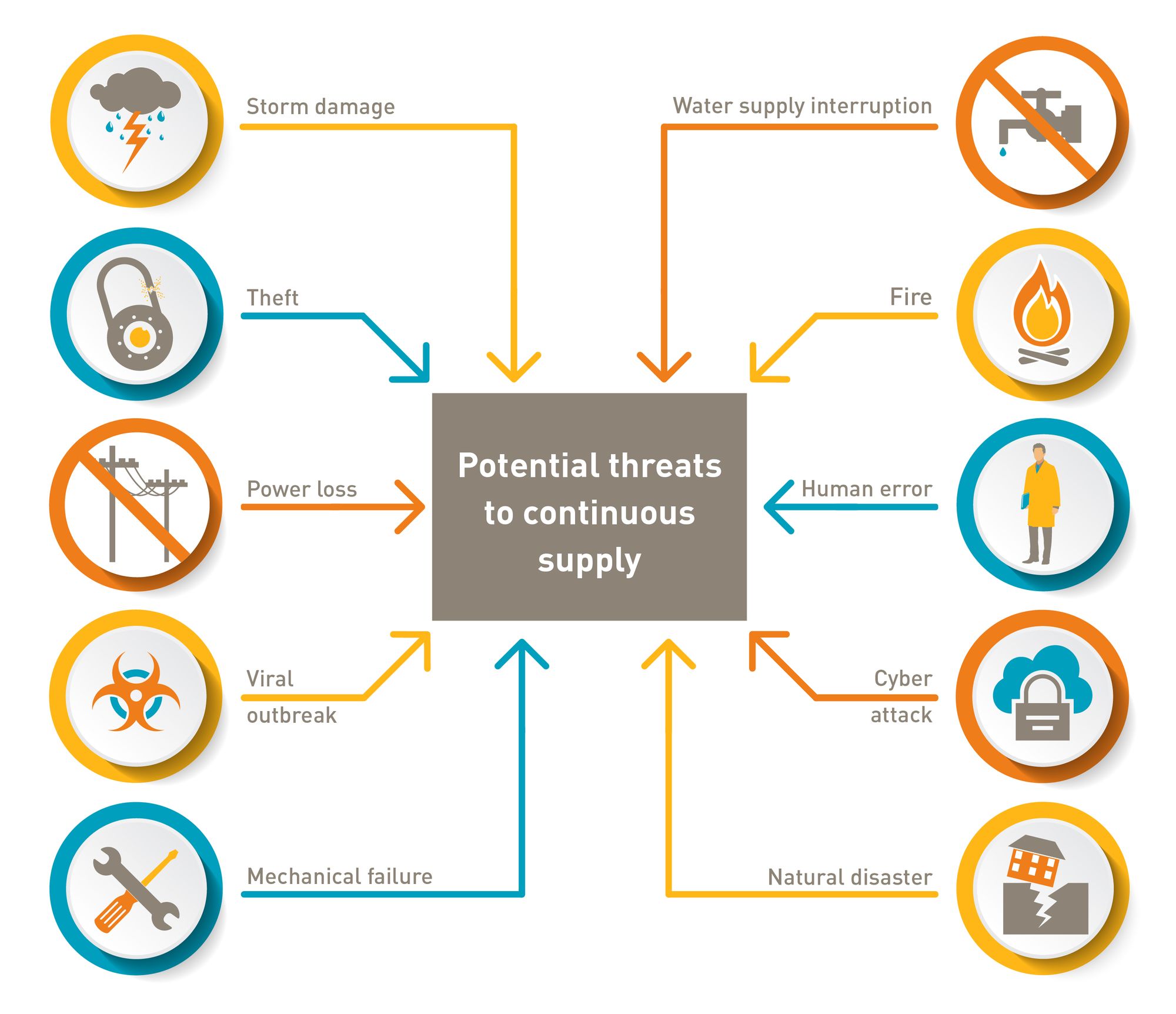 What are the Business Continuity Strategies?
The output of the business continuity strategy would generally include a system for mitigation, crisis response, and recovery.
(a) Mitigation Strategy
The mitigation strategy comes from the risk assessment performed in the initial "Risk Analysis and Analysis phase". Therefore, risks that remain high in spite the presence of the mitigating controls should be reviewed.
The reasons to review are to check if:
Are the controls that are implemented ineffectively? Are there other causes that drive the likelihood or impact the variables despite the controls?
Are there multiple causes of a risk? Have we addressed all risks or only some of them? The high-risk threats can't be ignored and should be mitigated to the best of our abilities.
Some of these threats must be identified, and more attempts must be made to lower their risk. In addition, they must be implemented to prevent any potential disruption.
A mechanism should be in place to detect and sound the alarm should a threat materialize. These detection mechanisms could take the form of monitoring tools that records and captures abnormal changes in the environment or process.
While it is better to prevent disasters from happening, it is impossible to say with a hundred percent certainty that one will never occur. Therefore, in the unfortunate event that a disaster causes the business operations to be disrupted, a good strategy is required to ensure effective and timely recovery and resumption.

(b) Recovery Strategy
The recovery strategy should focus on re-establishing or re-gaining what has been lost in the disaster stage
From people, systems, facilities, records, equipment, etc
Know what has the disaster deprived the organization of?
What resource need to be recovered to allow the organization to carry out its critical business functions?
How quickly must these resources be made available?
How to acquire these resources within the acceptable time frame?
What resources could be built or developed by the organization in anticipation of a disaster?
The model gives the highest level of recovery assurance as the critical resource is guaranteed.
Facilities, like a hot site, could be built so that a vital functions can be immediately up and running during disaster.
An organization that does not choose not to own spare resources could lease the resource. Some organizations may choose to procure resources only when a disaster occurs. In developing the recovery strategy, you can consider getting back the resources needed to continue critical business operations. It would be best if you, kept in mind that the recovery is within the prescribed RTOs for these vital operations.
If a resource can not be recovered in this time, interim measures are often called Temporary Operating Procedures (TOP) are carried out.
(c) Crisis Response Strategy
Usually an organization does not have and incident management or response plan. Crisis response strategy should also include a response component that are the prioritized activities that the organization would undertake in a disaster. These activities include emergency responses, like situational assessment, evacuation,  and modes of communication.
How do you Write a Good Business Continuity Plan?
A successful business continuity plan has the following elements:
1. Define the team structure
Create a core team with personnel from throughout the organization, including information technology, executive leaders, facilities and real estate, communications, physical security, human resources, finance, and other service departments. Develop a defined decision-making hierarchy. So that people do not wonder who has the responsibility or authority to make a given decision. Create a support teams devoted to related functions such as communications,  business readiness, and emergency response
2. Establish a plan
Identify potential disruptions to your business process which can affect any of your organization's locations, such as epidemics, power outages, fires, etc. Try to base your plan on worst-case scenarios to keep the number of scenarios manageable. Always prioritize the essential operations and who will perform them. Determine how employees will work-from-home in the event of prolonged outages like the Covid-19 pandemic. Remember to update your plan annually to reflect changes in the criticality and dependency of applications, risk management, business priorities, business locations, operations and other considerations
3. Test your business continuity plan
Always conduct full emergency simulations annually. This includes crisis communications, safety drills, and workplace recovery processes. Remember to measure your test results and strive for continuous improvements, whether they are application availability goals or personnel safety assurances.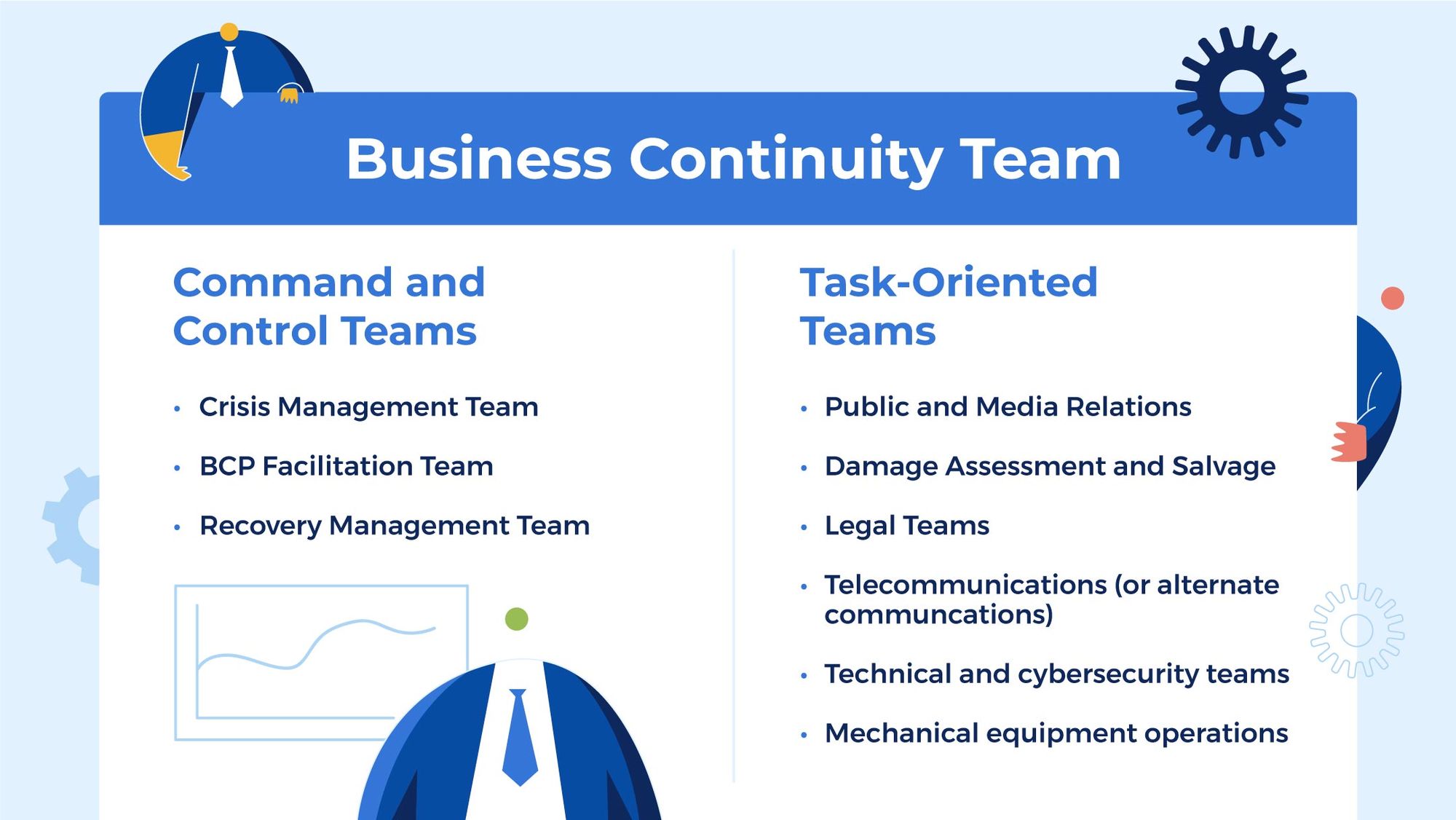 4. Create a crisis communications strategy
Establish emergency notification procedures. This should incorporate both push and pull systems to communicate quickly. Identify all the stakeholders for crisis emergency communications, including employees, clients, vendors, contractors, media and executive management. Have a scripted communication that can be easily updated and ready to transmit immediately for such situations.
5. Educate people on safety procedures
Always educate and train your workforce so that they are aware of the processes they should follow in the event of an emergency. Always consult with your local and federal agencies in emergency response training and other guidance for your program. Remember to conduct employee drills to help personnel become familiar with procedures, such as finding emergency exits
We have you covered with a ready to use BCP Template so you can have your business continuity plan ready in minutes.
What is the Difference between a BCP and a Disaster Recovery Plan?
Let us have a closer look at business continuity vs. disaster recovery plan:
The BCP focuses on keeping business operational during a disaster, while disaster recovery focuses on restoring data access and IT infrastructure after a disaster. In other words, the BCP is concerned with keeping the shop open even under unusual or unfavorable circumstances. At the same time, the latter focuses on returning it to normal as soon as possible.
The disaster recovery strategies mostly involve creating additional employee safety measures, such as conducting purchasing emergency supplies or fire drills. Combining the two plans allows a business to focus on maintaining operations and ensuring that employees are safe.
The goal of a practical business continuity plan limit operational downtime. Meanwhile, effective disaster recovery plans limit abnormal or inefficient system functions.
A BCP ensures communication methods such as phones and network servers continue operating amid a crisis. A disaster recovery strategy helps ensure an organization's ability to return to full functionality after a disaster occurs.
The business continuity focuses on keeping the business open in some capacity, while disaster recovery focuses on getting operations back to its original normal.
Some companies may incorporate disaster recovery strategies as part of their overall business continuity plans. Disaster recovery is a step in the broader process of safeguarding a company against all of its contingencies.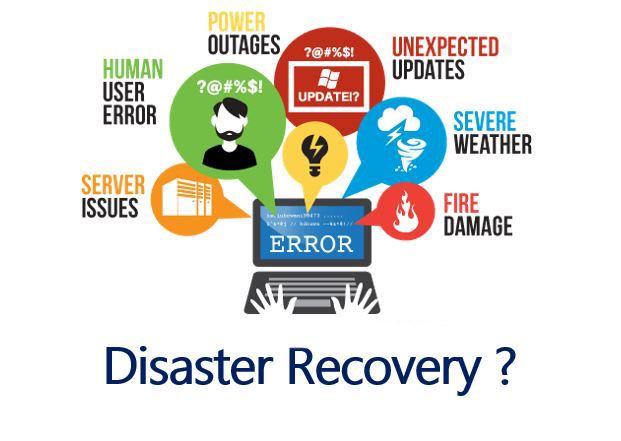 How can Deskera help with Business Continuity Planning?
Deskera helps with business continuity by making critical business processes systems independent. Deskera is an all-in-one online, cloud-based business software that helps businesses remove their dependency on centralized systems.
Move accounting, finance, sales, purchase, inventory management, leads management, sales operations, after sales support, payroll, leaves and expense management completely online with Deskera All In One Business Software.
With Deskera, you can run your business anywhere, any time. You can work in office, or remotely, from your laptop on a browser or on the award winning Deskera mobile app, to keep things running at all times.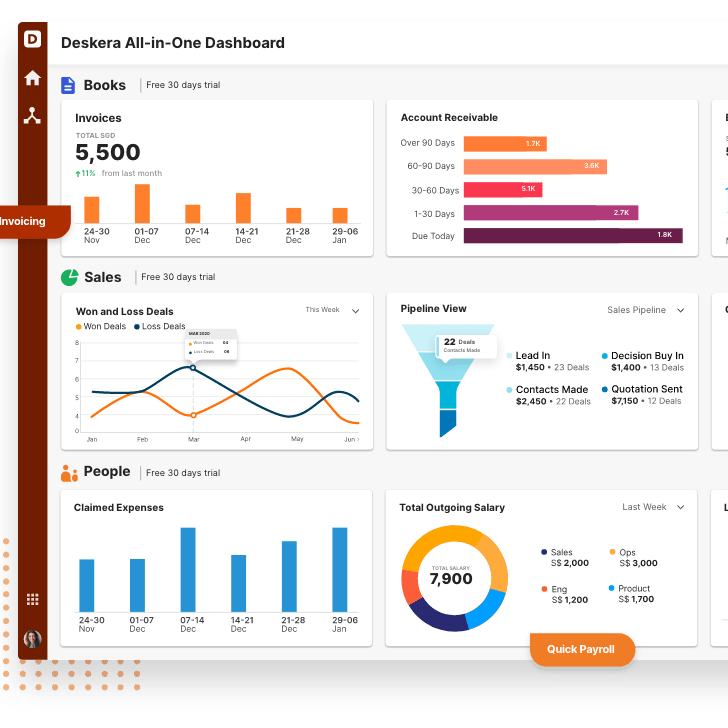 Deskera gives you the overall view of how your business in running at the moment from anywhere. Deskera can help you view your inventory and view financial reports whenever you need them.
Deskera helps you automate your business with its fast CRM system, manage your employees with attendance and payroll, and finally manage your financial reports, inventory, shipping and finally banking integrations to keep track of your payments and revenue coming in.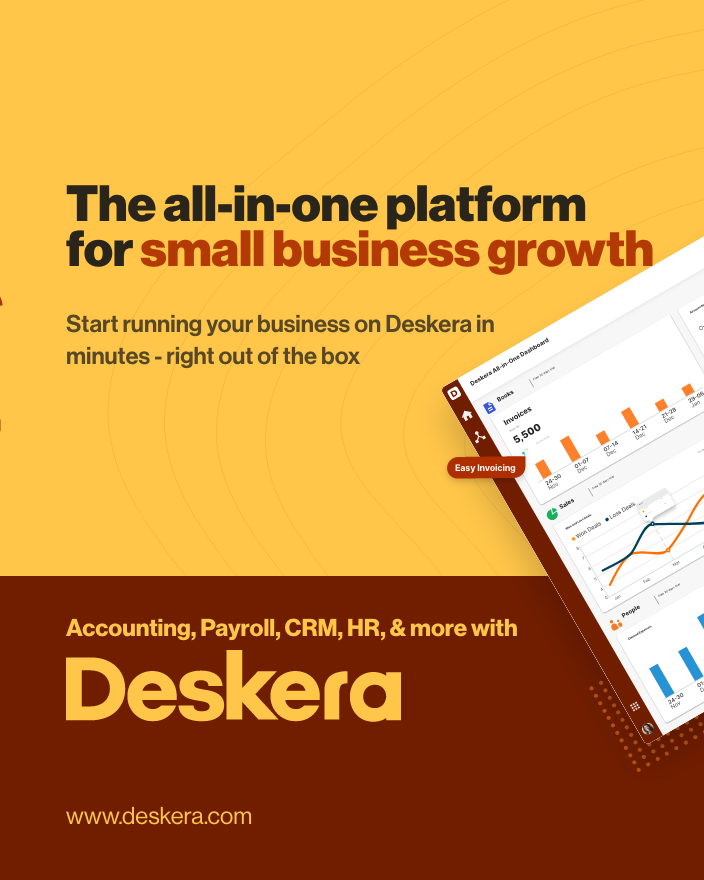 Key Takeaways
Business continuity planning (BCP) is the fundamental steps a business undergoes to create a recovery and prevention system from potential threats such as natural disasters or cyber-attacks
Business impact analysis, organization, recovery,  and training are all the steps corporations need to follow when creating a Business Continuity Plan
BCPs are designed to protect assets and personnel to make sure they can function quickly whenever disaster strikes
BCP should determine how those risks will affect operations
BCP should implement safeguards and procedures to mitigate the risks
BCPs should constantly be tested to ensure there are no weak links that can be identified and corrected.
BCP should review and test the process to make sure that they work and it is up to date
Download the free BCP template here.
---
---