If you are wondering how to start a dropshipping business, then luckily, you are in the right place.
Around 33% of eCommerce stores have adopted and are using the dropshipping model. Further, its popularity is only expected to boom in the coming years.
In this guide, we will cover certain dropshipping concepts. It includes how to start dropshipping, its working, dropshipping model, business structure, investing time and money, and profitability.
Let's start.
What Is a Dropshipping Business?
In simple words, dropshipping business is a unique eCommerce store that fulfills customer orders by allowing you to sell products, unlike traditional methods.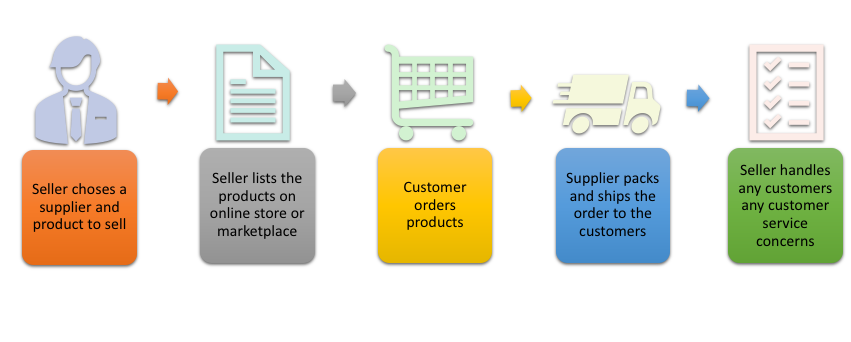 It means that you don't have to handle elements like shipping, packaging, labeling, or own a warehouse or inventory. Your sole responsibility is to manage sales and marketing.
Furthermore, all you need is your online eCommerce website and marketing tactics. You are indirectly selling products to customers without having goods in your hands.
How Does Dropshipping Work?
There are three elements that consist of dropshipping. Let's learn them:
1. Supplier: Find the right and genuine supplier or wholesaler. The solid foundation of dropshipping business includes Suppliers. They will only handle the major part of your business such as order fulfillment and physical inventory.
2. Website: The next part is your eCommerce website, where customers will finalize their orders. Make sure to provide a product catalog with high-quality images, error-free descriptions, and product details.
3. Customers: After customers choose products to buy from your website, then they will place orders. They will make the payment to you. Then, your work will come into action by placing the order with your supplier. Finally, your supplier will do packaging, labeling, and shipping the product to your customers.
How to Start a Dropshipping Business
If you are sure to invest in a dropshipping business, then read further on how to start your dropshipping business.
The primary segment of the dropshipping business is to find niche. First, choose a niche in which you are interested and have some knowledge. Then, research and narrow down the list of product ideas by evaluating profitability; next, analyze your competition and specific market, look for keywords that will help your customers to reach you. Furthermore, make sure to invest in social media engagement.
The next step is to look for the right suppliers. It is a time-consuming task. Therefore, you can follow certain methods to find your supplier. It includes attending a local trade event, asking directly from manufacturers, online directories, referrals, and Google search.
Now, you need to build your eCommerce website. Here customers can directly make their purchases. You can find certain platforms that will help you to build your website such as Shopify. Make sure to use software tools to analyze the market and audience with it.
In addition, you need to optimize your website. It is a necessary part to bring in customers. Make sure you optimize your site aggressively. It could be done through Facebook and Google Ads, Email Marketing, Social Media, and Search Engine Optimization (SEO).
The final stage requires marketing strategies to target and attract customers. You can promote your services or products on certain social media channels such as Facebook, Instagram, Twitter, and more.
The 6 Steps to Start A Dropshipping Business
In this section, we will discuss 6 steps that play a major role in a dropshipping business plan. Let's study in detail:
Research and Analyze

Market research is a crucial key to finding the right product. Finalize products only after conducting research and analysis. Here is the list you must consider while exploring ideas:
The best tool for learning about trends is Google Trends. It helps to analyze product demand. However, sometimes niches are shown as an upward trend but lack search volume. On the other hand, it is useful for quick access to know the upward or downward trend of products.
The next tool is the Ubersuggest Keyword Tool. It helps to understand and analyze product potential, search volume, and competition. Further, it adds certain interesting ideas to select products for your dropshipping business.
Further, you can browse popular eCommerce websites, which will help you to select your niche. Make sure to check the best-selling list as it offers popular and in-demand products.
Market research is important while choosing products. Don't miss this step while exploring your product ideas.
Select Product Ideas
You need to select the product that sells. To implement that, you need to analyze products and markets. Then, finalize the list of products that would bring profits for you.
Avoid making rash decisions while selecting products. In addition, it is an absurd decision to choose a niche with zero competition. Some of the most popular niches include fashion, jewelry, electronics, purses, beauty, backpacks, and more. Here is the list that you should consider while choosing a product:
Check Profitability: You have to ensure that you are not limiting products that get low profit. Therefore, make sure to research and get a price quote from the supplier. It will help you to know what is the lowest price they are selling at. Evaluate and analyze the market to know profit margin.
Shipping Price: Customers discard the idea of purchasing products if the shipping cost is high.
Avoid selling products that are fragile, heavy, large in size, need heavy packaging, and have to import from other countries.
Analyzing Competition
Once you complete your research and finalize products. The next step is to analyze your competition in the market. Check out this list to implement it:
Google is an easy and best place to check out the competition. Input the product's name that you want to sell and check out the top 10 results. It will help you to know about your competition in a specific location.
Use tools such as Ahrefs or Moz to check competitors' websites. Note that if they have domain authority (DA) above 50 then you have a low chance to beat them.
Explore competitors' social media handles. Check their followers, market strategy, engagement, and more. List out the ideas and niches to implement in your business.
Use tools such as SimilarWeb or Alexa to choose your niche competitors. It will help you to obtain a summary of their ads, traffic, audience, competition, and more.
For content ideas, you can use a popular tool called BuzzSumo. It helps to provide insight into most shared content. You can take inspiration from it for your next ideas.
Choosing Right Suppliers
Selecting the right and genuine suppliers is highly crucial. There are few points that you should consider while choosing them. It includes selecting a supplier that offers the best price, trustworthy and reliable, works with fewer merchants, exists in business for a long time, and provides optimal delivery time. Note these mentioned points to search for the right supplier:
Look for keywords like 'supplier', 'wholesaler', 'bulk', manufacturer, or 'reseller' in the Google search.
Check out platforms that are connected to dropshipping businesses. Some of them don't mention on their sites so you can call or email them to know if they do.
Join Social Media Communities that will help you to find suppliers. Most suppliers use social media channels for promoting their services. You can easily find them via contact details.
Building eCommerce Website
You have to look into certain elements before building your eCommerce website. It includes domain name, choosing a platform, signing up, choosing themes, and more. You can choose the right platform for creating your website such as Magento, Shopify, etc.
Make sure to use the themes that match your services and business vision. Furthermore, you can also get free trials of these platforms for a few days. In case it works for you then you can go for a monthly subscription.
Marketing
Lastly, you have to market your products.
Focus on identifying the right audience for your products and services. It depends on location, product requirements, customer personas, and more.
Check their social media handles such as Facebook, Instagram, or more to learn more about their requirements.
Plan marketing strategies that you can implement to attract customers and retain them. You can do that on Facebook, Pinterest, Instagram, Twitter, and other social media channels.
Be creative and logical while creating blogs, ads copy, and more. Analyze from your competitors' website what they lack and then use the improved version in your website.
The Commitment to Start a Dropshipping Business
Every business requires a significant amount of commitment, effort, and patience. You cannot expect results overnight instead you have to be consistent in all aspects of the business. Taking matters into your hands is the primary key that would help you to understand the ins and outs of the business.
Many new entrepreneurs want six-figure income in a few weeks and most likely give up when they fail to achieve this unrealistic dream.  Therefore, you need to keep your expectations realistic otherwise you will be highly disappointed. Make sure to balance between time and money to achieve success in dropshipping business.
Investing Time in Your Dropshipping Business
Time is Money.
The primary advantage of dropshipping is that you can manage and handle your business. And, it should approximately require 12-15 hours a week. Furthermore, many entrepreneurs handle their dropshipping business besides their full-time jobs. And, after a certain period and growth in sales, they take over control of dropshipping business only. So, it works both ways. You can check what works the best for you.
If you are new to dropshipping then we would recommend you start from bootstrapping. It would help you to learn about the working process of business. And, it helps to understand customers and market, develop new skills, and more.
On the other hand, if you have the opportunity to work full-time in dropshipping then you have higher chances to improve your business. Make sure you focus on marketing and build momentum.
With experience and business growth, you could earn an average income of $50,000 after working full-time for at least 12 months.
Investing Money in Your Dropshipping Business
It is quite a vague question to answer. It may take either a lot of money to invest or no money at all. Everything depends on how efficient your strategy is for investment. However, in the early stages of dropshipping business doesn't require tons of money.
It is crucial to understand how a business runs at every level and investing in the right people. Otherwise, you will end up losing your money on programmers, third-party middlemen, and marketers.
In addition, middlemen are the one who gets the most benefit in this system especially if you lack business experience. They charge you extra for resources, creating websites, and providing access that sells products. Therefore, it is important to protect your business and be the main force of the dropshipping business.
We recommend you start your website with relevant sites such as Shopify. You will get a free 14-days-trial that is worth it. And, if you decide to go with it for the long term then you can sign up for a monthly subscription of $29. Also, you will get certain interesting features on Shopify that would work for you. Lastly, make sure to rely on genuine and trustworthy suppliers.
Deciding on a Dropshipping Business Structure
If you have decided to start your dropshipping business then you must consider these crucial points. Here is the list of business structures you can't afford to miss. Check out:
Sole Proprietorship
The simplest and popular form of business structure is the sole proprietorship. There is no legal basis for this business and does not offer any personal liability protection. The downside of a sole proprietorship is that you are responsible for all debts of business incurred, and if you get sued, then your assets would be at risk. It means your savings, personal assets, or even your home may be in jeopardy.
However, filing or special paperwork requirements are minimal. But, you need to report your taxes in your business earnings. Apart from that, no other filings are needed for other state or federal businesses.
Limited Liability Company (LLC)
It offers a shield of protection for your personal assets by determining your business as a separate legal entity from you. LLC isn't foolproof, however, it provides better protection than a sole proprietorship.
Simply put, if customers take you to court if they feel cheated with your products or in monetary terms. Then, the court cannot make you pay the compensation from your personal assets.
Further, you need to comply with filing tax returns separately for your business. Also, you need to pay ongoing fees for your company and even have to pay while establishing your company. In addition, make sure to check the guide as LLCs vary from state to state.
C Corporation
It is a great option for dropshippers who invest huge capital and expect a decent amount of profit. Most businesses tend to consider C Corporation as it offers maximum liability protection.
However, it is also most likely to be expensive incorporation than LLC. Also, the tax filing is doubled.
If you have a small business, we recommend you consider either a sole proprietorship or an LLC. In addition, most average businesses use LLC as their option as it offers liability protection and autonomy from finances and costs. Moreover, if you are ready with enough fundings that you can pay for ongoing fees and incorporation, then LLC is the best choice.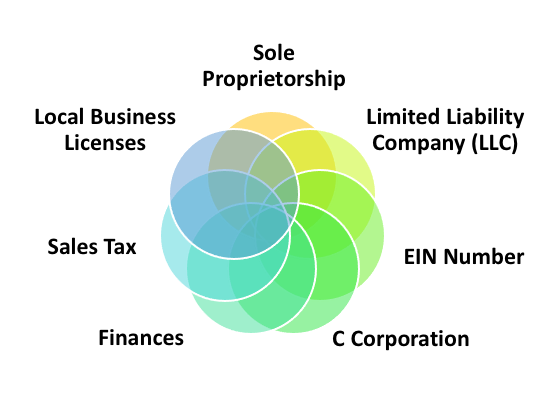 EIN Number
The Internal Revenue Service (IRS) made it mandatory for all businesses to have an employer identification number (EIN). It is similar to the Social security number (SSN) and consists of a unique nine-digit number.
This number is required to file your taxes, open a bank account, apply for a wholesale dropshipping account, and everything related to your business.
Getting an EIN is fortunately quite easy, simple, and free.
Finances
Entrepreneurs need to avoid mixing personal and business finances. Otherwise, it creates confusion and raises red flags if you get audited by the IRS. Also, avoid investing in dropshipping businesses through cash or personal bank accounts. Invest in dropshipping business under your business name rather than personal. Follow these mentioned points:
Make sure to deal with business finances via one primary business checking account. All the deposits and withdrawals should be done through this account. And, it will make accounting easier and more efficient.
Next thing is to have a business credit card that would be used for dropshipping inventory purchases and other business transactions.
Sales Tax
To collect sales tax, you have to make sure to check two criteria. The first includes if you operate from the state that collects sales tax. And, second, including if the customer placing an order is residing or living in your state.
In case, you receive orders from customers living in other states. And, their state's own sales tax then you won't collect any sales tax.
Make sure to register yourself as a retailer with your state's Department of Commerce. Also, confirm with them how frequently you need to submit your taxes.
Local Business Licenses
Though, most towns and cities require businesses to get their business license. Also, it needs to get renewed after a specific period. However, this concept differs when it comes to dropshipping business. But you need to make sure to check with your local laws and regulations to learn more.
How Hard is it to Start a Dropshipping Business?
Certain self-proclaimed business perfectionists sell the idea of 'Maximum profits with zero risks' in dropshipping. However, the reality is far beyond this concept. Dropshipping is a gamble in itself. It has both possibilities. One could become rags to riches whereas some struggle to keep up with invested capital.
Nevertheless, you don't have the power to manage and handle products. Instead, you are relying on your suppliers for product quality, labeling, packaging, and delivery. Even if one of those aspects faces any hazards, you may end up losing money and customers.
Sometimes marketing experts end up losing and newbies fly high in the first three months of dropshipping business. So, there is space for all kinds of possibilities. However, if you are a beginner and planning to invest in dropshipping. Make sure to learn each aspect of this business.
From selecting genuine suppliers to marketing strategies, you need to get ready for all of it. In addition, it is totally possible and realistic generating $50,000 or above per month in dropshipping business.
How Much Money do I Need to Start a Dropshipping Business?
No business starts with zero investment. To reach your 6-figure dream, you have to invest minimal capital in kickstarting your business venture. However, if we discuss the minimum amount to start a dropshipping business, it would cost you $150 to $1,000 depending upon the size and requirement of your business.
In addition, you already save money by not owing inventory, shipping costs, packaging and labeling, and more. So, most of your investment is consumed by marketing, websites, and suppliers.
Also, you can make the best use of free trials of software tools that would enhance your dropshipping business with free trials or less cost (if you purchase a monthly subscription).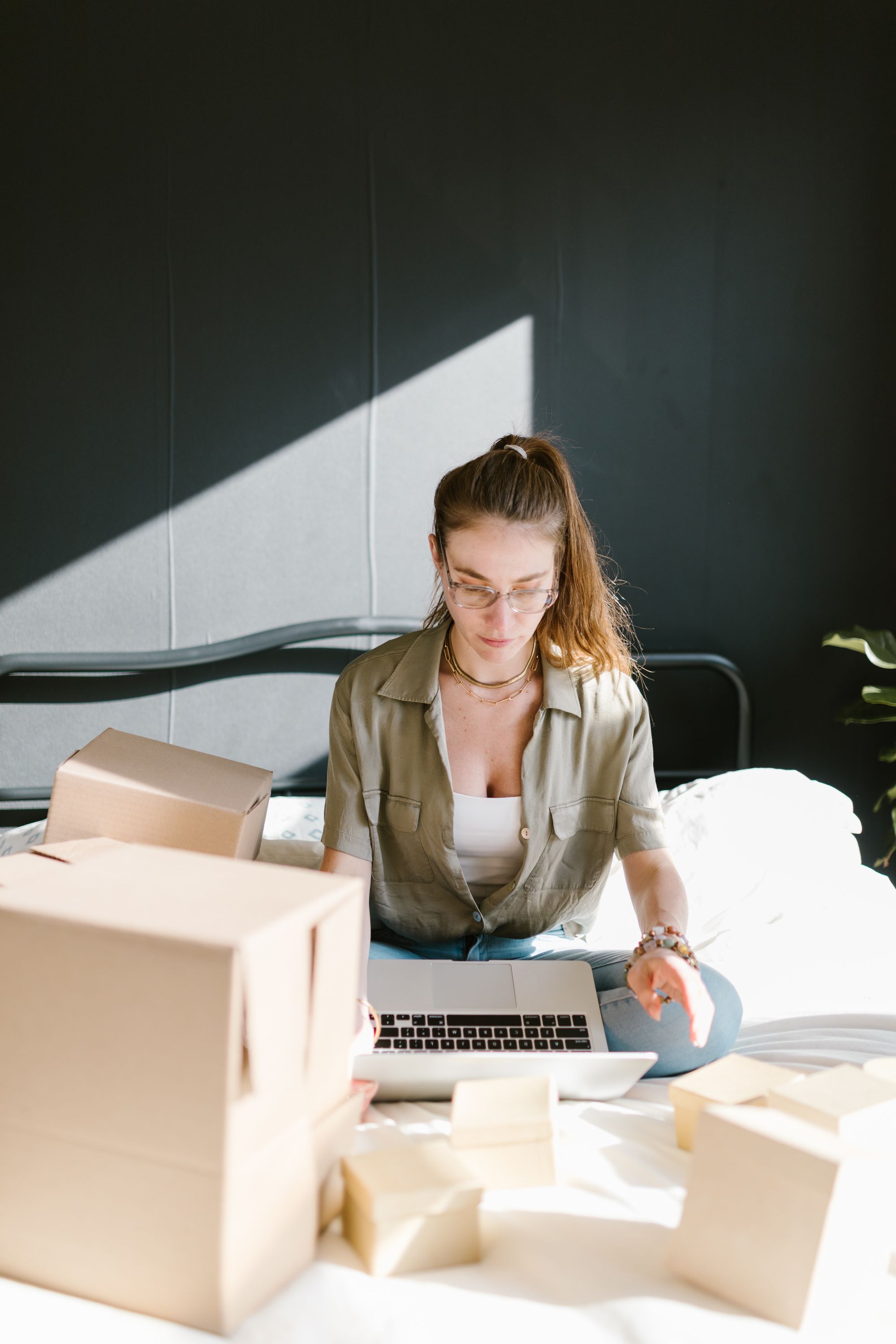 How Does the Dropshipping Business Model Work?
Dropshipping business models include three crucial aspects that make this process work. These three elements include manufacturer, retailer, and customer.
The first role in this model is placed by the manufacturer. Their duties include creating or manufacturing products, handling inventory, shipping, replacing faulty products, and restocking goods. Further, they sell products in bulk at wholesale prices (assuming the risk of unsold inventory) to retailers.
The next role is played by Retailers. If you are in the dropshipping business then you are playing this role. Their duties include marketing products on the website and selling products under your brand name. Note that you are solely responsible for marketing and sales of products to customers. And, if your customers have any concerns or complaints, then you have to face them. Also, you have to take care of setting costs and shipping prices. Therefore, make sure to analyze costs in each segment to earn decent profit in this process.
Finally, there come Customers.  They purchase products from your website and directly from you (retailer). If they have any concerns regarding quality, shipping, labeling, packaging, then retailers will have to solve them.
How Profitable is Dropshipping?
Not all businesses generate the same revenue. Some lose money while some generate more than others. And, the exact scenario goes for dropshipping.
Many dropshippers jump into the eCommerce business without any plan, effort, or strategy. And, they last only for a few weeks.
On the other hand, the sky's the limit for those dropshippers who are considering this business seriously. There is no fixed limitation for how one can potentially generate profits.
Moreover, some make $30,000 per year, whereas you might come across those dropshippers who are earning $3 Million per year.
In addition, dropshipping is a low-risk business because it does not incur any inventory, shipping, or other costs like wholesalers. As a result, you could normally make a good profit margin.
Lastly, it's the combination of effort, investment, consistency, and a bit of luck to become a successful dropshipper.
Why Is Starting a Dropshipping Business a Good Idea?
The first and foremost point is that dropshipping is a low-risk business model. Secondly, you are free from a certain business workload. It includes manufacturing products, owing to an inventory, unsold inventory, maintaining costs, handling packaging, labeling, and managing deliveries.
If you are a beginner, you get easy access to the entrepreneurship world. You can even work on weekends or along with your full-time. However, the main focus of dropshippers is sales and marketing. Also, processing orders require daily work but most of it could be automated with a click.
Ultimately, dropshipping business offers unlimited opportunities in terms of business growth and generating revenue. All you need is to step ahead and explore dropshipping benefits.
How can Deskera Help in Dropshipping
Deskera platform enables you to keep track of your dropshipping in real-time and optimize your social profile to transform your business tremendously.
It is easy to manage dropshipping using software such as Deskera. With Deskera Books you can update all the information related to your products and make sure you are not missing anything. Not just that, but Deskera also allows you to maintain your balance sheets in the system and manage efficiently.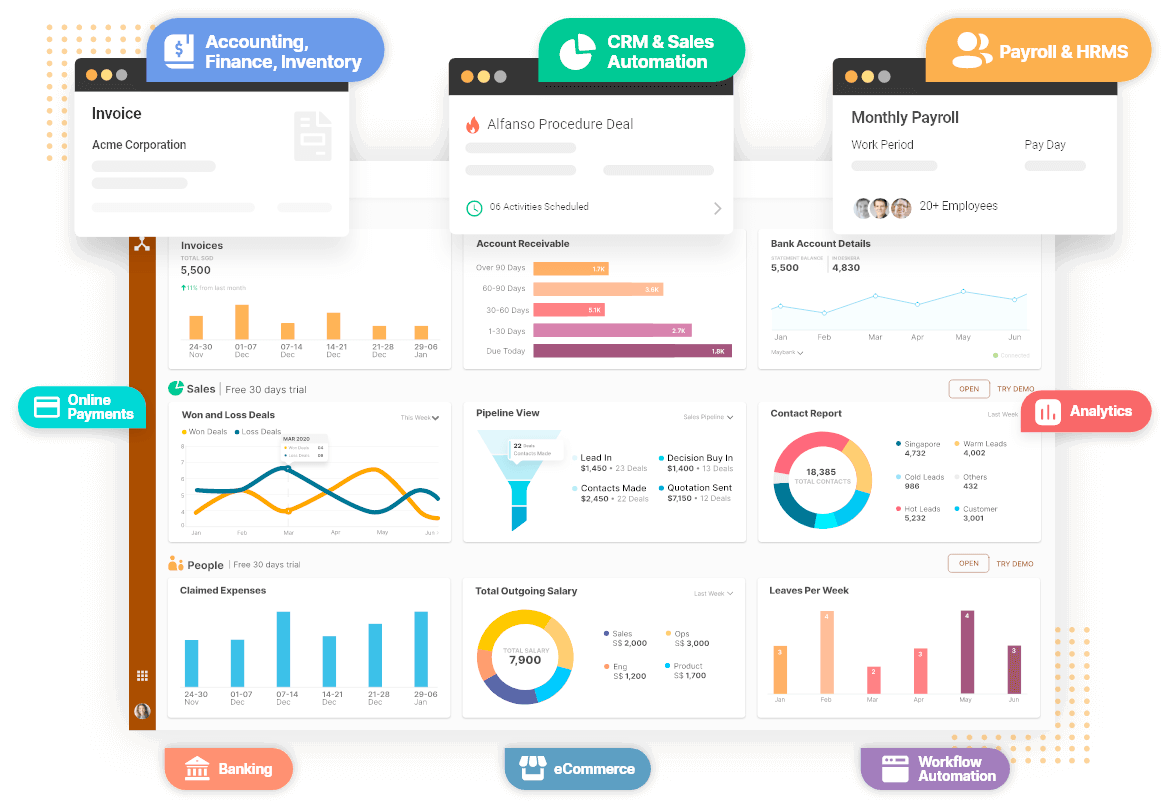 Deskera can also help with your customer relationship management, HR, attendance, and payroll management software. Deskera can help you generate payroll and payslips in minutes with Deskera People. Your employees can view their payslips, apply for time off, and file their claims and expenses online.
With Deskera CRM, you can manage contact and deal management, sales pipelines, email campaigns, customer support, etc. You can manage both sales and support from one single platform. You can generate leads for your business by creating email campaigns and view performance with detailed analytics on open rates and click-through rates (CTR).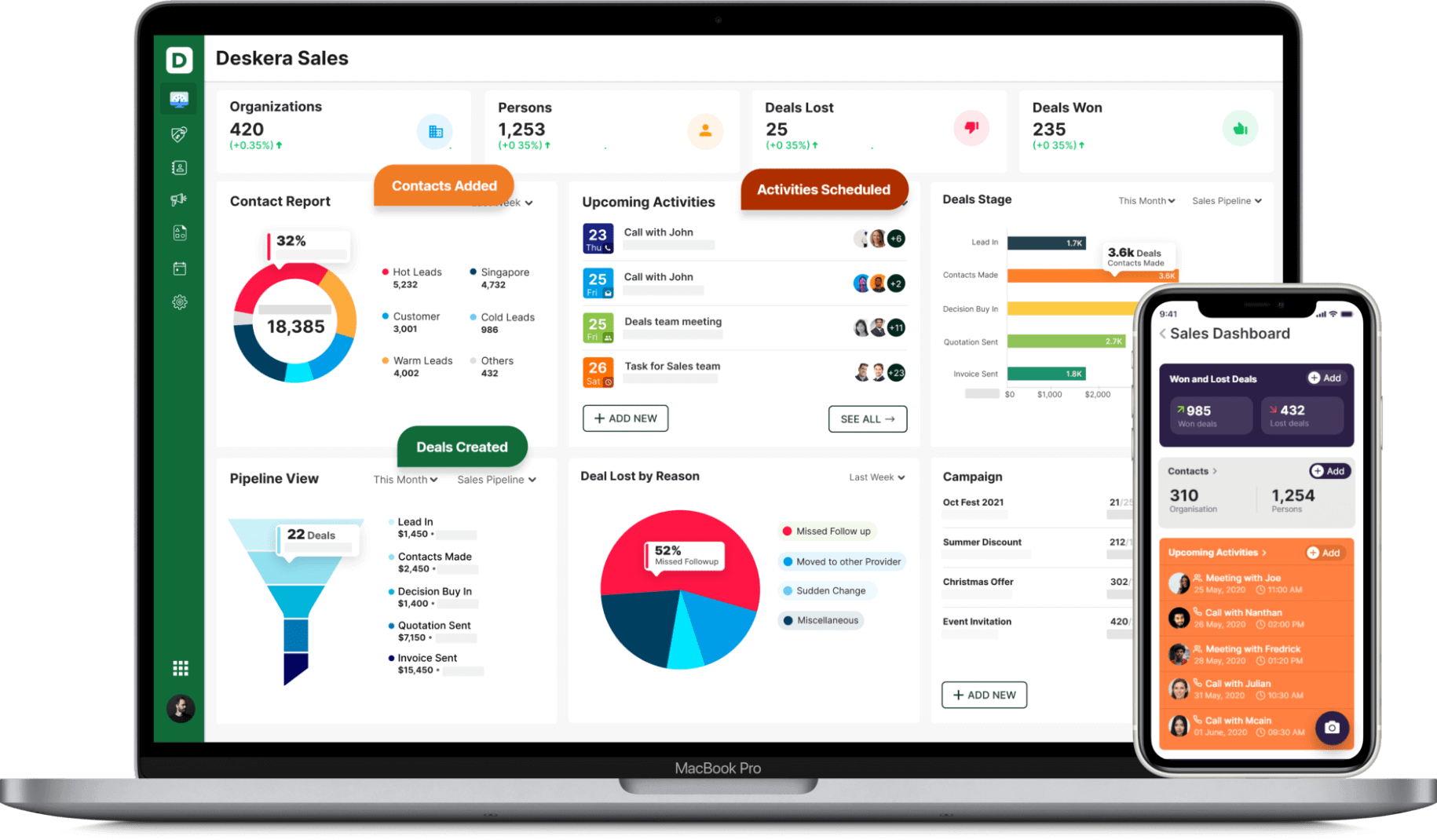 Deskera Books is online accounting software that your business can use to automate the process of journal entry creation and save time. The double-entry record will be auto-populated for each sale and purchase business transaction in debit and credit terms. Deskera has the transaction data consolidated into each ledger account. Their values will automatically flow to respective financial reports.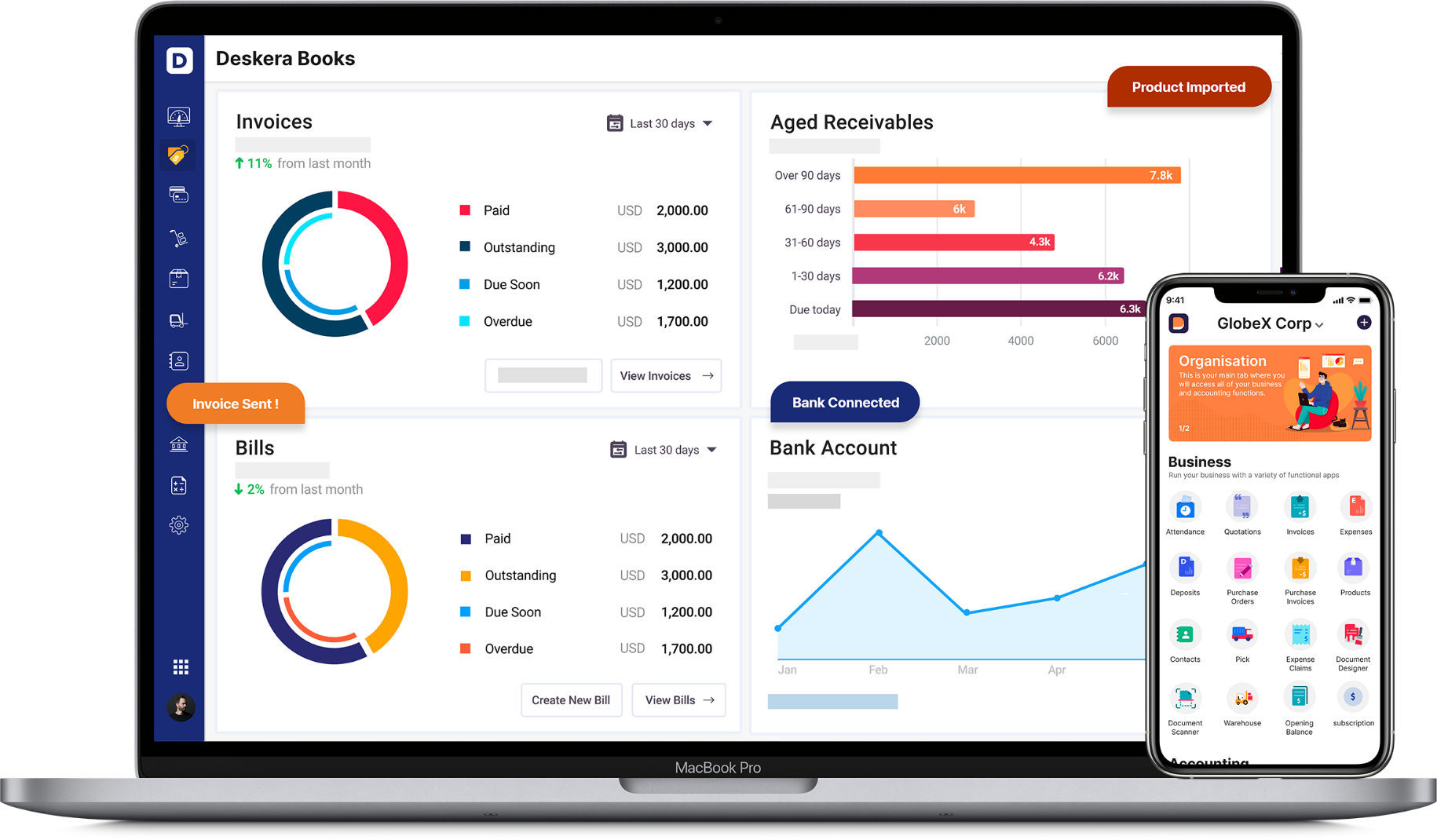 You can have access to Deskera's ready-made Profit and Loss Statement, Balance Sheet, and other financial reports in an instant. Deskera is an all-in-one software that can overall help your business to bring in more leads, manage customers and generate more revenue.
Key Takeaways
We have summarised points that we have covered so far:
Dropshipping allows you to sell products without owning inventory or warehouse and fulfills customer orders.
Three elements of dropshipping include supplier, your website store, and customers.
6 steps that play a major role in a dropshipping business plan: Research and Analyze, Select Product ideas, Analyzing Competition, Choosing Right Suppliers, Building eCommerce Website, Marketing
Make a balance between time and money to achieve success in the dropshipping business
Business Structure: Sole Proprietorship, Limited Liability Company (LLC), C Corporation, EIN Number, Finances, Sales Tax, Local Business License
To start a dropshipping business, it would cost you $150 to $1,000, depending upon the size and requirement of your business.
Dropshipping business models include manufacturers, retailers, and customers.
This business offers unlimited opportunities in terms of business growth and generating revenue.
Dropshipping is a profitable business.
Related Links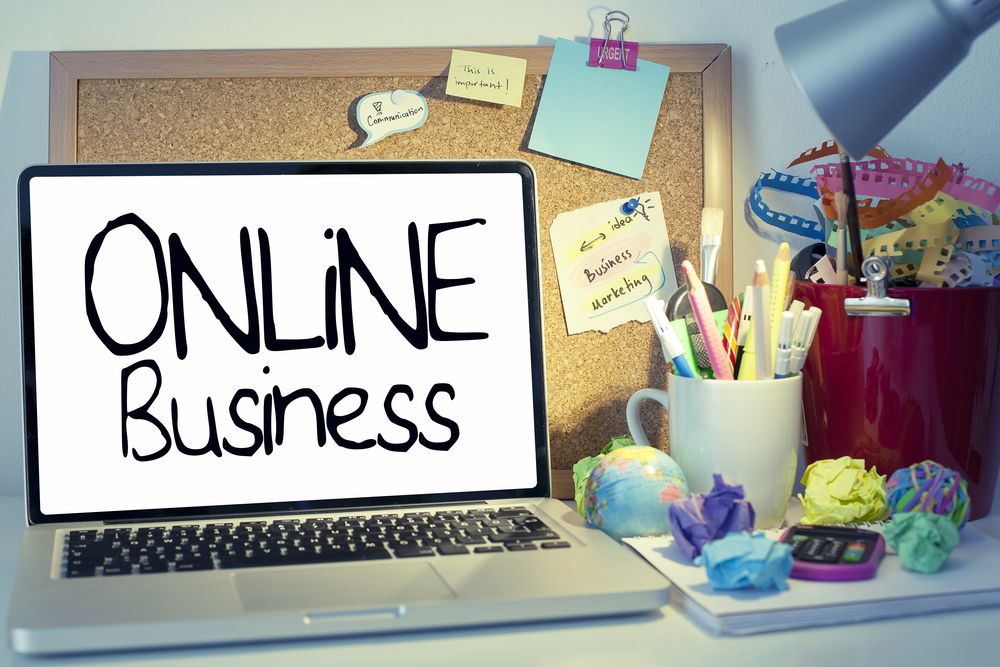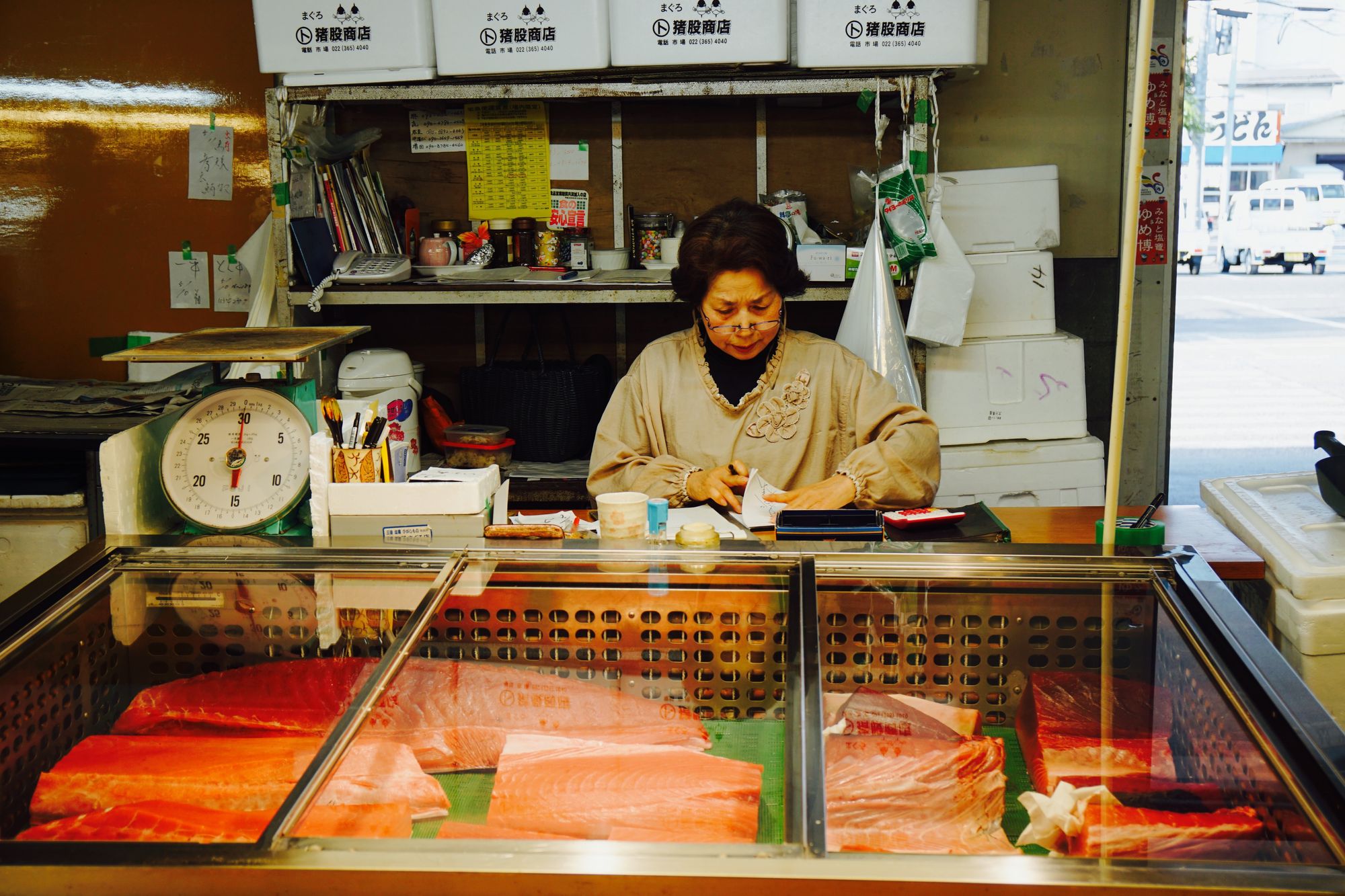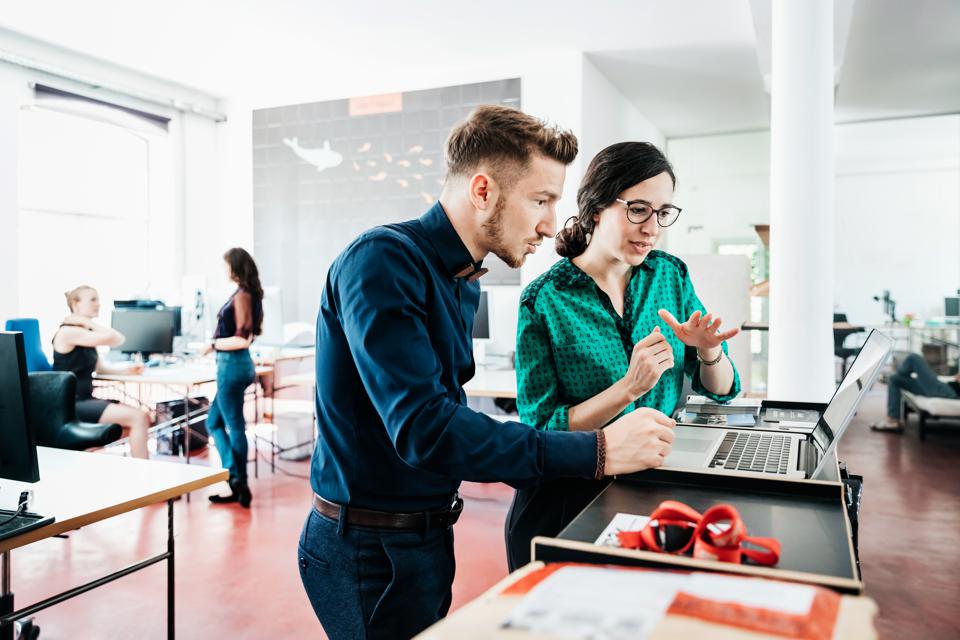 ---
---