Learn what is dropshipping, the pros and cons of dropshipping, and how dropshipping can help you as an existing business owner. Know the best practices to set up a dropshipping business, and understand the accounting best practice for dropshipping.
"The global dropshipping market size was valued at USD 102.2 billion in 2018 and is expected to register a compound annual growth rate (CAGR) of 28.8% from 2019 to 2025." - Grandview Research, 2019
Dropshipping has been around since the mail-order catalogs of the 60s and 70s. However, it saw a rise in popularity in 2010, when the Chinese market became much more accessible with the birth of Aliexpress. Setting up an e-commerce website was also made smoother with Shopify, which also entered the market in 2010. The cost and risks of setting up an online dropshipping business were drastically reduced, allowing for more hopeful entrepreneurs and small business owners to enter the e-commerce industry.
Now in 2020, dropshipping is commonplace, and some might even say, thriving!
Curious to find out more about dropshipping? Learn how to dropship orders with our ultimate dropshipping guide!
In this dropship article, we cover the following topics:
What Is Dropshipping?
Pros and Cons of Dropshipping
How Does Using Dropship Help You as an Existing Business Owner?
A Step-By-Step Guide on How to Start a Dropshipping Business

Choose Your Dropshipping Product
Conduct Market Research on Competitors
Identify a Dropshipping Supplier

Best Free Dropshipping Supplier Databases
Best Dropshipping Supplier Databases That Require Paid Membership/Access

Ensure That You Are Tax Compliant

Businesses in the United States (US)
Businesses in the European Union (EU)

Setup Your Dropshipping Business Store
Market Your Dropshipping Business

Social Media Marketing
Facebook Ads
Affiliate Marketing With Influencers
Email Marketing
Content Marketing

Optimize Your Website's Visibility With Search Engine Optimization (SEO)

Accounting Best Practice for Dropshipping
Deskera Books - The Best Enterprise Resource Planning (ERP) Solution for Dropshipping Businesses
This guide is ideal for budding entrepreneurs and small business owners, guiding them as they set up a new dropshipping business. However, we also have a section that touches briefly on how fulfillment via dropship can benefit existing businesses. Skip to part 3 if you want to find out how using dropship to fulfill orders can help you as an existing business owner.
What Is Dropship?
Dropshipping is a fulfillment method where you sell products to customers without holding any product stock.
A traditional business model involves the product traveling from the supplier to your business, and lastly to the customer.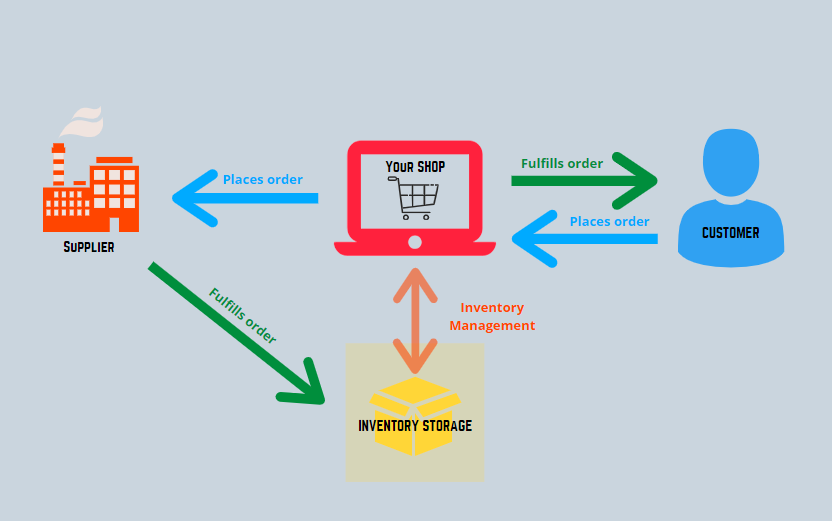 In comparison, dropshipping businesses rely on the supplier to store and fulfill orders to the customers. After your customer clicks Check Out or Pay Now, you place the dropship order with the supplier, who takes over the fulfillment process.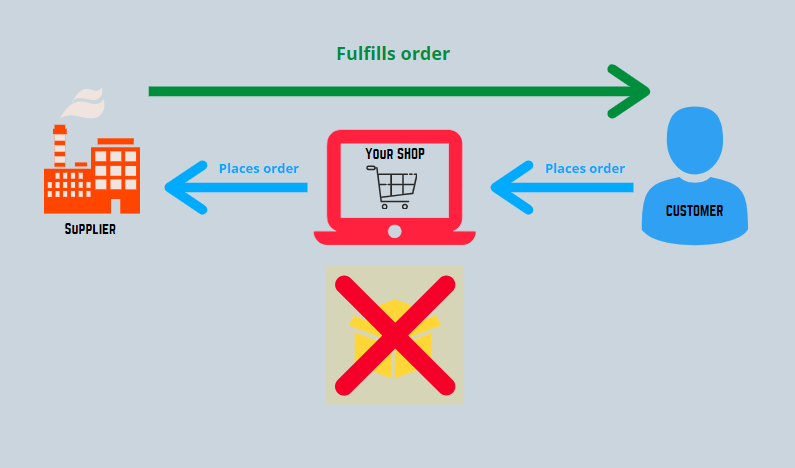 With dropshipping, you can kickstart an e-commerce business without proper storage facilities or other logistics solutions that a traditional business requires.
Sounds too good to be true? We cover the pros and cons of using dropship as a fulfillment method in the next section!
TL;DR: In a dropship business model, you outsource the responsibilities of inventory storage and fulfillment to your supplier. Your business's primary responsibility is to maintain your online platform, market goods, and process payment from your customers.
Pros and Cons of Dropshipping
Before you start dropshipping, you should weigh the pros and cons of this fulfillment method.
Pros of dropshipping
Lower start-up cost and risk due to lack of warehouse and opening inventory investment
Able to explore a broader range of stock-keeping units (SKUs) while keeping costs low
Better accessibility to global markets as you can dropship to a more extensive range of locations
Effective and easy to scale your business using dropshipping
Improve your cash flow as you can receive payment for orders upfront before the order is dropshipped
Cons of dropshipping
Unable to control fulfillment time and restock periods as this is up to the dropshipping supplier
Longer communication timelines as you are not directly involved in the inventory management and fulfillment process
Little-to-no control of customer experience and brand identity as the dropshipping company takes over once an order is placed
Competition in a highly saturated e-commerce market as dropshipping is a popular low-cost option for new businesses
Lower profit margins for dropshippers as you are unable to utilize bulk discounts when purchasing products
The advantages and disadvantages of dropshipping are summarized in our infographic below.

How Does Using Dropship Help You as an Existing Business Owner?
Even if you already have an established business that carries inventory, you can use dropship as an additional fulfillment method to further improve your business.
For example, you are selling loose tea leaves and have set up your inventory warehouse and logistics solutions. To fulfill your customer orders, you can use dropshipping to offer products complementing your primary business without investing in additional warehouse space, such as delivering teapots and porcelain tea sets via dropship.
Here are some ways that you can utilize dropshipping to improve your business:
1. Ability to Test New Products
Are you thinking of expanding your catalog? Or perhaps you are looking to delve into some additional accessories that complement your main product? You can utilize dropshipping to test customer demand for such products without over-committing.
This also allows you to save on warehouse space and money, as you do not have to find space to store your new products or accessories. On top of that, you avoid having money locked in products that might not turn a profit. All this without compromising on your order fulfillment and payment processing!
2. Offer Lower Shipping Rates via Dropshipping
As your business grows bigger, you might encounter more international or global transactions with your clientele from different parts of the world. Enjoy the flexibility and low shipping costs that dropshipping offers to ship your products globally. Your dropship supplier serves as an additional base to fulfill orders, especially if they are located in a different country. With dropshipping, you can thus mitigate high shipping costs that might put off your customer base.
3. Compensate for Unexpected Fluctuations in Orders
Do you often face irregular order volumes or unpredictable spikes in demand where you cannot cope with a large number of orders? Dropshipping can be used to further complement your business's primary fulfillment method during these crunch periods. With your business supported by dropshipping, you can continue fulfilling the demand for your products without expensive express shipping fees or delay in shipment.
4. Cut Down on Storage Costs for Products With Special Requirements
Do you deal with products that require additional attention, such as high-value products or products that need special storage conditions? Instead of investing in expensive warehouses that are equipped to store or protect these products, you can use dropship to "outsource" storage to your dropshipping suppliers. As the suppliers are already equipped with the facilities to store the products properly, this allows you to save money renting a warehouse or buying the proper storage equipment required. Ultimately, you will save money while continuing to fulfill orders on time with dropship.
A Step-By-Step Guide on How to Start a Dropshipping Business
Finally, what you've all been waiting for: a step-by-step guide on how to set up a dropshipping business!
1. Choose Your Dropshipping Product
To start, you need to identify what product you wish to dropship.
A useful method to identify your main product is to conduct keyword research on the areas that you wish to specialize in. An excellent product to sell has a high demand and low competition or availability. Of course, this is easier said than done - it might be virtually impossible to find a product that would fit both metrics simultaneously. Therefore, you need to try striking a balance between these two metrics!
Pro tip: Most dropshipping businesses find long-term success when they specialize in niche products. Pick a niche that you're interested in and are informed about - it'll nurture your customers' trust when they know the seller knows their stuff!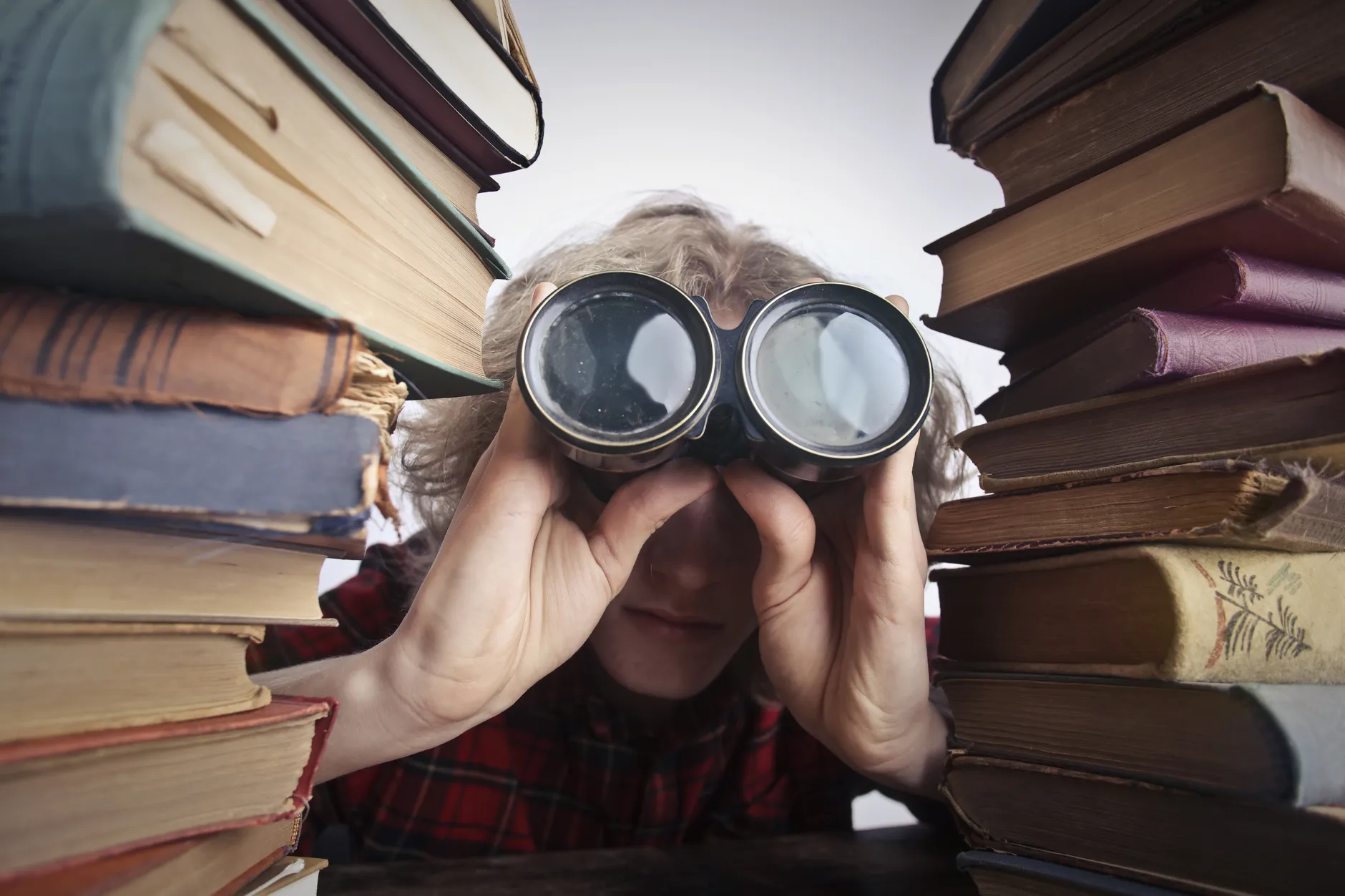 2. Conduct Market Research on Competitors
After you have identified the product to be dropshipped, check out your competitors! It's always insightful to conduct competitive market research and find the products and the price range that your competitors have to offer. Read their reviews and understand what their strengths are and how they reply to customer feedback. Doing so would allow you to learn from your competitors and better your products and dropshipping business.
Additionally, it would be an excellent opportunity to identify what your competitors lack and to build upon these points to make your brand even more attractive to customers.

3. Identify a Dropshipping Supplier
Identifying a reliable dropshipping supplier takes time, but it is crucial to your success as a dropshipping business owner for timely and reliable order fulfillment. Here are eight dropshipping supplier databases that you can use to identify a suitable supplier.
Best Free Dropshipping Supplier Databases:
Best Dropshipping Supplier Databases That Require Paid Membership/Access:
While searching for a dropshipping supplier, here are some essential things that you need to note:
Profit margin - How much money would you be earning after taking into account all of the expenses incurred by working with a particular supplier?
Average shipping time - What is the average shipping time of a specific supplier? Is there another supplier that could offer a better shipping time?
Minimum order quantity (MOQ) - How many orders do you have to place for your supplier to start shipping out your product to your customers?
Response time to queries - How long does a particular supplier take to get back to you? What is their average response time for after-sales support?
Packaging quality - What is the condition of the product when you receive it? Is the merchandise presented in an appealing packaging?
Return policies – How strict is the return policy of a particular supplier? How many days does it take for a return to process?

Pro tip: Order samples of the product before committing to a dropshipping supplier. This allows you to check out the product's quality and packaging and gives you a better sense of what to expect. You can also understand how your customers will be receiving the product, giving you an idea of how the dropship supplier handles customer experience.
4. Ensure That You Are Tax Compliant
Remember: You'll need to register your business and business name first in line with your country's requirements. Most small business owners start with either sole proprietorship or form a limited liability corporation.
For dropshipping, there are two instances where sales tax can be applied:
The purchase transaction between you and your dropshipping supplier
The sales transaction between you and your customers

In general, to find out if you are liable for sales tax, you will need the following information:
A list of taxable goods in that country
Any sales thresholds for e-commerce or online sales
Your business's physical presence in that country

To keep things simple, we've covered scenarios in the United States and the European Union (EU). If you deal in other territories, do research thoroughly on their local tax laws to determine if you are liable for sales tax.
Businesses in the United States (US)
For dropshipping companies dealing in the US, you will need to obtain the appropriate sales tax exemption certificate for the states you are transacting in. This certificate is retained by your supplier and is required as proof that you are exempted from sales tax. Some resale certificates like the multistate tax commission and the streamlined exemption certificate are blanket resale certificates that cover multiple states.
However, do note that accepting your resale certificate is dependent on the dropship supplier. Some suppliers do not want to risk getting into trouble if your resale certificate is fraudulent as the responsibility is on them to collect sales tax. Others do not accept resale certificates to discourage other sellers from reselling their products to other customers, preferring for customers to go directly to them.
For transacting with your customers, you'll need to identify if you have nexus in the states that your customers are located in. A general rule of thumb is if your business has a physical presence such as a retail store or a warehouse, this most likely means that you have nexus in that state.
Being a 100% remote seller doesn't discount you from sales tax, though! Economic nexus from meeting specified sales thresholds in a particular state requires you to remit sales tax to that state's tax authorities.
Here is a useful infographic by Avalara for dropshipping businesses or dropship suppliers that can assist you in identifying if you have sales tax nexus:
You can find out more about each state's criterion for nexus in their respective websites. A consolidated list of all 50 states' websites can be found here.
Note: Some states such as Hawaii and Florida have specific clauses for businesses that provide dropshipping. This may require them to collect sales tax if they have nexus in that state, even if your company does not.

Businesses in the European Union (EU)
For companies based in the EU that are VAT-registered, they do not need to worry about paying VAT if the dropshipping supplier is also located in the EU. Any pending VAT is covered due to the reverse charge mechanism. On the other hand, if you are based outside of the EU but your dropship supplier is EU-based, you probably do not need to pay VAT.
Transactions with customers in the EU can get a little tricky. If your business is based in the EU, you need to charge VAT for your business-to-customer (B2C) transactions.
However, the VAT rate is dependent on annual sales thresholds. If you do not meet the sales thresholds of your customer's country, you have to follow the VAT rates in the country your business is based in. Exceeding the sales thresholds will mean that you have to follow the VAT rates of your customer's country. Other than varying thresholds in each country, you'll also have to deal with different currencies.
For businesses based outside of the EU but deal with customers based in the EU, you'll need to register for VAT once the sales thresholds mentioned above have been met. You can choose any EU country to base your VAT tax operations and register with that country's tax authority. After that, register for a VAT Mini One Stop Shop (MOSS). This allows your business to pay for all EU VAT in one tax return, even if multiple EU member countries are involved.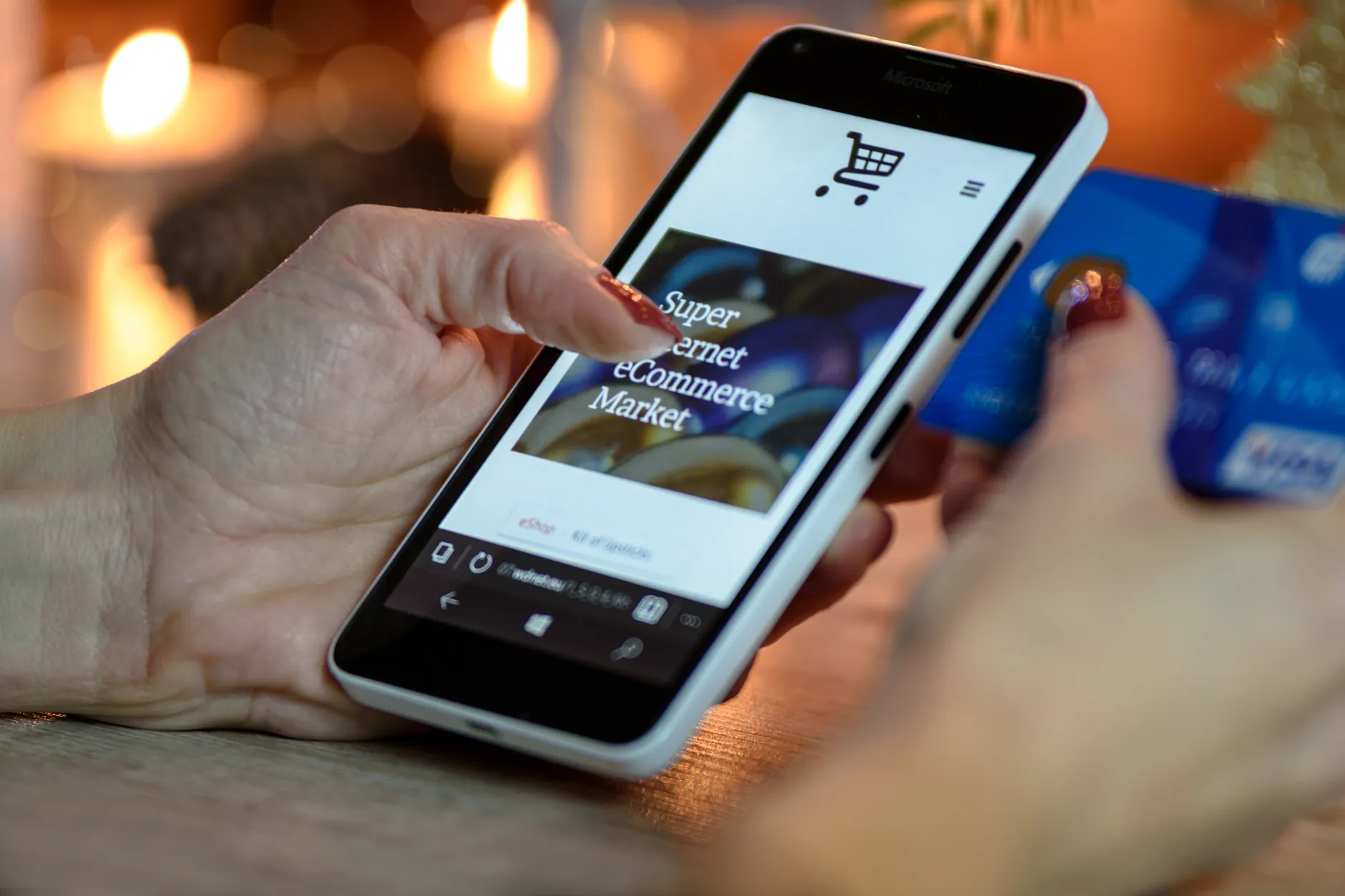 5. Setup Your Dropshipping Business Store
For this step, you can choose between setting up your own website or utilizing an online marketplace such as Amazon or eBay. We explore the pros and cons of both in our table below.
Traits
Marketplace
Own website
Learning curve
Easy to sign up and start immediately.
Steep at first, especially during setup.
Ease of set up
Established customer base.

Website maintenance, messaging, payment processing, etc. are handled by the marketplace company.
You need to advertise effectively and build a customer base from scratch.

Hiring technicians to maintain the website is required unless the website host provides this service.
Competition within the platform
Within the marketplace website, you will be competing with various sellers that sell similar items to your business.
Within your own website, you can control content shown and therefore do not face competition within site.
Competition with each other
Consumers usually prefer using marketplaces instead of going directly to an individual business's website if they do not have a preferred brand.

Your products are made visible to customers that might not conventionally be your target audience.
It is challenging to get word of your website out as you start with zero online presence.

Customers will only reach your website if they are specifically searching for your products.
Marketing data/branding capability
Inaccessible as the e-commerce marketplace, not you, retain customer information.

Branding and user interface is controlled by the e-commerce marketplace, other than limited design options with individual listings.
You can retain customer information and market effectively, especially for email marketing campaigns.

As you own the website, you can determine the aesthetics and user interface of the website.
Cost
Cheap to start, but most marketplaces charge membership or commission per transaction.
More costly to set up but is less expensive in the long run.
Long term growth
Growth plateaus after a while due to a lack of individual brand identity in the marketplace.
Able to grow and scale indefinitely depending on business resources.
Most newcomers to dropshipping would choose to start with an e-commerce marketplace first due to a lack of resources and ease of setup. However, we strongly recommend setting up your own e-commerce store once you have sufficient funds and a steady customer base because it allows you to market your brand and tailor the customer experience more effectively.
6. Market Your Dropshipping Business
Marketing your dropshipping business is essential to raise awareness about the products you're selling and creating a brand that is true to you and your business. This can make or break your new dropshipping business, especially if you've decided to go with building your own website instead of utilizing an e-commerce marketplace.
There are a variety of low-cost ways that you can use to start marketing your new dropship business.
1. Social Media Marketing
Social media marketing entails creating an online presence for your business. This includes starting profiles on a variety of social media platforms, depending on your target audience.
According to SproutSocial, different age groups of people prefer using different types of social media platforms.
Social media platform
Preferred age group
Facebook
30-49 (79%)
Instagram
13-17 (72%)
18-29 (67%)
YouTube
18-29 (91%)
30-49 (87%)
For example, if you are targeting people in their 30s who just started their families, you might want to consider setting up a Facebook page to market your products. This is because 79% of people aged between 30 to 49 use Facebook regularly.
You can also set up other social media profiles to increase your reach, but you should concentrate on developing your Facebook page to reach out to your target audience.
2. Facebook Ads
Facebook ads are sponsored posts that you can run on Facebook at low cost and without any prior advertising knowledge. It's important to think about the marketing goal you'd like to achieve with Facebook ads before you delve into it - what is the main goal you would like to meet from these ads? It could be something as simple as reaching out to more people in your target audience group, or something like driving more sales to your business.
Here are the six goals that Facebook provides, with different sets of tools to help you achieve your objectives:

Each ad would be able to run across devices and even on multiple platforms if you want since Facebook also owns Instagram. You can also track the performance of the ads through easy-to-understand reports.
3. Affiliate Marketing With Influencers
This approach entails working with influencers and letting them market your products and send traffic to your website or e-store. You would pay them a commission for any sale originating from their marketing efforts. To track these sales, you would be giving influencers an affiliate link to feature on their social media profiles.
Before you get started with affiliate marketing, you need to be sure how much of your profits you would be able to part with. Would you be able to pay influencers 2% of the total revenue? What about 5%? How much would this percentage affect your profit margin?
Once you are set on the commission rate, you can start looking for an affiliate marketing network. According to Shopify, here are some of the best networks that you can join:
Some of these networks might take a cut of your sale or charge you a fee, so be sure to read up on each network's terms and conditions before embarking on affiliate marketing.
4. Email Marketing
99% of consumers check their emails daily. - OptInMonster
Email marketing is an effective way to reach out to customers and potential customers alike. Beautifully designed marketing emails can help you to convert leads into customers, and turn one-time buyers into loyal customers.
There is a selection of tools, both free and paid, on the internet that you can use to design beautiful marketing emails to entice both customers and leads to shop from your e-store.
Some of these tools include:
5. Content Marketing
Content marketing is a form of marketing that focuses on creating content for a targeted audience. It enables your business to be discovered by potential customers while building an engaged audience and value-adding to the services that you provide. Some companies also use content marketing to support email marketing campaigns by offering exclusive content or reading resources in exchange for the visitor's email.
According to Content Marketing Institute,
"Content marketing includes things like educational articles, e-books, videos, entertainment, and webinars that answer specific questions people have and provide them with something they can't get elsewhere. It's the best way to turn your product, no matter how common, into something that is not like everyone else's."
Hence, content marketing allows you to carve out a unique space for your dropshipping business.
You can quickly start content marketing through kickstarting a blog to post thoughtfully written articles and think pieces, making use of search engine optimization (SEO) best practices to enable potential customers to find you via popular search engines like Google. Learn how to optimize your website and blog using SEO in the next section!
6. Optimize Your Website's Visibility With Search Engine Optimization (SEO)
Without SEO, your marketing efforts might be all in vain. SEO allows you to ensure that your website and brand come out in the first few pages of search results, boosting your business's visibility.
Here are some tips that you can follow to improve your brand's SEO organically:
Make sure your website is optimized for mobile users.
Identify popular keywords using Google Adwords Planner.
Maintain optimal keyword density in your website content (approximately 3% of your total word count).
Build a network of backlinks with other reputable sources to have a vote of confidence in your brand.
Include relevant alt text in your images to help search engines better crawl and rank your content.
Aim to answer questions on your website so that you can be listed on top of the page (rank 0) when Google highlights answers to searched queries.
Set up smart internal linking to highlight relevant content that is key to your business.
Use meta titles, descriptions, and tags to draw in potential customers on the search engine results page (SERP)
Avoid having duplicate content as this will negatively impact your search engine ranking.
Optimizing SEO is often crucial in making sure that your brand is visible to your target audience. It is an ongoing process and should be revisited regularly to ensure that your content is still relevant.
---
We hope that our step-by-step dropshipping guide has given you some insight into how you can set up a dropshipping business! Read on to learn more about accounting best practices for companies that use dropship as a fulfillment method.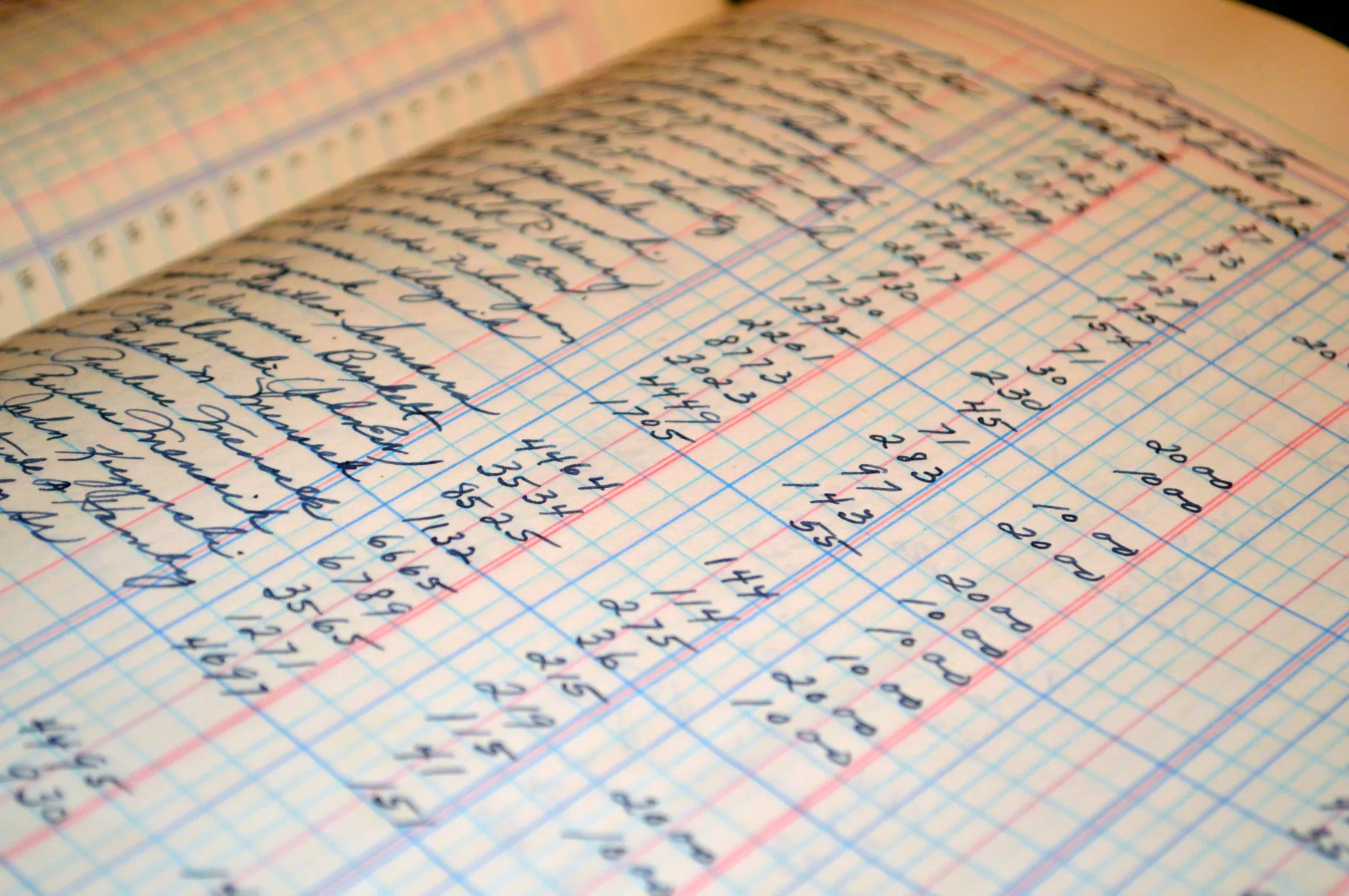 Accounting Best Practice for Dropshipping
How does accounting for a traditional business that holds stock differs from a company that uses dropship to fulfill orders?
No Inventory Accounts Required
For each sale made, there will be an invoice issued to your customer and a purchase order issued to your supplier. When you dropship orders, your supplier delivers the products directly to your customer, and the product does not pass through your hands. Therefore, no inventory account is involved.
In the examples provided, we are using a perpetual accounting system. We have omitted miscellaneous costs such as sales tax and shipping costs from the transactions for a simplified explanation.
For example, ABC Corporation sells loose tea leaves.
Their tea leaves supplier is Tea Guru, and their first customer is John.
John goes on ABC's website and places an order for 1kg of oolong tea leaves at $30/kg. Payment is made online immediately upon checking out.
To start off, ABC Corporation creates an invoice and issues it to John.
| Accounts | Debit (Dr) | Credit (Cr) |
| --- | --- | --- |
| Accounts Receivable - John | $30 | |
| Sales | | $30 |
Since payment is already made upon placing the order, the following journal entry for payment is also created.
| Accounts | Debit (Dr) | Credit (Cr) |
| --- | --- | --- |
| Accounts Receivable - John | | $30 |
| Bank | $30 | |
Here's when the two business models will diverge.
In a traditional business setting where ABC Corporation holds inventory, they would have already placed a purchase order earlier with Tea Guru to have sufficient stock. Purchase orders are done to stock their store and NOT specifically for fulfillment on a per-order basis.
To keep things simple, let's say that ABC Corporation also regularly orders 1kg of oolong tea leaves ($25/kg) to stock their store. Once the purchase order is fulfilled by Tea Guru and delivered to ABC Corporation, the inventory account must be updated.
| Accounts | Debit (Dr) | Credit (Cr) |
| --- | --- | --- |
| Accounts Payable - Tea Guru | | $25 |
| Inventory - Oolong Tea Leaves | $25 | |
Payment can be made at any point in time (before or after delivery of goods). The payment journal entry would look like this:
| Accounts | Debit (Dr) | Credit (Cr) |
| --- | --- | --- |
| Accounts Payable - Tea Guru | $25 | |
| Bank/Cash Account | | $25 |
When ABC Corporation delivers 1kg of oolong tea leaves to John, the inventory account is updated to reflect the new inventory.
| Accounts | Debit (Dr) | Credit (Cr) |
| --- | --- | --- |
| Cost of Goods Sold | $25 | |
| Inventory - Oolong Tea Leaves | | $25 |
On the other hand, this is how the journal entries may look like if ABC Corporation chooses to dropship the order instead.
To kickstart fulfillment by dropshipping, ABC Corporation sends a purchase order for 1kg oolong tea leaves ($25/kg) to Tea Guru. This order is made to fulfill John's order in mind. ABC Corporation would also indicate the shipping address as John's address so that the products are dropshipped to the customer.
| Accounts | Debit (Dr) | Credit (Cr) |
| --- | --- | --- |
| Accounts Payable - Tea Guru | | $25 |
| Cost of Goods Sold | $25 | |
ABC Corporation then makes payment to Tea Guru.
| Accounts | Debit (Dr) | Credit (Cr) |
| --- | --- | --- |
| Accounts Payable - Tea Guru | $25 | |
| Bank/Cash Account | | $25 |
Once Tea Guru has fulfilled John's order, there is no inventory journal entry created as dropshipping does not involve inventory movement within the business.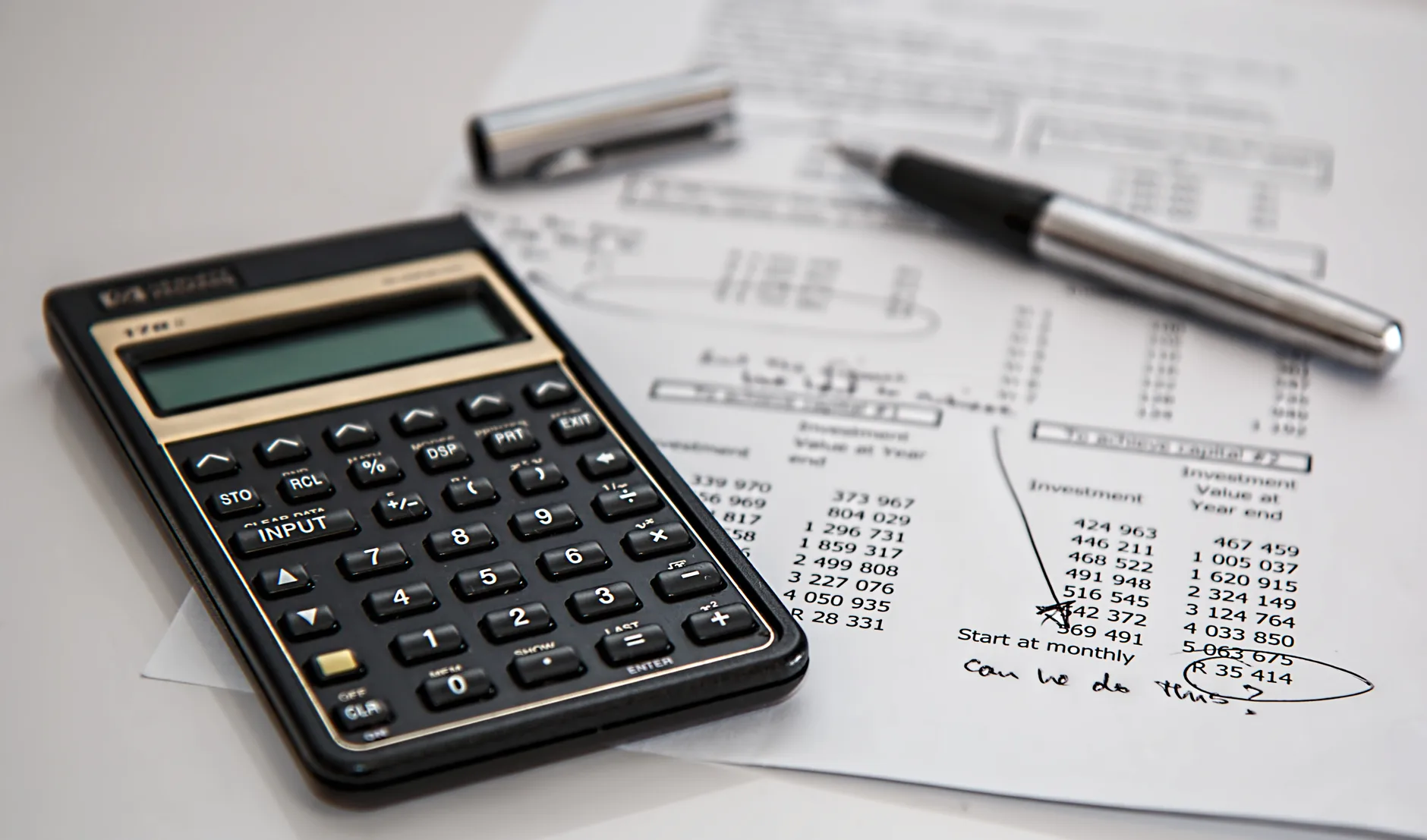 Calculation of Cost of Goods Sold (COGS)
Cost of Goods Sold (COGS) is an important figure that is calculated at the end of every accounting period and allows you to determine gross profit. It represents all direct expenses involved during the procurement and sales of your products, such as shipping, labor, store rental, etc.
In a traditional business model where you are a retailer that holds inventory, cost of goods sold is calculated this way:
Cost of Goods Sold (COGS) = Inventory Value (Beginning of Accounting Period) + Purchase Expenses - Inventory Value (End of Accounting Period)
However, for businesses that use dropship, there is no inventory held by the company, as order fulfillment is done by a third party without you ever receiving the items. Therefore, the formula is tweaked accordingly:
Cost of Goods Sold (COGS) = Purchase Price of Product (from Supplier) + Shipping Costs
If your business uses both dropshipping and stocks inventory, you will need to perform separate calculations to get to your final Cost of Goods Sold to determine gross profit.
Deskera Books - The Best Online Accounting and Inventory Software for Dropshipping Businesses
Managing a dropshipping business has never been easier with Deskera Books!
Deskera Books is a cloud-based accounting and inventory management software which is well-equipped to help you manage your dropshipping business. We have taken into consideration the various pain points of dropshipping to create a seamless experience. Each sales invoice fulfilled via dropship will have a purchase order tagged to it, allowing you to keep track of the order status.
Additionally, if you are using Shopify to power your e-commerce business, Deskera Books offers integration with Shopify! Our plugin automatically synchronizes sales and customer data and reconciles payouts made on the Shopify platform. You can easily receive and fulfill your orders on Shopify and Deskera Books takes care of the accounting part.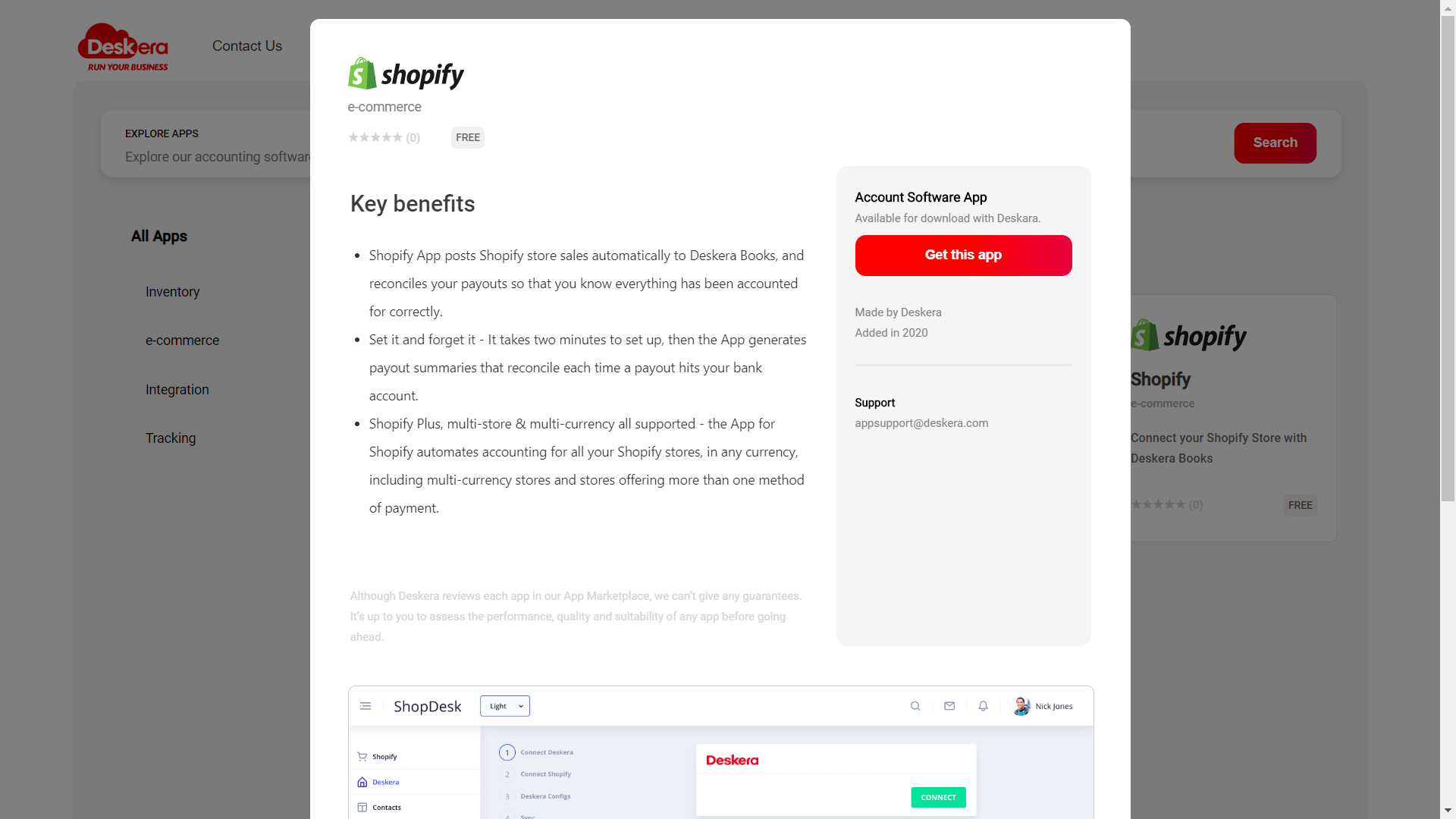 With simple-to-use invoicing, accounting, and dashboard features, you can manage your dropship orders easily!
Sign up for a free trial of Deskera Books now!
---
Related articles
Here are some helpful articles for budding entrepreneurs and small business owners looking to delve into starting or improving their business.
---
---