As a small business owner, you'll have to deal with managing invoices and paying back bills in a timely manner, all the time.
While the process might seem easy in the beginning, once the business starts scaling, invoice management can become quite a burden.
That's why every business needs to have an efficient invoice management system set in place, that streamlines their entire invoicing process.
In this guide, we will cover everything you need to know about invoice management systems, along with the best option for your small business accounting.
Read on to learn about:
What Is Invoice Management?
Invoice management is the process businesses execute to invoice their clients for products and services they purchase, as well as to track invoices and make invoice payments to suppliers and vendors.
In simple terms, invoice management involves dealing with both accounts receivable and accounts payable.
While invoice management can be done manually, that's an outdated way of doing business. From having to write down every invoice on an Excel spreadsheet to double-checking for errors, manual invoicing can become a tedious and time-consuming process very fast.
Fortunately, you don't have to limit your business to pen and paper (or Excel).
Nowadays, most businesses use invoice management systems as a faster, more accurate, and cost-efficient solution. Invoice management systems allow you to automate most of the invoice management process, including things like creating an invoice, tracking accounts payable, and more.
Now you may be wondering, why is invoice management so important?
Well, for starters, incorrect invoicing opens your business up to a ton of issues you'd want to avoid. Hampered cash flows, strained relationships with clients and suppliers, late interest fees, and even exposure to legal actions are all possible outcomes.
Proper invoice management, on the other hand, not only protects you from these errors but helps you create healthy relationships with your suppliers and customers.
Invoice Management and Accounts Payable
Accounts payable are an important part of everyday business operations. Every invoice has its terms of payment, and different suppliers might require different terms - such as payment due date or payment methods.
Making sure that suppliers get paid on time is the key to an efficient supply chain for your business. Suppliers that are regularly paid deliver their goods without delay and without complications.
In accounting, expenses get recognized right when you receive the invoice, whether or not payment has been made. Accounts payable (AP) is the liability account responsible for recognizing these invoices as debt to the vendors.
More concretely, to record AP you need to make a double-entry, where you credit accounts payable and debit the expense account. Then, once you pay, cash is credited while accounts payable debited.
Invoice Management & Accounts Payable Example
Let's check out a practical example to understand how invoicing and accounts payable works.
Assume your vendor sends you a $500 invoice for purchasing raw materials. In this case, $500 gets credited on AP, and $500 debited on inventory expenses. The journal entry would look like this:

Once the invoice is paid off, the following entry is made:

Now, with online invoicing systems, you won't have to worry about accounts manually creating journal entries for any due invoices. The software automatically records the invoice in the right account, as soon as it gets received.
Invoice management systems can completely automate the process of managing invoicing and accounts payable, including payment scheduling, payment approvals, and automated payments.
Invoice Management and Accounts Receivable
Accounts receivable is the opposite of accounts payable.
If accounts payable recognized your business debt to vendors, accounts receivable records cash customers owe you for delivered products and services.
For example, if you own a furniture company, and you create an invoice for $300 worth of product with payment terms of 30 days, that $300 owed represents accounts receivable.
But how would this transaction be recorded in the company books?
Just like in accounts payable, you have to make a double-entry where you debit accounts receivable and credit sales. Here's how that would look like as a journal entry:

Then after the customer pays, cash is debited while accounts receivable credited:

Now, to manually do these recordings of accounts payable and receivable, you need a lot of extra time as well as some degree of professional accounting knowledge.
The good news is that with an online invoice management system you can automate the entire process of managing invoices.
What Is an Invoice Management System?
An invoice management system is an online system designed to automate your invoicing and make the process of paying bills as easy as possible.
Now, there are countless invoicing systems out there, some more useful than others. That's why we recommend you make a checklist of requirements before rushing into a decision.
Here are some of the crucial features you should look for when searching for an invoice management system:
Premade professional invoice templates
Advance payment requests and deposits
Ability to received, read, and store relevant invoice data into appropriate database/table
Categorize invoices for approval
Arrange invoices based on payment plans
Group and schedule outgoing payments
Automated recurring payments
Automated accounts payable
Notifications and alerts for upcoming invoices
Multi-currency support
Intuitive and easy-to-use dashboard
Bank account and credit card integration
Provide multiple types of customizable reports for business analysis
Want to learn the different systems you can track and organize all of your financial information with? Check out our ultimate guide on accounting systems.
Benefits of Invoice Management Systems
Switching from manual invoicing to an online invoice management system can be a life-saving decision for your small business accounting.
If you're not convinced your business is ready for a change, consider these benefits of using an invoice management system:
1.  Accurate Data Processing
The more invoices you have to process and create, the more chance there is for error. And when everything is done by hand, those chances double. Any typo, repetition, transposition of numbers, or other inaccuracy can easily occur.
Online invoice management systems are your gatekeeper from these errors.
Both accounts payable and receivable are entirely automated for you, so you don't have to single-handedly write invoice details down on spreadsheets. This completely eliminates the chance of any duplicate payments, misplacements, or other data-entry errors.
If you want to learn how to spot and correct accounting mistakes, check out our guide on common accounting errors.
2.  Faster Invoice Processing
With invoice management systems you can double the speed at which you process invoices, cut back on accounts payable expenses, and minimize human error.
Ultimately, these benefits will lead you to a lowered cost per invoice, improved relationship with suppliers, and hardly any vendor payment issues.
3.  Quicker Payment Approval
Ever had to wait several days before a manager from a different department had to approve an invoice payment?
No more.
Invoice management software can help you avoid any bottlenecks related to invoice approvals.
With in-built authority logic, invoicing software will automatically allow users with the right authority level to approve invoices. With no time wasted.
4.  Save Time and Money
Research shows that the cost of manually processing one invoice can go up to $15 per invoice. While the cost of issuing an invoice to your clients is even more expensive and can reach $40 per bill.
And that's if you don't take into consideration the additional costs of labor and potential data errors. Finding one misplaced or lost invoice, for example, can cost your business up to $200.
In the end, you may end up spending more on processing the invoices, than the actual total amount of the invoice.
With invoice management systems, on the other hand, you can avoid the headache of dealing with this tedious process entirely and save your business a ton of money.
Invoice management systems automate almost every part of your accounts payable and receivable process.
The invoice gets immediately recorded as a transaction in the right ledger account, you receive automated alerts on payment due dates, and you can send or receive payments right away, directly from the platform, by directly integrating your credit cards and bank account.
What would take hours or even days manually preparing, can be done in a matter of seconds with invoicing software.
5.  Real-time Insights
Invoicing management systems have dedicated dashboards you can use to monitor all of your invoice information. This way, you don't have to chase after papers to know your total payables or which sales invoices are overdue.
At the same time, invoice management systems automatically generate invoice reports, which you can use to track the overall financial health of your business in real-time.
6.  Secure Cloud Encryption
You're probably wondering: how safe is my data online?
Well, invoice management systems are required to adhere to security standards when it comes to data storage and payment processing. Once an invoice is entered into the system, it gets safely stored with gold-standard security of 256 bit SSL encryption.
That's the industry standard for transmitting data safely over the Internet.
7.  Easily Accessible Archives
Paper invoices are a real inconvenience for archiving.
If you ever were to get audited, or even if you just want to access a past payment, you'd have to go hours on end hunting through large folders.
With an invoice management system, that's a whole different story. You can archive invoices with just a simple click, and find them just as fast. All data is easily searchable and accessible on the system, saving you time, physical space, and most importantly, a lot of stress.
8.  Premade Professional Invoice Templates
Invoice management systems offer premade professional templates you can easily customize with your brand logo, colors, signature, font, and more.
After choosing the preferred template and personalizing it, all you have to do is fill in the invoice elements and press send. And you're done! The invoice is on it's way to your client, ready to get paid.
9.  Direct Integration - Credit Card and Online Transfers
Directly integrate with your bank account or credit card to accept online transfers from your customers and send out payments to vendors with just a simple click.
This feature also lets you reconcile your bank transactions automatically to detect any errors, prevent fraud, and track bank fees.
How to Use Invoice Management Software to Automate Invoicing (& Which System Should You Pick?)
By now, you're probably convinced of all of the bonuses and benefits that invoice management systems can bring to your business.
So you might be wondering, how do I choose the best invoice management system for my small business?
Well, as we've previously mentioned, the right invoice management system will help you streamline and automate almost every part of your invoicing process.
With accounting software like Deskera, you can take paperless record-keeping to a whole new level.
Deskera is an intuitive online software that allows you to keep tabs on all of your sales and expenses through a user-friendly, easily accessible platform.
On the Buy dashboard, you can send payment with just a simple click, as well as get an overview of the payment due date, total amount, and whether or not the goods ordered have been received.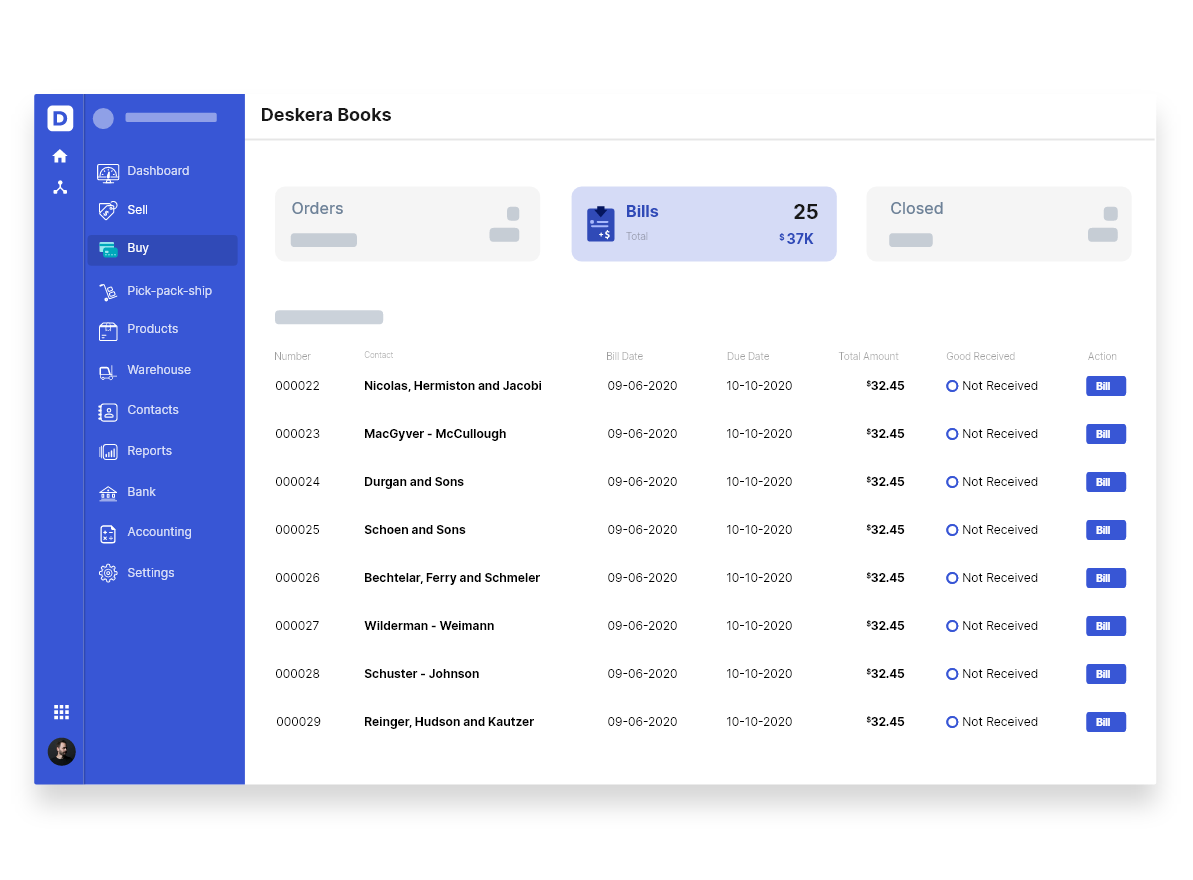 Requesting an order is just as easy. All you have to do is fill in the appropriate order information, press Save, and you're done! If it's a recurring order, you can automate it from the settings on the right sidebar, by clicking the Set Recurring feature.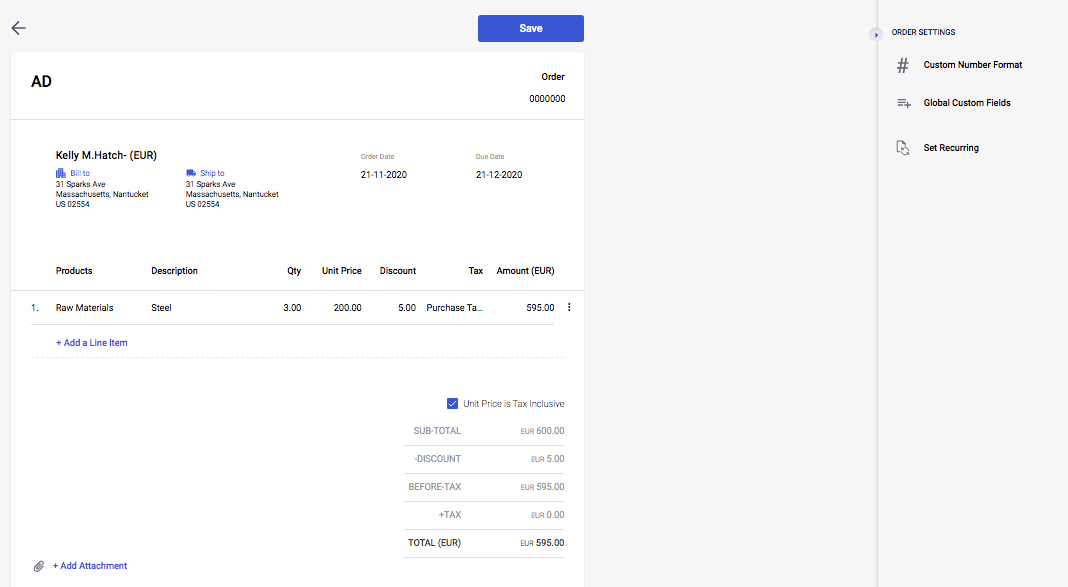 You can apply the same feature for paying these recurring invoices. Automate your accounts payable by switching on recurring payments, with one simple click.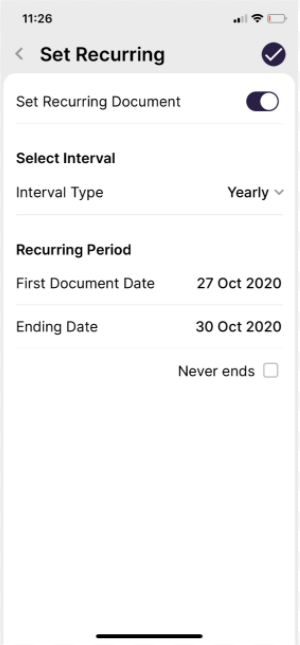 If you purchase products from international vendors, Deskera easily allows you to pay them with its multi-currency option supporting more than 120 currencies available worldwide.
And don't worry about exchange rates either, they get updated in real-time.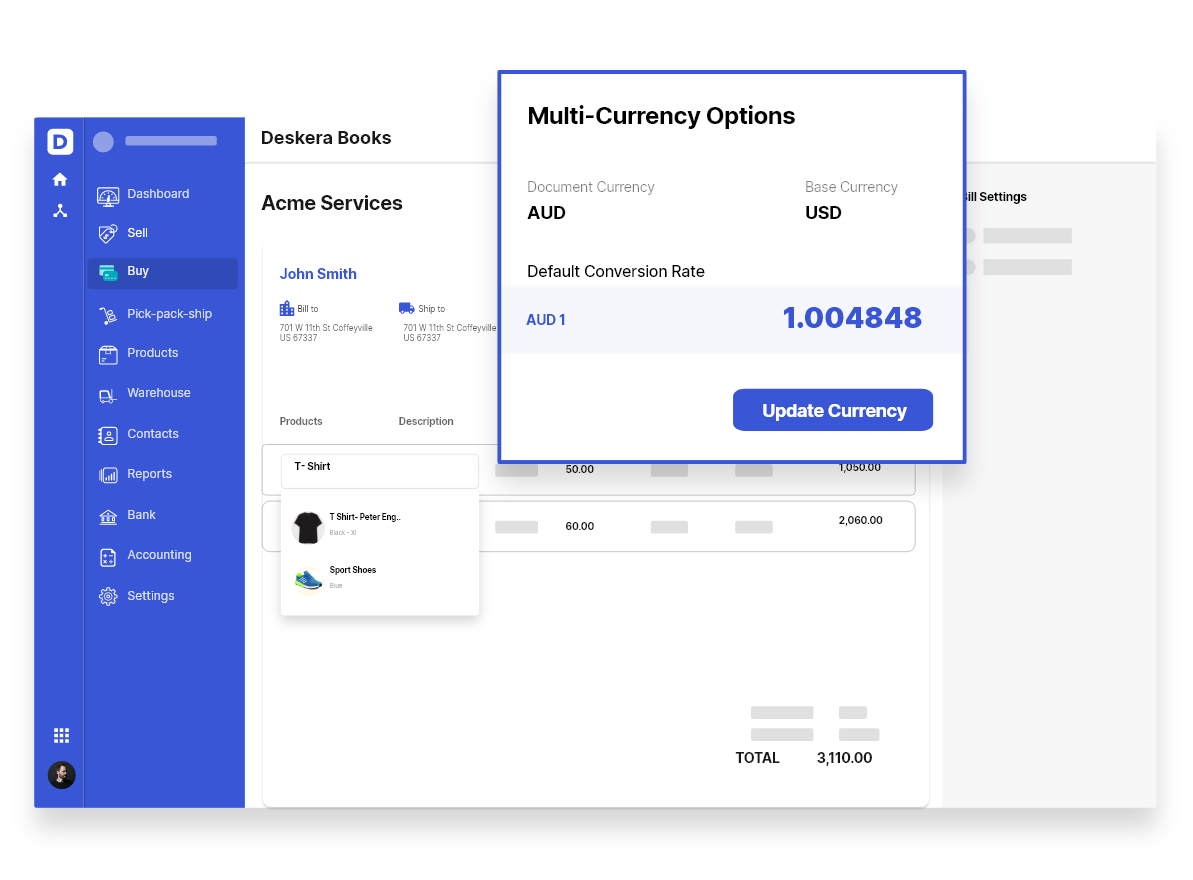 Managing accounts receivable and sending out invoices is just as simple.
Deskera offers a free invoice generator with 100+ professional templates, you can personalize with the preferred color scheme, business logo, font, and more.
After doing so, fill in the details on the sidebar with all of the appropriate invoice sections, and you're done!
There's a Share button on the top right of the page, which you can press to download, print, or email the invoice to your client.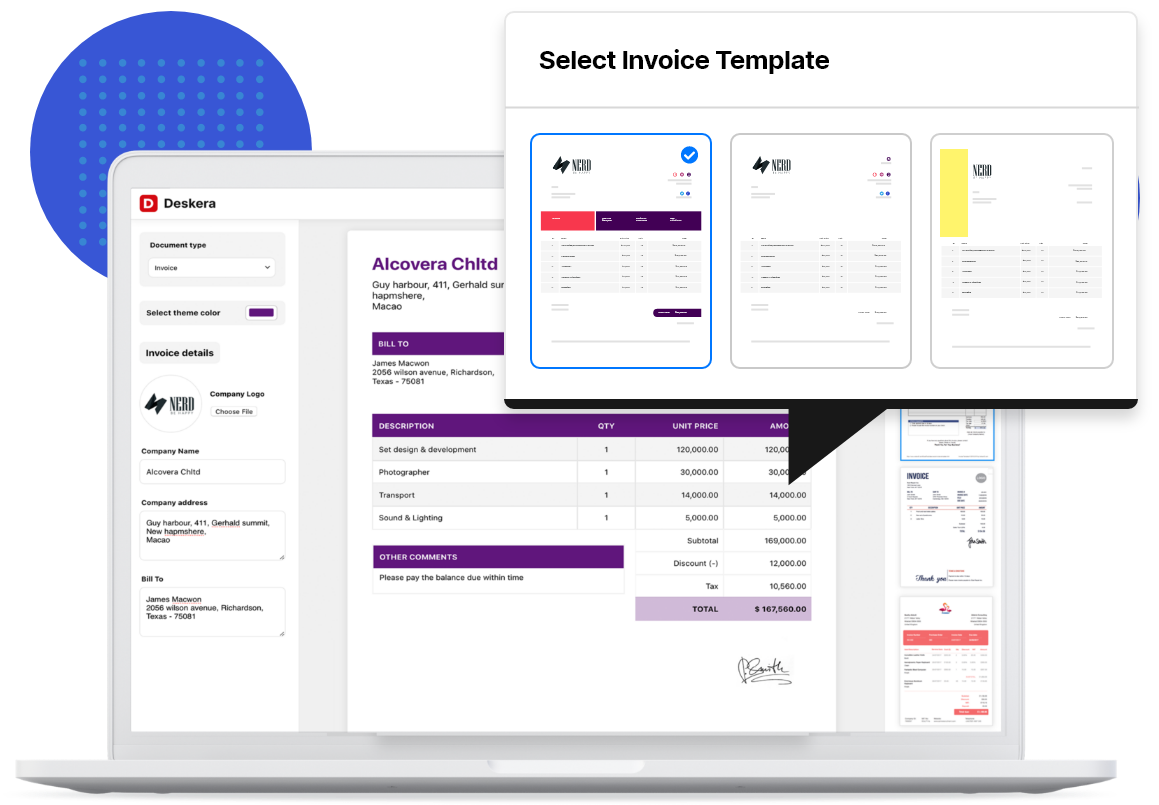 To overview your issued invoices and their payment status, you can go to the Deskera Sell dashboard.
From there, you can also request advance payments and deposits, set recurring invoices, get notifications for due dates, automate tax circulations, and so much more.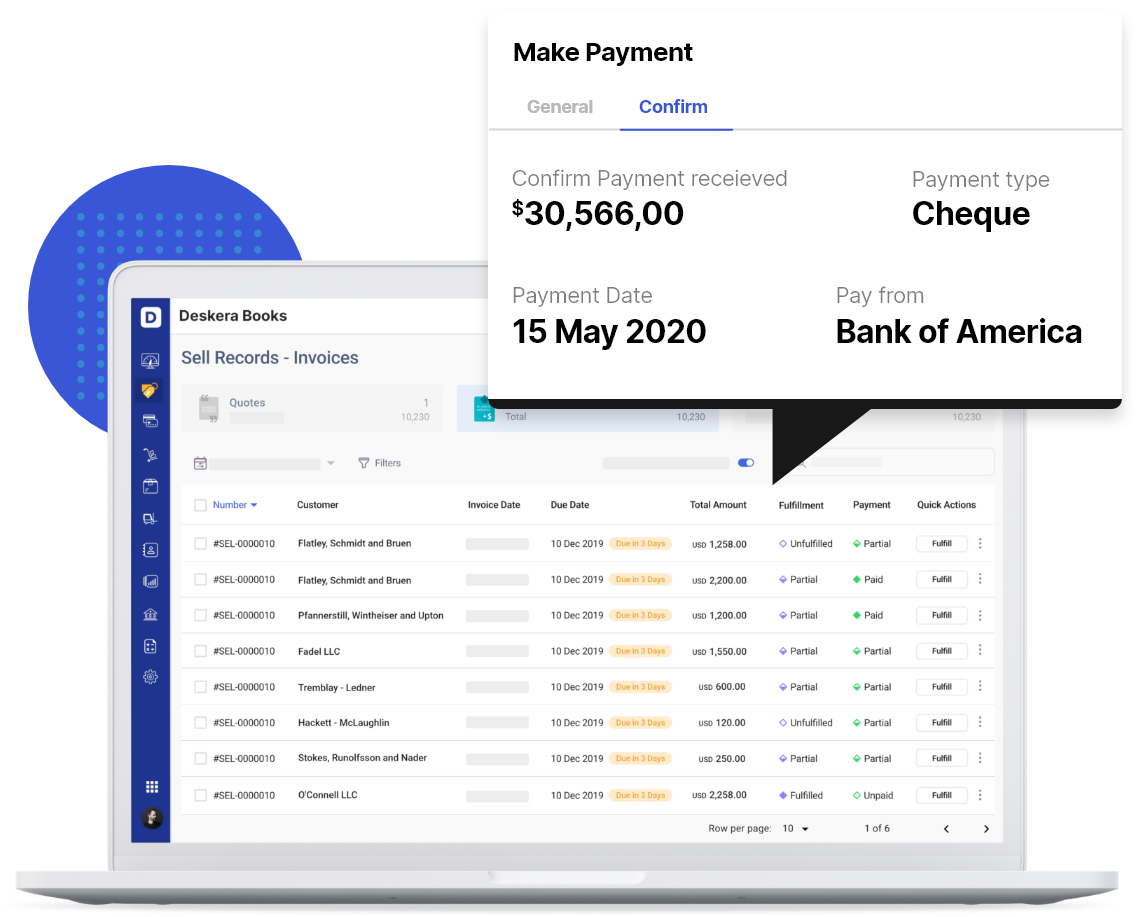 Access the software from anywhere, phone, tablet, or desktop just by downloading the Deskera app.
Sign up for our completely free trial now, no credit card required!
Invoice Management System FAQ
How Much Time Do Vendors Give to Process an Invoice?
That depends on different factors such as the invoice type, amount due, relationship with the supplier, and so on.
Usually, though, the business standard for paying back an invoice is net-30.
Net-30 means the buyer has 30 days to process the payment.
What Is the Difference Between Accounts Payable and Trade Payables?
Accounts payable deals with all of the debts and financial obligations of a business. Whereas trade payables is a subcategory of accounts payable, which covers inventory costs, such as invoices for purchased supplies and materials.
What to Do When an Invoice Payment is Late?
Give the client a polite call to figure out what's going on, or just send them a late payment reminder email.
If you don't receive a response, you can issue a past-due invoice with the appropriate late payment fees.
Then, as a final resolution when your client doesn't pay back at all, you can send out a formal demand, and then serve a legal complaint.
What Is the Difference Between Sales Invoice and Purchase Order?
A purchase order comes first, and it's the official request of a buyer for a product or service. It includes the type of product and quantity the buyer wants to purchase and the agreed-upon prices.
A sales invoice is issued by the seller, after the delivery of products and services. It details the items sold and their total amount and serves as a request for payment.
If you want to know how to create a professional invoice with all of the appropriate elements, head over to our ultimate guide on how to make an invoice.
When Is the Best Time to Send Out an Invoice?
Usually, it's best to send out the invoice immediately after you finish providing a service or delivering products. Don't wait more than 48 hours to do so.
In cases where you're dealing with very large-scale projects, however, you can request advance deposits to help cash flow. Also, consider this approach if your client has a history of paying back late.
To learn more about sending invoices and getting paid on time, check out our guide on how to send an invoice.
Is Invoicing and Billing the Same Thing?
No, invoices and bills aren't the same. An invoice is a request for payment issued by the vendor to the customer. The customer then receives the invoice as a bill they have to process and pay.
Key Takeaways
And that's a wrap! We hope our guide has been helpful in understanding how an invoice management system can help your business and how to choose the best one.
To recap, let's go through the main points we've covered:
Invoice management is the process businesses use to issue invoices to their clients and track and handle invoices from their suppliers and vendors.
Accounts payable is the step of invoice management that recognizes invoices as debt in the company books.
Accounts receivable records the amount owed to a business, for the goods and services they have delivered which haven't yet been paid.
Invoice management systems are online platforms that automate invoicing and ease the process of paying bills.
Benefits of using invoice management systems include:

Accurate data recording
Save time and money
Real-time insights
Secure encryption
Easily accessible archives
Premade professional templates
Credit card and online transfers

With accounting software like Deskera, you can automate your entire invoicing process within seconds.
Related Articles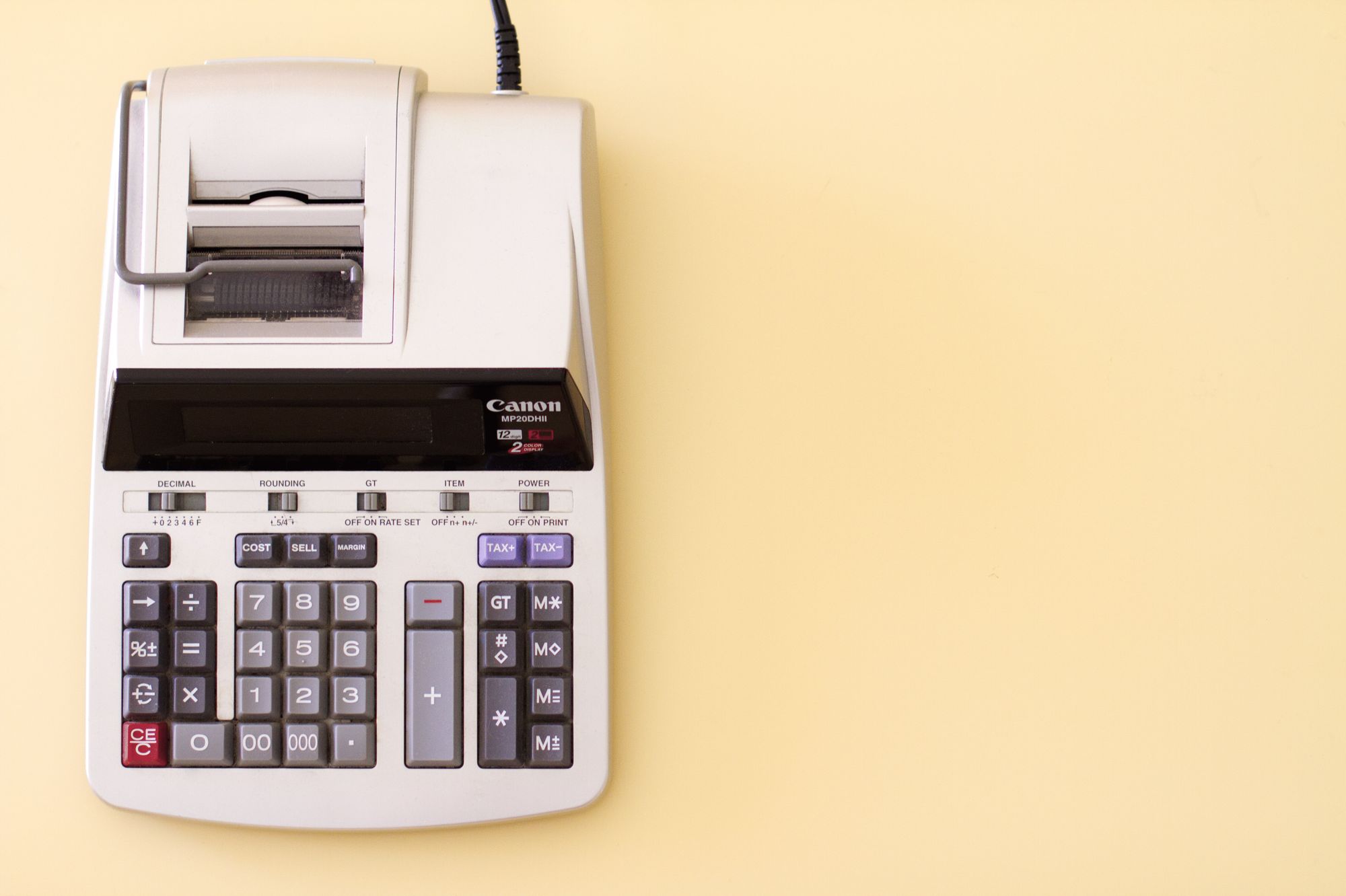 ---
---