'Reimagining the real estate sector has become the new normal.'
There's a reason for the above statement. The Real Estate business has turned out to be one of today's most promising and profitable sectors. With a size of over more than 150 billion, it is highly expected to accelerate the growth even more.
The sector seems to be moving at high speed soon. But to mention, the industry sounds like it is happening from the outside, but as soon you dig inside, you will get to know the specific aspects and factors responsible for the same. These can also be termed as behind the process of building a real estate business.
In this article, we shall discuss everything about the real estate business covering: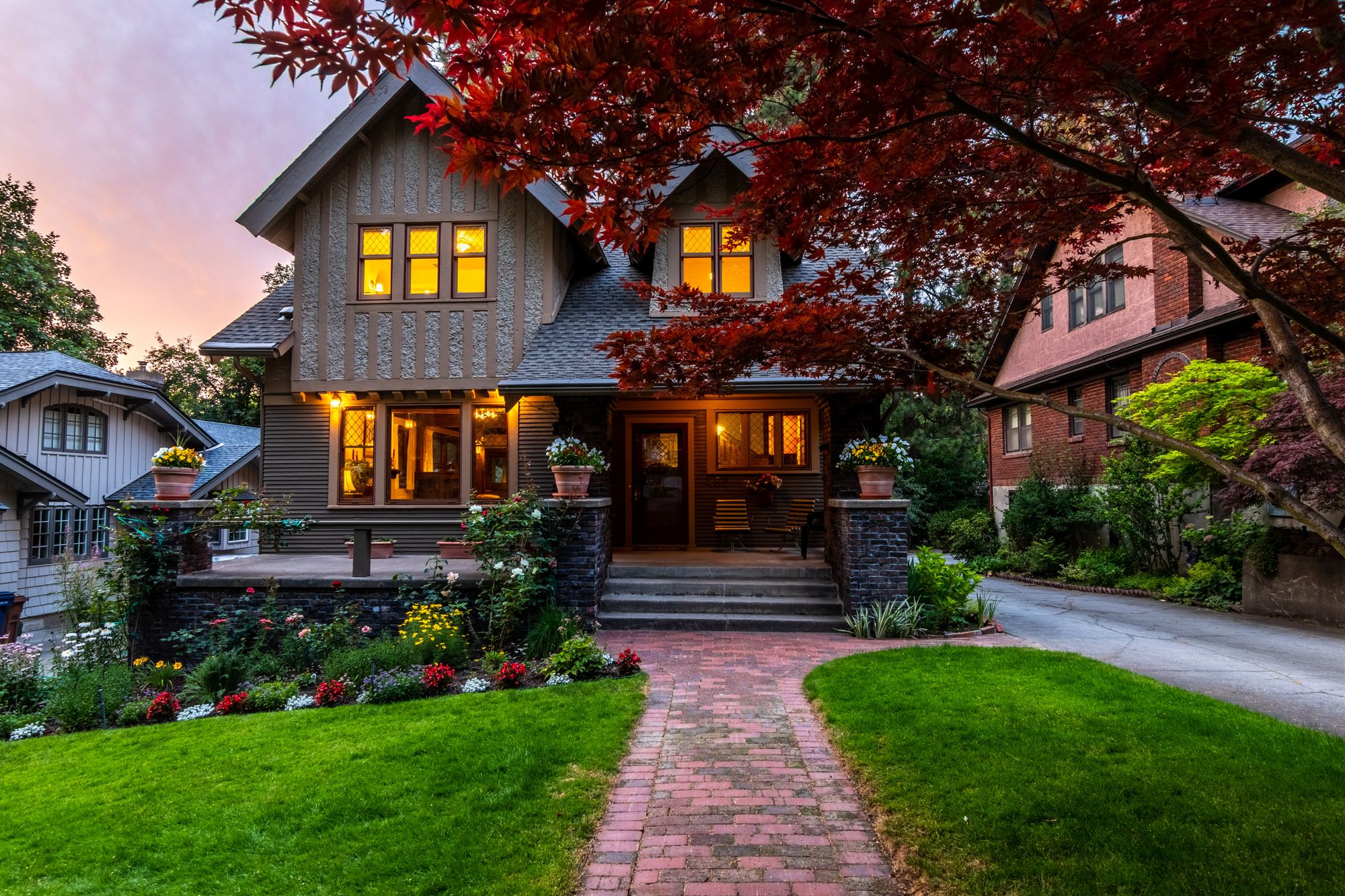 What is a real estate business?
How to Start a Real Estate Business
How to Start in Real Estate
Is A Real Estate Business Profitable?
Top 5 Benefits Of Starting A Real Estate Investment Business
How to Grow Your Real Estate Business
Steps to starting your real estate business
Real Estate FAQs
How can Deskera help you build your presence?
Key takeaways
What is the Real Estate Business?
To understand the Real Estate business better, let's first understand the meaning of Real Estate.
Real estate, in simpler terms, can be defined as a property or an area that holds an accurate value for itself. It can be referred to as property, land, building, and sources in ordinary words. The term is also referred to as assets having a physical existence on land and are tangible.
A real estate business can be defined as buying, selling, or renting a property, building, home, or land. There are five types of real estate business: residential, commercial, industrial, raw land, and particular use.
You need to consider the type, factors, and process accordingly to deal with the business.
How to Start a Real Estate Business?
Starting with the real estate business requires the right set of strategies and preparation to set yourself with the business. You need to go the extra mile and put in lots of hard work, learning, determination, patience, and dedication. There is no doubt that you will be in a position to brand yourself with others with all of these. But it is equally important to consider the practical situation of facing tough competition from the competitors.
A set of resources are highly helpful in setting up the right and efficient system crucial for efficiency and longevity for your real estate business.
When starting with the real estate business, the key and primary focus should be on good planning. Good planning is the initial foundation of Real Estate, and it's crucial to make sure that the foundation is solid such that it can counter any competition, unforeseen situations, and changing environment in the future.
Planning is just one step. A series of steps are involved in starting a real estate business discussed in the article below. So, before we head over to the detailed list of actions, let's look forward to getting into the real estate business and discuss its profitability in detail.
Remember,
"Real Estate Business is a long game. Start, Pause and Play accordingly."
How to Start in Real Estate?
A real estate profession creates lots of business and job opportunities for the concerned who wish to choose real estate as a career. The most famous role in this field is a real estate agent who can either work independently or get hired by reputed companies to gain exposure and experience. They have flexible hours to work upon and can handle the tasks well.
Getting into real estate involves a study program, and after you are completed with it, you are assigned a license to practice as an agent.
However, there are a series of steps involved before anyone decides to get into real estate.
These are discussed as below:
1. Review and Inspect state Guidelines
There is no specified set of real estate regulations, so different states have different sets of rules and guidelines accordingly. The basic requirements include proof of training that provides for your course and meeting specific age requirements.
It is recommended to check out the guidelines in advance such that you are ready to take the proper steps.
2. Enroll and complete the study program
Before you apply for the license, you need to enroll and complete the study program that includes a real estate course. The course teaches about the fundamentals of buying, selling, and dealing with real estate covering property rights, titles, deed and laws, taxes and environmental laws, appraisals, and market analysis.
You can pursue courses either online or offline that include modules with around 20 to 200 hours of instruction, and in days, it's about 60 days.
3. Appear and pass the real estate exam
After you are done with the course, the next step is to appear and pass the real estate exam. This exam is crucial to obtain the license with passing grades. Usually, the paper pattern is multiple choice, and you can appear after your registration process. Candidates can also reappear for the examination, but it is restricted to the number of attempts and intakes based on states.
4. Apply for license
Once you have passed the examination, you are eligible to apply for the license, but you need to show proof of your results obtained in the exam before that. It is important to note that the process is time-consuming depending upon the requirements laid by the states. You are also required to renew your licenses on time by upgrading and upskilling yourself into advanced courses.
Some states may lay down the specifications to complete additional training courses before or after getting the license.
5. Find Broker
After you have got your license, real estate agents need to operate under brokers who handle the transactions at an initial level. Brokers complete the transactions and pay commission to agents on every sale converted. Many good-level brokers help agents to learn practical aspects of the local estate community.
6. Finally, move towards becoming a broker
After you have gained a specific experience as a broker, now is the time to move towards becoming a broker by yourself. For this, you need to hold a real estate license and work accordingly for a certain number of years. Similar to an agent, you can go up a level to become a broker. You can also get started with real estate by investing in real estate syndication or REIT (Real Estate Investment Trusts). A real estate syndication is an investment pool in which a group of investors fund a project that generates returns or profits.
And you are into the world of real estate!
"Getting into the real estate business is time-consuming, but it will be worth it."
Is the Real Estate Business Profitable?
There is no denying that the Real Estate business constitutes 90 percent of millionaires who make investments in real estate and earn whooping crores. But at the same time, it is crucial to note that the real estate market is filled with ups and downs. A person should develop a catalyst mind that is willing to take risks and ready to evolve with the changes in the environment.
Real Estate Business and Investment in the present time needs strategic planning and approach. There are two options- either you purchase for your property or make a profit out of multiple dealings.
Considering both of the options, let's look at the following three reasons supporting the business's profitability
1. Increase in the Demand and Scope
The real estate business has boomed in the past years. Because of this reason, many of the migrants come to big cities in search of work and opportunities. Buyers are ready to invest in the amount that leads to demand for the real estate business. Purposely, the scope of this demand makes real estate investment the most profitable business attracting high delivery projects and clients.
2. A shift in the Approach towards Owning and Renting
When it comes to property, there are two types of users- one that owns for personal use and the other that holds for resale or to earn rent for generation of income and profits. As per the market, the second trend seems to be likely preferred. In this way, you can maximize profits at your end.
3. Investment in Real Estate Technology
Technology has a significant role in the real estate industry. In the world of automation, routine jobs like rent collection, communications are made easy with the help of technology.
If there is a suitable investment of technology at the right time, the chances of gaining maximum profits increase timely
These reasons are enough to answer the question.
Remember,
"The real investment that you make in the real estate business is time
With time, money flows and With money, profit flows."
Top 5 Benefits Of Starting A Real Estate Investment Business
Real Estate Investment seems to be very promising and rewarding. It is interesting to know that real estate investment surpasses more positive and actionable strategies that benefit the individual in the long run.
The benefits seem to be an exciting one, as common, you are owning the property and, alongside, earning profits too.
Doesn't it seem like a Double Bonanza?
It surely is.
Let's take a look at the top five benefits of starting a real estate investment business:
1. Appreciation over Time
The best thing about real estate is that its value appreciates over time. Here, appreciation means an increase in the value of fixed assets.
There can indeed be inflation or recession in the market, but over time the value climbs higher. It is that business where you will get far more than what you are paying at present.
2. A steady flow of income and cash flow
The main reason for investing in real estate is the steady flow of income, i.e., you have ample passive income, allowing you to spend your time investing, reinvesting, or doing further business in real estate.
The cash flow coming out from the real estate is highly stable, and that flow helps you get through tough times.
3. Avail Unique Tax Benefits
Where there are benefits attached to the investment, no one would like to miss out. The government rewards rental property owners through tax benefits, and this grabs the attention of the investors.
The benefits are in the form of depreciation and lower tax rates to owners. Additionally, the income generated from real estate is not taxable.
4. Controllability and flexibility of options
Decisions regarding the investment and criteria are solely a one-person show. You are the only one responsible for the success, and for that, you get the liberty to control the situation and structure your requirements accordingly.
You are flexible enough to implement strategies to increase your income throughout the year.
5. Provides you the opportunity to leverage
Real estate provides you an opportunity to leverage at the best mover advantage. In no time, you can grow your real estate and accelerate high-yielding results.
One thing to make sure of is that while leveraging, your risk should be minimal. With proper due diligence, you can get the chance to build and expand your business exponentially.
"There are lots of opportunities to grab in real estate, you need to make sure about What and Ifs crucial to investment."
How to Grow Your Real Estate Business
As a real estate agent, you have loads of responsibilities to perform. One such responsibility is to maintain and grow such that you can sustain for a more extended period. Real estate growth is challenging and demanding, but you are ready to expand on the correct scale if you spend the right strategies and years.
The following list includes the primary five ways that can help to grow your real estate business:
1. Using tools to improve management
To ace the growth, one of the most important things is ensuring day-to-day work management. It is essential to use relevant tools that can help you to manage your time in jobs like project management, mortgage repayment calculator, payments. Software tools like project management help for long-term prosperity.
All of the tools help enhance the actual pick and pull from the real estate market, helping to implement the overall management.
2. Regular buying and selling of property
The next thing to make sure of is that you should be open to buying and selling property regularly. These can be used to strengthen your portfolio and give you a set of options related to investment.
Adding to the point, if you feel like holding or releasing the property, you can freely do so. It will help to empower yourself when you need to raise capital and provide wisdom to sell whenever you need to.
3. Follow-up with leads regularly
Growing and following up with the leads enhance the working process of real estate agents. With that in mind, it is recommended to create an email list of every possible lead coming your way.
A quick follow-up with your leads gives a sign of genuine interest and enhances e-mail marketing. It not only helps to make you professional but also encourages expansion.
4. Build new relationships with people
In real estate, networking and building relationships are two main ingredients for growth. It not only helps to get access to properties but keeps you ahead of the competition.
Through this practice, you are ready to make good connections in the industry, settle quick and effective sales, and make timely payment that leads to growth.
5. Get along with social media
Though real estate management is offline, it is recommended to enhance and build your brand awareness and presence through social media. With the help of the same, you get the advantage to connect and advertise everything on a much larger scale.
It also helps attract a broad audience, making sure to be on at least one media platform.
"The ways are open for everyone; it depends on you if you opt for growth or magnified growth."
30 Steps to starting your real estate business
If you want to take the plunge and get started with the real estate business, the first thing to keep clear is that only you can make it happen. The process is time-consuming and demands your time, money, and attention, but once it's done, nothing is unstoppable.
Here's the following list of the steps in detail that includes the insights to keep you started:
1. Set your business goals
Setting business goals is the primary stage before setting up your real estate business. You should have a plan to formulate your ideas that suit your purposes. The goals should include everything from A to Z related to the real estate market, sources, and tools to leverage at best advantage.
2. Organize your finances
Finances are the roadmap for your real estate business. The next and crucial step is to organize the finances needed to start your business. It is vital to ensure the availability of finances that can meet up the business goals.
The step also includes financial planning and investment needed to manage in the long run.
3. Craft Your Business Strategy
While creating a business strategy, a real estate agent needs to focus on the niche and the target market they want to focus on. For example, your niche can be business areas, rental properties, or flats, and your target market can be business owners, families, or individuals.
You should also make sure about the risks involved, market demand, and requirements while making the concrete strategy.
4. Form A Real Estate LLC
As real estate agents are independent owners, they are exposed to high risks and uncertainties. So to minimize those risks, the next step should be to form a Real Estate LLC (Limited Liability Partnership). The LLC is a corporate structure that shields you from the risks and treats you as a Separate Legal Entity.
With this, you can enjoy the perks of forming a company and running it individually.
5. Establish a plan
After you are all done with the formulation and set of requirements, the next big step is to create a business plan that can outline the financial and operational goals of the organization.
The plan should cover objectives, defining business ideas, implementation, and specific info related to your business.
6. Create your company
The next step proceeds to create a company in your name. The exact process is supported by registration, application, and documents that differ from state to state.
After the due inspection, the registrar registers your company and issues a certificate of incorporation
7. Put your plan into action
A plan without action makes no sense.
The seventh step is an extension to the fifth step. As you are ready with your plan, it's time to get going by putting the strategies into action. Through implementation, you can try out different methods and get clear on the working or non-working of plans and improve on areas required.
8. Align your business plan
The next step is self-explanatory. Aligning your business plan refers to a flow of programs that can meet your long-term and short-term business goals. You can't achieve everything in one go, so proper structuring becomes essential.
9. Build a consistent marketing plan
Behind every successful real estate business, there is a solid marketing strategy.
What makes you unique?
What is your USP?
What is the value you provide over others?
All of these are important to establish your brand in the market through organizing subsequent marketing campaigns.
Nobody will know about your existence until you market yourself and the brand.
This is the most critical step for any business.
10. Get a website
In today's digital world, it's a prerequisite to have a digital presence. It first starts with building a good web page describing your brand, services and adding a call to action. It encourages the customer to visit you and trust your presence.\
11. Have good time management
A real estate agent is responsible for many roles. Effective use of time management is significant to business success. To keep things more manageable and smoother, you can invest in tools and software that can help to keep your work precise.
12. Get a real estate license
As mentioned in the previous topic about getting into real estate, the most critical step is to apply for the license to practice as a real estate investor.
Obtaining a license is subject to specific requirements laid by the states and is a significantly changing business sphere.
13. Find a brokerage
Initially, real estate agents don't have practical experience, so they need to operate under brokers who handle the transactions. These steps help agents to learn practical aspects of the local estate community.
14. Join the National Association of Realtors (NAR)
Just like forming a real estate LLC is crucial, in the same way joining and associating with the NAR is vital for retailers. The regulatory body is composed of brokers, agents, managers, appraisers, and counselors that protect the right and uplift for the betterment of the industry.
It is advisable to join the NAR to be secure for the long run and enjoy membership benefits.
15. Pay your dues
The step requires you to pay and complete the dues of all the service providers, right from registration fees, services availed by freelancers or agencies, interests, or any other.
Timely payment enhances the value and trust between you and the client required for the long term.
16. Find a mentor
Finding a worthwhile mentor helps to propel your investing business. Everyone starts from the beginning, so an agent looks for a mentor to seek advice related to the pros and cons of investment, correct time of investment, and so on.
This is the step to build and develop relationships between the mentor and mentee.
17. Get crystal clear on who your ideal customer is
There are numerous types of customers who have different requirements for land and properties. Their purpose can be related to sales, marketing, residential or commercial. So, it is vital to decide your target customers and work accordingly.
For example, if you focus on customers who require spaces to set up offices or factories, start and describe them as your ideal customers.
18. Build your personal brand
Real Estate agents often think that their work is offline, so what's the need to build a brand?
Your brand reflects your uniqueness and quality. Simply using the brand logo and social media allows conveying professionalism to clients and building an image. It is important to build brand awareness.
19. Leverage your Sphere of Influence
Leveraging step is the extension to building a personal brand. Real estate agents can make the sphere of influence through networking, referrals, and traditional approaches that can help in the long run.
20. Check the cost for Google Ads in your area
Like you know about the bidding and auction process in real estate, the same process is done through Google Ads. It is very effective in finding the right set of customers to check out the rates that you are willing to invest in ads.
21. Run Facebook ads
After you have checked and set up your business, create visuals and copy that to run Facebook Ads. With the help of ads, customers can know exact information beforehand. It will enhance reach and clicks that can convert into sales.
22. Optimize your website for organic search
Running Facebook and Google Ads are a part of paid marketing; what excites visitors is your website. A website is the organization's face, and it's crucial to optimize it with relevant information, keywords such that it can rank in search engines and build organic traffic.
23. Get a business phone number and email address
When a customer/client visits your website, they will likely get interested and reach out to you. The next step is to build an email address and business phone number that can be used for communication purposes, especially for dealings.
24. Purchase business insurance
As you know, the real estate business is filled with ups and downs, so purchasing insurance is vital for the company. You can compare the rates and select the best one based on your suitability.
It's recommended not to delay the step required for business safety.
25. Crunch the numbers
Crunching the numbers is a term used in the real estate business that examines and analyses numbers related to the required money. This step focuses on the calculation of investing numbers and using them for evaluation.
26. Create a strong brand identity
As previously stated, creating a brand identity starts with a unique brand name, logo, building presence, leveraging connections, and networking to position yourself with competitors.
Creating an identity and maintaining it is a long process. and should be modified accordingly.
27. Create a sales plan
The sales plan is the eyes and ears of the business. The step-in itself is followed by a set of steps, including identification, budget allocation, marketing campaign, and sources needed to create a plan that runs effectively and results in increase in sales.
There is no place for one in a blue moon sale rather than constant sales.
28. Find a niche for your real estate business
As stated before, there are various niches in the real estate business, so the step involves the selection of the best suitable option from a pool of niches. You are also required to check the pros, cons, demand, and factors before finding a niche relevant.
29. Do market research
A real estate agent needs to keep well with the market updates regularly. To carry out the process, it is crucial to thoroughly understand and do the research part that includes budgeting, planning, analysis, performing areas, the risk associated, and assessment
30. Start by hiring a bookkeeper
Real estate investors come from different spheres of life, and no one will likely know everything better. Alongside completing significant roles, it is difficult to keep track of everything on your own, so by hiring a bookkeeper; you can set free with your accounting purposes related to purchasing, sale, investment, and collaterals in one place.
It is recommended to have a good bookkeeper that can do the needful well.
And that's it!
We are done with our steps to accelerate the start of your real estate business.
"The deeper you dive in steps, the more likely you start understanding the business better."
Real Estate FAQs
With so much information in and around real estate, let's look at the most frequently asked questions (FAQ) about real estate to understand the overall structure and business better.
Q1. How long does it take to enter the business?
Answer: Each state has its own set of requirements for coursework. You need to enroll and study for the same, and soon you pass the examination, you can enter the business.
Q2. Is getting a license rigid in real estate?
Answer: No, it is not difficult, but you need to put in your knowledge and understanding of the subject and course to pass the examination well.
After prior submission, you get entitled to license
Q3. What skills should I possess to enter real estate?
Answer: Real Estate requires agents who have excellent interpersonal skills especially, in dealing with the public. They should have good negotiation skills and act as solid researchers with market information.
Q4. How much money do real estate businesses offer?
Answer: There is no limit of money because the owner earns as much above $80,000 per annum, but this results from years of hard work, dedication, and patience.
Q5. What are the pros and cons of the real estate business?
Answer: Talking about pros, you can set your business well, earn well, and impact the economy. As far as cons are concerned, your working hours can be subjected to requirements and can be stressful due to market conditions with high-risk factors.
Q6. Apart from agents, what are other professions in real estate?
Answer: The other professions include leasing agent, real estate broker, property manager, assistant, or counselor.
Q7. Do I need any experience to enter real estate?
Answer: Generally, the experience is gained eventually, but if you have prior knowledge, then you can be very successful in your career.
Q8. Is the real estate business in demand?
Answer: Yes, the real estate business is in huge demand and is likely to increase in the future. It is regarded as one of the highest and fast paying sectors.
Q9. Is a credit report required in real estate?
Answer: Yes, if you have a good and sound credit report, people will trust you and your business that can help you convert sales.
Q10. Can real estate guarantee success?
Answer: Real Estate can be the most profitable business, but it's not a guarantee. The application and execution part depends on the person that makes it a success.
How can Deskera help you build your presence?
Deskera is a cloud system that makes your business analytics and data available in real-time and across every device. It saves business time and money by making it possible to make quick decisions based on data that is updated and accurate.
It facilitates syncing of data across multiple devices and users hence reducing the chances of making mistakes. It also boosts the productivity of your business and workforce while making them more efficient.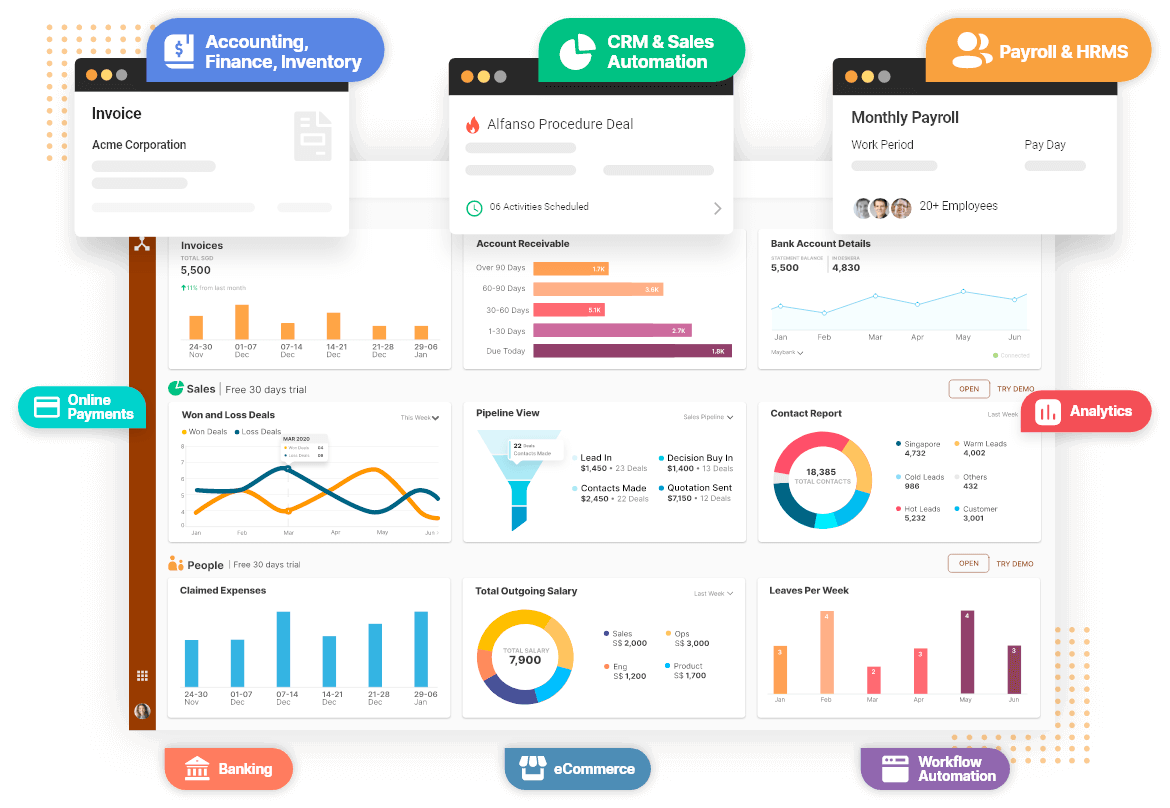 Using cloud computing systems for businesses also minimizes server maintenance, up-gradation expenses, and software licensing to mention a few. In contrast, using a cloud system like Deskera will not only reduce your cost but also make the monthly subscription expense of Deskera predictable and thereby manageable.
In addition to this, Deskera Books will make accounting faster, more efficient, and real-time. This will become the basis for your sales strategy as well as business decisions. Deskera books will also ensure that your business follows the RITE framework of accounting, which will save it money.
Deskera People and CRM will handle the customers, their experiences, customer after-sales services, and their trends with your business. If any part of business functioning needs a change, it is here that it will be presented.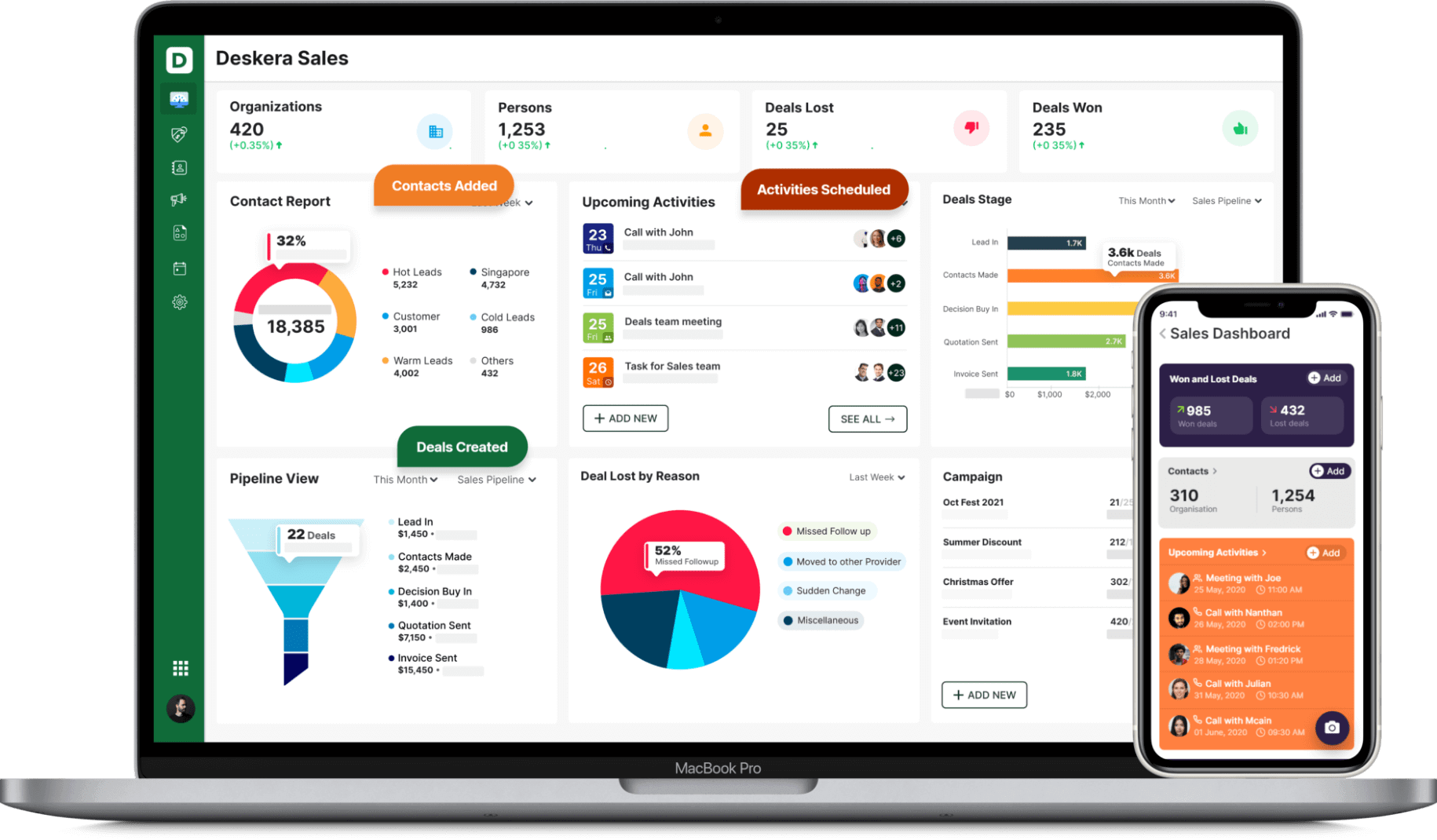 Through Deskera CRM, the sales pipeline can also be designed, customized, and monitored. It will again give real-time feedback for the functions carried out and those forgotten. Email campaigns can also be automated through deskera.
Invoice generation, invoice reminders, and integration of tasks, inventory, tax calculations, and payments due and receivable can also be brought together in one place.
Deskera is hence your go-to solution for all your business financial reports and more. It will become your guide, mentor, and assistant to help you avoid mistakes and save you money.
Key Takeaways
In this article, we have covered every aspect of the real estate business. If you want to get started with real estate, now is the time to get going.
Following are the Takeaways from the article
A real estate business can be defined as buying, selling, or renting a property, building, home, or land
Five-step process of getting into real estate business from reviewing the guidelines to getting started as a broker
The benefits are you are owning the property and, alongside, earning profits too
Three reasons to support the profitability of real estate business include demand, a shift in approach, and investment in real estate technology.
Five Benefits of starting a business include appreciation, the flow of income, tax benefits, leveraging, and flexibility.
30 step guide to starting with real estate business in details
Deskera can help in setting up your business presence with its cloud platform
---
---