Being a business owner is great - but only if you get paid on time. And in order to get paid on time, your business needs a well-organized invoice management system that tracks and reviews your finances.
Numbering and differentiating your invoices correctly, is an important part of this system.
That's why, to identify sales and purchases from one another, businesses assign an invoice number to each invoice they issue. These codes are all unique and generated through a consistent numbering system.
In this guide, we will go through everything you need to know about invoice numbers, along with the main methods businesses use to create them. Read on to learn about:
What Is An Invoice Number?
Invoices are bills that list the goods and services a customer purchased, along with the corresponding amount they have to pay. A properly documented invoice includes the following elements:
Invoice ID or invoice number
Client contact information
Business contact information
Description of product/service
Date of delivery of product/service
The payment due date
The unit price of product/service
Total amount
Other payment terms
The invoice number (also known as the invoice ID or reference number) is a unique, sequential number assigned to each invoice. This code is used to easily identify and track transactions, as well as avoid any duplicate payments. It can be made up of numbers, or both numbers and letters.
There are several ways to generate an invoice number, which we will explain one by one as we go along. As a business owner, you're free to choose whichever one of these numbering methods is more convenient for your business.
But before we jump into the how of numbering your invoices, let's explain why it's important to generate and add an invoice number.
Why Is An Invoice Number Important?
Properly generating invoice numbers allows your business to:
Easily track payments. When a customer has an issue related to a several months old invoice, this invoice can be easily found if the business keeps a logical numbering system. Otherwise, tracking it down can become a real headache and time-consuming for both the buyer and seller.
Avoid duplicate payments. Billing your clients twice or incorrectly can result in huge losses for your business, in reputation, time and money.
Provide professional and legitimate service. Depending on the region, your business might not be obligated to create invoice numbers. Still, most clients request reference numbers on their invoices, since it provides transparency and professionalism.
Properly document income for taxes. With the help of invoice IDs, the tax office can easily review invoices against the sales and expenses of your business.
How To Generate An Invoice Number [With Practical Examples]
There isn't one standard numbering method every business has to use. The decision is entirely up to you, depending on what feels more suitable and easy to follow.
However, there are four numbering formats businesses commonly use: sequential, chronological, by customer number, and by project number.
Let's check out how to generate each one.
Sequential Invoice Numbering
Sequentially creating your invoice numbers means moving up numerically by one with every new invoice. You could start with 1, 2, 3, or even 00001, 00002, 00003. The most common sequential invoice numbering approach is to start with 0000000001 (9 zeros, followed by a 1).
When doing this numbering manually, always write down the customers' name and amount owed in a separate sheet. If typos or duplication errors occur, it's best to have this information for possible future reference.
When using accounting software, on the other hand, with every new transaction the next invoice number is automatically assigned. Even if you attempt to enter a duplicate number, the software won't allow it.
Chronological Invoice Numbering
A way to generate longer, more detailed invoice numbers is by adding the date the invoice was created in. This is known as the chronological method.
For example, the first invoice of the day for October 30th, 2020 would look like this:
Invoice number: 20201030-001
---
Format: YYYYMMDD-001
The first part of this number is the date, while the second part identifies the order number which goes up by one with every new sale. Alternative formats of the chronological system are 30102020-001 (DDMMYYYY), 10302020-001 (MMDDYYYY), and so on.
If you want to personalize the invoice even more you can add the customer number as well. For example, if the clients' number for the previous sale is 203 (CCC), the invoice ID would look like this:
Invoice number: 20201030-203-001
---
Format: YYYYMMDD-CCC-001
Customer Invoice Numbering
When assigning invoice numbers based on the customer number, you can choose whether or not to enter the date.
In this format, the invoice ID begins with the customer number, followed by the date (again, optional), and ends with the sequence number.
Keep in mind that in every numbering system, the sequence number is always placed in the end. This helps you keep track of the numbering and avoid duplicates.
Here's what a sale for a client with client number 4032, on October 30th, 2020 would look like using the customer number:
Invoice no: 4032-001
or
Invoice no: 4032-20201030-001
Project-based Invoice Number
The last option for referencing your invoices is through the project number. This method is most suitable for businesses who take on a lot of projects, or whose project number is the most important, such as construction companies.
There are two main organization ways for this method:
project number + customer number + sequence number or,
customer number +  project number + sequence number.
For project number KJHB302, and client number 1178, the assigned invoice number would be:
Invoice number: KJHB302-1178-01
or
Invoice number: 1178-KJHB302-01
Updating Invoice Numbers
You could start generating your invoice numbers using the sequential method, thinking it's the best option for your business. Only to find out it's not organized enough.
So, you decide to switch up to the project, or customer invoice number system. And that's totally plausible.
However, be careful! We suggest updating your invoice numbers only at the end of an accounting period, which corresponds to the business fiscal year. This way you avoid confusion and prevent any errors from getting made.
Invoice Number Errors: How to Correct Them?
According to SAP Concur, duplicate payments cost small startups as much as $12,000 a month. And one of the main causes for this fee is incorrect invoice numbers.
Whether the duplication happened due to a typo, spelling mistake, or human counting error, correcting it can be quite the process.
In accounting, the rule of thumb is that invoices shouldn't get deleted, no matter the reason. So, to fix the problem, we recommend creating a new invoice with the correct information. Then, it's best to send this invoice to your client with a note of correction, in order to avoid any confusion.
To prevent these errors from happening altogether, we suggest investing in accounting software that automates invoice number creation for you. Even if mistakes do occur, the software immediately pinpoints the location of the error and how to solve it.
Want to learn more about the most common accounting errors and how to resolve them? Check out Common Accounting Errors  - A Practical Guide With Examples.
Automate Your Invoices With Deskera
Not only does invoicing software like Deskera generate invoice numbers for you, but it automates your business' entire invoicing process as well!
With Deskera you can create invoices within seconds using our 20+ premade professional templates. To better reflect your brand and win the customers' trust, you can even customize these templates with your brand colors, fonts, and business logo.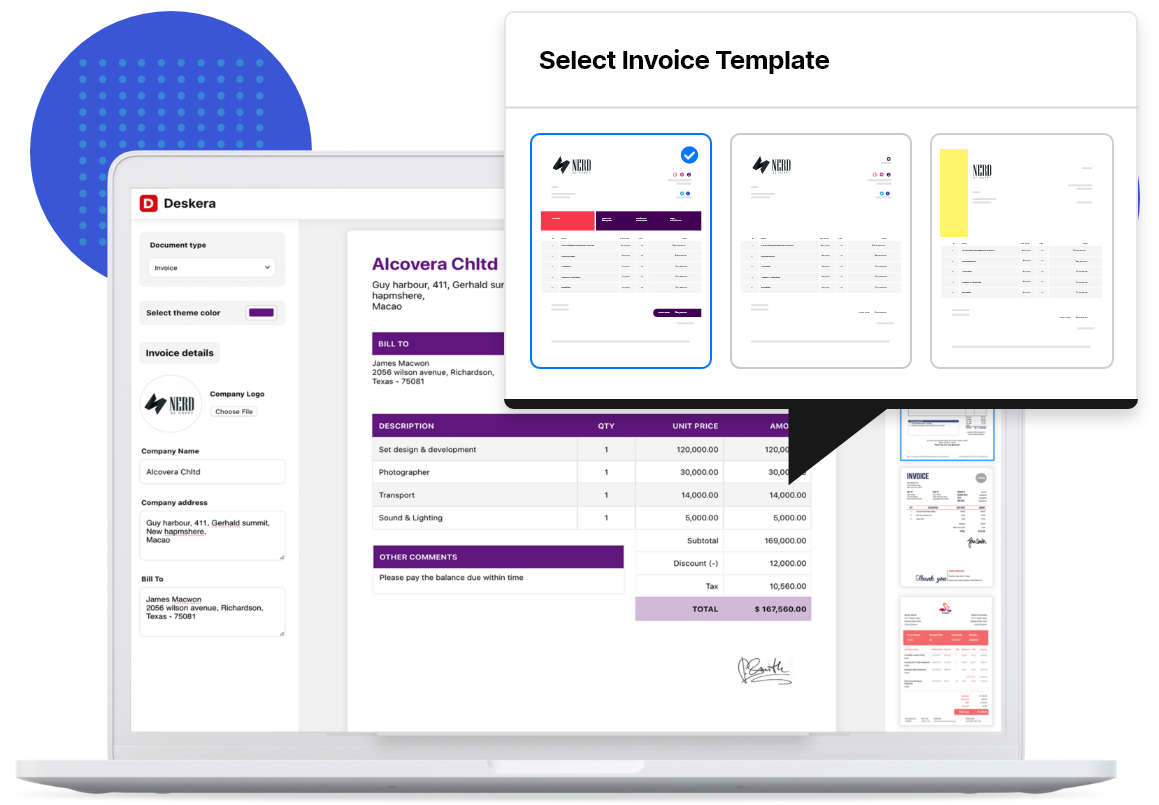 Sending out these invoices is just as fast and easy, and only takes a few clicks. Just fill in the invoice payment details and any advance deposit requests, and press Done!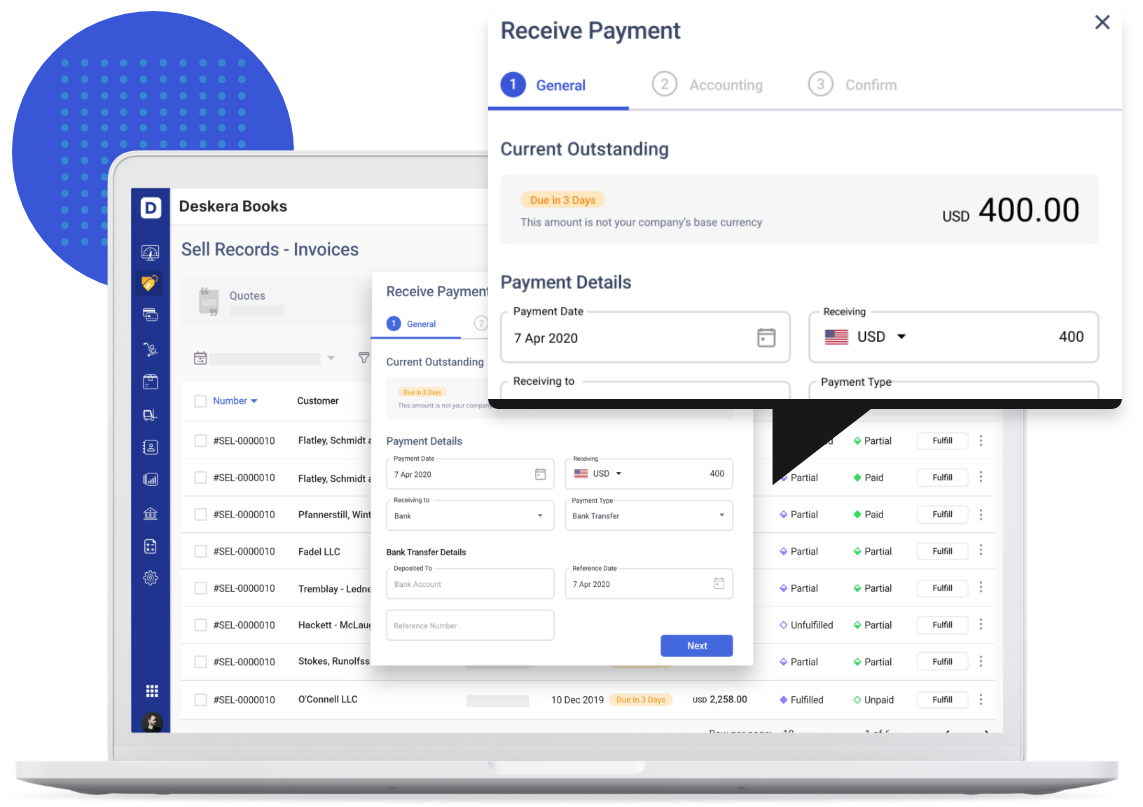 Deskera also lets you set up regular payment reminders, to minimize late deliveries and unpaid invoices. With this weight off your shoulders, you can focus more on taking care of your customers rather than being the bill collector.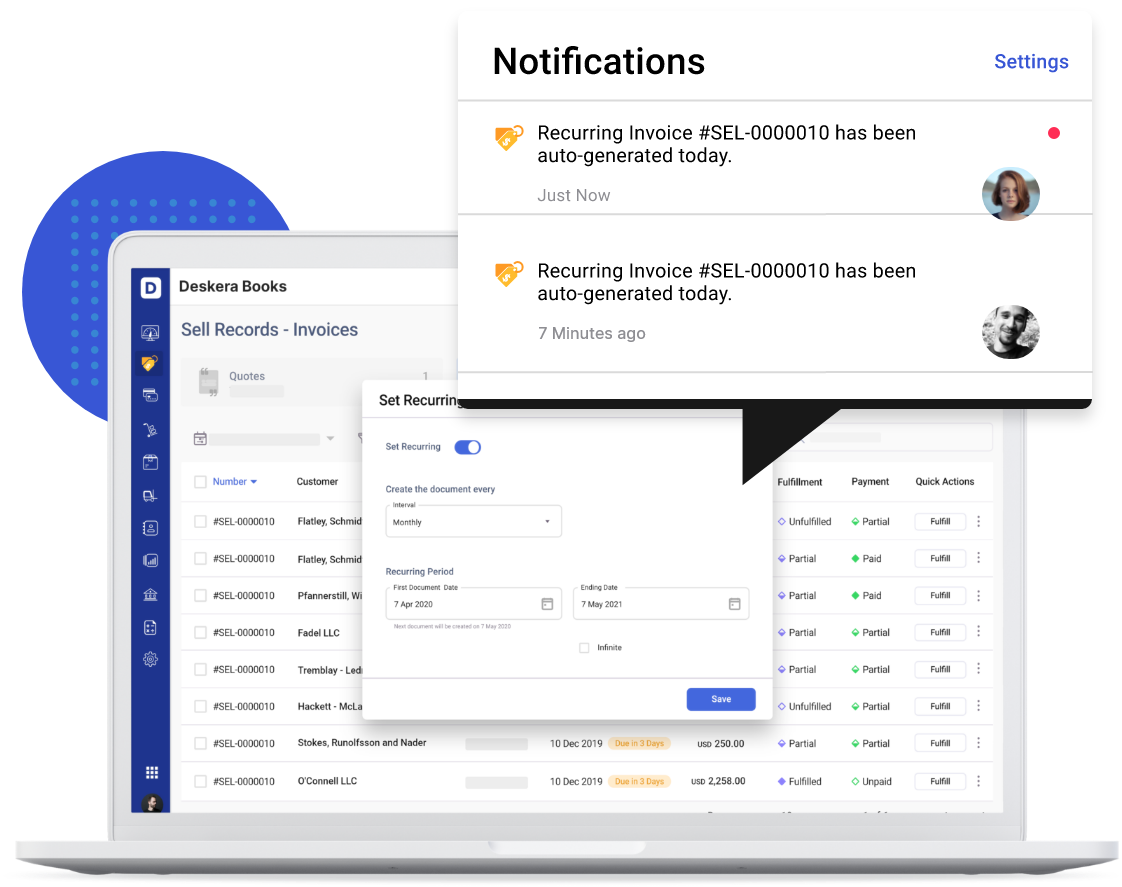 Want to manage invoices from your phone? No problem!
You can download the Deskera app and access the software from your smartphone, tablet, computer, or other devices anytime, anywhere!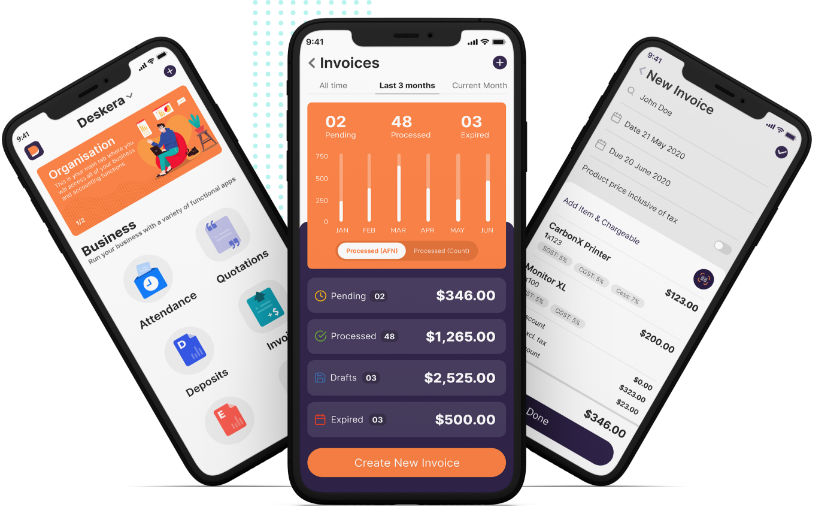 Still not sure Deskera is the right invoicing choice for your business?
Try the software out yourself free of charge! Sign up for our free trial, no credit card required!
Invoice Number FAQ
Does an invoice need an invoice number?
Yes, an invoice must always include an invoice number. The invoice number should be a unique identifier.
How do I number my first invoice?
The most common way to number your first invoice is by starting from 000001. The number of zeros preceding the one depends on your preference. The invoice can also contain a prefix or suffix made of alphanumeric digits.
A typical example of a first invoice number would be: #P-0000000001
What is an invoice ID?
An invoice ID is the same as an invoice number. The two terms are interchangeable.
How do I find the invoice number?
In most cases, you can find the invoice number at the top-left or top-right corner of the invoice. Every invoice must always have an invoice number.
Key Takeaways
And that's a wrap on our invoice number guide!
Before leaving, let's go through the main points we've covered:
An invoice number is a unique and sequential number every invoice has. Its main purpose is to help differentiate and track payments.
The four most common ways to generate invoice numbers are:

Sequential
Chronological
By customer number
By project number

If you want to update your invoice numbering system, always do it at the beginning of an accounting period.
Invoice number errors can cause duplication of payment, which can't be deleted. Using accounting software prevents this mistake from happening altogether.
Related Articles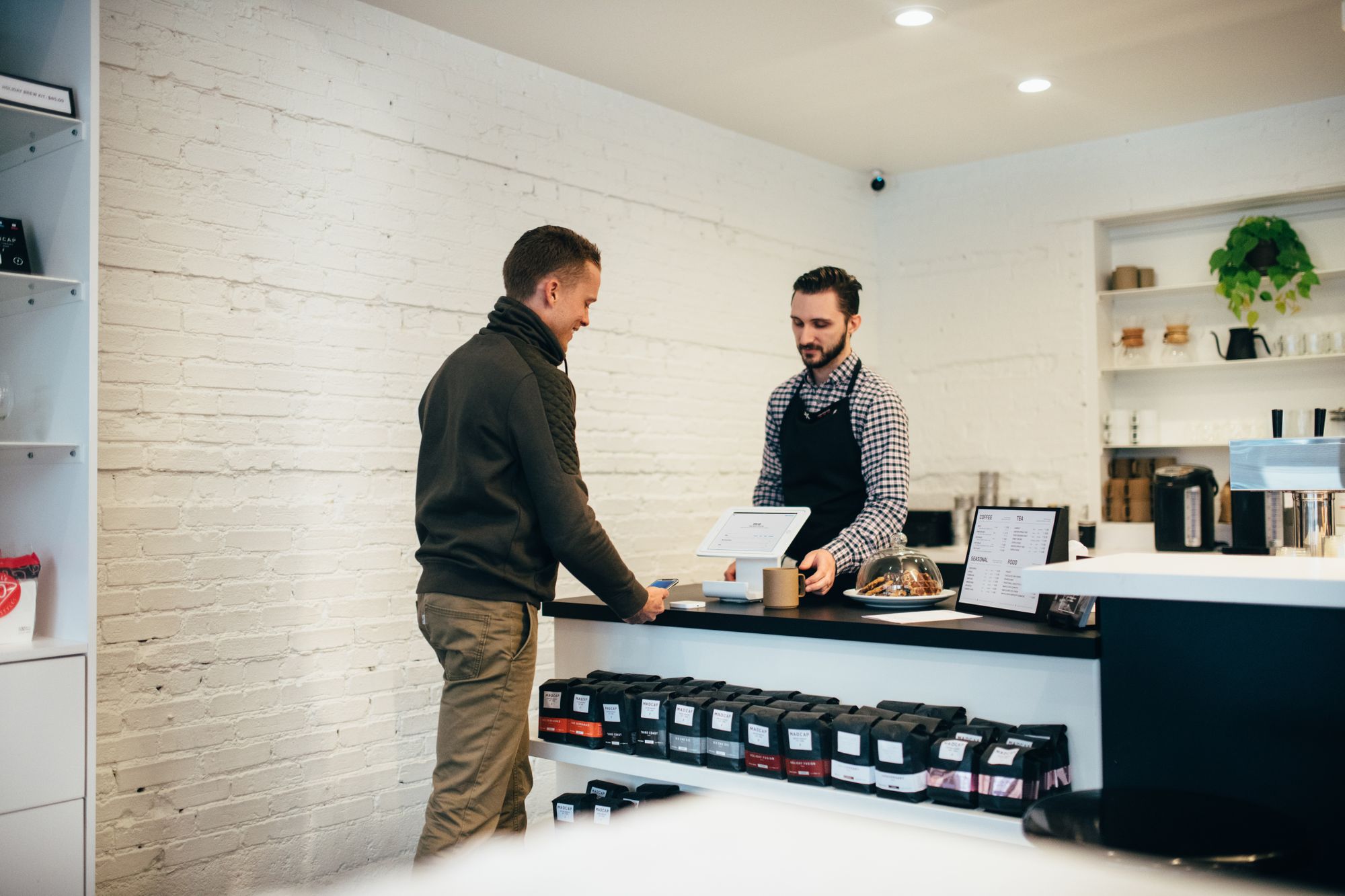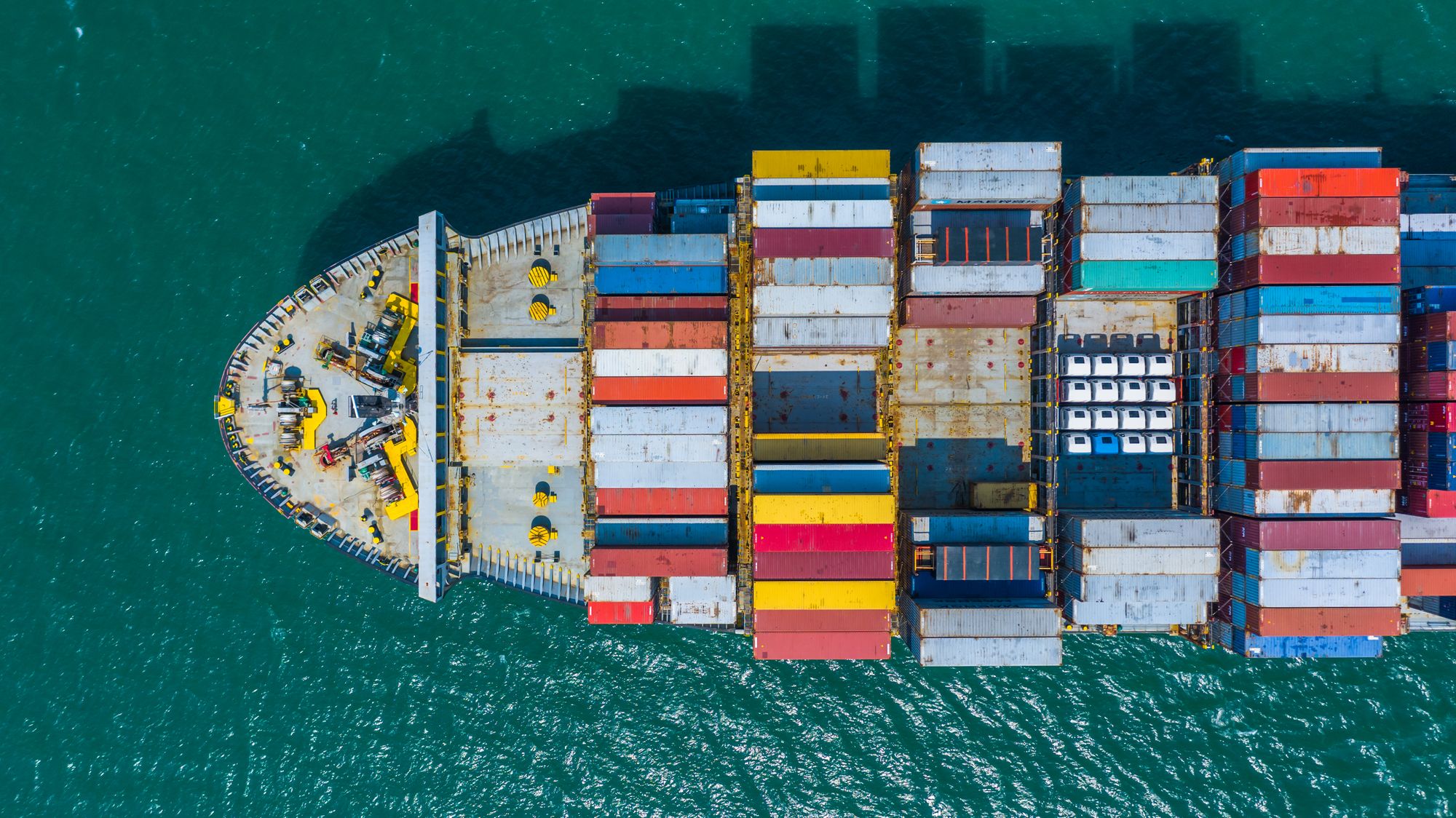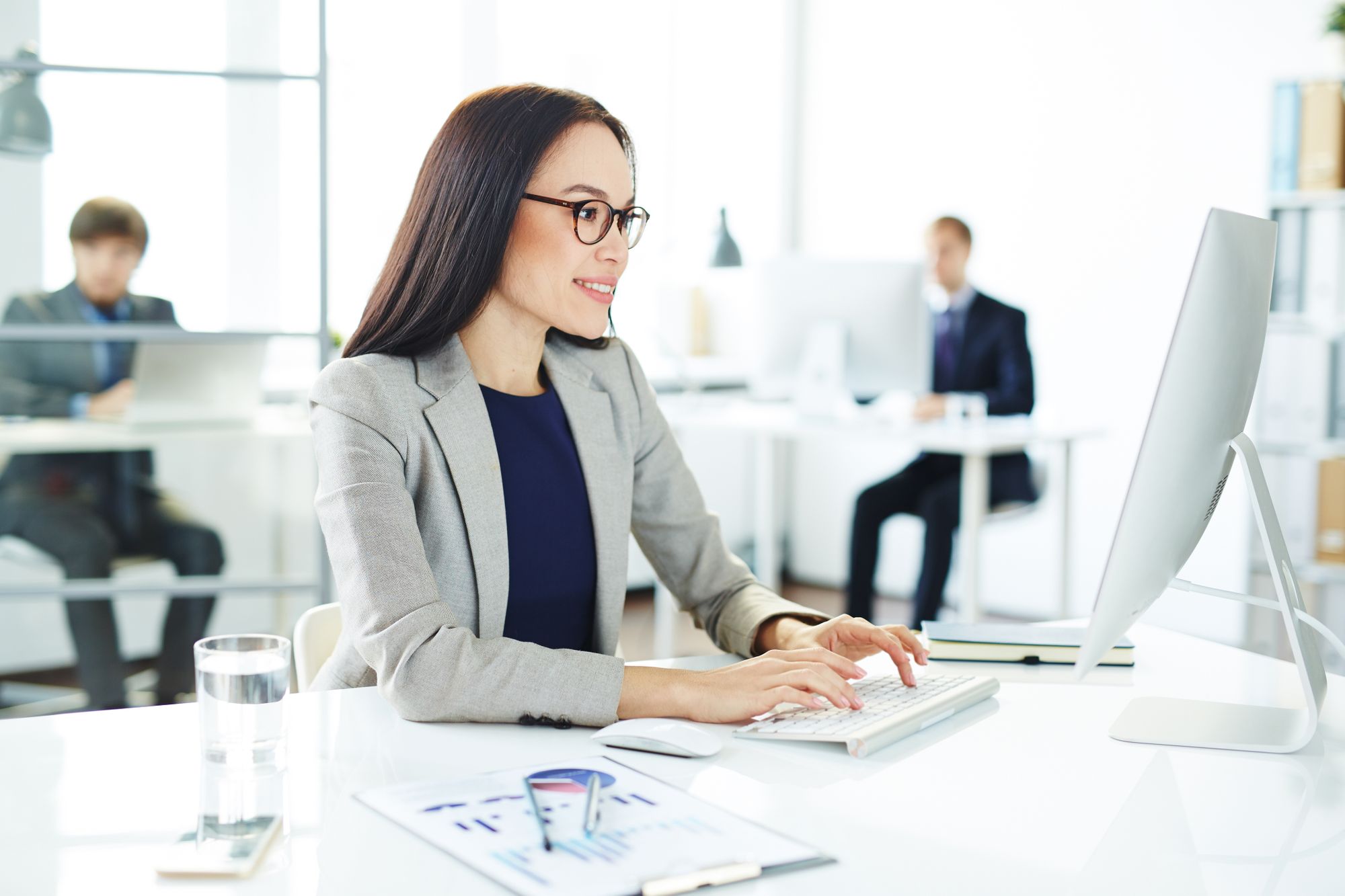 ---
---