Have you thought about how important proficient procurement is? It conveys more noteworthy benefits than its cost along with helping businesses better oversee business choices. The digital revolution revamped everything it came in contact with including procurement.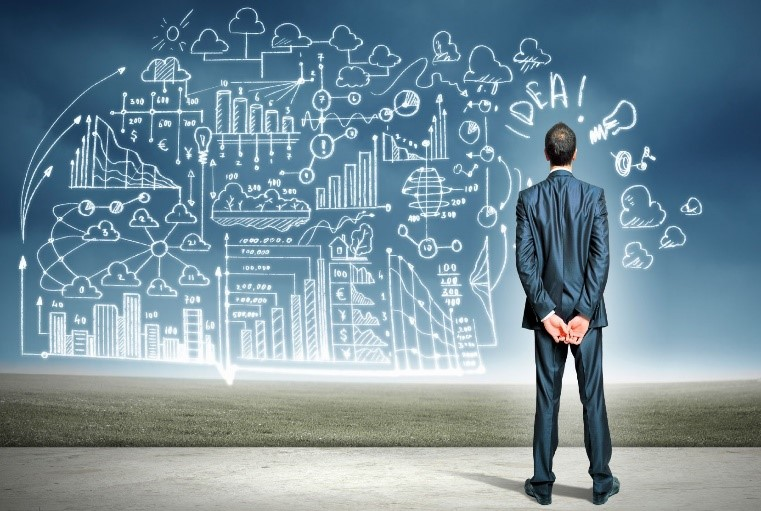 We see more of procurement and digital procurement in this post along with these points:
What is Procurement?
Procurement is defined as the process of acquiring goods or services, especially for business purposes. The term is more relevant in businesses as the companies need to procure goods or services on a large scale.
It is important to recognize what procurement is, as it provides a profound understanding of procurement and supply processes. The term procurement refers to the process or act of the procurement or the acquisition of a company's services or products. Some companies use the term procurement to refer only to the actual purchase, while others use the entire process leading to the purchase as an acquisition.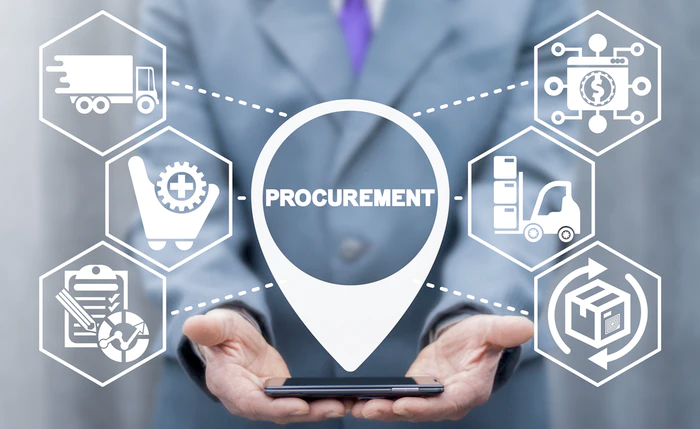 The word procurement refers to the purchase of a company and is usually done on a large scale. Two companies participate in the procurement; the buyer and the seller. However, it is the purchasing act that is labeled procurement and not the seller's pursuits.
Procurement is usually made when a company looks at using the procured goods or services to make a final product of its own. This puts a lot of onus on procurement for performing crucial functions in a company. Another vital aspect is to procure the best quality of goods or services at the most competitive prices which are imperative for the success of the company.
Understanding Traditional Procurement
Traditionally, procurement has included handling the business tasks manually. It also depended heavily on paperwork, communicating over the phone calls to get updates from people involved, and so on. The procedure, apart from being time-consuming, was much susceptible to errors due to lack of clarity.
The process simply targeted towards one goal which was to fulfill the services and achieve the required quantity in stipulated time and at a certain price. Due to the lack of a strategic approach, the companies looked at procurement only from the perspective of short-term purchases.
Manual procurement made it difficult to optimize the operational processes for major accomplishments. The cumbersome and monotonous tasks impeded the financial success of the companies. With the increasing momentum of the digital world, manual procurement had to make way for the new-age practices that ensured successful stints in business.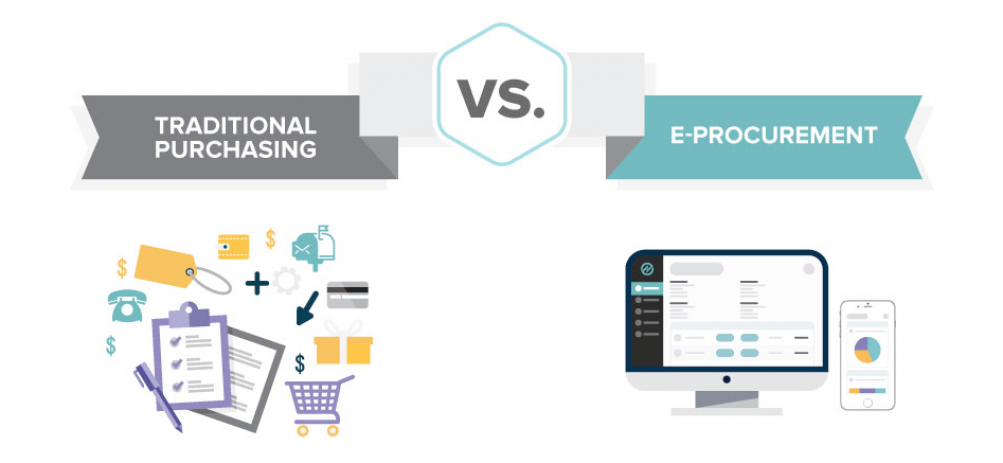 Defining Digital Procurement
Digitalization refers to a shift from analog to digital. This fact lays the foundation of digital procurement. Fundamentally, it implies the use of digital technologies to enhance business models and provide value-adding avenues. When businesses move towards embracing digital advancements, they are termed digital businesses.
On these lines, digital procurement is defined as opting for digital technologies to improve the procurement functioning of the business.
We shall learn in detail about digital procurement in the upcoming sections.
What is the Purpose of Procurement?
Traditionally, procurement has been focused on ensuring the availability of raw materials, components, and the related services essential for production. For a business to be successful, the teams must achieve, a set of best practices of procurement. Therefore, it is vital to define the purpose of procurement.
The purpose or objectives of procurement can be summed up as follows:
The foremost purpose of the procurement is to ensure that the entire process adds value to the business.
It also ensures satisfying customer requirements and improves customer experience.
It maximizes the value generated. The value here refers to the monetary value which is the difference between the cost of the final product and the selling price.
It defines procurement profitability. The procurement profitability refers to the difference between the revenue (the price that the customer pays for the product) and the collective cost of the procurement chain.
Procurement also ensures the company pays the right price and saves time on the overall process.
It helps companies look closely into the vital steps in the process and gain access to enhanced analytics; thereby, cut down the risks of expensive mistakes.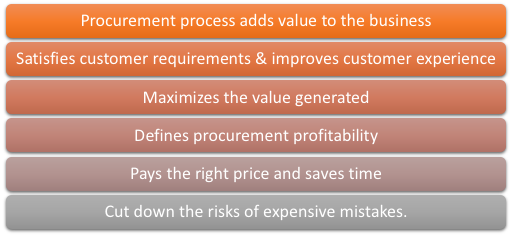 Procurement, thus, fulfills the purpose of reducing the surplus/unneeded expenditure. It must also provide innovative improvement opportunities, both in production and delivery.
How Do You Digitize Procurement?
Digital procurement streamlines routine tasks to maximize productivity and decrease expenses. It helps fetch real-time information and advice for investors through the business world. This is achieved through the use of artificial intelligence (AI) and other convenient tools available online.
It transforms buyer interactions with suppliers and other third parties through a new level of communication platform. It also installs truly innovative and savvier ways in which information models can be used to enhance daily operations and decision-making. This essentially entails the transformation of procurement to digital procurement.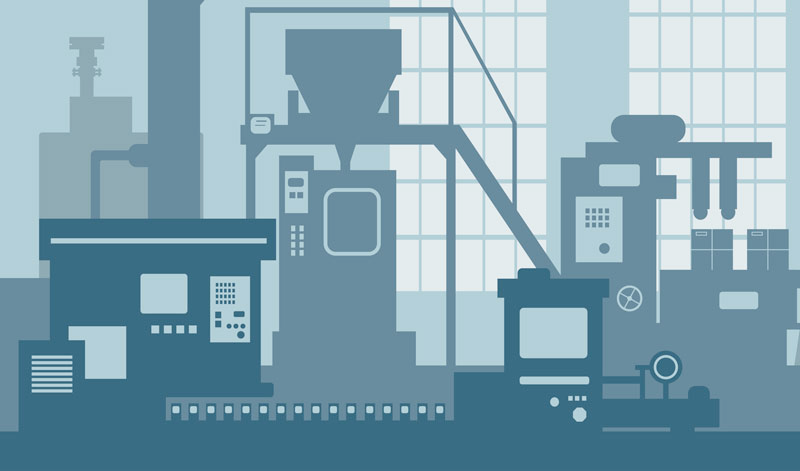 This brings us to the question: How do you digitize procurement. Let's read on.
Preliminary steps to begin digitizing procurement include:
Developing Ideas that focus on customer requirements: When you set out on the journey to digitize procurement, the foremost thing you start with is developing ideas that satisfy customer requirements.
- Quality service
- Simplifying operations
- Cut down the wastage of time
Mapping the organization's manual activities: You must identify the activities that do not add value and remove them. Select an efficient project team to work on the initiative.
Emphasize vision, strategy, and context: The project team then drives the process that defines the context, vision, and strategy. The success of digitization depends on how the new tasks are performed utilizing the technologies.
Build a clear business case: The procurement directors need to build clear cases to recognize the need for digitization. Remember that the ability of procurement to support the firm's overall business plan is the ultimate measure of its success.
Implementing the business case and related changes: A clear information about the business case must be shared with the employees by the managers. The employees now take over and drive the changes. Set up a lean procurement committee that ensures that the process is run smoothly. With this, the preparatory stage of the digitization process completes; and we next learn about the major steps.
The following points are the key points in the process of procurement digitization.
Define and Measure
The project team addresses customers' concerns to establish which metrics should be upgraded. The present state of the process is then mapped by team members. This task entails charting manual operations and gaining a better knowledge of how physical flow is regulated. It also encompasses the existing automated flow, which includes applications, systems, and automated sequences.
Data taken from the data warehouse, if accessible, is the most effective way to measure processes. The initial step in this process is to:
Identify the processes that procurement leaders would like to see improved.
Establish the project team
Implement the initiative by deciding on the project's major objectives.
Evaluate current and future product and service needs.
Examine the present environment, including the company, suppliers, procedures, and logistics
Organize the implementation strategies.
Recognize opportunities and assess the potential advantages
The second part of the process is performed by the team to:
Identify and chooses crucial KPIs.
Gather adequate data and assess the potential benefits
Define clear goals for the rest of the project and decide whether or not to proceed with the rest of the project
The first stage is a decisive stage that helps decide if the project is conceivable or not. If the project does not seem to fulfill the criteria of estimated benefits, the team scraps the project.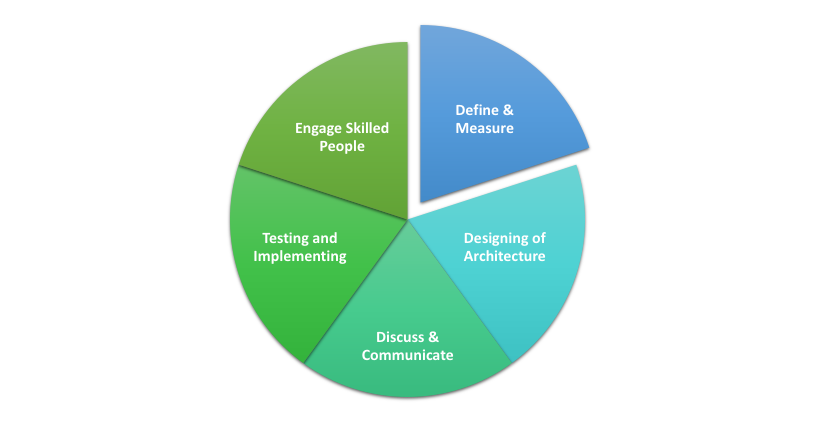 Discuss and Communicate
Before moving on to this step, the project team should have demonstrated that digitization has considerable prospective benefits. Many solutions will require phased adoption, therefore team members may want to explore a multi-generational project plan. It could be a single business unit or a part of the overall strategy. Then get ready for a comprehensive rollout.
Eliminating unnecessary operations, simplifying processes, and even restructuring can be done at this point. It is important not to pressurize the team and let them work on regular but certain successes.
The stage also needs the team to keep both, the stakeholders and the customers are kept informed about the developments. An effective communication plan ensures success for the project.
Designing of Architecture
This is the foundational phase of the project. The technical and functional aspects of the many activities and services that are part of manual and automated flows must be thoroughly planned by the team.
The importance of internal and external integration cannot be underestimated. By integrating e-procurement systems, you can identify operations that can be eliminated, increase visibility, and improve supplier relationship management.
Testing and Implementing
This stage entails the following operations:
Developing new structure and software
Effective communication is ensured between the teams and the vendors & stakeholders
Launching and begin using the new procedures
In case there is resistance to the new format, there should be an extensive and detailed description of the processes. Doing so, everyone finds it easy to work with the new procedures introduced.
Engage Skilled People
Finally, the requirement and importance of a talented pool of individuals cannot be cast away. While this is essential, it is also a common issue that most companies face. Finding skilled staff to work on the new project could be a task. In such a case, you may hire new people and new trainers who could educate the internal staff as well. With the due support and guidance from the procurement managers, it would be an easy sail for the entire digital procurement process.
These steps run through the complete digitization process of the procurement.
Why Digital Procurement is Important?
In simple words, digital procurement can be defined as an act of incorporating business tasks with the latest technological advances. Automation, for example, helps save substantial amounts for a company. Investing in software to take care of the basic functionalities of your company can be an example of digital procurement.
Artificial Intelligence, machine learning, smart sensors are some of the other tools which could prove to be extremely beneficial in deriving great values for the procurement
We must remember that digital procurement began with digital transformation. It requires a company to invest in digital technologies and adopt a full-fledged and all-inclusive transition. With the fast-paced modifications in the way of working, the businesses world over have committed to digital procurement. Moreover, small businesses, too, are catching up and diving into the digital realm to match up with the challenging times.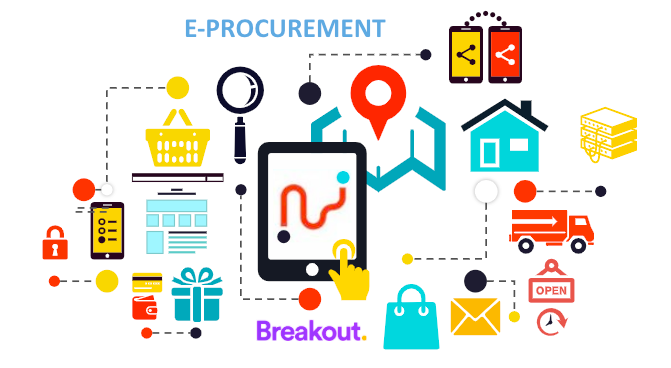 Digital procurement has shown the way forward with the help of advanced analytics. The data-driven optimization has given rise to a complete overhaul of the procurement process and helped get better insights. It has also enabled bridging the gap across domains and has aided valuable interactions.
Automation tools have completely revamped the downstream procurement activities, which, in turn, greatly improves efficiencies. Digital procurement has crossed over from the ages of traditional procurement and has been instrumental in creating innovative business models. With value generation as the focal point, it has led the way forward by connecting businesses.
What are the Four Types of Procurement?
There are several ways to classify procurement. Depending on the company's use, procurement is classified as direct and indirect procurement. We shall see all the types in this section.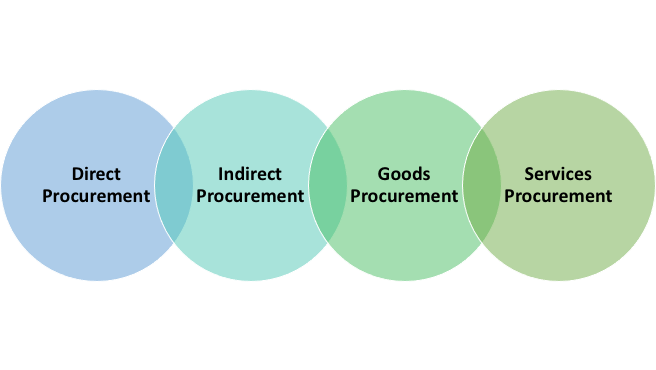 Direct Procurement: This involves a company acquiring any good that is required to build the final product. In the case of a manufacturing company, raw materials and other components can be examples of direct procurement. A retailer can define direct procurement as acquiring all the goods that he obtains from the wholesaler for further selling.
Indirect Procurement: This applies to goods or items that are required by a company but are not essential for the core processes of the business. For example, office supplies, equipment maintenance, furniture.
Goods Procurement: Although goods procurement by large includes physical goods, it also includes elements like software subscriptions. An efficient goods procurement depends on equally effective supply chain management. It may cover both indirect and direct procurement.
Services Procurement: This involves services involving people. Individual contracts, labor laws, law firms are all included under this category. However, like the Goods Procurement, it may cover both direct and indirect procurement.
What are the 10 Benefits of Digital Procurement?
Digital procurement includes e-procurement which has the following benefits:
Improved Efficiency
This is one of the major reasons why companies are increasingly adopting digital procurement. A drastic change and improvement in gross efficiency have brought upon a lot of prominences on digital procurement. Starting from the way the employees communicate to the flow of information across the company, the entire process has been a testimony to a seamless transition. This has positively impacted the customer experience which signals good times for any business.
Transparent Operations
The capacity to start delving into factual data allows for a more consistent pulse on all parts of the business that keep the wheels rolling. While doing so, maintaining transparency between the teams appears as an important factor. With the cutting-edge technological advancements and its tools, it would be easier for the different teams to be work in sync. An illustration could be seen between the accounting team and the customer service team, both of whom can access real-time information about the clients who are past due on a payment. This transparency between teams allows them to resolve the matter sooner rather than later.
Enables Cost Savings
Many businesses expend a significant amount of money and time simply maintaining outdated systems and goods. Embracing digital procurement can save you not only money upfront but also time and money once you're operational, thanks to the integration of more streamlined operations and faster risk management. The right software can empower companies to save a considerable amount of costs within the operational framework.
Revenue Creation
It is easier to increase income through lowering costs. The key to moving a firm forward is leveraging possibilities by identifying faults in present business procedures. Employees and management can improve their best practices and drive revenue through pattern recognition, trend assessment, and the benefits of data-driven opportunities by increasing transparency in various aspects of the business.
Augments Simplicity and Customer Satisfaction
Customer service is one area that could possibly be a 'make or break' element in a business. As a backend process, it may not be understood well due to a lack of visibility. Let's consider an example for clarity. If a dissatisfied and anxious customer rings in to enquire about a delayed order, they may get a satisfactory reply from the customer service; and the disaster of cancellation is averted. However, wouldn't it be great to provide upfront inventory information to the customer on the order-placing platform itself?A competent digital procurement system could offer this much-needed visibility into the inventory by mentioning the remaining inventory or products and make the process simpler for the customers.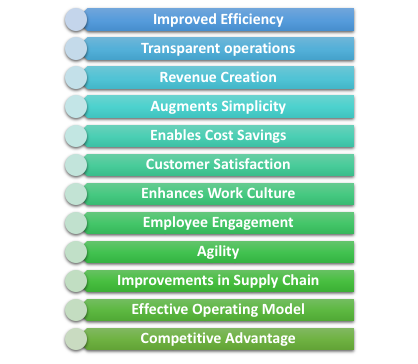 Enhances Work Culture and Employee Engagement
Digital procurement could introduce software that capitalizes on human management. This kind of system is capable of handling performance assessments and verify that employees are getting the necessary mentoring. It also guarantees that the teams receive enough needed support from their superiors, who emphasize areas for development on an individual basis. An ERP software can do the trick. Employees' jobs become less stressful if the mechanisms in place make their jobs more simple, productive, and logical. In a sense, you're preparing your current and future employees for success by providing them with technology that's effective, open, and frictionless. This will assist students in staying organized and seeing trends in their work, so increasing the value of their output.
Agility
With digital procurement, managing an Enterprise-wide transformation can be executed effectively. The companies will be in a better position to react quickly to market trends and customer demands. The kind of emergencies that the year 2020 has exhibited, we have seen some of the most significant disruptions in traditional business practices since we can recall. Such times have highlighted the necessity of company flexibility and agility. It's critical to get the right software for your organization and integrate it properly. This provides for smooth throughout the transition to ensure that you're making your business more adaptable through a transformation.
Improvements in Supply Chain Management
Clarity in your supply chain, enhanced vendor management, and a better grasp of the microeconomics of your products are all benefits of effective supply chain management. This could be especially beneficial if your company deals with shipping and logistics, you may need to think about how this department will fit into your demands as you go through the ERP transition process.
A More Effective Operating Model
Defining your business model shall help you decide if upgrading the IT infrastructure will work for the business more effectively. Implementing a dependable ERP system that manages inventory and sales opens the door to better and more reliable eCommerce platforms, allowing your firm to expand and optimize its reach.
Boosting Your Competitive Advantage
Strengthening your company's infrastructure can leverage your competitive advantage in the industry. The easiest approach to do this is to think forward about what components your new system will require to help your business grow. Concentrate and define the aspects you're skilled at and develop your business by utilizing them. The services and applications of the software you choose should reflect your business's needs and strengthen your competitive advantages.
What are the 7 Stages of Procurement?
The design of a procurement process is entirely dependent on the size and kind of company. A solid procurement procedure is critical to a company's financial sustainability. It assists you in finding the finest deal on goods and services, reducing delivery times, and assisting you in selecting the ideal partners to work with.
When it comes to procurement, there's no standard format or approach; the procurement process must be entirely customized to the company's demands to achieve optimal performance.
This post will detail 7 critical stages you should follow whether you're establishing a procurement process from scratch or your company needs to reevaluate the existing system:
Determine the Goods or Services that are Required
When you recognize you need goods or services from an outsourced company, you should start the procurement process. Having said that, your first step should be to assess the entire company and identify the requirements of each department. As a result, you achieve clarity in your company's spending requirements. It also gives you an insight into identifying the areas of the business where you may save money and cut expenditures. You'll establish your budget at this point in the procurement process.
Develop a Suppliers List
Suppliers play a crucial role in your business and therefore, it is pivotal to chart out a list of the right suppliers. The suppliers could be rightly termed as collaborators for your business, and you wouldn't want to get into a collaboration without first conducting due diligence.
Partnering with the wrong supplier could have dire consequences. Not only could you end up spending more on your goods or services than you should, but the delivery periods may not be suitable for your organization, causing delays in your operations. You can look for these qualities in the ideal supplier for your business:
Manufacturing Capabilities
Emphasizing relationship building
Personal responsibility
Ease of interaction
Integrity
Such situations demand that you examine your options when choosing your supplier. Preparing a comprehensive list could be a great way to get started with it. That way, you can compare the competition to one another and observe where they shine in different areas.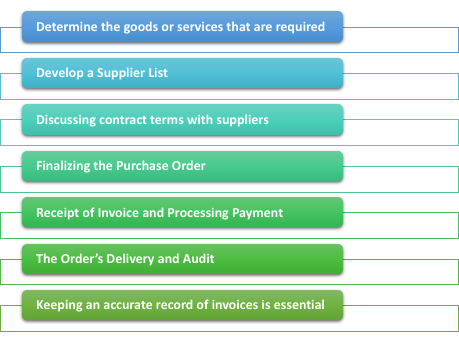 Discussing Contract Terms with the Suppliers
After you've decided on a supplier, you'll need to hammer out the details of your contract with them. At this critical stage, you must reach an agreement that is reasonable for both sides; it vital to arrive at a common ground for a productive partnership.
With partnerships/ collaborations, come the contracts. A contract comprises not only the prices but also defines the scope of the project execution. It is advisable to keep a copy of the contract handy at all times so you may refer to it if something does not meet your expectations.
You could carry out a comparison and review your prior collaborations to estimate if there's a possibility to cut down the costs. If the comparisons point to mistakes in handling contracts, this is your chance to work around them and avoid those mistakes in future negotiations.
Finalizing the Purchase Order
It's time to finalize your purchase order after you've sent your contract to your supplier and both sides are satisfied with the details. A typical purchase order is a document that contains the following information:
A summary of the product or service
Quantity
Workflow as accepted
After finalizing the purchase order, it is now time to signal to the finance team to hand over the specifics to the supplier. This implies that the finance team is on the same page as far as the information is concerned.
Any unique codes or ids, for example, or any other important details are now with the finance team. A purchase order is the contractual agreement of certain tasks between the two parties. On the contrary, the contract is a document that showcases the details of the complete collaboration.
The supplier receives the purchase order shared by the finance team after approval. The supplier then moves on to preparing the order.
Receipt of Invoice and Processing Payment
The next step involves the supplier sending you an invoice once they receive the purchase order. The invoice includes the agreed-upon pricing and payment instructions. The invoice also comprises the specifications about your order, so make a note of them for future reference. You'll have a specific number of days to pay the bill, depending on what you negotiated in your contract.
The credit-notice varies from company to company. Some offer a 30-day credit notice, giving you time to make the payment if you are unable to do so at the time of the order. However, it will be determined by what you and your provider have agreed to and the depth of your relationship; although, a lot of it is determined by the mutual agreed to and the depth of your relationship.
Once you have received the invoices, it is best to pay them off at the earliest. This avoids postponing and forgetting; and also saves you from the late-payment penalty charges. Moreover, timely payments also instills a good reputation and helps you build trust within your network.
The Order's Delivery and Audit
Based on the conditions of your contract, your delivery will arrive shortly after you submit your purchase order. It is also advisable to always maintain track of the time when the order was received against the time it was placed. This helps you identify if you have received your deliveries in time.
A thorough check of the items in the order will ensure that your supplier hasn't missed out on any of the orders. You would not want to discover later that the product you expected hasn't arrived. This will help keep away any disappointments at a later stage.
Therefore, it is vital that you inspect your order on arrival and point out any missing products right away. By doing this, you can avert problems and avoid potential disruptions.
Keeping an Accurate Record of Invoices is Essential
Keeping track of all your bills is essential for determining if you're overspending or sticking to your budget. Make sure you maintain track of all of your invoices and payments. If any audits are conducted, you will know exactly how much you spent during the allocated period and will be able to categorize them to better analyze your expenditure.
What are the Key Elements of Procurement?
Acquiring essential materials and resources is a common business activity. However, in order to thrive and remain competitive, firms must have a solid purchasing strategy in place. Expert procurement managers must keep expenses in check while yet ensuring that they buy high-quality items and services to fulfill consumers' demands and expectations. People, policies, and technology, execution are all important aspects of good procurement administration. In this section, we learn about the key elements of procurement.
Policies
To guarantee that goods and services are appropriately purchased, procurement teams need proper guidance. This direction is provided through well-thought corporate policies. A policy example is requiring qualified vendors to be used after they have been thoroughly verified by management. If you are a procurement manager who has to defend a large purchase from a vendor, you would like to be sure of the vendor's qualifications. When purchasing policies are thoughtfully designed, communicated, and executed, the chances of this happening are slim to none.
Systems
Purchasing systems use a combination of technological innovations to gather and monitor purchase requests, purchase requirements, supplier management, and policy compliance. Computer systems and software suited to procurement and purchase are common examples of technology. The steps of the complete purchasing cycle include processes like request to purchase execution, supervise, and closing. Some businesses employ electronic equipment that detect faults and halt the process until the necessary changes are performed.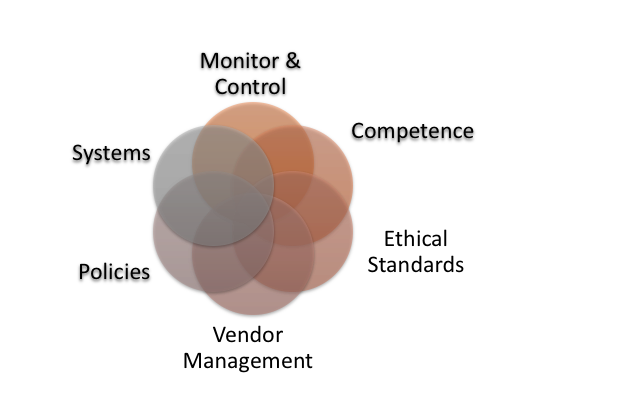 Competence
Competent workforce assesses suppliers, develops and negotiates contracts, and ensures that items and services fulfill performance specifications. All these are required for a successful procurement team. One of the most important aspects of procurement management is having the proper people in the right positions. With numerous purchasing management systems include working with software and computer systems, their knowledge of technology must be upgraded.
Monitoring and Control
Another important aspect of procurement management is quality management. Procurement teams must undertake all the measures to check if their clients' needs are met on a continuous basis. Teams must assess a vendor's quality, flexibility, and responsiveness using performance indicators. Procurement managers also require precise documentation, record-keeping, follow-up, and corrective action system. Customer and vendor satisfaction are indeed high when a proper monitoring and control system is in place.
Vendor Management and Ethical standards
The process of analyzing and selecting a vendor based on products, prices, and performance is known as vendor management. It is essential to a successful procurement program and is dependent on the development, maintenance, and maintenance of strong relationships. An unbiased attitude and an ethical approach is the key to maintaining the integrity of the business. The process needs to be devoid of any kind of preference for one vendor over another.
What are the Advantages and Disadvantages of Digital Procurement?
So far, we have learned about digital procurement, also known as e-procurement, as a concept that can revolutionize business operations. Before the companies incorporate it, they would certainly want to know about the benefits digital procurement could usher for them.
Advantages of Digital Procurement
Automation: Digital procurement has changed the way how businesses transactions take place. It has automated the purchasing procedure and has furnished excellent results for both, the companies and the suppliers. The manual tasks have been replaced with efficient procurement systems. The teams involved can access the required information at any time.
Quality: For any business, it is crucial to access only the information that holds value and that is accurate. An erroneous report can open a can of problems in the future for a company. Digital procurement is a powerful tool that not only provides information but also helps reduce the chances of errors in the information. By sharing multimedia content such as images, videos, and so on. In the process, the companies can be sure of achieving:
A significant ROI because of increased productivity.
Better organizing
Better decision making
Enhanced agility
Time: Being time-efficient and providing ways to work smarter are some of the other prominent benefits of digital procurement. With e-procurement, it is much easier to process orders and transmit them accurately and quickly. Digital procurement enables system integration which ensures the availability of the item with the supplier. The easy interfaces ease communication between the businesses and suppliers, leading to shorter durations spent on communicating.
Costs: Buying a new digital platform may seem like an expensive affair in the beginning. However, the competency of a procurement system guarantees that the initial costs are countered by the desired results. The procurement system works toward compensating for the investments made and very effectively so.

Disadvantages of Digital Procurement
Execution is often underestimated by organizations who are thinking about a digital procurement arrangement. This can make the instrument perform inadequately, and in different cases, can cause a lot of time and cash to be squandered on ill-advised implementation of the new framework.
Micromanaging: Digital procurement includes E-procurement as a subset. The E-procurement software packages provide data analytics and classification features. However, with this comes the risk of the numerous customization choices available to you. These could entice you to go overboard. With so many information fields could lead to confusion and limit the reporting efficiency of the platform. The solution is to choose the level of customization that is appropriate for your company.
Not Suitable for Direct Materials: Purchasing catalog-based indirect goods like office supplies work well with e-procurement. You'll get a decent return on your investment if you make these kinds of purchases. When purchasing direct services and materials, however, e-procurement may not be the best option. As a result, it is not recommended for negotiating purchases that are part of huge and expensive transactions.
Long-drawn approval processes: The advantage of in-depth knowledge can equally be a disadvantage. It may negatively affect your company's reviewers, causing them to take longer to study procurement information. This may further affect the perspective of the next reviewer. As a result, eliminating such impediments is critical to ensuring that the approval chain does not become clogged.
Problems with supplier onboarding: New online procurement software systems may be difficult for older vendors to comprehend. Small businesses may find it difficult to update catalogs. Besides, understanding the other important information could also be tedious using the platform. To effectively profit from e-procurement, it is critical to select computer-savvy and technoid vendors.
Despite the numerous benefits, let's keep in mind that a competent system needs equally adroit planning. Poor planning may ruin the opportunities created by the use of digital procurement. The process entails a cultural shift and the lead management will have to ensure that the lower teams are well in sync with the rolling process.
It is also wise to understand that no automation could ever replace the people in your team. So, investing in training them will expedite the process of getting the best out of digital procurement. Together, both the factors could work towards achieving business goals with efficiency.
What is a Procurement Platform?
Is your company ready to compete globally in an economy that is becoming increasingly reliant on modern digital technologies? Before you may find yourself catching up to your competitors, we advise you to incorporate digital transformation in your broader business processes.
The Basics of Digital Procurement Platforms
It's critical to have a clear grasp of digital procurement before you can evaluate and use a digital procurement platform. Digital procurement, in its broadest sense, is the strategic use of transformative technologies to move procurement away from a reactive cost-cutting model and toward a proactive model focused on generating savings, innovation, and value through systemic procurement transformation.
A digital procurement platform could be anything that lets organizations introduce innovations and maximize productivity. Companies have always wanted solutions in digital procurement which bring the technological environment and their entire enterprise on one page.
All the elements of business like accounting, ERP, marketing amalgamate with the software solutions. This combination offers two benefits:
Enhanced digital quality
A great experience for the team
To support this data-driven procurement paradigm, a variety of established and emerging digital technologies are used:
Established Technologies
Evolving Technologies and
Emerging Technologies
Let's look at each one in detail.
Established Technologies: These are the technologies which have already found great acceptance and are widely used. They are integral components of digitalization in general, and procurement transformation specifically.
They comprise:
Evolving Technologies: Some of the best organizations are strengthening the evolving technologies. They are making the required investments in these technologies to significantly boost performance, savings, and value development.
They comprise:
Advanced data visualization
Intelligent content extraction
3D printing
Emerging Technologies: The technologies which are showing a great potential for the future applications are included under this category.
They comprise:
IoT (Internet of Things)
Blockchain
Spatial Analytics and Advanced virtual reality.
Using a combination of technologies, chief procurement officers (CPOs) and other procurement experts can optimize their operational models.
How can Deskera Help in Digital Procurement?
As a business owner, you can invest in accounting softwares that can help you keep track of your journal entries, balance sheet, inventory and overall managing procurement.A successful business needs an efficient financing process that meets its specific needs.
Deskera Books is an online accounting software that your business can use to automate the process of journal entry creation and save time. The double-entry record will be auto-populated for each sale and purchase business transaction in debit and credit terms. Deskera has the transaction data consolidate into each ledger account. Their values will automatically flow to respective financial reports.

You can have access to Deskera's ready-made Profit and Loss Statement, Balance Sheet, and other financial reports in an instant.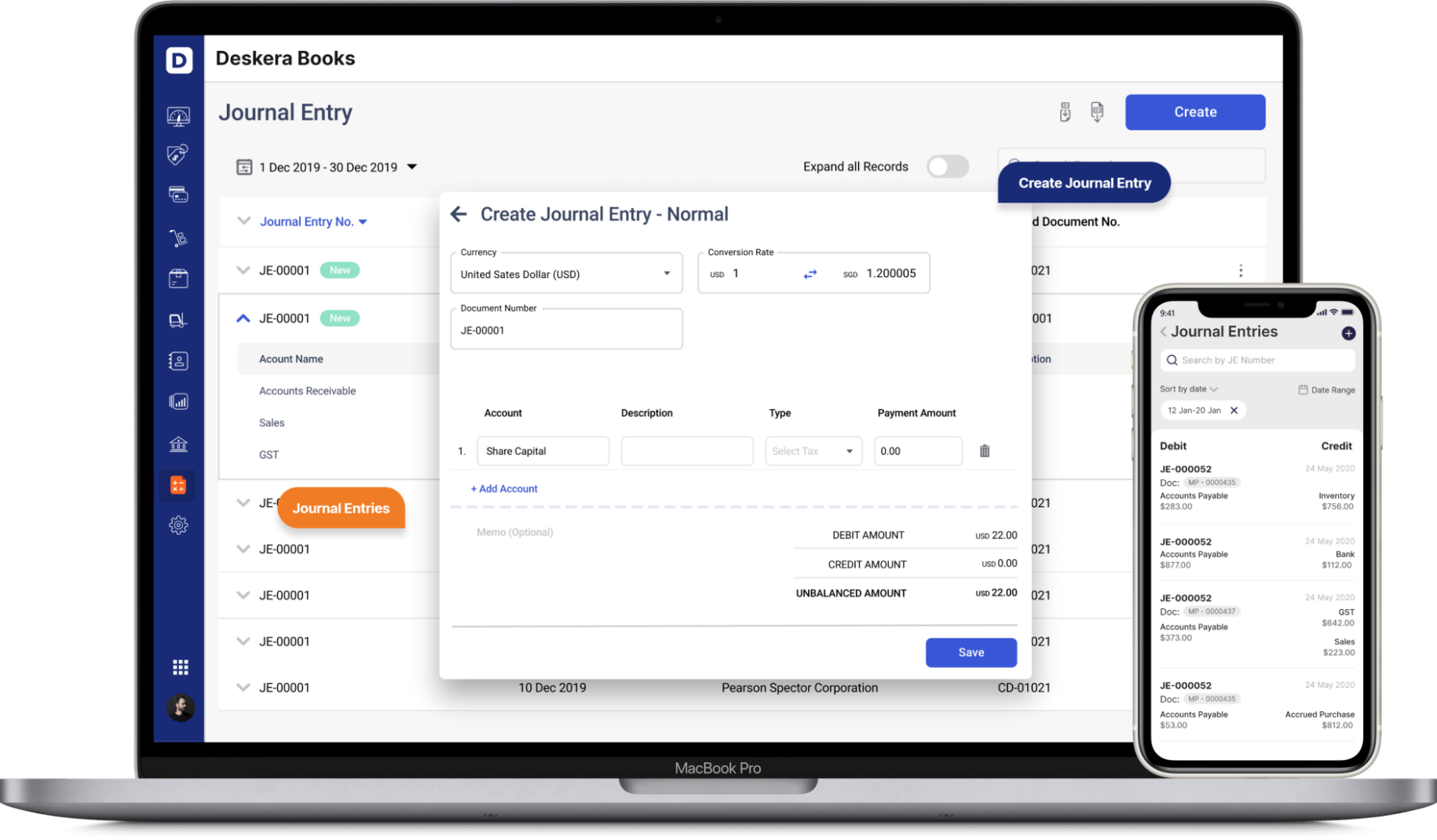 Deskera can also help with your inventory management,  customer relationship management, HR, attendance and payroll management software. Deskera can help you generate payroll and payslips in minutes with Deskera People. Your employees can view their payslips, apply for time off, and file their claims and expenses online.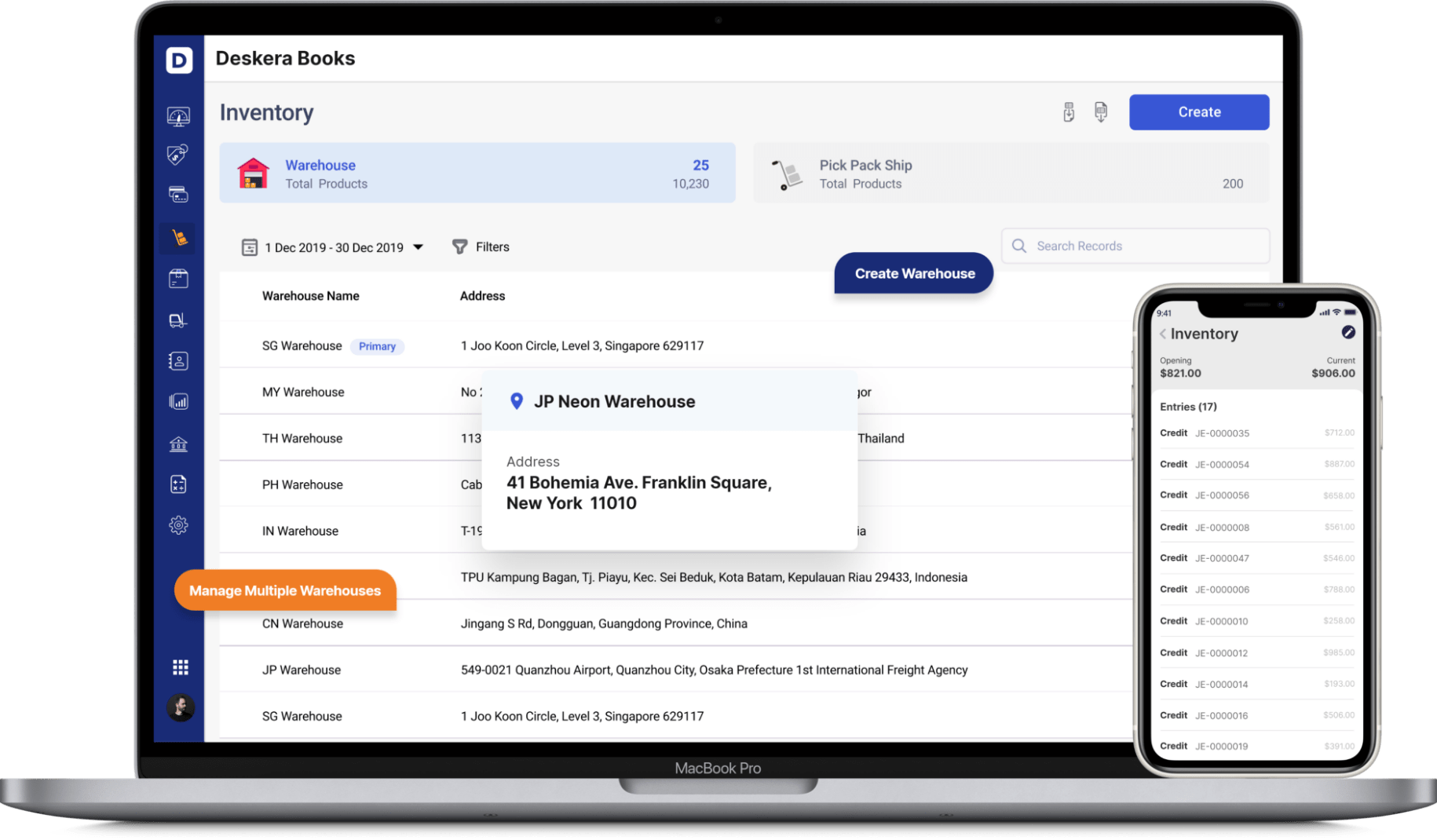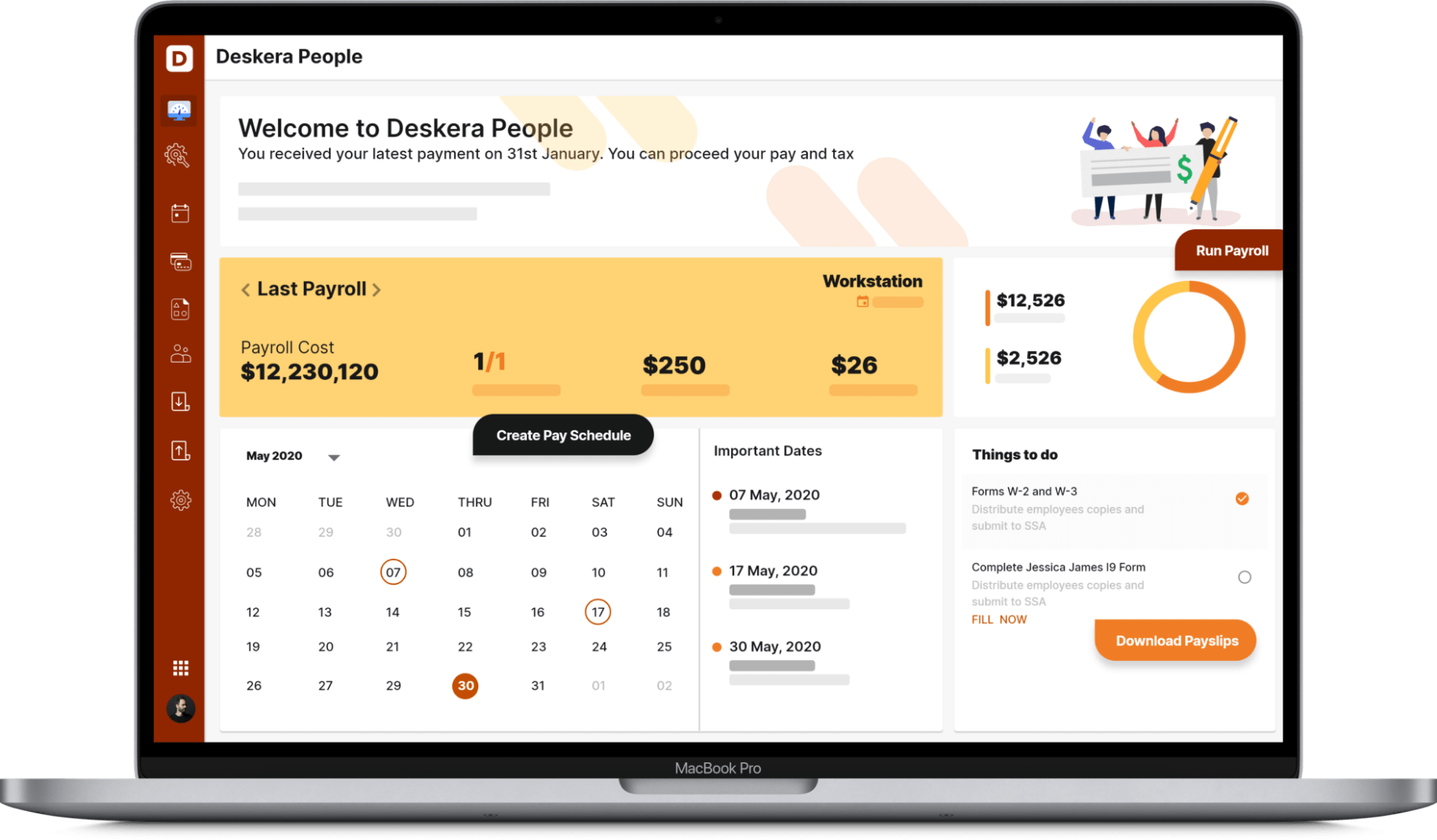 With Deksera CRM you can manage contact and deal management, sales pipelines, email campaigns, customer support, etc. You can manage both sales and support from one single platform. You can generate leads for your business by creating email campaigns and view performance with detailed analytics on open rates and click-through rates (CTR).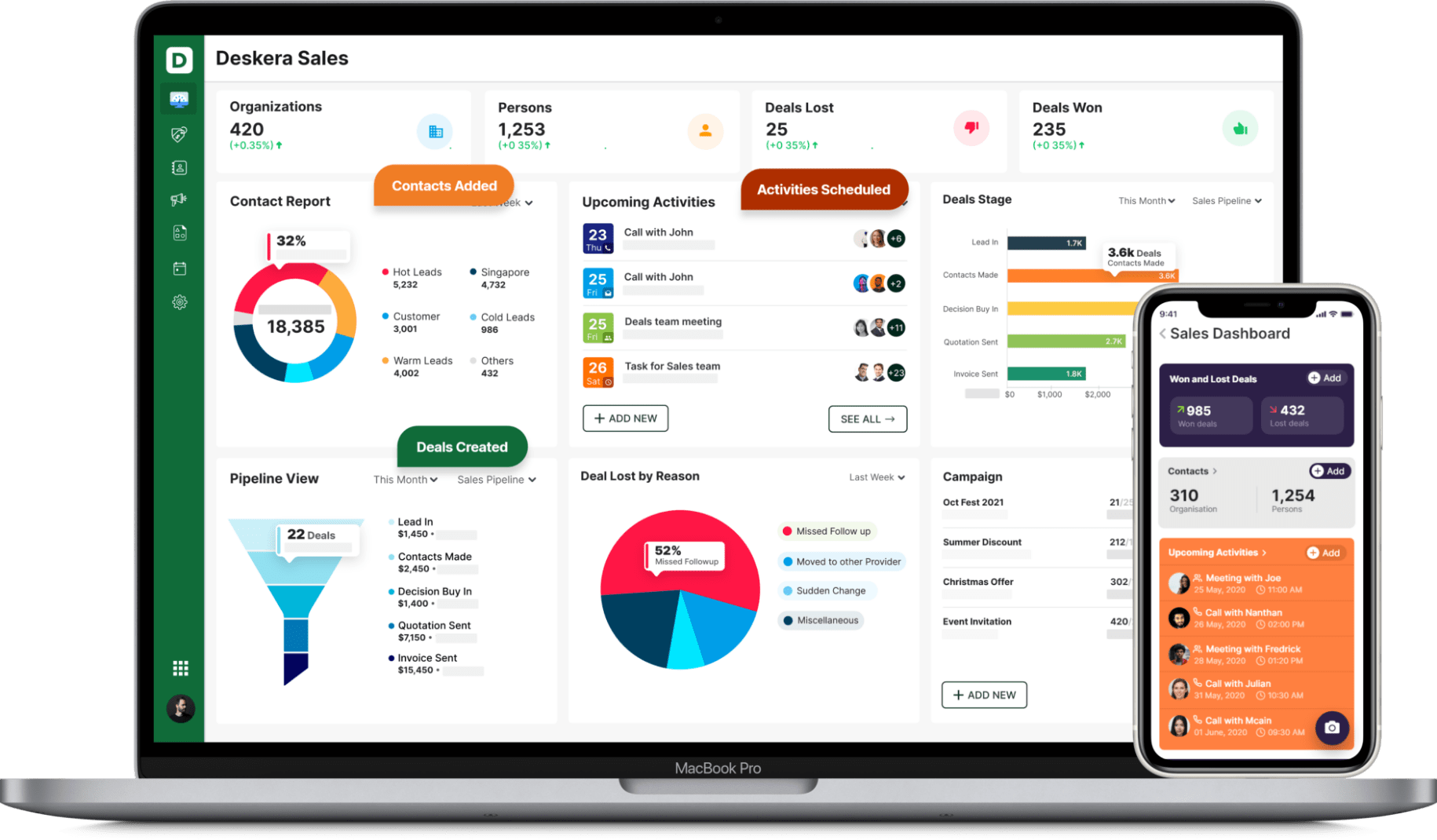 Deskera is an all-in-one software that can overall help with your business to bring in more leads, manage customers and generate more revenue.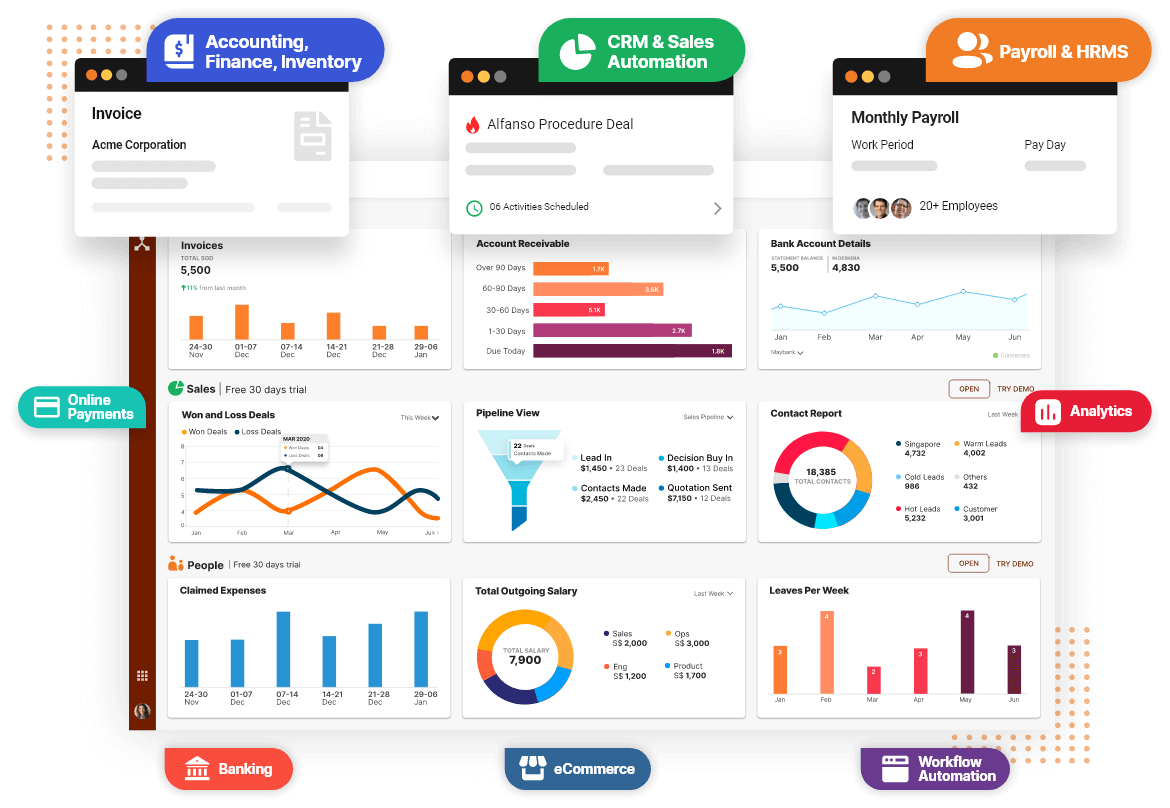 Deskera CRM is an easy-to-use, all-in-one platform that will assist you in contact and deal management, sales pipeline, email marketing campaigns, customer support and ticketing management to mention the important ones.

Deskera CRM will ensure proactive customer service with all the tickets stored in one place. These would be categorized based on their priority, assignee and status.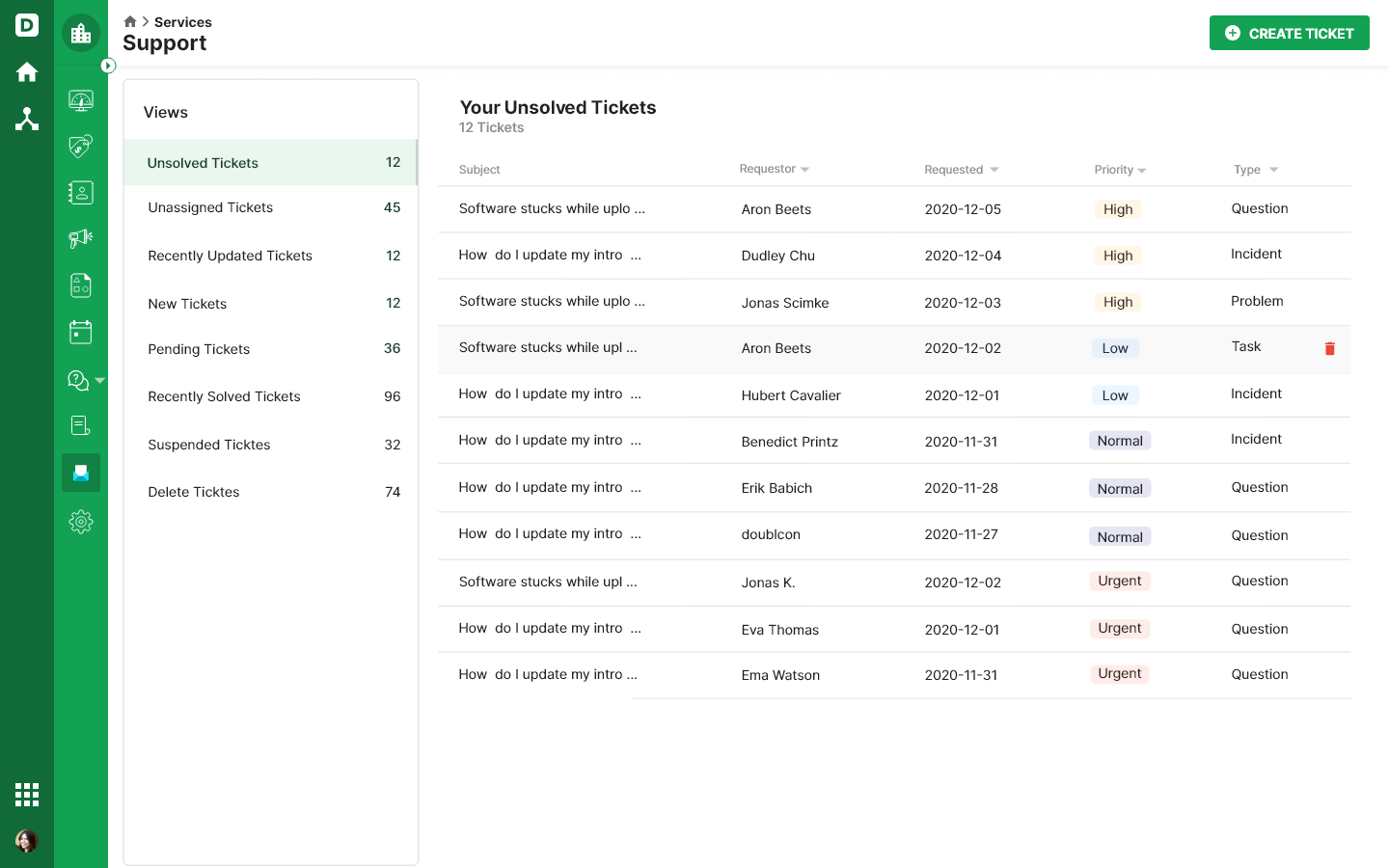 Your business can also connect your customer support email in Deskera to receive and respond to customer issues and queries.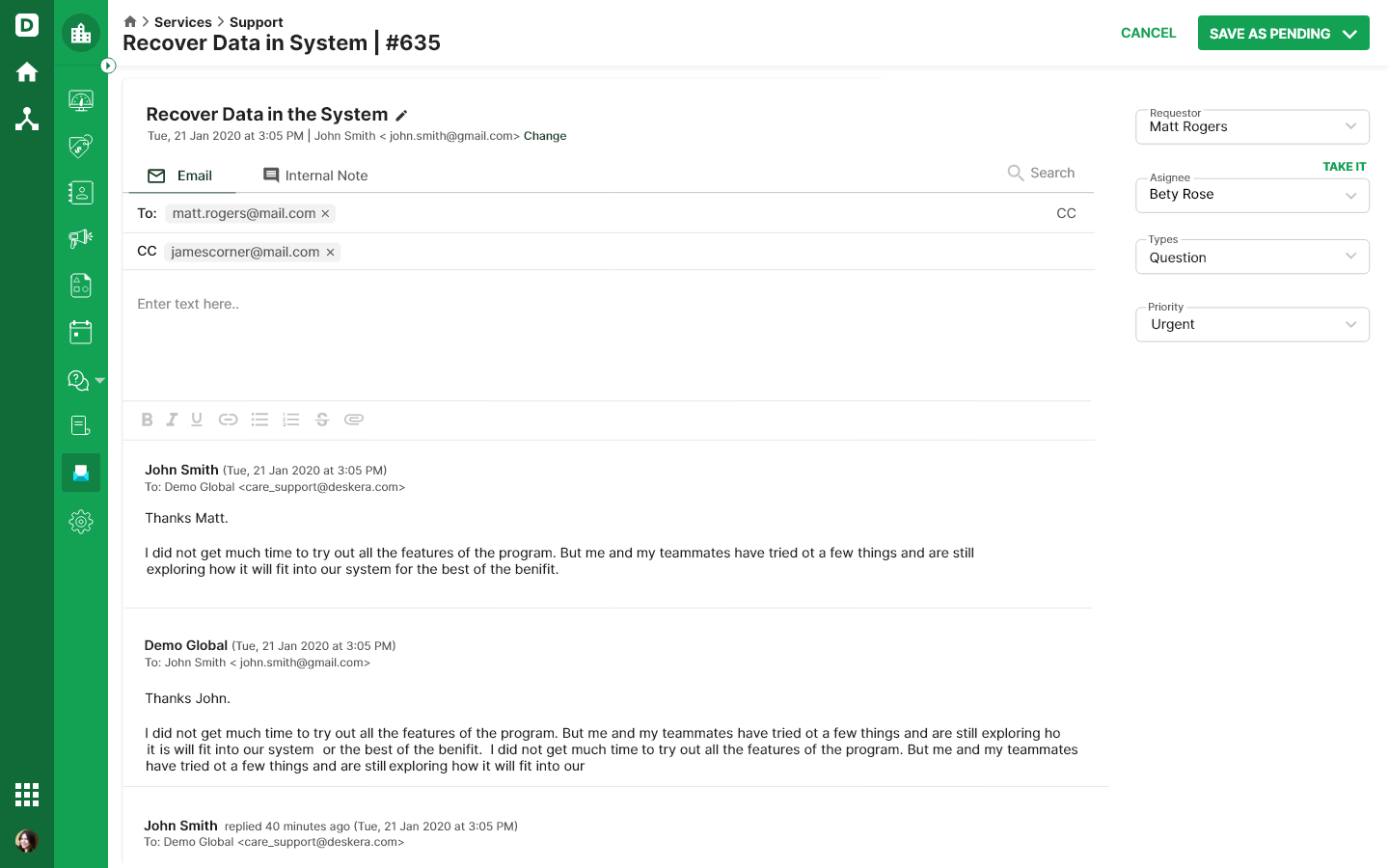 Through Deskera CRM, you can also make a help desk for your customers. The Deskera analytics will help in figuring out the most asked questions. This will reduce the support tickets, empower the customers and help them find their answers through the smart knowledge base created.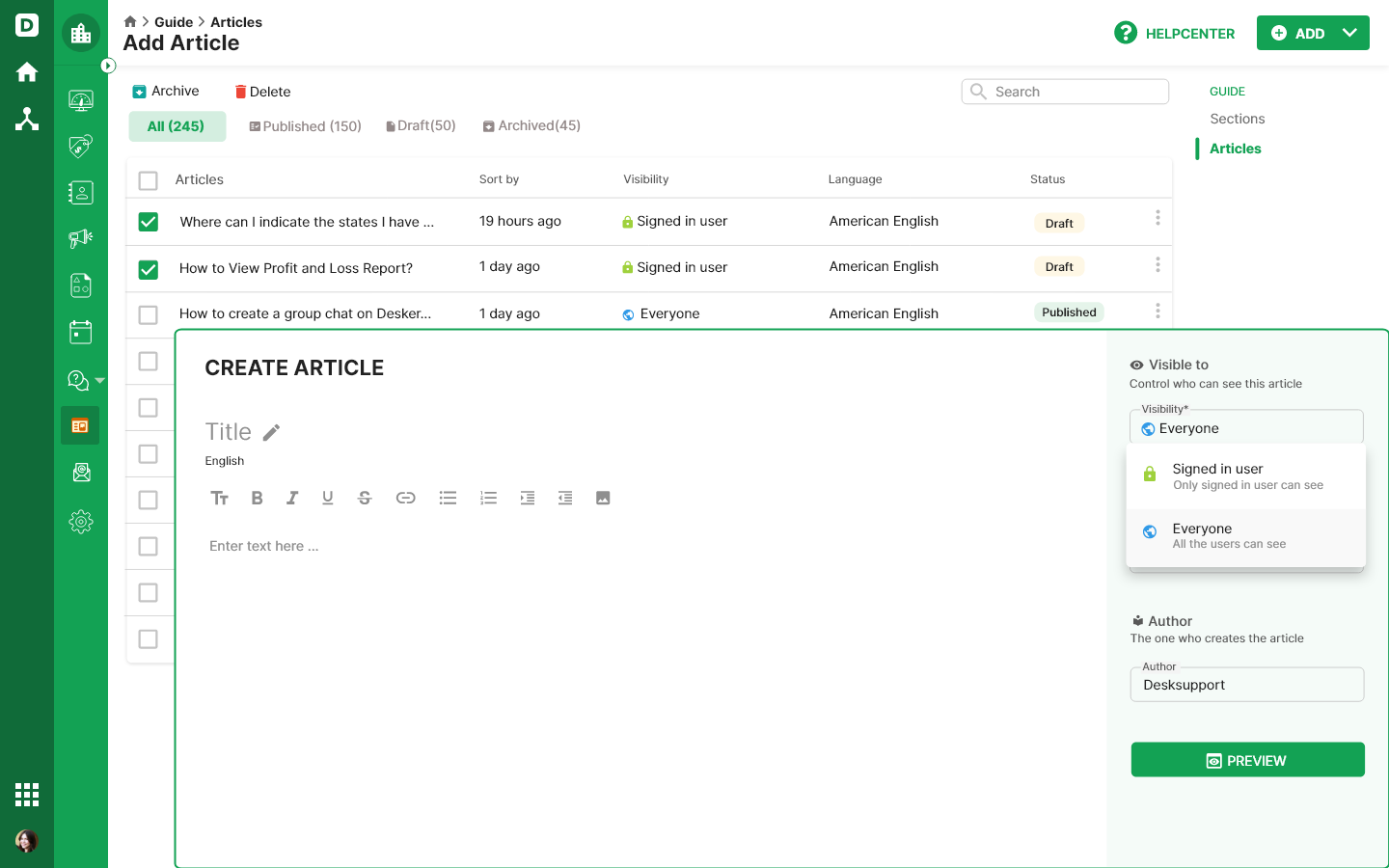 It will make digitizing customer service a smooth transition for you by giving you insights and analysis of what is working and not working. Deskera CRM will also make your support staff more efficient and productive by having all the data on one platform.
Key Takeaways
The key points from the article are as follows:
Procurement is defined as the process of acquiring goods or services, especially for business purposes.
The expenses due to procurement can be differently categorized based on procurement demand.
Multiple bidders can partake in competitive bidding which is commonly observed in large-scale procurement.
Direct, Indirect, Goods, and Services are the four major types of procurement.
Digital procurement can be defined as an act of incorporating business tasks with the latest technological advances.
A digital procurement platform is something that lets organizations introduce innovations and maximize productivity.
With this information, we hope you have gained a fair idea of the concept of digital procurement and its essentiality in today's economy.
Related Articles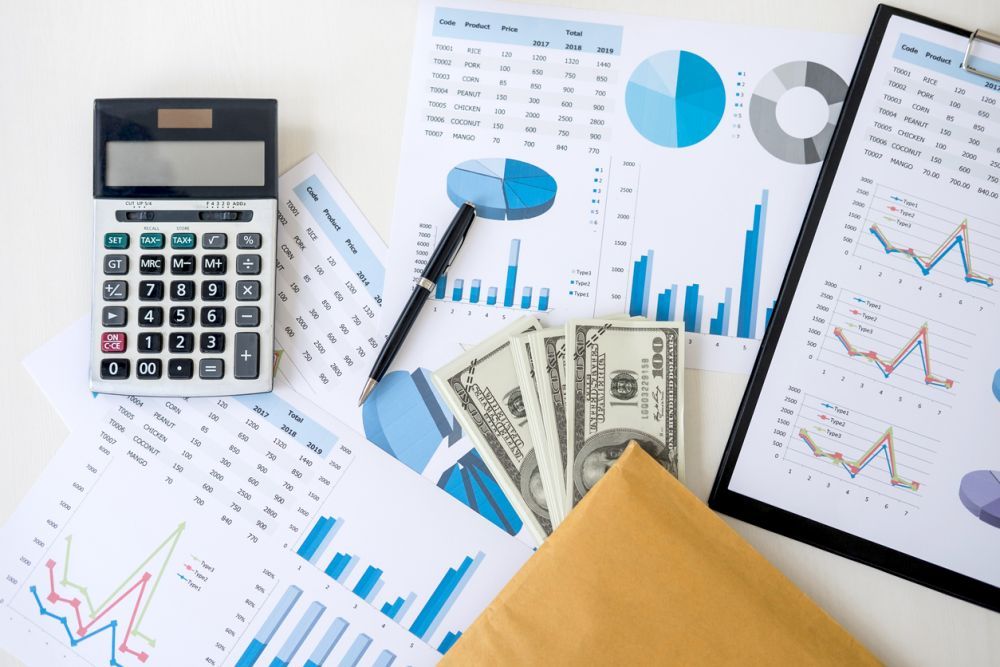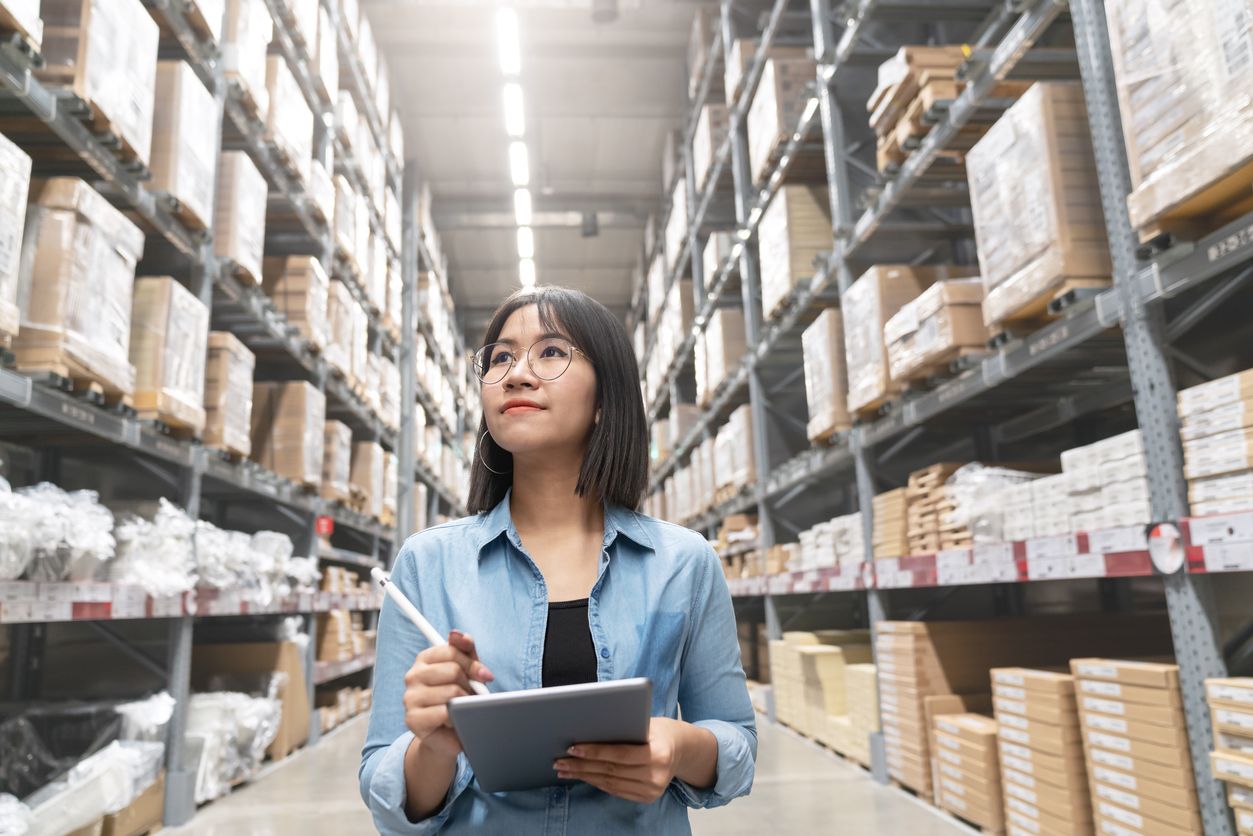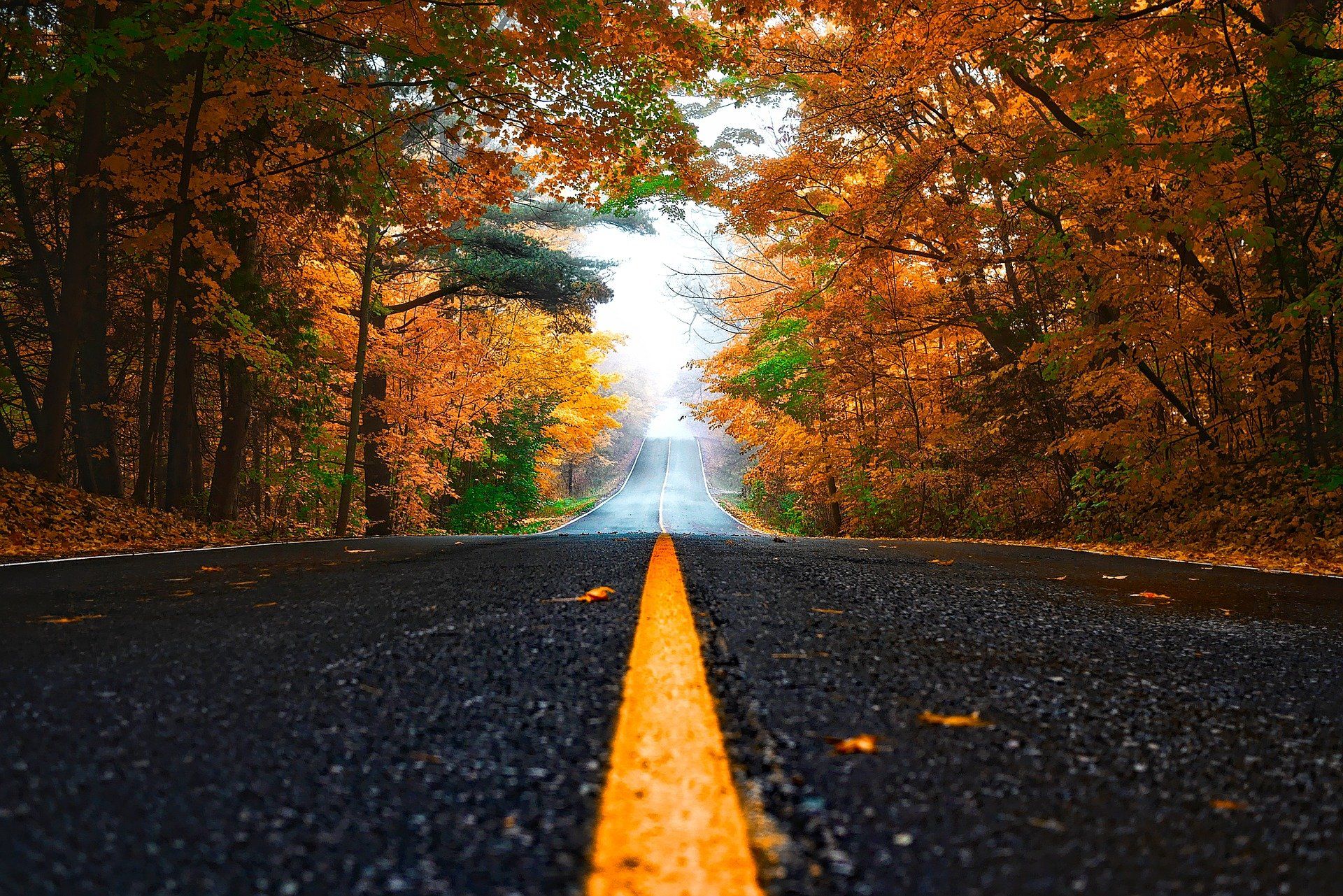 ---
---