The very first story that we all probably read as children would be The Tortoise and the Hare, a fable by Aesop. A fable with the powerful moral- Slow and steady wins the race. This is a teaching that we all have carried forward in our lives or at least try to practice it, and a story that has changed many lives.
This is exactly the power of books and stories. Often the business owners need inspiration, ideas that can help them excel in their business. If you are also looking for the same then this article is for you. We have collated a list of the best 30 sales books that you must read.
So, let's find out what these books are.
#1 To Sell is Human: The Surprising Truth About Moving Other by Daniel Pink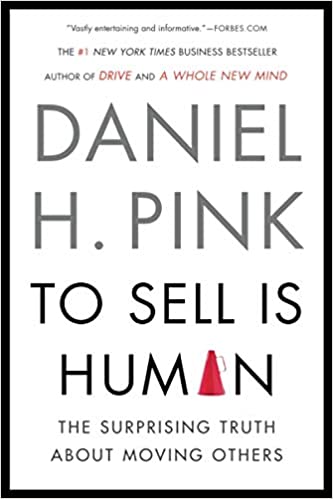 To Sell Is Human provides a 21st-century look at the art and science of selling. With his usual reliance on social science, surveys, and stories, Pink transforms the way you sell at work, at home, or in school. To Sell is Human inspires you to learn more about selling, you will certainly pick up a lot of useful insights and tips from the book.
If you are already a sales professional, especially one involved in complex corporate sales, you will probably also enjoy reading the book and will learn some new things, yet it's not a complete book on the art of selling. Overall, you will enjoy reading this book a lot.
#2 The Ultimate Sales Machine by Chet Holmes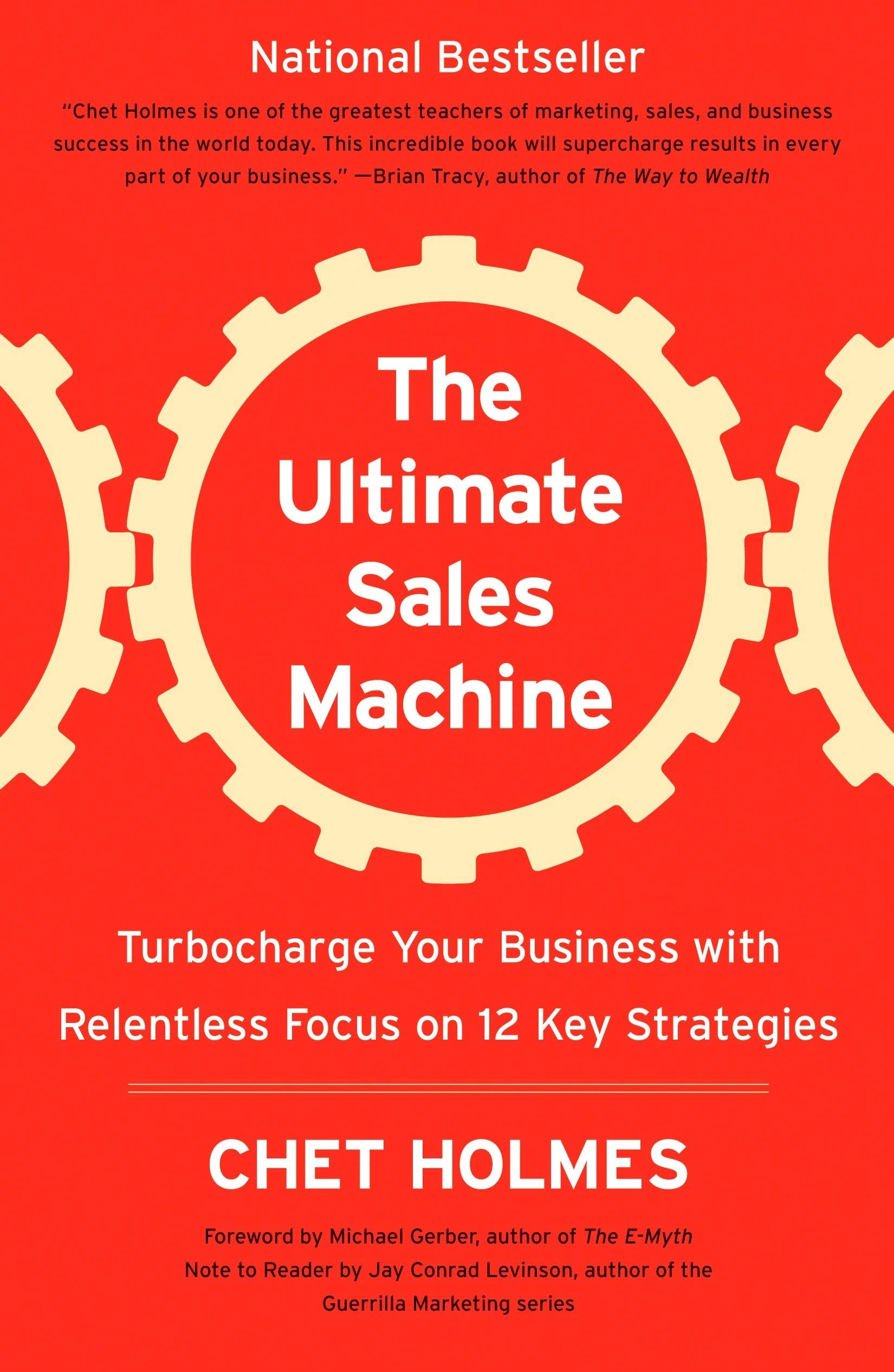 Chet Holmes started The book Ultimate Sales Machine by saying "You will understand all the principles that I am going to share with you today because there is nothing but logical information in them. You will agree with them. You will know that I am right and that these principles will work in your company. And yet, you will not apply them ``.
Ultimate Sales Machine offers proven strategies on how to tune up and soup up virtually every aspect of your business by spending just an hour per week on each impact area you want to improve.
He debunks the classic blunder of impulsive salesmen jumping on new trends, and instead suggests focusing on a selective twelve specific critical areas of improvement as a guiding principle.
#3 Secrets of Closing the Sale by Zig Ziglar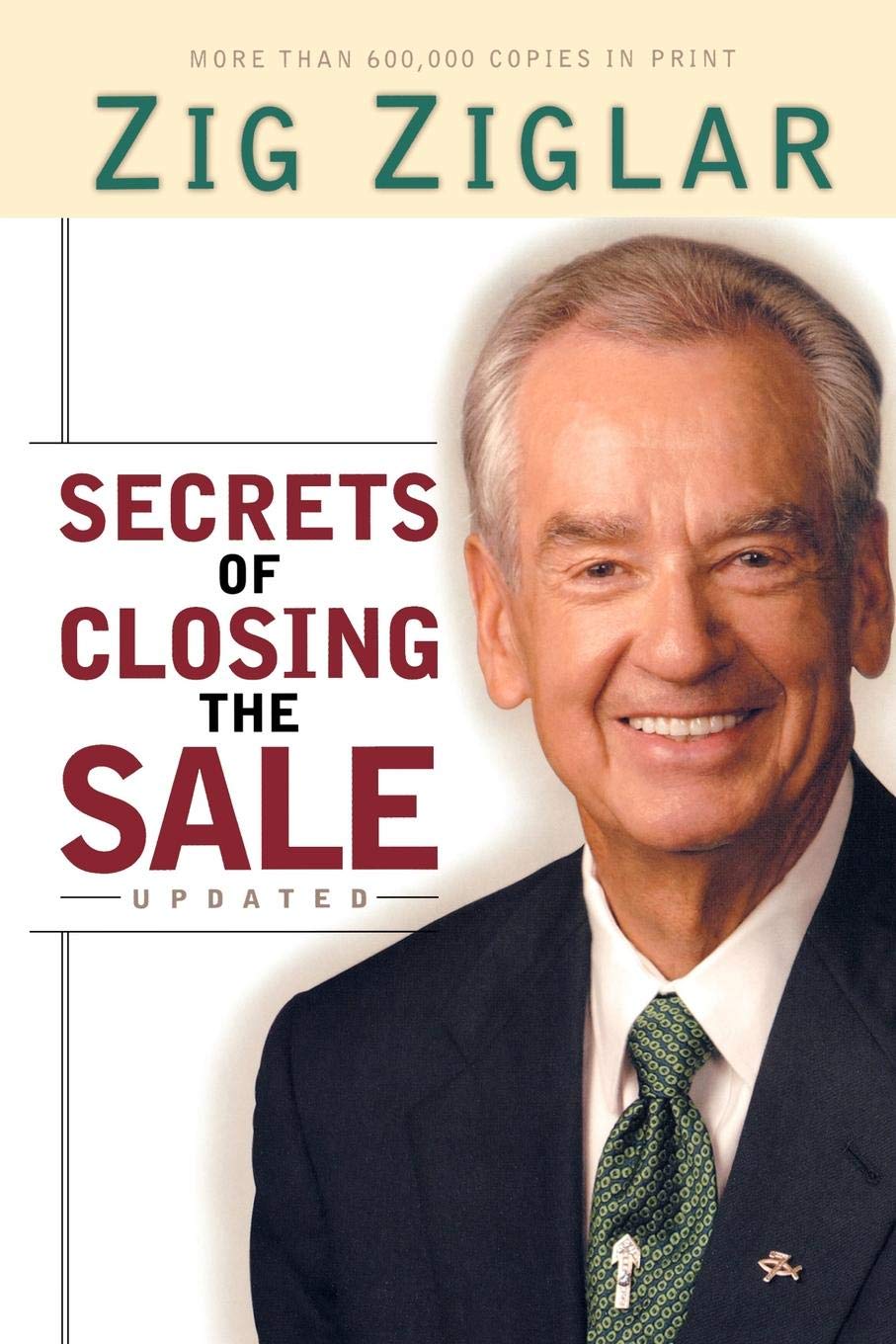 A book written by the legend. The man behind every inspirational sales/business quote, Zig Ziglar. Secrets of Closing the Sale is one such book that every business owner, industrialist must read.
In the book Secrets of Closing the Sale Zig Ziglar talks about winning techniques for getting positive responses and closing deals. He guides you through several points such as critical sales points, voice training to close sales, imagination and word pictures.
He also shares ideas on how to deal with objections, the keys in closing the deal. But most importantly he shares some of the major, general values practices that you must have to close a deal. These values include, positive projection, physical action, enthusiasm, listening, and persistence.
#4 Fanatical Prospecting by Jeb Blount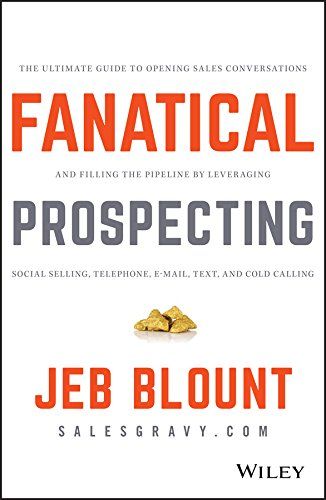 If you're a salesperson that wants to hit your numbers and become a sales superstar, you can't neglect your pipeline. And this is exactly what Jeb Blount helps you with in his book Fanactical Prospecting.
In the book Jeb describes how failing to prospect leads to an empty pipeline, which ultimately results in a failing sales career. You will learn top prospecting secrets like the 30-Day Rule, the Law of Familiarity, and the 4-Step Email Prospecting Framework.
Here are a few major takeaways or say ideas from the book:
Your pipeline is your lifeline
Telephone, a powerful tool for a salesman
Vulnerability and rejection
Use your CRM like a CEO
Social selling and diversifying
Know your numbers
Gatekeepers and Access
The 3 P's holding you back
One more call
No wonder why Fanatical Prospecting makes for one of the most read recommended books in the sales world. Fanatical Prospecting gives salespeople, sales leaders, entrepreneurs, and executives a practical, eye-opening guide that clearly explains the why and how behind the most important activity in sales and business development prospecting.
The brutal fact is the number one reason for failure in sales is an empty pipe and the root cause of an empty pipeline is the failure to consistently prospect. By ignoring the muscle of prospecting, many otherwise competent salespeople and sales organizations consistently underperform.
Step by step, Jeb Blount outlines his innovative approach to prospecting that works for real people, in the real world, with real prospects.
#5 The Greatest Salesman in the World by OG Mandino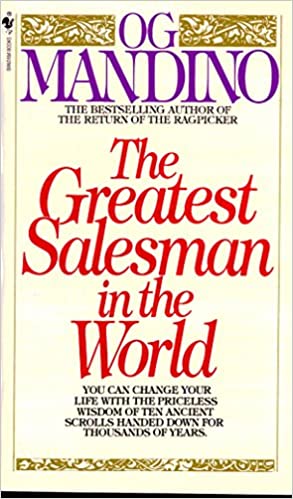 The book Greatest Salesman in the World stands out a little from the other books in this list. Mandino did not really speak directly about the idea or point for motivation in selling but he does the same by telling you a chronicle of Hafid, a poor camel boy who ultimately achieves a life of abundance.
In the book, Mandino draws our attention to the secrets embedded in the ancient scrolls which will give you everlasting lessons on salesmanship. He realized that anyone can learn the principles so long as they are willing to dedicate time and effort to practice each principle until it becomes an integral part of how they live.
A few general values that Mandino goes on to share the two main values, one is how to embrace failure, and second is patience. There are 10 scrolls that he elaborates upon specially worded to help the reader grasp reading behind the timeless principles.
Mandino was a big believer in taking action. In one of the later scrolls of the book, he repeats the phrase "I will act now" 18 times. He goes on to share one of the best ideas that can not only help you as a salesman but your life in general. To control your emotions, you must learn to recognize them as they arise, then use your thoughts and actions to balance them.
When you're angry, find compassion, when you're sad, remember a joke, when you're self-conscious, speak up, and so on. If you realize an emotion is becoming excessive, think of an appropriate counter-reaction, then deploy it. Once you can do that, you won't just be better at sales, you'll also live a happier, calmer, more contented life, writes Mandino.
#6 Shoe Dog: A Memoir by the Creator of Nike by Phil Knight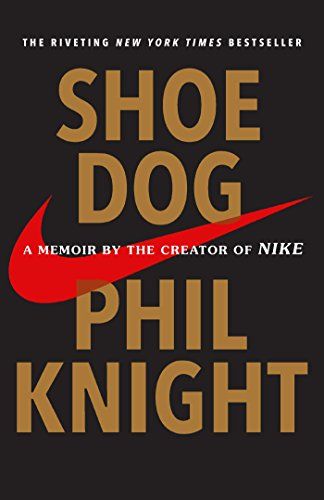 By seeing Nike in its title you already know that this book is about a great story that changes the market, a story of success and taking chances. It's an inspiring look at the sacrifice the founder of Nike Phil Knight made to create the company.
His respect for his employees' feedback and loyalty to those who partnered with him provides a good roadmap to help prioritize your own employees as the most valuable aspect of your company."
Phil Knight recounts his struggles, victories, and lessons learned from building Nike from a small startup to a billion dollar shoe giant. He tells engaging and inspiring stories that highlight his personal philosophies on life.
Lessons from the book:
Sell enthusiasm
Resist conformity
Seek a calling, not a career
Grow or Die
Fail fast
Build a brand
Experiment constantly
Don't micromanage
Go public
"The only time you must not fail is the last time you try." - Phil Knight
Knight is able to convey the fear and frustration of living on the edge that continues year after year, even as his company continues to grow. For example, Knight describes receiving the "pair count" from the warehouses every day.
This is because he depended on daily sales to generate the cash he needed to keep the business, then called Blue Ribbon Sports, alive, "the daily pair count determined my mood, my digestion, my blood pressure, because it largely determined the fate of Blue Ribbon," he writes. "If we didn't "sell through," sell all the shoes in our most recent order, and quickly convert that product into cash, we'd be in big trouble."
#7 SPIN Selling by Neil Rackham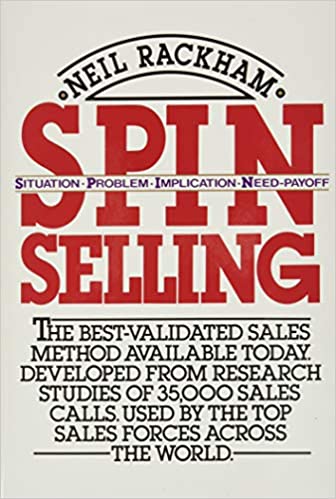 This ground-breaking resource authored by Rackham is the first book to specifically examine selling high-value products and services. SPIN Selling details the revolutionary SPIN (Situation, Problem, Implication, Need-payoff) strategy that will enable readers to dramatically increase their sales pipeline from major accounts just by following its simple, practical, and easy-to-apply techniques.
According to Rackman, selling is simple, but in an increasingly competitive market and with consumers becoming more informed, adopting a sales methodology can be a differential.
SPIN Selling is essential if you sell to businesses or sell high-value products, the famous "complex sales" and want to learn how to ask better. Asking yourself better will help you hear your customer better and thus sell more. The major lessons from the book is:
Practice makes perfection
Small first bait does not work on sharks
All sales have four basic steps: Preliminaries, research, demonstration of capabilities, and getting commitment.
Changing how to close a deals
Mapping the situation
Mapping problems
Escalating to the implications
Supplying the needs
Demonstrate the solution with mastery
#8 Little Red Book of Selling by Jeffrey Gitomer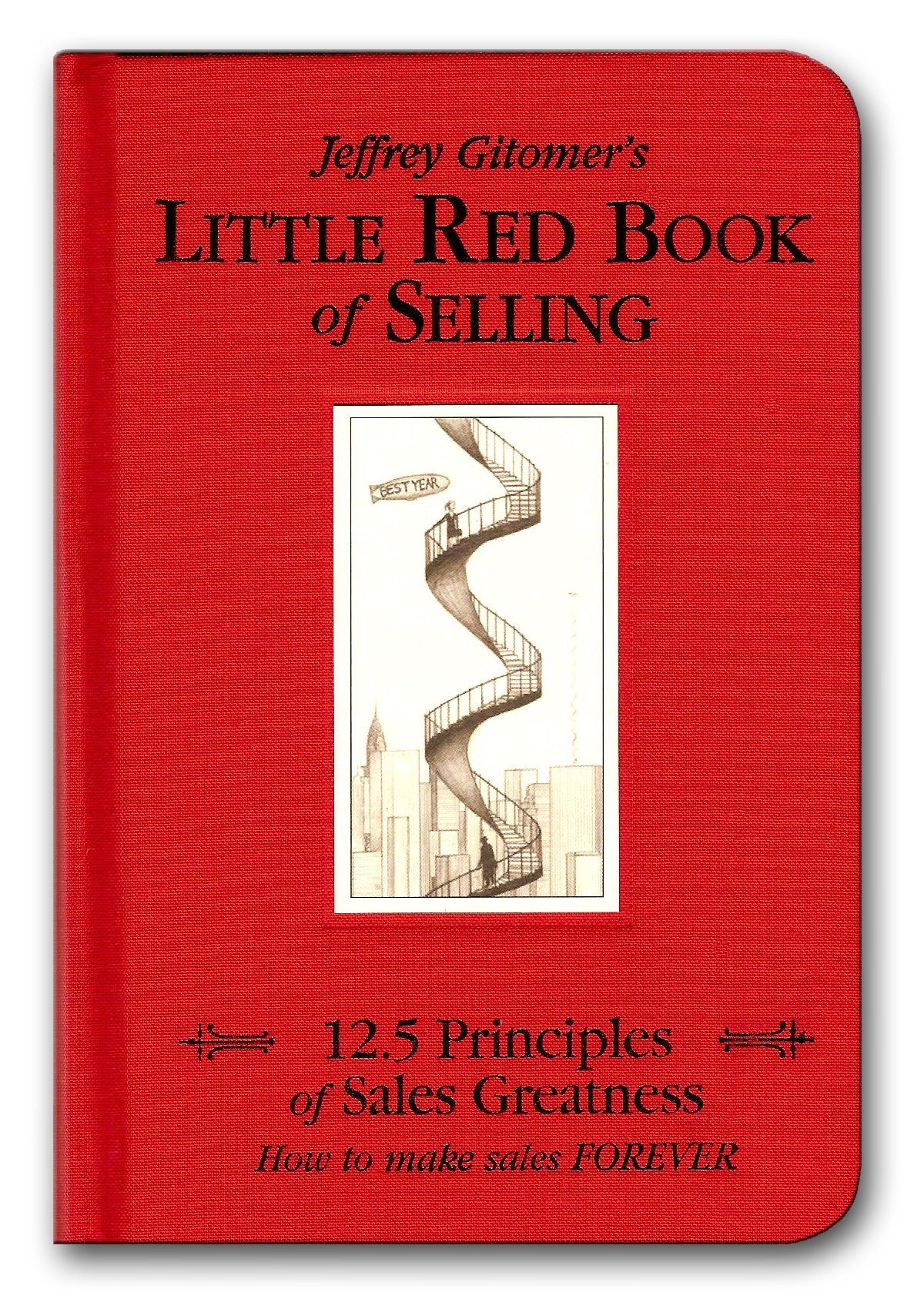 If you are a salesperson who is worried about how to sell, Gitomer believes that you must be missing out on the more important aspect of sales: why people buy. This, he says, is "all that matters".
Little Red Book of Selling is a playful book that aims to demystify buying principles for salespeople. Short, sweet, and to the point, it's packed with answers that people are searching for in order to help them make sales for the moment, and the rest of their lives.
There are at least three principles the author repeats, in one form or another, throughout the book. One principle is being prepared for the sale. Another is about creating value for the customer. The last is about engaging the customer in a way so they'll feel fully convinced that the product or service is for them. The major lessons from the book include.
Prepare to win or lose to someone else
It's all about value, not price.
Engage me and make me convince myself.
It is clear from the start of the book that Jeffrey Gitomer is a no nonsense kind of a person that knows what it takes to make a success of oneself in the field of sales.
His consistent reference to hard work and persistence is consistent throughout the book ensuring that the reader is paying attention and aware of the dedication required to make a success of oneself.
Additionally, his use of clear bullet point lists throughout the book, always ending in 5, guides the reader to note important step-by-step instructions he/she should follow.
The book is broken down into 11 principles which earmark each chapter. His use of playful animated graphics and inspiring quotations assure you that, whilst being dedicated to sales, playfulness and enjoyment are key to making a success of one's self in this cut throat industry.
#9 The New Strategic Selling by Robert B. Miller & Stephen E. Heiman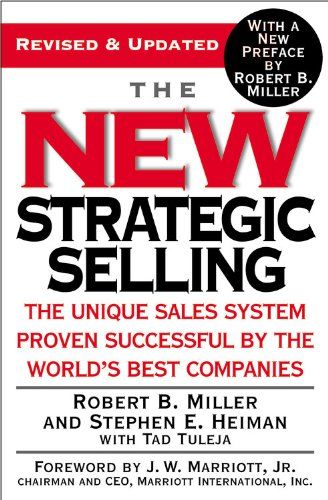 This book is your ultimate sales guide. Rejecting manipulative tactics and emphasizing process, Heiman and Miller propelled the idea of selling as a joint venture and introduced one of the decade's most influential concepts, the Win-Win.
Their book presents the assets and mechanisms of a unique sales system that has been proven successful by even America's best companies. In the book the authors elaborates upon how A lot of companies fail to develop a strategy and make the mistake of planning as they go.
The lessons in the book include:
Your selling ability depends on your strategy and tactics
Assessing your company's current position is the first step in outlining a good strategy.
Have a clear idea about which people have important roles that influence your sales process.
Transform and weakness in your strategy into strengths.
Identify the state of your buying influences so you will know how they feel about the potential sale.
The main takeaway for you is that don't try to trick your buyer; you're both on the same team. Listen carefully to what they want, figure out what they value and craft a proposal that satisfies their needs while giving them a feeling of satisfaction. Strive to make long-term, positive relationships that will lead to references and referrals. When you and your buyers both benefit from a sale, everyone wins.
#10 The Psychology of Selling by Brian Tracy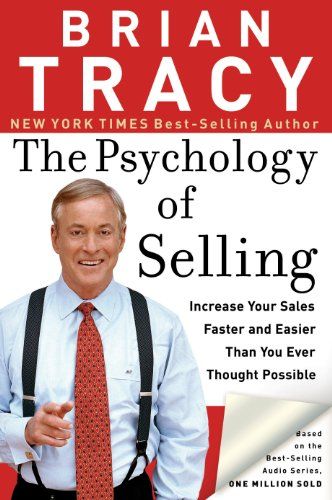 Everyone who is selling anything in the industry has definitely come across the name Brian Tracy. It's not just his quotes that you have a lot to learn from but his book The Psychology of Selling.
Tracy starts his book by clarifying why sales reps are significant and how they can break into the top 20% of reps in any business. He clarifies, "The main genuine makers of abundance in our general public are organizations," and "Sales reps are the most essential individuals in any business."
Tracy proceeds, "Without deals, the greatest and most complex organizations shut down." On the off chance that that doesn't get you started up to head into the workplace today, I don't have the foggiest idea what will. While a lively outreach group is essential for progress, not every person is headed for significance.
The 80/20 standard was a stunner for Tracy, right off the bat in his profession. He realized that to break into the top 20% of sales reps, he would have to keep the "triumphant edge idea" which states: "Little contrasts in capacity can prompt tremendous contrasts in outcomes."
#11 Pitch Anything by Oren Klaff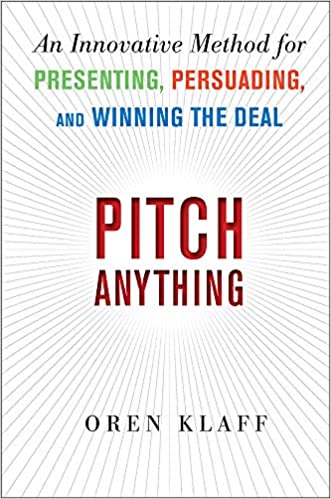 Pitch Anything is an in-depth outline of how you can produce top-quality pitches that will ensure investment. Oren Klaff has raised over $400 million over the past 13 years using this method.
This same method can be applied to a wide range of situations, such as negotiating a higher salary or selling a big idea. Klaff describes pitching as a science. Neuroeconomics, combined with Klaff's experiences, provides the foundation of this scientific theory.
Klaff claims that his theory of pitching will lead to complete control of your entire pitching process. One great pitch can change your life, and Pitch Anything suggests it can help anybody produce great pitches. Oren Klaff outlines that a great pitch is never about the procedure. Instead, it is about getting and keeping the attention of the people you are pitching to.
"When you are reacting to the other person, that person owns the frame. When the other person is reacting to what you do and say, you own the frame." – Oren Klaff
Klaff introduces the idea that every exchange in life has one frame. However, it can only have one frame, as all other frames will be subordinate to the primary frame. Therefore, Klaff suggests that pitches should say as little as possible. Essentially, the less you say, the more effective you will be.
#12 Sell or Be Sold by Grant Cardone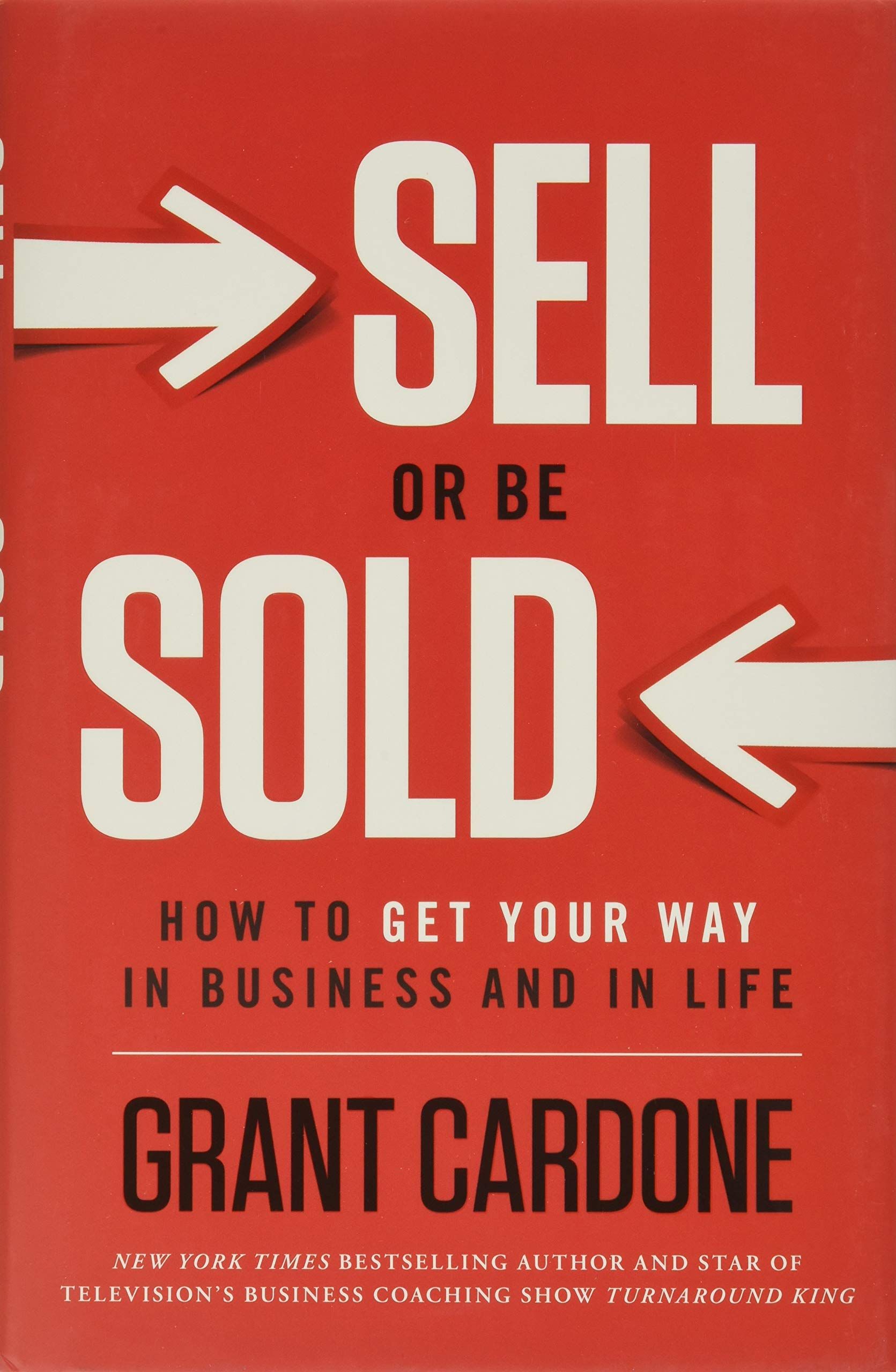 If you're looking for a new, vibrant, 21st century voice for your sales advice, look no further than Grant Cardone. His fresh, upbeat writing style oozes to the forefront in Sell or Be Sold.
Sell or Be Sold is based on the premise that every day we are selling: the child who wants a piece of candy and needs to convince his/her parents to comply, the teacher to the student on why learning trigonometry is important and the sales professional who closes the deal with a prospect.
With this in mind, the ability to communicate, persuade, negotiate and close a deal is important regardless of your profession. Grant takes you from amateur to professional by explaining the key differences at each stage, how to make the transition from average to great and provides perspectives needed to help you be successful at "selling" in your chosen endeavor.  
With each paragraph you read you will feel like you are learning something new and unlearning less effective habits. No person, whether they are a sales professional or not, should miss out on this book.
Throughout the book Grant makes it clear that it is important to take complete and total responsibility for the sale and all results you are getting in your life. Once you accept that you are solely responsible, you are in a position to change the results you are getting.
#13 Mastering the Complex Sale by Jeff Thull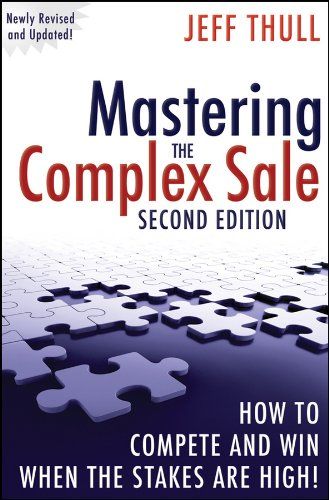 How to complete and win when stakes are high is exactly what you will learn in Jeff Thull's book, Mastering the complex sale. In the book Jeff presents a rigorous process for successfully completing the complex sale built around four phases: discovering the prime customer; diagnosing the complex problem; designing the complex solution; and delivering on the prime promise.
If you don't know how to define your sales strategies, you have difficulty marketing your products and recruiting customers, the book will help you out. It offers the right and smart methods to dominate the business world, in addition to clarifying the marketing secrets that will make you escape once and for all from conventional selling.
Jeff Thul, teaches how to develop complicated and high-risk sales strategies. This book is distributed by Wiley editor and has 271 pages divided into three parts and nine chapters.
The complex sale can be conceptualized as a system of stages. Its final process is not just based on closing the deal, but, above all, on adapting to what the customer really needs.
If we are going to make a comparative agenda between conventional and complex sales, we can understand that the first only presents the product or service, aiming only at the objectivity of the sale. In other words, the bond with the customer is not a priority.
The book "Mastering the Complex Sale" sends a message to salespeople, leaders, and people who work with marketing in general: those who adapt to the complex sales model will be ahead of the competition.
#14 Gap Selling by Keenan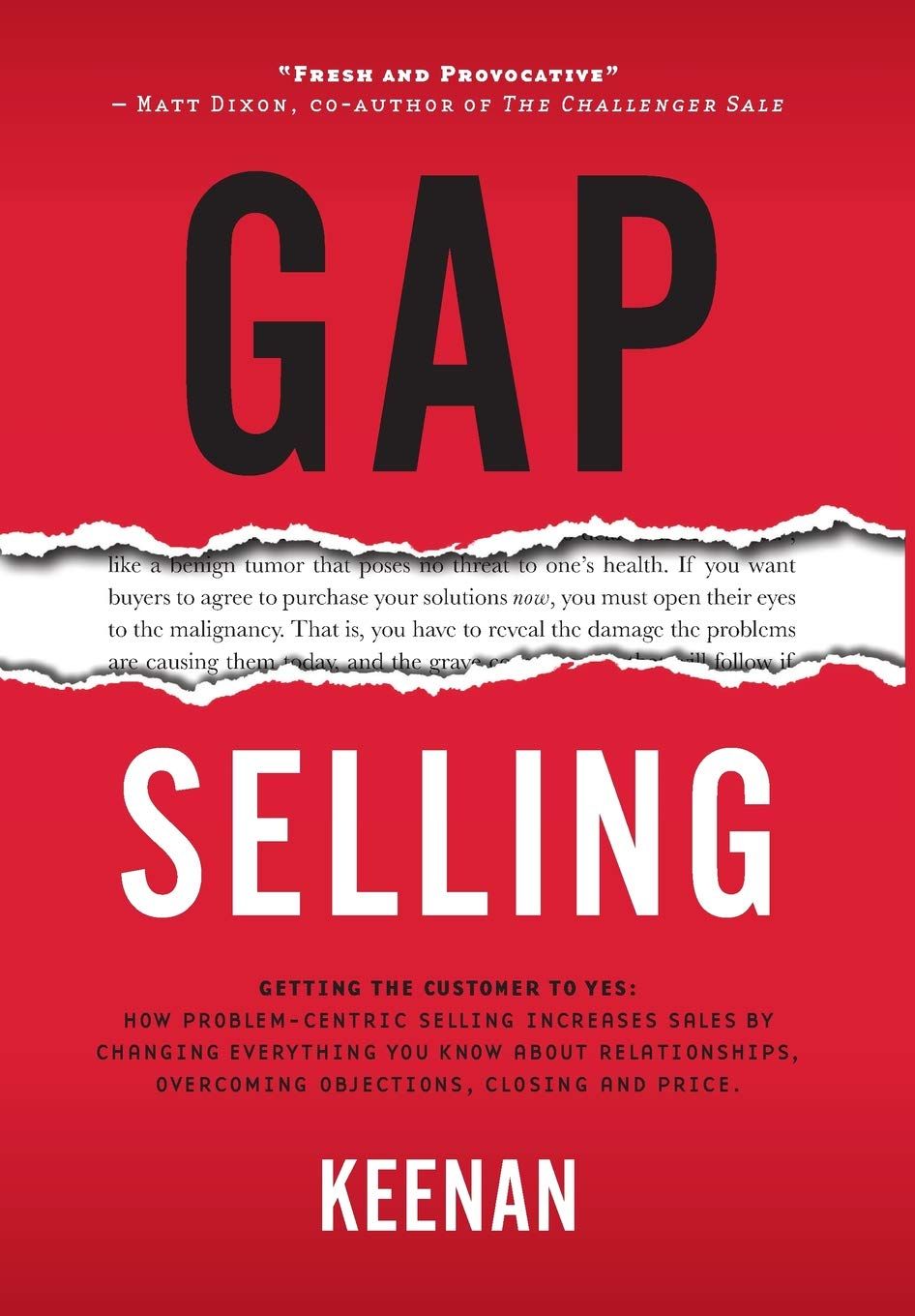 Gap Selling is the powerful, provocative book that seeks to flip traditional sales beliefs on end. Keenan will show you how to exude influence at every stage of the buying process to get your prospects to make a change decision. This book is raw, unapologetic, and written with passion a fresh take on what success looks like in sales.
According to the author, you have to let your salespeople commit to whatever number they believe is accurate. You cannot, I repeat, cannot tell them to change it or go find more opportunities.
Commit is an accuracy game, not a goal game. So if someone tells you that they are committing to a number that is lower than their quota, you have to accept it. You should never, ever, ever say no for a buyer. I make the buyer say no. Don't ever walk away until they tell you to go away.
Overall, the book is compelling and entertaining to read despite having read scores of sales books. Keenan's brash and opinionated voice comes through loud and clear. The editing is solid.
#15 Sales Management Simplified by Mike Weinberg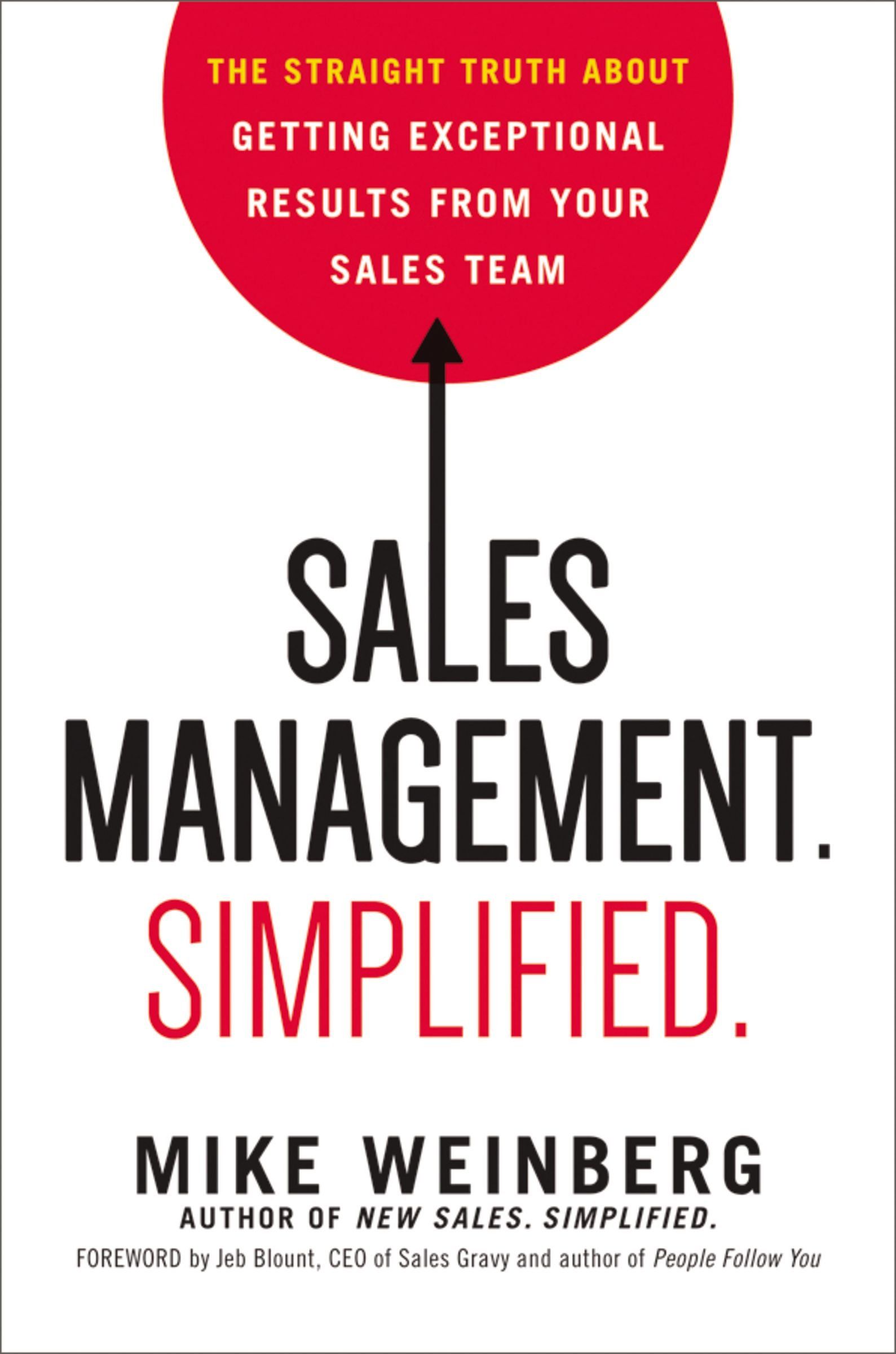 Common sense dictates that sagging sales figures are the result of underperforming teams or ineffective processes. Author Weinberg pulls the shades back and shows that more often than not, the issues are a result of how the team is being led.
In Sales Management. Simplified Weinberg outlines exactly how results can be transformed by implementing a concise sales leadership framework, including actionable solutions and tools that will take your sales team to the next level.
You aren't losing sales because you can't sell. You're losing them because you don't understand how to diagnose your customer problems and how the problems drive the sale.
When you reach out to get just "15 minutes "of your buyer's time, it's not going to happen if your buyer doesn't have a problem you can solve. At the heart of every sale, there's a gap. There's a gap between what buyers have now and what they believe they want in the future, between who they are now and who they want to be tomorrow, or even where they are now and where they want to go.
#16  Agile Selling by Jill Konrath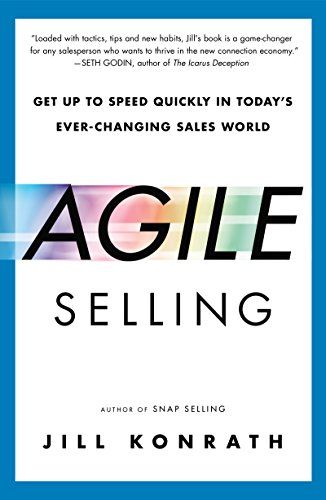 Agility is an essential skill in sales, especially in the age of self-educated buyers who complete 60 to 70 percent of the sales process on their own. Veteran sales consultant Jill Konrath shares the wisdom of the highly successful who know that great salespeople have a  mindset, an attitude, and practice the right habits that create success and minimize failure.
Agile Selling is a must-read for sales professionals whose careers have changed significantly due to the forces of digital, social, and mobile. No matter how many years you have behind you, one thing is certain of sales. It never becomes easier.
You might have a lot of experience but the moment you feel like you've got it, everything changes. There are constant fluctuations in the art of selling that throw off the newest and most seasoned in the field.
You're either just learning your product when you get a new one or trying to find new clients. And sometimes your company will change directions and you need to learn a completely different strategy. While all of this can be intimidating, don't worry. Jill Konrath is a saleswoman who has been around the block a few times.
#17 Getting to Yes by Roger Fisher & William Ury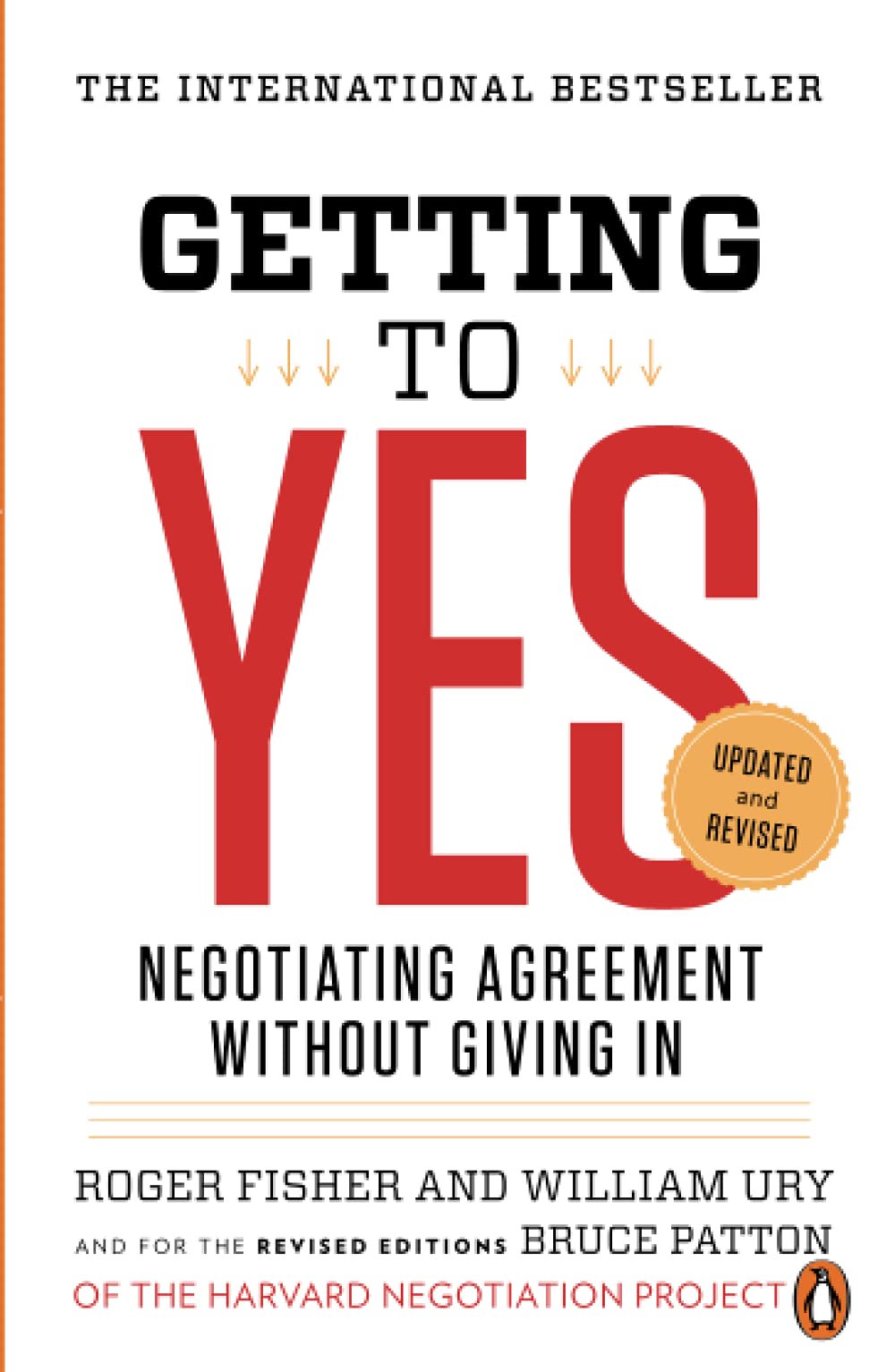 Based on the work and findings of the Harvard Negotiation Project, Getting to Yes lays out a proven strategy for obtaining mutually acceptable, win-win agreements in negotiations.
Since its original release almost 40 years ago, more than 1 million people have benefited from Fisher and Ury's no-nonsense negotiating advice that can be used in both business and personal settings. This is one of those books that when you reread it every so often, you'll discover more and more of it's practical greatness. It's one of the best books on negotiation that we've ever run across.
It positions itself as an antidote to the paradigm of positional bargaining, and proposes a series of alternative practices and exercises to change the way negotiations unfold and conclude.
The author teaches the readers to not bargain over positions. Invent ways of making your customers' decisions easy. Rather than making things difficult for the other side, you want to confront them with a choice that is as painless as possible. Without some option that appeals to them, there is likely to be no agreement at all.
He goes on to guide readers by asking them for their preferences as a way of dovetailing interests. Invent several options all equally acceptable to you and ask the other side which one they prefer.
He suggests you to then take the option that is most preferable, work with it some more, and again present two or more variants, asking which one they prefer. In this way, without anyone making a decision, you can improve a plan until there are no more joint gains.
#18 The Challenger Sale By Matthew Dixon & Brent Adamson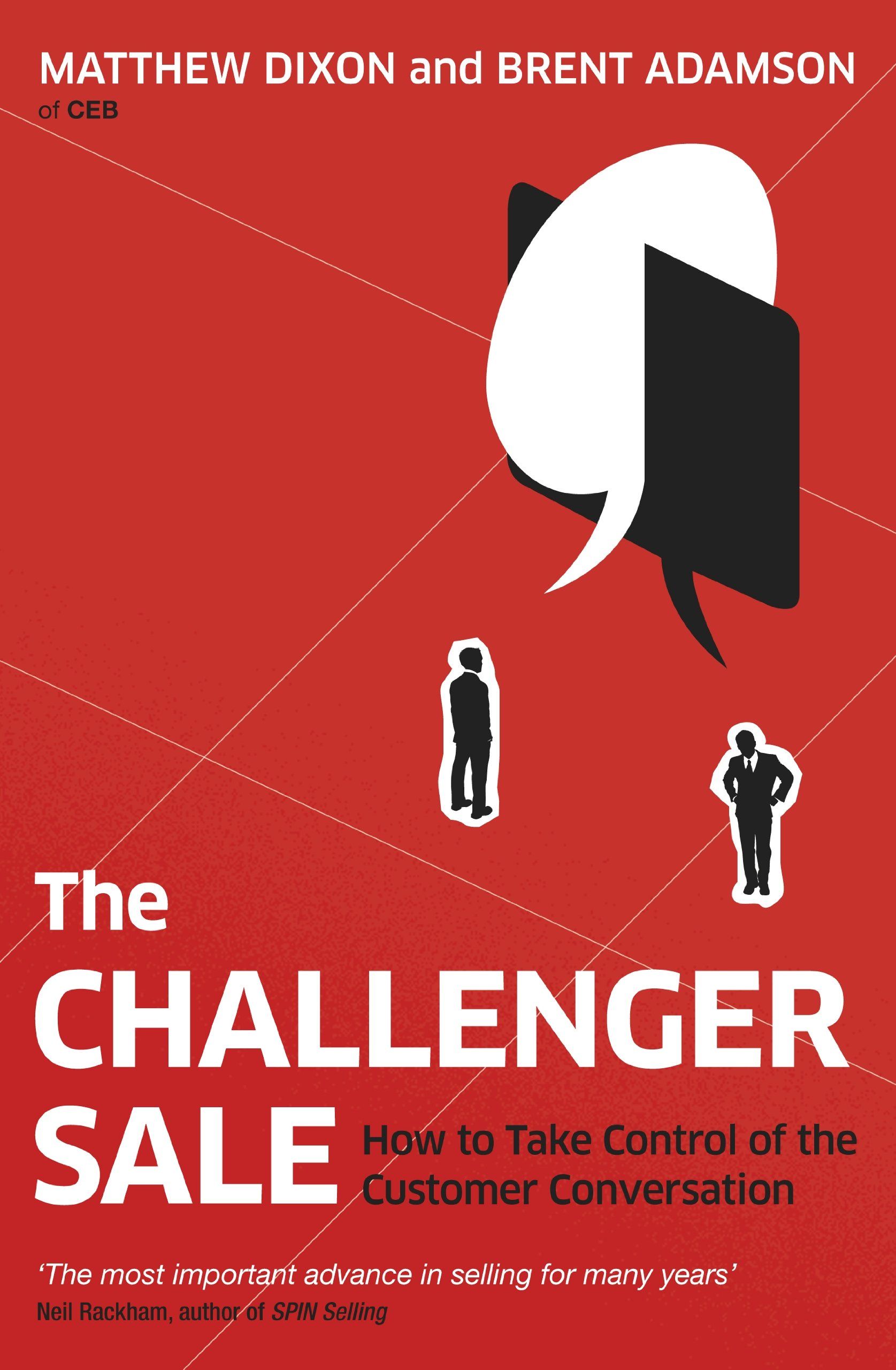 The Challenger Sale is a distinct sales rep profile; these reps consistently deliver high performances. In The Challenger Sale, authors Dixon and Adamson analyzed a study of thousands of sales reps and shockingly discovered that classic relationship building may actually be detrimental to the overall sales process.
They also lay out a methodology for turning average sales representatives into these high-performing Challengers. The Challenger Sale is one of those books that every new hire in B2B sales is asked to read. The Challenger Sale is so effective because it matches the B2B clients' changing needs and buying behaviors.
While there are five distinct types of sales reps, it's these so-called Challengers who consistently excel in selling the complex business-to-business solutions required in today's business world. Based on a massive study of thousands of sales reps worldwide, the authors uncover the skills and behaviors that drive Challengers' performance and explain how to replicate them in any sales force.
#19 SNAP Selling by Jill Konrath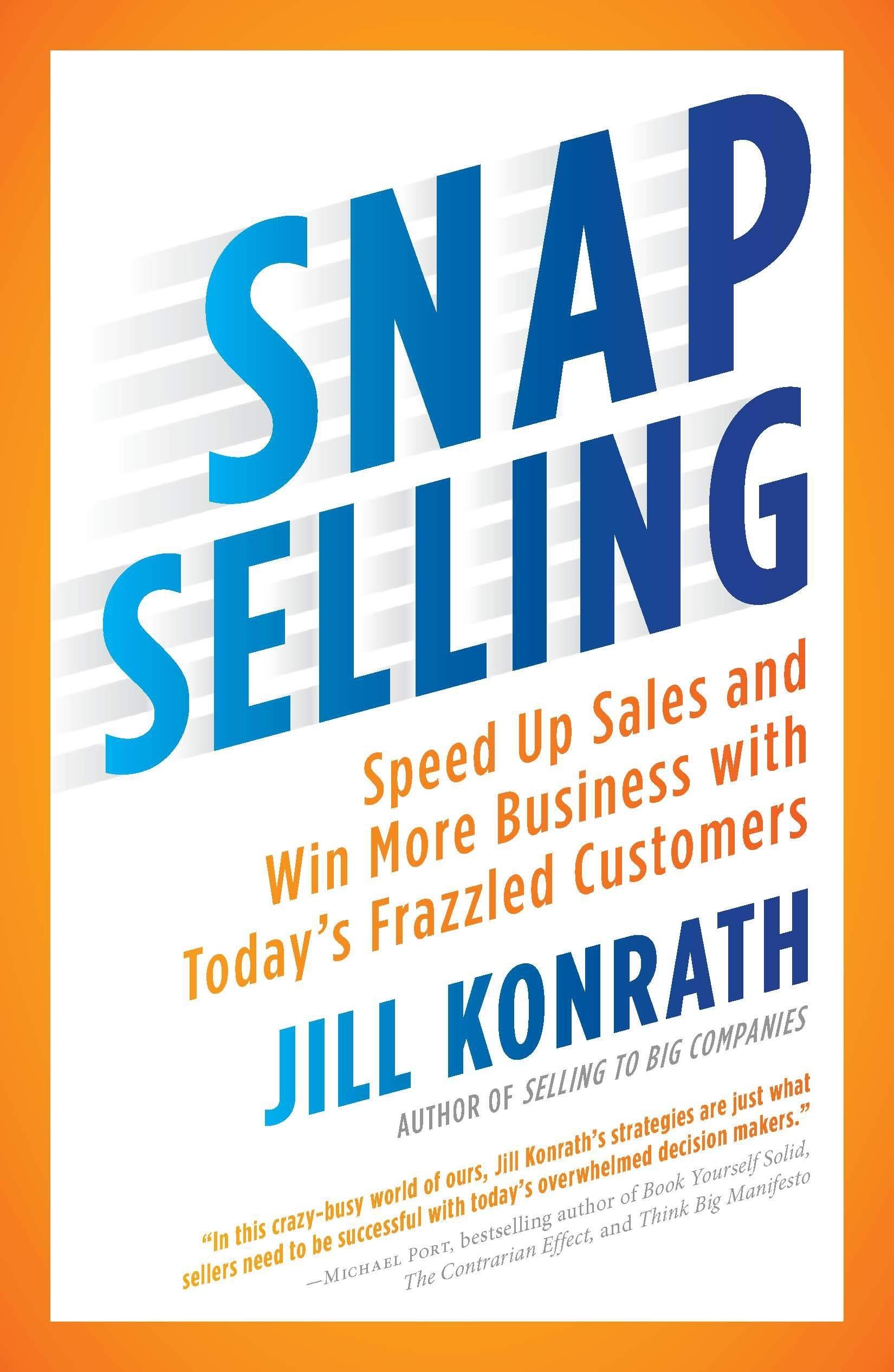 While SPIN selling focuses on questions, SNAP selling is about principles: making things Simple for clients, becoming invaluable to them, Aligning yourself with what they want to achieve, and Prioritizing their needs.
Her "SNAP" Selling approach makes it very simple to understand how to speak to today's frazzled customers. However, it requires sellers to step up their game and be even more relevant to their customers and prospects than ever before.
Konrath's approach to understanding your customers may be the only way that sellers will be able to keep up with the ever busy, ever confused, and ever risk-averse customers that we speak to today. Main takeaways from the book are:
From enticing buyers to become part of the buyer seller relationship to making a sustainable profit from making a strong hold connection of the relationship is the main course of the SNAP Selling technique.
Sustaining the relationship is possible only if the sellers are alert with the reasons and factors that may directly affect stability and profit of the company.
Sellers must be aware of the buyer's status in each of the "three decisions" buyers make. The "Three decisions" are the phases in which a business has to customize and adjust resources and business strategy according to the prospects' (including buyers) current needs.
Sellers should stay away from the grey area or as Jill names it as the "D Zone". This is a business spot where prospects are most unlikely to respond positively. The longer the seller stays in this spot, the lesser the chance for the business to convert prospects into a full time buyer. Thus, less chance for profit.
#20 The Science of Selling by David Hoffeld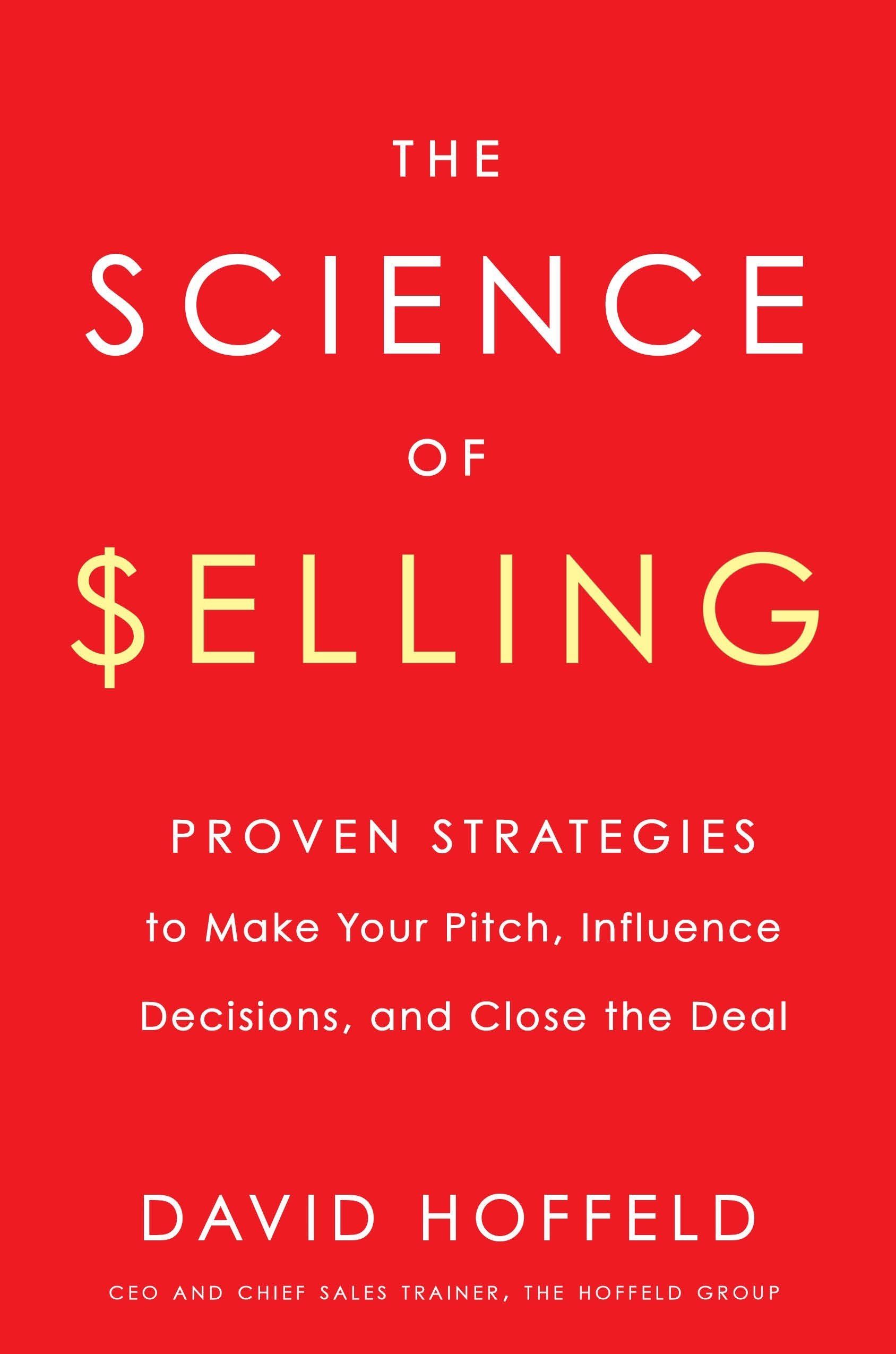 David Hoffeld is CEO and chief sales trainer at one of the nation's leading research-backed sales and consulting firms. You must read this book if you need an edge in today's cutthroat selling environment.
Successful salespeople align their approach with the way our brains make buying decisions. This research-backed sales book shows you how to use "human" science to promote customer receptiveness, neutralize objections and master the incremental commitments that lead to a sale.
Hoffeld, from stem to stern, deconstructs the whole sales process. He pinpoints the reasons why salespeople underperform, figures out the science-backed sales strategies and even lays out a Q&A toolkit to hire the right salespeople.
Somewhere in the middle of the book, Hoffeld mentions that the human brain is hardwired to disclose information in layers. This is a staggering tipoff, you know. He suggests when you nudge your clients to reveal their dominant buying motives the emotional reasons why they would buy your product you also grab commitments from them on every toehold.
#21 Mindset by Carol Dweck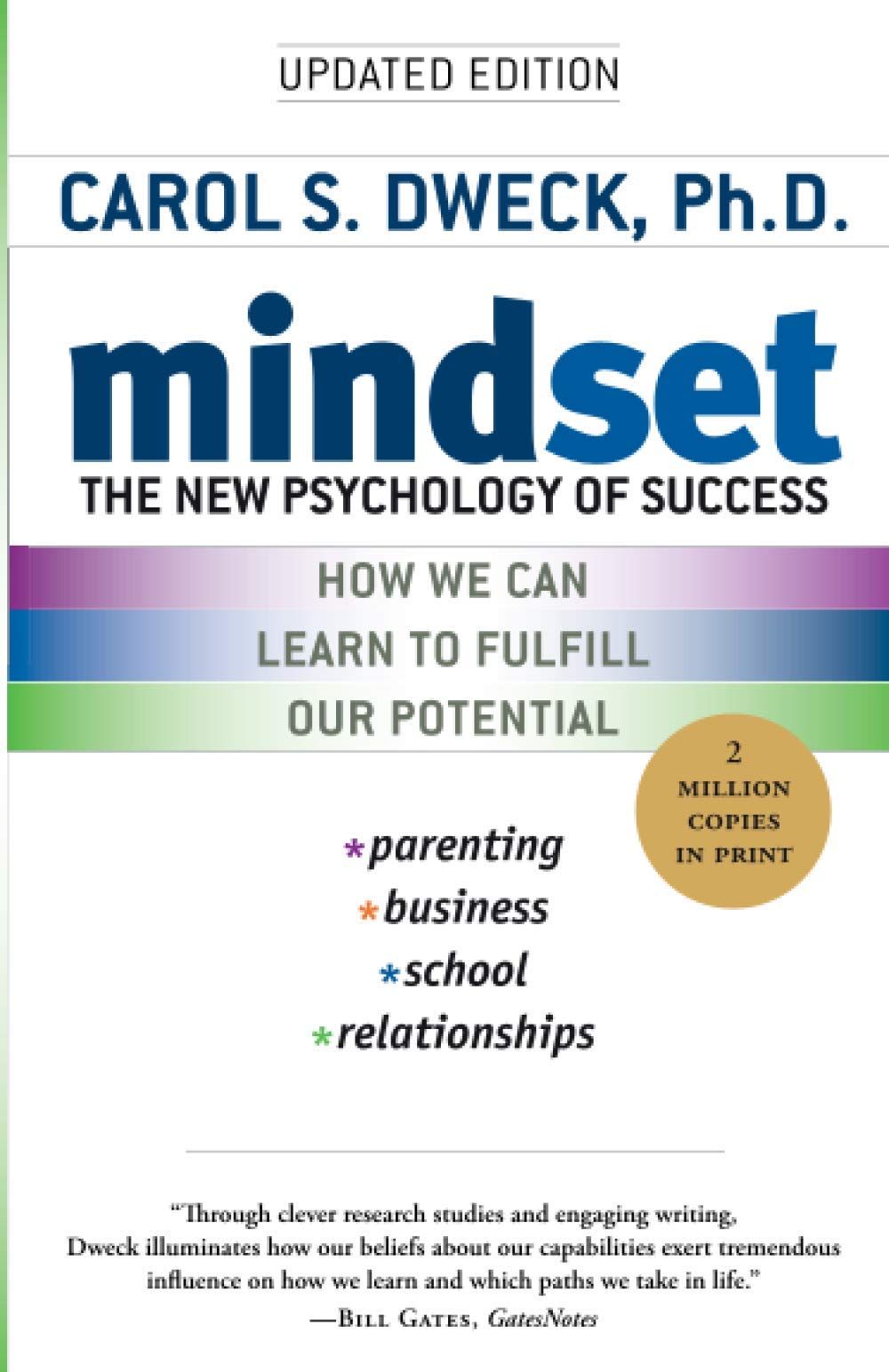 More than just a sales book, "Mindset" explores one simple, groundbreaking concept: people who believe their abilities can develop are far more likely to succeed than those who believe their abilities are fixed.
The book discusses the differences between people with a fixed mindset versus those with a growth mindset. Our mindset determines the way we deal with tough situations and setbacks as well as our willingness to deal with and improve ourselves. This book demonstrates how we can achieve our goals by changing our mindset.
The big ideas in her book include adopting a view for yourself that profoundly affects the way you lead your life. Believing that your qualities are carved in stone, the fixed mindset creates an urgency to prove yourself over and over.
The growth mindset does allow people to love what they're doing and to continue to love it in the face of difficulties. Those with the growth mindset found success in doing their best, in learning and improving. And this is exactly what we find in the champions.
#22 Cracking the Sales Management Code by Jason Jordan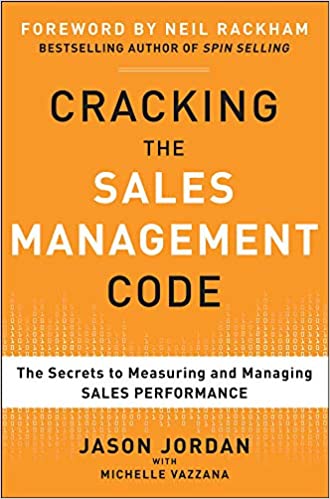 Drawing on extensive research into how world-class companies succeed, this is the definitive operations manual for closing the gap between processes and results. Don't be surprised if it becomes your go-to reference for measuring and managing a sales force using metrics and other real-world tactics.
The authors explain how to manage a sales force, link sales tactics to corporate strategy and deliver the sales numbers companies need. They identify numerous metrics and describe how to apply them most effectively. Their fresh insights particularly in regard to the productive use of metrics and concrete information to sales managers across all industries.
Cracking the Sales Management Code is a groundbreaking book for sales managers and executives who want greater control over sales performance. Based on new research into how world-class sales forces measure and manage their sellers, it provides a best practice approach to identify and implement the critical activities and metrics that drive business results. It is not a book on organizational leadership, nor is it a book on interpersonal coaching.  It is a book on how to effectively manage a sales force.

#23 Selling to the C-Suite by Nicholas A. C Read & Stephen J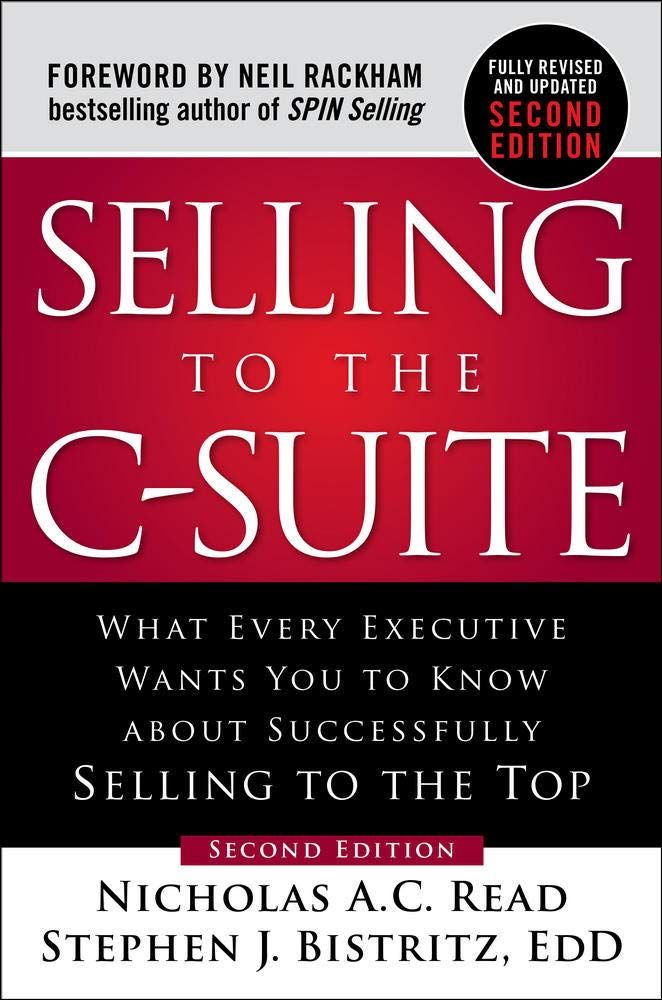 This is one of the best sales books for gaining the inside scoop on selling to C-level executives. The authors start by helping you identify and gain access to the "C-Suite" denizen, that is, the Chief Executive Officer, Chief Financial Officer, Chief Information Officer or other chiefs you want to approach.
The authors base their suggestions on hard data: the results of surveys conducted by Target Marketing Systems, Hewlett-Packard, the business school at the University of North Carolina and other institutions.
Hundreds of senior-level executives answered survey questions about how they work with the "buying cycle" and with sales professionals. The authors derive useful lessons from this research to help salespeople transform themselves from "Commodity Suppliers" to "Trusted Advisers."
They explain the best tactics for getting to know executives, establishing credibility and making sales as an insider who has earned the boss's confidence. The question is whether you can get upstairs the way they advise by cultivating mid-level managers who can make that crucial suggestion to the top boss.

#24  Coaching Salespeople into Sales Champions by Keith Rosen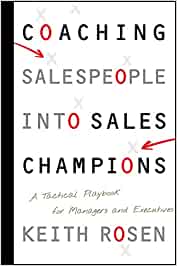 Coaching Salespeople into Sales Champions can be considered as your sales training secret weapon for everything from motivating a team, to the art of enrollment, to avoiding fatal coaching mistakes. This is a great sales book for leaders to share with their sales teams.
In the book Keith says, "Managers lose talented salespeople and maintain an atmosphere of mediocrity not because of a lack of effort but because they lack a coaching system they can trust to leverage the talents of their salespeople in order to generate consistent, worthwhile results." This shows that there is a lot to learn from this book.
It's a playbook that sales managers can reference on a daily basis to develop executive sales coaching skills. Using a tactical coaching system that is easy to deploy on a consistent basis, this book shows leaders how to realize the potential of their sales teams, and keep their best talent with their organizations.
It provides a proven procedure and tactical approach for coaching that brings together philosophy and execution so that you can implement an efficient process to develop a first-class sales team and achieve the meaningful results you want.
#25 Objections by Jeb Blount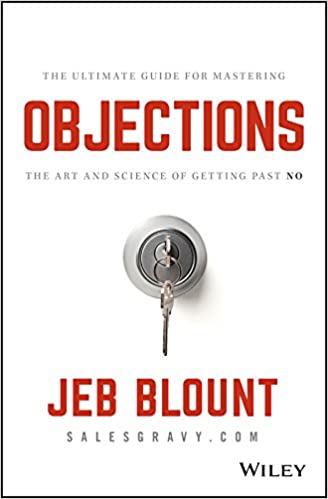 This is one of the best sales books to date for helping you reach your income goals. Blount explains the psychology behind moving past "no" to get to "yes", and then gives you proven techniques for working with today's more informed and more skeptical buyer.
According to the authors, Asking prospects for something and handling their objections are key aspects of sales success. A salesperson who can't do the task or cope with objections faces failure. Use questions to help you establish your prospects' identity, goals and any needs you might be able to fulfill.
You must ask prospects for the following in deal making:
The background information and data you need to craft a compelling sales proposition.
Time to present your pitch and demonstrate your products or services.
Introductions to other decision makers or influencers.
Low-risk "micro-commitments."
"Buying commitments."
Instead of asking for these necessities, however, many salespeople wait for the client to do their work for them. You must overcome your fears and ask what you need.
Many salespeople find making requests difficult because they fear rejection. This fear can undermine your confidence. The plethora of things that you will learn in the book are Where your fear of rejection comes from and why it is so difficult to control. How to master your own disruptive emotions and become rejection proof. Where objections come from and why buyers resist.
The keys to lowering your prospects' resistance and reducing the probability that you get an objection. The four types of objections you get in sales and when they happen. Turnaround frameworks for getting past each type of objection. How to bend your win probability and put the odds of getting a yes in your favor.
#26 Sell it Like Serhant by Ryan Serhant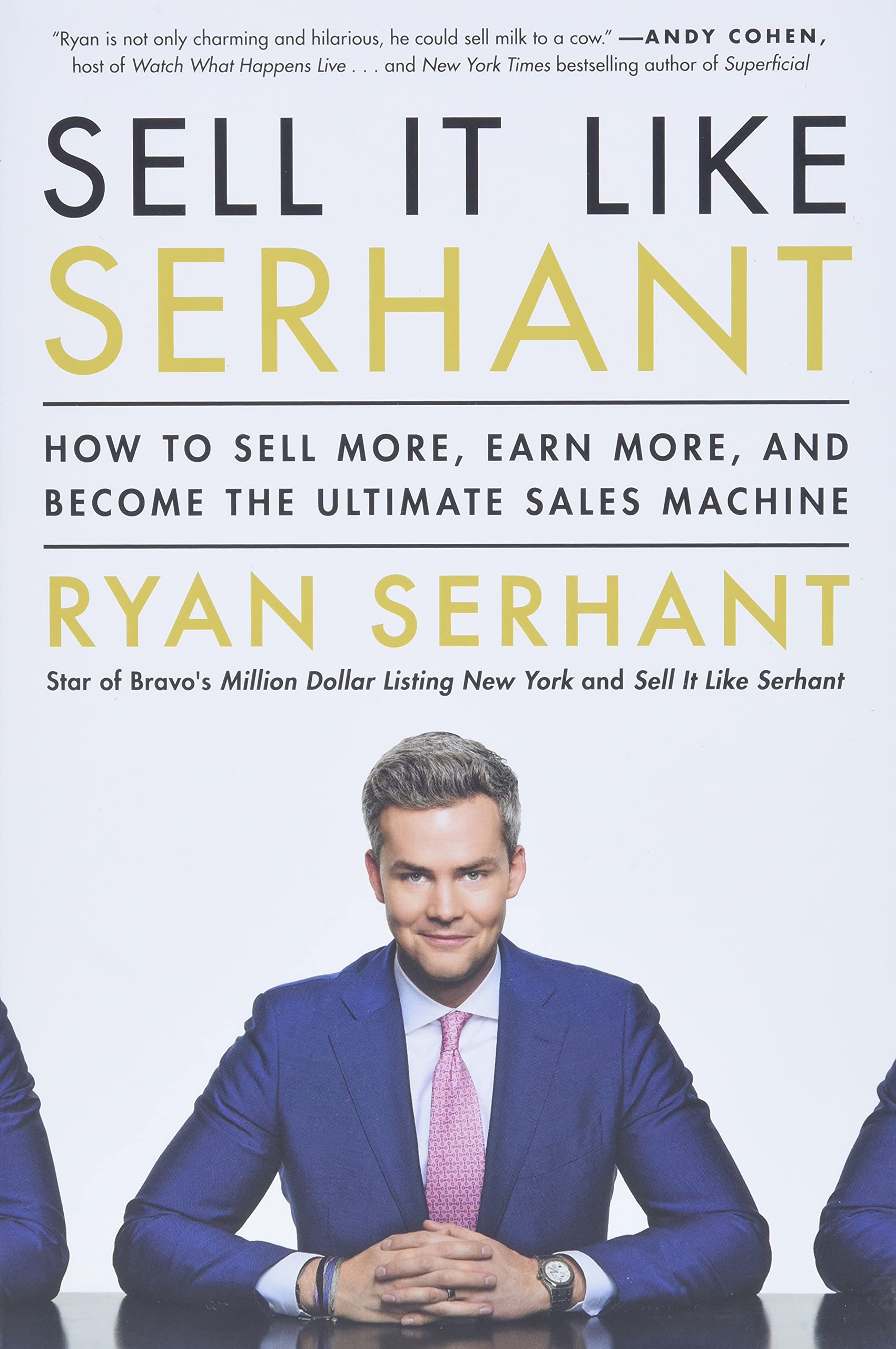 For those who don't know Serhant, Ryan Serhant who was once a shy and jobless hand model leads a team of 60 real estate brokers to an average billion dollars in sales every year.
Top realtor Serhant's guide is one of the best books on selling for the less experienced salesperson. His tips on negotiating, finding your hook and selling in stages will guide you through the juggling and closing of multiple deals as you ramp up your income.
This book is written for general sales, however, the lessons and focus are clearly on real estate agents. I won't complain about this, as the task of re-positioning sales books with a deep focus on B2B sales and product selling can be a challenge when we are attempting to think in terms of B2C real estate sales.
The book has clarity, it's interesting and entertaining.  Although the mini case studies and examples are from real estate, there are many lessons that the average person can learn. You'll discover the skills he used to attain professional success.
#27 More Sales, Less Time by Jill Konrath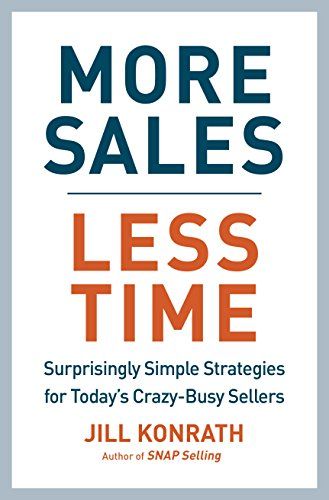 No, we don't have a personal bias towards Jill Konrath, it's just that his sales books are just the right place for all the selling techniques. The book gives you some fresh techniques and effective tactics for managing time and selling more.
According to Jill, despite the fact that today there are a plethora of productivity-enhancing tools available, most salespeople are still struggling to meet their quotas. Why? There are also too many distractions out there which can suck up all of your sales time leaving nothing to show for it.
To succeed in sales today, you can't just be productive. You have to be smart too. You have to make sure you're getting the right things done better than ever before. Jill says, if you're a sales leader, sales productivity is likely high on your priority list.
Right now, virtually everyone on your team is unintentionally frittering away at least one to two hours per day. Set up team challenges to motivate everyone to recapture lost time. When you do, your reps will make more calls, have more meetings, and close more deals. The best part is you won't need to hire more salespeople to make your numbers.
#28 Solution Selling by Michael T. Bosworth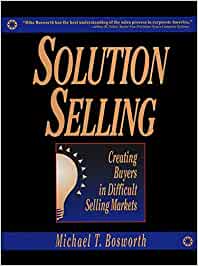 Instead of focusing on a prospective buyer, many salespeople spout lists of their product's or service's features and benefits. Does the buyer have a problem that these advantages solve? Maybe.
The salesperson doesn't know or care. He or she "sprays and prays," hoping one of the product's bells and whistles will engage the buyer who just wants the conversation to stop.
Sales trainer Michael T. Bosworth suggests a different approach. He teaches salespeople to use an engaging question-and-answer process to learn potential customers' individual needs.
With this diagnostic approach, the salesperson can specify the product or service that meets those needs. Solution Selling recommends the author's clear explanation of his sales method. Bosworth shows you how to shed the high-pressure, "always-be-closing" mindset and align your sales approach with a buyer's real desires. This is the true nature of business-to-business selling.
Today, selling is harder than ever. Expert buyers know how to negotiate, want only the best, can choose from an array of vendors, distrust salespeople in general and will litigate at any hint of difficulty.
This makes selling an almost vertical climb. To reach the summit, use advanced sales methods that make the "way you sell" the pivot point of closing sales. The best sellers intuitively know how to help buyers develop "action visions" mental images in which buyers imagine using and benefiting from a product or service in a specific context. However, Bosworth makes it all easy for you.  
#29 Hacking Sales by Max Altschuler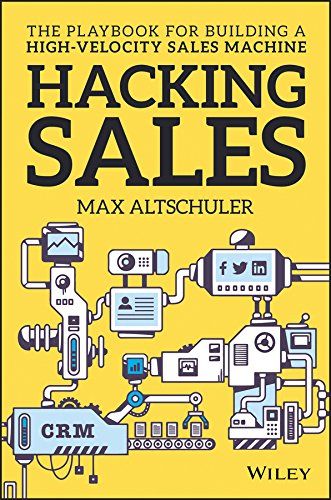 Hacking Sales helps you transform your sales process using the next generation of tools, tactics and strategies. Author Max Altschuler has dedicated his business to helping companies build modern, efficient, high tech sales processes that generate more revenue while using fewer resources.
In this book, he shows you the most effective changes you can make, starting today, to evolve your sales and continually raise the bar. Hacking Sales walks you through the entire sales process from start to finish, learning critical hacks every step of the way.
You will learn how to identify your Ideal Customer and your Total Addressable Market, build lead lists and  target your campaigns, execute effective hacks for messaging and outreach, how to nurture leads through the sales process once you've made contact and get full transparency into your process so you can be more efficient than ever before.
Salespeople need to utilise technology to streamline their processes, and this book does a nice job of explaining how.
#30 Sales Engagement by Manny Medina, Max Altschuler and Kosoglow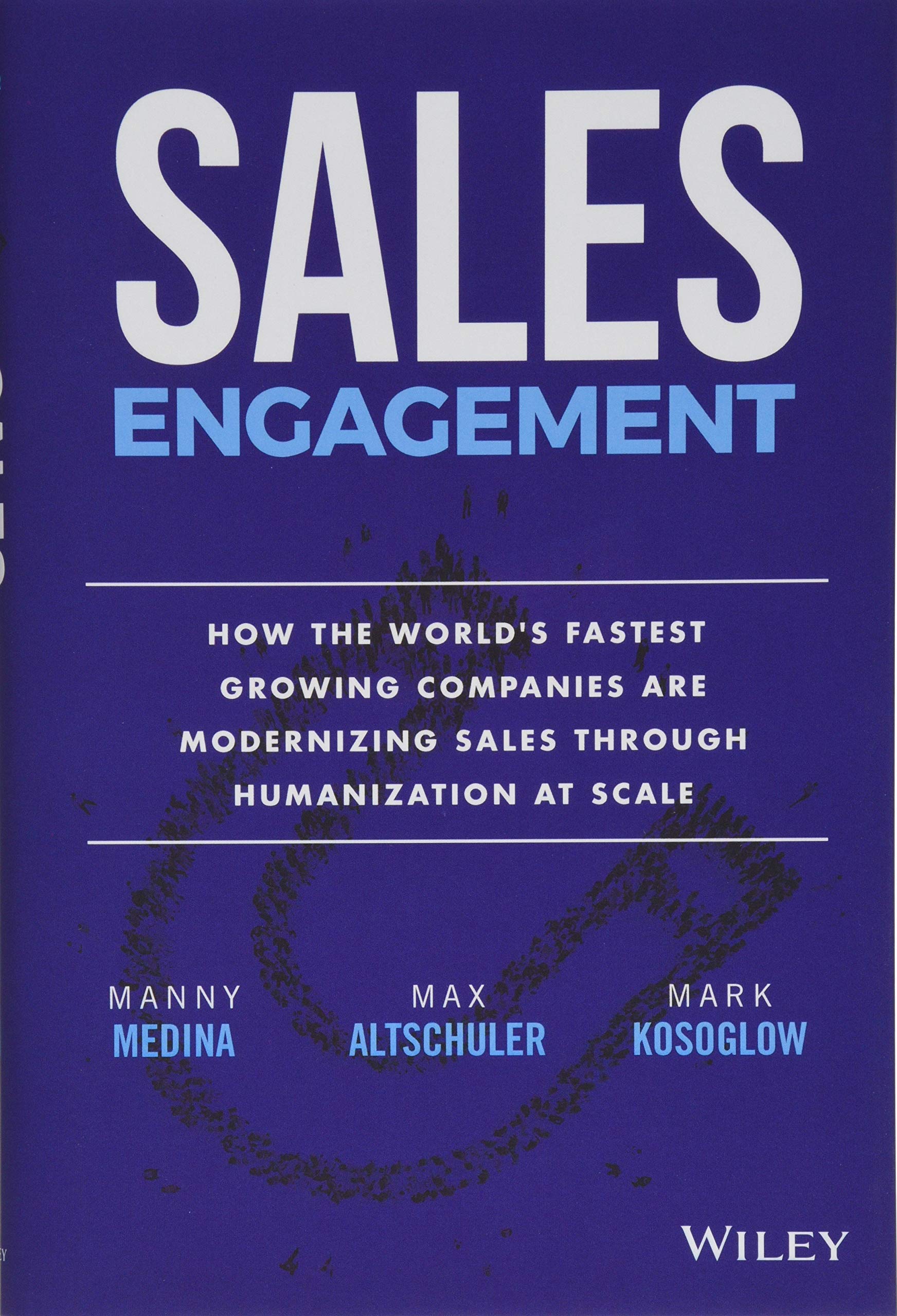 The authors focus on the fact that most sales teams are not optimizing for how the modern buyer likes to buy.  For example, salespeople may prefer a text message whereas IT members may prefer long emails and white papers.
Sales engagement preaches personalization on a large scale. By creating personas for each target audience, one is able to nail down his or her prospective audience and personalize a sequence just for a specific type of target.
The critical action items of this book were personalization and information investigation. It's an amusing blend since it regularly requires 2 sorts of individuals: the social butterfly and the numbers individual. When searching for your salesmen, check out somebody who can do both well, and there is a solid likelihood of coming out on top ahead.
Sales Engagement is how you engage and interact with your potential buyer to create connection, grab attention, and generate enough interest to create a buying opportunity. Sales Engagement details the modern way to build the top of the funnel and generate qualified leads for B2B companies.
How Can Deskera Help You With Sales?
Deskera is an all in one platform for all your business needs. Its products like Deskera CRM is the perfect solution for all your sales processes including channel sales. This is because Deskera CRM can be used to manage your sales pipeline. In fact, it even allows you to make your own customized sales pipeline.
Additionally, it has contacts and deals management through which you can manage your contacts, every detail about them, their categorization and the organization that they belong to. It will also let you import your contacts from other platforms to Deskera CRM to have them all on one platform.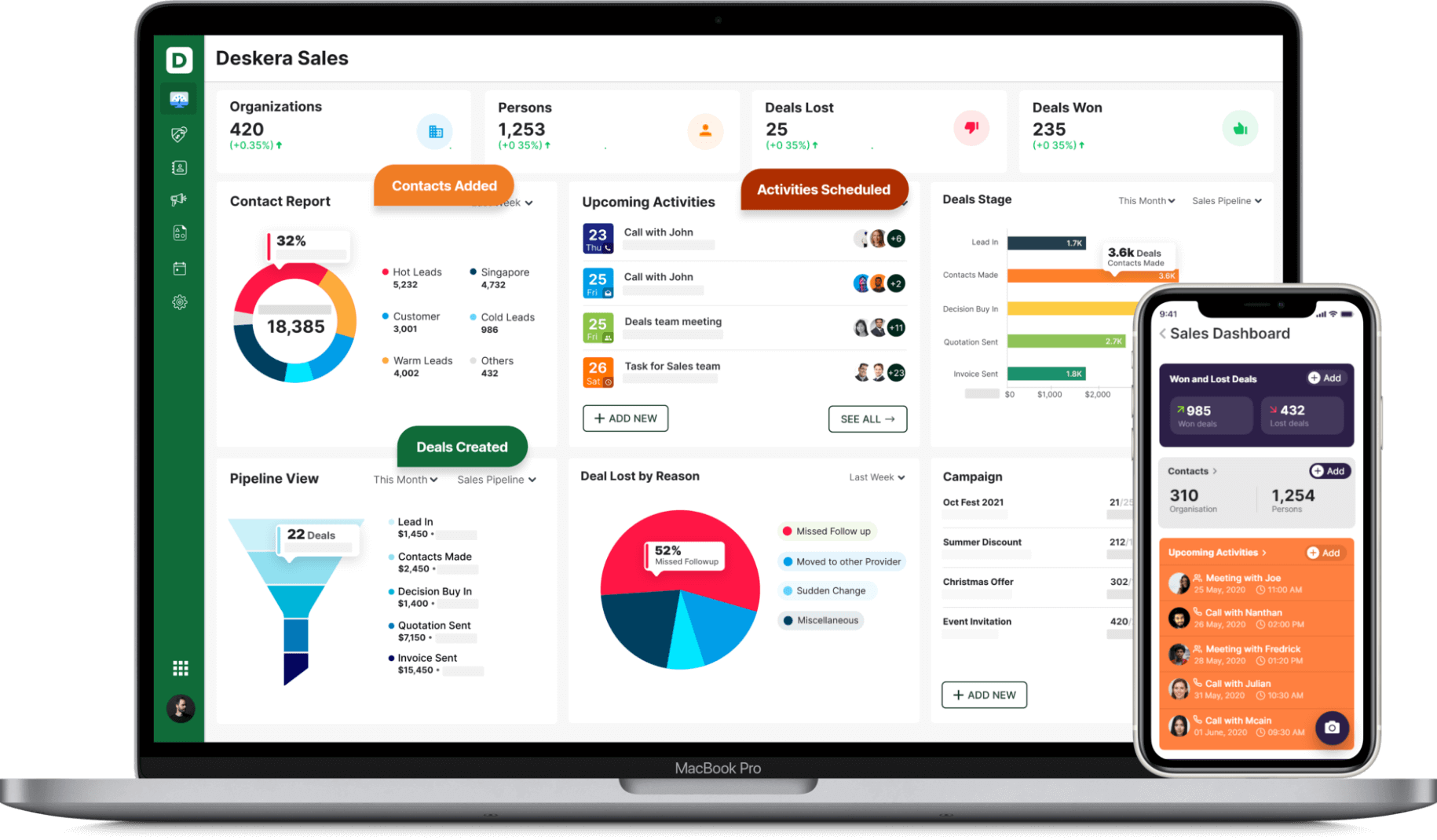 With deal management, you can track your deal through its different stages, have insights on how each deal is performing which will help you find out your marketing attribution and even have the deal manager's name, which in this case would be your channel partner mentioned there. This will also enable you to schedule sales and sales' assistive processes. It will also help in tracking the performance of each of your channel partners and assess if they are the perfect fit for you or not.
Deskera CRM
Manage Your Contacts & Deals With Deskera
Additionally, this will also let you undertake automatic email marketing campaigns, with few email marketing templates pre-loaded in the Deskera CRM system. Additionally, through Deskera CRM+ you will also be able to create your own landing pages and CTAs that will complement your channel sales strategy.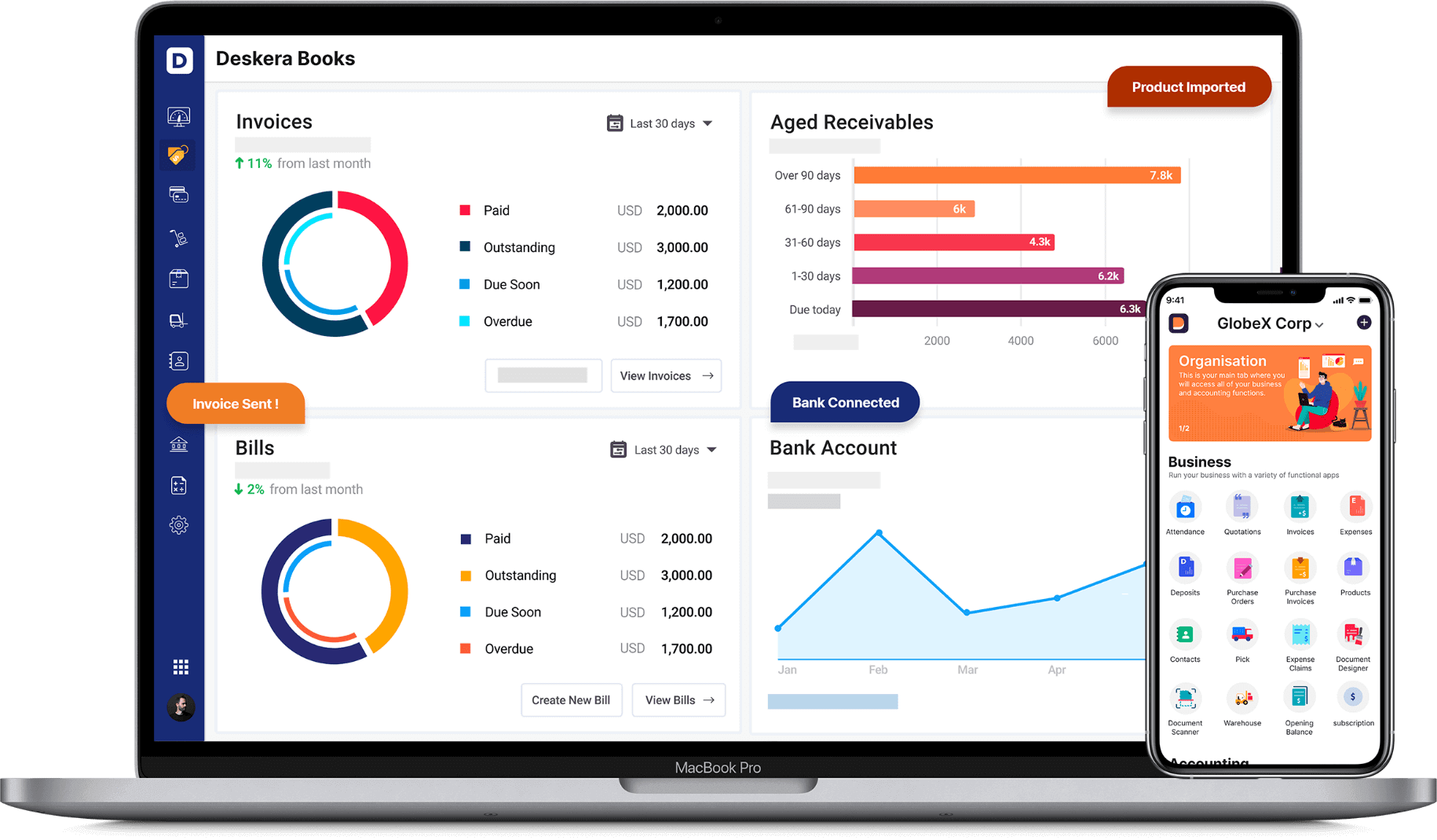 In addition to this, Deskera Books will let you track your financial performance, financial KPIs, marketing KPIs and financial statements like income statement, profit and loss statement, cash flow statement and balance sheet. These insights, along with customer's feedback which ensures the voice of customers is heard, will help in improving your business strategies and operation such that you win more customer loyalty, improve customer retention and even encourage returning customers.
So what are you waiting for, sign up with Deskera today!
Related Articles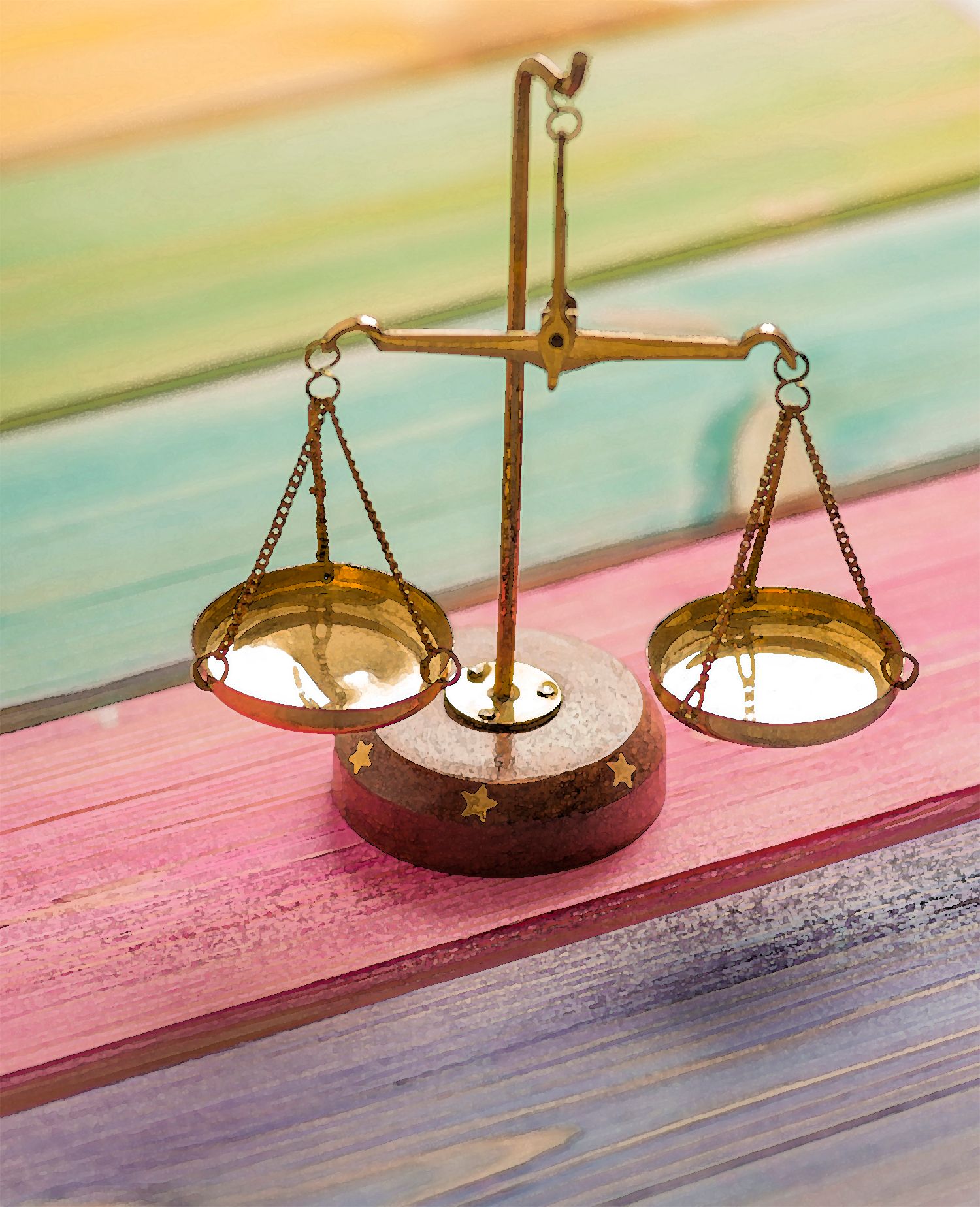 ---
---