"Customers define your company's reputation"
Customers knock on your company's doors for instant solutions to their concerns. If you effectively managed to offer what they need, your count for loyal customers would significantly boom.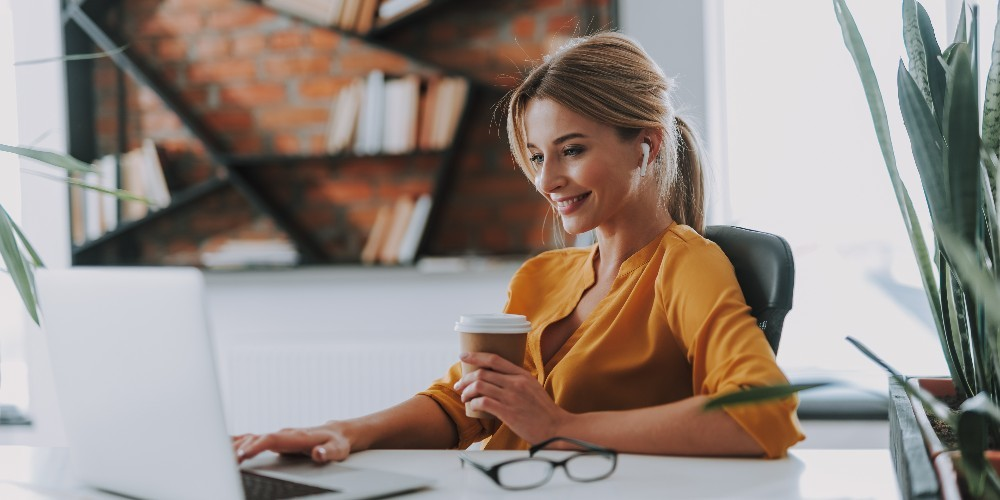 In recent years, an effective tool has come into the spotlight called online-knowledge-base. Nevertheless, you can say it is the Wikipedia of your company that encompasses high-quality articles, information, methods, FAQs, and more. It works as a powerful technique where customers can search for answers on their own.
In this article, we have thoroughly covered the customer service knowledge base, its importance, benefits, creating methods, implementing tips, best practices, templates, and examples.
Let's dive in.
What is a Customer Service Knowledge Base?
According to an essay writing service, a good customer service knowledge base reduces the stress of your customer service team and helps clients solve problems independently.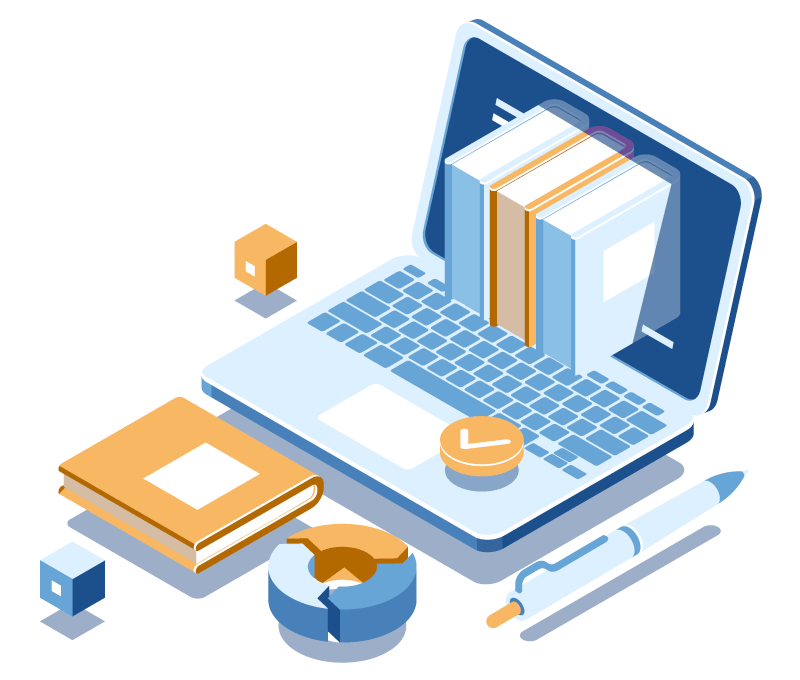 A customer service knowledge base is a published collection of informational guides. It provides access to customers to self-serve or resolves their queries, frequently asked questions, troubleshooting techniques, and how-to guides. As a result, it helps to reduce the workload and high costs for live customer representatives.
In addition, the term 'Knowledge Base' represents the information stored in the system. Moreover, the final product of collecting and organizing all relevant information into effective usage can be termed knowledge management.
Why is a Customer Service Knowledge Base Important?
Customer Service Knowledge base connects customers to get the right information on how and when they demand it. Moreover, customers always need assistance to resolve their concerns.
In other words, it is the transfer of knowledge to customers. However, it may sound basic but it requires strategic planning to achieve that goal. Let's see what are the crucial factors involved:
1. Self-Service: According to sources, 91% of survey respondents say that they would use an online-knowledge-base if they were available and tailored to their needs. Many customers prefer self-service to resolve their concerns.
2. Find Right Information Instantly: Customers get contextual information with the right knowledge base software. As a result, it saves time and effort.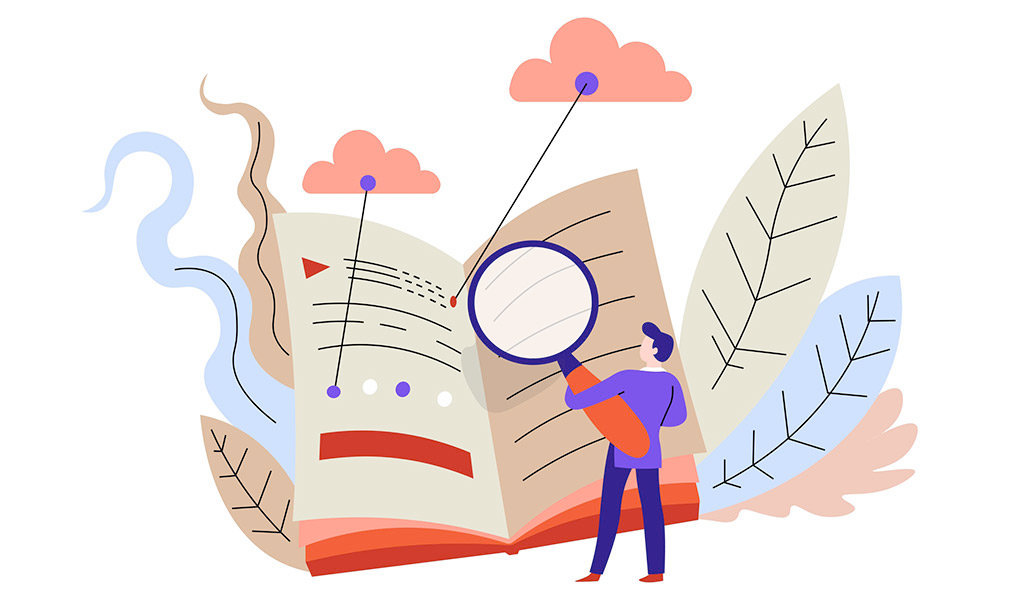 3. Various Learning Styles: Customers can receive information in certain learning styles. It includes annotated images, audio, text, videos, and other media formats. Learning aptitude can vary from person to person and so various formats are available to help in the best possible way.
4. 24/7 Access to Knowledge Base: Around the globe, customers can get access to the knowledge base irrespective of time and place. Fortunately, the knowledge base will always have your back.
5. Generate relevant Insights: A knowledge base provides efficient tools that would help you to analyze knowledge reports meticulously. In addition, you will get insights into customer searches, keywords, terms, and more. It will help you improve the gaps to provide efficient content for your product or service.
Why Do You Need a Customer Service Knowledge Base?
It is an obvious fact that creating an online-knowledge-base is time-consuming and requires maximum effort. However, implementing this process will reap you long-term quality and efficiency in the customer service domain.
The main goal of an online knowledge base is not only restricted to customer's contentment but also of your employees. With a knowledgeable support team, you will strengthen your business base.
Furthermore, speed and accurate knowledge are the major key elements for customer satisfaction.
So, is it enough to keep customers satisfied with these key elements? The answer is No!
In fact, customers not just ask for service but demand. You have to provide all the relevant information or else you lose your customers.
Take a look at these mentioned statistics by Harvard Business Review. It will help you to understand customer's reactions to their customer service journey:
62% of customers think that having knowledgeable employees is the third most important aspect needed for a company to provide good customer service
65% of customers expect a resolution to their issue at first contact
As a result, adopting a knowledge base is the perfect way to deliver high-quality service to customers. Furthermore, discarding outdated methods (manual input on Word documents or notepads) will keep you ahead in the competition.
In addition, it is important to renovate the system by improving online knowledge-base and customer relationships. It will help to reduce the training time, cut down response time, and improve efficiency.
The Benefits of Using a Knowledge Base
Here is the list of online-knowledge-base approach benefits that will help your organization to work smoothly and efficiently. Let's read:
Reduces Resources & Costs: Customers will self-serve to resolve their queries or concerns. It will further lead to reduced email and calls volume.
Boosts Efficiency: Executing an online-knowledge-base program with interactive processes will invigorate employees and agents to adopt knowledge base systems. As a result, it will boost efficiency in all aspects.
Enhances Customer's Trust and Loyalty: Customers love to get desired information instantly. And, providing relevant and consistent information will enhance their trust and loyalty to the brand or company. It also improves customer retention.
Revamp Content Consistency and Quality: Improving the online knowledge base will help to upgrade the content quality and consistency. Also, insights tools and reports play a crucial role in it.
By collaborating these mentioned improvements will present excellent positive results. And, it will lead organizations to optimize their customer service.
How to Create a Knowledge Base
An online knowledge base is a long-term task that will help to vastly improve customer service. Below is the compiled list of how you can create a knowledge base. Check it out:
1. Research & Compile
The first and foremost concept is to understand the utility of a knowledge base. And, the second concept is its purpose. To fulfill both these into action, you require to conduct detailed research. It includes target audience, subjects, and more
In addition, the best source to dig out research is your team. They are in regular touch with customers and know their interests. Further, you need to compile and document it and move to the next level of challenges, queries, and more.
2. Develop Structure
Once you complete your research, you must determine structuring content to your knowledge base. It goes from release documentation, FAQs, and internal data materials. In addition, collecting and developing content allows us to have an efficient agile information management system.
Ideally, divide the subjects into categories, links, activities, types, and so on. It will help to build a hierarchy of information that will direct customers to their desired solutions.
3. SMEs to Generate Content
Your Knowledge base must have consistent and interesting subjects to engage the audience. Also, your content needs to specifically meet the interests of the audience. However, Subject Matter Experts (SMEs) would be able to assist to generate content that ensures high quality, efficacy, and accuracy.
Furthermore, SMEs come to the rescue of the support team when they find themselves amid of knowledge gap. Also, the SMEs will be able to provide specialized knowledge to assigned content, which is outlined by the knowledge base manager.
Moreover, editor reviewers manage to apply tone, consistency, grammar style, and readability to provide an excellent experience to readers.
4. Improving Knowledge Base
Providing updated and relevant content is an important aspect of online-knowledge-base. Nowadays, information frequently expands and becomes outdated in no time. So, it needs continuous improvements and revisits based on search traffic, analytics, and more.
Over time, your team needs to extend the knowledge base, add new content, and update the existing data. Along with covering the basics that include clarity, readability, value, utility, and engagement.
Building an improved information resource will maximize your positive results with minimum effort and time. Lastly, upload relevant resources on shared platforms.
How to Choose Knowledge Base Topics
Deciding on your knowledge base subject could be a daunting process. We recommend you start with the basics. Place yourself in the shoes of a reader and note down every single query your reader might have about your service or products.
Once you complete the basics, dive into depth to cover all topics with separate sections or categories of your knowledge management database.
Furthermore, make sure to use specific keywords or terms that your customers tend to search. Also, use exact phrases of subjects or topics they want to look for. Avoid using tons of articles that will instead confuse your readers.
For example:
How to do..
Use this method..
Ways to Install plugin..
FAQs, and so on.
Lastly, structure the articles with relevant headlines or clear titles that can direct your customers to fast solutions in no time.
Seven Steps to Building and Keeping a Top-Quality Customer Service Knowledge Base
Following is the list of seven steps to maintain and build your knowledge base customer service:
1. Understand Audience
The primary aspect is to understand your customers. Further, you can implement it by breaking down all the characteristics related to your audience for example; creating a buyer's persona. It will help you to curate documentation enabling you to be on the same page as them. It includes technicality, tone, language, and more.
2. Various Relevant Voices
The next point to consider is to use various voices of all domains to constitute overall knowledge database operations. In addition, diverse knowledge and ideas will add value to the system.
3. Optimizing Your Content
It is another important aspect. Try to shorten your sentences. Also, add pictures or videos that can instruct readers effectively. The maximum word limit will only result in minimum customer satisfaction.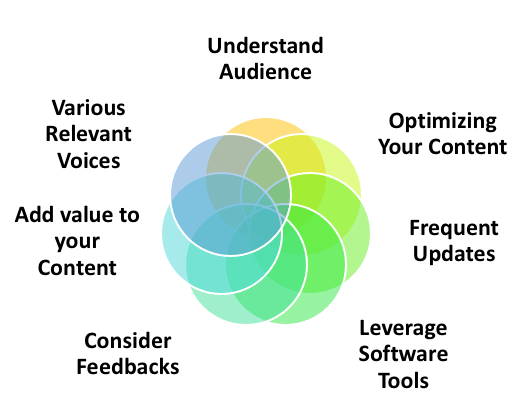 4. Add value to your Content
What makes your content perfect? The answer to this question is not limited to one single aspect. Instead, it is the amalgamation of certain elements. It includes content, images, videos, links. Further, integrated with SEO, specific keywords, and more. These elements help to make your content enriched in value.
5. Frequent Updates
Every day new updates or information come up with new specifications. Therefore, it is essential to update your database with unique content or update published content. Moreover, it helps to build trust and confidence in customers for your services.
6. Software Tools
There are hundreds of knowledge base tools. They include cloud-based, self-hosted options, CRM, and more. You can choose the desired tools that meet the interest of your service or products.
7. Consider Feedbacks
It is the best option to look for ways on how you can improve your online-knowledge-base. Adding smileys or feedback options at the end of the article allows customers to express their satisfaction. Also, this method helps you analyze if your article needs any improvement.
Tips for implementing a customer knowledge base.
Implementing a customer knowledge base would effectively help to reduce the excessive workload of your customer service agents. Further, your customers will mostly prefer self-serve options to resolve their concerns so it will be beneficial.
Moreover, a knowledge base offers a significant process for customers that allows them to seamlessly explore your digital resources.
Note that you can use the CommBox application that will help you to grow your knowledge base without much effort. Ultimately, it will ensure an easy route to find answers. As a result, it will save money, time, and your agents' workload.
Below is the list of 5 crucial elements that will help you to work better on the CommBox knowledge base
Let's check:

1. Effective Knowledge Base: Make sure you provide only important and absolute information. If you will complicate or lengthen the articles, customers will end up with no solution. In addition, try to make it easy to navigate and easy access to information.
2. Easy route: Make sure to provide high-quality software tools and resolutions to your customers. So, they don't end up with confusion or doubts. In addition, provide access to links to your knowledge base, offer customer services options, and add plug-ins that refer to customer service agents.
3. Readability: It is an important aspect for readers as they want simple and relevant information. Avoid adding numerous links to the technical documents. In addition, make sure to provide solutions in your knowledge database, or else it will add an extra load on agents.
Nevertheless, you have to ensure easy readability, consistency, and error-free articles irrespective of their educational background or language.
4. Strategic Knowledge Base: Customer strategy is the core element of an exceptional online-knowledge-base system. Your customer service team is an effective source of knowledge and ideas that will help to contribute to the knowledge base. Moreover, adding a few articles won't be helpful. Instead, you have to cover minor to major aspects of information.
Here is the list of elements that make the knowledge base effective:
Unique articles and full of content.
Access for customers to reach customer service agents.
Important links and plug-ins for customers
Streamline the flow of communication for customers about working with your service or product.
8 Best Practice Tips for Creating an Effective Knowledge Base
Here is the list of 8 best practice tips to build an effective knowledge base. It includes:
1. Audience Perspective
Knowledge base articles need to be curated and reviewed with the reader's perspective. Further, articles should be in a well-written, error-free, and user-friendly tone.
2. Use Templates
Templates are the best option to standardize articles. It ensures that your knowledge base is structured, consistent, and user-friendly for both readers and customer service agents. In addition, a pro-tip for your customer service team is to create email templates for professional use.
3.  Content Organizing
It is an efficient method to organize all your content data. When customer service agents use the search function to find the specific information, then it will direct them to the desired results. You can create categories and sub-categories for easy access.
4. Reference System
All knowledge base articles need to be assigned with a unique ID. It will further help to get access to its quick reference. For example, you can assign categories and sections, numbers for each article or document.
5.  Macros
It allows customer service agents to instantly answer requests with a single and standard response. Also, macros help to streamline the workflow without any disruption. Moreover, you will save a lot of time and energy by it.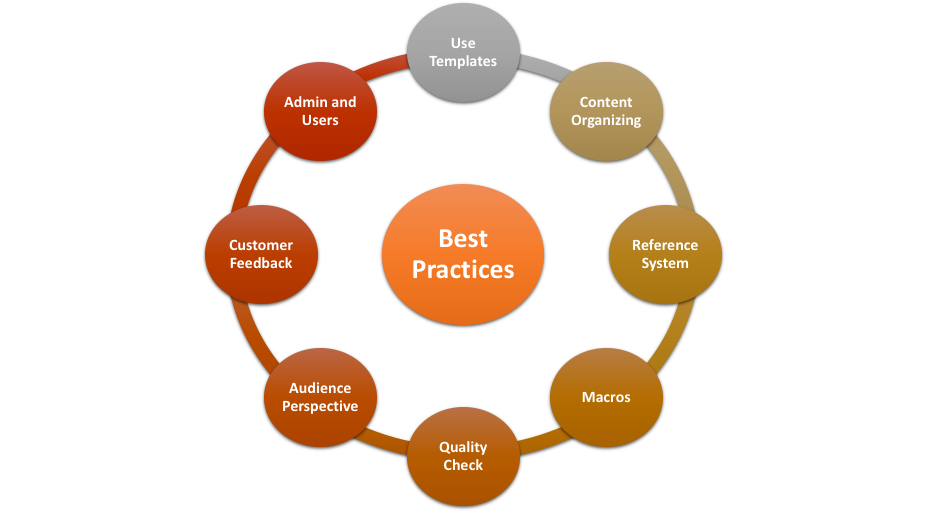 6. Quality Check
This is the most important aspect before publishing knowledge base articles into a live database. A quality checker needs to finalize articles after reviewing for accuracy, consistency, and completeness. Moreover, this task should be performed by a knowledge base manager.
7. Customer Feedback
The outcome will always be to capture customer's feedback. Also, it is a great method to improve the existing database. It can be implemented by setting up an auto-response. Further, customers can provide their feedback if the response was helpful for them or not.
8. Admin and Users
It would be best to implement user roles that require permission by restricting new agents from publishing articles into the live system. Moreover, not all knowledge base articles need to be published. However, a few of them need to be reviewed.
Knowledge Base Management & Best Practices
Here is the list of best practices to follow for knowledge base management:
Choose the relevant topic for knowledge base
Frequent updates and unique content
Focus on effective solutions for customers
Keep it simple and effective
Adopt change and improvements for your Knowledge base.
Discard the irrelevant or outdated content.
Invest in excellent tools and resources.
Avoid overly complex processes in your knowledge base.
Knowledge Base Templates & Examples
You need templates to streamline your knowledge base articles. It helps to save time and effort for both the readers and customer service agents. Following is the three templates that will help you:
Template 1: How-to
You need to provide direct answers here without fluffing the article.
Model:
Title: Topic of the article.
Introduction: 1-3 sentences.
Body: Steps the user needs to take, including images to illustrate what the user needs to do.
Template 2: User's Basic
It would be best to provide a step-by-step guide to resolve concerns:
Model:
Title: Topic of the article.
Introduction: 1-3 sentences.
Body: Step-by-Step guide including images.
Video(s): One or multiple videos embedded in the article to provide a quick solution
Template 3: Get Started Guide
Here you need to provide a list of detailed steps to customers:
Model:
Title: Topic of the article.
Introduction: 1-3 sentences.
Body: Detailed- steps for the user's to get started.
Video(s): Multiple videos embedded throughout the article.
How Deskera Can Help Your Business?
As a business owner, you can invest in an online-knowledge-base that can help you keep track of your documents and business growth. A successful business needs an efficient order fulfillment process that meets its specific needs. You can apply knowledge base customer service tools to see how you are managing your online presence. Deskera is an all-in-one software that can help you keep track of your knowledge base. It also helps to keep documentation records of your business with the right tactics and management.
You can invest in accounting software to assist you to keep track of your journal entries, balance sheet, inventory, and overall procurement management as a business owner. A successful firm requires an effective financial strategy that is tailored to the company's specific requirements.
Deskera Books is online accounting software that can help your company save time by automating the process of creating journal entries. For each sale and purchase business transaction in debit and credit terms, the double-entry record will be auto-populated. The transaction data is consolidated into each ledger account by Deskera. Their values will be instantly transferred to the corresponding financial reports.
You can have access to Deskera's ready-made Profit and Loss Statement, Balance Sheet, and other financial reports in an instant.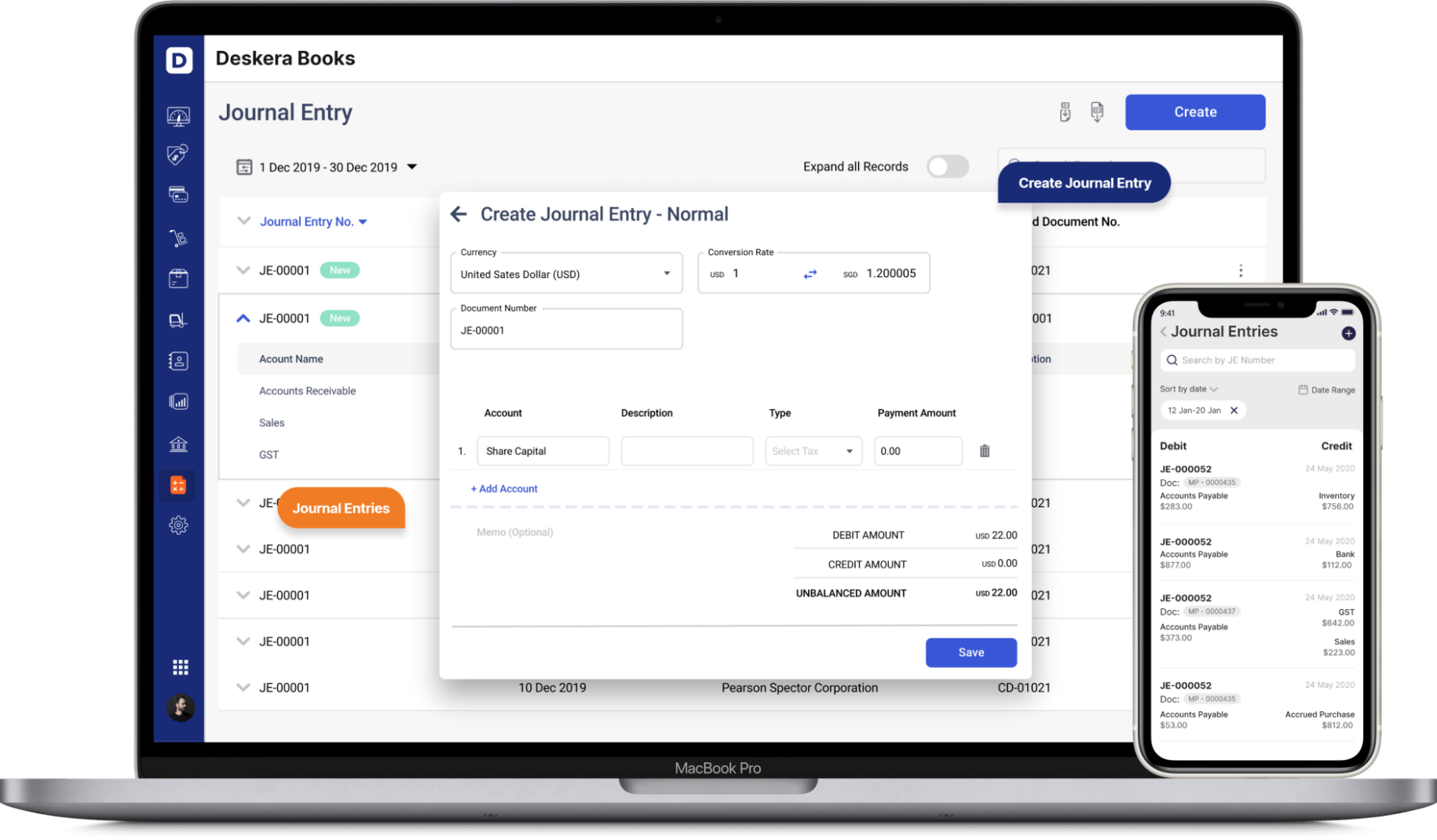 Deskera can also help with your inventory management,  customer relationship management, HR, attendance and payroll management software. Deskera can help you generate payroll and payslips in minutes with Deskera People. Your employees can view their payslips, apply for time off, and file their claims and expenses online.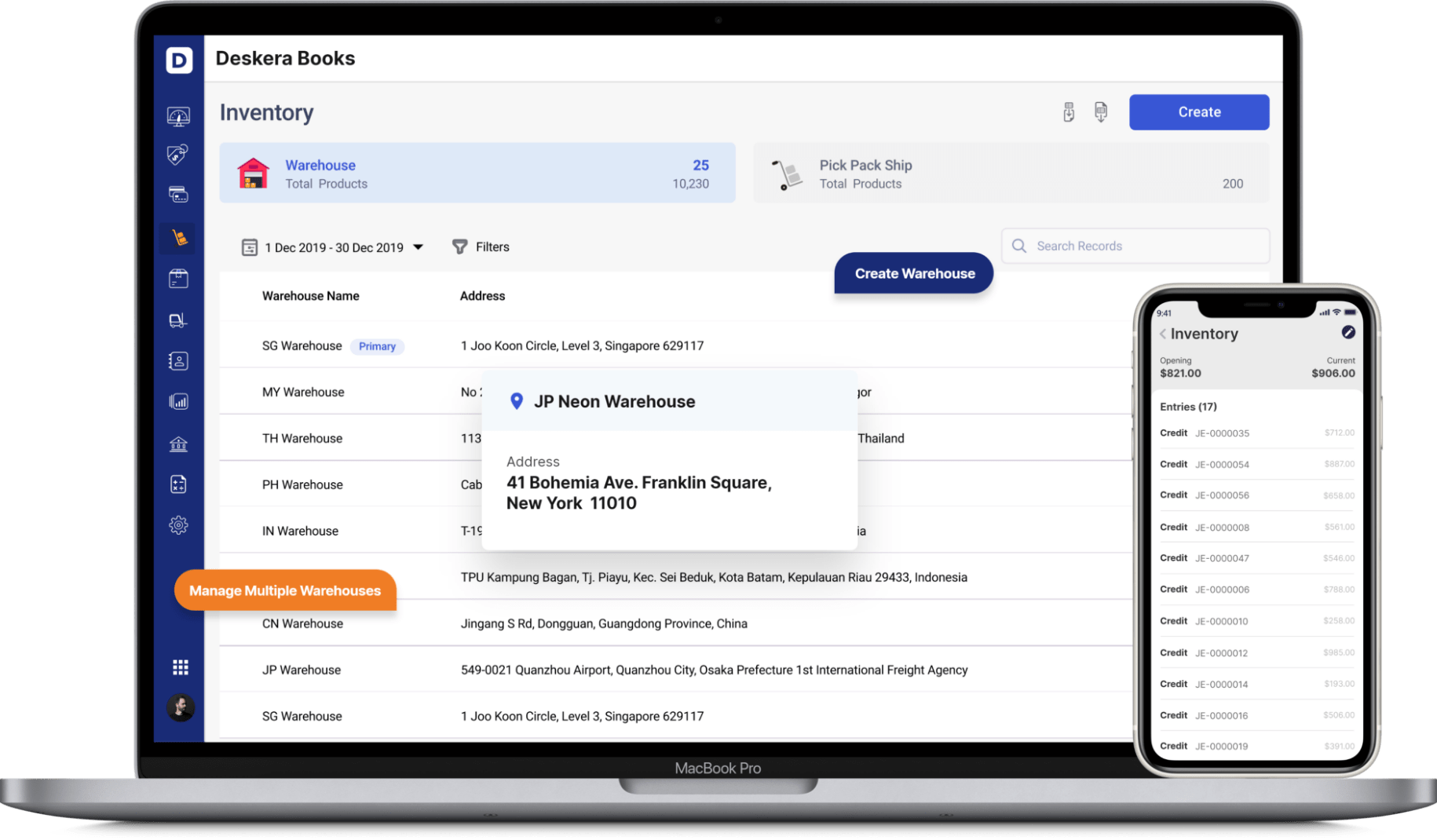 Deskera can also guide you on a variety of subjects such as management accounting principles, inventory valuation techniques, and understanding Tangible and Intangible Assets. With the all-inclusive software from the house of Deskera, you'' find it more convenient to manage your customers and generate more revenue.
Deskera CRM is a simple, fully-featured platform that can help you with contact and deal administration, sales pipeline management, email marketing campaigns, to name a few. You can generate leads for your business by creating email campaigns and view performance with detailed analytics on open rates and click-through rates (CTR). Deskera CRM is an easy-to-use platform that will assist you in contact and deal management, sales pipeline, email marketing campaigns, customer support and ticketing management to mention the important ones.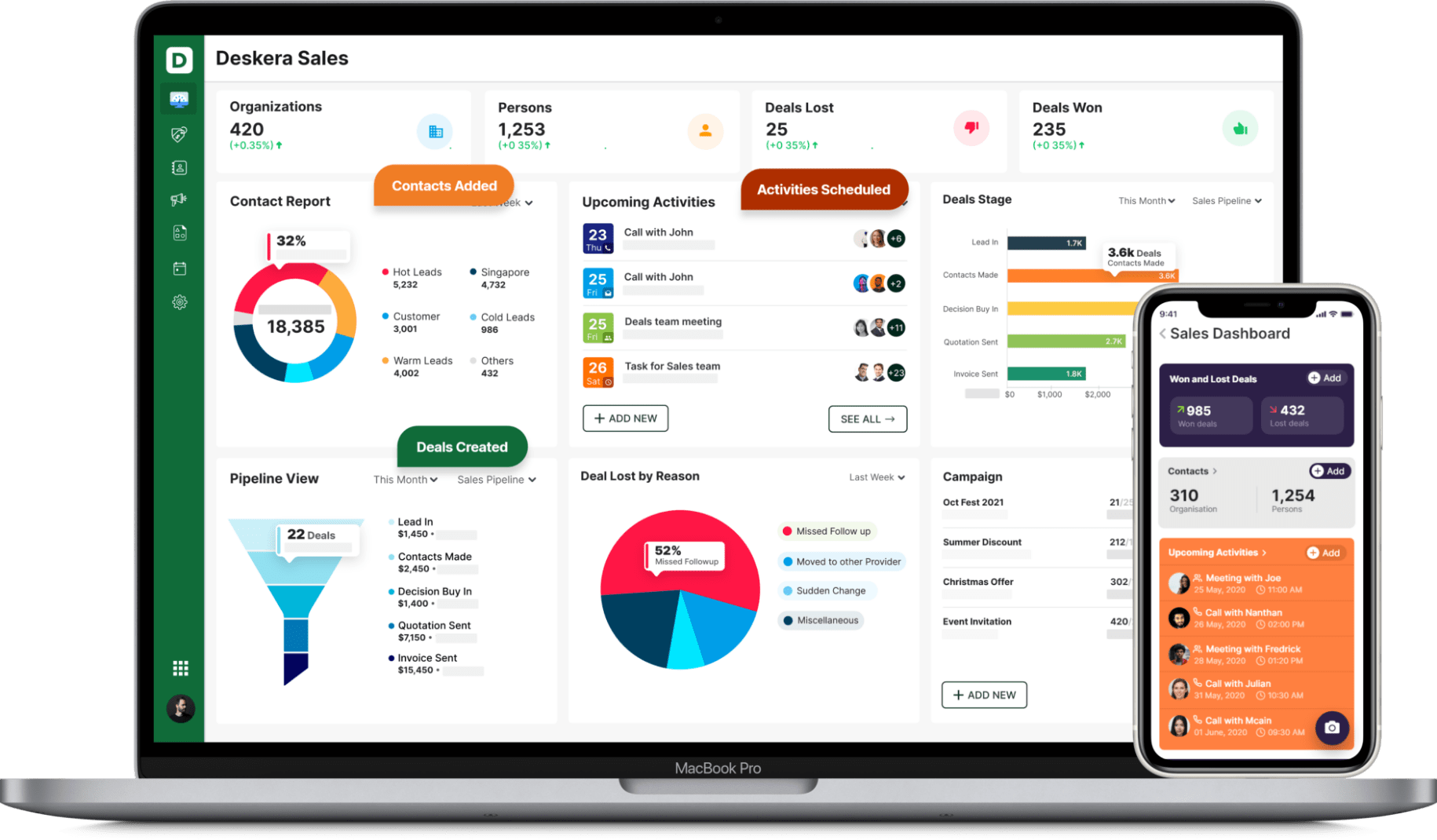 Deskera is an all-in-one software that can overall help with your business to bring in more leads, manage customers and generate more revenue.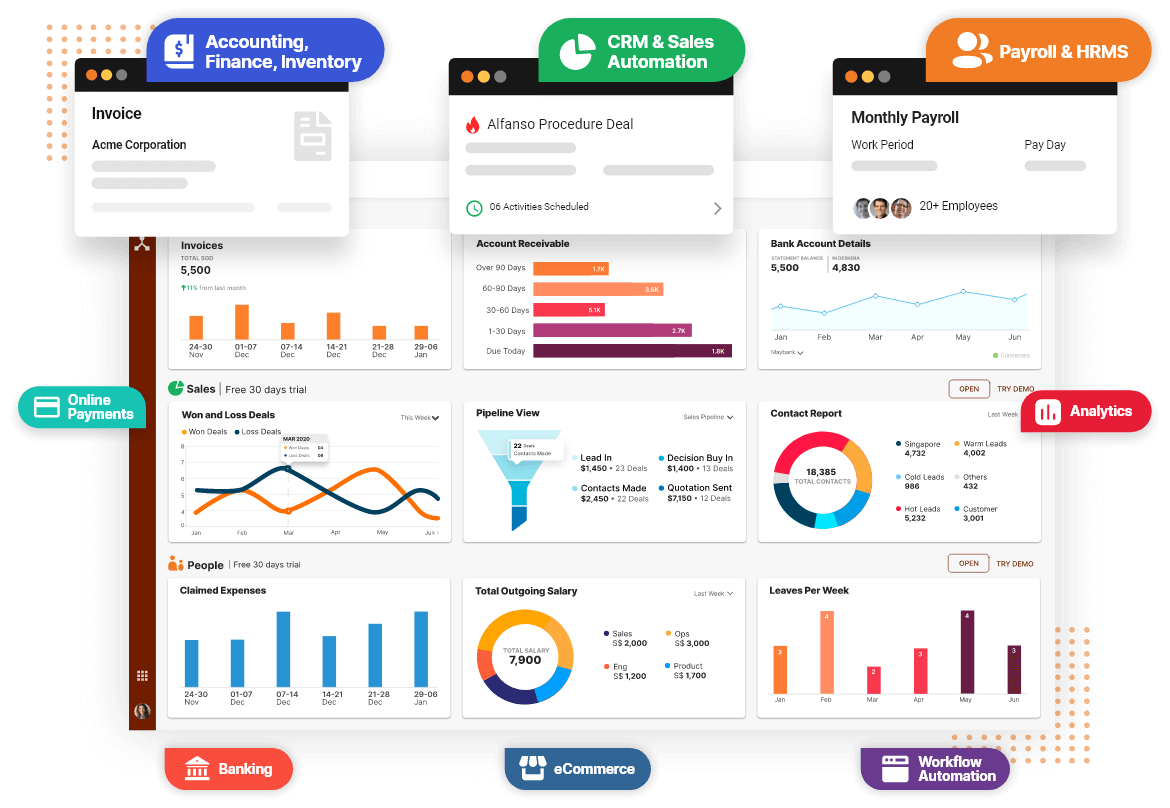 Deskera platform enables you to keep track of online-knowledge-base in real-time and optimize your content to transform your business tremendously.
It is easy to manage a knowledge base using software such as Deskera. With Deskera Books you can update all the information related to your products in real-time and make sure you are not missing out on anything.
Key Takeaways
Here's the quick-pocket summary of what we have covered so far:
A customer service knowledge base is a published collection of informational guides where customers can self-serve to solve their queries.
Customer Service Knowledge base connects customers to get the right information on how and when they demand it.
Benefits include reducing resources & costs, enhances customer trust, boosts efficiency, and provides quality.
Create knowledge base: - Research & compile -Develop structure, - SMEs, - Improvement
Choose topics with specific keywords and phrases that customers search.
Follow 7 steps to building a top-quality customer service base:
Understand audience
Various relevant voices
Optimize content
Consider feedbacks
Frequent updates
Add value to the content
Software tools
Implementing an online-knowledge-base would effectively help to reduce the excessive workload of your customer service agents
---
---