Companies today are going beyond selling the product to their consumers; they are now selling their company culture. To maintain their company culture, the foremost aspect is the well-being of employees- Human Resources.
Human Resources has transformed over the years considering the changing employee behavior and the competitive market. Employees are no longer just looking for a good salary package; they are also looking for positive, productive company culture.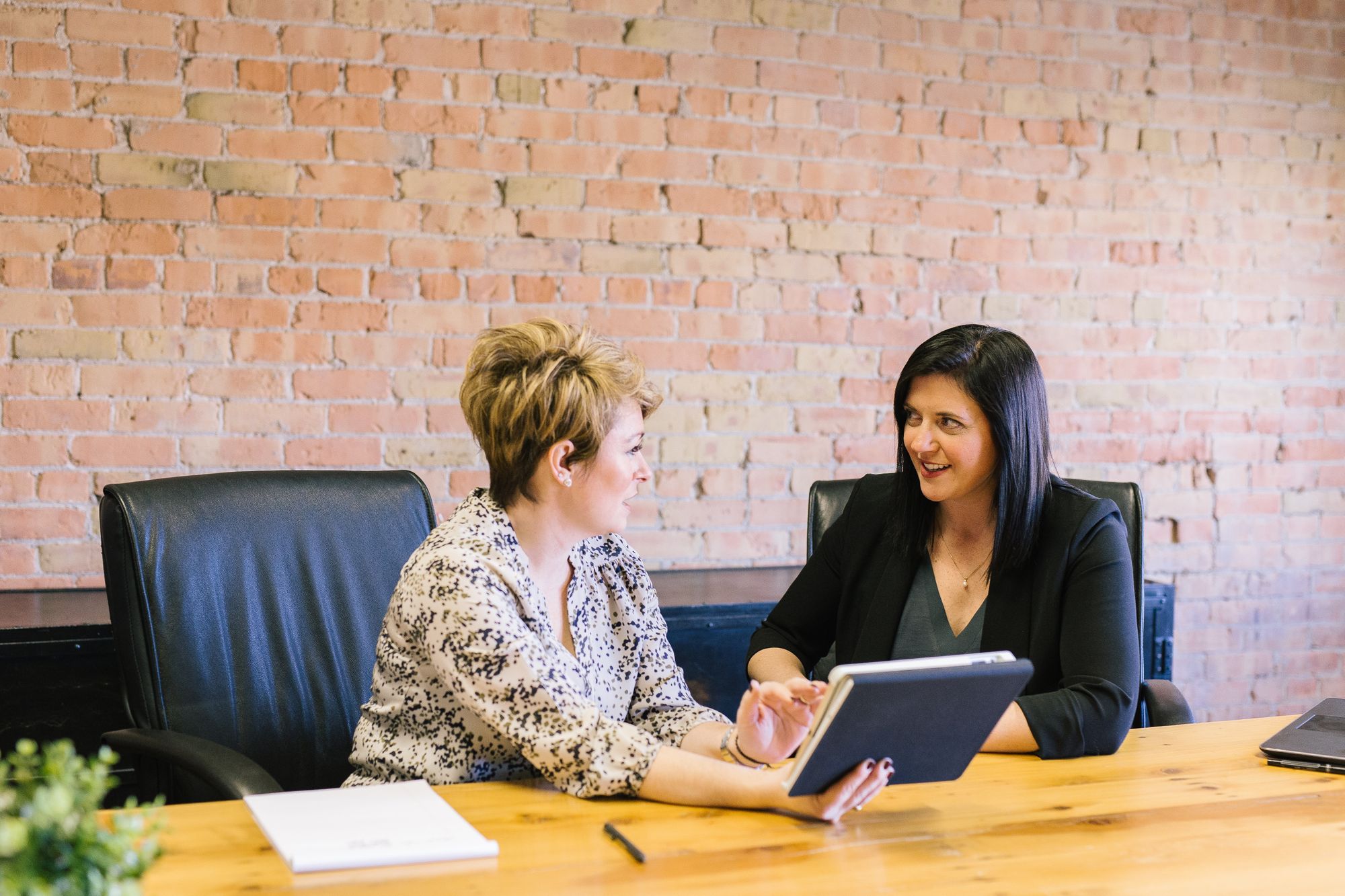 Keeping this in mind, companies have put together an automated system that allows all the human resources on one single platter, accessible to all the employees. This computerized system is popularly known as HRMS (Human Resource Management System).
Technology today has made everything possible, isn't it? HRMS is one such result of technology making employee management possible. A technology that you will know everything about by the end of this article.  
In this article, we shall discuss everything about HRMS covering:
What is HRMS?
Key Features of HRMS
Functions of HRMS
Importance of HRMS
Five fantastic benefits of HRMS
How to safe proof your HRMS
How to choose an HRMS?
Let's get started!
What is HRMS?
Human Resource Management System is an HR software that is a single system for different HR processes and procedures. This system aims to make employee management an easy task and improve employee performance.
To ensure the same, HRMS mainly focuses on smooth flow and management of data, human resource activities, and other business processes. An HRMS is a great way to understand your workforce, what developments to make in a company and how to strengthen company culture.
Considering it is an automated system, there is very little human intervention which means that the Human Resources team has less on their plate to manage. Moreover, it is designed for self-service.
The employees no longer have to keep running to the HRs to get a glance at their insurance claim laws, leaves left, bonuses, additional perks, and so on. There is one system accessible to all the team members.
Now that we have a gist of what HRMS is let's get into the depth of it and look at the critical features of HRMS.
Key Features of HRMS
HRMS is not your basic human resource management system; it is everything you need to manage your workforce or run your team. Here is a list of HRMS key features that will help you believe why HRMS is a must-have.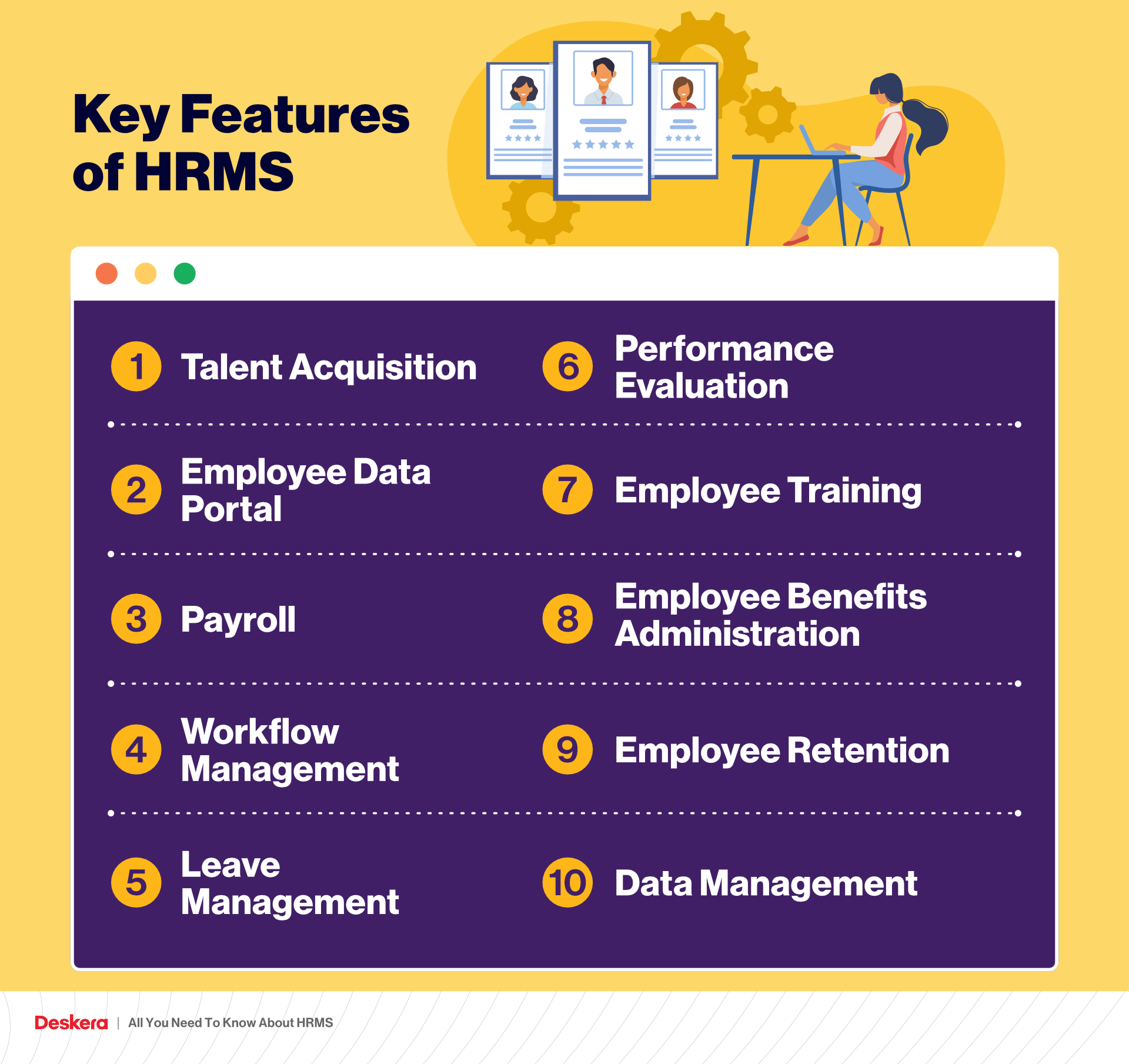 Talent Acquisition
The HRMS system can computerize and streamline an information investigation on employee positions and pitch the proper compensation. The computerized enrollment module of HRMS makes employing systems quick with simple to plan formats and circle back to enlistment.
In addition, an Applicant Tracking System (ATS) can at the same time acknowledge or reject candidates dependent on set rules. What's more, this expands the turnaround time as well as saves costs.
The company's hiring team can fabricate career pages on the company website, announce job role requirements and demands, oversee positions, and coordinate open job roles with worksheets and study resumes.
The system can also track candidates through the enlisting interaction, broaden bids for employment, perform verifications, direct pre-business screenings and make employment form structures.
Before the employee is presented before the recruiter, the basic formalities will be all done via the system.
Employee Data Portal
HRMS can coordinate and store monetary information. The kind of representative information like their positions, worker records, begin working date, compensations, protection plans with banking and duty subtleties, taken care of time alternatives, and so forth becomes fundamental when organizations get to a particular scale. Additionally, such a gateway permits approved people to get to their records progressively, so HR doesn't have to administer such things and save time.
Payroll
A payroll is to compute and pay compensations, retain the suitable charges and allowances, and put together the printing and conveyance of checks.
It effectively handles all companies for pay and benefits, including compensation, remittances, and additional time rates in an association through its apparent formulae. It can decently be called quite possibly the essential highlights of HRMS programming. Mechanizing finance gives clear benefits, including:
Simple admittance to pay and reward/extra information.
Less requirement for manual information input (if the data is in a framework, the finance programming can get to it, guaranteeing single info).
A decrease in staffing time and overheads.
A planned methodology doesn't depend on an assortment of information bases, records, and bookkeeping pages.
Workflow Management
Workflows permit organizations to computerize the majority of the redundant, standard assignments that drag down the effectiveness of HR executives. The framework empowers sending computerized notices to all members to keep them educated. By examining the information, HRMS decreases the huge expense factor related to manual paper-pushing.
It likewise audits the representatives' work, commitment, meeting assumptions, requesting input from colleagues, and investigates the set destinations. This can be tedious work, yet working with information assortment, abbreviated interaction cycle, and consistency can hugely facilitate your life.
Leave Management
The thick envelopes in storerooms, where many resumes are recorded, are supplanted by ATS — Applicant Tracking System. It computerizes the way toward looking for competitors, permits you to assess the adequacy of different enrolling channels, and chooses what functions admirably enough and where it is wiser to coordinate different endeavors and assets.
One of the absolute highlights of the HRMS framework that other programming stages don't give is participation in the board. With no problem, HRMS controls non-attendance and regulates assignments like leave qualification, leave encashment, the complete number of leaves taken and the equilibrium left. Non-attendance is a fundamental vital component of the HRMS capacity to assess work fulfillment.
Performance Evaluation
HRMS proficiently improves on the evaluation cycle by bringing KPAs and KRAs into responsibility. It gives more straightforwardness and impartial yield of participation and timeliness of each worker. With an individual usefulness track, information the executives becomes compelling and further develops abilities using preparing and improvement.
Employee Training
With the advent of technology,  with the development cycle that keeps evolving =, each worker needs to update his/her range of abilities. HRMS distinguishes this hole of abilities and guides in dealing with representatives' preparation prerequisites and screens the tremendous expense needed for preparing and advancement.
It is also anticipated that AI in HRMS will become a fundamental device for further developing learning, consistency, competitor appraisal, and holding new information and abilities.
Employee Benefits Administration
HRMS allows HR specialists to expand plans, arrange qualification rules, oversee representative remunerations, advancements, and direct installments or stores given by a business to laborers on top of their wages. It likewise offers self-assistance open enlistment and incorporates pay costs with bookkeeping.
Employee Retention
HRMS assists with creating representative enrollment to maintenance systems. On the off chance that the steady loss rate is high in an association, HRMS will uphold the HR Manager with pertinent logical data to come over this issue.
It likewise permits following standards of conduct of every representative, furnishing them with estimates of conceivable leaves. Artificial intelligence calculations, installed in worker input modules, can naturally send worries to HR and even propose conceivable arrangements.
Data Management
Investigation and archive the executives assist with examining data continuously and settle on better choices, including:
Representative disposition observing
MIS Reports
Messages
Pictures
Messages
Electronic archives
Electronic records
Archives sharing
7 Major Functions of HRMS
Modern-day HRMS can do a lot in your human resources department of the company. However, there are some significant functions of HRMS that you cannot unsee but enjoy. Here is a list of what these functions are and how it makes HRMS a master that can do it all.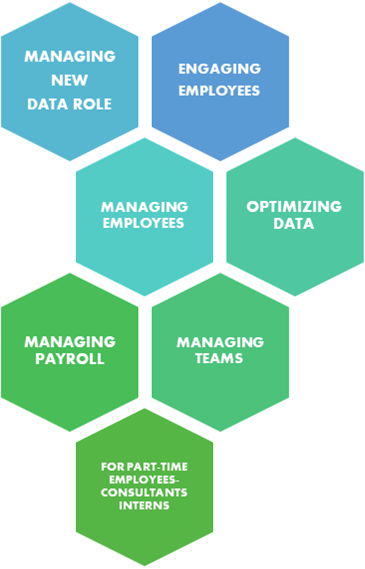 #1 Managing New Role Candidates
Relates to business offers to competitors and how you elevate your image to both the rest of the world and current representatives who might wish to go after inside positions or make references. Essential for organizations for which the competitor experience is an essential worry from applying to continue the board to talk with planning to make offers, right through onboarding.
#2 Engaging Employees
In general, individuals who are more drawn in will deliver greater work and completely embrace the organization's qualities and execute its vision, so how a representative associate with initiative and partners is significant. Frequently, the HRMS is the course to finish an instructional class, procure another expertise, foster a lifelong way, acquire acknowledgment or become a tutor.
#3 Managing Employees
HRMS Delivers a focal entrance to help investigate, announcing, and consistent measures. It's the place where you structure your labor force into authoritative units, similar to offices or areas, characterize revealing connections among chiefs and representatives, and adjust finance to bookkeeping cost focuses.
It's here where individual data is recorded and kept up with. This capacity is simply the foundation of endeavors to offer worker self-administration, boost revealing and further develop HR administration conveyance.
#4 Optimizing Data
Gathering data from the HRMS to foster a dream for the future labor force is an essential selling point. It's likewise the most un-used capacity of a run-of-the-mill HRMS. The genuine worth of this capacity, as a rule, goes to the front with a consolidation or procurement, sharp monetary swings one or the other way, or when chiefs exit.
Organizations that adopt a proactive strategy to advancing the labor force are stronger to change, have higher maintenance of top ability, and have better worker commitment.
#5 Managing Payroll
This is one of the prime functions of HRMS that makes it so powerful. It figures out profit from gross profit to net or net to gross, and retaining special allowances and giving installments can be made similarly as standard as paying the lease. Finance capacities include advantage decisions and both worker and boss expenses.
Full-administration finance arrangements additionally mechanize charge documenting and stores. Self-administration capacities permit workers to make changes to elective derivations, direct store records, and duty retentions and recover duplicates of acquiring explanations without HR help.
#6 Managing Teams
HRMS enables the HR teams to track employees' turn of events, director assessments, and disciplinary activities, record time and participation, and guarantee that the organization gives a solid and safe workplace. This is likewise where pay arranging, execution the executives, learning and occurrence recording capacities live.
HR can create timesheet structures, additional time rules, time-off arrangements, and endorsement chains in a way that augments mechanization, control, and productivity. The worker execution survey measure, complete with objective administration, is set up in this capacity too.
#7 For Part-Time Employees- Consultants, Interns,
Compared to the essential labor force, the executives and fundamental for organizations where few out of every odd worker are all day. Workers for hire, advisors, assistants and impermanent representatives give particular abilities, support neighborhood local area drives or college projects and handle spikes famous for work.
The HRMS doesn't entirely deal with these connections because these representatives are not generally on the finance and usually are not qualified for benefits; however, their work adds to organization achievement. The number of unexpected representatives is ready at some random time and the total expenses.
When you have a reasonable comprehension of what capacities are generally significant, it's an ideal opportunity to dive into explicit highlights.
These are some of the functions taken care of by an HRMS. Now you must be wondering, there are the functions, it's okay, but what is in there for me? To answer this, let's first understand why an HRMS is essential, and we have enlisted some compelling benefits that will help you understand why an HRMS is a must.
Importance of an HRMS
It is essential to have a Human Resource Management System set up so that there is a simple stream and admittance to data and the HR group mainly can stay away from drawn-out and unwieldy desk work.
The size of the association doesn't make any difference; what is essential is how the product is planned to redo your necessities and make working simple.
Many private ventures, new businesses, and developing organizations likewise face difficulties that can be settled in case there is an appropriate HRMS.
While HR consumptions, particularly office space, are in motion presently offered movements to a work-from-home model, organizations should in any case precisely compute work expenses to keep income per representative KPIs current.
Joseph Hadzima, a senior speaker at the MIT Sloane School of Management, assesses that base make good and work duties and advantages commonly amount to 1.25 to 1.4 occasions yearly compensation. In this manner, a $50,000 each year specialist may cost $62,500 to $70,000, excluding land and hardware, similar to PCs and telephones.
In addition, organizations with overstretched HR offices ought to be carrying out self-administration capacities. There's no justification for an HR expert to invest energy in helping a supervisor with routine updates to hours worked, such as assisting representatives with getting to structures like W-2s.
Luckily, precise monetary information detailing and secure self-administration are only two advantages of a cutting-edge HR executive's framework.
Let us look at the benefits of HRMS to take you a step closer to adopting an HRMS.
Fantastic 5 Benefits of HRMS
The primary result of an HRMS has all your labor force data in a focal archive. That brings down consistent hazards, gives a rich informational index to educate dynamic, helps keep representatives connected with, and makes HR experts more beneficial and their cycles more productive.
We should delve into the best five benefits of HRMS.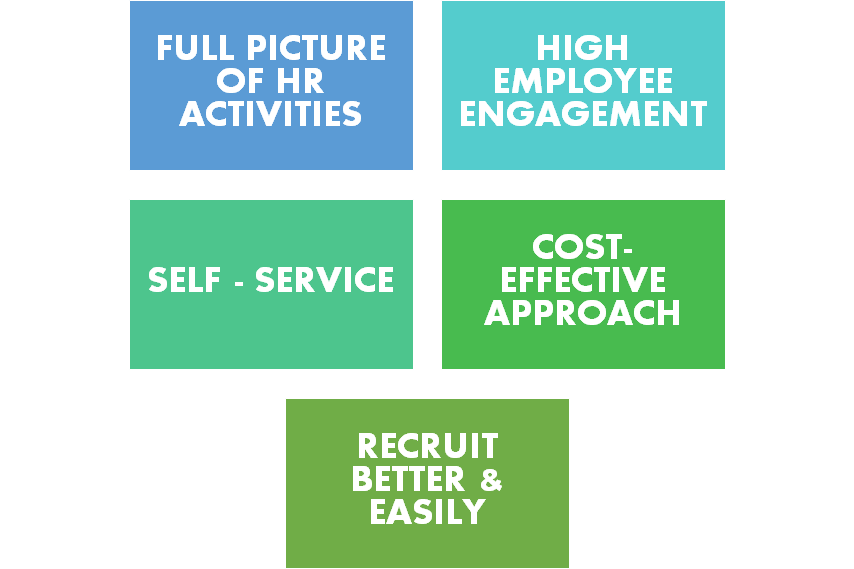 #1 Full Picture of HR Activities
Without an HRMS, representatives and administrators make information in different spots, from accounting pages to discount applications to paper records, making it challenging to acquire a thorough perspective on labor force costs. With an HRMS, all information is in a solitary container, with higher respectability.
That empowers better, quicker dynamics. It's likewise crucial to a labor force arranging and investigation drive. An organization surveys its present labor force and contrasts reality and future necessities as dictated by business goals.
Some vital advantages here are the capacity to recognize and address abilities holes before they hurt usefulness, systematize progression plans and keep an idea about work costs by dissecting what extra time or twofold time installments mean for monetary execution.
With an HRMS, HR groups can likewise spot early markers of issues. For instance, if high-performing workers in a single division leave at a higher-than-typical rate, that may flag a poisonous supervisor. An HRMS can interface spots and help distinguish in-danger employees.
#2 High Employee Engagement
An HRMS is significant in creating and holding ability—something HR pioneers are enthusiastic about. Inside an HRMS, HR can prepare educational programs, customize learning plans and vocation ways and set up mentorships.
Indeed, Harvard Business Review proposes that abilities improvement is of prime significance to more youthful workers and explicitly recommends a coaching program zeroed in on sharing aptitude. Gen Z and Millennial laborers likewise hope to be asked, consistently, about their encounters.
An HRMS can both match senior individuals in a single office or geology with the individuals who can profit with a tutoring relationship, led practically, and convey and arrange worker fulfillment and commitment overviews.
This load of advancement exercises is then followed in the HRMS to perceive improvement achievements. That helps keep workers on target and faithful to the organization.
#3 Empowering Self-Service
Reacting to requests or regulating massive projects, similar to benefits enlistment or execution surveys, can take up to 40% of an HR expert's time every week—and much of the time, people would gladly accomplish that work themselves.
Inside an HRMS, HR can set up an information storehouse so individuals can discover answers to often posed inquiries, and workers and chiefs can safely get to their records, empowering HR to zero in on more worth-added administrations.
Likewise, HR measures that require various degrees of endorsement, such as handling time cards, work orders, and time-off demands, can be significant time sucks. An HRMS gives endorsement work processes to robotizing these and different cycles, so approvers are informed when it's their chance to support (or reject). That can lessen handling time by over half and further develop precision.
#4 Cost-Effective Approach
Suppose you see from an information and technology perspective. In that case, the unified idea of an HRMS—particularly one sold in an entirely cloud-based, programming as-a-administration model—requires less equipment, server farm space, and IT and improvement staff assets for upkeep, backing, and preparing.
This justifies IT uses for HR innovation, needs less support work area staff and by and large works on fulfilling full-time clients of an HRMS, the HR group itself.
#5 Recruit Better and Easily
Drawing in top ability and building your organization's standing as "the spot everybody needs to work" is another region HR professionals are energetic about. The applicant experience, nonetheless, has been to a great extent overlooked because it's hard to acquire knowledge into the pursuit of employment measures when postings occur outside of the organization.
An HRMS takes care of this issue by associating enrollment specialists and competitors electronically through worksheets and portable applications, making the cycle more agreeable and proficient.
These are the compelling benefits of HRMS that you don't want to miss out on. But are you now wondering how secure is HRMS considering the chunk of employee data it carries? While we cannot assure the system's security since every company will have a different type, we can certainly guarantee you a few ways you can make it safe to prove it.
How to Safe Proof Your HRMS
Like we mentioned before, your HRMS knows it all. Every employee detail is in your HRMS. Considering it carries all the personal and professional information, it needs to be safe and secured. So, let us see some of the must-haves of an HRMS to keep it safe.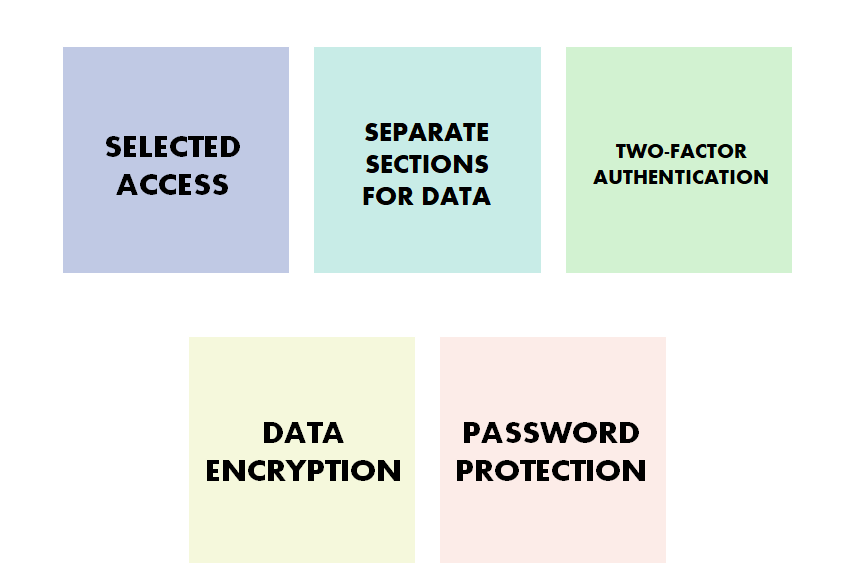 Selected Access
HR staff requires unexpected rights compared to the remainder of the labor force in light of current circumstances. Administrators ought to have the option to play out certain errands, singular representatives, others that identify with their information. The HRMS ought to take into account every one of the jobs you need to oversee supporters.
Separate Sections for Selected Data
The HRMS should be set up to be specific simply by specific individuals or jobs. Indeed, even inside the HR division, a few organizations have conveyed security conventions to furnish HR experts with admittance to just the fragments of the labor force they serve. Regularly, chief payrolls are isolated into particular bookkeeping substances to secure that data.
Two-Factor Authentication
The broad selection of cell phones makes it a lot simpler to empower two-factor validation innovation for an additional degree of safety.
Data encryption
Data encryption changes over information from a coherent, plaintext design into a cluttered, encoded design: ciphertext. Clients and cycles can just peruse and handle encoded details after it is decoded. The decoding key is confidential, so it should be secured against unapproved access.
All staff information should be encoded while still in the HRMS and on the way to the end client.
Password Protection
Password security permits you to ensure your informational collection by doling out it a secret phrase. Another client can't peruse, change, or erase your informative index without knowing the password.
IT ought to have the option to require specific secret key lengths and intricacy and determine reset periods, as regularly as like clockwork, to assist with forestalling unapproved admittance to HRMS data.
We hope this helped you understand how to safety proof your HRMS. Now that you have gathered all that you need to know about HRMS, you are convinced to get one for your company. We have a checklist on how to choose your HRMS; let us take a look.
How to Choose Your HRMS?
To guarantee the complete computerization of the HR measures and try not to overpay for capacities and highlights that will not be utilized, it's reasonable to begin with deciding your human asset objectives and technique and setting aside the effort to explore existing HRM frameworks.
To pick the HRMS that can bring your HR division boosted benefits, you can make the accompanying strides before settling on a buy choice. Here we have a checklist for you.
ERP
ERP, or Enterprise Resource Planning, suppliers have combinations incorporated into their other business applications, such as bookkeeping, CRM, and obtainment, so you get the advantages of centralization, such as contributing a worker record just a single time. With lower mix costs, the ERP model can give a more steady client experience. You get a solitary security, which is why 95% of organizations report measure enhancements in the wake of carrying out an ERP.
The drawback to the ERP class is that you will not generally discover the profundity of highlights an HRMS expert offers, so you might have to do a few assignments, such as running finance, yourself. UIs can likewise be less easy to understand. More a bookkeeping interface than a customer-grade web-based media experience.
Pick the Best Providers
Work in one to three regions (once in a while a greater amount of) an HRMS. They offer more element profundity with less complex UIs.
The drawback to best-of-breed suppliers is they generally can't give a whole start to finish HRMS framework. There are add-on costs if you need incorporation with different frameworks, such as bookkeeping. The framework may not develop with your organization, so get some information about adaptability.
Service Providers
Specialist organizations offer a completely reevaluated arrangement. An organization pays a supplier to finance, document charges, control benefits, keep the HR office agreeable, and send information into bookkeeping so HR-related costs can be remembered for financial reports.
The specialist organization goes about as your HR office, requiring fewer HR experts to utilize your organization.
Such administrations come at a higher month-to-month cost, can be hard to leave, give you less authority over your HR information and measures and bring higher incorporation costs.
Looking at this checklist, we are sure that Deskera will be your best HRMS to go for. Let us see how and why.
Deskera HRMS
Deskera HRMS is all in one; it has many functions that will come in handy. Some areas are common as other HRMS and some that you have probably never heard of but can do wonders for your company.
To start with, you have excellent payroll software that will ease out the payroll process of your company. And the best part of the Deskera HRMS is you can do it in just three steps. Simply add employees to the system, select the amount to be paid, and pay them off.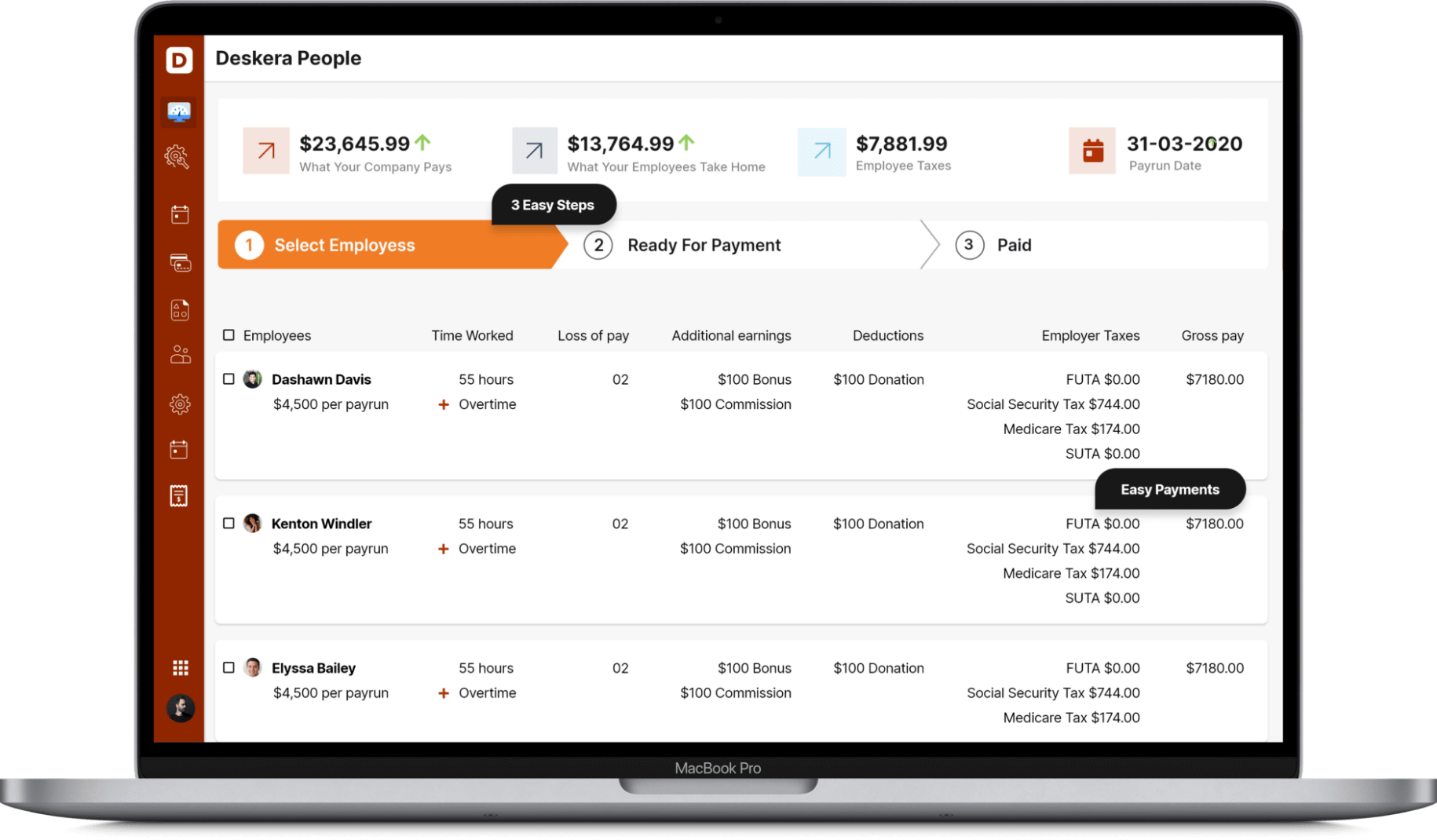 Secondly, all you need to do is access one dashboard, and you have all your employee information aligned together. The People Dashboard depicts all the pertinent information like the cost of the previous pay run and estimates of the upcoming one.
It also illustrates the year-to-date cost in a graphical interface. The calendar embedded in the Dashboard helps you identify the upcoming pay run dates for you to take action.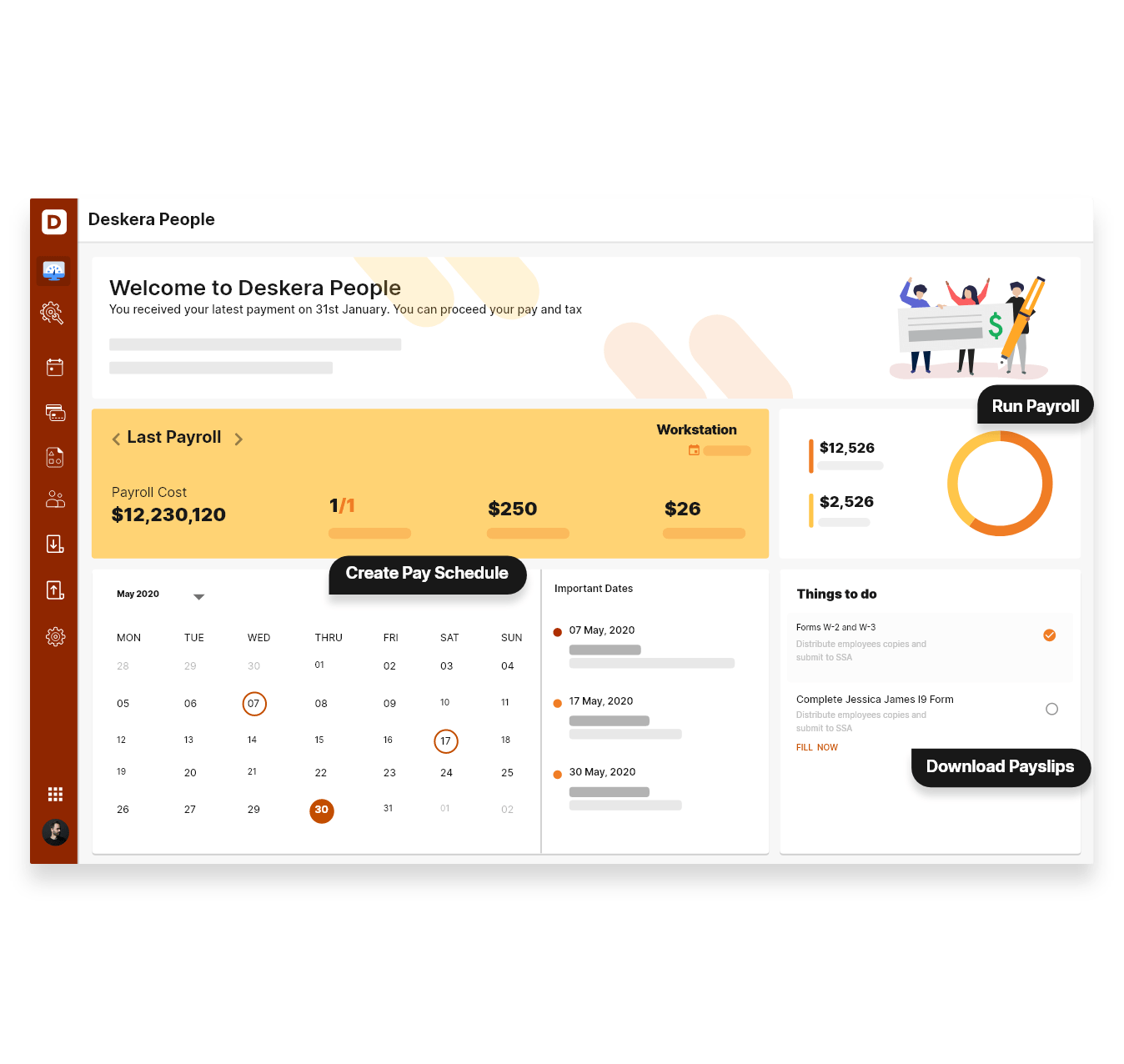 With Deskera, you can also add and deduct salary components easily without much hassle. Simply set up employee bonuses, voluntary deductions, taxes, and so on.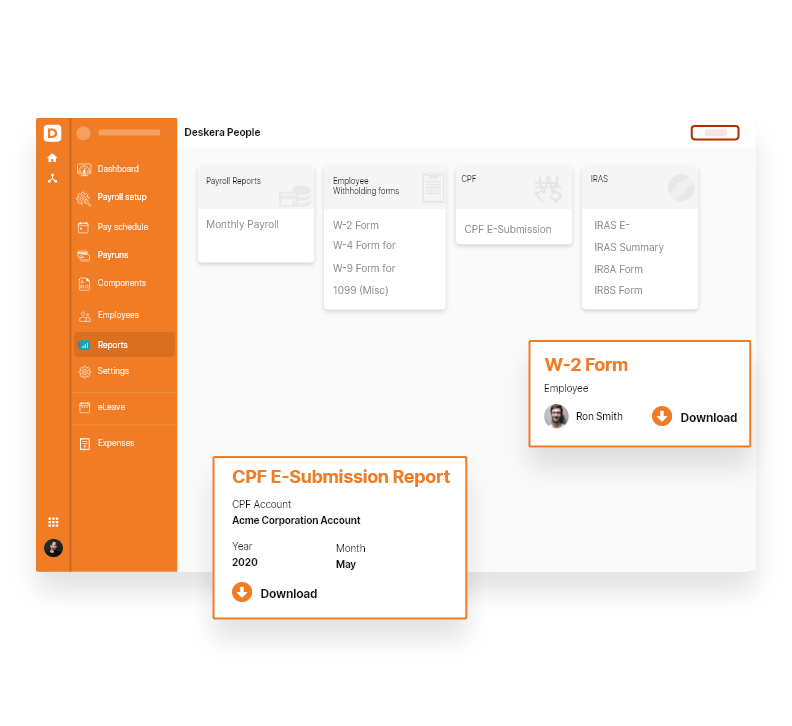 Deskera also develops extensive reports on your payroll, taxations, and all you need to know about your company. As a result, you are always prepared for any inspections taking place or if you have to go through any specific information.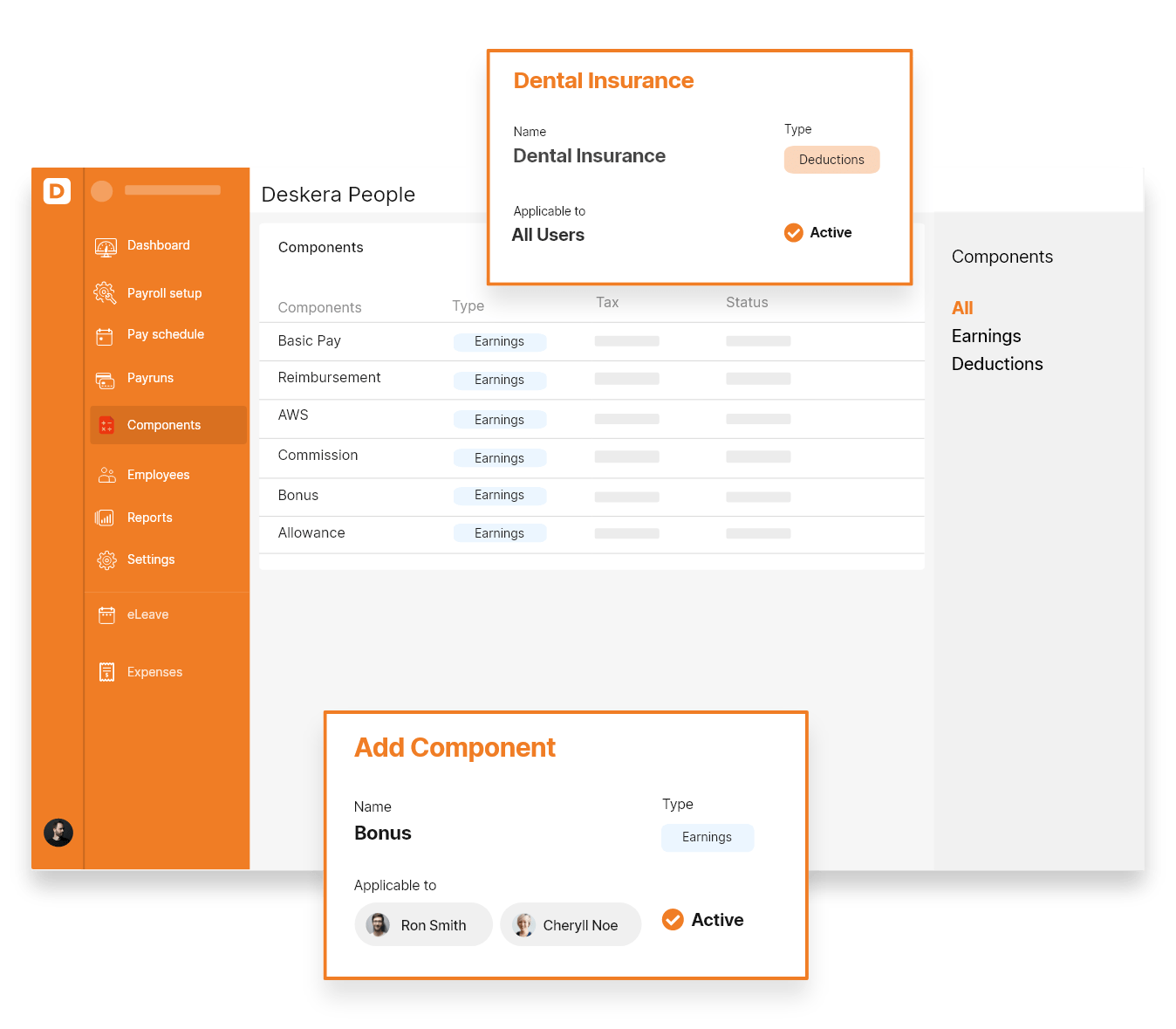 Key Takeaways
Human Resource Management System is an HR software that is a single system for different HR processes and systems.
Talent acquisition, employee data portal, workflow management, leave management, performance evaluation, employee training, employee benefits administration, employee retention, and data management.
It is essential to have a Human Resource Management System set up so that there is a simple stream and admittance to data and the HR group particularly can stay away from drawn-out and unwieldy desk work.
HRMS functions will make your life easy, managing job role candidates, engaging employees, optimizing data, managing payroll, managing teams, and part-time employees like the interns and consultants.
HRMS has some compelling benefits like It will give you a full picture of HR activities taking place, high employee engagement, self-service, cost-effective, and you can recruit better talent easily.
It is important to safe-proof your HRMS, and you can do it by keeping a few things in mind. Give selected access, have separate sections for selected employees, have two-factor authentication, and password-protect your system.
To pick your HRMS, make sure you have ERP; you must pick the best providers and have service providers.
Choose Deskera for a one in all system, which is affordable but easy to use, especially if you are a small or a mid-sized company.
We hope this article helped you understand all you need to know about HRMS.
Related Links
If you found this article helpful, the following articles will be a good read too.



---
---