Planning to start your own business?
But doesn't have resources, inventory, or capital to invest in products?
No worries, Dropshipping has your back!
Dropshipping is a unique eCommerce business model that offers freedom from traditional selling methods. Moreover, you can run your business without having any inventory or warehouse, handling, and shipping.
Let us guide you through this comprehensive article that thoroughly covers dropshipping suppliers, working, supply chains,  sourcing, benefits, disadvantages, and frequently asked questions.
Let's dive in.
What Is Dropshipping?
Dropshipping is a retail fulfillment process to sell products where businesses can run without inventory.
Simply put, Dropshipping helps to sell products online without actually having products in your hands. All you require is your PC, a basic understanding of the market, and an online store.
The first and foremost thing is to research and find the products you want to sell from a supplier. Then, list them on your website and set up the price for those products. Further, your customer will pay you for your set retail price and you earn your profit. Next, you place an order to the supplier at their wholesale price. Lastly, the product will be shipped directly to your customer.
How Does Drop Shipping Work?
There are three crucial aspects related to the working of dropshipping. Let's study them:
1. Supplier: First, you need to find and seek a trustworthy and genuine supplier or wholesaler. A high percentage of your business depends on suppliers therefore make sure you find the right ones for your business. They will primarily be responsible for order fulfillment and physical inventory.
2. Website Store: You need your website where customers can explore products before ordering the final purchase. Your website store is the actual eCommerce space. Make sure to upload the product catalog that includes clear images, error-free descriptions, and item details. You may find certain eCommerce platforms that would work perfectly for you.
3. Your Customers: When customers place orders on your website and you receive the payment. Then, you will place the order to your supplier and they will directly ship the product to your customers.
How to Find Dropshipping Suppliers
The solid foundation of your business mainly depends on the genuine and right suppliers.  However, finding dropshipping suppliers is also a time-consuming task and also crucial to have them for your business. There is a certain range of ways from phone calls to directories to find suppliers.
Here's a quick note-worthy point on how you can find dropshipping suppliers:
1. Attend Local Trade Shows
It is the best way to locate legit suppliers and wholesalers for your dropshipping business. Even though tickets might be expensive, they will be worth it. Interestingly, trade shows offer you to connect with potential suppliers and network with other businesses. Apart from networking, you can also learn about certain industries, best practices, special deals, dropshipping product ideas, and more in trade shows.
2. Online Directories
Another way to locate suppliers is through online directories. You can find a database of suppliers based on different niches, industries, and markets. Moreover, online directories also confirm the legitimacy of these supplies because they have their screening process. Some of the free and popular sites to look for suppliers include Alibaba, Brandsgateway, Kompass, SaleHoo, Doba, Bambify, AliDropship, and more.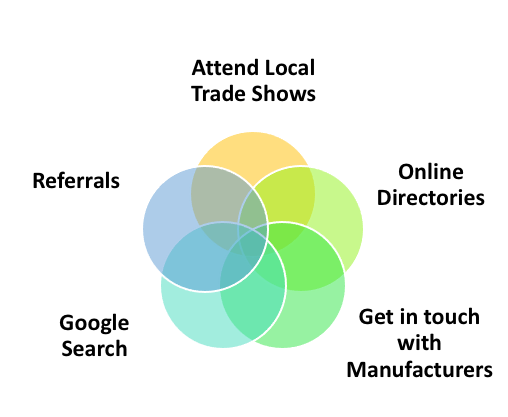 3. Get in touch with Manufacturers
Product manufacturers are a great source for your business. Also, dealing with a direct manufacturer would help you to acquire the lowest price rates of products. Plus, you can ask them for a distribution list that will help you to achieve fewer supply chains to get lower prices. Further, it provides you access and an edge to become more competitive in your costs.
4. Google Search
Conduct a Google search to find your supplier. However, make sure to use the right specific keywords to locate them such as wholesaler, supplier, distributor, and so on. Also, narrow down your search and explore beyond the first page of Google searches.
5. Referrals
This method works wonders. Get referrals from people who are reliable and trustworthy. Networking with your family, friends, and so on could lead you to the right supplier or wholesaler for your dropshipping business. Plus, they help attest to their legitimacy and reliability.
Top Dropshipping Suppliers
Now you might have understood how important it is to find dropshipping supplies. So, let's learn about the top 5 dropshipping suppliers:
1. Oberlo
It is an amazon dropshipping platform that helps to find amazing products for online selling. Also, with few clicks offers access to millions of products to sell. You get access to a wide range of products varying from electronics, fashion, to other top trending products. It has a couple of interesting features. It includes automatically calculating profit margins, monitoring inventory levels, fulfilling tracking orders, shipping status, delivery performance measures, and more.
Moreover, Oberlo offers certain shipping methods such as DHL, FedEx, Ups, AliExpress, and more. Interestingly, you can use the free plan forever with Oberlo dropshipping. Oberlo offers free sign-up, with paid plans starting at $29.99/month.

Location and shipping options: Oberlo connects you with suppliers in various locations around the world. Each typically offers several shipping options for sending products to your customers. You can find what shipping methods a supplier uses on each product page in the Oberlo app. Oberlo has a forever-free Starter plan. However, to unlock shipment tracking and order fulfillment monitoring (which I recommend) you'll need to upgrade to the Basic plan at $30 per month.
Suppliers have warehouses in various locations, so shipping times and costs can vary depending on the countries you target.
Product types: You can find everything including bracelets, antiques, car parts, wedding supplies, sunglasses, furniture, and more.
Recommended for: Both beginner and veteran dropshippers.
2. MegaGoods
Based in California, MegaGoods is a spectacular dropshipping platform that has over 2000 electronic goods. Also, it is a perfect option for low-cost niche options. You can avail 30-days free trial method and then their general cost includes $14.99/month. Also, there is a fee of $1.50 for each order that your website gets.
This wholesale dropshipper specializes in electronics and has an inventory of only 2,000 products. Despite its low inventory and lack of other features, this is a low-cost option that could be right if you are interested in specializing in certain product categories.
It has one of the most minimal monthly expenses of the services you would require. It just has one plan, however. It additionally offers a 30-day free trial period, which gives you some time to consider whether this is the assistance you need to use.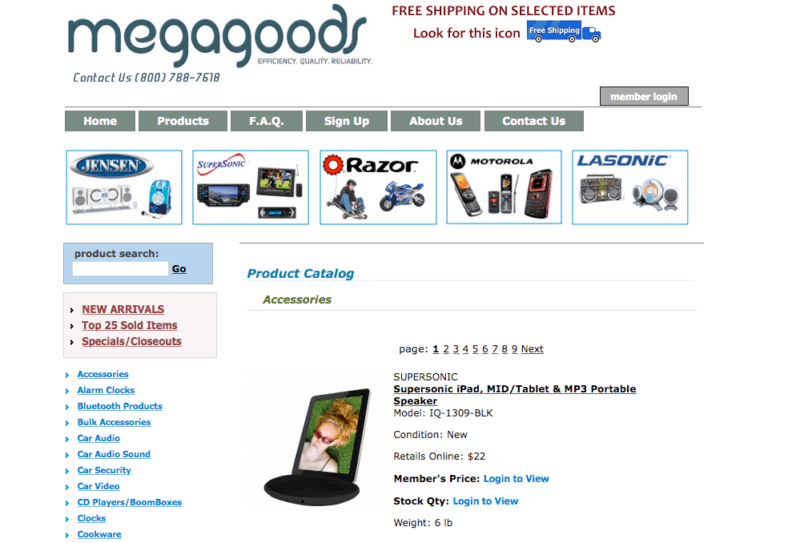 3. Wholesale2B
This supplier system allows selecting from millions of products that are offered over more than 100 suppliers. You can sell them on certain popular eCommerce platforms such as eBay, BigCommerce, Amazon, or custom websites. This supplier system allows selecting from millions of products that are offered over more than 100 suppliers. You can sell them on certain popular eCommerce platforms such as eBay, BigCommerce, Amazon, or custom websites.
Having access to over one million products in one central location is a great start. Where Wholesale2b really rises to the top is its unlimited order processing feature.
On average, a fee for processing an order is between $2 and $5—sometimes more depending on other variables. If you go over your plan limit, that can be a big financial burden. If you are growing your operation, Wholesale2b will save you a mammoth amount of money every year.
You don't have to sign up directly with each individual supplier and you can manage all of your orders from a single account dashboard.
Once you sync your website, all orders are automatically gets imported to Wholesale2b. This makes it easy for you to process everything without manual input on your part.
It also helps reduce human error and saves you a ton of time you would otherwise spend bouncing back and forth from software to software.
Wholesale2b offers various apps that are compatible with different ecommerce platforms, including Amazon, Shopify, BigCommerce, and eBay, giving you full platform compatibility.
Their paid plans are incredibly affordable. Pricing depends on the platform you want to use:
Shopify, Weebly, BigCommerce, WooCommerce, & Ecwid – $29.99 per month
A dropshipping website (with hosting) – $39.99 per month
Amazon, eBay, Facebook, & Magento – $37.99 per month
And fulfillment is handled with all paid plans, as well as automated inventory updates, tracking codes, and more. So, you won't have to get down and dirty with orders unless you want to.
4. Spocket
This dropshipping marketplace helps retailers to start businesses and connect them with thousands of suppliers. Moreover, Spocket offers interesting subscription plans that also include a free dropshipping subscription.
Spocket is an app that enables entrepreneurs to find high-converting products with quick shipping times. You can choose from a plethora of suppliers who are primarily based in the US and Europe.
With the Spocket integration, you can add Spocket's products to your e-commerce store within minutes. It really is as simple as that.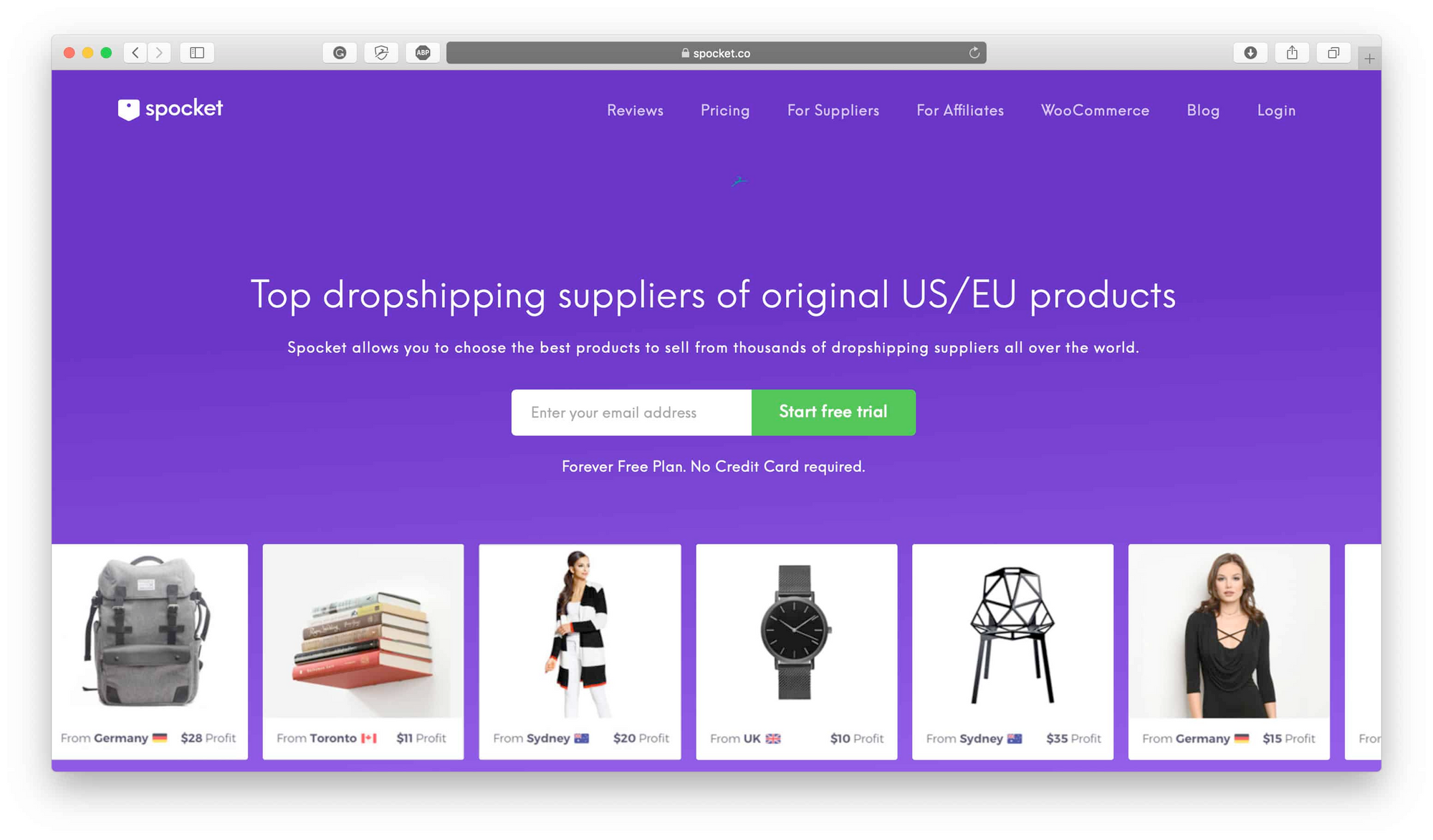 More importantly, Spocket's products come with a 30-60% discount on their standard retail price- which means healthier profit margins for you!
When it comes to practicalities, you will be pleased to hear Spocket deals with both your inventory and order fulfillment. These processes are entirely automated, so you don't need to worry about them. Which means you can focus on more important things like marketing your business and securing more customers.

Spocket is for ecommerce merchants looking to sell high-quality dropshipping products on their online store. All too often, dropshipping products can be low-quality and unimpressive, which usually isn't the kind of reputation you as an ecommerce merchant want to have.
5. AliExpress
It is a dropshipping and wholesale platform connecting products with suppliers. Moreover, this platform offers millions of products in over 40 niche categories such as apparel and electronics. Lastly, you can sign up for free on AliExpress.
AliExpress dropshipping is amazing! Due to this awesomeness, thousands of entrepreneurs all around the world, especially in Europe and the US, are dropshipping with this platform. Here is the breakdown of why AliExpress is awesome:
Low startup costs
As mentioned many times above, one of the main reasons for AliExpress's popularity is you won't need to put up a lot of initial investment to get started.
In comparison with retailing, it can cost you an arm and a leg to set up your store, buy, and maintain inventory. With AliExpress, all you need to invest in is a domain and a Shopify plan.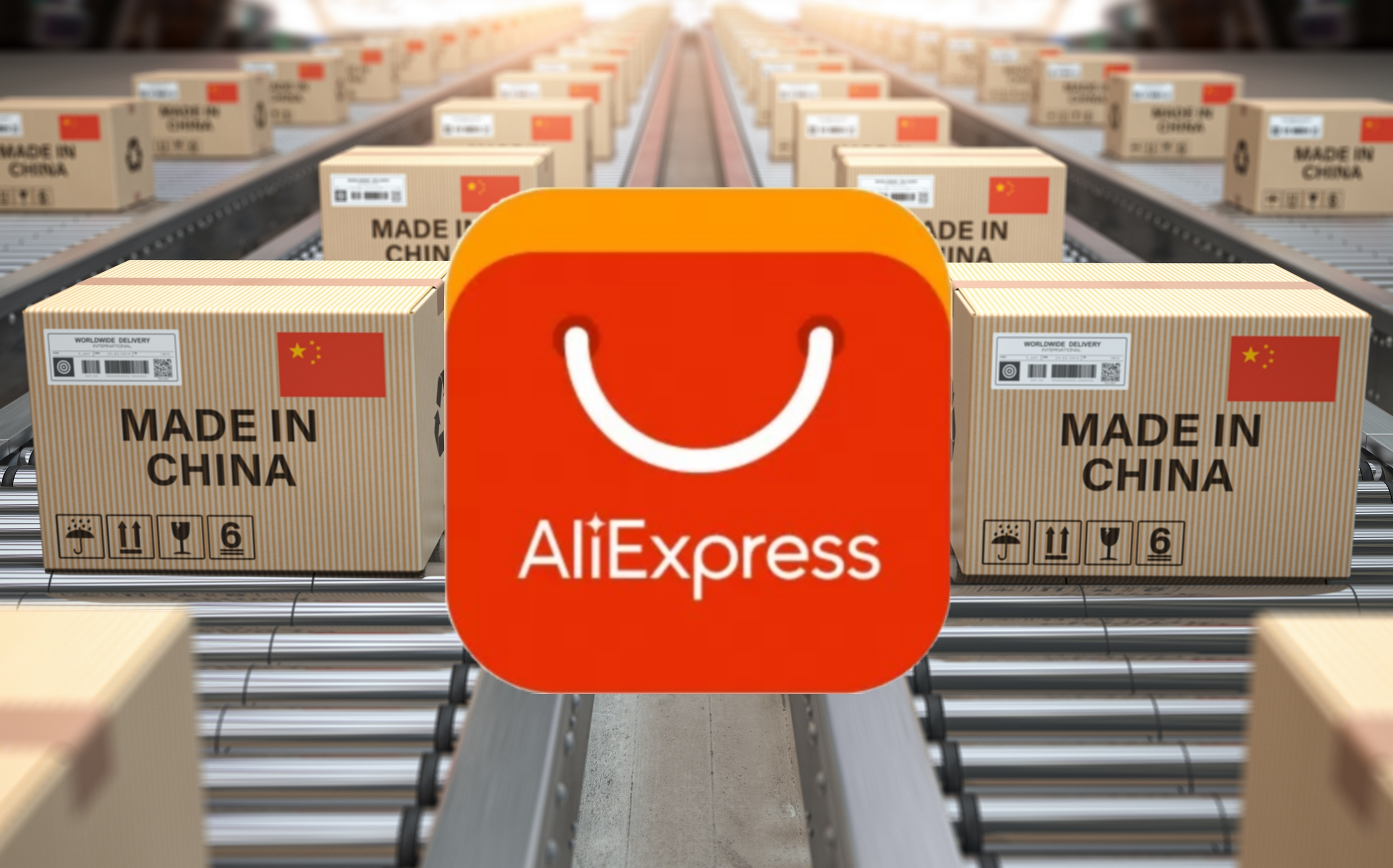 Minimal risk
In case your plan does not work out, and your business fails, there's not much to lose, so you don't have to worry about the risk of losing tons of money. Again, compared to retailing, if you fail, you will lose all of the investment you have put in your inventory. Dropshipping enables you to pay only when you get an order from your customer.
Also, for whatever product you showcase on your store that doesn't sell, you can just get rid of it and replace it with something else at no cost. This will allow you to try tons of products at a time to find out which one works best for you.
Flexible location
With dropshipping, you don't have to operate a brick-and-mortar store, which means you can run your business from anywhere in the world. All it takes is a computer and a stable Internet connection. It's up to you if you want to work from home or on a Miami beach!
No inventory
Buying and maintaining inventory can be really expensive, especially if you want to sell lots of products at a time. With retailing, you will have to purchase a certain amount of stock to get a wholesale price, which allows you to make profits. Imagining that you're planning to sell a dozen products, and each of them requires you to put up $500 worth of stock to get a reasonable price for retail. The total cost of inventory can add up to thousands of dollars very fast.
AliExpress dropshipping completely removes all of this barrier and risk. You can sell thousands of products on your store without a single penny invested in inventory; no warehouse costs, no leftover stock, and no headaches.
Low overheads
Running a retail store involves a lot of fixed costs called overheads such as rent, employee salaries, bills, and many more. With dropshipping, there's barely any overhead costs, and everything you need is already on your computer. If your store grows out of your ability to handle alone, you can hire virtual assistants or freelancers to assist you rather than full-time staff.
Dropshipping Fulfillment: Understanding The Supply Chain
Supply Chain is basically a fancy term used for the process of delivering the product from manufacturing to customers. Technically, it is a controller of the system to maintain efficiency.
Three main applicable parties constitute the dropshipping supply chains. It includes manufacturers, wholesalers, and retailers. The first one creates or manufactures products and sells those products in bulk to wholesalers and retailers. Moreover, they do not directly sell products to customers.
Furthermore, if you buy directly from the manufacturers eliminating the middle parties, you will get products at the cheapest cost. Then, you can resell those products ahead. However, most of them have minimum purchase requirements that you have to meet.
Also, you have to stock and re-ship products when trading products to customers. Due to these obvious reasons, wholesalers come into the picture as it's easier to buy from them.
Furthermore, as already mentioned, wholesalers purchase products from manufacturers in bulk and slightly mark up and sell to the third party called retailers. They further resale products to consumers.
In addition, wholesalers tend to process in a particular niche or industry. A huge count includes wholesalers' processes as they sell to retailers only and not directly to customers. Further, retailers come into the picture as they directly sell products to customers at a markup.
Understand Dropshipping For Retailers
If you have a business that operates purchase orders through dropshipping methods then you are working as a retailer.
Talking about dropshipper, they are the silent part of the supply chain as they have no power over any aspect of the supply chain process. Therefore, monitoring supply chain management is an important aspect to integrate all systems to streamline the process.
Let's break this process into two parts. One is a wholesaler who deals with logistics and products. And, the other is dropshipper who deals with sales, marketing, and customer service.
To avoid any disruption in the process, the supply chain model works as a medium in these processes. It allows dropshipper to monitor inventory, sales and analyzes market demand. Then, the obtained data helps the wholesaler to improve its production efficiency and order fulfillment will stay apt.
Sourcing and Working With Dropshipping Suppliers and Wholesalers
Once you finalize the product you want to sell, then the next step is to look for manufacturers. Try to obtain a list of wholesale distributors with them. And, assure them that you are in connection with real wholesalers to marginalize profits.
Now, you need to start getting in touch with them via phone calls or emails. You also need to research and find out if some wholesalers are invested in dropshipping suppliers or not.
Most importantly, make sure that you present yourself as a professional online seller to gain their trust. Inform them about your platform or online website and assure them of your business to enhance their confidence in you. Ultimately, you need them for your dropshipping business therefore it's vital to turn them in.
Benefits of Dropshipping
Dropshipping is the best business model that you can adopt if you are an aspiring entrepreneur. It could be a kickstart for your new business and marketing concepts. Here is the list of benefits of dropshipping. Let's check:
1. Low Investment Cost
The best part of dropshipping is that you don't need huge capital to invest in inventory upfront. Unlike traditional retailers who had to get tied up with heavy investment purchasing inventory, instead dropshipping offers freedom.
In the dropshipping business model, you do not have to own an inventory or handle products. Interestingly, dropshipping suppliers make it possible to source products, deliver products, and generate profits with a little chunk of money. Moreover, there's less risk in spending capital on unsold goods, testing product line extensions, and starting a dropshipping store.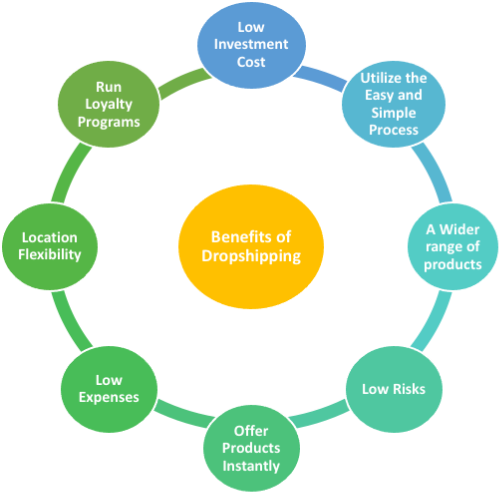 2. Easy and Simple Process
With dropshipping, you can easily start with the process as you don't have to deal with certain worries such as:
Managing Products
Inventory Payments
Handling inbounds or return shipments.
Organizing and Tracking
Managing and stocking goods
Furthermore, dropshipping helps to save your time from managing, handling, labeling, packing, shipping, and more. Nevertheless, it spares your time to focus on ideas, marketing, and research that would help you to grow your business.
3. A Wider range of products
Selling a wider range of products opens the door for more opportunities as well. And, dropshipping offers you benefit that allows you to go for an array of profitable and trending products. In addition, you can sell and list those items on sale that suppliers stock up at no additional cost.
4. Low Risks
Dropshipping provides your space to experiment, which the traditional method lacks. Obviously, online business is tricky because the major aspect depends on what customers would like or not. However, you can allow experimenting and testing products on the website without putting any investment that would work as a benefit for you.
In addition, if you are looking to test products on your online store then you can check popular marketplaces such as Dropship and Direct AliExpress.
5. Offer Products Instantly
Generally, retailers can only sell products when they are in stock. Otherwise, they have to wait until they receive goods, and then they can process shipping to customers. On the other hand, Dropshipping suppliers allow you to sell products instantly by marketing them on your website.
6. Low Expenses
When you are not dealing with and managing inventory or warehouse then your expenses automatically go low. Interestingly, a large number of dropshipping businesses are smoothly running from home and cutting extra expenses.
7. Location Flexibility
All you need is a laptop and internet connectivity to run your dropshipping business. Fortunately, dropshipping allows you to work from anywhere. Furthermore, you only have to make sure to stay connected with your customers and suppliers to run your business effectively.
Disadvantages of Dropshipping
Though the advantages of dropshipping definitely could positively boost your business. However, there are some downsides as well. Here we have discussed shortcomings of dropshipping, let's check those:
1. Difficulties in Processing Orders
Sometimes, processing orders becomes a challenge in itself. The time between selling and shipping may take longer than expected. The reason behind it is that you entirely depend on your suppliers to process your order. And, most of those tasks are out of your hands. Additionally, every supplier works differently when it costs processing, labeling, packaging, billing, and shipping. Ultimately, it becomes a bit complicated.
2. Highly Competitive
You can expect neck-to-neck competition when it comes to online selling. As many manufacturers' costs for the fulfillment service, therefore, you get less space to range your costs. To beat your competition online you need a strategic and planned approach. It is important to choose dropshipping suppliers only if you are completely sure of your skills and capabilities. However, with the right planning, you might beat all odds.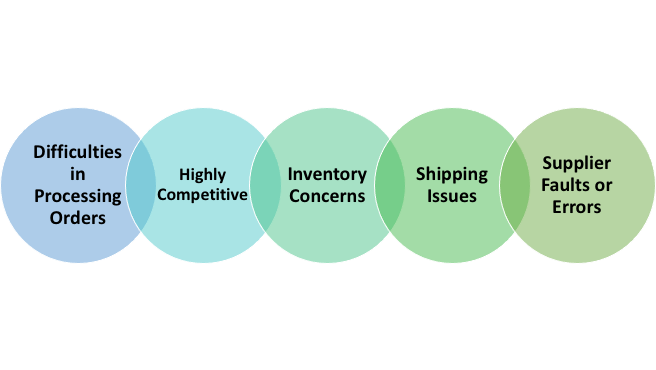 How much do I Need to Invest to start dropshipping?
Though, business methods have certainly changed with time. You can now easily get access to your business startup by plugging into the online world. Then, all you need is to create a balance between suppliers and customers to sell products online without having any inventory.
Unfortunately, no successful business starts with zero investment. And, the exact same case goes for dropshipping. You have to put in some amount of money to start with your dropshipping suppliers business, however, you will definitely see positive growth in revenue and business with time.
How Do Dropshippers Make Money?
Suppose, on a supplier website, you find a product of $10 and then you list the same product at $30 on your website. When a customer orders and pays for that product through your website then you place an order to your supplier using your customer information. Further, the product will be directly shipped to your customer and generates a profit of $20.
This is how you generate profit for each item you sell on your website. However, make sure you keep the product cost in accordance with market value. Also, overpricing will only waste your time and efforts.
Common Questions About Dropshipping
Here is the list of some quick answers to frequently asked questions about dropshipping:
Is Dropshipping Legally Accepted?
Yes, it is legal. It is a totally legitimate process of order fulfillment. However, you might want to check with supplier legal concerns. However, make sure you protect yourself with Dropshipping Agreement Contract.
Do I need to register as a business entity for Dropshipping?
The answer is Yes. Once you start making sales, you have to register yourself as a business entity.
What Products Can I Sell for Dropshipping?
Here is the list of items you can sell:
Coffee Mugs
Watches
Jewelry
T-Shirts
Bookmarks and so on.
Does Dropshipping Work Internationally?
It varies. As shipments on an international level certainly take time. Also, it includes complexity when it comes to costs, customs, shipping fees, and more. But, you can still check as it varies from business to business.
Is Dropshipping Profitable?
Absolutely, dropshipping helps merchants to earn profits. Also, it saves a lot of time, money, and investment as well. It allows them to sell products to customers without owing any inventory. Therefore, you can both save money and generate money through dropshipping.
Dropshipping With Deskera
As a business owner, you can invest in dropshipping that can help you manage and track your business growth. A successful business needs an efficient order fulfillment process that meets its specific needs. You can apply dropshipping suppliers tools to effectively boost your online business. Deskera is an all-in-one software that can help you keep track of dropshipping, and can help you by digitalizing your business with the right tactics and management.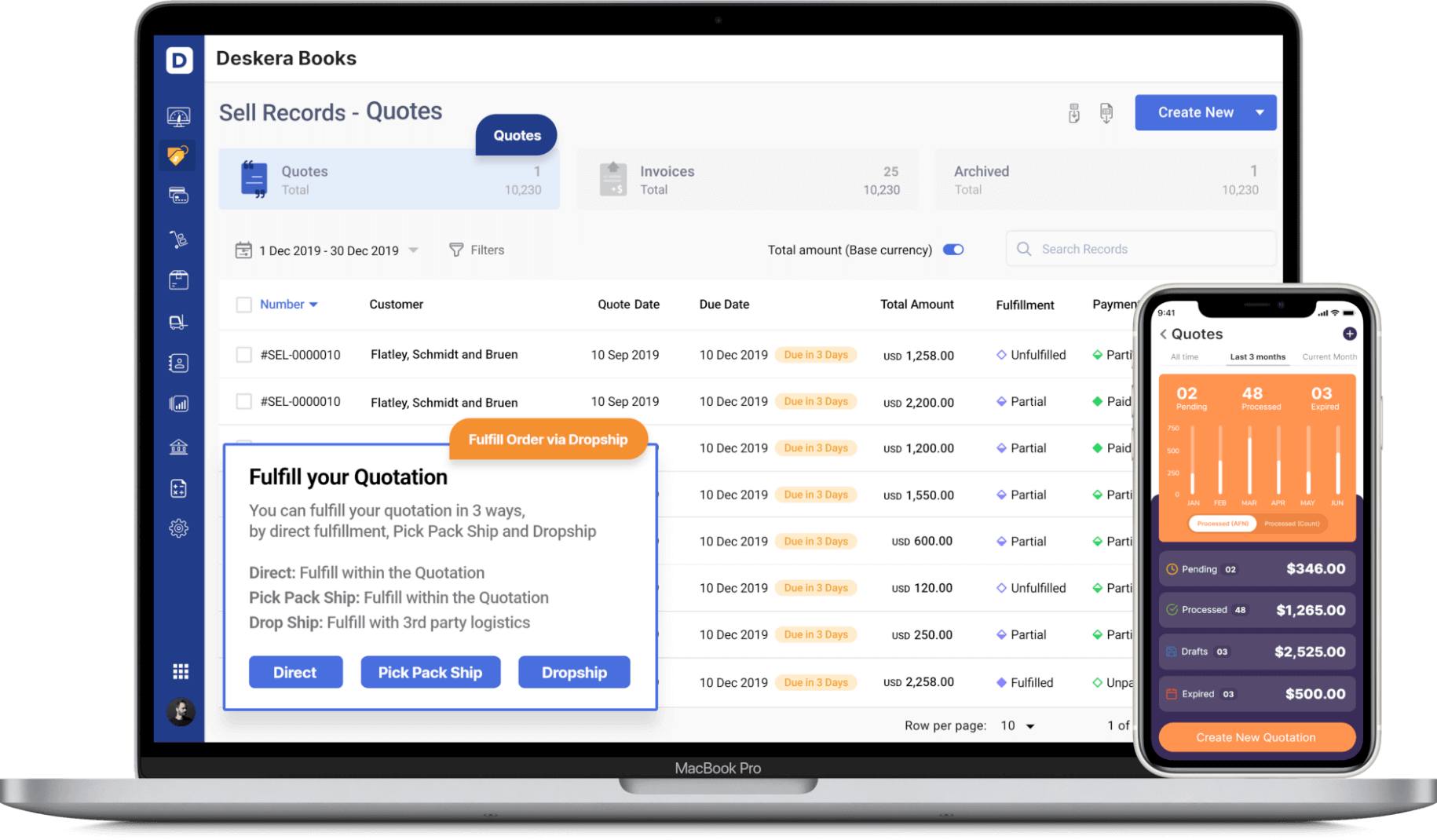 Deskera platform enables you to keep track of your dropshipping in real-time and optimize your social profile to transform your business tremendously.
It is easy to manage dropshipping using software such as Deskera. With Deskera Books you can update all the information related to your products and make sure you are not missing out on anything. Not just that, but Deskera also allows you to maintain your balance sheets in the system and manage efficiently.
Deskera can also help with your customer relationship management, HR, attendance, and payroll management software. Deskera can help you generate payroll and payslips in minutes with Deskera People. Your employees can view their payslips, apply for time off, and file their claims and expenses online.
With Deskera CRM you can manage contact and deal management, sales pipelines, email campaigns, customer support, etc. You can manage both sales and support from one single platform. You can generate leads for your business by creating email campaigns and view performance with detailed analytics on open rates and click-through rates (CTR).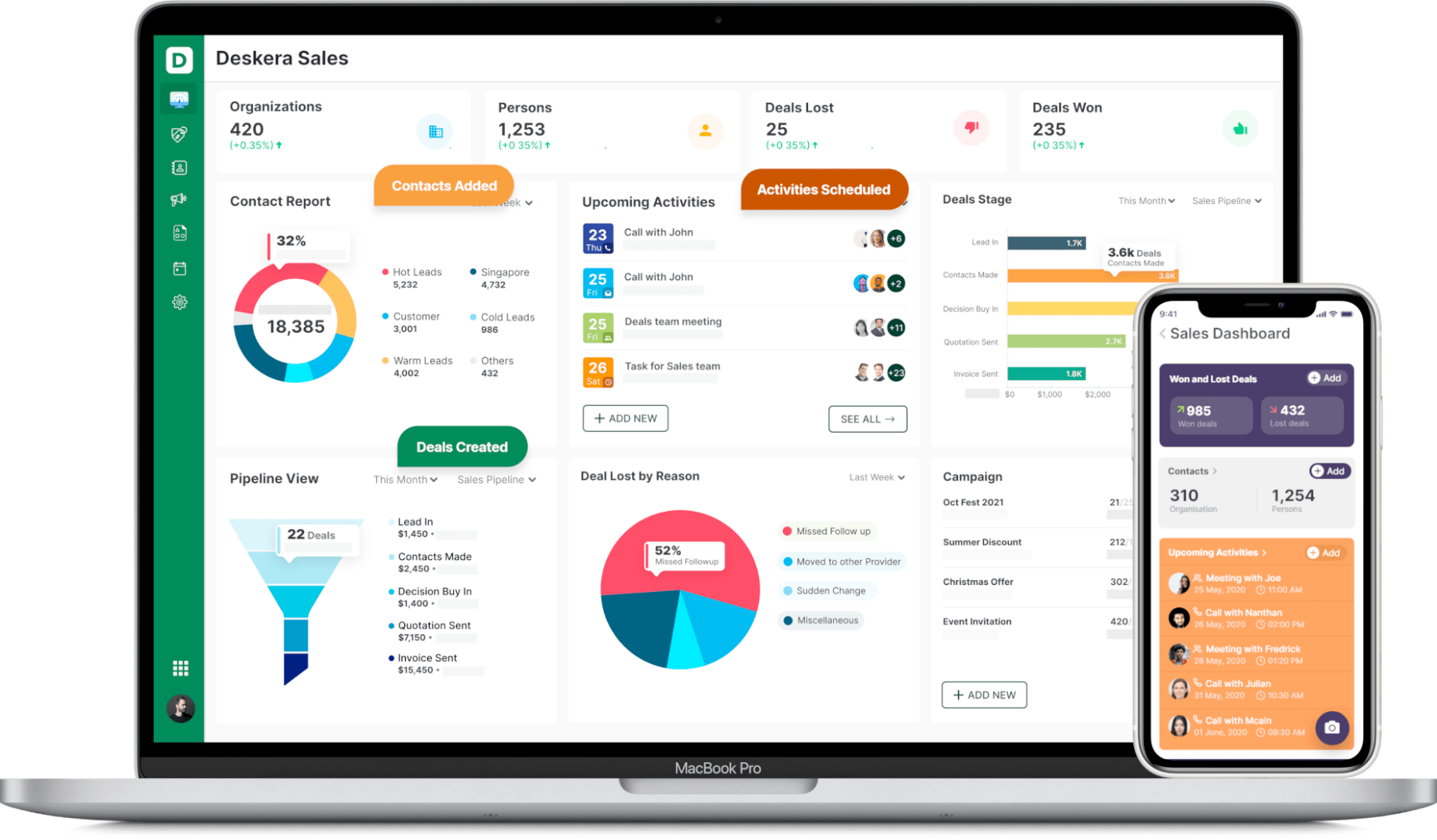 Deskera Books is online accounting software that your business can use to automate the process of journal entry creation and save time. The double-entry record will be auto-populated for each sale and purchase business transaction in debit and credit terms. Deskera has the transaction data consolidated into each ledger account. Their values will automatically flow to respective financial reports.
You can have access to Deskera's ready-made Profit and Loss Statement, Balance Sheet, and other financial reports in an instant. Deskera is an all-in-one software that can overall help your business to bring in more leads, manage customers and generate more revenue.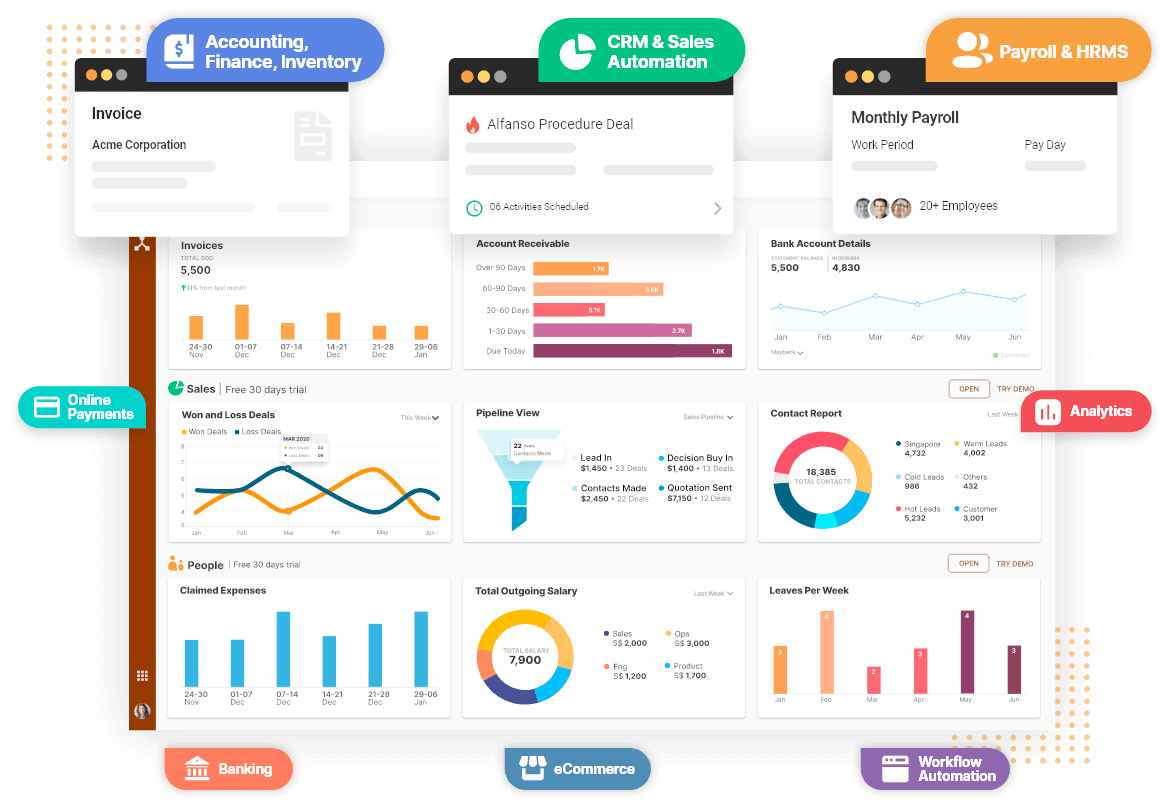 Key Takeaways
Here's the overall summary of what we have covered so far. Let's read:
Dropshipping is a retail fulfillment process to sell products where businesses can run without inventory.
Three crucial aspects of dropshipping include supplier, your website store, and customers.
Supply chain management integrates both wholesalers and dropshippers to streamline the process.
Benefits of dropshipping include
* Low investment cost
* Easy and simple process
* Wider range of products
* Low risks
* Offers products instantly
* Low expenses
* Location flexibility
Disadvantages of dropshipping includes:
* Difficulties in processing order
*Highly competitive
* Inventory concerns
* Shipping issues
* Supplier faults or errors
You can find suppliers through local trade shows, online directories, manufacturers, google searches, referrals.
Top dropshipping suppliers include Oberlo, MegaGoods, Wholesale2B, Spocket, AliExpress.
Dropshipping is worth your time, effort, and investment.
Dropshipping is a profitable business.
Related Articles
---
---