A brief guide to help you simplify your understanding to all the things related to FedEx tracking.
What is FedEx?

FedEx is one of the world's largest express transportation company, providing a secure, reliable, and quick delivery to around 220 countries.
The company's major selling point is its overnight shipping and its tracking service, which it spearheaded to provide real-time updates on package location.
Most other carrier services have now implemented this feature. The U.S. Government also relies heavily on FedEx as contractors for their logistic needs. FedEx ships approximately 14 million packages a day.
To learn more about how FedEx fares against other prominent carriers, go to the Ultimate Shipping Guide.
How to Track a FedEx Parcel?
FedEx, at its core, follows has similar offerings to its competition, with each parcel is allocated a barcode and a unique tracking number.
The parcel is scanned when it arrives and leaves a FedEx facility. After the delivery is completed, FedEx will upload a document proving delivery, be it an image of the recipient's signature, a copy of the FedEx Freight Bill of Lading, or other such documents.
Here are some ways to track the parcel via a specific ID and Numbers.
Tracking Number: It is the most common method of tracking the shipment. Every service offered by FedEx comes with a tracking number enabling the user to determine where the parcel is located at that moment in time.
Track by Reference Number: Track by any Reference number related to your package or freight shipment, which is useful for large shippers to track multiple deliveries at once.
Track by TCN: Government shippers can use their Transportation Control Number to track their shipments.
The company also offers InSight, which allows higher-volume shippers to monitor the tracking details of inbound and outbound shipments without tracking numbers.  
Additionally, InSight alerts shippers "of critical events that affect your shipments," the company says. If a delivery is delayed, the shipper will get a notification and contact their customer if necessary.
Both basic tracking and InSight are free, so there's no reason not to experiment with them.
How Will a FedEx Tracking Number Look Like?
The tracking number will mostly have 12 to 15 digits as its format, especially for FedEx Ground and Express shipments.
In some rare scenarios, the format of the number could be 20-22 digits.
Here are some FedEx tracking number examples
9999 9999 9999
9999 9999 9999 999
9999 9999 9999 9999 9999
9999 9999 9999 9999 9999 99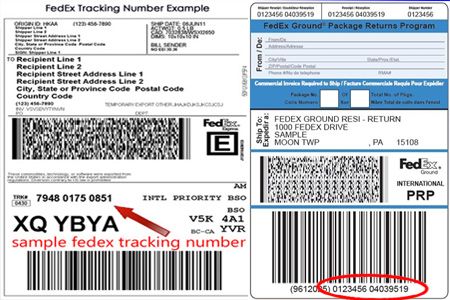 How Long is a FedEx Tracking Number Good for?
FedEx keeps tracking information available for 90 days after delivery for FedEx Express, Express Freight, Ground, and Custom Critical shipments. FedEx Freight shipment information remains accessible for two years after delivery. (Source: FedEx)
What are the Types of FedEx Tracking Status?
Status
Details
Delivered
Delivered
Delivery Exception
- Customer not available or business closed
- Business Closed - No delivery attempt
New
- Shipment information sent to FedEx
- Picked up
In Transit
- At local FedEx Facility
- Left FedEx origin Facility
- On FedEx Vehicle for Delivery
- Clearance Delay (International Shipments)
Summary:
FedEx shines in its overnight shipping service in terms of reliability and speed. Its new InSight tracking system provides detailed information about the package on any platform, be it on mobile or email with helpful notifications.
For a small business that depends on largely quick shipments for your customers, FedEx is the right choice.