Bills and invoices are two terms that are thrown around interchangeably by many businesses, accountants, and customers alike. While bills and invoices might have more than a few things in common, there are certainly some key differences that set them apart:
Index
Invoice vs Bill - Definitions
Billing vs Invoicing - Ideal Use Cases
Invoice vs Bill - How to Create Them
Invoice vs Bill - Definitions
A bill, by definition, refers to the amount of money a customer owes a business. It is a document that outlines the amount a consumer owes for goods and services received and rendered. It is printed or written as a statement for the charges owed.
Some key characteristics of a bill are:
A bill is issued before payment is sent
A bill serves as a record for the customer and is provided by a business
A bill dictates the amount that must be paid by a customer
On the other hand, an invoice is more documentation-oriented. It is an accounting document that is issued by a business to its client. Essentially, it states the overall products provided and services rendered, along with the details of money that is owed for the said work. Some key characteristics of an invoice are:
An invoice is issued requesting payment before a given deadline.
An invoice is a business transaction requiring payments from a client for services rendered.
An invoice serves as a record for a business and the services it has rendered.
Billing vs Invoicing - Ideal Use Cases
The key difference between an invoice and a bill is highlighted by the information they contain. The ideal use cases for bills vs invoices are: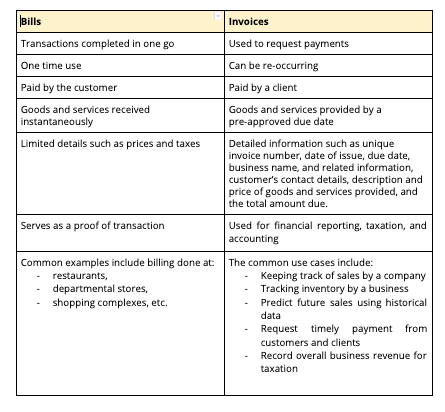 Bills
Bills are usually used for transactions that are completed in one go. This means that they are used when the customer pays for the goods and services and receives them almost instantaneously. Therefore, they are typically used by retailers and businesses, making instant sales, and do not include any information about the customer. Bills serve a one-time purpose and only have details such as prices and taxes.

Common examples include billing done at restaurants, departmental stores, shopping complexes, etc. Bills are paid up-front, such as at a salon or while buying physical goods from a grocery store.

Invoices
A typical invoice contains a lot of information. It can include a unique invoice number, date of issue, due date, business name, and related information, customer's contact details, description, and price of goods and services provided, and the total amount due. It is often used for financial reporting, taxation, and accounting, and always have an invoice number. The common use cases include:

Keeping track of sales by a company
Tracking inventory by a business
Predict future sales using historical data
Request timely payment from customers and clients
Record overall business revenue for taxation
Invoice vs Bill - How to Create Them

While there are traditional methods of generating bills and invoices, online platforms such as Deskera provide quick and easy-to-use bill and invoice generation tools. Regardless of whether you need bills or invoices: software does significantly simplify your work by automating the process of generating and sending the two, and also receiving the subsequent payments.

Tools for bill generation: Deskera's online billing management software helps you keep track of what you're spending and where you're spending it so that you never miss a payment in the future. The features include:

A complete overview of the bills
Creation, editing, receiving or emailing bills straight to or from your account
24/7 access anywhere, on your mobile or desktop
Single document flow which integrates payments and record-keeping

Tools for generating invoices: Deskera's online invoice generation and management software help you get paid for your products and services faster. It enables a business to track their invoices and establish an efficient cash-flow system for it. The features include:

Simplification of the process of generating an invoice
Enabling digital invoices that can be sent directly through email, SMS, or even Whatsapp
Dashboard to keep a tab on day-to-day business cash flows
Record-keeping of all payments, full or partial
Bills vs Invoices: Conclusion

In the end, whether you're generating an invoice or paying a bill, a good accounting software will make your life simpler. You can read more about accounting concepts on the Deskera blog for a better grasp over critical concepts that can come handy when running your businesses.
---
---