When you issue an invoice and are on the wait for payment, this invoice is referred to as an outstanding invoice.
If you've ever had the unfortunate luck of dealing with unreliable clients, you've probably dealt with cases where an outstanding payment has become overdue.
As frustrating as that situation may be, there are some measures you can take to prevent outstanding invoices from turning into bad debt.
In this guide, we will be explaining these precautious actions you can take, along with any other questions you might have regarding outstanding invoices.
Read on to learn about:
What is an Outstanding Invoice?
An outstanding invoice is a term used for a sales invoice that has been sent to a client and is now waiting to get paid.
The time period it remains outstanding depends on the payment terms of the invoice. Payment terms dictate when the client is required to pay back the business.
For example, a payment term of net-30 means that the buyer has 30 calendar days to pay for the products and services they purchased. During the days that the buyer has not yet sent the cash, the invoice is referred to as an outstanding invoice.
Difference Between Outstanding and Past Due Invoices
Outstanding invoices and past due invoices are often used interchangeably, but actually, these words mean two separate things.
An outstanding invoice, as previously mentioned, is used when an invoice has been delivered, is waiting to get paid, but the payment due date has not come yet.
Now a past due invoice is also an unpaid invoice, but it refers to an invoice that has passed its payment deadline.
So in short, an outstanding invoice turns into a past due one when payment is late.
That's why it's so important to track outstanding invoices properly, so they don't become past due in the future.
How to Get Paid on Time for Outstanding Invoices
The bad news: some clients will pay you late.
The good news: there are certain actions you can take, to lower your chances of getting these late payments. Let's check them out one by one.
1.  Offer a Variety of Payment Methods
Some clients prefer paying by cash, check, or online payment systems, while others would rather go for a direct bank deposit. Opening up to as many payment options as possible gives your clientele more reason to pay you back right on schedule.
It's always best to think long term: the small fee of integrating credit card payments will cost way less than having to hire an attorney or taking up your late bills to court in the future.
2.  Consider Advance Payment Requests
Worried you won't get paid on time? Consider requesting a partial advance deposit as a safety net.
Now, keep in mind to only go for this approach if it's sensible in terms of the price of the purchase. In other words, you shouldn't ask for advance deposits on a $5 bill.
But if you're working on a months-long project, for instance, or selling a very pricey product, requesting an advance partial payment can help reduce the risk of not getting paid back.
For these types of purchases, asking for an advance payment fee is a common business practice, so don't worry about your clients getting offended.
3.  Provide Early Payment Discounts
To encourage timely payments, offer discounts for customers who pay you back early.
For example, if your usual payment policy is 15 days, reward clients who pay back within the first week, 2% off the entire invoice amount.
4.  Include Late Payment Fees
Again, there is no incentive like money. And at the same time, a late payment fee is only fair - without it, you're basically just offering clients free credit.
Make sure to clearly communicate your late payment fees and how they will occur at the very start of the sale. Include these terms in every contract, invoice, and other written agreement you write.
State the late fee penalty clearly and in an easy-to-spot section of the invoice. To learn more about how to create an invoice and the core elements it includes, head over to our guide on how to make an invoice.
5.  Send a Friendly Reminder Email
With the number of emails in everyone's inbox nowadays, it's possible that your invoice could have gotten lost along the way. Or maybe your customer simply forgot to pay back - we all get busy and things fall in between the cracks sometimes.
So, stay ahead of the game by sending them a friendly reminder email around a week before the deadline, to let them know their invoice is due soon.
Make sure the email includes:
A subject line with the invoice number
An attachment of the original invoice
Body message reminding them of the due date
Keep the language of the message friendly and polite, so you don't risk offending or losing the client in the process. After all, the invoice is not overdue yet, so it's best not to express any irritation, no matter how worried you might be.
End the email by encouraging them to contact you regarding any inconveniences.
Want to learn how to properly email and invoice your clients, and get paid right on schedule? Just take a quick skim at our guide on how to send an invoice.
Reminder Email Example
Subject: Invoice Number 00001 Due Soon
Hi [Client Name]
I hope all is going well!
I am sending this email as a quick reminder that [invoice number], for [invoice balance], sent on [billing date], is due in a week. I'd really appreciate it if you could confirm whether payment is scheduled.
Please let me know if there are any concerns or issues regarding the payment.
Best regards,
[Your Name].
6.  Give the Customer a Call
If the client is completely unresponsive to your emails, you can always give them a call to have a quick chat and figure out what's going on.
Just like in the reminder email, ask them about any possible issues, and when they plan on paying you back.
Track Outstanding Invoices with Accounting Software
With accounting software like Deskera, creating professional invoices, and managing your outstanding payments is as easy as 1-2-3!
The software automates every part of your invoicing process, from start to finish.
On the Deskera Invoice Generator, there are over 100+ free premade templates you can easily personalize to fit your business, with your preferred colors, font, logo, and images.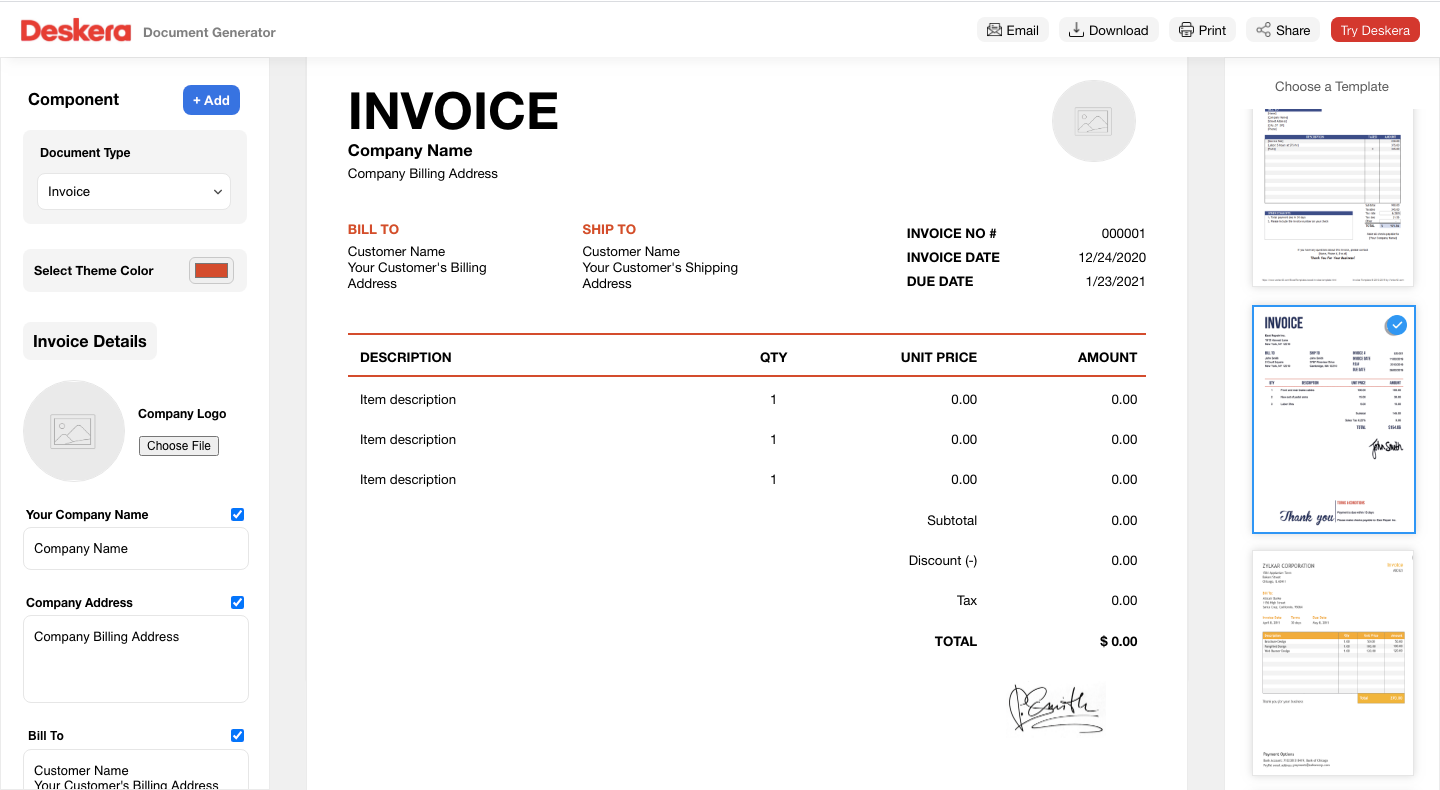 Once you're done with the design, you can quickly fill in the invoice with the appropriate elements, by using the sidebar on the right.
Then, all that's left to do is press Share to send out the invoice, and you're done!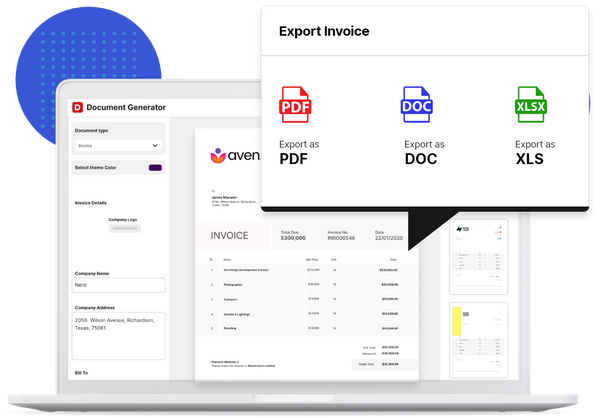 After creating your invoice, you can go to the Deskera Books platform to manage all of your outstanding invoices.
There's an entire Sell dashboard dedicated to invoice management, where you can keep tabs on every detail of your issued invoices. On this dashboard, you can also set up recurring invoices, request advance deposits, and include any extra fees & expenses.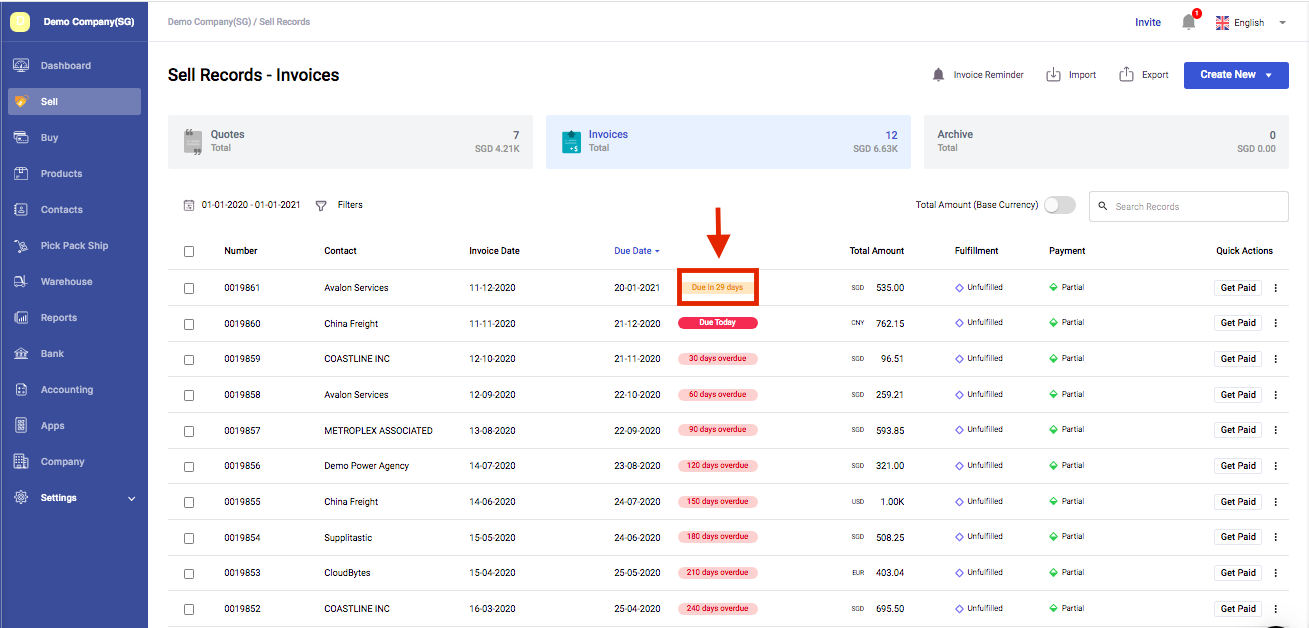 At the same time, Deskera Books automatically generates monthly and yearly reports so you can get an overview of all of your outstanding and overdue payments, and never miss a date!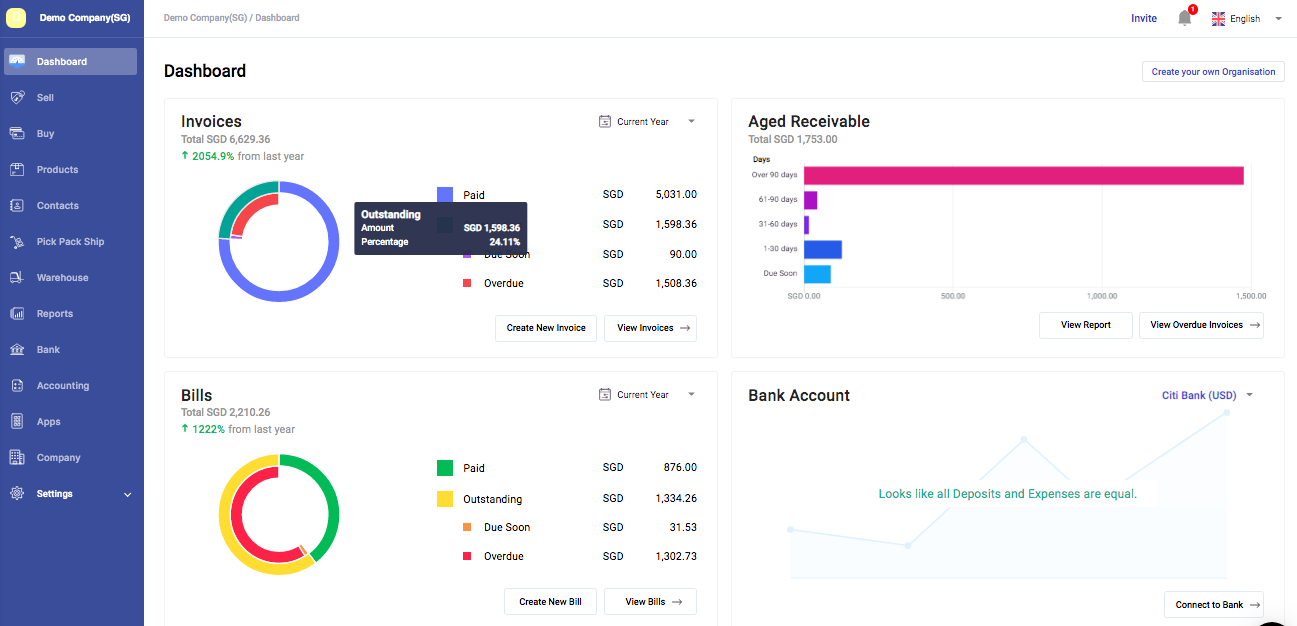 Too busy to check invoice reports on a daily basis? No problem!
The software notifies you every time an outstanding invoice becomes overdue, so you won't have to worry about manually chasing down payments.
The best part: you can access the platform anytime, anywhere, just by downloading the Deskera app on your phone, tablet, or desktop.
So, what are you waiting for? Try the software right now, with our completely free trial!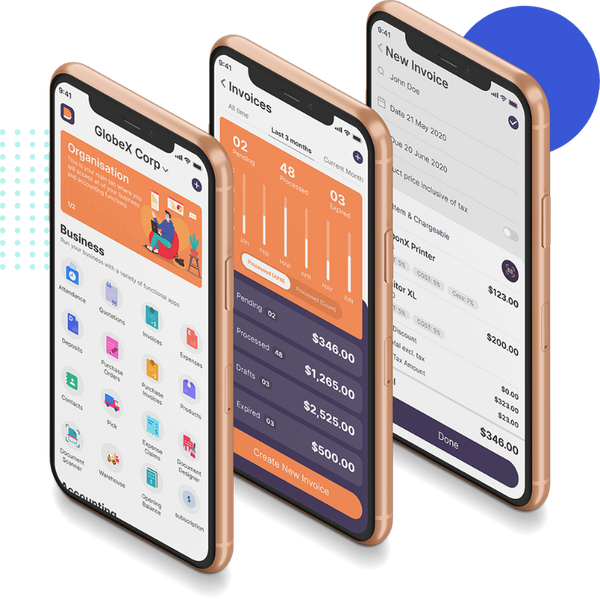 Outstanding Invoice FAQ
What Is an Outstanding Payment?
An outstanding payment refers to the exact unpaid amount on the outstanding invoice. It could also be referred to as an outstanding balance.
Does Outstanding Mean Overdue?
No, an outstanding invoice is not overdue.
When an invoice is labeled as outstanding, it means that the payment due date hasn't passed yet, so the client technically isn't late. Once the deadline passes, then the outstanding invoice turns into an overdue one.
Is a Pending Payment the Same Thing as an Outstanding Invoice?
A pending payment describes the state of the payment in cases when payment has not been made, but it isn't past due either.
While outstanding invoice is the label put onto the invoice when waiting for payment within the due date.
So technically, pending payment and outstanding invoice have the same meaning, but the only difference is that one is a state of payment, and the other a document.
What is the Difference Between the Due Date and Payment Terms?
Payment terms outline how much time the buyer has to pay, discounts, late payment fees, and the accepted payment methods.
While the due date is just the date when payment is due.
What is the Standard Late Fee on an Invoice?
Most businesses include a 1-1,5% fee per month after the due date, on their late invoice payments.
Do research on the maximum allowed rate for your state prior. You can find detailed information on state interest rate laws online.
Key Takeaways
And that's a wrap! We hope you found our guide to outstanding invoices helpful.
To recap, here are some of the main points we've covered:
An outstanding invoice is an invoice that has been issued and is waiting to get paid.
When the payment due date passes, an outstanding invoice becomes a past due one.
To prevent late payments, some of the actions you can take include:

Offering a variation of payments
Considering advance payment requests
Early payment discounts
Late payment fees
Sending a friendly reminder email or phone call

Automate your entire invoicing and track outstanding bills with accounting software like Deskera, to never miss a payment again!
Related Articles
---
---