Marketers who lead the pack utilize 150% more integrated marketing and advertising technology platforms.
Fragmented and challenging, that's what today's marketing ecosystem is like. How will you stand out in the marketing crowd when there is so much noise on social media channels?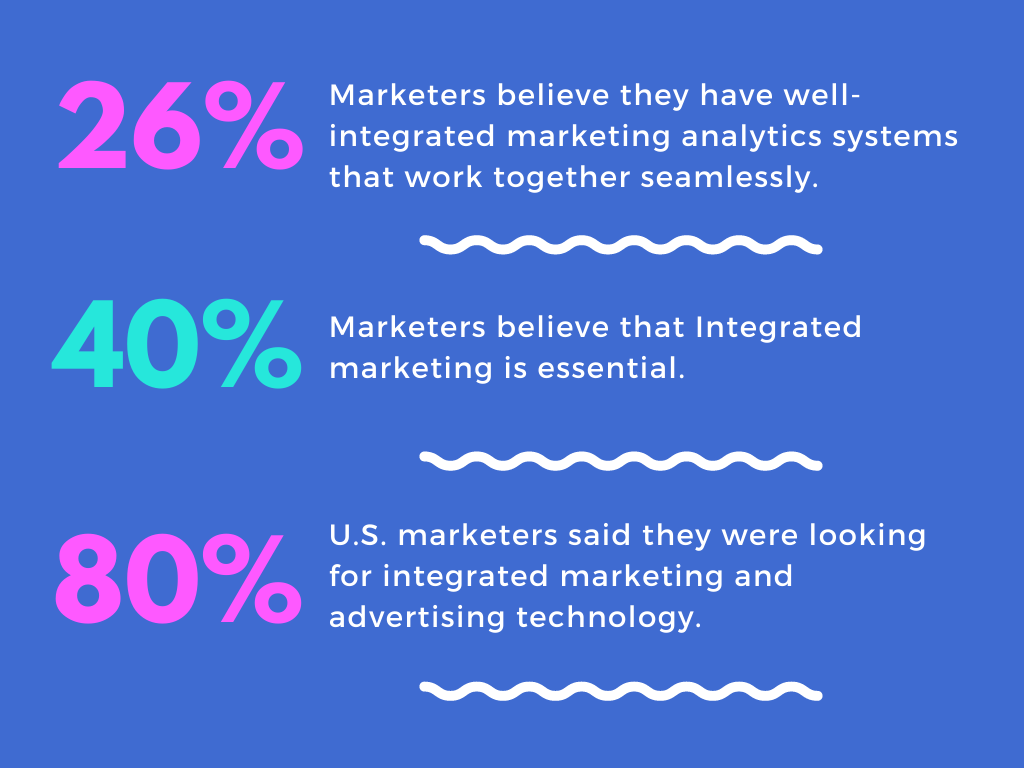 With over 25 popular social media channels available for expanding your reach, businesses tend to be in a fix over which one to use.
Moreover, popularity and advertising come at a cost, which most businesses find expensive. So, why not have the channels spread the same word and carry the same message?
If your brand carries a single message and the same story across all the social media channels, then prospects are more likely to purchase.
This happens because they now understand your brand and its purpose. The idea of incorporating the standard message across all your modes of communication is termed integrated marketing.
This article covers the relevant aspects of integrated marketing:
What is Integrated Marketing?
Why is Integrated Marketing Important?
Where to begin with Integrated Marketing?
What is Integrate Marketing Channel?
Integrated Marketing Strategy
What is Integrated Marketing Communication?
What is Integrated Marketing?
Integrated marketing refers to a comprehensive strategy that ensures that the message communicated by all your marketing channels is unified. It assures consistency to all your customers whichever channel they choose to communicate with you.
Customer questions about your products should be answered by an automated chatbot on your website, just as they would be if they spoke live to a sales representative. Furthermore, the content on your website and the replies on the chat box should be in sync. Irrespective of the customer's device, the experience and message should be the same.
Since modern marketing channels are complicated, integrated marketing requires focus and effort. You would also be required to make a financial investment and that of time, but rest assured, it will be fruitful.
Why is Integrated Marketing Important?
Integrated marketing can be a boon to your business as it offers numerous benefits. Let's learn about them here:
Improves Performance of Your Marketing Campaign
When you have a common and a standard description across all your channels, your marketing campaigns will certainly show an improvement in performance.
Consistency of Narrative
Creating a narrative for your brand is challenging. You need to make sure that it makes an impact and creates a long-lasting impression with the audience. To accomplish better customer engagement, you will have to implement the same and strong content across your channels of delivery.
When you present your content on your website, align it with the content and style on a billboard. Customers will almost certainly recollect the ad they had seen and then associate it with the content on the billboard. That is the significance of integrated marketing.
Enhanced and consistent Customer Experience
Customers, in general, appreciate and relate to the consistency of the ads being shown to them. Consistency can connect the dots across channels and lead to a better customer experience.
Predictability can simplify a lot of things for you as a brand marketer. The next time your logo appears on a billboard or their desktop screen, customers are very likely to remember your brand. This certainly facilitates a great customer experience and better familiarity.
Value for Money
You can optimize the amount dedicated to your marketing and advertising when you use nearly the same content for all your communication channels. You can use the same images and pictures to improve familiarity. Doing this significantly lowers the cost of building unique creative content each time.
Furthermore, your sales representatives can also be given the same narrative and talking points to keep the message aligned throughout the process.
Where to Begin with Integrated Marketing?
The general perception about integrated marketing is saturating various media outlets with similar ads, but there's much more to it than this. There is a raised chance of success if you communicate effectively with your audience and customize your message for every medium.
You may think now, what are the steps to creating a successful integrated marketing campaign? It could be challenging to keep the content consistent and interesting. Let's walk through a few ideas for getting you started:
Develop an innovative idea. One thing that makes integrated marketing campaigns successful is that they revolve around intriguing concepts. Know what makes you stand out from the competition. You can write an appealing story that weaves your key differentiators into a cohesive whole using this information.
Think about your customers from their perspective. Think about aspects that solve customers' problems and add value to their lives.
Use multiple media outlets to your advantage. To play to each channel's strengths, make sure all your content is tied together with a strong idea.
Be sure your story is aligned with your brand's values. It is vital that your compelling idea meshes with your brand ethos and lets out information on what you are all about.
Building Integrated Marketing Strategy
Create a successful integrated marketing strategy by following these guidelines.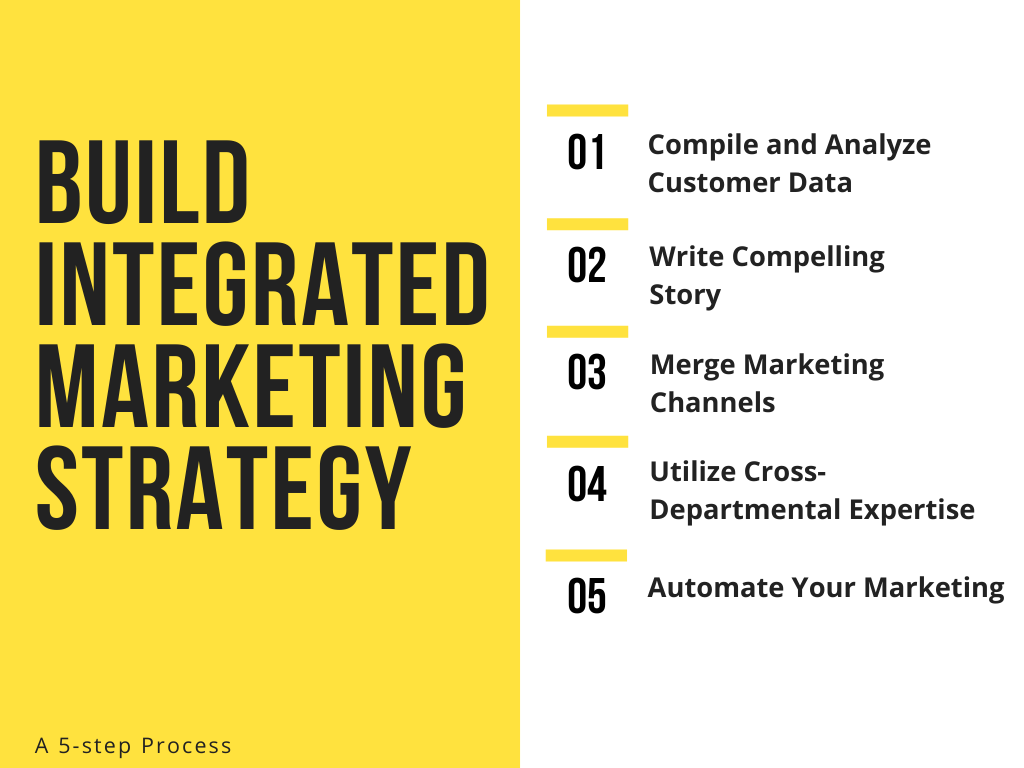 Compile and Analyze Customer Data
Customer or buyer persona is an essential component when you start building your strategies to integrate your marketing. Learn about the most efficient channels by conducting extensive research and analysis. Furthermore, you will be able to determine where you should invest more resources to ensure consistent messaging. A channel that performs poorly indicates a lack of consistency of message compared to the other channels.
Your industry and marketing channels will dictate which KPIs you use to collect and analyze data.
Write a Compelling Story
A compelling and engaging brand narrative is at the heart of integrated marketing. As your audience interacts with your brand, your marketing messages should build on each other, educating them progressively.
You can present your brand's history as the subject of your story. Also, brands often have a mascot or a famous personality endorsing them. If you decide to talk about the history, then work around the script for what details will be used. Good customer experience can be shared with the audience, or something on the lines where the brand has made people's lives easier can be added. It should make for an interesting read and an enticing appeal no matter which path you go.
Merge your Marketing Channels
Integrating or merging marketing channels can be accomplished in many ways. The same visual content can be used in different formats across multiple channels. It is also very important to make sure you accurately portray your brand.
While you use multiple strategies to merge marketing channels choose the ones that best suit your needs and resources. Merging becomes particularly important because if some of your ads are visually driven and others are not, maintaining consistency will become an uphill task. The same goes if some channels are interactive while others are outbound only. Therefore, choosing channel-specific content and strategies is a good idea.
It is also important to consider which buying cycle stage is being strengthened when combining marketing channels. You will need to send a consistent message about your brand value and the types of solutions you offer if you target top-of-funnel lead generation. In contrast, the strata that already have a little knowledge of your brand will need to be addressed with a similar or standard message. The approach in both cases to move prospects down the sales funnel and then towards conversion will be different.
Utilize cross-departmental expertise
To implement integrated marketing, you will need to implement an array of different resources and platforms across your organization. This will, in turn, require the engagement of different teams.
A key component of executing integrated marketing campaigns is the marketing and sales teams. It is also important to consult and seek out the opinions of more diverse teams like the web development group. A coordinated approach can help you better serve more of your customers' needs.
Automate Your Marketing
Integrating marketing would take a lot of time and effort if variables and data sources had to be managed manually. Rather, invest in a marketing automation platform that manages KPIs across channels. An automation tool like Deskera can help you manage contacts, customer deals, sales pipelines, and so much more.
What is Integrated Marketing Communication?
The concept of integrated marketing communications or the IMC involves carefully integrating and aligning a company's various communications channels to create a cohesive brand message. The message should be consistent and the media should complement each other.
An integrated marketing approach is the integration of all marketing tools, approaches, and resources within an organization. Thus, maximum profit can be achieved at a minimal cost.
There are 8 primary tools that integrated marketing communication utilizes. They are as follows:
Advertising
Sales Promotion
Personal Selling
Public Relations
Direct Marketing
Events and Experiences
Social Media Marketing
Mobile Marketing
Integrated Marketing Tools
In Integrated Marketing Communication, there are eight major tools: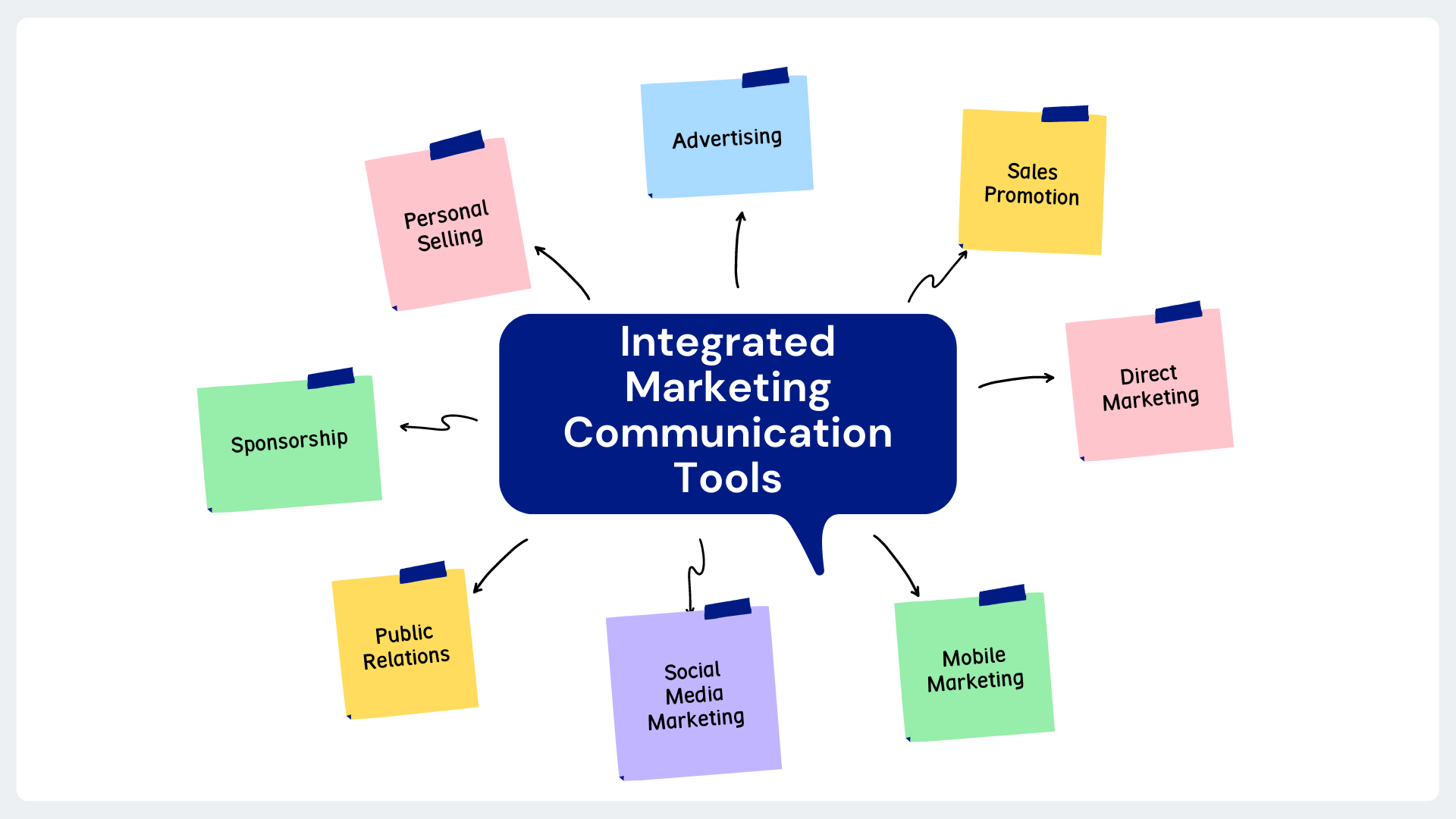 Advertising
Adverts consist of paid promotions for products or services that an identifiable company sponsors. The companies employ print media, networks, electronic media, and broadcast and display. Billboards and posters come under Display whereas satellite and wireless fall under Network. Radio and television are the media for broadcasting the message.
Advertisements reach consumers scattered across a wide geographical area. Although advertising can create the right impact, it could be an expensive way to reach the audience.
Sales Promotion
Using various incentives, sales promotion can help draw a customer's attention and entice them to purchase, ultimately enhancing sales. A few short-term incentives can encourage people to test a product or buy a service. Businesses could utilize coupons, discounts, free sample trials for attracting customers. On the other hand, they could use merchandising allowances, volume discounts, performance incentives for salespeople and retailers.
Personal Selling
This includes making presentations in person. It is a face-to-face conversation with one or many buyers. These conversations or interactions circle around answering the client's questions, letting them know more about the products, and persuading them to purchase.
It has the advantage of being tailored to the buyer's requirements and focused on developing a long-term relationship.
Public Relations
Various programs are aimed at improving the business-public relationship. The difference between advertising and public relations is that advertising is a one-way communication, while public relations can monitor feedback and adjust its message for the best outcomes. Publicity is the factor common to both techniques that take the message forward.
Direct Marketing
In direct marketing, you communicate directly with or solicit feedback from specific customers or prospects by mail, phone, fax, e-mail, or the internet.
Consumers' contact information is stored in databases by the companies. This is utilized to share product descriptions, catalogs. Direct marketing has, therefore, gained a strong foothold in recent years.
Events and Experiences
The organization sponsors these events at various locations which are frequented by large audiences. It refers to corporate events and programs that help reach out to customers. Sponsorships make a company more visible. When customers use a company's product, the brand is more likely to be remembered. Such events provide the audience with valuable information, apart from engaging them.
Social Media Marketing
Using social media to market your business or website is referred to as social media marketing. As consumers browse the internet and get a lot of attention on such channels, companies are able to interact with them directly.
This new generation of social media platforms is creating new and modern ways to communicate. The ability to interact with customers and keep up with their needs is one of their strong points.
Mobile Marketing
Mobile marketing involves communicating with the consumer via a mobile device. A simple email message, an invitation to participate in a new campaign, or even referring them to a mobile website are all possible ways to reach out to them.
Mobile marketing is an inexpensive way for both, the marketer as well as the consumers.
Mobile marketing is a simplified version of online marketing, whose usage is on the rise as time goes on.
How can Deskera Help You?
Integrating marketing is no child's play and you certainly want to cut down a lot of mundane tasks that do not require your supervision. Optimize your marketing efforts through automation with Deskera CRM.
The form data captured on landing pages is sent automatically to Deskera CRM where it is neatly organized into segments.
The segmented data can be used for running automated drip campaigns, email marketing broadcasts, or can be passed as leads to your sales team to follow up and close.
So why wait? Sign-up to access remarkable features now!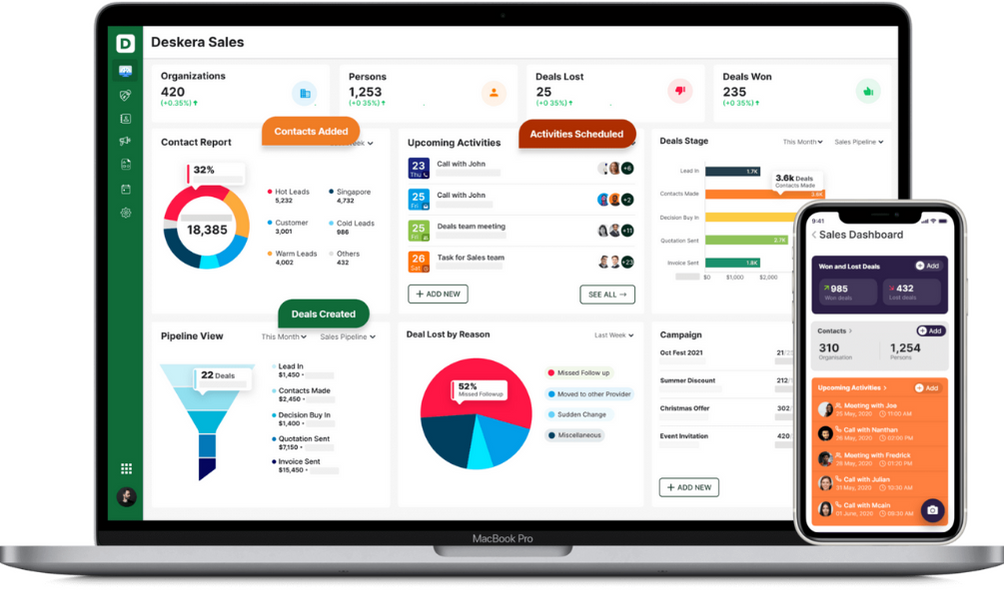 Learn more about the software and its functions in this short video:
Deskera CRM
Automate Your Marketing Efforts
Key Takeaways
As opposed to using only one marketing channel, an integrated approach utilizes multiple marketing channels simultaneously. Businesses can utilize advertising, social media, and sales promotion together to boost visibility, clarity, and cohesion.
Integrated marketing refers to a comprehensive strategy that ensures that the message communicated by all your marketing channels is unified
It assures consistency to all your customers whichever channel they choose to communicate with you
Improving performance, maintaining consistency across channels, enhancing customer experience, and cost efficiency are some of the benefits of integrated marketing
Compiling and analyzing the customer information is the first step towards building your integrated marketing strategy
Writing an impressive story and merging marketing channels are the next steps followed by automating the marketing efforts
The concept of integrated marketing communications or the IMC involves carefully integrating and aligning a company's various communications channels to create a cohesive brand message
Advertising, sales promotion, personal selling, direct selling, events, mobile marketing, social media marketing, and public relations are the 8 primary tools that integrated marketing communication utilizes

Related Articles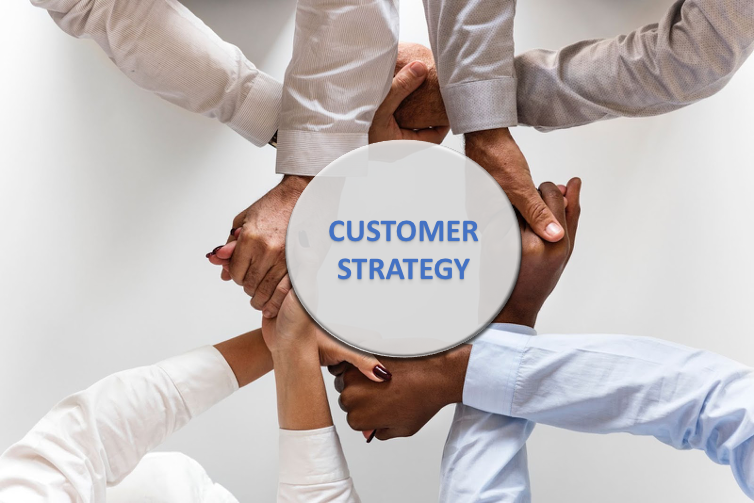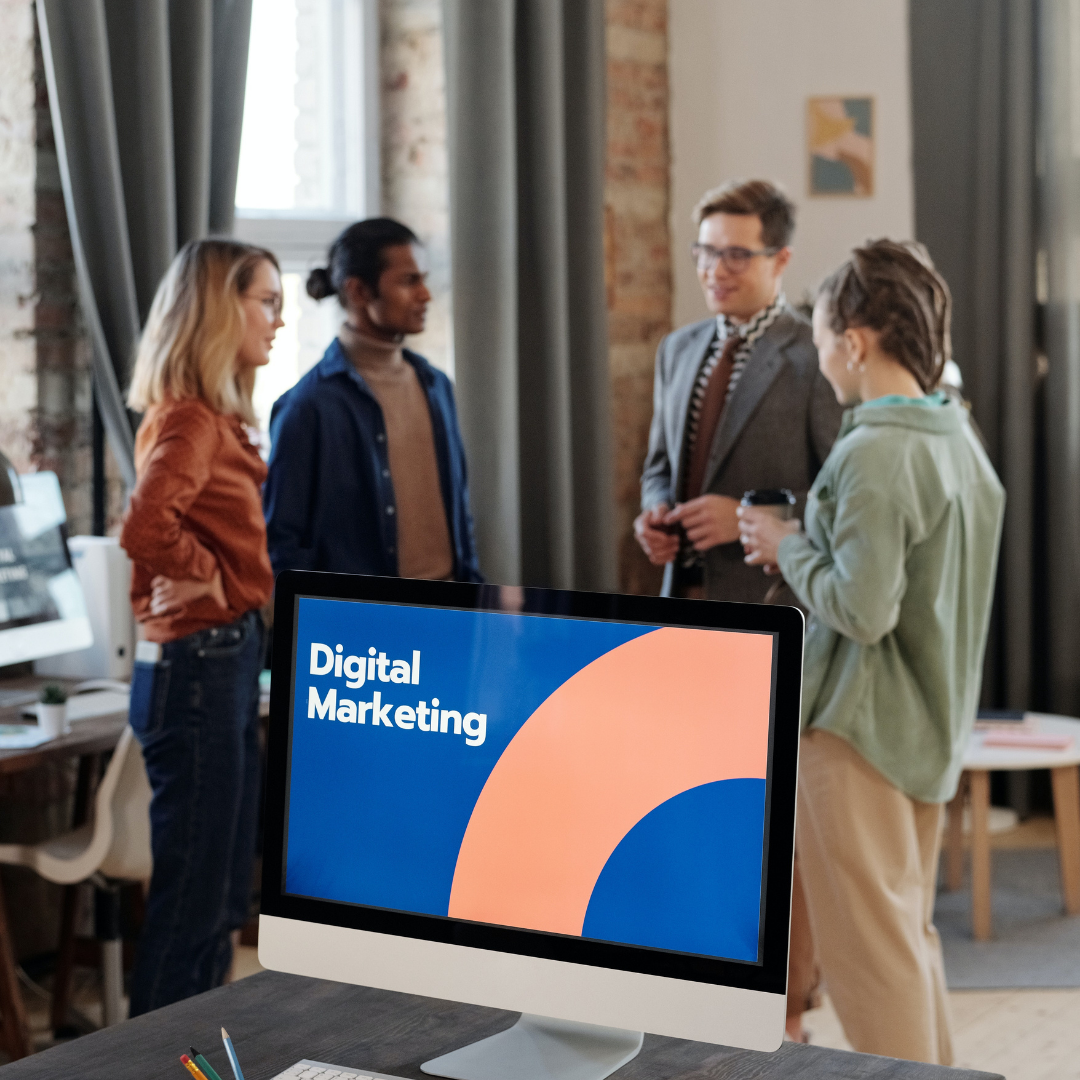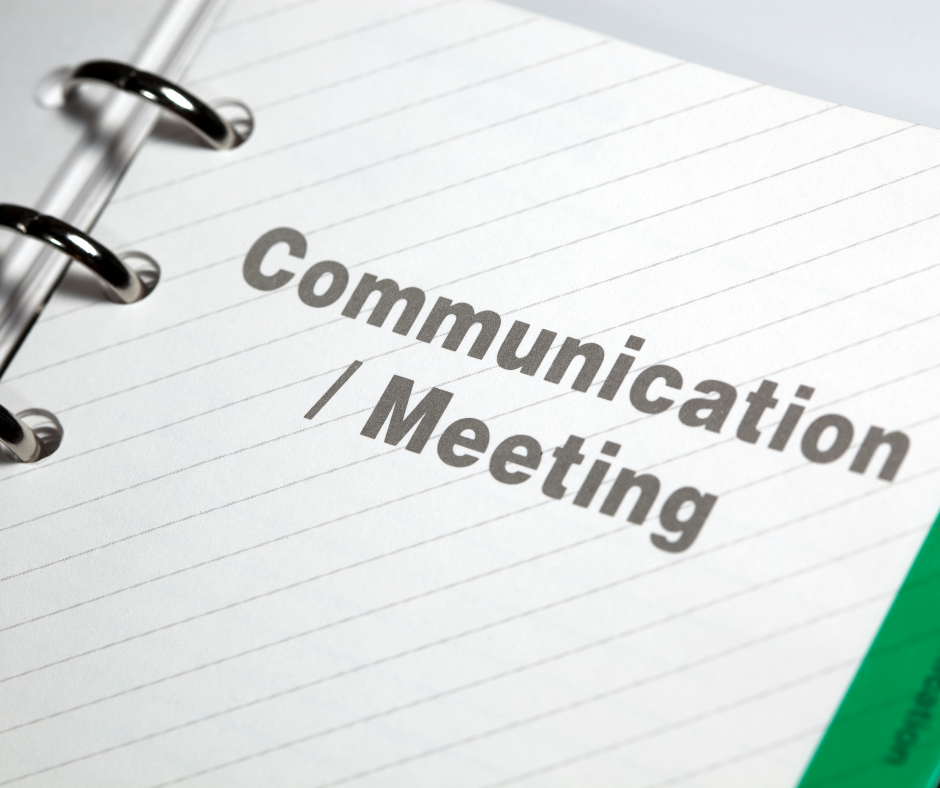 ---
---