What is Invoicing? (+ FREE Invoice Templates)
Whether you are a freelancer or a small business owner, if you want to create great looking and professional invoices, or had any questions on invoicing, this guide is for you!
Entrepreneurs can come from all backgrounds, and are required to create professional invoices for their small business. In this invoicing guide, we touch on the following topics:
What is invoicing?
How do I start invoicing?
Are Quotations and Invoices the same?
What about the difference between an Invoice and a Receipt?
Nine traits of an outstanding invoice
Why is having a good invoice software necessary?
What invoicing software should I use as a small business owner?

Within the guide, we also share free invoice templates. Feel free to download these templates for reference or to use in your own business!
What is an Invoice?
An invoice is a sales document that lists the products and services provided and their respective prices.
Every business requires an invoice - even small businesses! They are used to communicate money owed to the seller for the goods and services provided to the customer.
How Do I Start Invoicing?
Invoices are generated by a business (the seller) and sent to their customers. These documents can be sent in various formats and are created either physically on paper or electronically via an invoicing software.
Depending on your company's operations, you can provide this vital sales document before, during, or after the goods and services are fulfilled.
Are Quotations and Invoices the Same?
No, they are not.
Quotations are a formal document used to capture an estimation of the cost of goods and services provided. These proposed prices are subject to change over time. A quotation does not necessarily indicate a finalized amount and does not represent money receivable by the business.
Invoices, on the other hand, capture the finalized cost that is agreed upon between the business and the customer.
In other words, an invoice is indicative of what the customer owes the business.

What About the Difference Between an Invoice and a Receipt?
Invoices and receipts both involve a breakdown of costs and an itemized list of products and services provided.
The difference between an Invoice and a Receipt is when the document is sent to the customer.
Receipts are sent to the customer from the seller after payment and are used to acknowledge that payment is complete. It serves as proof that the customer has paid the seller for the goods and services rendered.
Invoicing must be done before payment as it informs the customer how much they should pay the seller.
With Deskera Books, creating sales documents online has never been easier! You can generate a Quotation and convert it easily to an Invoice. Once payment is received, a Receipt is automatically generated and can be easily downloaded and sent to your customers.
9 Traits of an Outstanding Invoice
Follow these 9 pointers while creating your invoice and you would not go wrong!
Display unique invoice document number
Show invoice issue date and invoice due date
Include customer contact and address
Specify sender (your) contact and address
Provide itemized list of products and services
Clarify any miscellaneous costs
Mention the payment details and options
Add your company branding (logo)
Leave a personal note or message

Once you have prepared it, make sure you send you invoice to your customer and do not forget to follow up.
Free Sample Invoice Templates
We have prepared multiple templates that you, as a small business owner, can use to improve your invoicing process! These templates are available for download in PDF.
Download our free invoice templates here!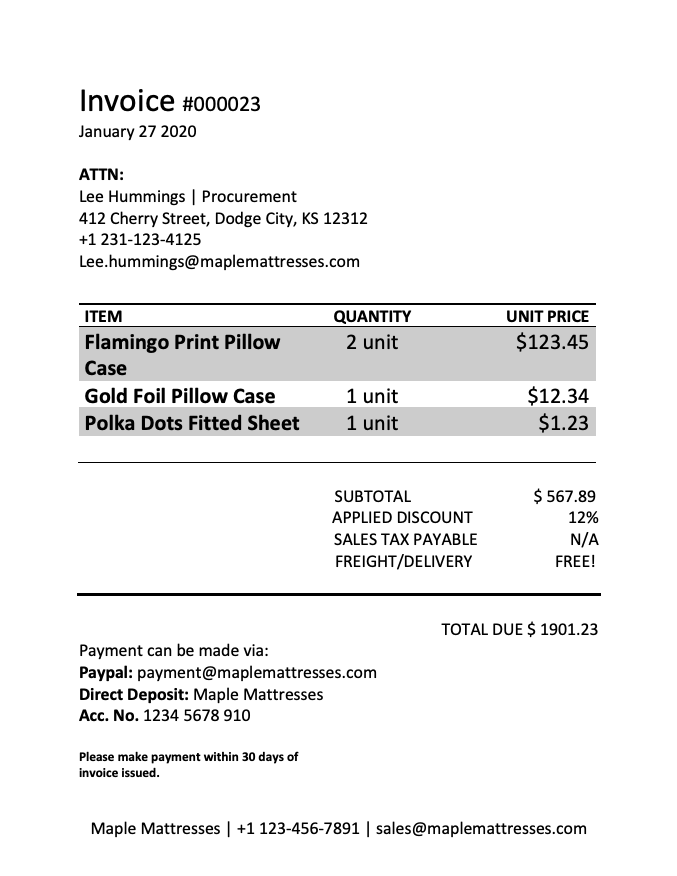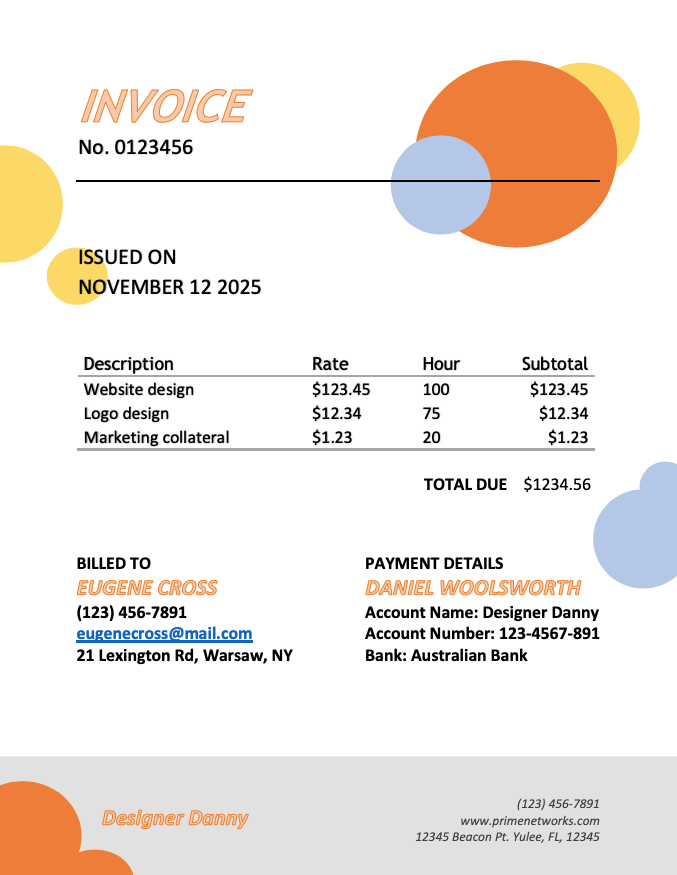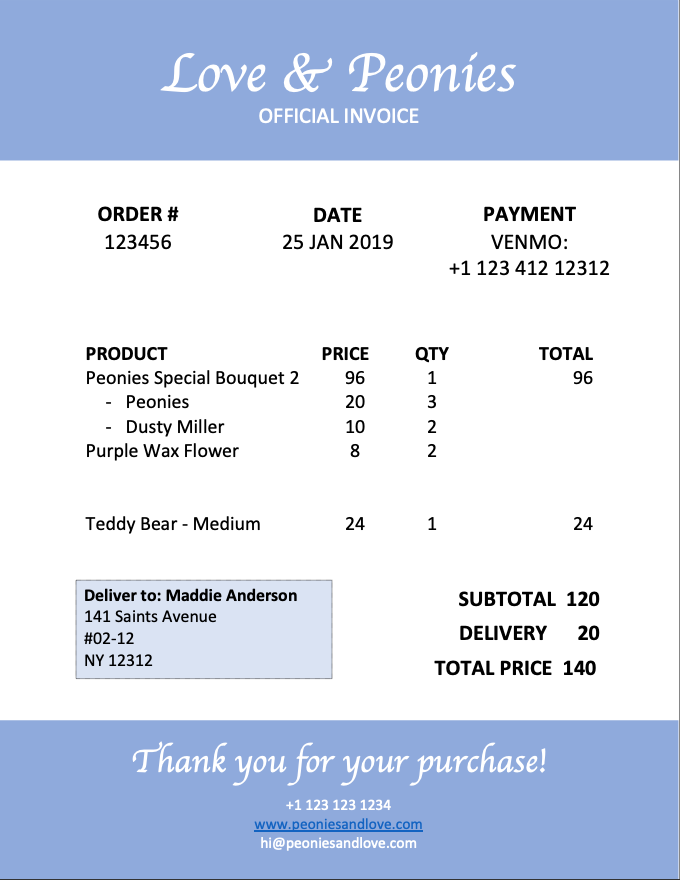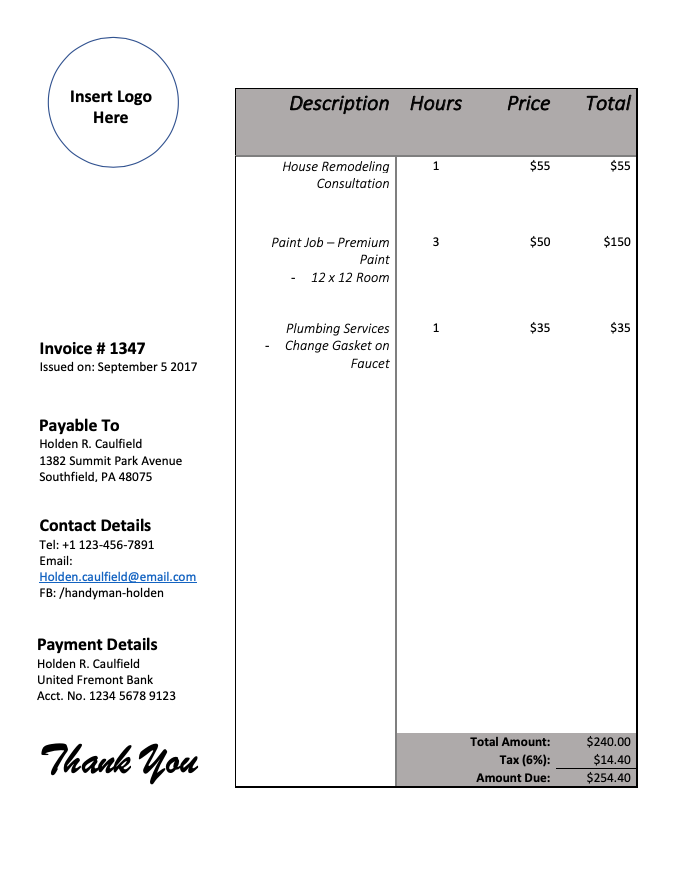 Why is Having a Good Invoice Software Necessary?
Don't undermine the value of investing in an invoicing software!
E-invoicing is being rapidly adopted in various companies (even government bodies) as it is more reliable and accurate than manual paper invoicing, on top of being cost-efficient.
A 2018 EY survey shares some advantages to using e-invoicing:
The ability to deliver within a shorter time frame at lower costs
An increase in overall productivity
Optimized usage of available business resources while managing the stakeholders' needs

An excellent invoicing software automates invoice generation to capture the crucial details of each transaction accurately. This reduces operating costs and allows scalability as your business grows.
Additionally, a professional invoice is an extension of your business image.
A poorly designed document may frustrate your customers and negatively impact their perception of your business.
On the other hand, a professional document will impress your customers, on top of minimizing any back-and-forth between you and your customer, reducing any delay in getting paid. This is especially crucial for small businesses that have just started and need to grow and retain their customer base.

What Invoicing Software Should I Use as a Small Business Owner?

Enter Deskera Books.
With Deskera Books, you can create business invoices online and further customize your business invoice by uploading a custom template. Generating a personalized invoice is made simpler as using a template applies the same format across the system, minimizing any manual editing required.
Get Deskera Books for sending professional invoices today!
Related Articles
Here are some useful articles on Invoicing which you may find useful.