Read on to uncover the different types of business management software that will address SMEs' needs and how they help businesses run more efficiently.
According to an article by the World Bank, Small and Medium Enterprises (SMEs) takes up approximately 90% of businesses globally.
The number is predicted to grow as we are now able to enjoy greater convenient access to the internet and other technological tools. This, in turn, makes it easier to set up businesses wherever we are in the world.
With a growing number of small businesses been set up and technological advancements, software companies have successfully identified the market needs. They have created the Business Management Software to support SMEs owner to run their business more efficiently and cost-effectively.
What is Business Management Software?
Business Management Software is a program or system that comprises tools to help businesses manage, improve, and automate their core processes.
The software can bring many benefits to a business. To name a few, a business software offers higher data protection, establishes transparency, and helping businesses to stay compliant with regulatory standards.
A business management software can come in various forms and addresses the respective needs across different business units such as:
Team Collaboration & Communication
Project Management
Website Building
Sales: Payment Transactions
Marketing
Customer Service
Accounting
Sales Management
Human Resource Management
Business Process Management
In this article, I will dive deeper into the different types of business management software that will address SMEs' needs and how they help businesses run more efficiently.
---
Team Collaboration & Communication Software
Team collaboration and communication software help SMEs to establish an effective virtual communication system that supports quality work done. In the software, users can chat with anyone in the organization in an instant. Share documents across and keep track of past conversations to avoid repetition of information. Users can also set up video meetings almost immediately to cut down on time to schedule real-live meetings. Having group chat is also possible in such software and allows team members to stay in the loop on team projects and instantly support one another.
Benefits:
Promote overall productivity
Instant communication in real-time
Reduce miscommunication
Enhance team collaboration
Some great examples of team collaboration & communication software:
Slack is known to "replace the work of emails." It helps to tidy up and keep track of all your conversations on the platform. You can organize your chat information accordingly to topics or search up your chat history to find any information that you might miss. Slack also allows you to chat with the external vendors you are working with. Just simply add them in!

Workplace by Facebook is a great communication tool to keep all your employees in the loop. You can set up live video broadcasting for announcements and share valuable information on Knowledge Libary. Set up polls or surveys to gather everyone's opinion to make important decisions. Aside, all members are also able to get personalized newsfeed that is relevant to them. Not forgetting the basics, users can also chat or video call with one another in real-time.
Project Management Software
Multiple projects tend to be ongoing when you are running a SMEs. You and your employees might face difficulties keeping tabs on the progress and to-dos for the different projects. Project management software can be a great helping hand to solve this problem. Such software is designed to help teams to keep track of overall project goals, progress, and inform all members of their jobs and responsibilities. In all, project management software helps to ensure an organized structure of tasks and information is planned and keep everyone in the loop and avoid missing work done.
Benefits:
Increase teams' productivity
Support remote working
Improved collaboration and communication
Enhance project planning and scheduling process
Some great examples of project management software:
With Trello, you and your team do not have to click into multiple pages to gather information. Trello's interface is designed to provide all information in one glance. Helping you to cut down the hassle and time to look for information. Simply create and add-in boards, lists, and cards and organize them in any manner that you and your team are comfortable with. Feel free to make changes or move around the cards when a task is completed or there's a change of mind.

Zoho Projects is a project management software that aims to support your team to get work done on time. Its Milestone feature allows you to breakdown your entire project timeline into smaller and less overwhelming goals for your team. Set up the start and end dates of these smaller goals to enable your team to stay motivated and ahead of schedule. Apart from supporting your team to get work done on time, they have many other comprehensive tools in the software to support and improve your team's overall productivity.
Website Building Software
A website is one of the most crucial elements of your business. Not only it represents your brand, but it is also a platform to help generate sales for your business. However, to create a powerful website is not an easy business. It's incredibly complicated to create one, especially when you and your team do not have a programming background. Fortunately, various companies have created website building software for people with little to no programming experience to smoothly create a great website for their business.
Benefits:
Tons of website templates for you to choose from
Reduced cost of hiring a programming team
No coding required
Make changes to your website anytime you want
Some great examples of website building software:
Fact: 37% of the web is created on WordPress. I am not surprised by the number because WordPress provides an extremely easy-to-use interface for users. Jumpstart your website by selecting a template that suits your brand's identity and starts changing things around with their straightforward drag and drop feature. You will have your website ready in no time!  

Wix is another great platform to create great websites for your business. Like WordPress, you also get to pick a template that you love out of 500 designer-made templates. You do not have to worry about mobile optimization as Wix will get it cover for you. On top of that, if you are thinking about having animation or video backgrounds on your site, Wix has it in their Advanced Designed Features as well!
Payment Transaction Software
In today's world, online transactions are more common than ever before. With more SMEs setting up their eCommerce business, high security and efficient payment transaction software have been created to support ease of payment.
Benefits:
Facilitate smoother customer transactions
Complete transactions securely
Some great examples of payment transaction software:
Stripe helps to support your business with a great transaction experience for your customers. They provide your customers with an extensive range of payment options that they prefer, such as Master, Visa, ApplePay, and more!

PayPal is one of the biggest online financial services in the world. They, too, also offer a vast range of payment options for your customers. On top of that, you do not need to worry about other financial transactions issues for your business, such as security, processing, or compatibility matters as PayPal will sort that out for you!
Marketing Software
Marketing is an essential aspect of your business that should be given attention and thoughts. However, marketing itself is a huge kingdom that comprises a lot of elements, such as SEO, Email, and social media marketing. Each of the components takes up a lot of time for planning and creation. To help save time and reduce the manual processes, marketing software is introduced to the market to help SMEs or MNCs to improve their marketing process.
Benefits:
Automate tedious manual process
Save time and leave more space for creativity
Marketing performance reporting
Boot overall marketing efficiency
Some great examples of marketing software:
Email marketing: MailChimp
Plan and create your email campaigns ahead. Built your email, set up your target audience, schedule it and that's pretty much it! MailChimp is a great marketing software that helps to automate your process in sending out your emails. With MailChimp, you do not have to worry about forgetting to send out any EDMs as the software itself will do the job for you. On top of that, MailChimp also allows you to track your email marketing performance by providing you with a reporting dashboard.
Social media marketing: Buffer
Buffer is a social media marketing management software. Similar concept to MailChimp, plan your campaigns ahead, set up your copies, and schedule the time and social platform you want your post to be upon.  You and your team do not have to set up physical reminders anymore for social posting and instead, you can spend more time on creative content planning.
SEO: Moz
Knowing your site's visitors, keywords, ranking, and optimization is key to increasing your overall ranking and driving quality traffic to your site. However, it is hard to gather such information and this is where Moz can help! Moz is an excellent software to get rid of SEO complexity. It helps you to understand what your target audience is searching for and provide you with an extensive list of keywords recommendations to improve your site. Track your overall traffic and ranking with a simple to understand dashboard and carry out audit on your site to improve your site's SEO performance.
Customer Service Software
Customer service is an important aspect of your business and a factor in determining your success in customer experience and satisfaction. Whatever your business is, customer service is a part that needs to be handled well. Customer service software is created to support and help businesses to provide more timely and efficient service to their customers.
Benefits:
Helps to keep track and organized all customer requests
Reach out to all customers with an automated reply
Able to measure your customer service effectiveness
Some great examples of customer service software:
Intercom allows you to put up live-chat widgets on your site and mobile application. In this way, your customers will no longer need to navigate around  your website or app to look for customer support. Your customer can instantly start a chat and receive the help they need.

Zendesk Support provides a full range of tools to support the omnichannel customer experience. The software works across any channel your business uses from email, voice calls, and social messaging apps. In just one software, you will gain total control and visibility of your customer service and ensure none of the requests is left behind.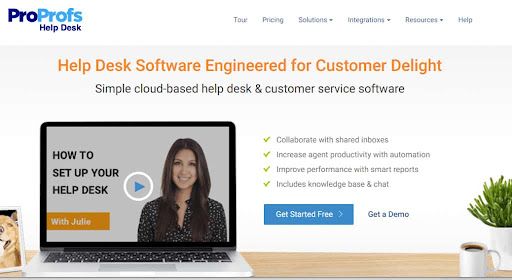 ProProfs Help Desk is an affordable and powerful customer service solution. It can be integrated with other ProProfs tools such as Knowledge Base, Survey Maker, Live Chat, etc. ProProfs Help Desk helps you connect with customers on their favorite channels. A shared inbox lets you manage customer emails, assist them in real-time through live chat, and capture requests through beautifully designed web forms.
Benefits:
Shared inbox
Internal collaboration
Ticket prioritization
Smart reports
Chatbots
Accounting Software
No matter what business you are operating, having a modern and efficient accounting system in your business is important to ensure all your account information is accurate and of quality. Keeping track of your accounts is not a simple job as there is too much information (e.g invoicing, inventory, income statement, bank reconciliation) for you to keep a tab on. Accounting software is created to help you solve the issue by automating all these tedious processes and ensure all your information is updated in real-time to enhance the accuracy of all your account information.
Benefits:
Reduce manual errors
Time savings and efficient
Save cost
Improved collaboration across departments
Some great examples of accounting software:
Deskera Books is one great accounting software that provides users with an extensive range of features that address small business needs. In books, you are free to create and customize your invoices. Track all your expenses in an orderly manner and view real-time status on your inventory. You can also see or download your financial reports whenever you need them. Deskera Books gives users a well-rounded accounting feature that covers all aspects of their accounting needs.
Xero is a cloud-based accounting software that provides SME owners with robust features such as invoicing, billing, bank reconciliation, asset management, and more. Xero's dashboard is also designed to help you better understand your finances to support you in making more informed decisions. In addition, Xero allows you to seamlessly integrate with hundreds of third-party applications to improve your overall user experience.

Sales Management Software (CRM)
Managing your business' sales process is crucial to ensure your business is generating profits. Sales management software (CRM) is designed to help SMEs streamline their sales process and boost overall productivity and sales effectiveness.
Benefits:
Help the sales team to close deals more effectively
Improve communication
Simplified sales process
Enhance customer experience
Some great examples of CRM software:
Deskera Sales is designed to allow users to capture and track customer engagement from lead to order in real-time. Never have to worry about missing out on customers anymore! The software allows users to create a pipeline easily and simply drag and drop as they progress. All the information will be sync to the dashboard, helping to ensure all information is up to date and accurate.

Hubspot CRM is another great CRM software that is easy to use, and you can pick it up in no time. Track all your customers and business relationships all in this software. The software helps to manage your entire sales process and help you to organize all the information accordingly. Not to mention, Hubspot CRM is free to download!
Human Resource Management Software (HRMS)
Employees' payroll, attendance, and leave management are all tasks that are tedious and time-consuming. Human resources management software (HRMS) is introduced to end all these slow processes and help to automate and reduce errors in these areas.
Benefits:
Reduce manual errors
Better data management
Employee self-service
Increased efficiency
Some great examples of HRMS software:
Deskera People allows you to generate payroll and payslips in just a couple of clicks. Employees can also self-service and view their payslips, apply for leaves, or file their claims and expense on their own from the system. Deskera People is designed to help your HR Department to save time and boost efficiency.

Gusto is a modern payroll software that is simple and easy to use. Apart from its payroll feature, Gusto also provides an extensive range of HR services such as onboarding, time tracking, and health & financial tools!
In Summary
That's a wrap for the types of business management software that SMEs needs!
I understand it might get a bit overwhelming as there are so many types of software in the market, and you might not know which one would really address your main business concerns.
With Deskera All In One, a powerful combination of Accounting, Inventory, CRM, Payroll, Leave and Expense, you get the full business management suite to run your business with one login id. And the best part is, you can sign up for free and try the system out yourself.
Start automating your business process today!
---
Related Articles