The road to building a successful startup is challenging. It requires effort, talent, innovation, and also the right digital tools. The right tools help drive productivity and growth.
Digital technologies are here to stay for good and for good reasons. They are practical, efficient, and cost-saving. They help startups solve problems by automating time-consuming daily processes and focusing on other essential aspects of your startups, like strategic planning and innovation.
With the Covid-19 outbreak, such digital applications have further proven their effectiveness in difficult times like this, such as supporting remote working, maintaining work collaboration, and ensure your business process runs smoothly.
Here are the top 15 software applications, organized according to their function, that will significantly benefit your startup in 2020.

Project Management
Trello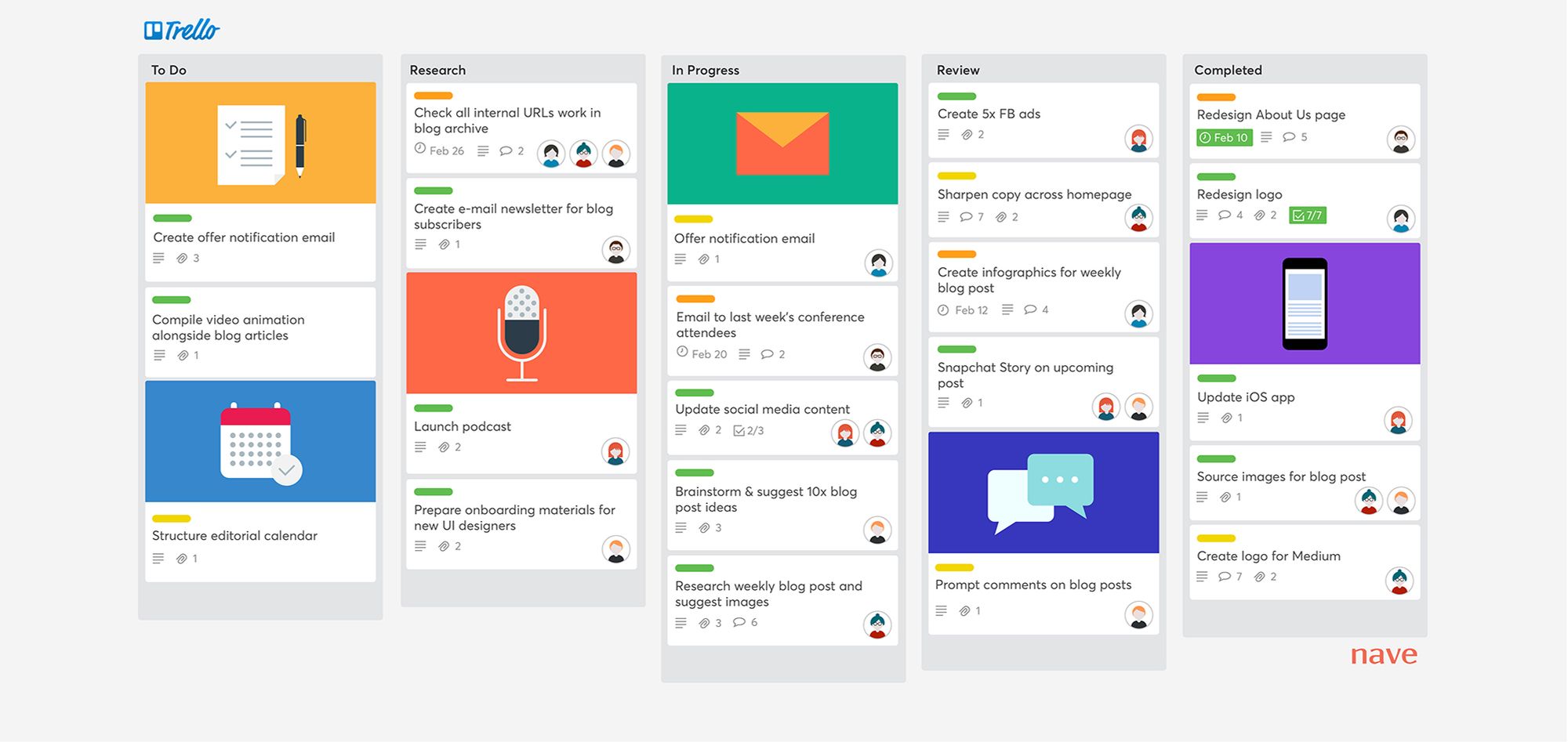 With remote working becoming more prominent, it is vital to ensure that you and your team are working on maintaining task clarity and focus. Trello is a useful tool when it comes to project management. In a single dashboard, you can get a complete overview of what your team is working on. You and your team can simply add in new tasks and also highlight to the team on what is completed. You can also include file attachment to share your finished work to your team quickly. The interface is straightforward and easy to use. You and your team can pick it up in no time!
Some of their best features:
Apps integration
Easy and straightforward dashboard
Customizable
Always in sync with your mobile and desktop

Pricing:
Basic Plan - Free
Business Plan - $9.99 per user/month
Enterprise Plane - $20.83 per user/month

Find out more about Trello: https://trello.com/home

2. Asana
Another great project management tool - Asana. While Trello is a great and straightforward tool to get a good overview of what you and your teams are working on, respectively, Asana focuses on incorporating more features on team project-collaboration. It allows you to plan the project agenda together as a team and assigned roles. Create project timelines and to-dos list to stay ahead of schedule and get things done more efficiently as a team.

Some of their best features:
Customizable work templates
Chat
App integration
Portfolios

Pricing:
Basic - Free
Premium - $10.99 per user/month
Business - $24.99 per user/month

Find out about Asana: https://asana.com/

Communication
3. Slack
As the saying goes, communication is key. It is important to establish a good communication platform, especially when everyone is working from home. Having a transparent communication system ensures that everyone is in the loop and figure out what their main priorities are and, most importantly, to clarify doubts and gain clarification whenever possible. This is where Slack comes in. Slack is an online communication tool that is designed for collaboration in mind. It allows you to instantly communicate with your teammates and create channels according to the projects you are working on to drive productivity. Not to mention, Slack interface is user-friendly as well!
Some of their best features:
Channels
Searchable history
App integration
High data security

Pricing:
Small Team - Free
Standard Plan - $6.67 per user/month (suitable for startup!)
Plus Plan - $12.50 per user/month

Find out more about Slack: www.slack.com

4. Zoom
Holding virtual meetings would be the new norm. I believe even when COVID-19 goes away, we cannot deny the rise of the gig economy. There will be more freelancers out there, and businesses would have to carry out virtual meetings more frequently than ever. Zoom is a great tool when it comes to virtual meetings. Simply schedule a meeting via zoom, the meeting URL will be generated, and you can just send the URL to the person that you are going to have meetings with, and you are done!

Some of their best features:
Built-in collaboration tool (e.g., screen sharing)
Streamlined calendaring
Meeting recording and transcripts

Pricing:
Basic Plan - Free
Pro Plan - $14.99 per user/month
Business or Enterprise Plan - $19.99 per user/month

Find out more about Zoom: https://zoom.us/

Meeting calendars & scheduling

5. Calendly
With more virtual meetings, you might face challenges in keeping tabs on all your upcoming meetings, and this is where Calendly can help! In a way, Calendly works like your virtual PA. You can share your calendar URL with anyone you are meeting with and allow the person to fix a time with you in your calendar. Calendly will help you to keep track and avoid conflicting meetings and send you email reminders at your next meeting. Calendly is a great tool to help you stay organized!

Some of their best features:
Calendar Integration
Time zone intelligence
Real-time notifications

Pricing:
Basic - Free
Premium - $8 per user/month
Pro - $12 per user/month

Find out more about Calendly: https://calendly.com/

File Storage

6. Google Drive
Google Drive might be a familiar application for everyone. As long as you own a personal Google account, you will be introduced to a trove of useful applications such as Gmail, Hangout, Google Docs, and of course, Google Drive for free. Google Drive is a file storage and synchronization platform that allows you to upload all relevant documents and synchronize files across all devices. In drive, you can store, share, and collaborate your files with your team. Accessing files and download necessary work materials has never been this straightforward!

Some of their best features:
Always in sync with your mobile and desktop
Cloud-native collaboration apps (Google Docs, Sheets, Slides)
Search technology

Pricing:
Personal - Free
G Suite Basic - $6 per user/month
G Suite Business - $12 per user/month
G Suite Enterprise - $25 per user/month

Find out more about Google Drive: https://www.google.com/drive/

Creatives
7. Canva
Canva is a digital graphic designing platform and is also my personal favorite. The main reason is that it allows people with no designing background to easily create and design marketing collaterals or any graphics like a pro. Its interfaces are user-friendly and well-organized. They have tons of design templates in different sizing to meet your startup needs. I guess there are no more excuses for not working on pleasing aesthetic collaterals without having a designer in your team.

Some of their best features:
Tons of templates
Millions of stock photos
Enable team collaboration

Pricing:
Canva Basic - Free
Canva Pro - $9.87 per user/month
Canva Enterprise - $28.23 per user/month

Find out more about Canva: https://www.canva.com/

Marketing Automation

8. Mailchimp
Email marketing is essential to most businesses as it helps to share your product and services to qualified customers. Hence, having a smart email marketing tool is vital to send and track the performance of how your email campaigns are doing. Mailchimp is one of the best marketing automation tools out there. Its intuitive interface allows email campaigns to be created in a matter of minutes and not forgetting their intelligent built-in analytics to track campaign performance such as response rate, open rate, and clicks.

Some of their best features:
Campaign creation
Automated email campaigns
Built-in analytics
A/B Testing

Pricing:
Basic - Free
Essentials - $9.99 per month
Standard - $14.99 per month
Premium - $299 per month

Find out more about Mailchimp: https://mailchimp.com/

9. Buffer
Buffer is another excellent marketing automation tool that helps you to handle social media marketing. Buffer's main selling point is its feature on post scheduling. This feature helps you to save tons of time doing manual social posting on all your platforms. In Buffer, you can simply pre-plan and set your content and post it according to the day you want on any social platforms. With this tool, you do not have to worry about missing a day's post, and you can use the time saved to work on creating quality content.

Some of their best features:
Post scheduling
Social media performance analytics
Collaboration

Pricing:
Pro - $15 per user/month
Premium - $65 per user/month
Business - $99 per user/month

Find out more about Buffer: https://buffer.com/

Website Creation

10. Wix
Wix is a digital platform for you to design and create a website from scratch. Like Canva, you do not need to have experience with coding or technical knowledge on website building. On Wix, you can design high-quality webpages with hundreds of templates for you to play around with. They also have user-friendly interface and features such as the drag and drop builder to set up a website in minutes. Wix allows you to freely customize your site and the best part; You don't have to worry about SEO and mobile optimization! Wix got it covered for you!

Some of their best features:
500+ Designer-made templates
Innovative Drag-and-drop feature
SEO and mobile optimization feature
Apps integration

Pricing:
Business Basic - $17 per month
Business Unlimited - $25 per month
Business VIP - $35 per month

Find out more about Wix: https://www.wix.com/

Blogging Platform

11. Medium
Are you thinking of having a platform to share your business content and product information? Medium is a free publishing platform that allows you to do so! The platform has a simple and easy to use interface with not much setup required. On Medium, you can simply focus on content writing and not worry about coding or designing issues.

Some of their best features:
User-friendly interface
Helps your business to reach out to people of similar interests
No coding or designing required

Pricing: Free

Find out more about Medium: https://medium.com/

Website Analytics

12. Google Analytics
After you have a website, it is crucial to understand how your website is performing, and this is what Google Analytics is all about. This tool is designed to inform you and allow you to know which area of your website is not doing so well, and you can make the necessary improvements in such areas. This is a tool that is important to keep you informed on your website performance!

Some of their best features:
Traffic reporting
Keyword referrals
Conversion tracking
Pricing: Free

Find out more about Google Analytics: https://analytics.google.com/

SEO Analytics

13. SEMrush
SEMrush is an all-in-one SEO tool that is essential for every business with an online presence. The tool provides thorough research for your websites, such as keywords and backlinks analysis. Like Google Analytics, it also helps to analyze your overall website performance and understand how your competitors are performing.
Some of their best features:
Keyword research
Backlinks analysis
Analytics reporting
Traffic analysis
Pricing:
Pro - $99.95 per month
Guru - $199.95 per month
Business - $399.95 per month

Find out more about SEMrush: https://www.semrush.com/

Sales & Customer Management (CRM)

14. HubSpot CRM
Establishing a positive relationship with your customers is crucial for your business, and having an efficient sales process aids in a higher conversion rate. Hence, this is where HubSpot CRM comes in. The tool offers a range of great features for startups such as sales pipeline automation tracking, sales activity report, and contact assignment. With the tool, you will be able to stay in the loop and understand how your sales team is performing.

Some of their best features:
Contact Management
Contact Website Activity
Track deals, tasks, and activities

Pricing: Free

Find out more about HubSpot CRM: https://www.hubspot.com/products/crm

Accounting, Inventory, Finance

15. Deskera Books
Running a startup is not as simple as it seems. Daily, there is a lot of backend processes running behind it, such as inventory, accounting, and maintaining healthy cash flow. All these daily tasks take up a lot of time, and it is prone to human error. And, this is where Deskera Books can help. Deskera Books is an all-in-one business cloud solution that helps to automate all the mentioned tedious tasks. It drives overall business efficiency and helps to keep track of all the backend processes in an intelligent and organized manner.

Some of the best features:
Smart selling and buying interface
Inventory management
Bank integration
Accounting management

Pricing:
Individual - Free
Startup - $39 per month for three users
Essential - $99 per month for five users
Professional - $239 per month for ten users

Find out more about Deskera : https://www.deskera.com/
The road to building a successful startup is challenging. It requires efforts, talents, innovation, and also the right software applications. I hope the 15 software applications we shared give you some great ideas on what you might need to overcome the challenges faced in this pandemic and in the long-term.

---
---