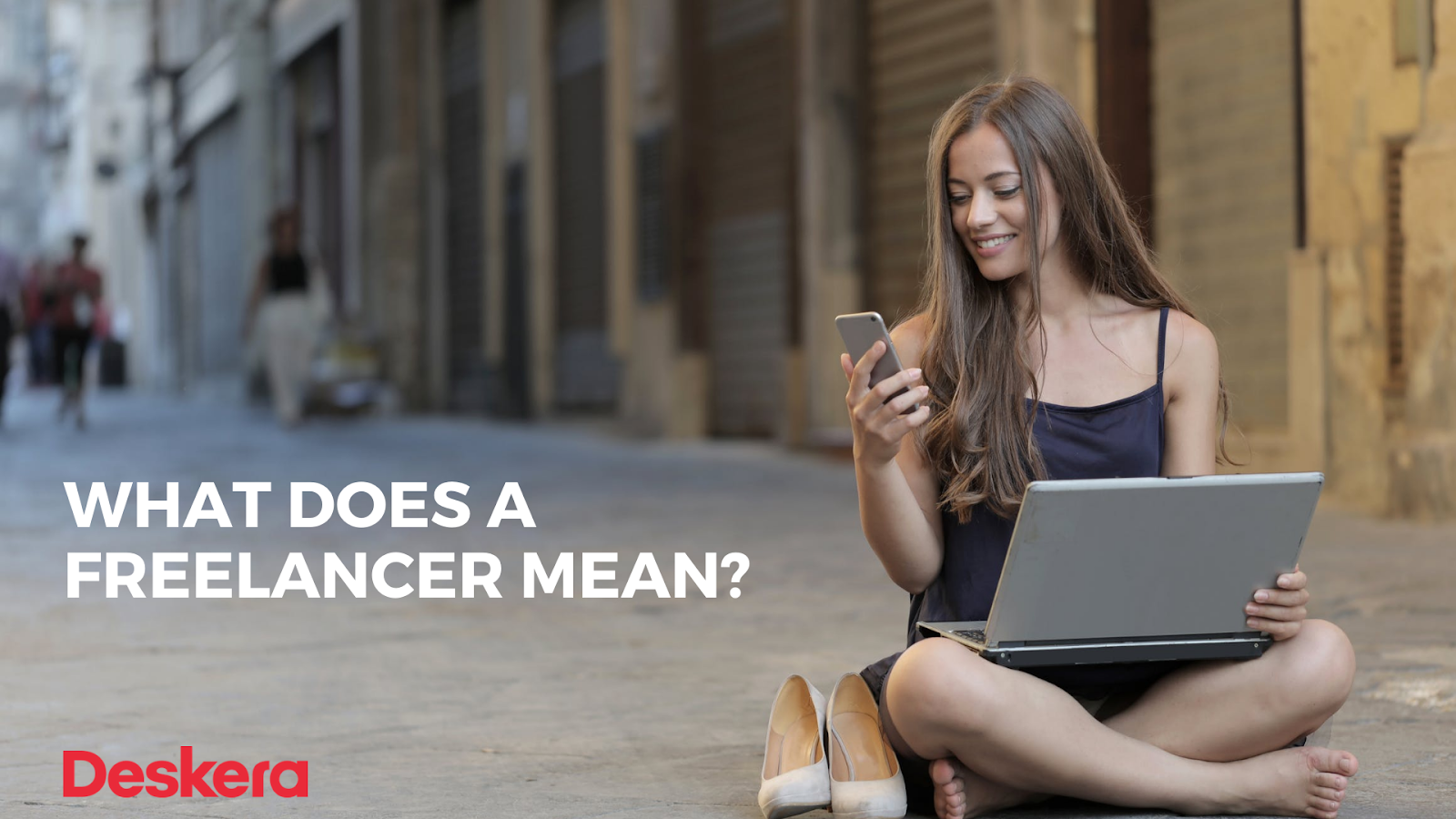 Who Are Freelancers?
Ever since the gig economy spread out globally, freelancing has seen a rise in popularity. A freelancer is a person who is self-employed and chooses to work independently, without long term or permanent ties to a specific employer or institution. Sometimes freelancers might temporarily work with an agency to reach out to clients with their freelance work, but after a time, most find jobs and employers on their own through personal blogs, websites, or connections within their particular industry.  

Index:

Who are Freelancers?
Types of Freelance Jobs
Understanding the Industry
Benefits of Being a Freelancer
How to Start Out as a Freelancer? + Best Practices for Managing Finances
Accounting/ Bookkeeping for freelancers

In this day and age, 'freelancer' is a widely recognized term, especially within media, technology, and the creative industry in general. There are diverse and numerous freelance job opportunities out there within every industry you can possibly imagine, only if you know how and where to look for them.
How Does Freelancing Work?
Since a large part of freelancing is being self-employed and handling all the work, it certainly comes with considerable responsibilities that conventional employees don't have to bother with. For example, you may have to learn to separate your work hours from the rest of your day, strike a balance between multiple simultaneous projects, track your time on a project, keep a steady stream of communication with clients, set your rate, bill clients, and even assess and pay your own taxes!

Here's the way your average freelancing model works:

An aspiring freelancer assesses their skill set and determines the industry their skills would be the perfect fit for.
They search for jobs in that industry via websites/personal connections or start by joining a freelance business agency.
They settle on a workplace and gather the equipment/tools they'd need to work (e.g., a graphic designing job requires a computer/graphic tablet, steady internet, software, digital art supplies like stylus pens, etc.)
Perhaps most importantly, they learn to manage their finances.
After multiple tries and perhaps even one or two epic fails, our previously aspiring freelancer has finally landed a gig. Now they work towards building a robust portfolio to access a wider pool of clients and jobs.
Types of Freelance Jobs
The freelance industry is a huge arena with unlimited opportunities and the right work for everyone, if only they know how to find them. The jobs may vary from small, quick projects to long term projects. It's ultimately up to you to pick according to your goals. Here's a by-no-means-comprehensive list of some popular categories of freelance jobs:

Freelance Writing Jobs
Freelance writers are constantly in demand, especially amongst fresh online businesses, blogs, entrepreneurs, and startups. The sorts of writing you might be required to do are:
Article writing
Researching a given topic and writing on it
Blogging and social media handling
Copywriting

Freelance Programming/Web- Development Jobs
If your specialties lie within creating efficient and aesthetically pleasing websites, consider these opportunities, what with all organizations requiring a firm digital presence in the present times.

Freelance Graphic Designing Jobs:
Another field of freelancing that's never going to go out of style as a lot of organisations prefer to outsource their tactical design jobs to freelancers

Freelance Accounting/Bookkeeping Jobs:
Think you'd flourish in a traditional accounting position? There are many freelance job options out there to choose from. These jobs are especially in demand during the taxation period both by individuals and organizations

Freelance Search Engine Optimization (SEO) Jobs:
Here, you optimize your client's websites for search engines. This is a very popular and well-paying freelance work category.

Freelance Marketing Jobs:
If you possess digital skills, this is another good space for you to land a gig.
Benefits of Being a Freelancer:
While all the job opportunities and financial numbers are all well and good, traditional employments have similar figures too. So you might still be wondering why on earth freelancers think managing all their work on their own is a good idea. Fair question. Let's take a thorough look at some of the exclusive benefits that draw workers to the freelance industry:

Freelancers Workers Have More Control over Their Work Life:
How much work to take on, the clients you want to work with, the kind of payments your work deserves - as a freelancer, you get to control it all.
The Flexibility:
When it comes to describing the perks of freelance work, flexibility is an often-used word. Freelance workers get to pick flexible working hours and set their own pace. Plus, they decide if they'd like to take up simultaneous projects.
Choosing Your Own Workplace:
As freelance work is often done remotely, you have the independence to choose your workplace—work from the comfort of your own home, or at your favorite restaurant or cafe.
Lesser Hours of Work When Compared to the Traditional Employee:
Studies show that freelancers usually work 30 to 35 hours a week, as opposed to the 40 hours a traditional worker has to do.
New Opportunities:
Most freelancers choose this line of work to follow their passions. Every work opportunity could be distinct and unique. It may challenge you to learn more and push you to grow better.
Deduction on Tax:
For many, this is one of the best incentives to do freelance work. According to most local tax laws, since freelance workers bear expenses that traditional workers don't have to (work supplies, maintenance, travel for business purposes, etc.), they take those expenses off their freelancing income. They can also claim tax deductions on office space, relevant hardware/software, health insurance, depreciation, interest on loans taken for business purposes, and more.
How to Start as a Freelancer

The first step is knowing your top skills: what can you offer? Do you have a gift for art? Maybe graphic designing, digital art, or freelance animation jobs are the right fit for you. Good with words and know all about putting pen to paper? Chances are you'll be highly sought after within the freelance writing community.

Most freelancers get their first job through an online job site. So you can start out by seeking jobs on any of the following freelance websites:

Build a significant online presence. This is going to be one of the most important things you do for your career. Carve out an online space for yourself to showcase your best work and present it in an attractive, visually pleasing package. There are many free and paid portfolio builders out there you can benefit from. A paid portfolio builder would let you deduct that expense from your taxes too.
Having social media presence on the popular mediums (LinkedIn, Facebook, Twitter, etc.) is great, but you may also want to consider having a personal blog relevant to your industry.

Networking is also a crucial aspect of freelancing since most seasoned freelancers claim to have scored their jobs through professional or even personal contacts. Reach out to people who have been in your industry, maybe arrange to make a guest post or two on popular blogs.

The next step is learning to do proposals right. A mistake many make is sending a proposal to a client straight up. What you should do is first make sure they'd like to take a look at your idea. Once you have the green signal, propose an idea specifically curated for their needs. Remember to:

Understand the client's demands and projections beforehand,
Communicate how you plan to tackle a job,
Mention the time you'd require,
Discuss payments and job expenses; maybe even send a proforma invoice.

Don't forget to write a smart and brief cover letter introducing yourself and some of your best work, and mentioning why you'd be suitable for the job.
Best Practices for Managing Finances As A Freelancer

Determine your freelance rate. Conduct some research and find the standard freelance rates in your field of work. Then honestly evaluate your expertise and the quality of services you offer, and set your rates accordingly. You could charge hourly fees or a one-time project-based fee.

Decide on a mode of payment. If you are new to freelancing, signing up for PayPal may be the easiest way to navigate the unknown waters. Ensure clarity on billing policies before you begin: keep records of when and how you are going to get paid, and the penalties if the client fails to meet a payment deadline. Don't hesitate to follow up with them if they miss a payment.

Track and keep physical records for all your freelancing income for tax purposes. Freelancers do have to pay income tax like any other entity. But freelancers can have a portion of the tax deducted (do check and see which ones apply to you) as per local tax laws.
Accounting and Bookkeeping for Freelancers
To most freelancers, keeping tabs on payments, billing and invoicing, calculating taxes, etc. can seem like a not-so-fun task even at the best of times since accounting can keep you from your work. However, understanding the basics of bookkeeping is still critical for your business. It's why we recommend Deskera Books, which makes the process a whole lot easier for you. Deskera offers a multitude of tools that can help you:

File all your freelancing income with proofs
Create and send out custom-made invoices
Set invoice alerts for both you and your clients
Follow up with clients on payments, and
Estimate your taxes

Choosing the best accounting software for freelancers is that critical decision separating freelancers on top of their accounting game, and those struggling with it as they juggle work.