Existing business owners who wish to change their business tax model do not necessarily need to start a new enterprise or create a new business entity. It is simply a matter of updating your tax selection with an IRS form.
Various business entities follow different rules for filing their US taxes. Form 8832 lets some businesses determine what tax classification they fall under. In some cases, this may bring several benefits to your business.
This article discusses how Form 8832 can help you if you are looking to change the way taxation takes place for your business.
What is Form 8832?
Form 8832 is the Entity Classification Election form that enables specific businesses to decide whether they want to pay taxes as a:
C Corporation
Disregarded Entity
Partnership
The right election can help you save a considerable amount of money every year. The IRS will tax you according to your default entity classification if you don't use Form 8832 to make an election. Consequently, you may have to pay more taxes than you need to.
Who Must File Form 8832?
As we have learned, the form is not to be filed by any business mandatorily. As a matter of fact, if they are happy with their entity status, they do not need Form 8832 at all. However, if they are looking to change, they may file it.
The typical list of the type of businesses that may file is:
Domestic partnerships
Domestic LLCs
Foreign partnerships
Foreign LLCs
Foreign corporations (for some jurisdictions)
US-owned foreign corporations (for some jurisdictions)
When Is Form 8832 Due?
Well, we often tend to be extra-cautious about the due dates and the deadlines of the tax forms. However, Form 8832 is not a mandatory form and therefore, does not have a deadline. It can be filed at any point in the life of an eligible business. A company that has existed for decades or young enterprises all have an equal opportunity to change their entity classification.
If you file Form 8832, an effective date can be specified.
The effective date must fall within 75 days before submitting the form
It should not exceed one year after filing the form
This may be a bit difficult to grasp. Let us break it down and understand it a little better.
Understanding Form 8832
When you create a sole proprietorship, a partnership, or a multi-member LLC, your business entity taxes are determined by the default tax rules for these entities. Nevertheless, you can choose a different tax rate with Form 8832. You can classify your federal business taxes according to different categories.
As soon as your business is approved for filing taxes, you can file taxes just like a corporation, partnership, or entity considered separate from its owner. Inappropriate elections can lead to dire tax consequences and harm your business. It is, therefore, extremely crucial to elect once you are sure about it.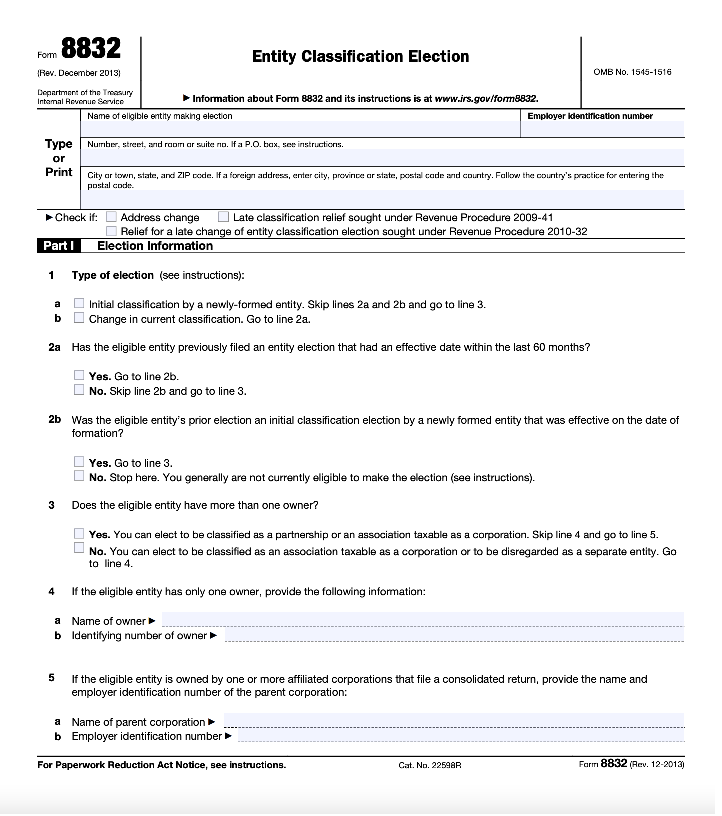 If you're unsure about the best date to use on your entity classification election form, an accountant can help. It's often a matter of taking the right call, and minimizing your taxes depends on it.
Once your IRS entity election is approved, your new classification is permanent and it will continue to be so. You may again apply for Form 8832 in case you want to change the entity again. However, you must remember that you will have to wait for 5 years after the new change comes into effect.
Your accountant can help you in the case where you need to change it before 5 years. There are some exceptions that could be considered for the change.
Requirements for Form 8832?
Although considered as a complicated form, a complete knowledge about its filing can help eliminate most of the hurdles. Here is the information you will need before you decide to file Form 8832:
Name of the business
Address of the business
The contact number of the business
Employer Identification Number (EIN)
How Do I Fill Out Form 8832?
Changing the entity classification of your business is as simple as following a few simple steps.
Gather the information you'll need to complete Form 8832 by reading the IRS instructions.
Download the form from the IRS portal
Fill out the form by entering your business's name, address, and EIN in the top section.
Next comes Part 1 where you have Election Information. Use it to determine how you want your business taxed.
For Part 2, you only need late election relief if your effective date is more than 75 days before your filing date. This section allows you to request an exception to the IRS's standard timeframe. Part 2 can be skipped if you don't require an exception.
Sign the document
Send it to the IRS
Also, you will be filing your form based on the place you reside. Different locations have different mailing addresses. Here is the list of places with the corresponding mailing address:
Upon submitting the form, you just need to wait for a response once you've sent the form in. Within 60 days, you should receive a letter from the IRS confirming or denying your request to change your status.
As an option, you can check the status of your form by calling the IRS at 1-800-829-0115 or sending a letter to the service center after 60 days.
Once your entity classification has been approved, you must attach a copy of the form to your IRS Form 1040 for the first year it is in effect. This completes the process.
When to File Form 8832?
When you are filling out your IRS Form 8832, you will have the option of selecting from one of three options. Your options are as follows:
If your LLC only has one owner, it is not considered a separate entity. In this type of business, income is usually passed through like a sole proprietorship, but it is considered separate for liability reasons
Classified as a foreign partnership
Taxed as a corporation but classified as an association
Note: In order to tax your LLC as an S Corporation, you will need Form 2553 instead of Form 8832.
FAQs: Form 8832 and Foreign Eligible Entities
Q: In what situation must an entity classification election be reported on line 1 if the classification of the foreign eligible entity was not appropriate or relevant?
A: As defined in Regulations section 301.7701-3(d)(1), for foreign eligible entities that have not been relevant until the date the entity classification election was made, check box 1a.
The election must be reported as an "Initial classification by a newly-formed entity," even though the election took effect after the entity was formed in the foreign jurisdiction.
Despite the fact that the election will generally affect classification, it is not recommended to check box 1b.

Q: In the case of a prior entity classification election, should line 2b be reported in case the classification of the foreign eligible entity was not relevant?
A: As defined in Regulations sections 301.7701-3(d)(1), if a foreign eligible entity's classification was irrelevant before the effective date of a prior entity classification election, that entity may elect to change its classification within 60 months following that election, whether or not it resulted in a change of classification.
It is recommended that the box for "Yes" in line 2b be checked in this case and the prior classification should be treated as an initial classification for determining whether or not an entity is eligible to make the election.
How can Deskera Help You?
Deskera Books is an online accounting, invoicing, and inventory management software that is designed to make your life easy. A one-stop solution, it caters to all your business needs from creating invoices, tracking expenses to viewing all your financial documents whenever you need them.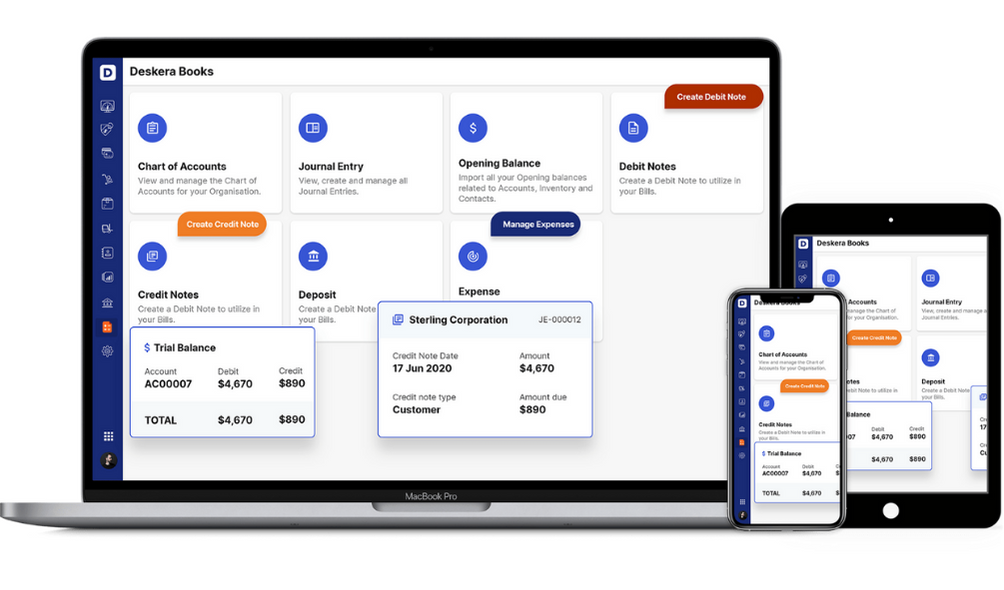 Try Deskera for Your Business Today
Sign Up for a Free Trial Now!
Key Takeaways
Form 8832 is the Entity Classification Election form that enables specific businesses to decide whether they want to pay taxes as a C Corporation, Disregarded Entity, or Partnership
The IRS will tax you according to your default entity classification if you don't use Form 8832 to make an election
An inappropriate entity classification may lead you to pay more taxes
The typical list of the type of businesses that may file Form 8832 comprises Domestic partnerships, Domestic LLCs, Foreign partnerships, Foreign LLCs, Foreign corporations (for some jurisdictions), US-owned foreign corporations (for some jurisdictions)
Form 8832 is not a mandatory form and therefore, does not have a deadline
Once your IRS entity election is approved, your new classification is permanent and it will continue to be so
You may again apply for Form 8832 in case you want to change the entity again. However, you must note that you will have to wait for five years after the new change comes into effect
The information you will need before you decide to file Form 8832 includes the Name of the business, Address of the business, the contact number of the business, and Employer Identification Number (EIN)
You will be filing your form based on the place you reside. Different locations have different mailing addresses
Upon submitting the form, you should receive a letter from the IRS confirming or denying your request to change your status within 60 days
You can check the status of your form by calling the IRS at 1-800-829-0115 or sending a letter to the service center after 60 days
Once your entity classification has been approved, you must attach a copy of the form to your IRS Form 1040 for the first year it is in effect
In order to tax your LLC as an S Corporation, you will need Form 2553 instead of Form 8832
Related Articles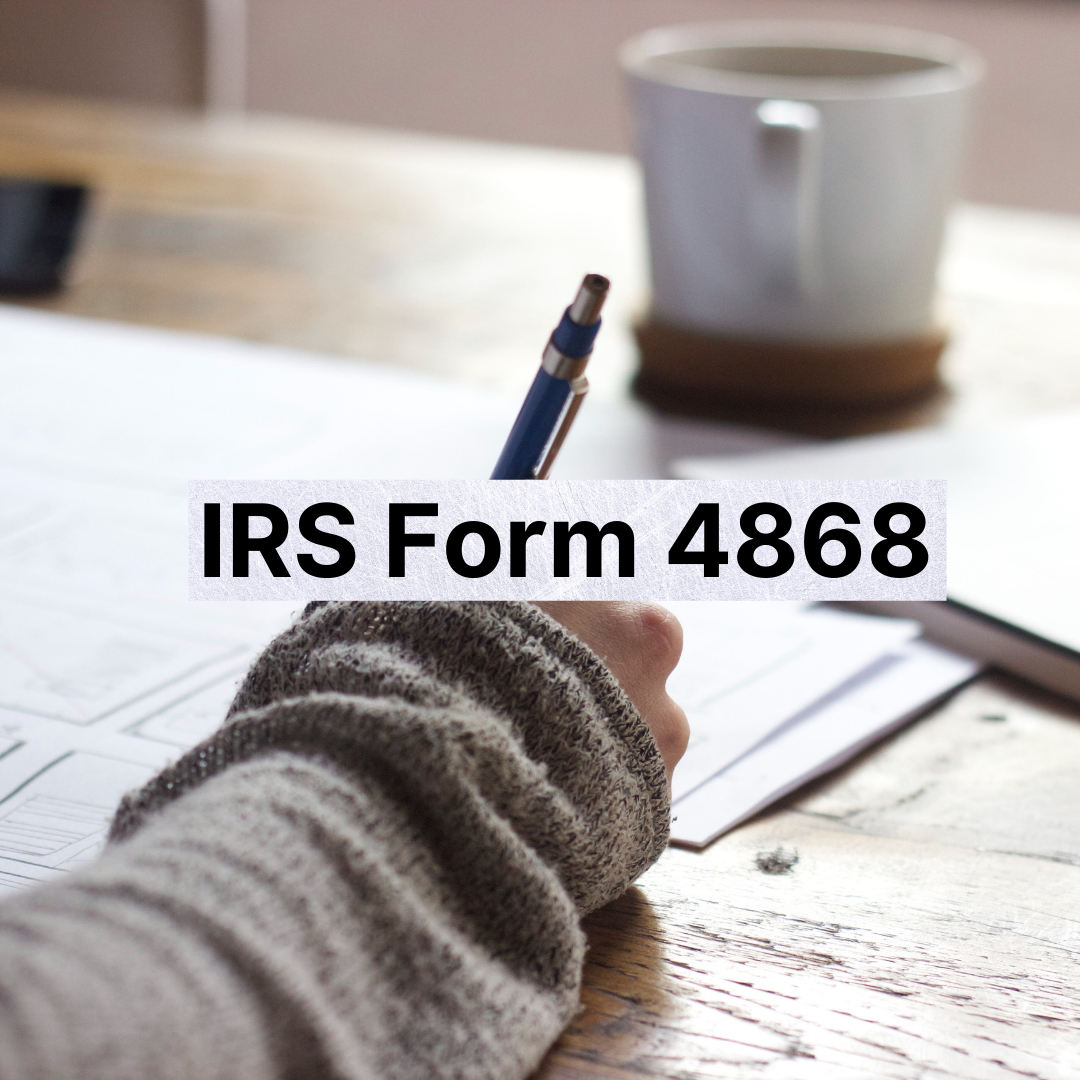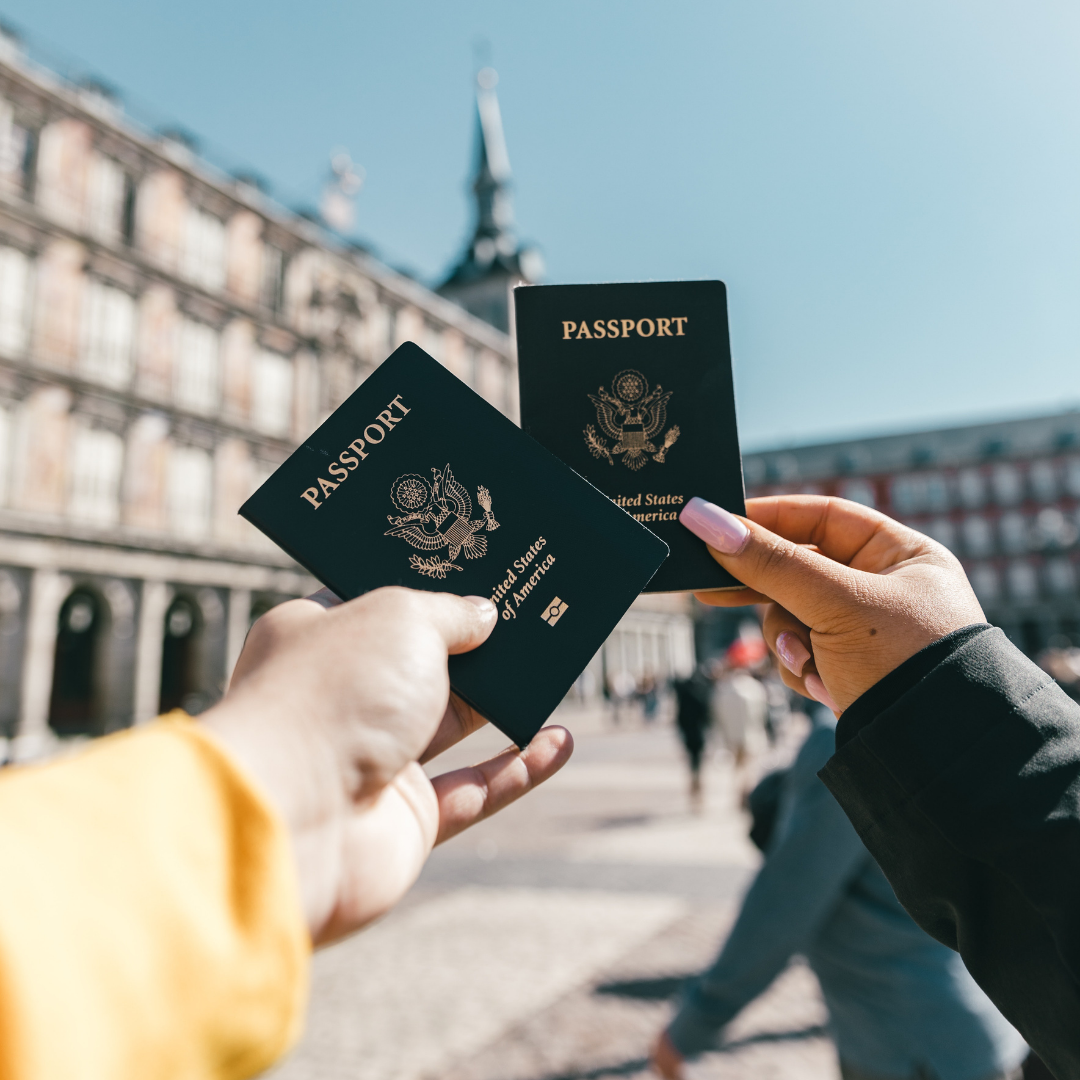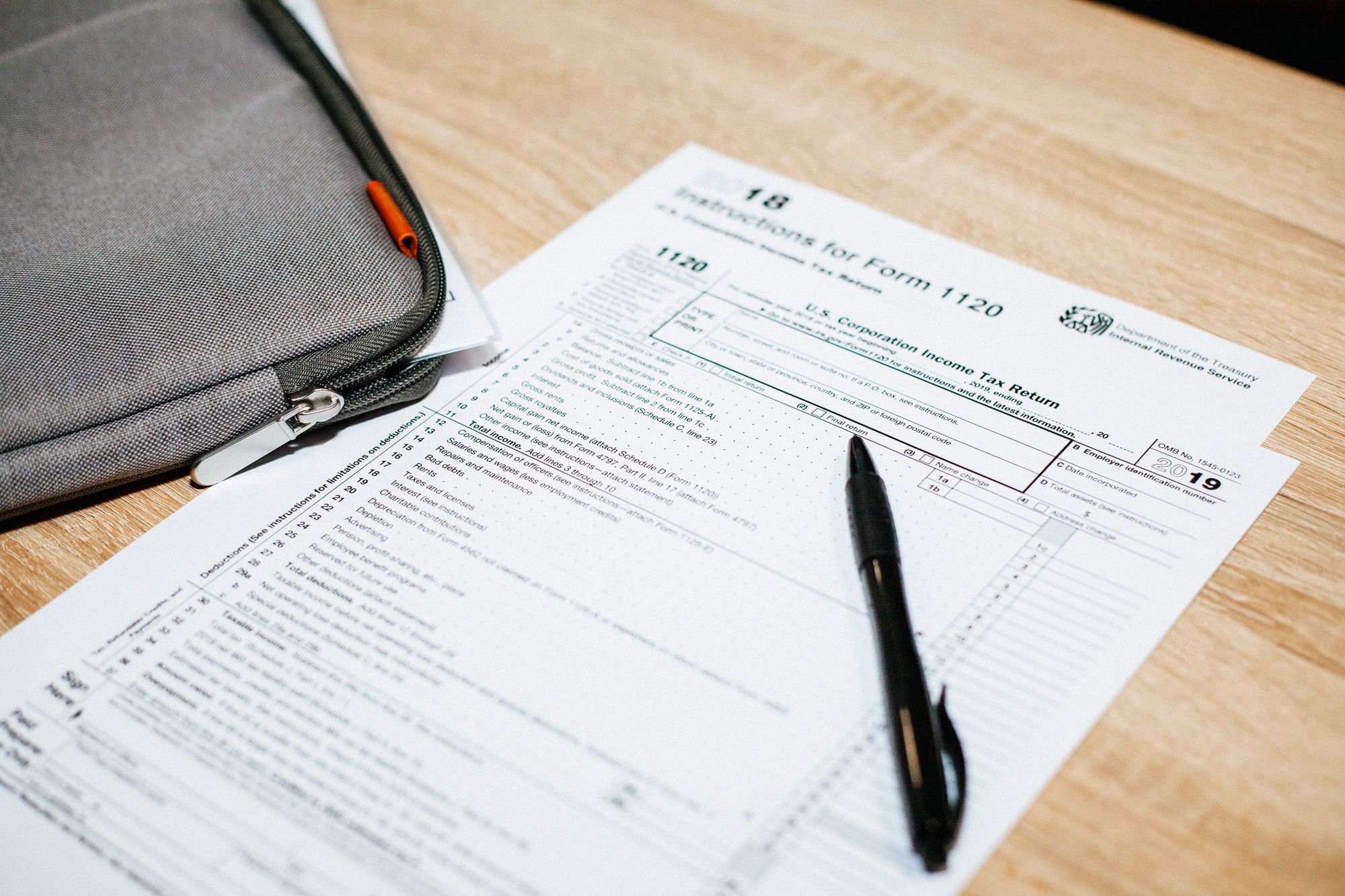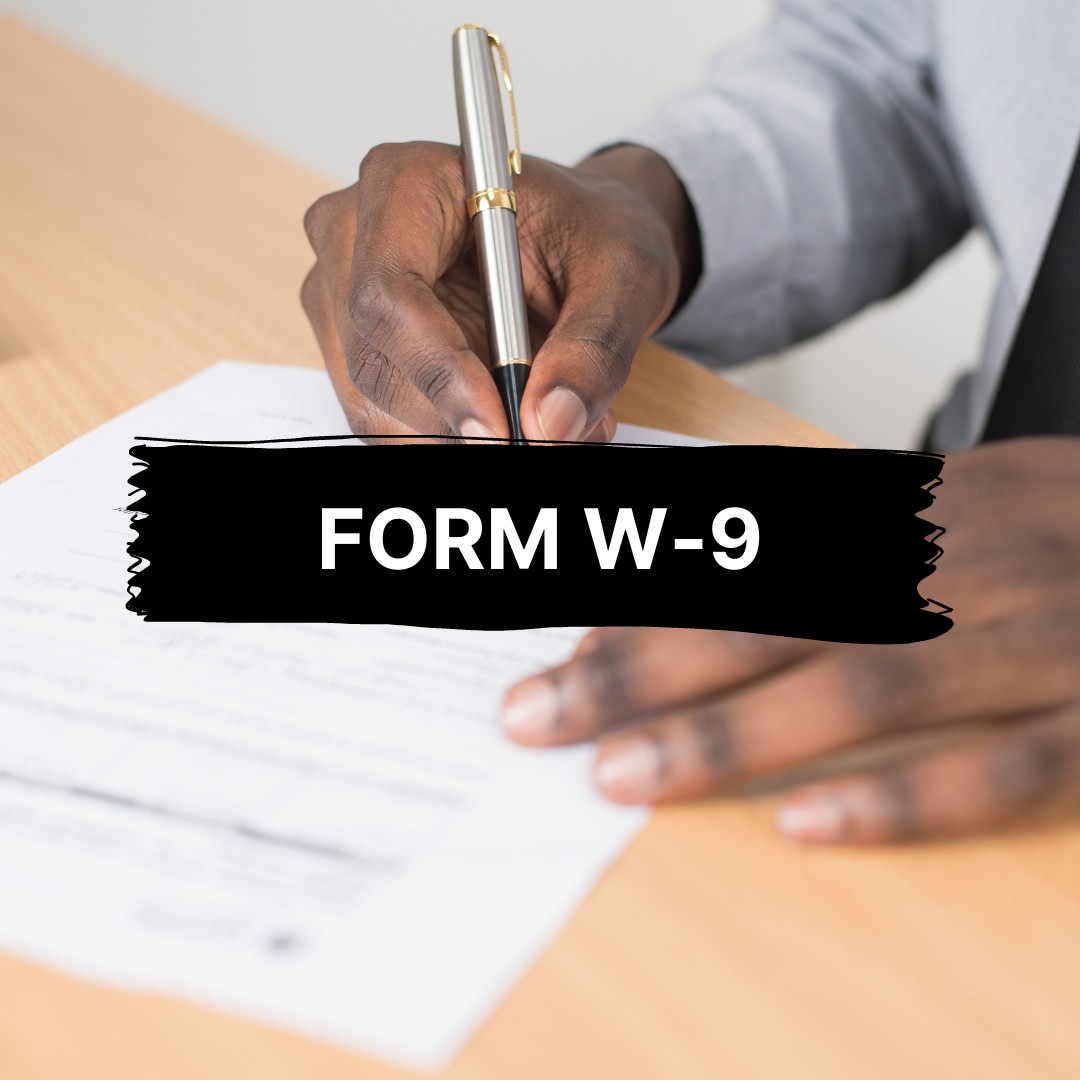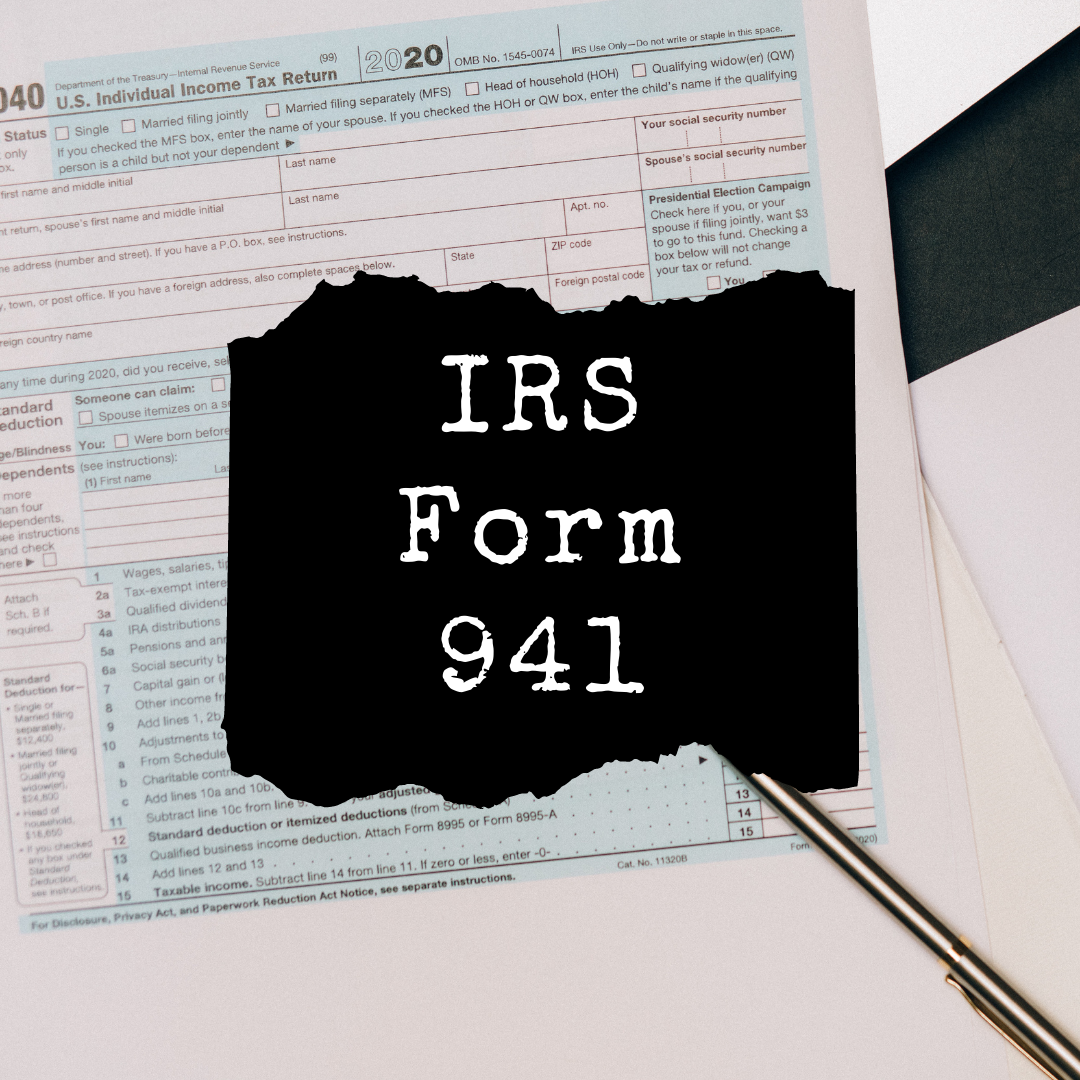 ---
---