In line with our philosophy of importance of collaboration in project management, we've included powerful communication tools such as Discussion Forums and Personal Messages.
Discussion Forums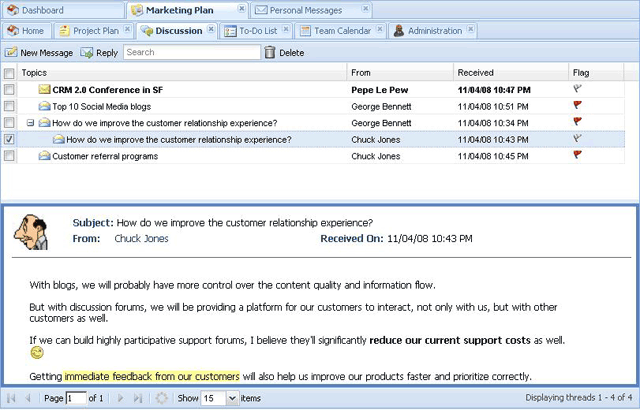 Dedicated discussion forums for each project
Threaded discussion forums for efficient organization of communication
Flag discussions based on importance
Preview of discussion posts on a single click
Search-as-you-type capability for quick retrieval
Discussion Moderation capabilities can be granted to users
Rich Text Editing Capabilities
Single source of truth for all project communications. Handover's a breeze.
Personal Messages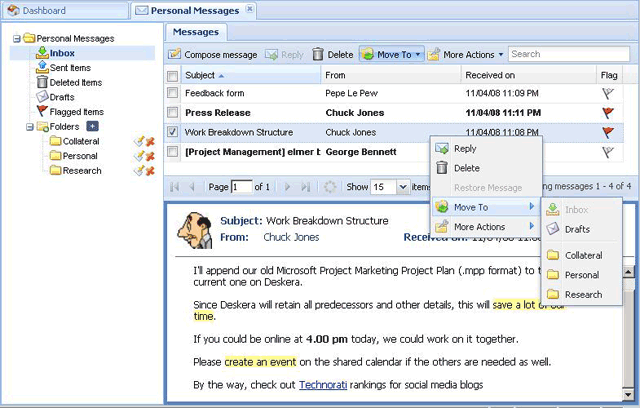 Single Messaging System across projects for each user.
E-mail like functionality – efficient and easy to use.
Send messages to anyone in your network
Folder Management Capabilities – Inbox/Outbox/Drafts/Custom Folders
Get system generated notifications straight to your inbox as well – Connection Requests, Upcoming Events, Project Updates, etc.
Search-as-you-type within Messages by Subject, Author, etc.
Preview messages on a single click
We hope that these tools make it easier for you collaborate on projects within a single application rather than disparate silos of project communication.
---
---