When looking for software solutions for your startups, you would have likely heard the mention of Enterprise Resource Planning - ERP and Customer Relationship Management - CRM software. These are software that are both used to increase the overall profitability of a business. The focus of both systems is on revenue generation, automation, and an increase in productivity.
An ERP connects your business's financial and operational systems. A CRM system manages how customers interact with your business. Both are essential. Both systems also touch on multiple departments. It is better to have both systems to be built on the same platform. But usually, the software is often bought separately and integrated where needed.
Since their core functionalities are completely different, it's best for a business to first look at them as separate and stand-alone systems. If viewed separately, it's easier to see how ERP and CRM each play a role in improving efficiency and increasing sales.
Let's take a closer look at what exactly ERP and CRM are in this article. We will look into some of these systems' standard functions and how to select the option that's best for your business.
What is CRM?
CRM is a software that manages multiple ways a customer interacts with a business. CRM features were initially developed for sales departments and were known as sales force automation. Eventually, systems were designed to manage customer service interactions and marketing, particularly in customer service contact centers.
Overtime software vendors began to combine all of these under one platform, called today as customer relationship management. Sales performance management and sales compensation are included in CRM systems now.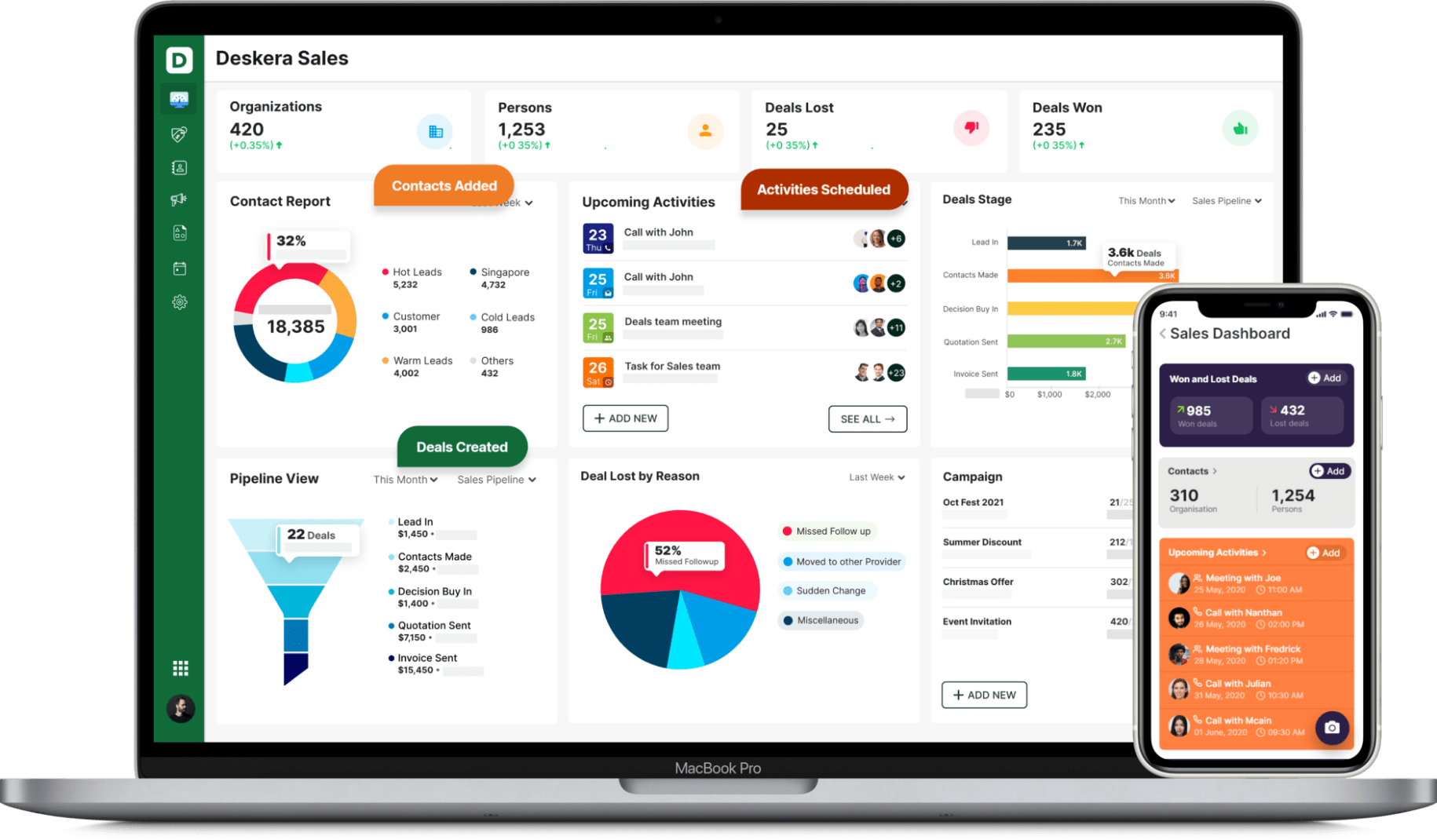 The CRM system's main job is to give the business a central repository of all customer data. It's essential that your CRM is tracking all customer interactions. With all the correct data, your businesses can make more informed decisions on which customers to pursue added revenue. It will track how your sales teams are performing. To manage and service customers efficiently and appropriately, and more.
With a centralized CRM system, sales reps will know if the customers they have visited have outstanding customer service tickets and can respond accordingly. Customer service would know if a caller is a high-value customer or a potentially high-value customer and use the information to address the issue or route them to the appropriate service tier accordingly.
Sales and marketing staff most use CRM for the following:
Email marketing or online advertising campaigns
Automation of business marketing processes
Identification of business opportunities and
Finding new potential sales leads
Campaigns on social media
Observe the customers and their buying behavior
Managing accounts and c
Streamline the sales process
Organize better support for existing customers
Reduce the amount of repetitive work
What is ERP?
Enterprise resource planning evolved out of material requirements planning, also known as MRP. MRP is a way for manufacturers to understand and manage all the resources needed to operate a successful business. ERP can serve as a shared database to all the parts of an organization.
At its core, ERP focuses on financed of the company. This includes the general ledger (GL), accounts payable, accounts receivable, payroll, and financial reporting. ERP also extends to order management, inventory management, supply chain management, and data-related services organizations. ERP touches on procurement, production, distribution, and fulfillment as well. Meanwhile, some ERP systems also offer Human Resources Management Systems (HRMS), CRM and eCommerce.
In short, an ERP system is typically a heavy and comprehensive system that helps manage all aspects of a company's operation.
Accounting and Finance
Service and management of customer relations
Sales and Marketing
Product and purchase planning
Inventory management
Management of fixed assets
Project management
Logistics
Staff
Production and delivery planning
Shipping and Payment
Supply chain management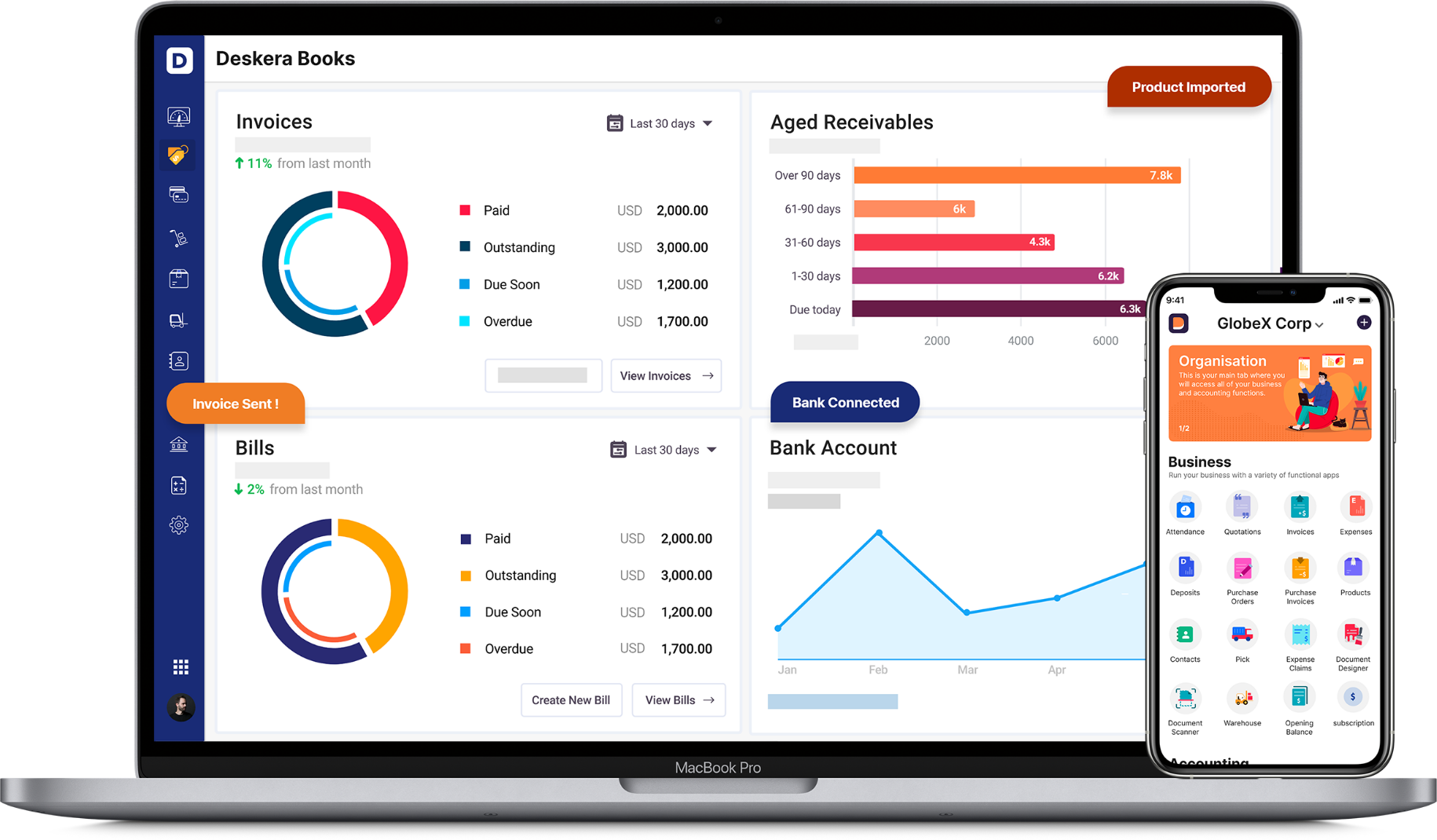 Should Your Business Select ERP or CRM?
The answer depends on two factors :-
What are your business requirements and IT capacity?
What are your business needs in the future?
If your business is looking to streamline all your processes and replace an existing suite of non-integrated applications, the best bet is an ERP system.
However, if you need more focused capabilities to handle marketing and customer relationships, a CRM system is probably a better option.
Many CRM systems help sales reps to use real-time data to personalize customer interactions.
Your business needs to consider if you should overhaul the entire IT landscape. If so is the case, you may need both ERP and CRM software to integrate both systems.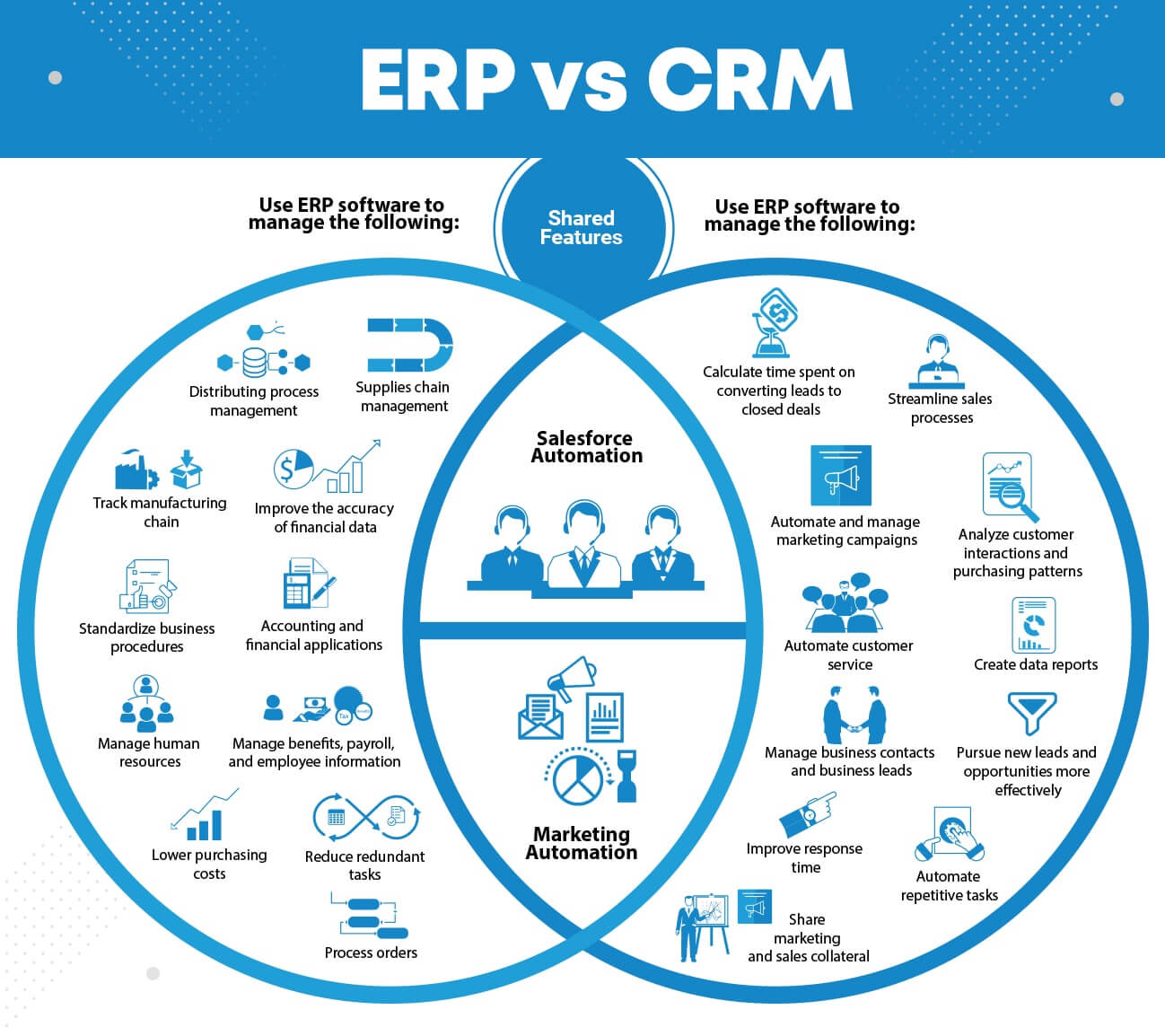 Before you decide, you should ask yourself the following questions:
What would most benefit your business - operational efficiency or greater sales volume?
The way an ERP system increases your business profits is by improving efficiency. An ERP does so by streamlining business processes and cutting overall costs.
In comparison to ERP, CRM systems are not as concerned with lean process improvement. Instead CRM software increases your profits is by increasing the sales volume.
CRM does this by empowering employees with data and tools to improve customer service and make bigger and better sales.
Could your company achieve a higher return on investment by making your business processes more efficient? Or by increasing your sales volume? Knowing this will help you make the right decision.
Does your business need a new financial system ?
If the answer to the above question is yes, your business probably need an ERP system. Unless your company is made up of a sales and marketing model, your requirements can be fulfilled by a CRM system, and your business most likely needs a financial system of record.
Does the ERP sales and customer management functionality meet your business needs?
A better understanding is needed to determine which CRM vendor is best for you. If there is no CRM vendor that seems to check all the required boxes, and integration of both ERP and CRM systems may help bridge the gap.
Would your business be ready to tackle an ERP project?
Even though the ERP system's implementation is more complicated than CRM system implementation, ERP business benefits are significantly higher. If the IT department has resources and if your business has the funding for the project, ERP is worth the investment.
Does your Engineering and IT team have the capacity to develop integrations?
A CRM system separated from your ERP defeats the purpose of having both in your business. Many ERP vendors have started to ship the product with simple plug and play configurations to integrate with popular CRM systems.
For integration projects, especially between CRM and ERP, custom code often will be required to combine data. ERP systems like Deskera, with CRM built on the platform, offer several advantages.
Is your project a digital transformation?
Companies that are pursuing digital transformation will focus on creating new business models. Such companies need a scalable ERP solution with a promising product roadmap. In such cases, it is vital to evaluate your product and the company's trajectory.
If your company is not pursuing digital transformation, then a full ERP system with a significant number of modules may not be useful for your company. In such a case, a CRM system may be a better option so that you would not have to pay for unused modules with ERP.
Key Takeaways
CRM and ERP are both fantastic tools for optimizing revenue
ERP is a comprehensive solution that centralizes front and back-office processes
CRM mainly deals with sales, email marketing, and customer relationships, lead generation and deals
The system that is best for your business depends on the scope of your needs and the amount of investment that you are ready to make
ERP and CRM systems combined together tend to be less expensive than purchasing both systems individually