The notion that small businesses are less complicated than large businesses is often misplaced. Small businesses have identical challenges, held on a smaller scale. Small and mid-size enterprises (SMEs) in the US often have IT requirements that are unique in themselves. In most cases, they require powerful, integrated tools but without the complexity of larger corporations' solutions. This is how Cloud automation plays a significant role. It strengthens the core of any business by eliminating manual processes and streamlining in-house departments. The centralized platform improves business visibility and data-driven decisions.
As opposed to the legacy models, cloud-based enterprise resource planning (ERP) solutions stand out as tools that help SMEs in the US achieve greater profitability. Cloud ERP is a classic SaaS solution that is simple, affordable, and scalable. It is designed to meet the growing business needs of SMEs and to retain their competitiveness.
A study by Panorama consulting revealed there was an increase in the adoption of SaaS/Cloud-based ERP solutions by 37 percentage points in 2018 compared to 2017. 91% of these respondents were from North America with the majority of them part of small and mid-size businesses.
The Cloud ERP market is expected to see a surge in the coming years.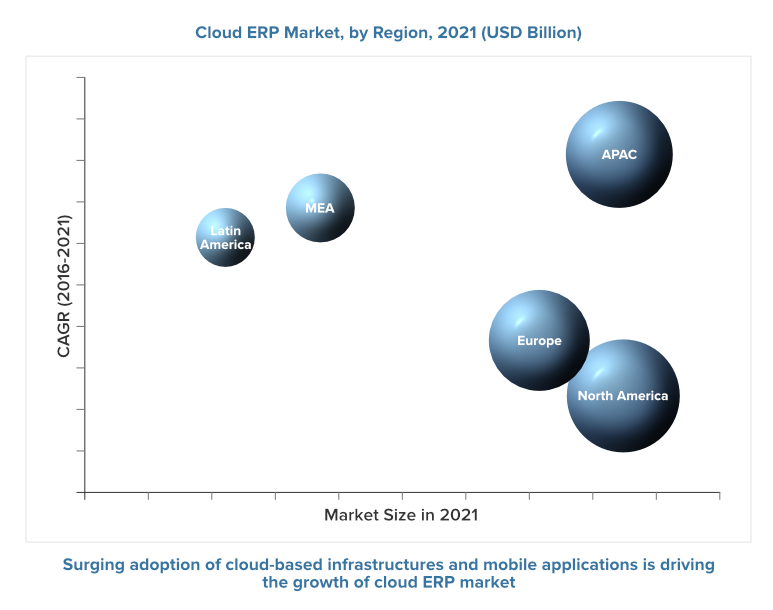 Source of the above image: Markets and Markets
Here's a brief outlook on how Cloud ERP solutions strengthen the core of your business: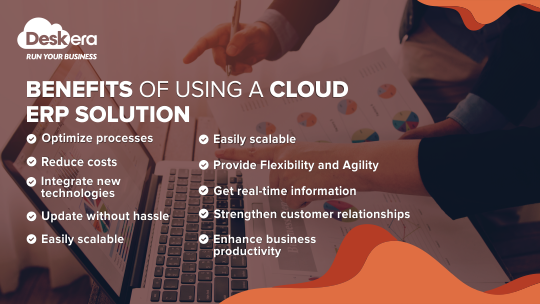 Optimize processes – 

Cloud ERP solutions are assembled as a closely integrated set of applications that link all key business processes to a single platform. Therefore, SME owners can have up-to-date information (cash, sales, profits) available on demand whenever they need it. Intuitive financial reporting and analytics reduce the need for generating exhaustive excel reports and enable more streamlined operations with online access and robust workflows.

Reduce costs – 

According to the study conducted by Panorama consulting,

95%

of respondents

improved some or all of their business processes

. Out of which, 49% improved all business processes and 46% improved key business processes. 

A significant number of companies have reportedly saved on costs by utilizing cloud solutions due to the fact that cloud technology facilitates optimization of resources. It keeps a lid on labour headcount as an organization grows.

Modern ERP system

in the cloud leverage on collaborative technologies, such as instant communication.

Integrate new technologies – 

The integration of AI with Cloud ERP is proving to be an excellent tool for businesses to transform operations by optimizing business models. According to a report "

Artificial Intelligence Market by Technology

," the AI market will be worth USD 16.06 billion by 2022. Cloud ERP vendors are implementing blockchain technology as well to help businesses manage their everyday operations seamlessly. Integration of cloud-based ERP with blockchain helps enterprises track data in real time. It keeps immutable records of everything from inventory management information, to equipment maintenance, and dispute resolution systems.

Update without hassle – 

Unlike traditional ERP solutions that usually require manual upgrades, cloud-based ERPs can update your system instantaneously. Automatic updates helps to save cost on consulting services and avoids long downtimes.

Provide better security 

Cloud vendors provide a higher level of security. Seamless integration among enterprise applications, database, processes, and user interfaces takes security to a new level.

Easily scalable – 

Cloud ERP scales as your business grows. Since it supports the pay-per-user module, it smoothly caters to your fluctuating business needs.

Provide Flexibility and Agility – 

Through cloud-based ERP solutions, business owners and stakeholders can respond to the dynamic needs of their clients quickly.

It reduces barriers to innovation

when it allows new applications and services to be delivered.

Get real-time information for better decision making – 

With transparent and real-time communication between departments, information flows smoothly. Data a

ccessibility from any internet-enabled mobile device stimulates better and immediate decision making.

Strengthen customer relationships – 

Cloud ERP enables you to offer excellent customer service. Customers' trust in your company develops with credible and transparent information sharing, and prompt delivery of goods.

Enhance business productivity – 

Automation reduces the chances of human error and multiple data entry. Employees can focus on productive work while the solution performs the mundane tasks. Cloud ERP increases business productivity by cutting down on operational costs and improving efficiency.
Watch the video below to understand how SMEs are taking advantage of Cloud ERP solutions to stay competitive in any industry.
Still have a few doubts? Get in touch with our experts to schedule a free demo. We would be happy to help you.  
---
---