Bootstrapping an online business?
Looking to create an online community that thrives on customer engagement?
Want to leverage innovative marketing techniques to spruce up your digital business?

There are thousands of marketing tools that can help you elevate your online business. We have designed a list of 10 tools that you'll need along with various apps that excel in everything ranging from design curation to traffic analysis. So, without further ado, let's delve deeper and discover the best online marketing tools that can help you boost your online space.


Let's get started!
Step 1: Use WordPress for Content Management
Manage all your content from one place using WordPress

Credits: Digital.com



WordPress is powering almost 35% of the content on the web.

WordPress was introduced almost two decades back but it is still one of the most popular content management & marketing tools. The most beneficial part about using WordPress is that it is browser-based, so you can log in from anywhere with an internet-connected computer to manage your content. Additionally, search engines love websites that are powered by WordPress, so that's another benefit you can gain.


Other tools you can use for content and website management - Joomla, Contently, ClearVoice, etc.

Step 2: For Creative Designing Needs, Use Canva



After crafting the content, you need to package it creatively into to engage the users. For design, Canva is perhaps one of the best marketing tools. It is pretty straight-forward to use and can help you create some of the most elegant designs. It encompasses a wide variety of fonts and graphics that are mostly free to use. With this fantastic marketing tool, you can create whatever type of design you want, be it a social media post, postcard, poster, card, flyer, anything.

Other online marketing tools  for creative design- Pexels, Stencil, 99designs, etc.

Step 3: For SEO Analysis, Ahrefs is the Ultimate Choice


After your product  is ready for launch, don't forget to include codes for website and SEO analysis. Ahrefs, being one of the most used online marketing tools across the globe is ideal for SEO analysis. It can give your business a dependable and robust backlink checker that offers real insights into any URL or website. This backlink marketing tool goes beyond giving you a clear picture of the traffic analysis for your online business; it enables you to identify which websites connect to a particular URL and how robust these links are. This information can be beneficial to analyse and help you achieve your marketing goals
Other online marketing tools for small businesses you can use- WordStream, Yoast, Google AdWords, etc.
Step 4: For Keyword Research & Competitive Analysis, Use Keywordtool.io
Boost your organic traffic with Keywordtool.io


The next step in elevating your online business is researching for relevant keywords. Out of the several elements of SEO, managing keyword research is perhaps the most daunting one. But, Keywordtool.io is here to rescue you from the mundane tasks of checking each keyword for CPC and effectiveness. With Keywordtool.io, you can now access the exact monthly search volumes for specific keywords. It's  easy to set up and can help you elevate SEO strategy.
Other online marketing tools you can use for keyword research and management include Keyword Planner, Moz, etc.

Step 5: Use Sprout Social for Social Media Management and Analysis
Marketing automation taken to the next level with Sprout Social


If there's one thing you need to learn about surviving in the digital space, it is social media management. Over the years, several tools have been introduced, however, marketing automation tools witnessed a revolution since the introduction of Sprout Social. Whether you want to filter messages by social profile, or automatically publish posts by scheduling, Sprout Social is the ideal choice for managing social media.

Similar marketing tools that you can use to take your social media strategy up one notch, include Buffer, Hootsuite, Agorapulse, etc.

Step 6: For Hashtag Research, Use Hashtagify
Amplify your message tone with Hashtagify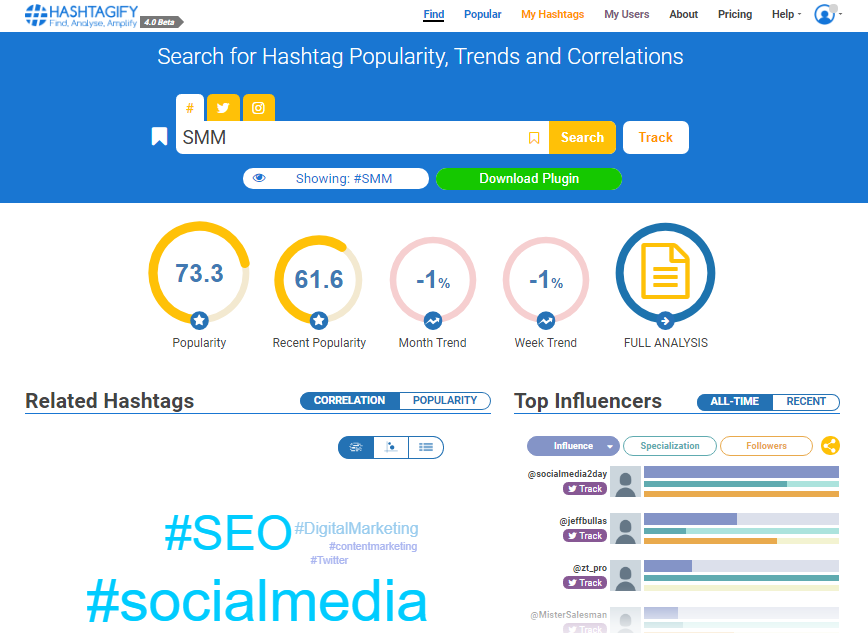 Hashtags are the new tools used by most businesses for customer engagement. This is why you need to analyze your overall hashtag strategy. What better way to do that if not with one of the best tools there is - Hashtagify.

Step 7: Use Instapage for Lead Capture
Leverage the hundreds of lucrative features built-in with Instapage


No matter the kind of marketing campaign you run to promote your online business, the customizable and optimized templates from Instapage are beautifully designed to increase conversion rates. The fully integrated lead capture solution allows you to collaborate directly with clients and teammates so you can review and publish content faster.

Other s marketing tools for lead management include OptinMonster, Unbounce, LeadPages, etc.

Step 8: Use Mail chimp for Email Marketing & Automation
Use the e-mail giant - Mailchimp for e-mail marketing

Over the years, things have drastically evolved in the marketing domain, however, one thing that still works is E-mail. If used accurately, it can prove to be a pivotal part of your marketing strategy. Hence, you must find the tool to ensure the best efficiency. This is where Mailchimp is extremely useful. The interface is customizable and straightforward; the analytics are very detailed, allows re-engaging, and best of all - it's free.

Other online marketing tools that may work for your startup include Hatchbuck, Litmus, or Zapier, but Mailchimp helps you grow your own way.

Step 9: Use Unbox Social for Video or YouTube Marketing
Unleash the power of social media with Unbox Social


Video marketing is the new black.

A pivotal part of engaging customers and increasing traffic is video marketing. Unbox Social is considered to be one of the best marketing automation tools for video marketing, and with good reason. This AI-powered social media suite can help your business with influencer marketing solutions, analytics, social listening, and competition tracking.

Other such online marketing tools you can use for video marketing include  Animoto, Camtasia, etc.

Step 10: Use Google Analytics for Detailed Traffic Analytics
Google Analytics: Make Your Data Work for You


This step is perhaps the most important one of all. No matter how much content you curate and how much footfall there is on your online platform, if there's no way of tracking it, you'll never be able to stay on top of it. So, if you are looking for some data-driven marketing, your search ends here. Google Analytics is considered to be one of the best free marketing tools there is. It helps understand how the website and app users are engaging with your content. You can also connect Google Analytics with your CRM, points of sale, and other touch points for a more comprehensive view of your operations.

Other marketing analytics tools you can use are KISSmetrics, CrazyEgg, Hotjar, etc.

For a detailed understanding of how to connect analytics with CRM for running an effective marketing campaign, refer to this Deskera guide.
In retrospect, using the right marketing tools at the right time can make all the difference. So, use this incredible list of marketing tools and elevate your startup or online business to a whole new level.