The Singapore Government is doing its best to help businesses, especially small businesses, to overcome their financial hurdles during Covid-19. Here is a list of some government grants to help small business owners in these trying times.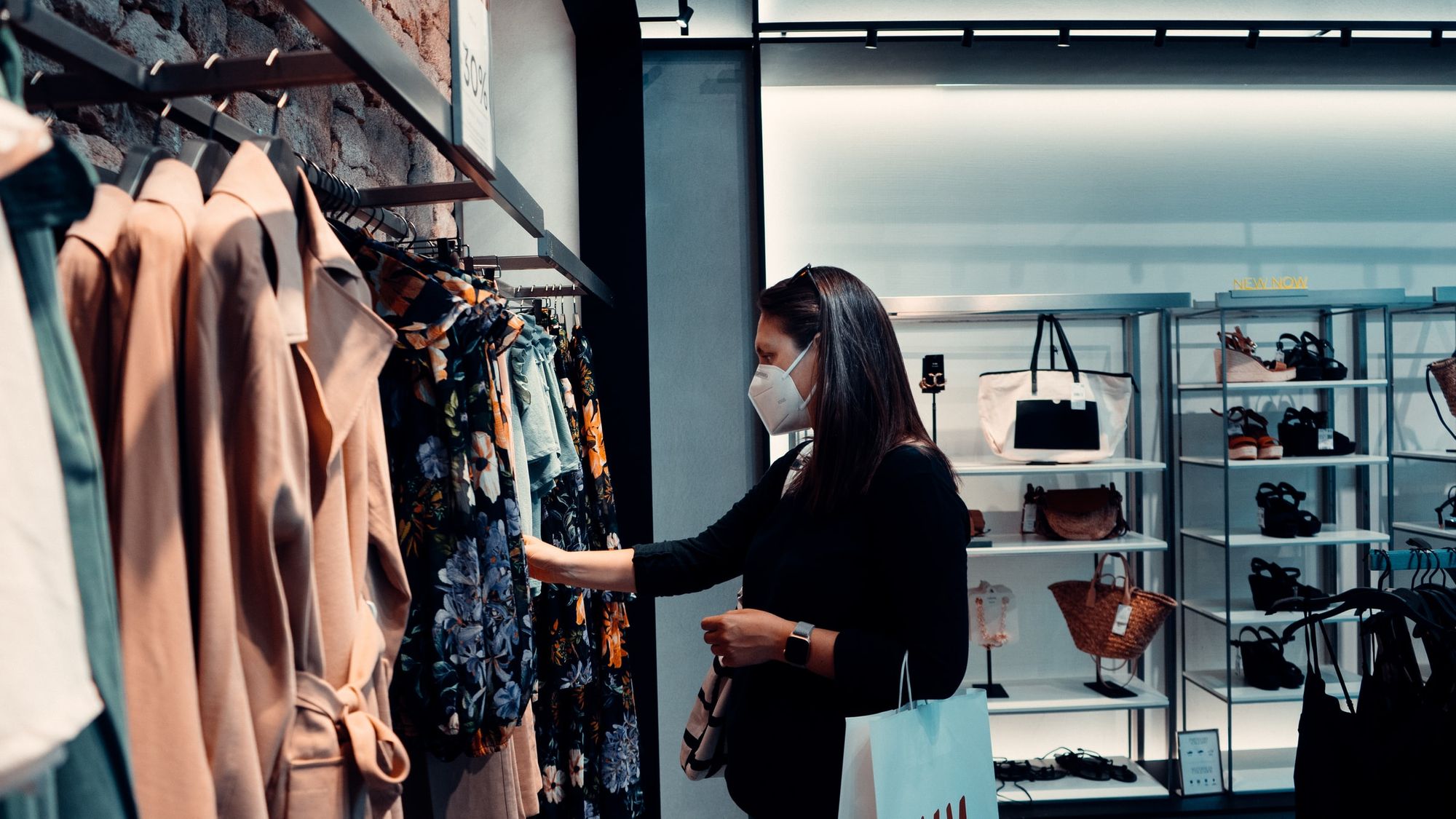 The unprecedented COVID-19 outbreak has left many business crippled, and many individuals feeling helpless. Millions of lives worldwide are affected and after the outbreak, our lives will never be the same again.
In order to combat the COVID-19 pandemic, the governments from across the globe have imposed a strict lockdown to restrict the movement of its people. As the virus can transmit easily via respiratory droplets from close contact, restricting the movement of the people is the only way to flatten the curve.
Schools, tourist spots, social gatherings, and business activities are put to a halt. This is definitely the greatest lockdown of this century.
Statistics of COVID-19 Cases
There are a total of 213 countries and territories affected by this virus worldwide.
According to the statistics from CNA, the figure as of 5th June 2020 shown that there are close to 6.62 million cases of COVID-19 worldwide, with 382,867 death cases. Up till today, the number of cases are still surging especially in Brazil and America.
The Economic Impact of COVID-19
Many businesses are affected badly due to the lock-down since the outbreak of COVID-19. As lock-downs are imposed, it simply means business cannot operate on a normal basis.
As a result from shutting down doors for businesses, business revenue plunged. Business owners have to lay off their employees and some might even have to file for bankruptcy.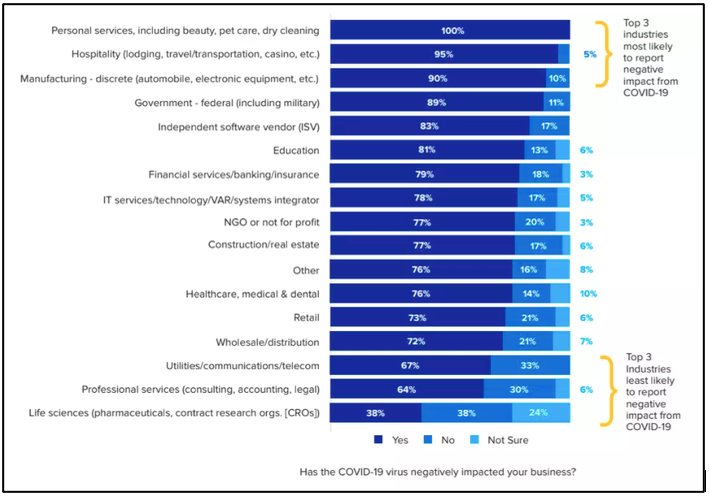 Although COVID-19 outbreak affects every businesses, in reality, it actually hits harder for those businesses operating in the hospitality, tourism, aviation, and also personal service industry.
Based on the study conducted by SMB late March this year, small businesses are also facing a sharp brunt from this outbreak. The finding for this study has shown that small businesses with less than 20 employees are most affected mainly due to the cashflow and capital constraints.
In addition to that, there is an increase of 26% of businesses filing for Commercial Chapter 11 Bankruptcy in America as compared to the previous year. As the retail sales tumbled by 16.4% in April, it's no surprise that the list of retailers filing for bankruptcy is climbing.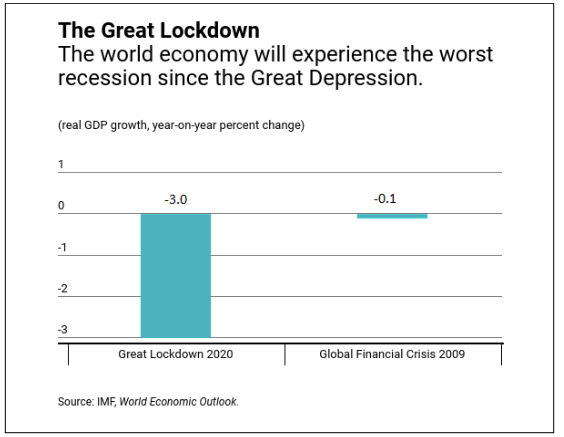 Based on the bar chart above, it's frightfully obvious that the Great Lockdown this year has greater negative economic impact than the Global Financial Crisis during 2009.
Singapore Government Intervention to Help Small Business
With limited cashflow and capital, about 70% to 80% of the mom-and-pop stores  in Singapore are severely affected by the lockdown. As they couldn't compete with the giant corporations in terms of prices and quantity, they will eventually wind down their businesses.
Only 5% of these mom-and-pop stores have online presence that enables them to sustain their businesses digitally.
As small businesses are one of the main contributors to Singapore's economic growth, the Singapore Government has rolled out various initiatives to enable the small businesses to stay afloat during this challenging time.
Small businesses in Singapore can tap into the grants, schemes and financial aid introduced by the government in order to overcome this financial hurdles.
Here are some of the grants and financial aids provided by the Singapore Government:
Special Situation Fund for Start-Ups (SSFS)
As announced by Enterprise Singapore, the Economic Development Board (EDBI) and SEED Capital will contribute S$285 million to fund talents and promising start-ups based in Singapore.
The aim of the scheme is to assist both early and late stage start-ups to have sufficient funding for their business projects, growth and business expansion to new market.
Early stage start-ups that are interested can write in to ssfs@enterpriseg.com whereas the late stage start-ups can write to ssfs@edbi.com. The scheme is only available up to 31 October 2021, or when the fund is fully committed.
Enterprise Development Grant (EDG)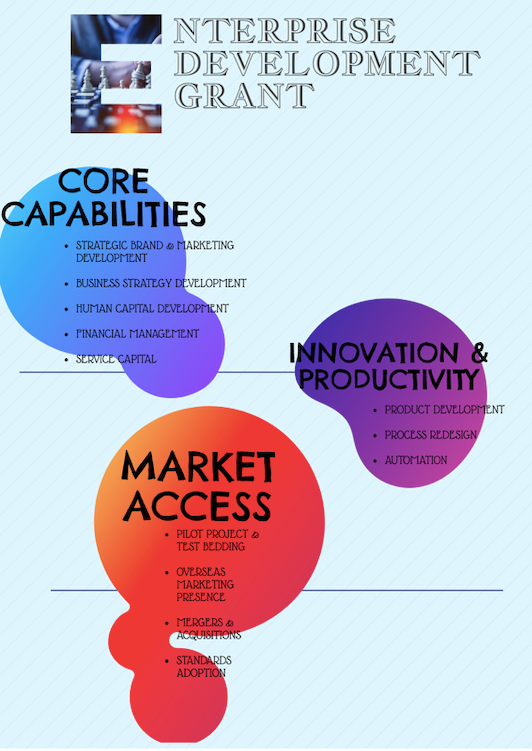 Another grant that Small to Medium Businesses can tap into is the Enterprise Development Grant (EDG). EDG is a program managed by the Enterprise Singapore.
This grant is intended to support Small-Medium Businesses (SMEs) in Singapore to build and improve on three business areas such as their core capabilities, innovation and productivity, and their market access.
The support level has risen from 70% to 80% and only those SMEs that are adversely affected by this pandemic will be granted 90% support, as per the announcement from Supplementary Budget 2020.
The grant is valid till end of 2020 and if you wish to apply for this grant, you can check out on the criteria here.
Enterprise Financing Scheme - SME Working Capital Loan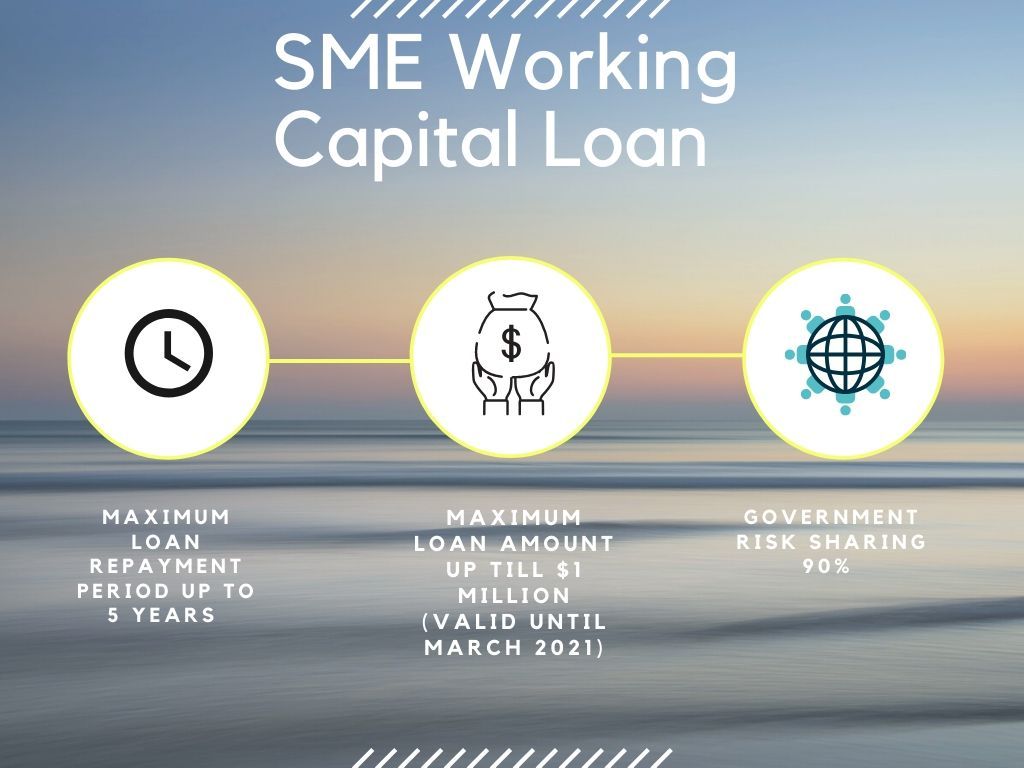 With the Enhanced Enterprise Financing Scheme, SMEs can get a greater financing support to bridge their working capital gaps.
Following the Solidarity Budget 2020, the Enhanced SME Working Capital Loan has increased from $300K to $1 million, with government risk sharing as much as 90%.
Small to Medium Businesses that are interested to with this scheme can reach out to the participating financial institutions as stated below: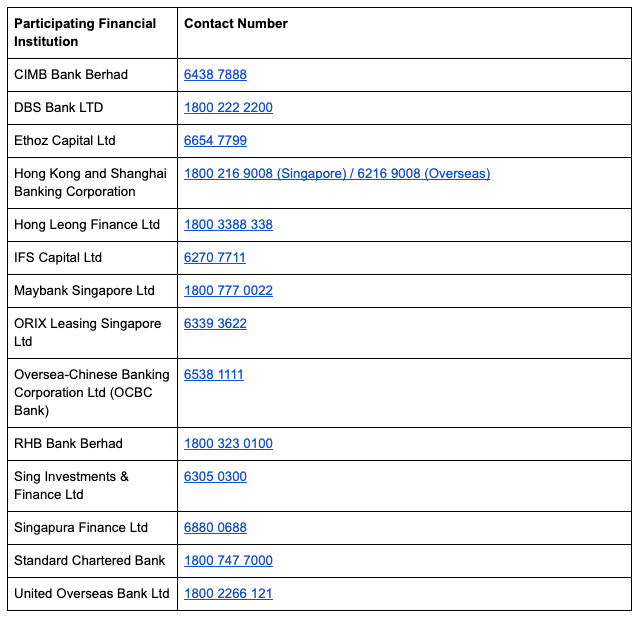 Temporary Bridging Loan Program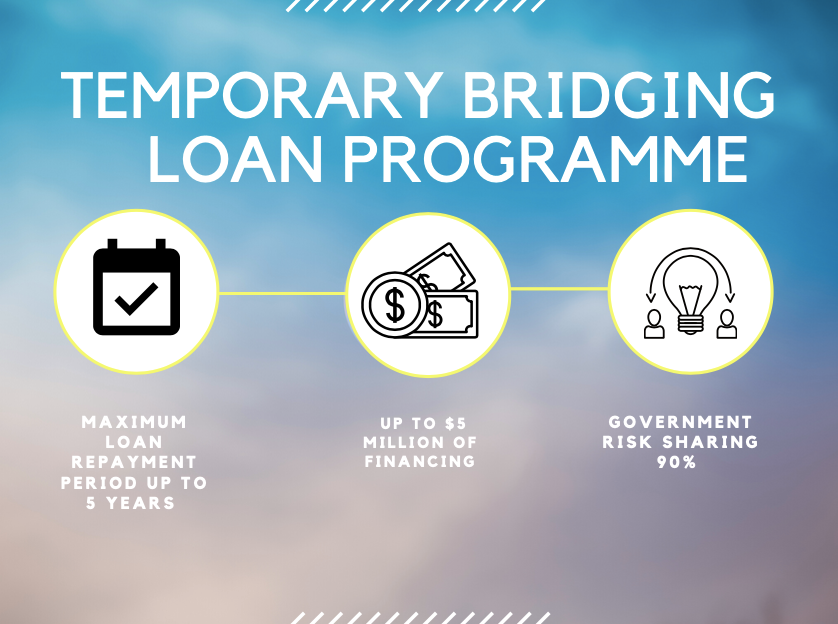 Small to Medium Businesses that need support for working capital can apply for the Temporary Bridging Loan (TBL) as well.
Enterprises that are eligible can borrow up to $5 million from the participating institutions, with the interest rate capped at 5% p.a.
On top of that, the Singapore Government will also provide 90% of risk share of these loans for any new applications initiated from 8 April until 31 March 2021. Interested SMEs can apply directly from the Participating Financial Institutions.
You can click here to find out more about this loan and your eligibility.
Enhanced Rental Waiver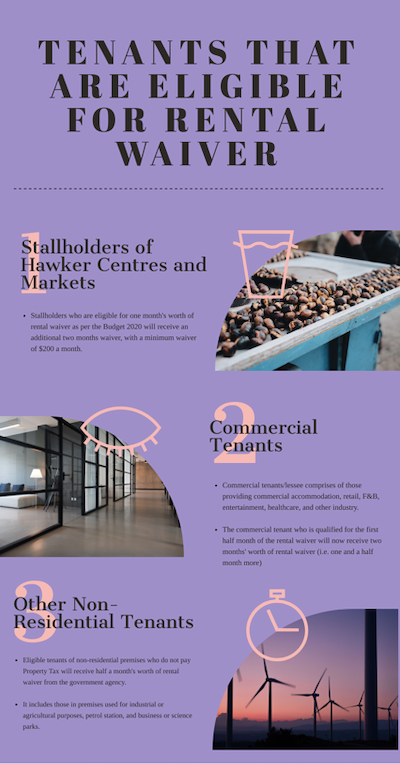 The Singapore Government has also rolled out initiatives to support tenants and hawker stall owners during this unprecedented times.
The government has pumped a total of $334 million to assist businesses with their rental waiver in order to help out with their financial burden.
You can check out on the rental waiver for the qualifying tenants here.
Providing Booster Packages

There are two types of booster packages offered by the Enterprise Singapore and they are; E-commerce Booster Packages and Food Delivery Booster Packages.
E-commerce Booster Packages
The e-commerce booster package is introduced to help out brick-and-mortar stores that are forced to close down during this unforeseen circumstances.
Interested businesses who wish to shift their business online can apply this scheme by ensuring they fulfil the requirements as stated below:
The business has to be a registered business in Singapore.
Owns a minimum of 30% local shareholding.
The company's annual turnover not exceeding S$100 million per annum or group employment not greater than 200 employees.
Successful applicants can onboard their product listing on the respective e-commerce platform such as Amazon, Lazada Singapore, Qoo10, and Shopee. Business can engage with only one e-commerce platform to sell their products online.
Those who are eligible for this package will receive one time support to defray 90% of the eligible cost (worth up to S$9000) for up to 6 months.
Small to Medium Businesses that are interested can contact the respective e-commerce platform as mentioned by 30th September 2020.
Food Delivery Booster Package
Due to strict safe distancing measures, it's foreseeable that the demand for food delivery services will hike.
With the Food Delivery Booster Package, it's time for F&B businesses to transition from offline business to online business. F&B businesses do not need to worry about the delivery services as they can always outsource it to third party logistic providers.
The F&B businesses can choose to engage with one of the participating food delivery providers such as Chope, Bungkus, foodpanda, Deliveroo, GrabFood, and Startaster.
If you are one of the F&B businesses that are impacted by the COVID-19 pandemic, you can read more about this package here.
Job Support Scheme
The Singapore Government has announced the Job Support Scheme during Budget 2020 and then, this scheme is further enhanced at the Resilience, Solidarity, and Fortitude Funds.
The Job Support Scheme is to support employers in Singapore and help these enterprises to retain their local employees (Singaporean and Permanent Residents). The aim of the JSS is to save jobs and prevent overwhelming job losses in the economy.
The government will co-find between 25% to 75% of the first $4600 of gross monthly wages paid to each local employee in a tenth month period via cash subsidies.
All employers that make CPF contributions for the local residents will qualify for this scheme payout except those in the employer exclusion list.
Property Tax Rebate for Businesses
Also, the government has also introduced property tax rebate for up to 100% for non-residential properties.
This rebate applies to property owners who are liable for the tax property. The government wishes that the property owner will pass on the rebate to their tenants to alleviate the tenant's financial burden.
The premises that are qualified for the property tax rebates include hotels, serviced apartments, shops, restaurants, and premises that serve as tourist attractions.
Conclusion
Despite the challenges and hardships, the Singapore Government is doing its best to help businesses, especially small businesses to overcome their financial hurdles.
It is definitely a stressful time for everyone as our lives, businesses and even health is at stake.
However, businesses can take this time to reflect, re-strategize your business plans, and brainstorm the new market to explore after the pandemic. With grit, resilience, and  perseverance, small businesses will emerge stronger than before.
---
---