Accounting is the process or activity of recording all financial transactions related to a particular business entity. It involves keeping records of all transactions associated with financial activities on any business day, summarizing it for the various stakeholders, and analyzing it to improve its efficiency and scale it continuously.
Accounting Systems, also known as accounting softwares, help businesses ease the task of accounting by automating it with the help of a business application.
Accounting systems helps keep track of all income, expenses, assets, liabilities, and other business aspects. With the growing number of business transactions, it becomes difficult to keep track of your orders and payments. Accounting systems help in organizing and managing your sales and purchase processes.
Moreover, in the absence of accounting systems, businesses have to depend on manual entry, which is often erroneous and causes multiple penalties imposed by the audit team later on.
The statutory returns preparation also becomes a difficult task with manual accounting. Accounting systems avoid manual errors by automating business processes. It also helps businesses stay updated with real-time reports that assist them in making critical strategic decisions. These decisions eventually help in expanding the business and improving their financial health.
Inventory, which is a key element for most trading businesses, always reflects accurate figures with accounting systems. Businesses achieve better accuracy as the purchase and sales process is fully automated and integrated with the inventory module.
You can track and link the purchase orders with the actual goods receipt notes, which is created when goods are received in the warehouse.  Furthermore, the payments to be made to all vendors against these orders are also closely monitored with a comprehensive purchase management module.
On the revenue front, the sales team can create quotations quickly. The accounts team uses these quotations to issue invoices by auto conversion. The delivery team can track this entire process in a single place and link the delivery of goods to this transaction chain. This helps in keeping all of the sales-related processes in a single place.
Accounting systems, as mentioned previously, are also essential today owing to the multiple Financial Laws and Reporting Standards that a business needs to adhere to. The accounting systems help automate the preparation of the statutory return.
The companies need only to manage their transactions accurately, and in the accounting systems, the taxation part is integrated and automated seamlessly with the same. The result is that the tax returns are prepared on a real-time basis at the end of the taxation returns period. This improves accuracy, reduces errors, and redundancy.
Accounting Systems allow a business to transact smoothly and comply with the Statutory Laws in today's connected world. Accounting Systems automate our sales & purchase processes and generate Taxation Returns for the business, thereby reducing one major hurdle in companies' daily lives, helping them focus on expanding their business. In today's time, the primary role of accounting systems is to help the business owner spend more time expanding his business than managing day-to-day work.
Two broad Types of Accounting Systems
There are two broad types of accounting systems present today:
On-Premise Accounting Systems
These are installed at the client site and can be accessed only while being in the same local network, like the one in which it has been deployed.
Such accounting systems have been in place for ages. While they offer the advantages of a complete sense of security of Financial Data to the business owner, they have one major disadvantage: it's not easy to access them when the users are out of office. They need to rely on exported data and reports when traveling.
This makes such Accounting Systems difficult to access for large teams spread in multiple locations geographically.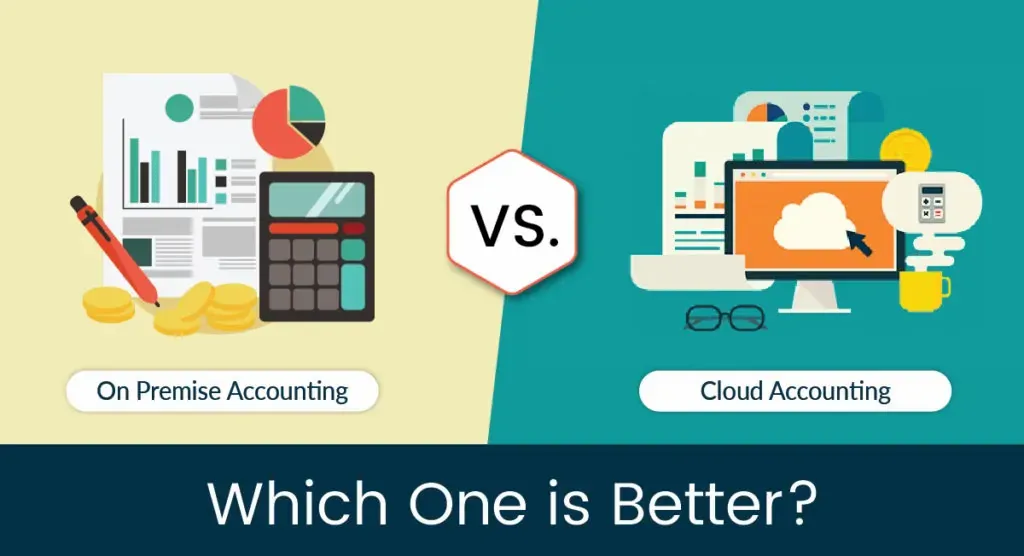 Cloud-Based Accounting Systems
These are installed on a common cloud-based server, i.e., the application and the database. Both are residing on a cloud-based system, which can be securely accessed by the organization's users while being anywhere. As the data is not On-Premise, business owners sometimes perceive that it could be a security risk.
However, contrary to the perception, today's technology advancements and techniques like data encryption make it almost impossible for anyone to access your data without authorization, thereby making your accounting system more secure than On-Premise Accounting Systems.
Moreover, the storage servers where the application is hosted have multiple security firewalls, making them impenetrable unless authorized access is granted.
Cloud-based accounting systems allow the teams to be spread across multiple geographical locations and still access the same data concurrently. The major advantage of such systems is that the management has real-time access to all financial reports at the touch of a button, even while being on the go, and can make decisions quickly.
Benefits of Cloud- Based Accounting Systems
In today's time, most companies are shifting from a traditional accounting system to a cloud-based accounting system due to the multiple benefits of the same. Some of the benefits are listed out as below.
No Maintenance cost - cloud-based accounting systems attract no maintenance charges as the service provider maintains the cloud servers. As you're not hosting the server on your premise, you save a substantial cost in terms of manpower, space, and other overhead costs related to maintaining the server.
Freedom to work from anywhere - Cloud accounting software gives you access to all your financial information anytime, anywhere- on your laptop, computer, or mobile. You don't need to be in the office to access updated information. Whether you are traveling to another part of the world or are working from home due to any reason, you never lose access to your financial information, and you are not dependent on anyone to mail it to you. You are always on it, making life simpler and more comfortable. There is no downtime making the business more productive every time.
Pay as you use - most of the cloud-based accounting systems are based on the SaaS model, i.e., software as a subscription that allows the user the flexibility to pay for only that time period and users who are using the system.
24 X 7 Availability - cloud-based accounting systems are up 24 X 7, allowing teams to have flexible shifts and working hours. The teams have real-time visibility on all financial data at all times, and any changes are updated instantly.
Zero Setup & Installation - cloud-based accounting does not require any setup processes or installations. You do not have to worry about procuring a hardware system with a specific configuration. Basic laptops/mobile with a browser and internet connection can do the job perfectly.
Data Security & Backup - with traditional accounting systems, data security, and backup are the business owners' responsibility. In contrast, in cloud-based accounting systems, the security of the data and backup is managed by service providers who specialize in this task. No one can access your data or log in to your system unless they have authorized access.
With cloud accounting systems, you never run the risk of losing any data as the service providers regularly take the backups. Your data can never be stolen with this service, even if there is theft, a natural disaster like a fire or an earthquake. At no point will you lose access to your data as long as you have your login details and access to the internet.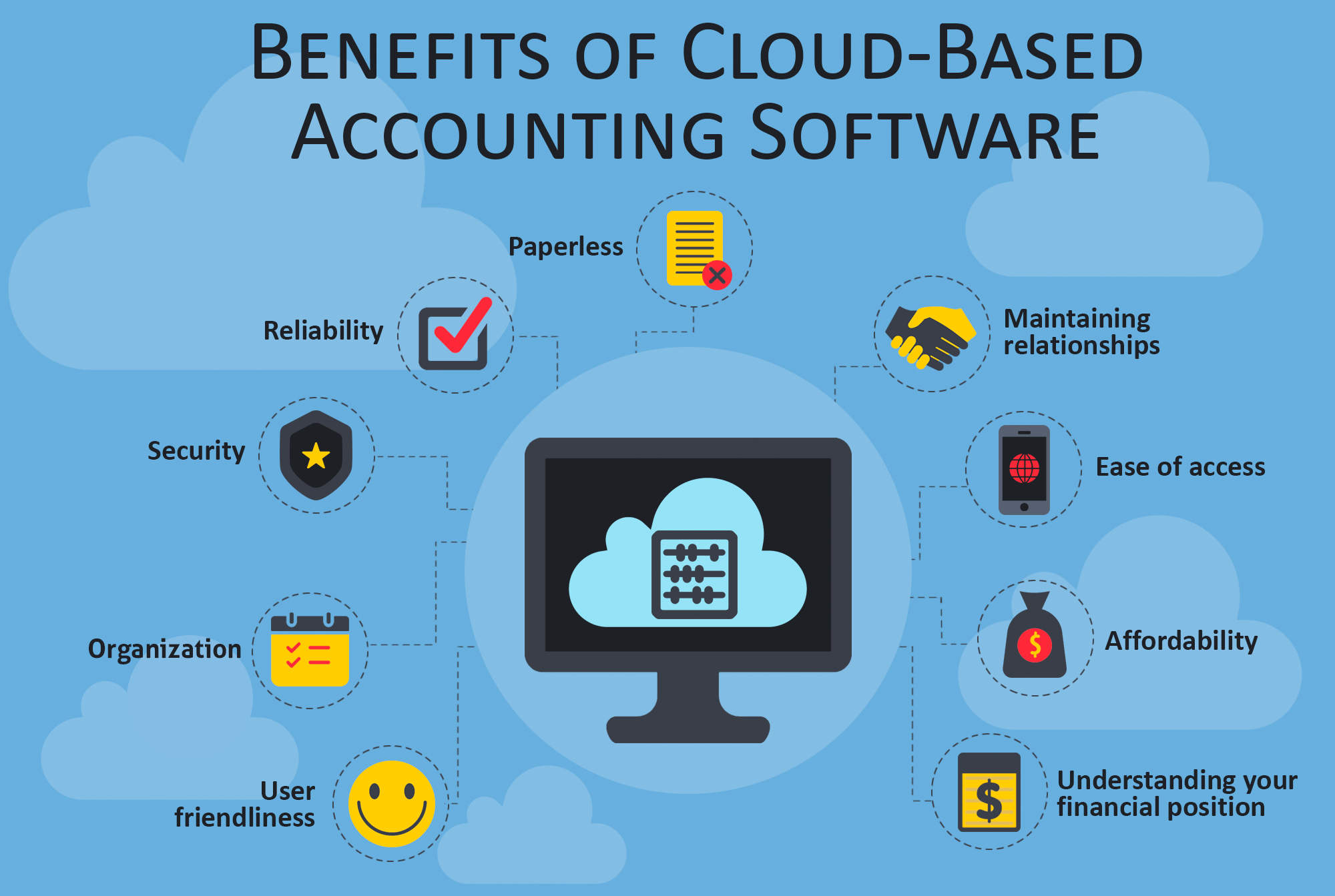 Finding the Right Accounting System for your Business
It is crucial to understand which accounting system is best suited for your business. The answer to this question requires an understanding of some critical aspects related to your business.
Size of your business - businesses can be classified into multiple categories based on the size
Micro
Small businesses
Medium
Large
Understanding the above classification is essential as accounting systems are made targeted explicitly to either of these segments. While some accounting systems are configured and designed specifically for the SME segment, others focus only on large businesses.
Business Segment - the next important aspect to analyze is the business segment you pertain to - trading, services, or manufacturing. Within these, what is the nature of goods or services you deal in - food processing, electrical parts, furniture, etc. as the requirements vary depending on the segment. Certain segments are catered to by only some particular accounting systems which are customized for their needs. Not all accounting systems are designed to support the requirements of each of these segments. Therefore, it is critical to pay attention if your chosen accounting system caters to your business segment.
Traditional or Cloud-Based - another critical question that you must understand for your business is whether you require a traditional On-Premise solution, which is accessed only from within your office premises, or do you have teams which are geographically spread across the country and are on the move. In the latter case, a Cloud-Based accounting system would be more suited.
Integration - what is the level of integration you require with applications other than the accounting systems. If you use other Applications too for different aspects of your business and require regular information exchange with your accounting system, you must define such information exchange. For instance, you may have an HR application that needs to punch in payroll-related journal entries once every month for all the employees or a CRM application, which the sales team uses to create quotations daily to be synced in the accounting system for invoicing.
Level of Customization Required - this is one of the most crucial aspects to understand about your business. Very often, companies tend to create a fully customized accounting system. However, such systems are not able to keep up with the changing requirements and scale-up. Therefore, it is important to choose an accounting system that takes care of your organization's most critical processes.
Cost – one significant aspect that affects most business decisions is cost. Cloud-based accounting systems are flexible in terms of cost that is needed to be spent on them. Whereas in traditional accounting systems, the initial cost of software license and hardware infrastructure has to be paid and cannot be recovered if the accounting system cannot meet the requirements. Cloud-based accounting systems offer the same set of features, but with a Pay as You Use model, which involves no additional costs. The organization can increase or decrease its number of users as required.
Once you have an answer to the above questions, it is easier to choose the accounting system better. We will analyze each of the pointers mentioned above from various perspectives going forward when we discuss more on how accounting systems help a business.
For now, it is essential to understand that the choice of the accounting system affects our business in the long term as it is the backbone of any business. All financial records are entered into the accounting system. Hence, the reports generated from these systems will help understand your business's health and the direction you must grow in.
Moreover, it is essential that we adopt the accounting system whose utility outweighs the complexity that exists in our business, rather than buying an accounting system whose complexity outweighs its own utility.
For a large business, the requirements and processes are highly complex and spread across multiple geographies across the world. This requires them to procure an accounting system with the capability to handle diverse, complex situations. In this case, the accounting systems are also complex to implement, but they help sort out the more significant challenges the business poses.
However, for smaller and growing businesses, a generic comprehensive integrated accounting system would serve better, as they can adapt to your changing needs with time. Moreover, some accounting systems also offer other modules like CRM and HRMS business applications, which can be directly plugged into your accounting module and used in an integrated manner by pushing data from one application to another. It also saves them the trouble of buying multiple applications from different vendors and then manually integrating them at a later stage.
Top 5 Accounting Systems for 2021
1. SAP - arguably the most advisable accounting system for large organizations with a very complex set of requirements. As opposed to other Accounting Products, SAP actually offers a platform on which developers can build solutions based on their clients' requirements. Let's look at the various Pros and Cons of SAP.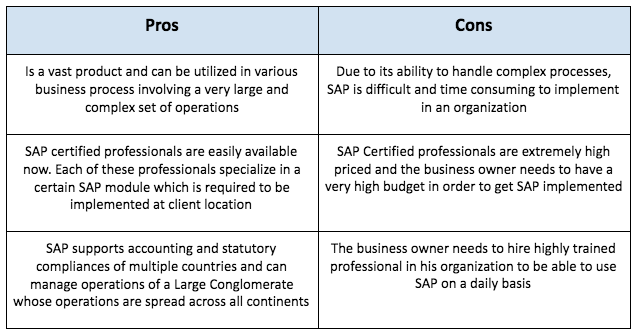 2. Deskera - this is the best Accounting System for the SME industry. Any small or medium-sized business can use Deskera, irrespective of the industry they belong to. Deskera offers various advantages over other accounting systems owing to its flexibility and fully integrated nature. Deskera provides a Web application and a Mobile App to its users to manage their business processes.

Few advantages of Deskera are as below
Deskera offers a full suite of applications like ERP, CRM, and HRMS, which can take care of all aspects of a business. Since all modules are fully integrated, it avoids redundancy and saves a lot of time.
Deskera offers both a cloud-based Web Application and a Mobile Application. The mobile application can manage all business process with a very simple UI
Deskera allows users to easily customize fields, reports, and formats, which makes it flexible. With changing requirements, the user can quickly scale his requirements in Deskera.
Deskera is 100% statutory compliant and any tax changes are instantly offered to all clients
Deskera Accounting System offers the user to create multiple invoice templates as per their need and configure them accordingly.
Deskera allows users an intuitive UI which helps in the creation of daily transactions with utmost ease and requires minimal effort & time in doing so.
Deskera's Mobile App, unlike most other applications, actually allows users to fully control and manage their businesses from their Mobile. Deskera has offered almost every feature available on their Desktop Web App in the Mobile App. This ensures that the user can always stay in touch with their work and handle it while being anywhere.
Deskera offers easy integration with other applications in the market. It provides a marketplace that allows for codeless integrations with other applications.
One significant advantage of Deskera is that it offers other business applications like CRM and HRMS, which are integrated with its Accounting Application. This helps the businesses tremendously, as they can avoid the arduous task of finding multiple vendors for each of these apps and further integrate them.
3. Quickbooks - QuickBooks Online is one of the most popular accounting software in the United States of America. QuickBooks Online is also majorly targeted towards small business owners. It is a cloud-based, user-friendly accounting system that has both web and mobile applications. It is similar to Deskera Books in terms of the features it offers. However, there is a considerable difference in the way the features are designed in both the application and how they are used. The mobile application also differs a lot for both the applications. QuickBooks inventory module offers only the basic functionality that often fails to meet all traders' needs in multiple geographical locations. We will do a comprehensive analysis of all accounting systems later on.
4. Zoho Books - Zoho is known for the vast number of applications it offers in tracking and maintaining financial records and other aspects of a business. Although Zoho does not specialize in the accounting and financial module, as some of the other entries on this list, it is a decent choice as an accounting system for your business.
It offers multiple applications like CRM, HRMS, Attendance, Leave Management, Forms, etc., which help businesses from various segments automate their business processes. The businesses can pick one or the other application from the bouquet of applications it offers.
Zoho Books offers most of the features required by an accounting system. However, it makes it very complicated for the end-user to identify and select the various applications that need to be bundled with the accounting system. Their Inventory related module is offered as a separate application. It needs to be integrated with the accounting counterpart, which often does not provide the business owner the ease of use they look for in an accounting system.
5. Xero - this is one of the most commonly used accounting systems by many businesses. Xero is known for its simplicity and easy to use accounting tools. It offers a simple UI and a good set of reconciliation tools. Xero is also meant for small businesses; however, it lacks some essential features when looked at from multiple countries' point of view. It has been designed, keeping in mind only specific use cases required by business across a selected set of countries, thereby offering little flexibility and ability to change it as per user requirements.
Comparative Analysis of Top 5 Accounting Systems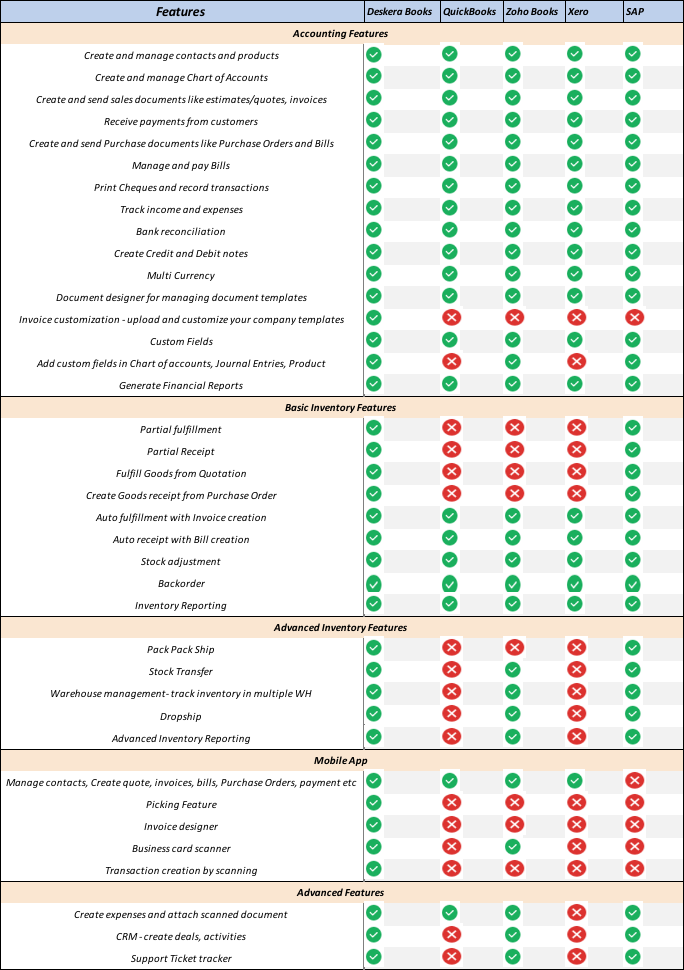 Key Takeaways

For large businesses having highly complicated requirements with a big budget, SAP is the recommended accounting system.
For small businesses looking for a flexible accounting system with the ability to add more fields and customize invoice templates, Deskera is the best option in terms of features and pricing both.
For Small and Medium-sized businesses looking for Accounting Systems with other additional features & applications like CRM & HRMS, Deskera is the best option.
For a small business looking only for basic functionality, Xero or Quickbooks is the most suited accounting system. However, from a pricing perspective, they may be on the higher side. From a pricing perspective, Deskera would offer the same set of features but at a lower price.
For businesses who wish to focus more towards a Mobile App based accounting system, Deskera is the best option in the entire market due to the vast set of features it offers on the Mobile app and its simplified UI
For Retailers looking for a POS solution with accounting solution, along with a CRM for their customer management, Deskera is the best accounting system available in the market as it offers an accounting module and a CRM module that is fully integrated with it.
Cloud-based accounting systems are preferred over the traditional on-premise accounting systems due to multiple added advantages they offer related to features and pricing both.
---
---