For most small and medium enterprises, dealing with finances is the most challenging part of doing business. Doing accounting yourself is time-consuming and has a high chance of manual errors, which can turn out to be costly mistakes.
Thank God for technology; the excel sheets are gradually getting replaced by bookkeeping and accounting software, which can automate the accounting process making it error-free and foolproof.
The biggest mistake small business owners make is to think that accounting software is required only when your business is of a particular size.
In fact, the earlier you start, the better it is for the books of your company. Accounting software is a critical need for all businesses irrespective of the scale. And moving to cloud-based accounting software gives you access to your finances and other data anywhere, anytime.
So the question is that is it worth moving your business to a cloud accounting software, but before we do that, let's understand what cloud computing and cloud software mean.

What is "cloud computing"?
"Cloud computing is the on-demand delivery of IT resources over the Internet with pay-as-you-go pricing. Instead of buying, owning, and maintaining physical data centers and servers, you can access technology services, such as computing power, storage, and databases, on an as-needed basis from a cloud provider" defines the AWS website, one of the leading cloud computing platform that provides customers with a wide array of cloud services.

What is cloud accounting software?
Cloud accounting software is just like any other accounting and bookkeeping software. Except, the data is not stored in your premise but on the cloud, which means safe, remote, external servers of the cloud service provider. Cloud accounting software provides secure real-time access to data to multiple users anytime, anywhere.And that is not the only benefit that cloud accounting automation offers-Here are reasons why your business needs to move to a cloud solution.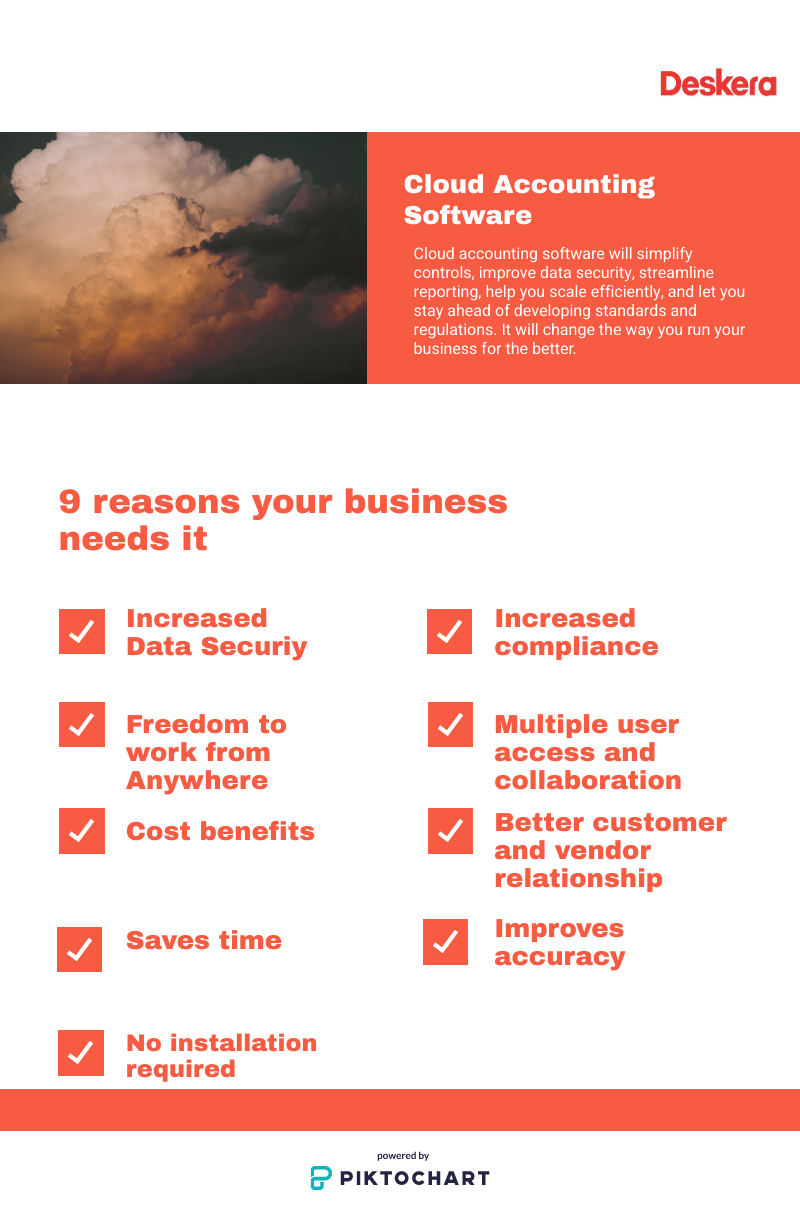 1.Data security
First and foremost, it offers impeccable data security. For any business, your data security is always a primary concern, and a lot of small business owners are concerned about the cloud service provider storing your data for your business. But contrary to the fears, the cloud is one of the safest ways to store your data. With this service, your data can never be stolen, even if there is theft, a natural disaster like fire, or an earthquake. At no point will you lose access to your data as long as you have your login details and access to the Internet.

2.Freedom to work from anywhere
Cloud accounting software gives you access to all your financial information anytime, anywhere- on your laptop, computer, or mobile. You don't need to be in the office to access updated information. Whether you are traveling to another part of the world or are working from home due to any reason, you never lose access to your financial information, and you are not dependent on anyone to mail it to you. You are always on it, making life simpler and more comfortable. There is no downtime making the business more productive every time.

3. Multiple user access and Real-time collaboration
A cloud accounting software gives simultaneous access to the data to multiple users, and you can decide the level of access for every user. With no more emailing outdated data, each of the users has real-time access to the most updated information. They can collaborate and work on the data real-time making the process fast and efficient.

4. Automation saves you valuable time
The cloud-based accounting software automizes the record-keeping process, thus streamlining and organizing all your business expenses without writing every purchase as all your accounts get connected. What is more interesting is that the software helps you create automatic workflows like sending recurring invoices to your customers or payment reminders without any human intervention. This saves you a lot of time which can be channelized toward more strategic things

5. Maintaining customer and vendor Relationships
Business is undoubtedly about a great product, but maintaining great relationships is vital in the success of a business. Getting repeat business is far easier and almost always less expensive than getting a new client. Developing trust, open communication, and transparency in the systems and processes are essential to good relationships with your partners. Cloud accounting provides exactly that to your system. It's fast, open transparent, and manual error-free. There are no missing receipts, no overdue invoices, and no communication error because all the workflows are automized and data updated continuously and easily accessible.

6. Improves Accuracy
Using a cloud accounting software will solve a lot of your accounting issues if you are a small business owner. The manual processes can be error-prone and susceptible to compliance risks. Any good cloud accounting software will have built-in systems that will automatically identify duplicate entries and prevent errors. You don't even need to be thorough on different accounting practices from other parts of the globe or, in fact, even formulas or short cuts. The SaaS-based systems will automate this for you and keep the numbers accurate and updated.
Accounting software is usually easy to use, allows you to enter expenses and income as defined in the workflow, and lets you categorize your financial transactions. When all the information is stored in the same place, and you regularly update the information needed into the system, you minimize the risk of costly bookkeeping errors. Every time you are looking at a financial report on the system, you are sure the information is correct and updated.

7. No Installation Required

Traditional accounting software is installed on all of the computers in your accounting department, which can be time-consuming and tedious. The cloud-based accounting software requires no real installation. As it is hosted online, you can access the software service by typing the information on the web browser and directly logging into the account once you have made the purchase.

8.Better Compliance
One of the most significant advantage that cloud accounting software offer is compliance. As we have seen above, it keeps the books and records error-free; it has systems to ensure no dual entry happens, the expenses and receivables are always updated. In any good software, the system automatically is tax complaint; therefore, invoices, etc., are error-free even if it's not the same country. All these steps ensure that your taxation is always up to date, and there are no tax compliance and audit issues or penalities. Saving you a lot of stress during taxation period

9.Cost
Investing in cloud accounting software ensures that there is a significant upfront saving in capital investment. As there is hardly any infrastructure required in your premise, you save a large chunk of money. It matters a lot, especially if you are starting out. You pay as much as you use.
Without an extensive infrastructure on location, you also save on workforce costs as you would not need a large IT team for maintenance and substantial savings on space and energy.

Keeping in mind all the benefits, we can safely conclude that a cloud accounting software will simplify controls, improve data security, streamline reporting, help you scale efficiently, and let you stay ahead of developing standards and regulations. It will change the way you run your business for the better.

To outsource your accounting and leverage the power of the cloud, you can visit Deskera and experience the ease of running your business with our accounting solution.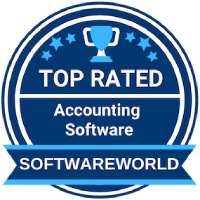 Check out the list of top 30 accounting softwares at SoftwareWorld.