A lot of businesses deal with confidential documents and large shipments. Timely and secure package delivery plays a crucial role in such cases. And every business should keep itself equipped with a good package tracking software to check on the status of the deliverables at regular intervals. Thankfully there are many excellent package tracking apps in the market. Let us take a look at a few different options.
Index
Delivery through a reputed shipping company
Deliveries
17track
Parceltrack
TrackChecker Mobile
Aftership
OneTracker
Track24
Shiprocket
ShipTrack
Slice: Package Tracker
Scalefusion

Delivery through a reputed shipping company
In the United States of America, 4 entities are responsible for the majority of deliveries made: FedEx, UPS, DHL, and the government-operated United States Postal Services (USPS). All 4 companies offer their inbuilt tracking software so that you are always aware of where your package is.

However, most businesses still opt for a package tracker app, because they might be tracking many deliveries at the same time, or ordering different things from different delivery agents. Here's a list of 10 apps that any business can use to efficiently track their packages.

#1 - Deliveries
'Deliveries' is one of the finest and most efficient GPS tracker apps out there for tracking your packages. The app is compatible with iOS as well as android devices. In terms of functionality, Deliveries supports 40+ shippers and postal services in countries all over the world. The dashboard lets you see all your pending deliveries in one go. In addition, it also provides a countdown of days left until the delivery of the package.
Deliveries also collaborates with a lot of reputed delivery companies like FedEx and UPS and lets you track the package using google maps.

Pricing: Free to download (with in-app purchases)
Download: Deliveries Android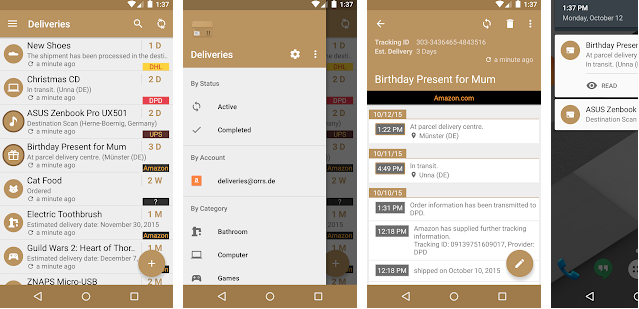 #2 - 17TRACK
In the last year or so, the 17Track app has gained a lot of traction and has become one of the most downloaded tracking apps. It has the capacity to track about 220 shipping carriers at the same time, making it the right app for any business that deals in bulk orders from multiple sources at the same time. While it has all the functions that are usually found in tracking apps, what really sets 17Track apart is that it can be viewed in many languages. It has integrated a translator widget inside the app for this purpose.
Pricing: Free to download (with in-app purchases)
Download: 17TRACK Android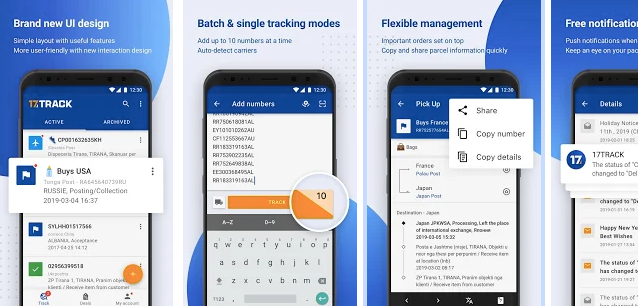 #3 -  ParcelTrack
Parceltrack is one of the more sophisticated tracking software out there. While most of the software is free to use, the premium version of the app offers some really good features. One such feature is that it allows the GPS based tracking of an individual delivery van through a GPS locator. It is an extra layer of security that the app provides. It also has the push notifications feature which updates you every time your package reaches a new marker in the delivery system. Parceltrack is also tied up with some of the most prominent delivery systems like USPS, FedEx, etc. Overall it can be considered to be one of the best package tracking apps available in the market right now.
Pricing: Freemium app
Download: ParcelTrack Android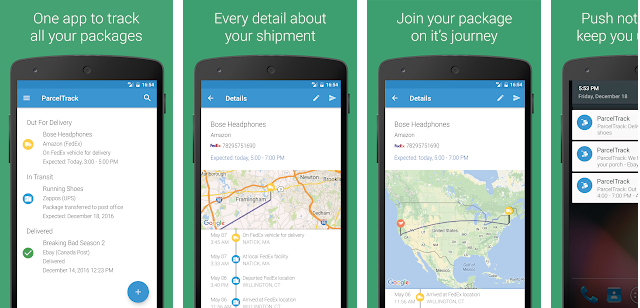 #4 TrackChecker Mobile

Need to send your parcel to a hard-to-reach location? TrackChecker Mobile is the answer to your problems. It is one of the best shipment tracking system softwares out there. The app tracks packages from more than 550 postal services and in about 200 countries. What's most unique about the app is that it provides a lot of customization. You can choose the frequency of notifications about your shipments, and also fetch or send tracking details on email. TrachChecker Mobile has worked with multiple couriers and postal services all over the world. With the app, all you need are just a few taps to track your shipment. The app even provides users with a freight forwarding software that calculates and highlights the estimated delivery date.


Pricing: Free to download (with in-app purchases)
Download: TrackChecker Mobile Android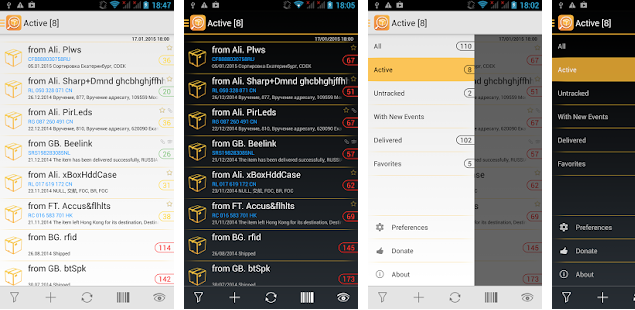 #5 Aftership
Have a business that's growing rapidly? Aftership helps you track each package efficiently. If you are looking for a phone tracking app that reduces workload then this app is surely for you. Aftership automatically extracts package delivery details and provides you with real-time updates. The main interface shows you all the active shipments that are to be delivered. You can check individual details shipments and the contact details of the service provider as well. Aftership supports tracking of 400+ international delivery companies across. It also provides real-time notifications through SMS and emails.

Pricing: Free to download
Download : AfterShip Android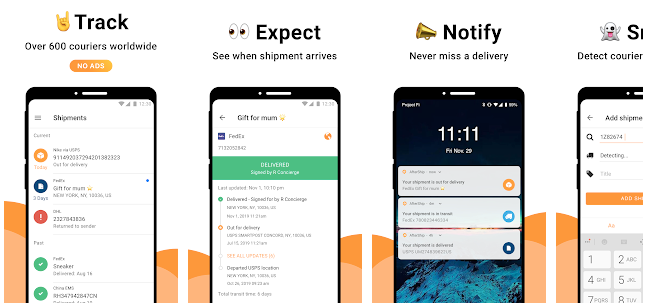 #6 - OneTracker
If UI and free availability are your main concerns, this parcel tracking app will surely make you happy. OneTracker provides you its services without running ads or asking you for premium subscriptions. The app respects your privacy and does not scan your email. Instead, it provides you with an inbox. This means that if you forward only your shipment emails to the app-provided email, OneTracker will automatically recognize the tracking ID. The app also lets you track shipments on multiple devices.
Pricing: Free to download
Download: OnTracker Android app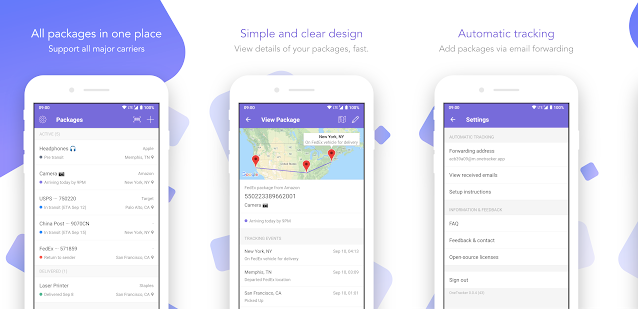 #7 - Track24
Track24 is one of the best parcel tracking apps out there, especially for businessmen. The app lets you track packages from all over the world. Track24 boasts of having worked with over 600 international postal companies and courier services. Track24 always keeps you updated on the order status with push notifications. And to top that off, they have pretty good reviews from customers as well.


Pricing: Free to download
Download: Track24 Android app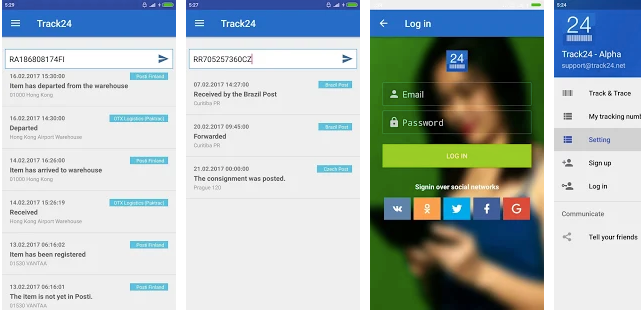 #8 - Shiprocket

Here is an app for tracking packages that helps you with recommendations. It also aids in processing multiple orders, generating orders reports and integration with other sales channels. Shiprocket is perfect for you if you want to create, process, track forward, and return orders from one platform.

Pricing: Free to download
Download: Shiprocket Android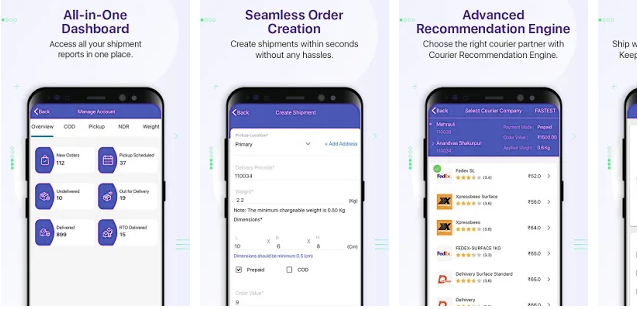 #9 - ShipTrack

If you have a small business, this inventory management system creates simple delivery tracking applications. If you are a large organization, ShipTrack helps in the fulfillment of bulk orders. Businesses of all sizes depend on ShipTrack for its automated services that aid in dispatch, driver management and processing of orders.

Pricing: Free to download
Download: Shiptrack Android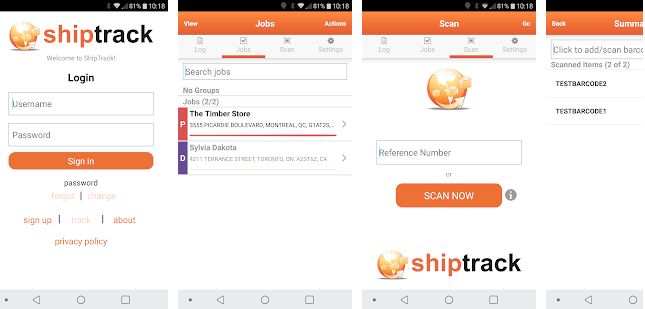 #10 - Slice: Package Tracker

Slice Package Tracker is a great parcel tracking app that can scan your emails and fetch order details from it automatically. Slice organizes this data for you and even notifies you with regular updates. The app also notifies you when the price of a product you ordered drops from the time you bought it.

Pricing: Free to download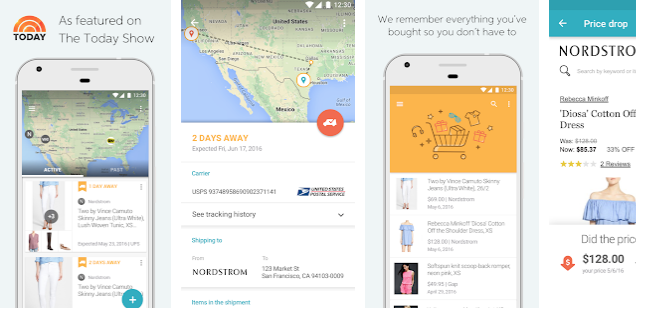 Download: Slice package tracker Android
#11 - Scalefusion
Scalefusion is a device and endpoint management software that helps logistics companies track their shipments and optimize supply-chain cycles. You can leverage GPS-based location tracking for both Android and iOS devices provided to the fleet drivers. It helps logistics companies track location histories, suggest the best routes and ensure speedy deliveries for improved customer satisfaction. You can have constant visibility of your moving shipments remotely. You can also manage your Electronic Logging Devices (ELDs) using Scalefusion MDM to ensure driver safety and optimized productivity.
Pricing: 14 days free trial
Download: Scalefusion MDM