Many small companies still do manage their payroll manually, this is time-consuming and prone to error. So, the best solution for most SMEs is to automate the process using specifically designed payroll software for small business.
If you are a small business owner in UK and looking for a Payroll Software to automate your payroll processes then you are a right place.
Deskera People has recently rolled out UK Compliance, so lets take a sneak peak as how it works.
How to fill in UK Payroll Onboarding details after signing in to Deskera People?‌
‌
After you have successfully sign up your account with Deskera People, the next step during onboarding is, you need to fill in your company details, Schedule Pay , Add Employees.
In case you do not want to fill in the Schedule pay and employees details during the onboarding process, you can fill it later in the system by clicking on the Skip Button.
How do I set up my company details?
Go to Company Settings Module>> Company Details>>below screen will appear and fill in the required company Details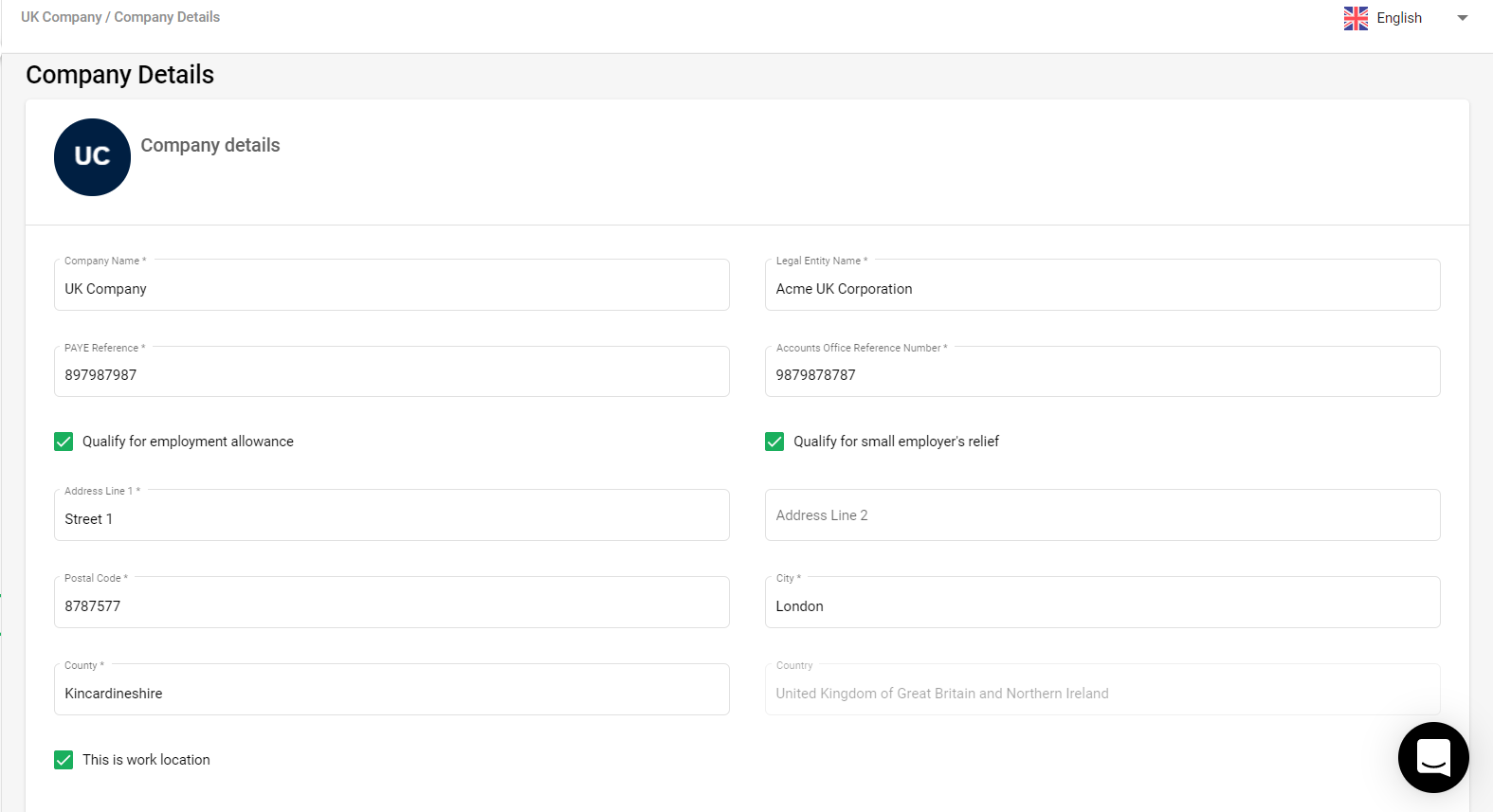 Company Name : Add company name
Legal Entity Name : Mention company's Legal name
PAYE Reference - Enter PAYE Reference Number
An employer PAYE reference number is given to every business that registers with HMRC (Her Majesty's Revenue and Customs) as an employer. It's a unique set of letters and numbers used by the taxman and others to identify your firm.

This reference is made up of two parts: a three-digit HMRC office number, and a reference number unique to your business. It'll usually look something like 123/A45678 or 123/AB45678 (though there can be exceptions).
Accounts office reference number - Enter company account office reference number.
Your Accounts Office Reference Number is a unique, 13 character code which will be shown on the letter you received from HMRC when you first registered as an employer. This reference will also be displayed on the vast majority of other communications you receive from HMRC.
Qualify for employment allowance - Tick on the checkbox if you Qualify for employment allowance
The scheme was implemented to help stimulate economic growth and encourage small firms to take on more employees. Employment Allowance allows eligible employers to reduce their annual National Insurance liability by up to £4,000. You'll pay less employers' Class 1 National Insurance each time you run your payroll until the £4,000 has gone or the tax year ends (whichever is sooner).
Qualify for small employer's relief - Tick on the checkbox if you Qualify for small employer's relief.
All employers can usually claim 92% of statutory payments back from HMRC.  However, Small Employers' Relief allows eligible companies to reclaim 103% of any statutory maternity (SMP), paternity (SPP), adoption (SAP), parental bereavement, or shared parental (SHPP) pay.  Statutory Sick Pay (SSP) is not covered by Small Employers' Relief.
Address/Zip Code/City/State/Country - Add company's address
If you wish to make this as a work address tick the check box 'This is work location'
Lastly click on Update button to save the details.

After the company details are filled in , now let us see how to add UK employees compliance details
How to add UK employee compliance details in Deskera People?
After entering the Employee Details and Components, click on the Next button which will take you to the next screen of Compliance Details.
Fill in the following details under Compliance Details,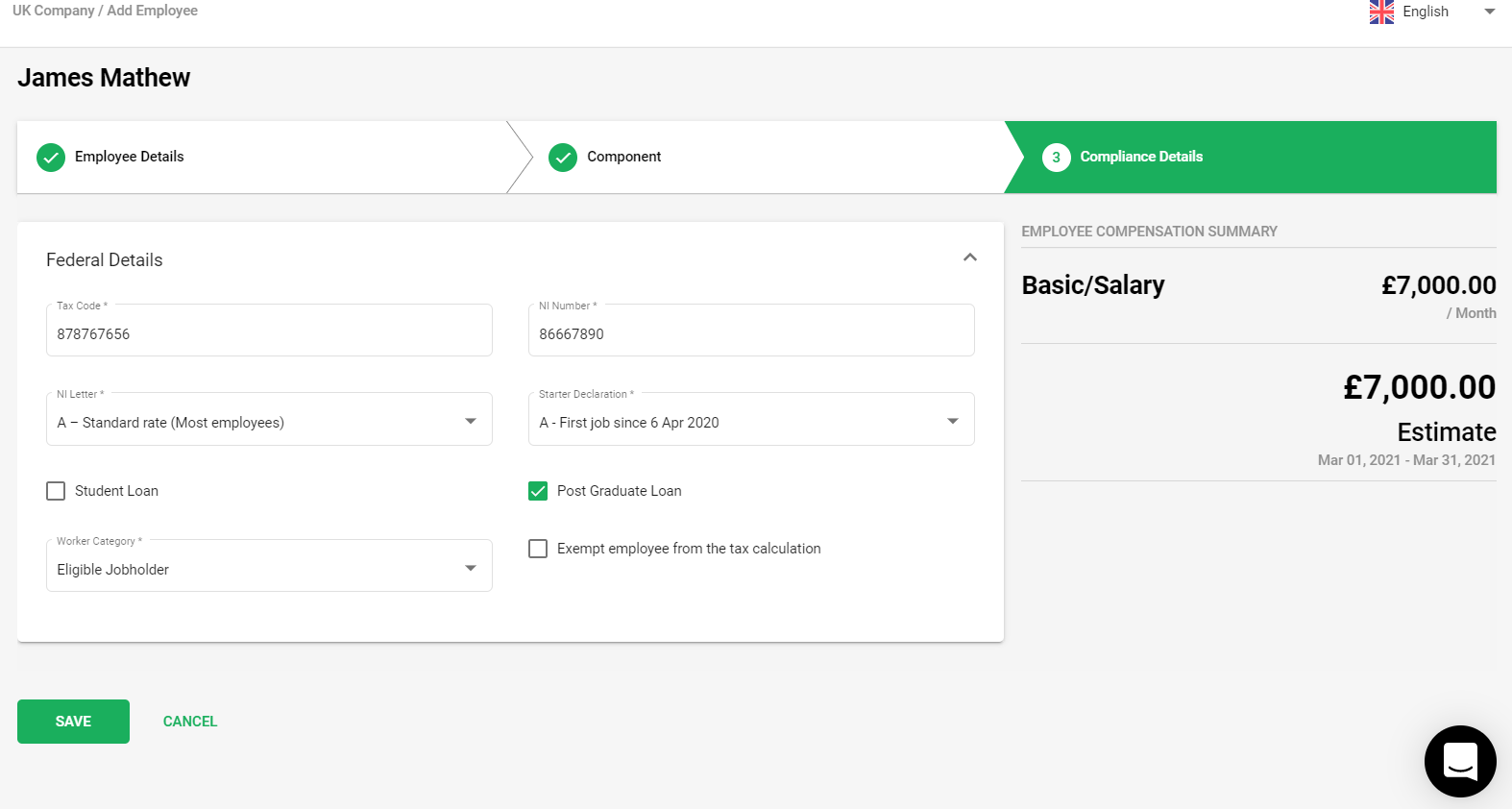 Under Federal Details,
Tax Code - Enter employee tax code
A tax code is used by an employer to calculate the amount of tax to deduct from an employee's pay. A tax code is normally made up of numbers and letters for example 1250L or K396. HM Revenue & Customs (HMRC) uses a tax code to tell an employer what tax free earnings an employee is entitled to in a particular pay period, so that tax at the appropriate rates may be calculated on the balance.

NI Number - Enter employee NI number.
You have a National Insurance number to make sure your National Insurance contributions and tax are recorded against your name only. You can find your National Insurance number:
- on your payslip
- on your P60
- on letters about your tax, pension or benefits
- in the National Insurance section of your personal tax account

NI Letter - Select the NI Letter category from the drop-down list
A National Insurance category letter is used by an employer to help calculate how much National Insurance they and the employee need to pay.

Starter Declaration - Select the starter declaration from the drop-down list
On a starter checklist, an employee is asked which statement applies to them:
- A This is their first job since last 6 April and they have not been receiving taxable Jobseeker's Allowance, Employment and Support Allowance, taxable Incapacity Benefit, state pension or occupational pension.
- B This is now their only job, but since last 6 April they have had another job, or have received taxable jobseeker's allowance, employment and support allowance or taxable incapacity benefit. They do not receive state or occupational pension.
- C They have another job or receive a state or occupational pension
Depending on what statement you pick, your employer will allocate you a tax code and work out the tax due on your first payday.
Student Loan- Tick on the check-box if you have opted for student loan
Means, if you work as an employee and pay tax and National Insurance through the Pay As You Earn (PAYE) Scheme, your employer will calculate and subtract student loan repayments due each pay period, based on your earnings for that period.

Post Graduate Loan - Tick on the check-box if you have opted for student loan
Postgraduate Loans are due for repayment through the PAYE process. With the introduction of postgraduate loan deductions through the payroll, it may arise that an employee is liable to repay both a Student Loan type and Postgraduate Loan at the same time. This means that, where applicable, employers will have to deduct both Postgraduate and Student Loan deductions.
Once an employee's income goes over the relevant threshold, the employer will deduct 6% of their income that's over the threshold towards repaying their loan.

Worker Category : Select the employee worker category from the drop down list

Exempt employees from tax calculation - Tick on the check box if for any employee tax calculation need not to be made.
Import Employees with compliance Details

Now you have an option to Bulk Import Employees for UK along with their compliance details.
You can do this by simply downloading the excel spreadsheet, fill in the details and upload this file. With this import function it will help you save your time.