Why is Unified Software Important?
There has been a huge shift in the software deployment over the past few years. A shift from on-premise to cloud has been evident as more companies move applications onto the cloud. Today, having integrated business management software is extremely important to enhance productivity and reduce manual errors. When a company doesn't integrate software used across the organization, they face challenges such as increased cost, increased manual efforts and unnecessary resource consumption.
Challenges of Siloed Software
Without a unified software system, companies suffer in a number of ways, from larger problems like wasted resources and money to day-to-day pains of managing and securing multiple logins and passwords.
Security is a concern
Complex data transfer processes actually give jitters to IT managers. Implementing an informed integration strategy enables to streamline and simplify for more robust and secure data flow.
Integration requires multiple logins


IT infrastructures suffering from traditional integration often force end-users to login to multiple apps and databases to generate the digital picture necessary to work on projects.
Too many resources get utilized


Organizations that find themselves projecting more money and workforce resources at integration in an effort to meet operational requirements, need to consider a cloud integration strategy.
Importance of Integration
In addition to protecting businesses from the drawbacks of disparate and siloed software, a unified solution has additional benefits.
Improving the quality of the project
Software integration solves process and business intelligence issues and integrates those disciplines into a working software. It's best when software integration is applied in the earliest planning stages in order to save costs and improve outcomes.
Managing project risks




Risk is the most significant enemy of any software project and hence risk management should begin at the planning phase of a project.
Increased data uniformity




Software integration is possible when there is uniformity in data structure across the organization. Data uniformity simplifies data integration.
Reduced resource utilization




Integrated software optimizes profit margins and improves billable utilization. It helps to manage the most composite resource management requirements.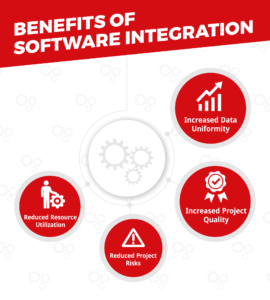 There are many automation products available in the market. Choosing the one that is the right fit is crucial and important for any business. Software integration enables to make best-in-class products from multiple suppliers work in tandem.
Older integration technologies are challenging and costly to use. A modern integration strategy allows an organization to develop a comprehensive solution by securely and reliably linking on-premise legacy systems with cloud-based ones for seamless infrastructure connectivity. It's important for companies to start evaluating integration platforms that streamline and automate integration around multiple geographical locales, which support a variety of cloud-based applications.