Top 4 ERP trends SMEs should watch out for in 2019
As we bid adieu to 2018, most management teams are busy analyzing the past year and planning strategies for 2019. The new fiscal year is always about fresh targets and goals. However, many managers would agree that it is also the right time to reevaluate current systems and core processes. Once the yearly budgets are allocated, these issues take a back seat. The trends, predictions, forecasts, and estimates depicting the various aspects of businesses play a crucial role in this decision making.
A central component of every business is its ERP software. The solution is the lifeline of any business as it helps streamline business processes, increase efficiency, enhance productivity, achieve more user-centric communication, and avoid manual errors.
According to MarketWatch, the global ERP software market is slated to grow to $47 billion by 2022, constituting a 7% CAGR.
The Cloud ERP market in particular projects a very positive story. The two geographies which will contribute most to this sector's growth are North America and Asia Pacific & China (APAC). A study by Markets & Markets reveals that North America is expected to have the largest share and dominate the cloud ERP market from 2016 to 2021. This is due to the presence of a large number of cloud ERP solution vendors and early technology adopters across the U.S. and Canada.
APAC – a region flourishing with SMEs and startups, also offers potential growth opportunities in the cloud ERP market. SMEs in India, China, and Singapore are keen on adopting such hosted ERP solutions to efficiently manage their business processes.
The top four trends that will be important for SMEs in 2019: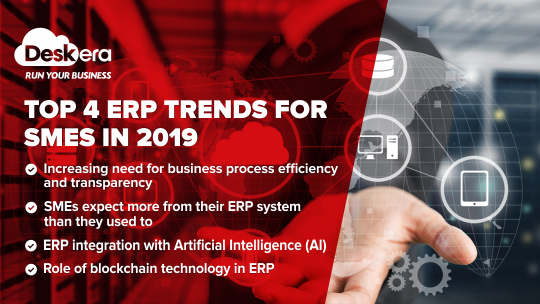 An increasing need for business process efficiency – As technology adoption continues to accelerate

,

there is a rising awareness among SMEs to strengthen their core processes. A robust process enhances the operational efficiency and productivity of an organization. As the global market beckons, enterprises are exploring ways to stay ahead of the competition. Cloud ERP is a key solution that increases the efficiency of employees and boosts the internal processes of an organization. 

Furthermore, it creates a critical pathway to improving customer service.

ERP lowers the risk of human errors that may arise from manual or paper-based processes. Lack of automation can cause customer dissatisfaction and ultimately, negative financial impact. "ERP systems are essential to run enterprise operations smoothly. However, until a couple of years back people didn't realize the importance of ERP. That's a mistake, as significant opportunities to improve cash flow and reduce risk await those who attend to the health of their enterprise resource planning systems,"

said Vinay Parakala, Vice President, Deskera. 

With Cloud-based ERP, SMEs can revolutionise how they run their businesses. Advanced IT capabilities no longer require huge capital investments and cloud architecture allows payment per use, enabling OPEX to be matched with activity. Cloud adoption for ERP is a trend that will gain momentum in 2019.
SMEs expect more from their ERP system – Gone are the days when ERP vendors could entice SMEs simply with competitive pricing. Enterprises have evolved as a community and know their requirements well. They want the best value for money and are not ready to compromise on the features they are offered. The majority of organizations in the  US want an ideal ERP system that can help them manage their business process end-to-end with real-time information. It is imperative that the solution has a centralized database where different departments can communicate with each other seamlessly. It's well known that the US government takes compliance seriously

,

– organizations want the ERP system to be statutorily compliant and to automate the majority of the process. 

Additionally, if you ask any experienced IT Manager about ERP projects, they will inevitably recount a story of a challenging and lengthy implementation. Implementation time is another factor to consider when choosing an ERP. Enterprises want a solution with a shorter implementation time.

ERP integration with Artificial Intelligence (AI) – In the world of disruption, where machine learning, big data, and the internet of things (IoT) are not just buzzwords, but reality, the integration of AI with ERP is provin

g to be an excellent tool for businesses to transform operations. This integration is helping organizations all over the world to optimize operational models.

According to a report "

Artificial Intelligence Market by Technology

," the AI market

will be worth USD

16.06 billion by 2022.

AI-enabled ERP software can profoundly impact the core of an organization's everyday business processes. It is like having a system which innately understands an organization's goals, and can adjust existing methods or institute new ones to achieve, and potentially exceed those goals. You can have these outcomes by streamlining routine tasks, reducing operating expenses, and eliminating manual err

ors. AI will help organizations utilize employees to perform other essential tasks that require innovation. With the advent of this new technology, there will be a considerable cost reduction in business operations. Since AI can analyze large data sets, including historical ones, it can study past behavioural patterns and on this  basis make improved decisions. Therefore,

enhancing the efficiency of the org

anization's operations as a whole.

Role of blockchain technology in ERP –

A common assumption is that blockchain technology is limited to the financial world, however, as

this article

explains, blockchain's potential applications are much wider. ERP vendors are implementing blockchain technology to help businesses manage their everyday operations seamlessly. By integrating cloud-based ERP with blockchain technology, enterprises can track data in real time

,

and keep immutable records of

everything- right from inventory management information to equipment maintenance and dispute resolution systems.

"We have been using

elements of blockchain

in our cloud-based ERP software. 

This new feature allows to run checks on data and quickly generate report orders of higher volumes,"

said Vinay Parakala, Vice President, Deskera.
Conclusion
The ERP trends highlighted indicate a paradigm shift to the cloud as SMEs focus on enhancing the efficiency of their businesses. Cloud ERP provides sophisticated features and guarantees a smooth transfer from legacy ERP software. As competitive pressure increases, there is a rush to embrace new technologies such as AI and blockchain.