How has Cloud altered the ERP solution landscape?
An enterprise resource planning system is the management backbone for everyday business processes for organizations of all sizes. As a wider range of niche information technology services move to the cloud, a large number of organizations have considered moving their entire enterprise resource planning (ERP) system to the cloud, as well. According to a 2014 survey conducted by IBM, the strategic importance of cloud for decision makers has doubled from 34 percent to 72 percent in recent years, taking over IT dependence at 58 percent, and one out of five business firms has adopted cloud intelligence.
Cloud computing is drastically changing the sphere of ERP solutions. As opposed to legacy ERP setups, cloud ERP solutions offer enhanced system flexibilities with lower infrastructural overheads and a wider array of standard features. A cloud ERP setup drives standardized business processes across the entire organization, which helps avoid hassles associated with tailoring on-premise ERP setups. Gartner has predicted that by the end of 2016, "the impact of cloud and emergence of postmodern ERP will relegate highly customized ERP systems to legacy status."
Traditional ERP vs. Cloud ERP
For traditional ERP solutions, the organization has to purchase a software license and required hardware so the product can be deployed to their own data center. Organization's IT staff needs to maintain and service the internal infrastructure at the organization's cost.
Cloud-hosted ERP services, on the contrary, allows organisations to connect to an ERP vendor hosted service and to access a client-server application. The application is delivered through the Web and incurs a monthly or an annual subscription fee that is paid to the ERP vendor. With almost zero maintenance charges and efforts, organizations worldwide have been adopting this model to run their business. The only thing they need is internet and a device to access the software.
Why move to Cloud ERP?
The cloud platform allows organizations to garner the benefits of innovation, standardization and efficiency. Cloud computing, once considered a premium leverage is now being associated with ERP systems and their advantages.
Faster Implementation – As opposed to legacy ERP setups, where it is common to take more than a year for complete software implementation, cloud ERP solutions are faster to implement. Also, the cloud service provider ensures the entire implementation process is seamless and hassle free by managing supporting infrastructure and providing conveniently pre-configured services and settings.
Pay Per User Model – Companies that move their business processes to the cloud don't have to be worried about increasing or decreasing the user count and the related costs. Cloud's pay-per-user model allows the flexibility of user scale-up and scale-down and the organization can pay accordingly. Hence, cloud ERP solutions are not just profitable for large organizations, they prove cost effective for small and medium enterprises as well.
Automatic Updates – One of the most significant advantages of moving traditional ERP systems to the cloud is that businesses can enjoy the convenience of automated system updates – a previously lengthy, costly, and painful process. Organizations no longer undergo the hassle of days of downtime for system upgrades. Upgrades are doled out and taken care of by the cloud service provider, with the cost of the upgrade included in your subscription, without any downtime for the end user.
Better Data Management – An ERP system is as good as the quality of data that is fed into the system. Since cloud ERP eliminates data disparity that can exist within traditional on-premise systems, companies using cloud ERP solutions have better control and uniform insight into crucial business data housed within the solution, and are able to create and access new insights into key performance metrics in real-time.
Enhanced Security – The industry-standard level of data security and protection that cloud vendors offer is on par with traditional ERP vendors, and often is superior to the level of security that companies can offer themselves with homegrown systems. All cloud providers are hyper-aware of vulnerabilities related to operating through a web-based platform, and ensure that their customer's data is as secure as it would be with a traditional system.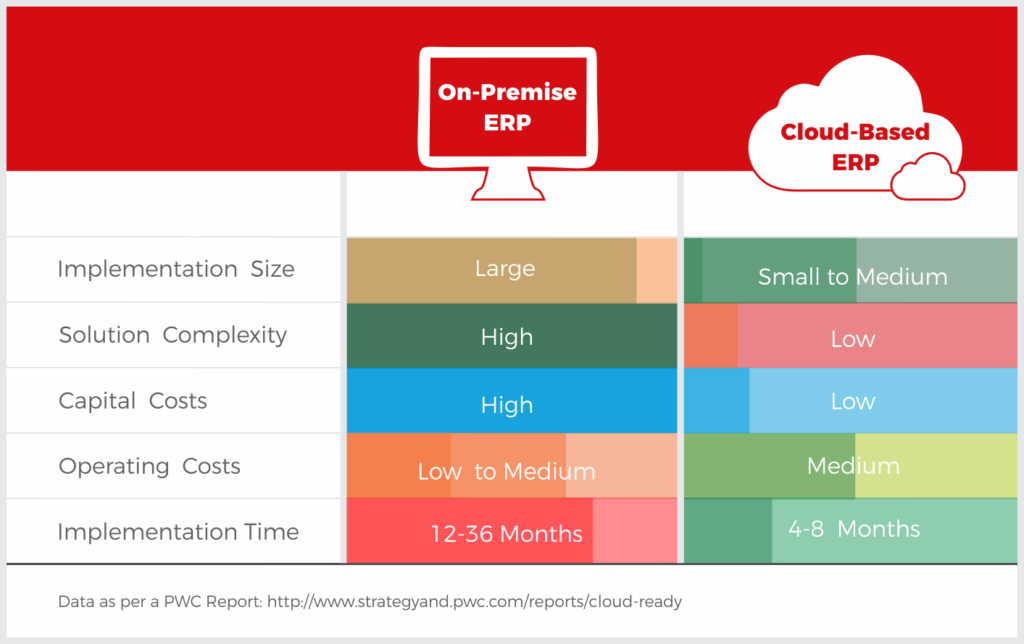 Future of Cloud ERP
As predicted by market research and confirmed by sales trends, the cloud ERP space is anticipated to continue its stellar growth for the forseeable future. come. According to the Global Cloud ERP Market: Trends, Opportunities and Forecasts (2016-2021), the cloud ERP industry grew at a compound annual growth rate of approximately 6.38% in 2011-2015, and is expected to grow at a compound annual growth rate of 8.30% during the 2016-2021 period, on account of growing number of small and medium businesses adopting the cloud ERP model. One of the primary drivers of this growth, aside from cost savings, is the need for on-demand access and equipped and sufficient storage facilities – something not readily available in traditional ERP arrangements.
Conclusion
Cloud computing has taken the ERP landscape by storm, and cloud ERP service providers are drastically changing the way that organizations conduct their everyday business. The leap to cloud-based ERP platforms is allowing organizations of all sizes to harness powerful functionality and realize rapid growth at lower costs.