Hassle-free depreciation calculations with Deskera Accounting
Calculating and maintaining depreciation schedule can be a mind-boggling exercise, particularly with a wide range of fixed assets purchased over a large time period. Now, Deskera Accounting simplifies this task by automatically calculating and updating depreciation schedules which enables you to easily post depreciation for all fixed assets of your organization. You can keep track of the present values of all fixed assets and receive Financial Reports updated with depreciation records.
Follow the two simple steps listed below to view depreciation schedule and post depreciation for all fixed assets of your organization.
Step 1
Click on 'Fixed Asset Depreciation' on the dashboard to create a new fixed asset. Click on 'Add New Fixed Asset' and specify fixed asset details such as asset life, asset value and salvage value. Depreciation schedule for this asset gets calculated automatically. Straight line method is used for the depreciation calculation in Deskera Accounting.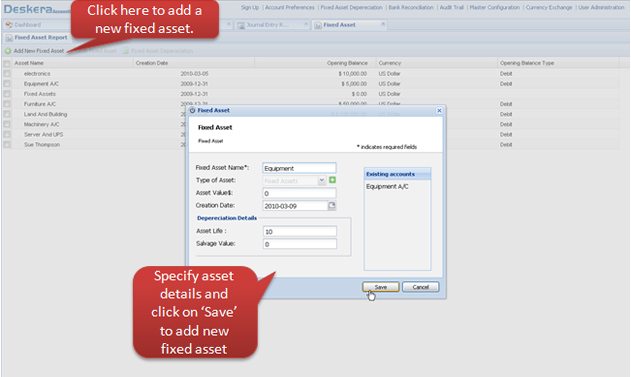 Step 2
You can view depreciation schedule for an asset by selecting it and clicking on 'Fixed Asset Depreciation'. The depreciation schedule shows you month-wise depreciation values, accumulated depreciation amount, present asset value (or net book value) and more. You can select entries from the depreciation schedule and post it for including it in accounting records. Accordingly, these entries are automatically reflected in your Financial Reports.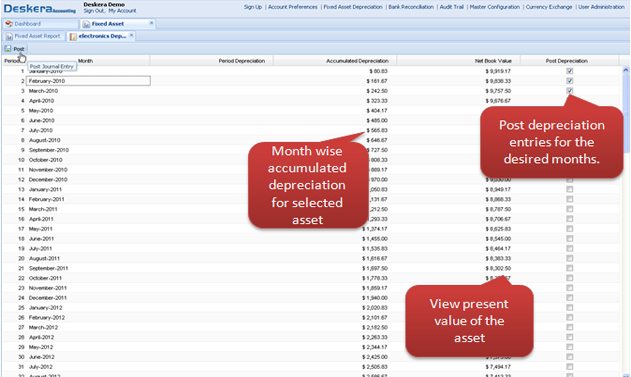 Check out our latest video on Fixed Asset Depreciation, here!
Click here to view Deskera Accounting Demo.