Feature Release - Import and Export Calendars in Deskera
You can now access your Deskera calendars from any calendar that supports iCal, including Microsoft Outlook, Google, Yahoo, Blackberry, iPhone etc.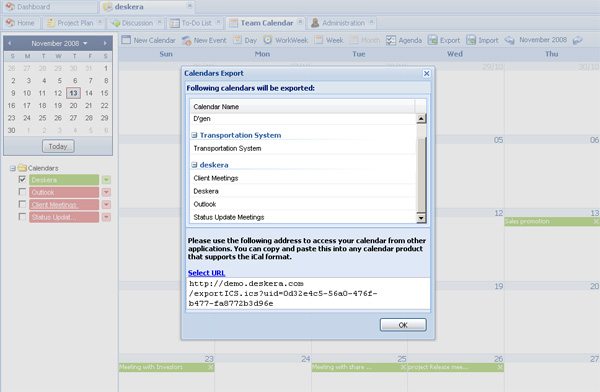 Using the URL provided, you can access events from all your Deskera calendars in any calendar you choose. You can also choose to export only individual calendars. Learn more about how to export calendars in Deskera.
Whenever your project events are updated in Deskera, you will automatically be notified on your other calendars, whether MS Outlook, Google, etc or your mobile calendars.
This means that now you don't even have to log in to Deskera to be in sync with your project events. Stay informed of your schedule on the move.
You can also import your existing events in other calendars to Deskera. So along with importing your existing Microsoft Project plan to Deskera, you can also move your existing schedule and events in Microsoft Outlook, Google, Yahoo, Blackberry, iPhone, etc to Deskera.
One more step towards being the single application for all your project management needs.