'External Job Links' in Deskera HRMS for effective Recruitment Management
External Job Links in Deskera HRMS enables you to simplify and accelerate the Recruitment Management process. Now Human Resource professionals don't have to worry about entering information about external job applicants. They can easily provide link to the external applicants who can quickly apply for jobs by accessing these links.
It will allow external applicants to easily apply for jobs created within your organization without having access to your HRMS system. This enables your organization to accelerate the entire hiring process from identifying current vacancies, creating job postings, tracking applications, selecting candidates to managing joining process of new employees.
Key Features
Setup and manage both internal as well as external job postings.
Build up and source from a qualified, global pool of internal and external talent.
Set up and maintain all job vacancies in your organization with complete description for each job position and easily display them to external users.
Enable applicants to maintain comprehensive profile details including skills and qualifications, personal information, educational and work experience details and more.
Quick Tour
'External Job Link' for each active job is provided in the Recruitment Management module. The Human resource Professionals can provide this link to all job applicants.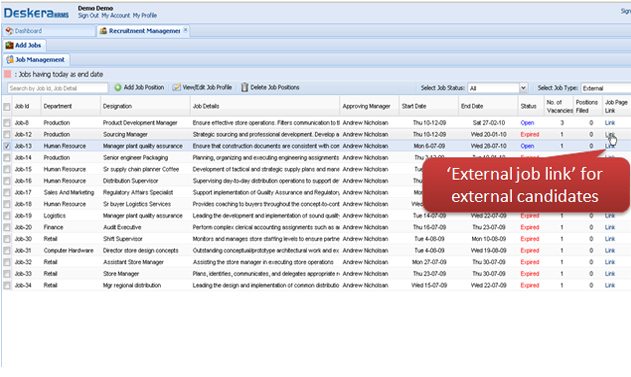 External Candidates can easily access this page on the internet, review job details and apply online.
Job applicants can specify all the details to apply for the job, upload their resume and submit it.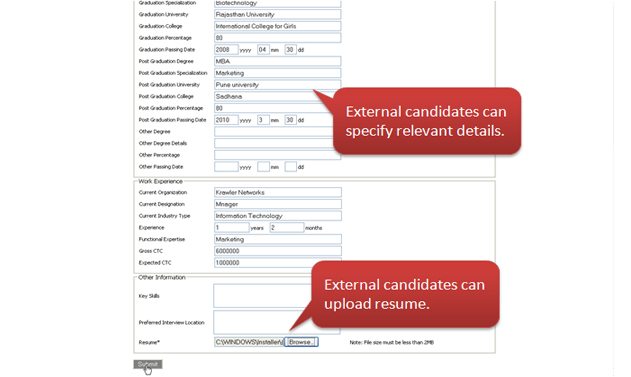 The job application details are now captured in Deskera HRMS which can be reviewed by HR managers.
An email notification is send to the applicants confirming the status of their application.
To get a hands-on experience: Try Deskera HRMS