Deskera CRM ver1.1 with Drag & Drop Mashboards, Widgets, Better Search, Contextual Help and more
Deskera 1.1 – Just got even better!
At Deskera, we work round-the-clock to improve product experience. We have recently updated our servers to a new version – version 1.1 – with whole new exciting features – including our next generation Dashboard, Contextual Help, Getting Started tips and more.
To get more hands-on experience, check out the Deskera demo now.
Here is a list of the major features that you will find in the new version:
The New Deskera Dashboard – Mashboard
Deskera 1.1 brings to you the next generation of Dashboards – called 'Mashboards'- which provide new, and hybrid dashboard design techniques, incorporating all the features of the previous generation dashboards in a real time customizable format. They allow "mashing" or drag-and-drop of content and adding useful applications known as 'widgets'.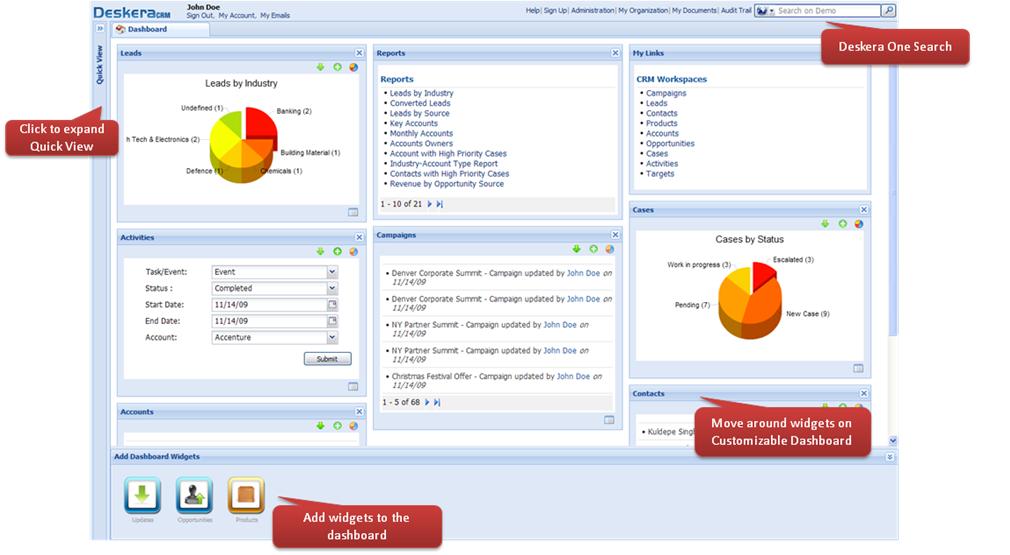 Drag and Drop
The components in the Deskera Dashboard can be moved around and rearranged as per your requirement. This ensures a priority-based unique interface to the dashboard components, for each user of your organization. The users can individually decide the layout of the portal, and add and remove components as per their requirements.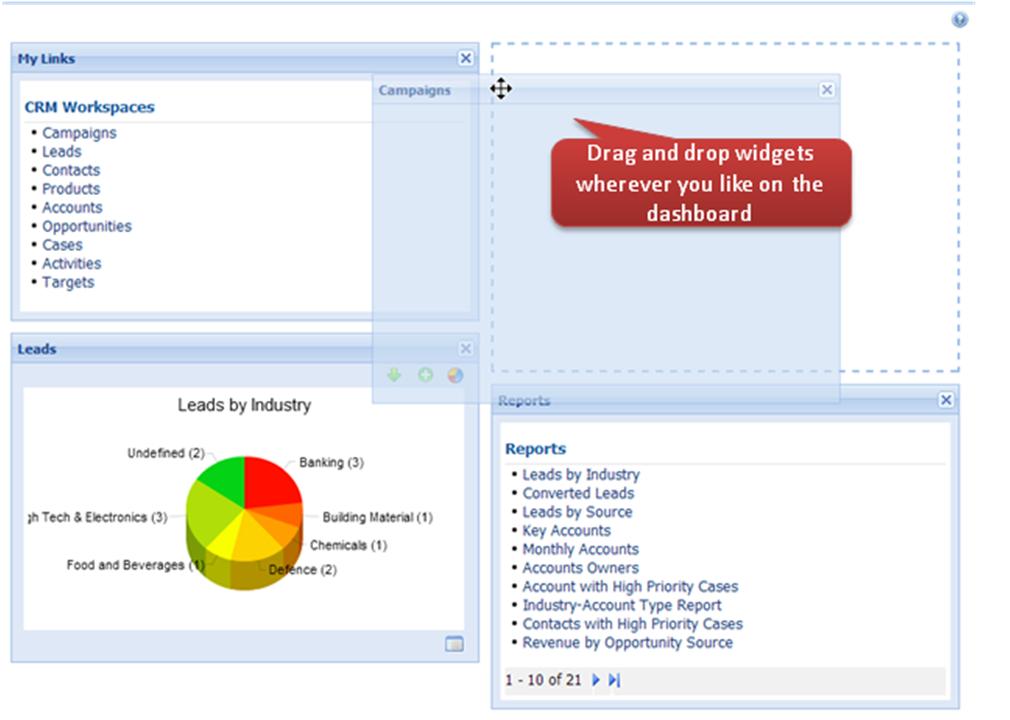 Widget Bar
Add Widgets to your dashboard to access the most important applications directly from it. So, in Deskera CRM you will find widgets to manage your campaigns, leads, contacts and more. Widgets also allow users to lend a more personal touch to their dashboard by allowing them to choose the applications they wish to see.

Quick Add
You can easily add an account, lead, opportunity, contact, case, target or activity from the dashboard using 'Quick Add'. For that, you need to simply click on the icon in the corresponding widget to view its simplified form, add relevant information, and submit details for adding information quickly.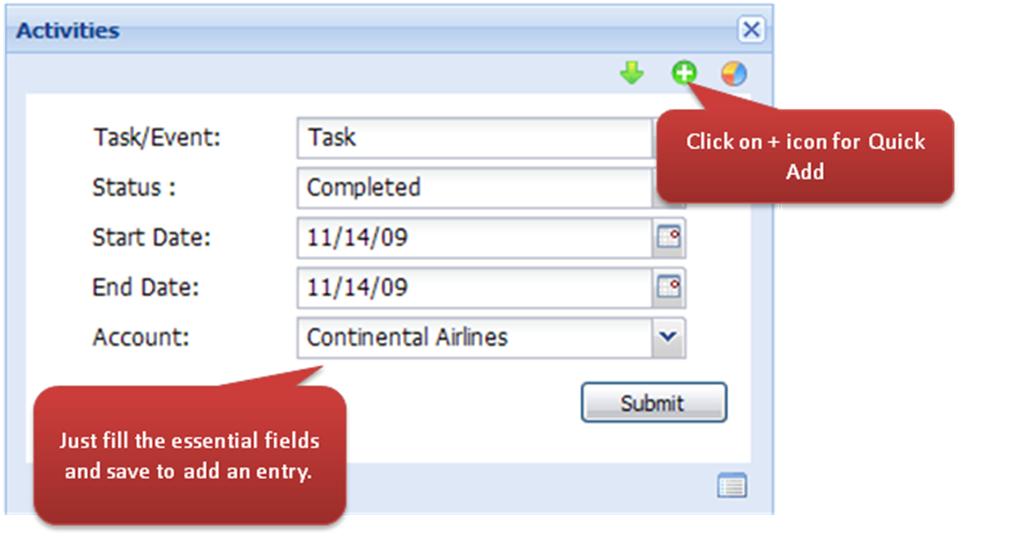 Quick View
It provides you with an instant 'tree view' of all accounts, leads, products, campaigns and documents. You can easily navigate through this list just as you explore folders in your Operating System. Click on the icon to expand the list and icon to collapse it. Click on an 'entry' to view details in the adjacent window.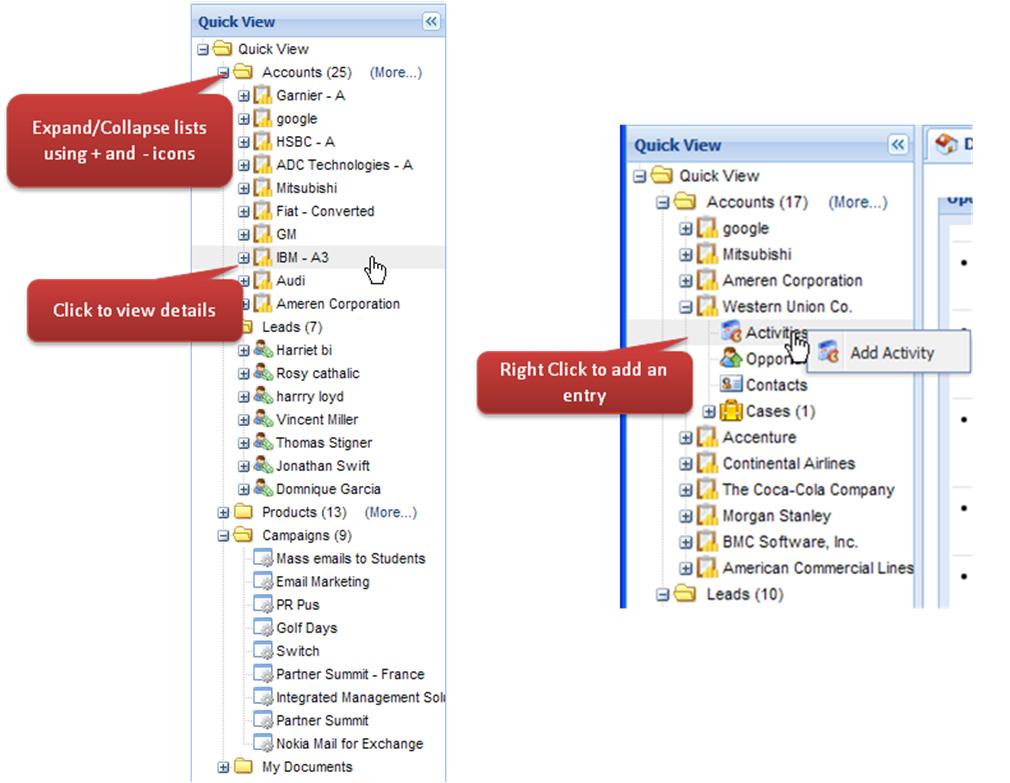 Deskera One Search
You can easily search through all the lists and entries saved in Deskera through Deskera One Search. Just type the term you intend to search and get results instantly without even hitting the enter button.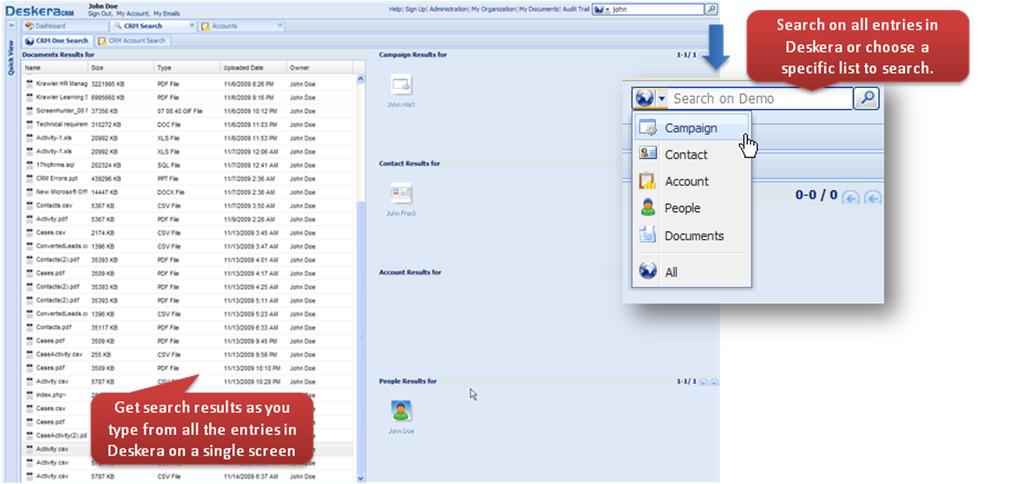 Contextual Help
Whenever you need any help regarding any link/button, Deskera provides you with a unique feature, wherein you just need to bring the mouse pointer over it and view its details.

Getting Started Tips
If you are new to Deskera, get a useful and quick tour of all major features through the Getting Started Tips. The tour will get you started with Deskera within minutes of logging in. Look out for the icon on the top right corner of your screen for viewing these tips.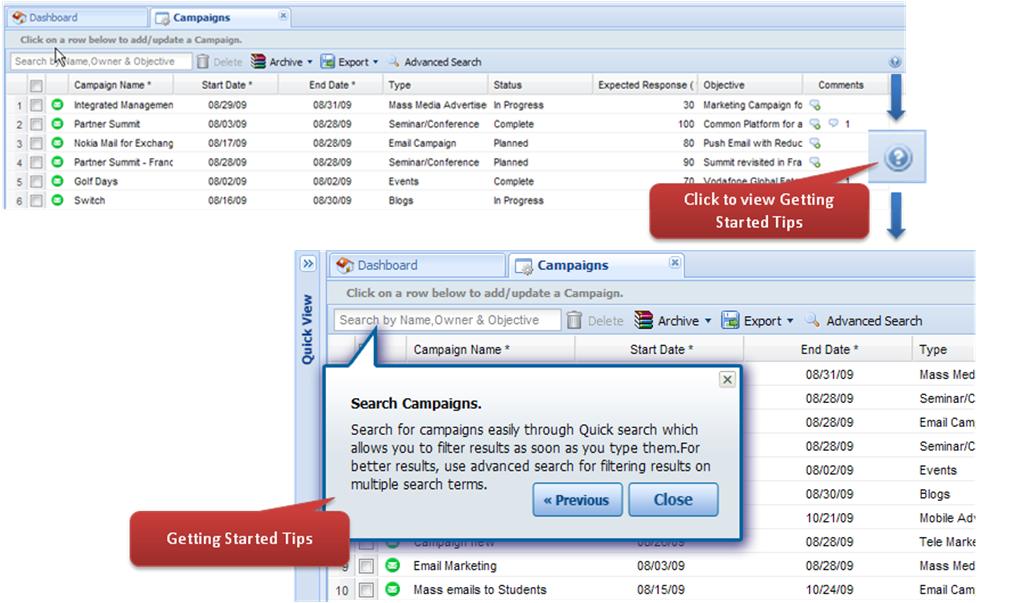 We are excited to hear your feedback. Leave a comment below or send us your feedback on crm@deskera.com.
Also, check out our videos on Deskera CRM – Dashboard here!
Deskera Team
wow@deskera.com